Too Faced Chocolate Bar Eyeshadow Palette Review, Swatches: Hello again Too Faced aficionados! The wait is over. It's here! Here's my thoughts, feelings and take-aways on what is easily the most well-known (and popular) Too Faced product. The Chocolate Bar Eyeshadow Collection (Often just called the Too Faced Chocolate Bar Palette). This is not only part of their permanent range, but has spawned the Chocolate Collection, of contours kits, bronzers, and melted liquid lipsticks, as well as other scented palettes like the Too Faced Sweet Peach Palette (which is getting its own collection), and the Too Faced Peanut Butter & Jelly Palette (which is now part of the permanent range, after coming out as Limited Edition).
I'm finally reviewing the brand that claims to be "a serious makeup brand that knows how to have fun", yup, none other than Too Faced! I know many will agree that Too Faced's packaging is just next level. They weren't joking when they said that they know how to have fun because their packaging is the personification of FUN! Some may find it a little gimmicky but I personally really like it.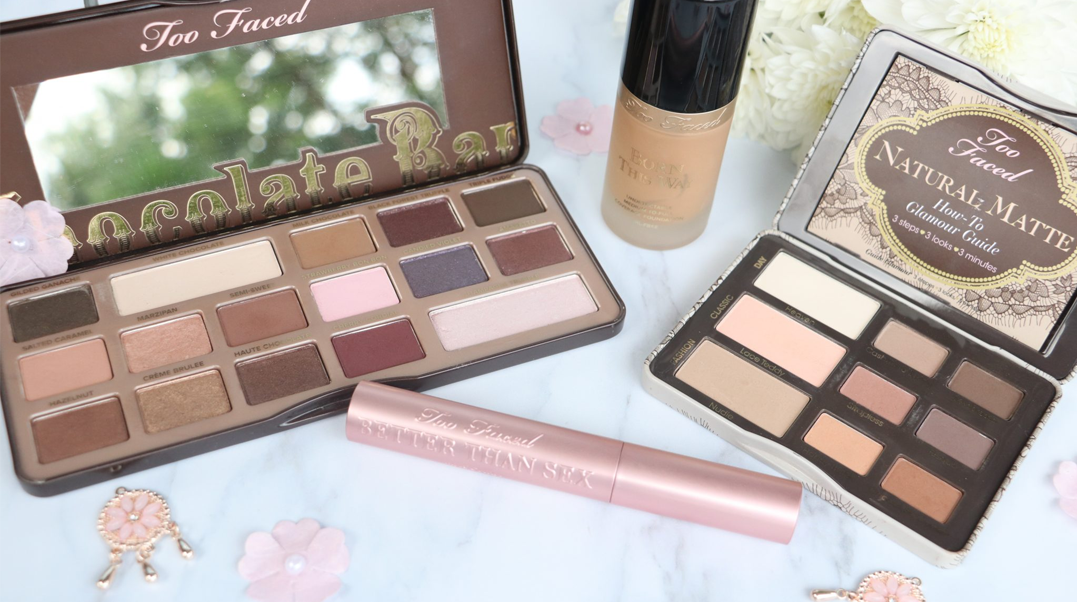 THEIR STORY
There was a time in the '90s when darkness was all the rage and pink had a bad rep. Enter Jerrod Blandino and Jeremy Johnson. Unimpressed and distressed by the too-serious-state of the cosmetics industry, they longed to start a company that brought back unapologetic glamour and femininity. Inspired by a love of Paris, unabashed girliness and the transformative power of cosmetics, they created Too Faced, a boutique brand with big dreams. Today, Too Faced has grown into a leader within the beauty industry, creating innovative cruelty-free cosmetics that women love to wear.
With Jeremy as CEO/Action Man and Jerrod as Chief Creative Officer/Dreamer, their rebellious spirit, visionary focus and unexpected humour define the brand to this day.
Too Faced Born This Way Foundation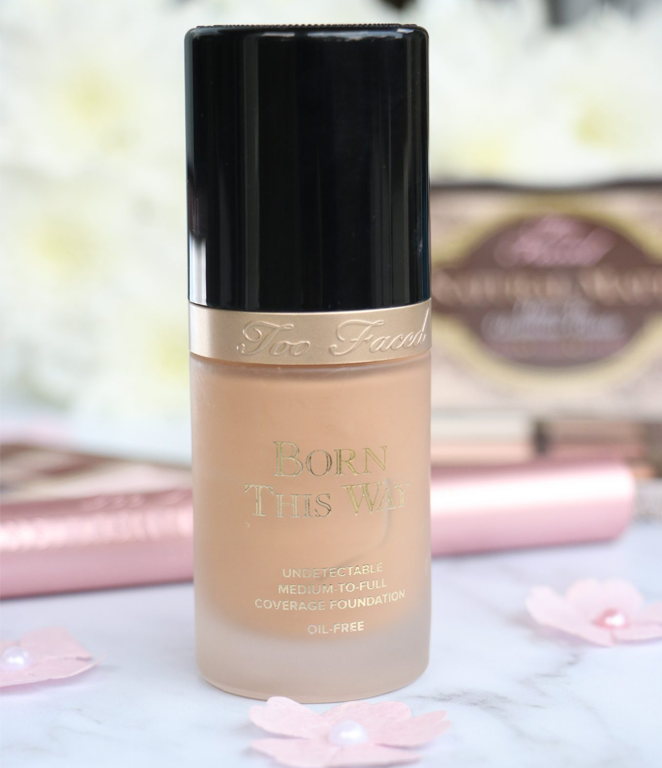 Claims
This oil-free foundation masterfully diffuses the line between makeup and skin for the perfect naturally flawless finish and coverage so undetectable, they'll think you were Born This Way!
DETAILS
Medium-to-full, undetectable coverage
Oil-free
Coconut Water helps delicately replenish skin's moisture levels without over hydrating
Infused with the resilient Alpine Rose to brighten the skin's appearance and promote elasticity
Hyaluronic Acid provides long-lasting, skin-balancing hydration for a smoother, more youthful appearance
Packaging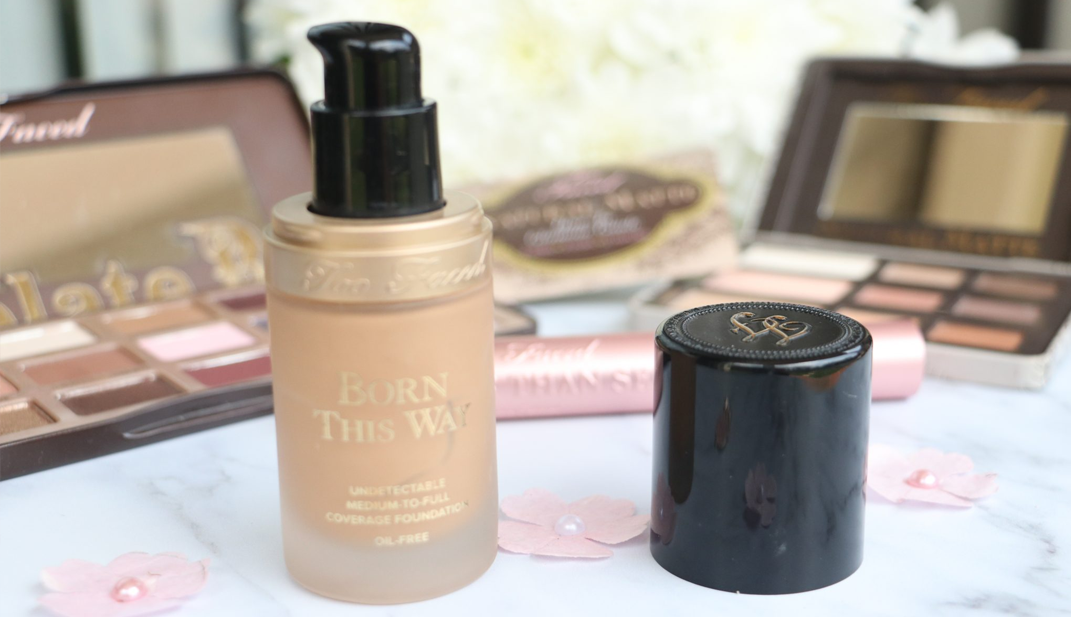 The bottle is simply beautiful. It's a slightly thick semi-frost glass bottle that has a gold rim with "Too faced" embossment and gold writing on the actual bottle. It also has a pump that dispenses just enough product and a black cap with gold detailing. I just love the look and feel of this bottle.
Formula and coverage
Finding my shade was a bit of a mission, as is always the case with online orders. I use www.findation.com for this and they get it right 90% of the time, so it's pretty useful. I purchased the shade warm beige and this is a great summer shade but I'll have to buy a lighter shade for winter. This bottle is actually empty, I used the last of it on my wedding day.
The Too Faced Born This Way Foundation is a dream foundation for me; it has a creamy, velvety smooth formula that gives a satin-matte like finish. I usually stay clear from glowy/radiant foundations because I have oily skin but this formula gives a stunning slight radiant finish. Just enough to create a healthy natural look.
It gives medium coverage but it can be built up to achieve full coverage. Feels extremely lightweight that even when built up, it still looks like skin. I prefer using a dense foundation brush for application as I find that I don't need that much product and can achieve amazing coverage with just one pump. There is no caking, no clogging and no streaky mess. The foundation also wears beautifully throughout the day without the need for touchups.
Too Faced Natural Matte Eyeshadow Palette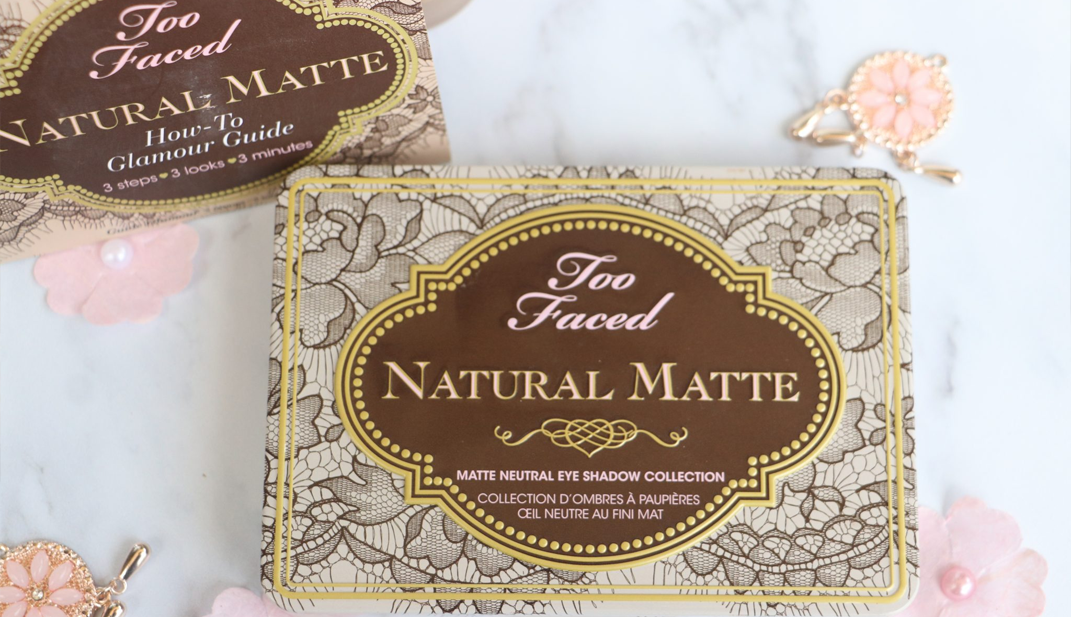 I saw this little palette in one of Kathleen Lights old videos, literally like 4 years ago, when I first discovered her. So I knew that this was a must buy because she had only great things to say about this specific palette.
Packaging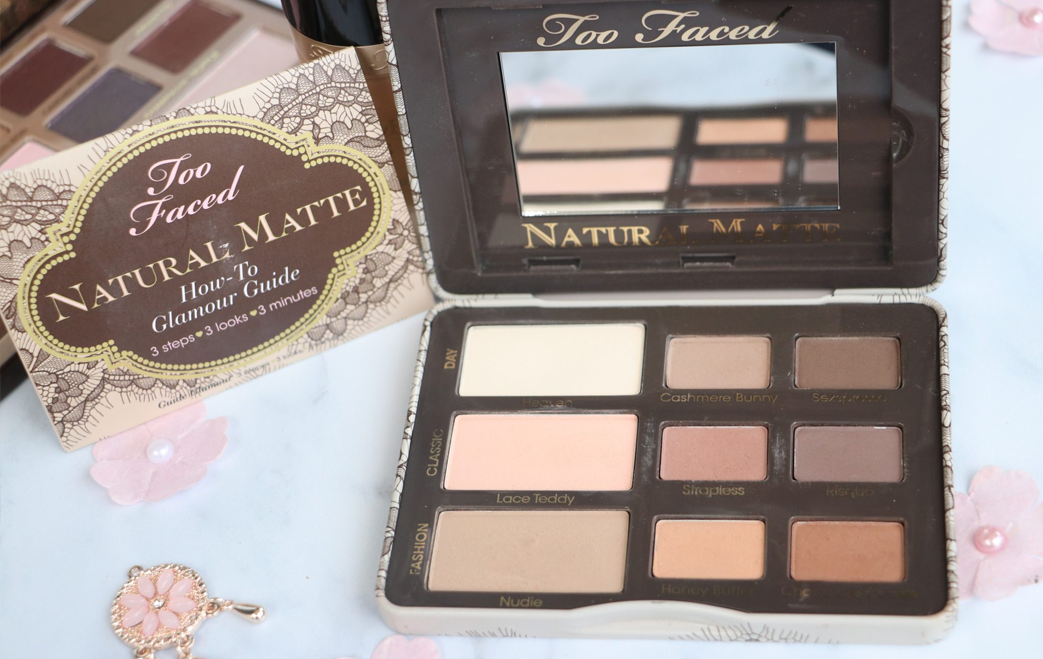 These eyeshadows come housed in a sturdy metal tin packaging which opens up to reveal a small mirror and a 'How-To Glamour Guide'. It also has a magnetic closure but it, unfortunately, doesn't shut securely.
Eyeshadows and Pigmentation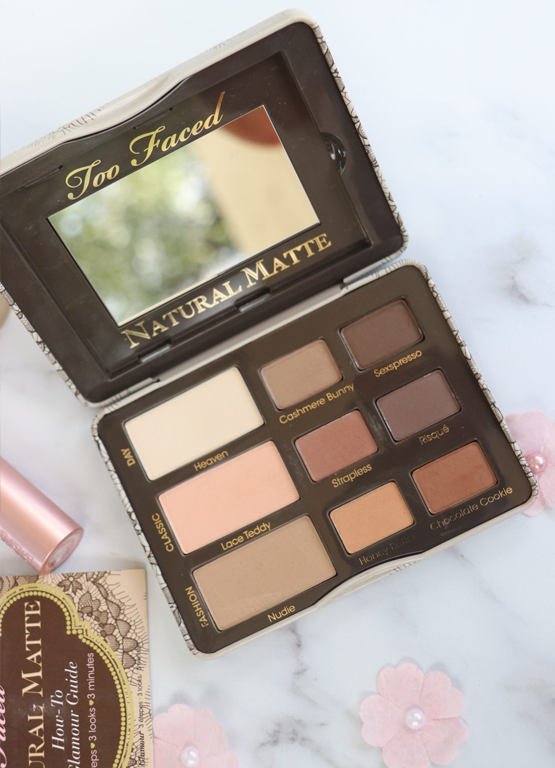 The palette is divided horizontally into three trios and they're described as the day, classic, and fashion rows. The setup is great for beginners.
I'm quite fussy with matte shades that is why I avoid certain brands altogether. Some matte shadows are either too powdery or pressed too hard and you end up having to dig into the shadow. Most of the shades in the Natural Matte Eye Palette are very pigmented and creamy smooth.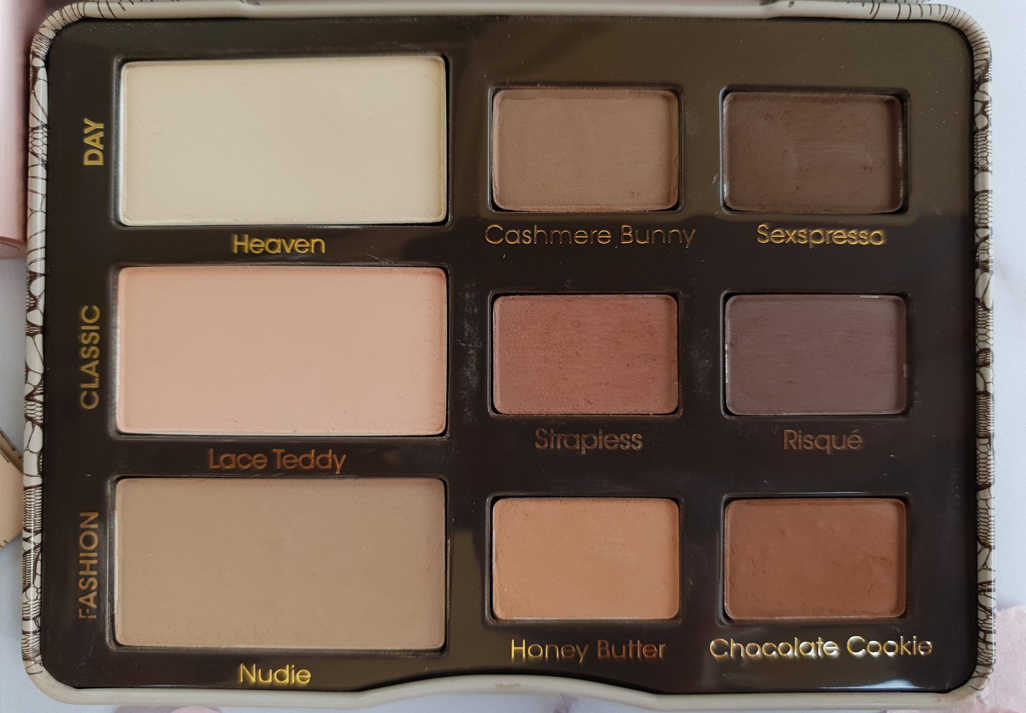 The shades strapless, nudie, honey butter and chocolate cookie are my favourite colours as these are the warmer shades in the palette. Lace teddy is my least favourite as I feel this is a dud shade. It's a light pinkish shade that doesn't really do much for me. I suppose one could use it as a transition shade but it hardly shows on my skin tone.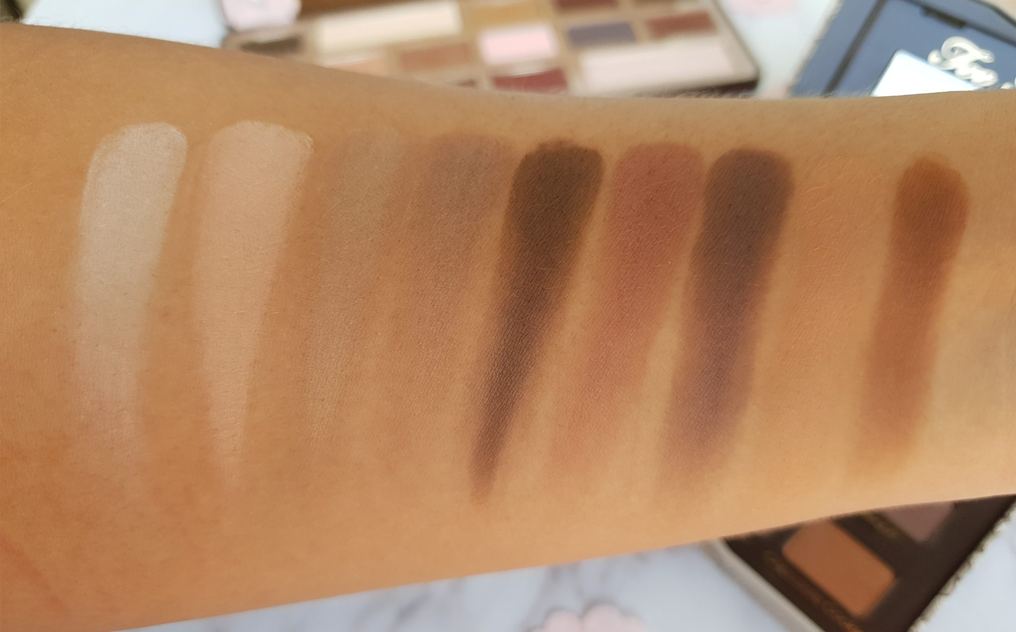 Shades include:
Heaven – cream shade, great for setting eye primer or as a brow bone highlight
Cashmere Bunny – cool mid tone brown and makes a great transition shade
Sexspresso – a deep cool toned brown great for darkening the outer corner
Lace Teddy – pale pink that can be used as a transition shade
Strapless – rosey toned light brown shade. Can be used as a crease shades or all over the lid
Risqué – dark brown with hints of plum. Great to smoke out any look.
Nudie – a warmer version of cashmere bunny.
Honey Butter – mid-tone, a warm peach that is just gorgeous. Great as a transition, crease or all over life shade.
Chocolate Cookie – warm mid-dark brown shade and great to deepen the crease to warm up any eye look.
Too Faced Chocolate Bar Eyeshadow Palette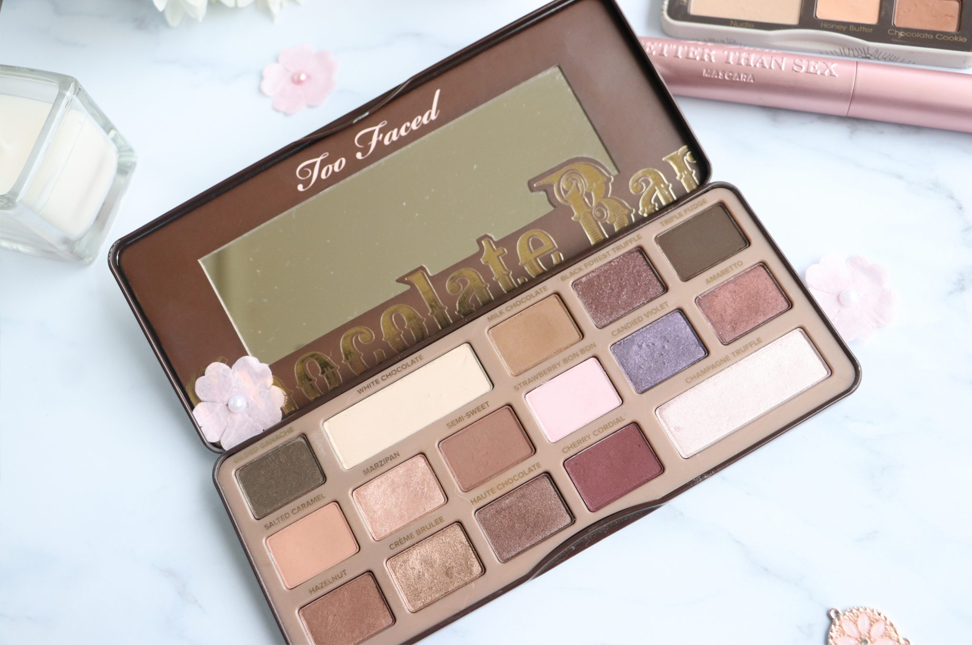 I'm probably the last person to own this palette but hey, better late than never lol.
Description
"The Chocolate Bar experience begins as soon as you open the palette and the smell of sweet chocolate envelops you.
The eye shadows are pigmented with pure, antioxidant-rich cocoa powder and include 16 matte and shimmer shades of natural browns, delicate pinks and luscious plums. Includes our signature how-to Glamour Guide with three looks to get you started. "
My description of this palette is that it's a neutral palette with a twist. Every brand has done a neutral palette but Too Faced sure knew how to add something to their "neutral palette" to make it stand out from the rest.
Packaging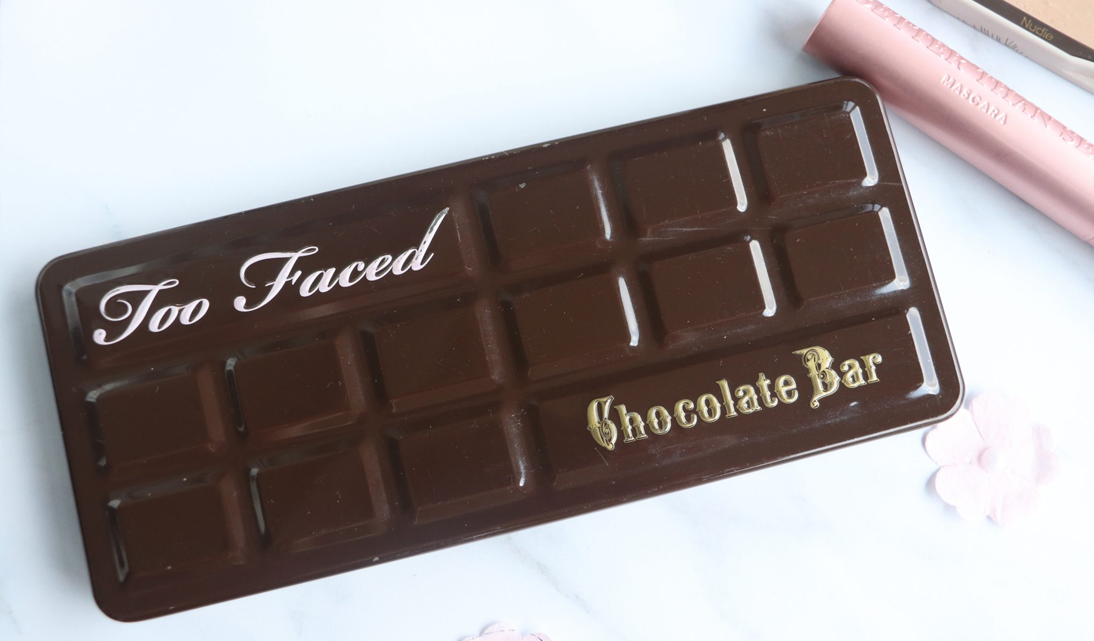 Well hello, chocolate bar. They outdid themselves with this packaging. It's a unique palette that appeals to many. This is a metallic case in the shape as well as the colour of a chocolate bar. I live for his packaging. It feels sturdy with a magnetic closure and a decent size mirror.
Eyeshadows and Pigmentation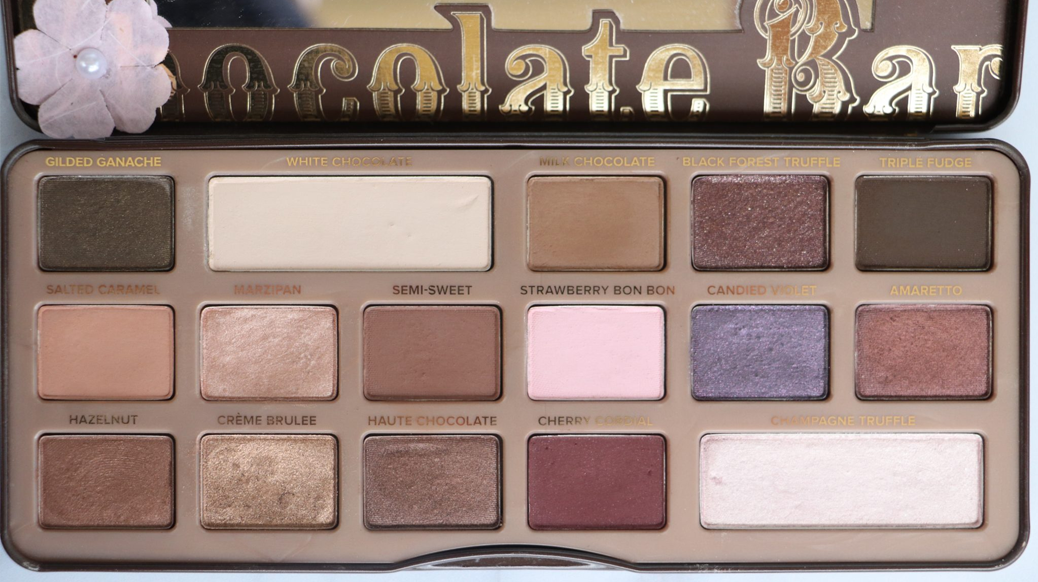 There are 16 shades in a variety of finished. You have some mattes, shimmers, satins, metallic finishes other that appear to be matte/satin but contain some shimmer particles. I love the range of matte shades. You have two great transition shades that are essential for any neutral eye looks. Two mid-tone dark brown shades to darken the crease or deepen the outer corner. There's also a nice array of other colours such as pinks, burgundy shades and even a purple. The highlight shades are also in larger pans which is great as these are some of my "most used shades "
These eyeshadows are infused with cocoa powder which contains antioxidants that's known to boost skin elasticity. It also smells like chocolate which is just heavenly. The texture of all the matte shadows feel extremely soft and blend like a dream. The shimmers apply with ease and look beautiful on the eyes but damn their metallic shades are just outstanding.
I really love this palette and will give it a 9/10. Candied Violet is the only shade that applied a little sheer and had to be layered for good pigmentation.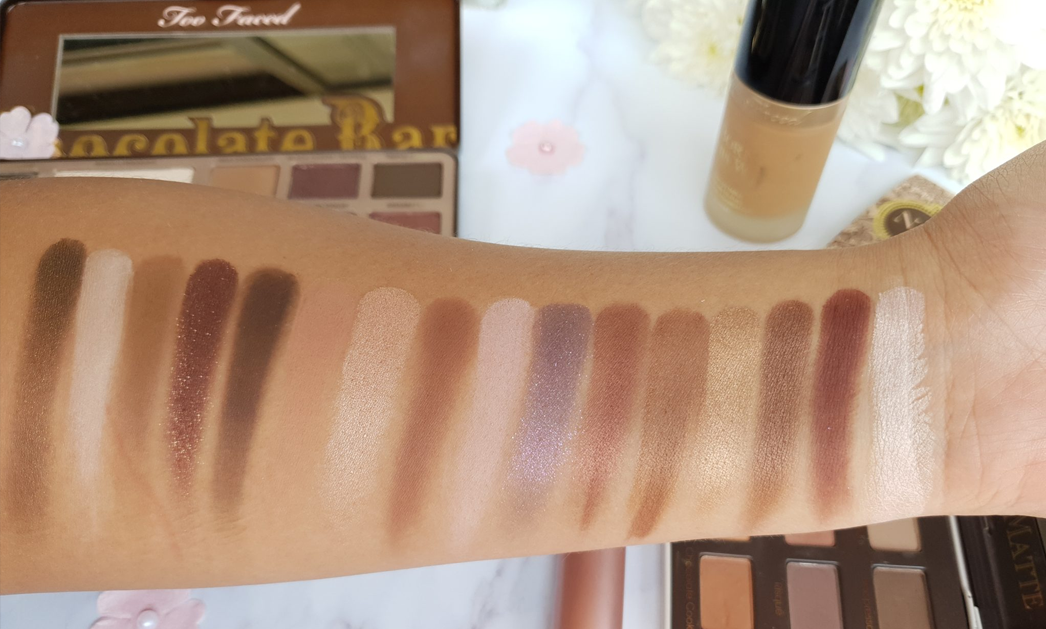 Gilded Ganache: dark brown with glitter
White Chocolate: pale nude shade
Milk Chocolate: matte light caramel
Black Forest Truffle: burgundy-brown with multicoloured glitter.
Triple Fudge: neutral dark brown matte
Salted Caramel: matte orangy light caramel
Marzipan: pink champagne metallic
Semi-Sweet: true milk chocolate matte
Strawberry Bon Bon: matte pale pink
Candied Violet: metallic-finish purple and pink glitter
Amaretto: metallic bronze plum
Hazelnut: medium-dark, golden bronze with a soft shimmer
Crème Brulee: gold with a metallic finish
Haute Chocolate: warm brown with metallic-finish
Cherry Cordial: browny-plum with purple-sparkle over a matte base
Champagne Truffle: opalescent champagne
Too Faced Better Than Sex Mascara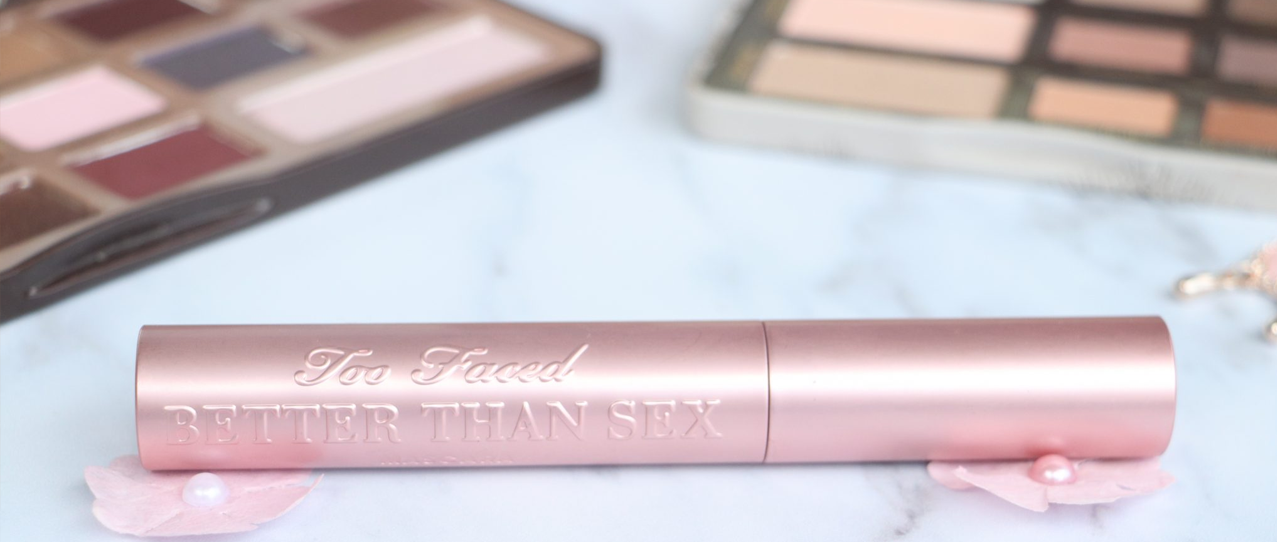 And lastly, we have the most talked about mascara. I'm quite picky when it comes to the actual wand as well as the formula. I'm one of those people who do my research before I decide to purchase a mascara. Lol. I know, quite intense.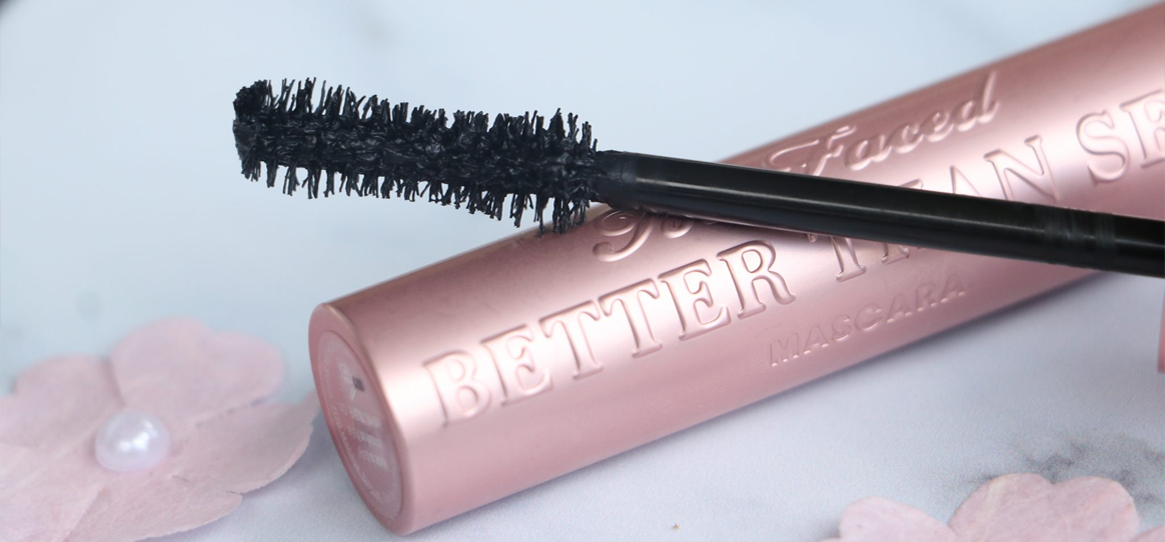 The packaging of this mascara is gorgeous. The pink metallic looking tube feels pretty weighed and luxurious. The wand is everything I look for in a mascara. It has an hourglass shape and is a brush wand rather than a plastic wand.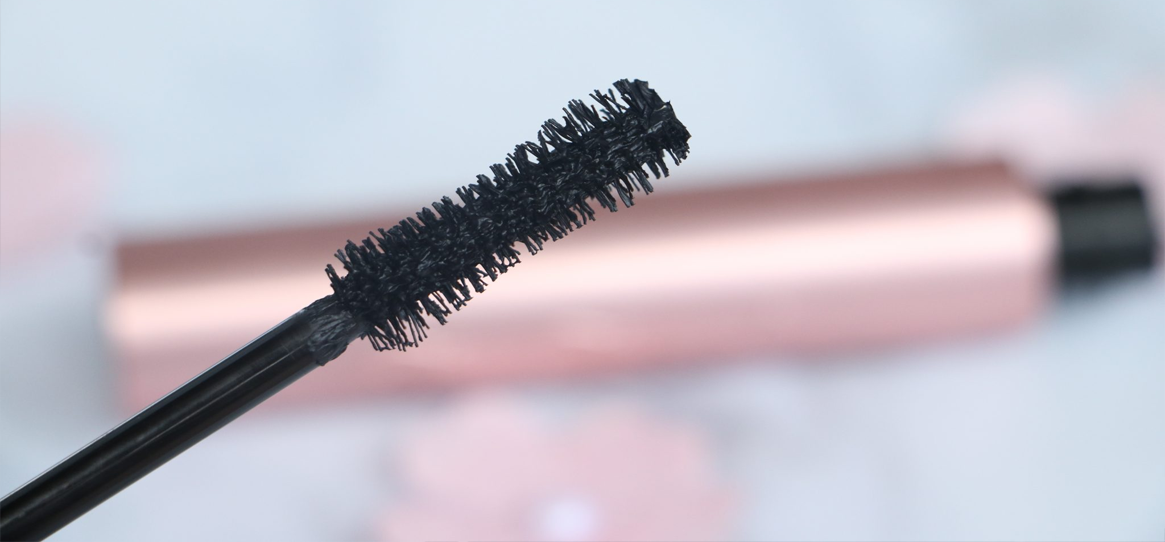 I've been continuing with the lash extensions since the wedding and haven't bought mascara in 6 months.  I received this one in a boxycharm box and I decided to use it on my bottom lashes and let me tell you, this formula, this brush, everything about this mascara is AMAZING. It lengthens, separates the lashes beautifully and no clumps!!!
Final Thoughts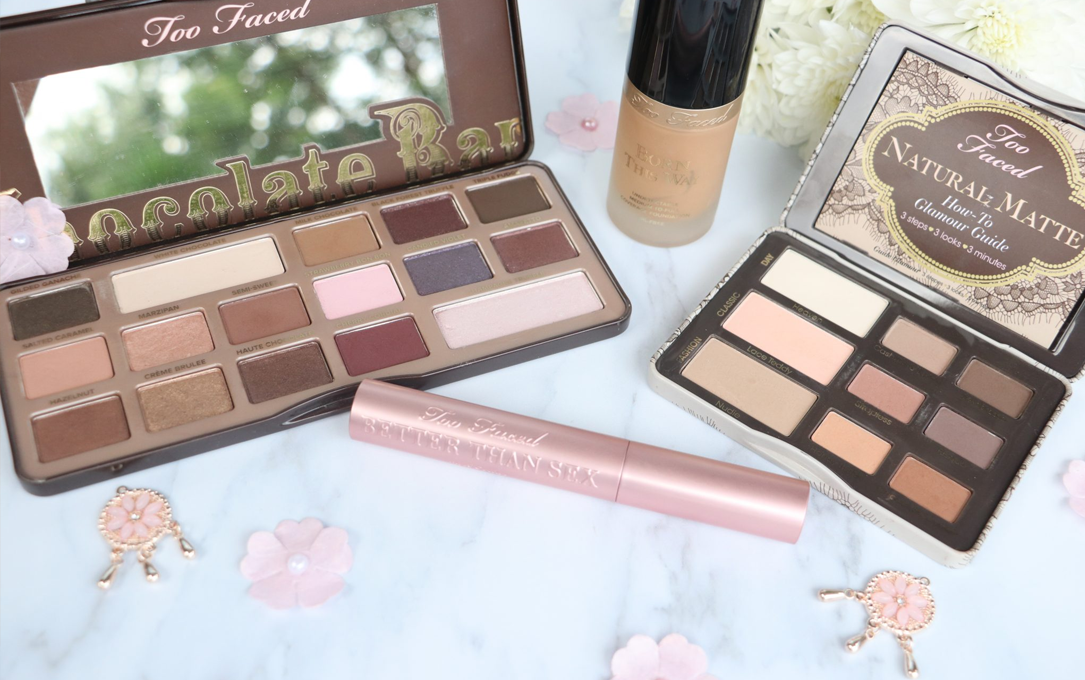 I'm impressed with the brand so far. I know I've only tested 4 products and well all know that every brand has a few products that are a total fail. In tend to do my research before making high-end makeup purchases. I don't like throwing money away and not knowing if the product was generally well received amongst beauty enthusiasts.
I've already repurchased the foundation because it's that good and keen to add the sweet peach palette to my collection. Their bronzers and some of their highlighters also look great.
I would love to hear your thoughts on this brand? Have you enjoyed their products? Any items that I should definitely try or ones that I should avoid?