About IT Cosmetics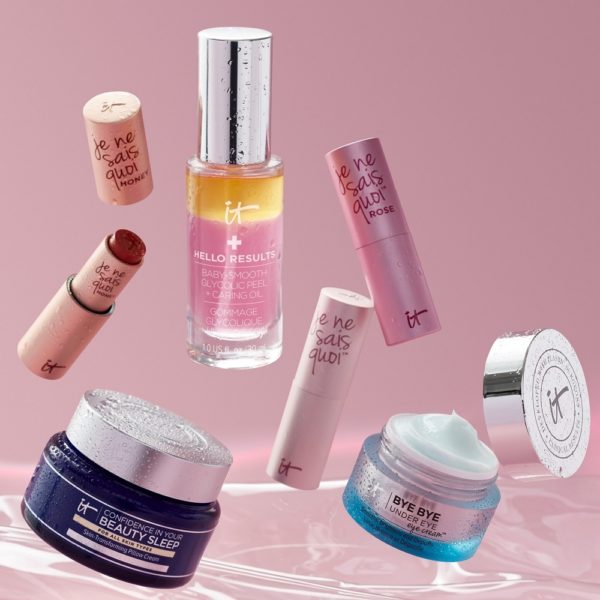 IT Cosmetics is a beauty brand that claims to carry "problem solving products" that can deliver real results. Their products are known for helping with issues like rosacea and sparse eyebrows. They were also designed to prevent creasing during longtime wear.
The company has garnered international attention, with features in Forbes, Allure, and Refinery29. They're pretty popular online too, with about 1.8 million followers on their official Instagram page.
Can all of the hype be justified? This IT Cosmetics review intends to find out. Join us as we take a deep dive into the company, its bestsellers, customer reviews, and more so you can decide if their products are worth buying.
Overview of IT Cosmetics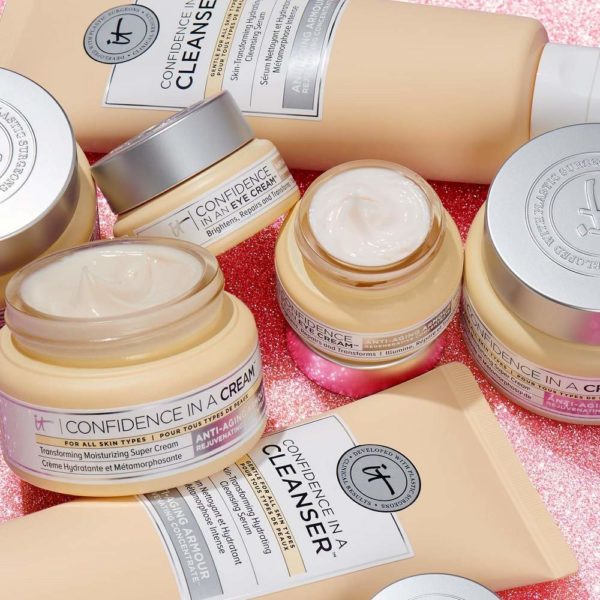 IT Cosmetics was founded in 2008 by Jamie Kern Lima. Lima was a TV news anchor who struggled with sensitive skin and thin eyebrows. This, along with a mishap while on-air, pushed Lima to create the now successful beauty brand.
Lima partnered with plastic surgeons and dermatologists to create "problem-solving, skin-loving" makeup that works. The company started on QVC, a television shopping channel, where it saw some significant success.
The appeal came through in the presentation of Lima's makeup products. She demonstrated how they would work on women of all ages and herself instead of typical models. She even removed her own makeup on-air to show how IT Cosmetics covered up her rosacea.
The New Jersey brand is beloved among customers and was bought by L'Oreal in 2016, with Lima maintaining her CEO position. Their products are also available in stores like Sephora, Nordstrom, and more.
This IT Cosmetics review will now go over some highlights of the brand.
Highlights
Variety of makeup and beauty products available for specific beauty concerns
100% certified cruelty-free
Researched by plastic surgeons and dermatologists
There's an auto replenish option available
Financing options are available
Free shipping over $50
60-day return policy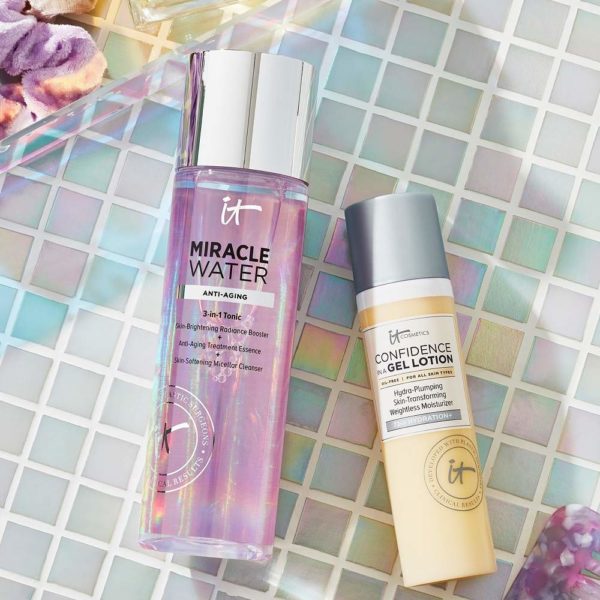 Looking glamorous while dealing with sensitive skin doesn't have to be difficult. IT Cosmetics offers creams, foundations, concealers, and brushes that can help you look and feel beautiful.
Keep reading this IT Cosmetics review to find out more about their best-sellers. Also, note that the following products are available for financing with Afterpay.
IT Cosmetics Review
Moisturizers and CC creams are great for all skin types. Is IT Cosmetics popular creams offer great hydration and even some light to medium coverage.
IT Cosmetics CC Cream Review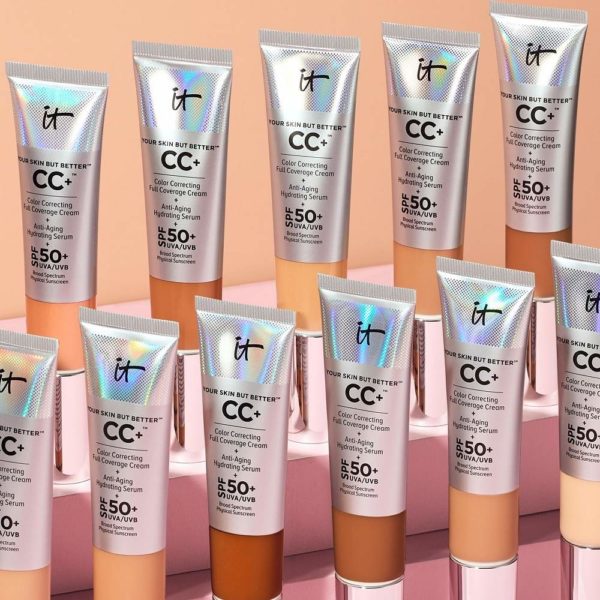 IT Cosmetics has about three CC creams available. The most loved one is the CC+ Cream with SPF 50+, which received an Allure Readers' Choice Award. In general, CC creams are perfect if you're looking for slightly lighter coverage than foundation.
The CC+ Cream has hydrating ingredients like hyaluronic acid plus vitamins that help reduce the look of scars, wrinkles, redness, and much more. The lightweight formula also doubles as an anti-aging serum and a sunscreen that's gentle enough for sensitive skin.
The beauty brand also offers more matte and dewy options of the best-seller. This IT Cosmetics review suggests using it as a spot concealer once you get started. Additionally, all three available CC creams retail for about $40.
IT Cosmetics Confidence In a Cream Review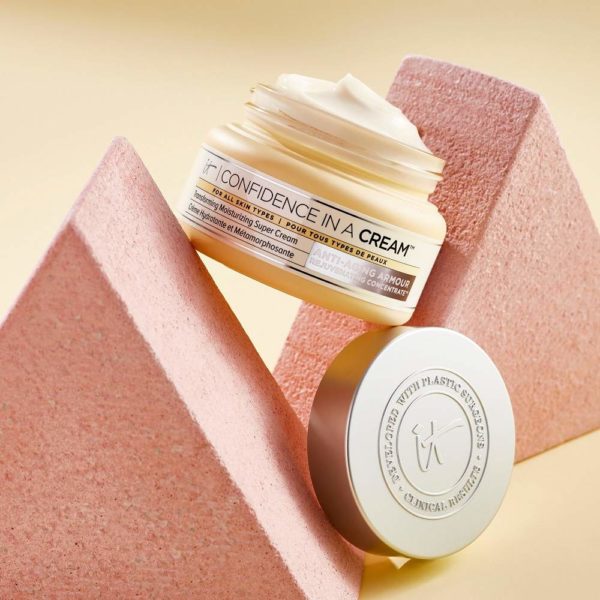 For a moisturizer that can multitask, may we suggest the Confidence In a Cream Hydrating Moisturizer? This single product has about seven benefits. That includes brightening, plumping, and even anti-aging properties.
This cream is also hydrating, and it helps reduce the appearance of pores. It's beneficial for all skin types but is mainly recommended for dry skin. It's super absorbing and contains skin-happy ingredients like ceramides and collagen for that coveted dewy glow.
This rejuvenating moisturizer comes in three different sizes, so here are the price variations:
0.5 oz: $18
2 oz: $49
4 oz: $74
IT Cosmetics Foundation Review
Next up in this IT Cosmetics review are the best-selling foundations. These foundations can provide full coverage and essential hydration, whether you're getting ready for work or a night out.
IT Cosmetics Your Skin But Better Foundation Review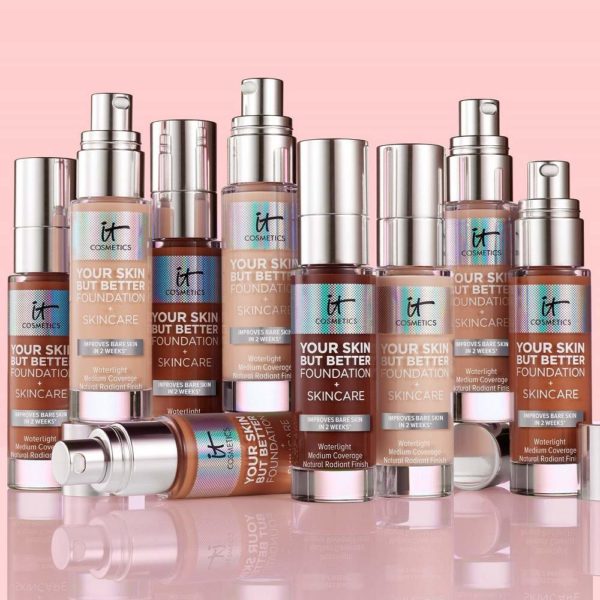 The Your Skin But Better Foundation is a medium coverage foundation that improves your complexion after two weeks of use. With ingredients like aloe vera and vitamins E and B5, your skin will thank you for applying this product.
This foundation comes in 40 different shades, so it won't be hard to find your match. Plus, the formula also includes fine pearl powder to give you some natural-looking radiance. Finally, the brand suggests applying one to two pumps to clean skin with your favorite foundation brush.
This buildable formula will run you about $40 at checkout.
IT Cosmetics Bye Bye Full-Coverage Foundation Moisturizer Review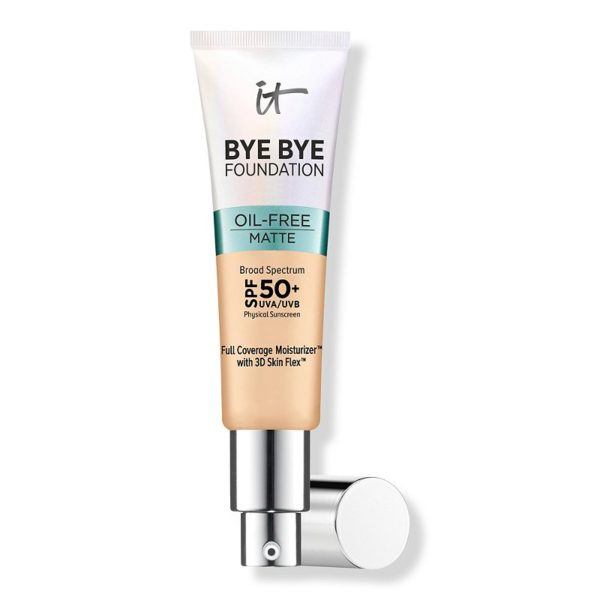 If full coverage is your go-to, the Bye Bye Full-Coverage Foundation Moisturizer is your new holy grail. It's IT Cosmetics' first full-coverage moisturizer with great skin benefits. It's hydrating and doubles as a physical sunscreen.
The foundation moisturizer helps cover anything you want, including dark circles, stubborn pimples, and pores. Additionally, with the color pigment technology, the foundation glides over fine lines and wrinkles. So, you'll be able to say "bye-bye" to any creasing.
You can get the Bye Bye Full-Coverage foundation for $40. It comes in about 12 shades and has a beautiful satin finish.
IT Cosmetics Celebration Foundation and Cosmetics Powder Review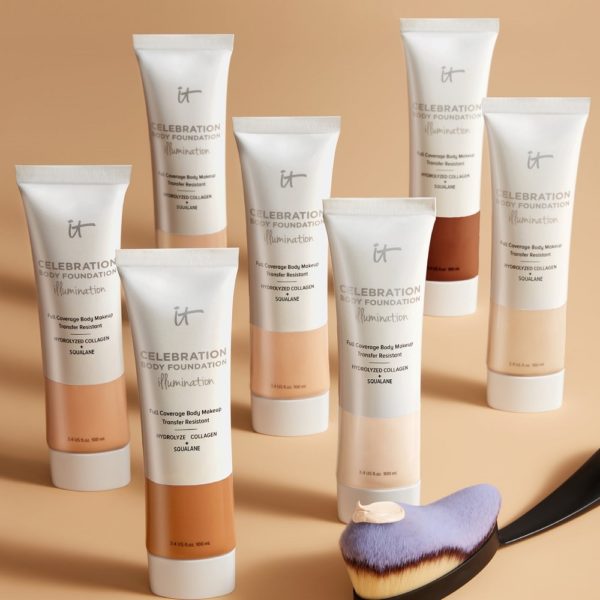 Liquid foundation isn't the only option you have. IT Cosmetics Celebration Foundation and Cosmetics Powder can give you a flawless complexion in a snap. It's highly pigmented and blurs away the look of pores with its anti-aging properties.
A hydrating powder might sound contradictory, but with ingredients like aloe and hyaluronic acid, your skin won't feel chalky or dry at all. It's basically a treatment disguised as a $39 powder and is formulated without talc, parabens, sulfates, and fragrance.
There are about seven shades of this powder available on the brand's website.
IT Cosmetics Concealer Review
This IT Cosmetics review believes that concealer is definitely an essential step in your makeup routine. The product can even be worn without foundation on top if it has enough coverage.
So, which concealers are customers loving right now?
IT Cosmetics Bye Bye Under Eye Review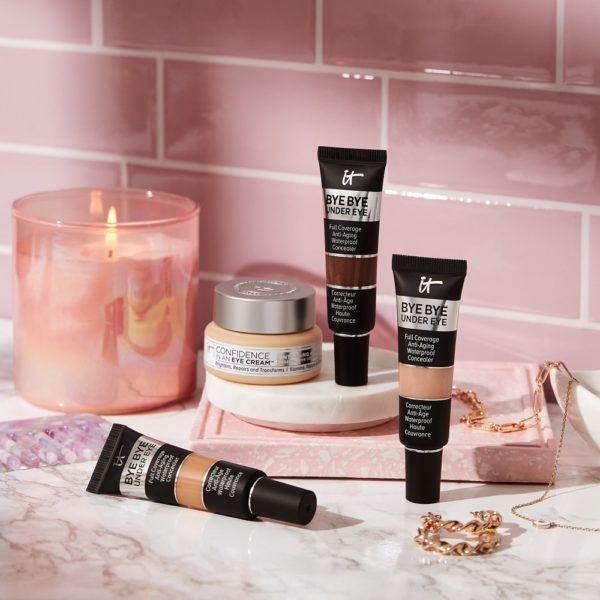 The Bye Bye Under Eye concealer does everything it can to hide away your dark circles, redness, discoloration, and more. It has similar hydration abilities as the other products, too, meaning it's kind to your skin and your makeup look.
The waterproof concealer can also double as a foundation, and it's been clinically tested to make you look younger. You can easily apply it using your fingers, a beauty sponge, or your favorite small brush.
The 12ml tube retails for $28 and comes in 24 different shades.
IT Cosmetics Brushes Review
Everyone needs a few makeup brushes for applying their products. IT Cosmetics has a range of brushes available that can get the job done.
IT Cosmetics Airbrush Blurring Kabuki Brush Review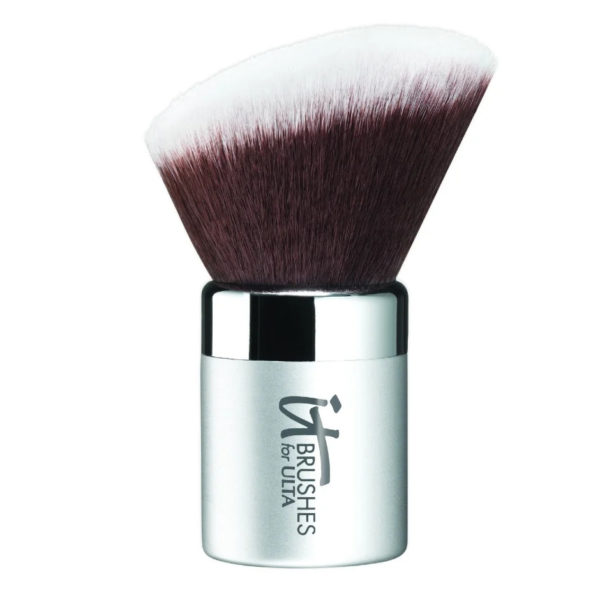 The Airbrush Blurring Kabuki Brush is perfect for applying your favorite powders and bronzers. The small kabuki handle helps you maintain control. The brush itself adapts to the contours of your face with synthetic hairs.
You can also use this kabuki brush to highlight the high points of your face. It'll give you just the right amount of product and glow. With powders, you'll get the airbrushed look that IT Cosmetics promises.
This little kabuki sells for $24 on the company site.
IT Cosmetics Heavenly Luxe Dual Airbrush Concealer Brush #2 Review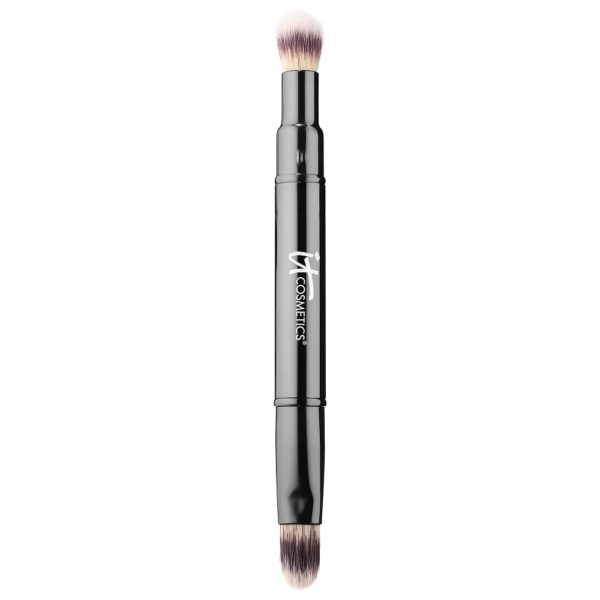 Last up in this IT Cosmetics review is the Heavenly Luxe Dual Airbrush Concealer Brush. This little tool has two brushes on both ends, so it's able to reach every corner of your face when applying concealer.
With this 2-in-1 brush, you get a round and a fluffy brush. It's perfect for buffing away imperfections and can even help you get a stunning nose contour. You could even apply concealer using your fingers and finish it off with this brush for an airbrushed look.
The useful tool will run you $24 when checking out.
Who Is IT Cosmetics For?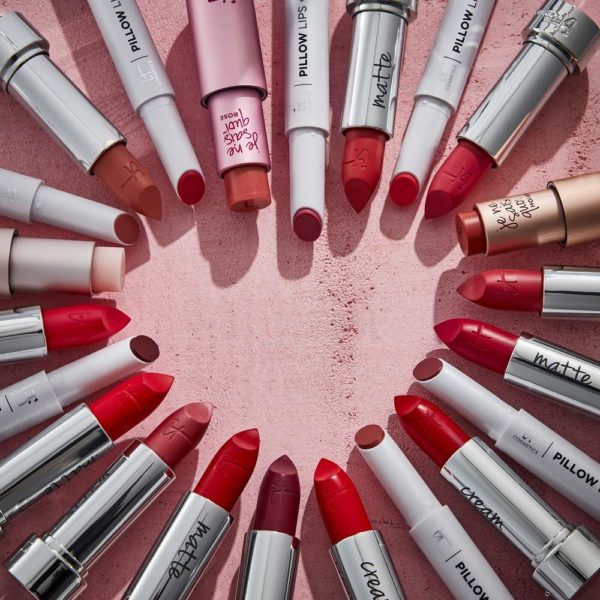 IT Cosmetics is for anyone who loves wearing makeup. They have skin-happy ingredients that any person can use regardless of their age or gender. It can also be a good option if you're looking for products that won't sink into fine lines and wrinkles.
Additionally, the brand is 100% cruelty-free. This can be an important factor for consumers who prioritize being socially and environmentally responsible.
IT Cosmetics Reviews: What Do Customers Think?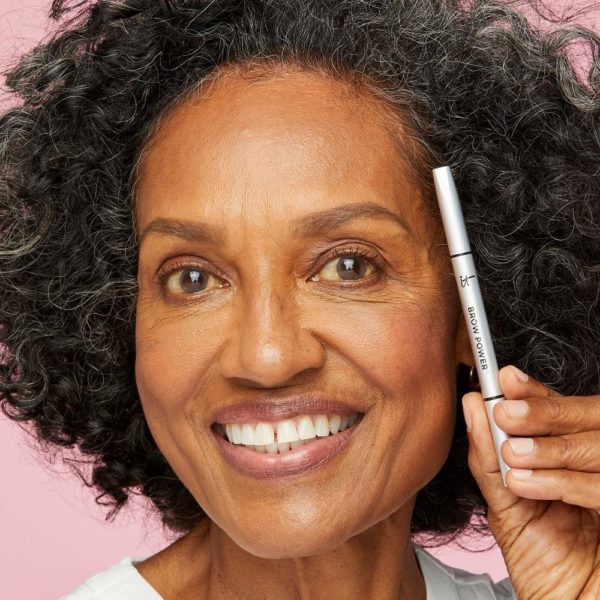 By now, you're probably wondering: what do consumers think of our featured brand? Well, this IT Cosmetics review searched the internet for testimonials. We found some on the main website, Sephora and Influenster.
Of course, there are criticisms for their products, but we can talk about that later. Here's the average rating on IT Cosmetics for the products in this review:
CC Cream: 4.4/5 stars from 7.9k reviews
Confidence in a Cream: 4.7/5 stars from 4.5k reviews
Your Skin But Better Foundation: 4.3/5 stars from 846 reviews
Bye Bye Full-Coverage Foundation Moisturizer: 4.3/5 stars from 3.1k reviews
Celebration Foundation and Cosmetics Powder: 4.3/5 stars from 905 reviews
Bye Bye Under Eye Concealer: 4.3/5 stars from 1.9k reviews
Airbrush Blurring Kabuki Brush: 4.8/5 stars from 6 reviews
Heavenly Luxe Dual Airbrush Concealer Brush: 4.2/5 stars from 151 reviews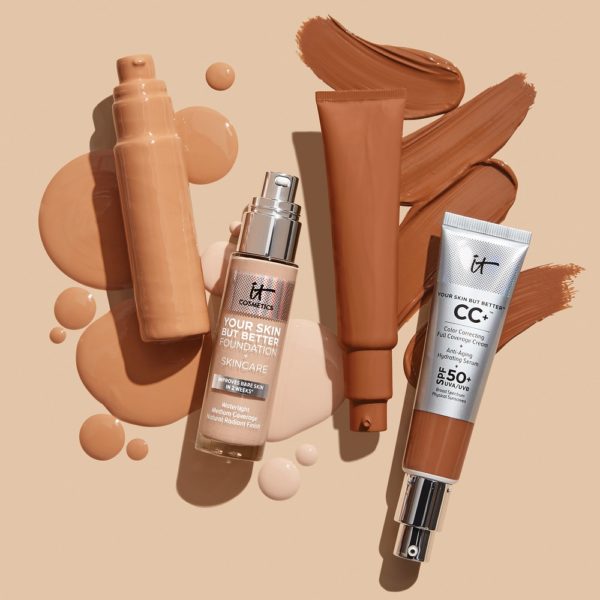 The CC+ Cream is their #1 best-seller, so it definitely receives many rave reviews. One customer writes, "This is my go-to, either alone or as a foundation. I'm 50-something and find that it evens out my skin tone and makes my face look smoother. Highly recommended!"
Another customer says, "Best CC cream I've ever tried. Great coverage and natural-looking. Was shipped fast and with care."
The Bye Bye Under Eye Concealer gets some love on and off the website, too. It has a 4.2/5 star rating on Sephora from 853 reviews.
One customer writes, "Great coverage and lasts all day! Better to blend with your fingers rather than a brush, or else you won't get the desired results."
Another Sephora Beauty Insider says, "This product is so good and totally merged with my skin. As I have dark circles, it covers them very nicely, so now after makeup, my whole face looks pretty better."
The Your Skin But Better Foundation receives positive reviews as well. One satisfied reviewer writes, "As we age, often our skin gets nooks and crannies! Those must be minimized! Only IT does this job for me. Other brands can brag but to no avail! The proof is in the results of the application."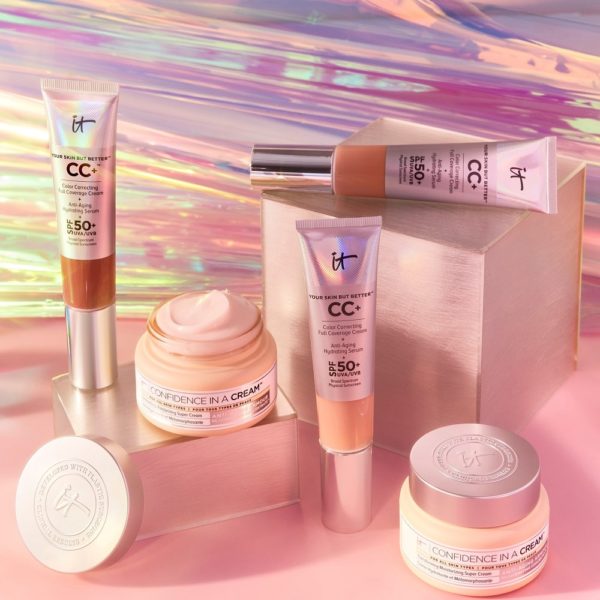 The product also gets some love from beauty lovers on Influenster, where the foundation has an average of 4.3/5 stars from 90 reviews.
One reviewer says, "this foundation is so weightless when you put it on! It's very medium coverage and won't build much more, but it's pretty darn nice on the skin. It gives a second-skin look. My skin felt great after removal."
In terms of criticism, a lot of makeup lovers struggled with the formulas IT Cosmetics created. For example, some customers didn't enjoy the concealer's thick formula and claimed it settled into their fine lines and dry patches.
Similar criticisms can be found on their CC Cream and foundation pages. Additionally, some people complain about the shade matches, along with some customer service complaints. Fortunately, these negative comments receive a response from the company with solutions and more information on how to contact them properly.
Is IT Cosmetics Worth It?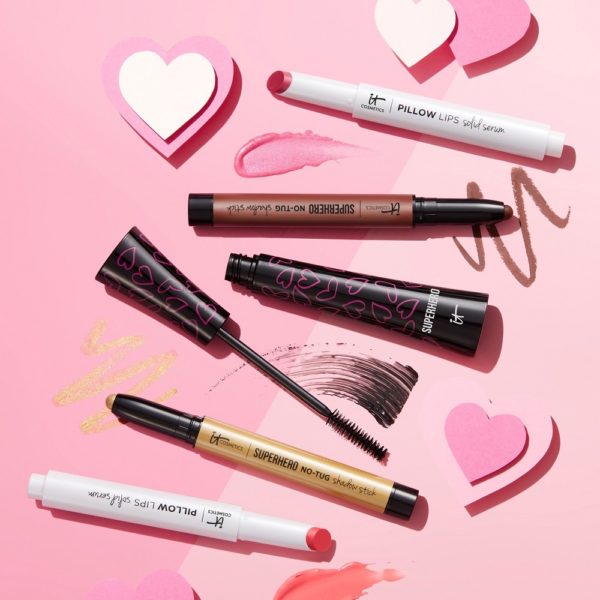 Kind-to-skin makeup products have been on the rise in recent years. Many people are looking to cover up their imperfections while also treating the conditions they have. IT Cosmetics' skin-happy formulas can provide that treatment while also delivering stunning results.
Based on this IT Cosmetics review, we think that the brand is worth checking out. Their products contain ingredients that are beneficial for the skin and are perfect for every day or glam looks. Plus, the brand is cruelty-free, paraben and sulfate-free. These can be deciding factors for some people.
At the end of the day, certain makeup products won't work for everyone. So, the criticisms can be subjective. Plus, a rep from IT Cosmetics responds to these complaints on their site regularly with potential solutions.
IT Cosmetics Promotions & Discounts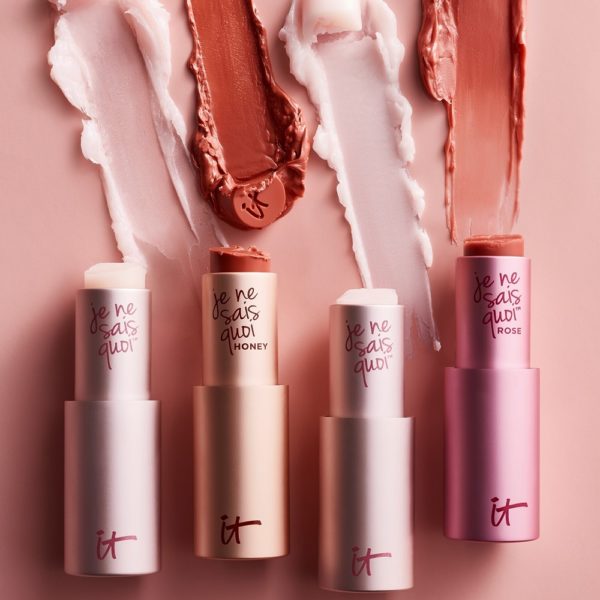 This IT Cosmetics review found that the brand currently has a buy one, get one free offer. When you choose fall product pick, you can get another one of equal or lesser value for free by using the code FALL2FOR1 at checkout.
You can also get 20% off when you sign up to receive text updates or 15% off when you sign up for their newsletter and become an "IT Girl."
Where to Buy IT Cosmetics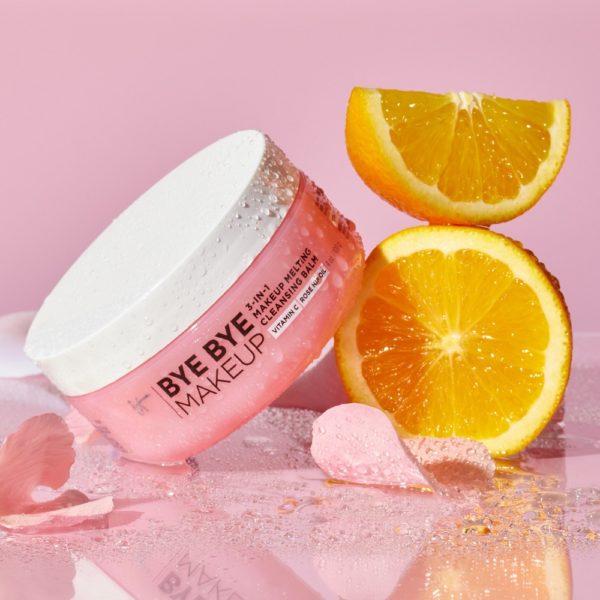 Have your eye on some new IT Cosmetics concealer? You can buy a tube from their website, itcosmetics.com. They're also available at the following retailers:
Sephora
Walmart
Nordstrom
Shoppers Drug Mart (Canada)
Ulta (United States)
FAQ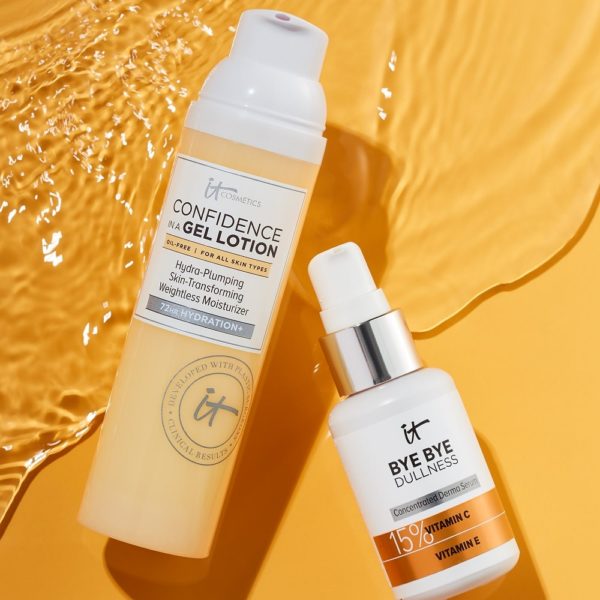 Who is Jamie Kern Lima?
Jamie Kern Lima is the CEO and founder of IT Cosmetics. She came up with the brand after noticing the lack of makeup options for her skin conditions.
Who owns IT Cosmetics?
L'Oreal is IT Cosmetics' parent organization. Jamie Kern Lima remains the CEO.
What is Go For IT?
Go for IT is a campaign that aims to help women feel empowered and confident. The brand partnered up with two non-profits to support and help drive that confidence for budding women entrepreneurs.
The brand also hosts a Go for IT Speaker series with Jamie Kern Lima that focuses on confidence.
Does IT Cosmetics test on animals?
IT Cosmetics does not test on animals. They are 100% cruelty-free, and they don't distribute products in countries that require animal testing.
Where can I buy IT Cosmetics products?
As we said above, you can buy IT Cosmetics directly from their website or at select retail stores, including Walmart and Amazon.
Does IT Cosmetics have a rewards program?
IT Cosmetics has a rewards program. By signing up for Love IT Rewards, you can earn perks throughout the year. This includes a birthday gift, free samples, and exclusive access to events.
What is IT Cosmetics' Shipping Policy?
Unfortunately, the IT Cosmetics site is only offering to ship to the United States. But, you can receive complimentary shipping if you spend $50 or more.
If your order doesn't meet the minimum, here are the price variations for each shipping option:
Ground (2 to 7 business days): $6
Two Day Shipping (2 business days): $18
Next-Day (1 business day): $30
If you choose the expedited options, your signature may be required. Additionally, any orders to military bases or the US territories can take between 7 to 14 business days to arrive. Unfortunately, expedited shipping is not available for territories, bases, or P.O. boxes.
What is IT Cosmetics Return Policy?
IT Cosmetics has a 60-day return policy with no strings attached. To be accepted, just include a copy of your receipt and the reason for your return. It can take up to 2 business days to receive your refund.
It's important to note that processing may be delayed as returned packages go through a 3-day quarantine for safety precautions. So, it may take a bit longer to receive your refund at this time.