Our expert on Allbeauty:
In 2017, allbeauty was named #1 in the Best Online Shops survey. Their mission is to offer customers the best in beauty and fragrance, at desirable prices and excellent service. That sounds like music to our ears! Can we really enjoy all the beauty (and goodies) that allbeauty has to offer? Or do those nice smells quickly disappear like snow in the sun? We investigated it for you and share our findings in this review.
Why did you choose Allbeauty?
real brands
a wide offer
great prices
customs fees prepaid by allbeauty
clear website with clear information
What is all beauty? Allbeauty in short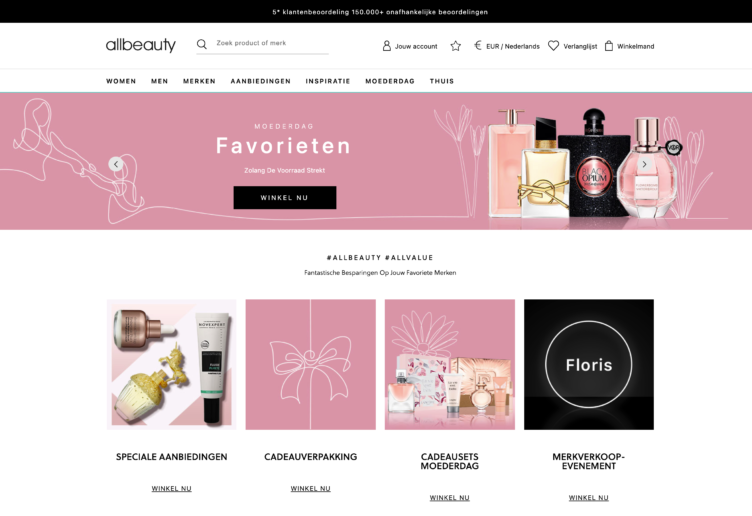 Allbeauty is an online webshop where you can buy all kinds of beauty and fragrance products from different brands. Its Allbeauty origins in Guernsey (British Crown Estate) and has existed since 2004. At allbeauty there should be something for everyone! You will find prestigious and well-known brands, but also artisanal and authentic niche items. Perfume from Yves Saint Laurent and Marc Jacobs, make-up from Clinique and benefit or your favorite hair products from Kerastase and KMS. You can find it all at allbeauty.
Is allbeauty reliable?
The range of allbeauty is very wide. To say that a lot will be sold is an understatement. Allbeauty has a whopping 2.7 million customers worldwide, and in 2018 the annual turnover was around £86 million. Since 2016, allbeauty has been able to pocket several awards and nominations. In both 2016 and 2017, allbeauty was voted #1 in the Best Online Shops survey. In 2018, allbeauty was nominated for Best Retailer of the Year and in 2019, allbeauty was recommended as the best provider of personal care, wellness and beauty for the second consecutive year.
Plus & minuses
Pros:
real brands
a wide offer
great prices
customs fees prepaid by allbeauty
clear website with clear information
Cons:
pre-register for ordering
delivery can take a while
Safety
Allbeauty also indicates that they consider security to be of paramount importance and for that reason use several security measures to protect their website and stored information against misuse and loss. Payment is made with a secure SSL connection that encrypts sensitive data. Third parties therefore have no insight into your data. In addition, all payment pages are hosted and processed by Ayden. This means that allbeauty does not keep any credit card information.
Clear and user-friendly
The range is huge and consists of many different brands. The website is also clear and easy to use. The webshop allbeauty also has an exceptionally high rating from Trustpilot. They have been rated with a whopping 9.7 out of 10. According to allbeauty itself, this has to do with great prices, great brands and excellent customer service. Taking all this into account, we dare to judge that allbeauty is reliable for shopping for your beauty and fragrance products.
Offer: what does allbeauty sell?
We'd better ask ourselves: what doesn't allbeauty sell? The range of allbeauty is extremely diverse and contains many items from well-known and unknown brands. As a man and woman you can find fragrances, hair care, skin care, make-up, sunbathing & tanning, oral care and articles for bath and body. There is also a special 'shaving & grooming' category for men. We explain a number of products in more detail below.
Fragrances
We all think it's very important to smell good. And we all definitely have a favorite perfume. There is a good chance that you will find these at allbeauty. You will find fragrances from brands such as: Chloé, Dior, Jean Paul Gaultier, Jimmy Choo, Abercrombie & Fitch, Dolce & Gabbana and Givenchy. Prices range from €0 to over €200. You can also choose from scents from designers, celebrities and classic, vegan and niche scents. Giving away a nice scent? You can find different perfume gift sets in this category.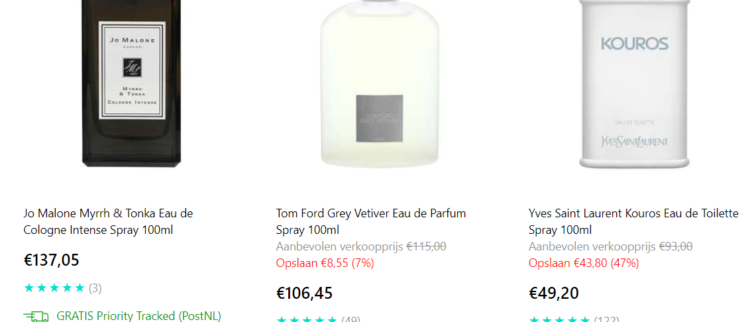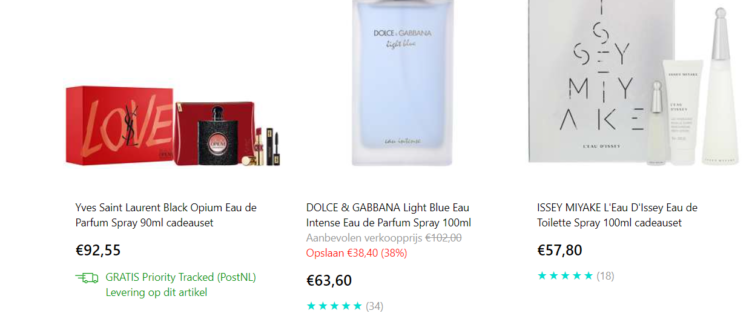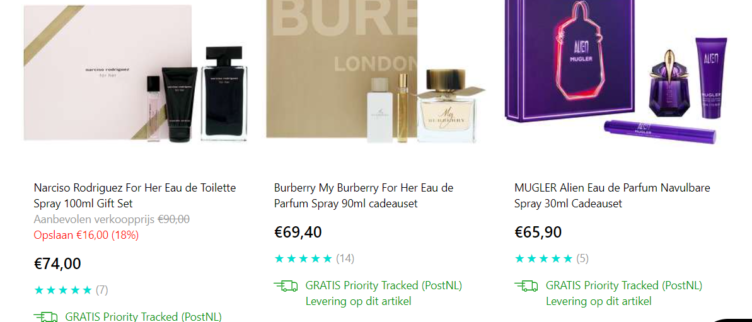 hair care
For a full head of luscious locks, good care is of great importance. At allbeauty you will find good care in brands such as: Kerastase, PMS, Elizabeth Arden, Wella and TIGI Bed Head. You can select a price from €0,- to over €100,- and tick your hair type. This way you will find the perfect hair care for your hair type. You also have the option to exclude or select a number of ingredients. For example: free of alcohol, palm oil or parabens.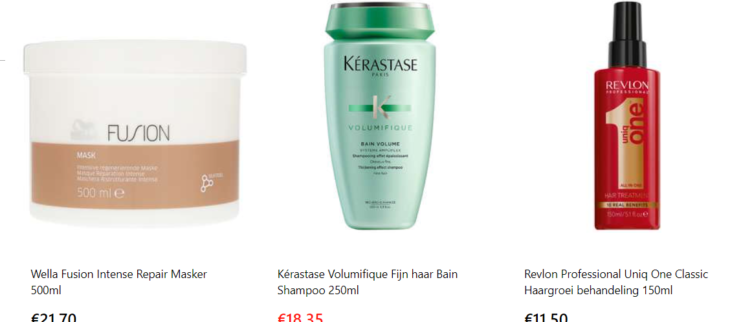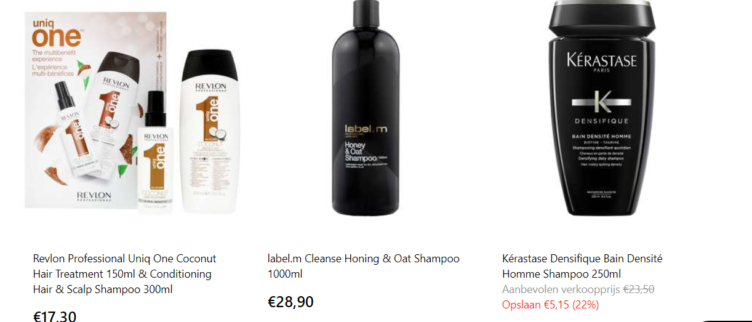 Skincare
Your favorite facial care products in one place. In the 'Skin care' category of allbeauty you will find masks, moisturizers, cleansing, serums, oils and anti-aging products from different brands. For convenience, you could select your skin type to filter out items recommended for your skin type. You could also filter for products that are fragrance-free or nut-free. Brands such as Clinique, Elizabeth Arden and Estée Lauder can be found here.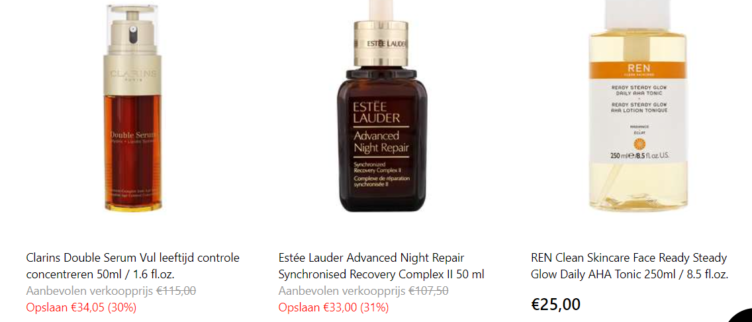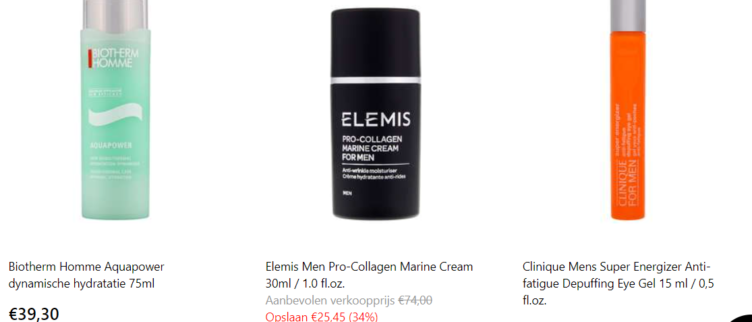 Make-up
One uses it daily, the other only for special occasions . A little make-up can do wonders for a fresh look. At allbeauty you will find make-up brands such as: Bobbi Brown, MAC, Shiseido, theBalm Cosmetics and Jane Iredale. You can again check your skin type and choose whether or not to choose certain ingredients. You will find make-up for eyes, eyebrows, lips and nails. Also find small travel packaging, gift sets and other useful tools.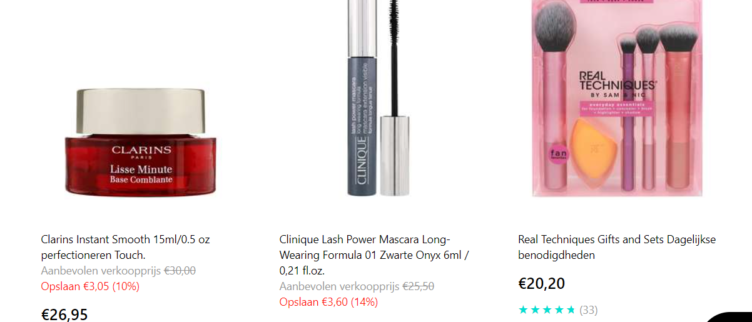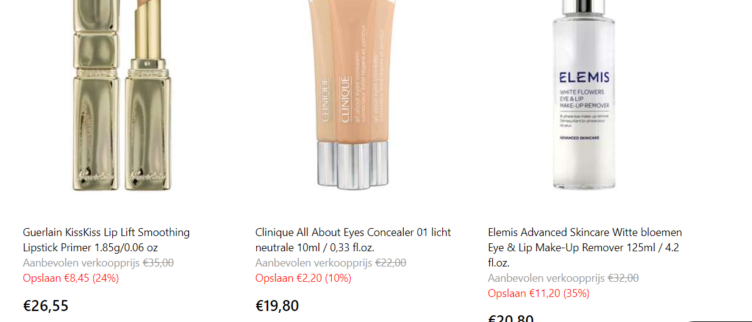 Shaving and care
For the men there is a special shaving and care category with products that you can use before, during and after shaving. Do you prefer not to shave your beard, but do you want to keep it in check? Then keep your beard in check with beard care. Also in this category you can or cannot choose certain ingredients and from different brands. A selection of the brands: Biotherm, American Crew, Acqua di Parma and Clarins.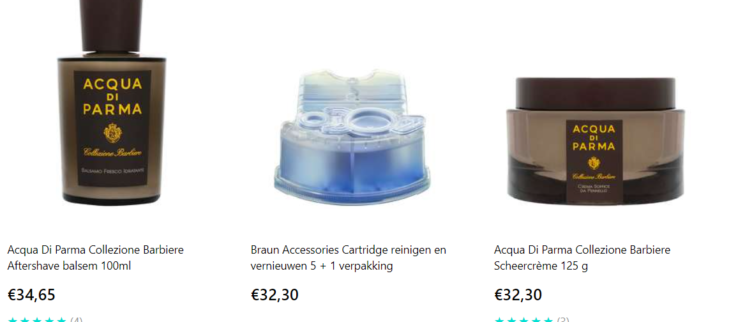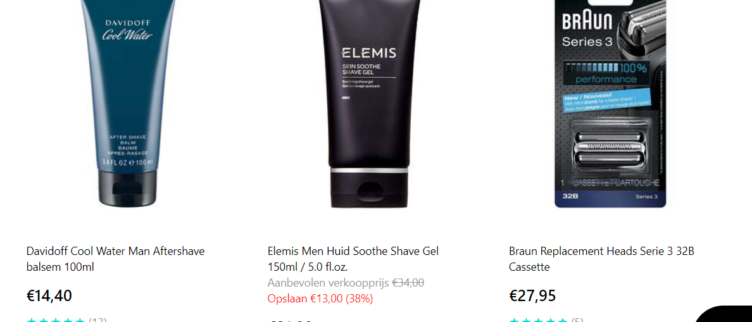 Where do allbeauty products come from?
As previously written, the webshop www.allbeauty.com is itself registered in Guersney. Guernsey also has a salon and shop. A second all-beauty store and salon was also opened in Southampton in 2015. The items are sourced from the brands by allbeauty and shipped from the UK. The items are one hundred percent authentic and genuine. Allbeauty tells you that you don't have to worry about any customs fees. The VAT on orders shipped within the European Union would be prepaid by allbeauty. They say they have no control over taxes and fees on orders outside the European Union. For more information about possible fees and taxes, you should contact your local customs office.
In view of the Brexit situation, allbeauty gives a short update. They indicate that these costs have also been paid by them and that the price you see is the price you pay.
Allbeauty's customer service
A company's customer service is an important part if you ask us. Are your customer service reps not friendly on the phone? Then there is a chance that a customer will not buy something again. If, on the other hand, a customer is well served, they will gladly come back to you. We found out how allbeauty's customer service is doing and what contact options are available.
Frequently Asked Questions
At the bottom of the homepage you will find the heading with 'frequently asked questions'. In this category questions are asked and answered about topics such as your delivery, order, account, returns, exchanges, etc. The frequently asked questions are not categorized themselves, so you have to scroll back and forth to see if your question is listed.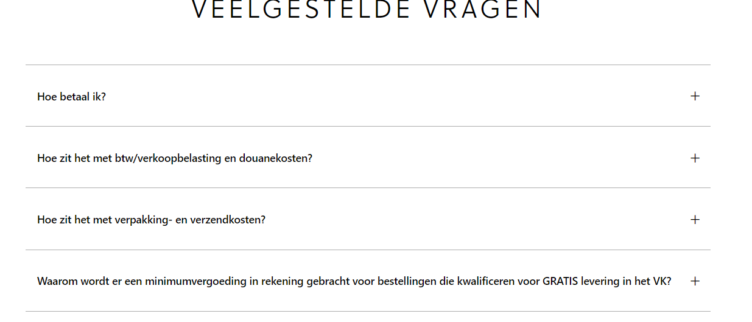 Is your question not listed? Then you could contact allbeauty customer service. We will discuss these options further below.
Contact form, email and telephone
If the FAQs are not sufficient for you, you can contact an allbeauty customer service representative. You can call them at [email protected] or call +44 (0) 1446 688111. The employees would be available by phone from Monday to Friday from 08:30 to 18:00, on Saturdays and Sundays from 10:00 to 16:00 and on public holidays from 10:00 to 14:00: 00 hours.
You could also contact us via an automated contact form. That looks like this: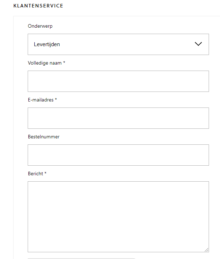 Business customers, suppliers or collaboration partners should email their questions to [email protected]. For marketing purposes there is also a special email address: [email protected].
Chat function
You will also find a chat function on the allbeauty website. With this chat function you can quickly and easily send a chat message with the automated chatbot. You should get a personal response back. We don't know after how much time you can count on this.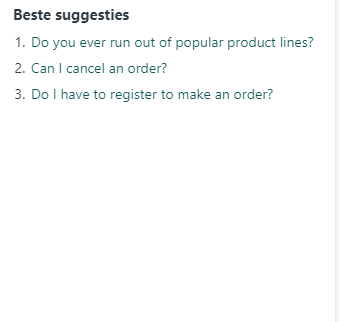 Payment options
At allbeauty you can pay online or by phone. The allbeauty webshop accepts payments in Euros, Pounds, Dollars, Canadian Dollars, Australian Dollars, Israeli Shekels, Danish Krone, Chinese Renminbi, Hong Kong Dollars, Czech Koruna and Japanese Yen.
Payment is possible in the following ways:
Visa
Maestro
Visa Electron
PayPal
JCB
Alipay
Mastercard
Pay afterwards with Klarna
Guarantee
Allbeauty would sell all products under the terms of the product descriptions. The colors and other specifications would shown on the website as accurately as possible. If you not satisfied with the color of your product (of a certain make-up product, for example), allbeauty offers a 60-day warranty on all products. According to allbeauty, every precaution taken to ensure that all details, description and prices appearing on the website correct.
Shipping options
Allbeauty states that orders will be shipped within two to three days after processing. The majority of orders should then be delivered within two to three working days. However, this also depends on the postal services. Allbeauty therefore reminds you to allow eight working days for Royal Mail tracked delivery, twelve working days for delivery in Western Europe and twenty working days for delivery in the rest of the world.
In the Netherlands, your package will delivered with PostNL. PostNL's delivery target is five to eight working days, but this can – as discussed above – add up. You will in any case receive a track & trace code from PostNL as soon as your package has been shipped. That way you can track your package. Shipping costs are €4.50. Delivery is free for orders over €60.
Returns and Refunds
If you not satisfied with your purchases, you have sixty days to return them to allbeauty. Briefly describe why you want to return the item, stating your name and address. It important that the products are unopened. For hygiene and safety reasons, care products or cosmetics that have removed from the original packaging or used cannot returned or replaced. Of course you will receive the full purchase amount as soon as the return received by allbeauty. This the return address:
Allbeauty Fulfilment Services
Unit 4
Kingsbury Business Park
Kingsbury Road
Minworth
B76 9DL
For defective, damaged, unsatisfactory quality or incorrectly received items, please contact customer service. If you encounter a defect thirty days after receipt of the goods, you will receive a full refund. You discover a defect within six months of receipt, you will offered a replacement of the product. If this is not possible you will receive a full refund. After these six months, you as a consumer must prove that the goods were really defective at the time of receipt and allbeauty will look for a suitable solution together with you. You can contact us via [email protected].
Value for money
Allbeauty sells fragrances, hair care, skin care and make-up from well-known brands. The products sold at the normal price. Allbeauty will promise you the best prices. They constantly check prices to make sure they always have the best online prices. To do this, they match the prices of their products to the prices of competitors' products. You pay a little more for renowned products from well-known brands. The quality is also absolutely there. The majority of the products used in beauty salons and/or hairdressing salons. Of course they don't just do that! The quality will then have to be adequate. And so is the price you pay for it.
Discounts and offers
You have only just opened the allbeauty website and beautiful offers and discounts are already popping up on your screen. Some offers have an end date. These are the so-called 'special offers'.
In addition, you can choose a free gift if you buy a certain product. For example, if you bought a perfume of 50 ml or larger, you could get a free AirPodcase with it.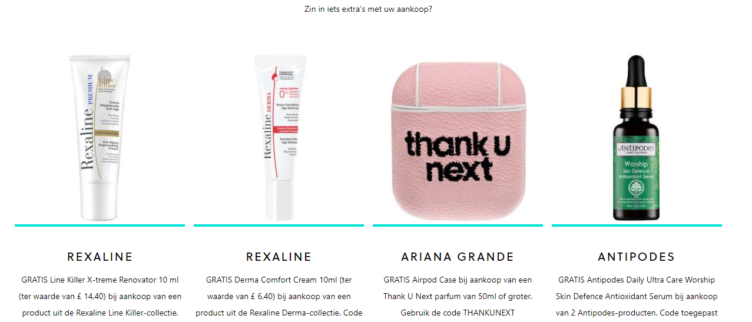 Allbeauty also sells extra large packages of your favorite cleaning product or shampoo. This could be much more beneficial!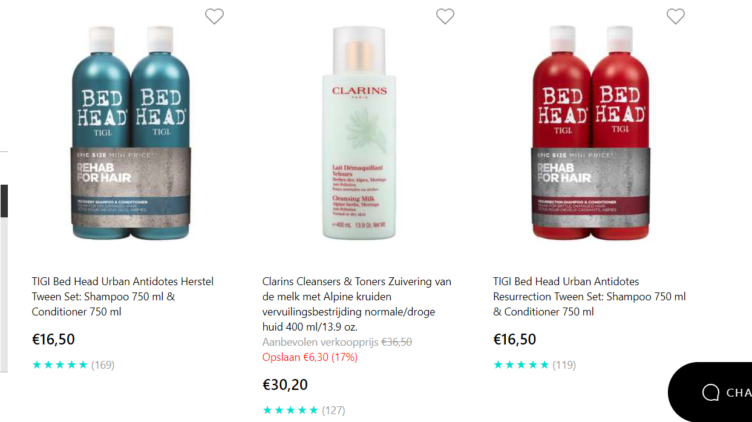 With a duo packaging of the product that you always use, you can go ahead for a while. At allbeauty they sell different duo packs for a good price.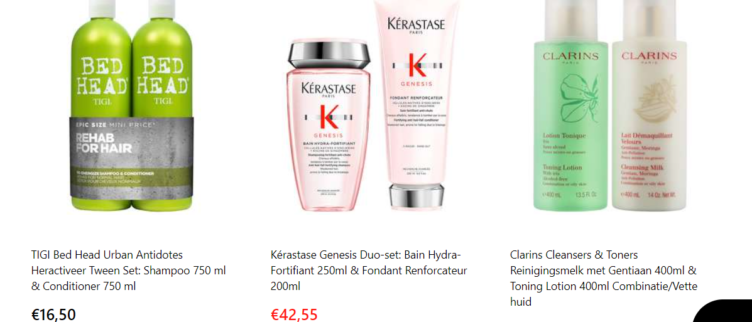 And under the heading 'Outlet' you will find products that are on sale. Be sure to browse through these, you might find a nice product for next to nothing!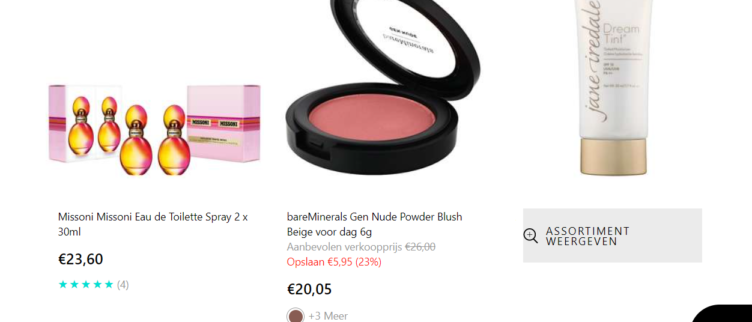 If you refer a friend to allbeauty, you and your friend will both receive a 10% discount on your first purchase.
And finally, allbeauty gives away a number of discount codes, where you get a discount on a selected brand or on selected products when you enter the code.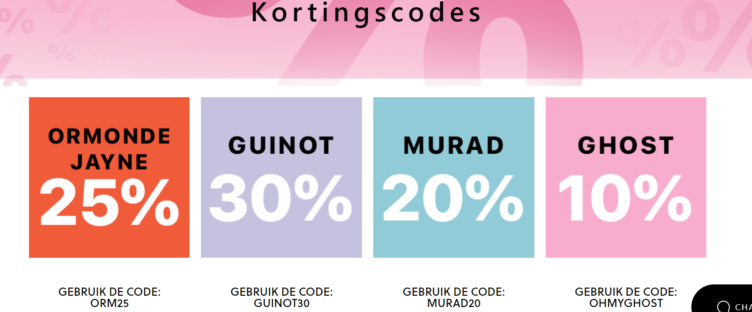 To buy or not to buy at allbeauty?
Allbeauty is a very extensive webshop where you can find all your fragrances, skin care, hair care, sun care, make-up and beard care (for men) from countless brands. Brands like Versace, Dior, Yves Saint Laurent and Jean Paul Gaultier are the rule rather than the exception. You will even find exclusive niche brands that only made in the Middle East.
Even though the packages come from Guernsey, you don't have to pay customs fees. Allbeauty will have already done this for you in advance. Because this island is no longer part of the European Union, you may have to wait a little longer for your package. The options for contacting customer service are sufficient and the information about delivery, delivery, returns, etc. is extensive. Tip: definitely take a look at the discount codes, you may have just grabbed the discount on a product you want to buy.
Tips for buying at allbeauty
Use this website to buy your favorite fragrances, skin care, hair care, makeup, cleansers and beard care.
Take into account longer delivery times due to COVID-19 and Brexit.
Take a look at the many allbeauty discount codes. You will find these under the heading 'Offers' on the website.
The same applies to bulk packs and duo packs. You can also find these under the heading 'Offers'.
Keep in mind that you have to register first before you can order.
Best alternatives to allbeauty
Lookfantastic
At this British beauty company you can buy all your favorite beauty products in one place. It would be the ultimate destination for hair, beauty, skin care, makeup and everything else related to outer and inner care. With over 1,400 products from over 350 brands, there should be something for everyone from Lookfantastic 's extensive collection.
Note
Notino has been one of the largest webshops in cosmetics and perfume for 16 years. You will find more than 55,000 different products from well-known and lesser-known brands. The webshop founded in 2004 and its origin in the Czech Republic. In addition to a webshop, Notino has a number of physical stores in Bulgaria, Ukraine, Romania, Slovakia, the Czech Republic, Austria, Germany, Hungary and Poland.