About MacKenzie-Childs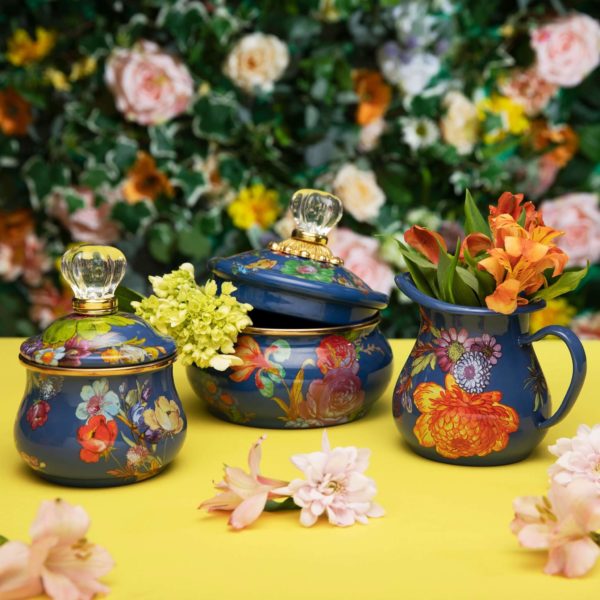 Your kitchen is generally a place to gather people to have food and conversation, so why not add a bit more whimsy and character to it? And we're happy you can do so with MacKenzie-Childs, a company known for its handcrafted heirloom kitchen and houseware pieces.
Located on a vast 65-acre farm in New York, this brand is well-known for its annual barn sales, attracting thousands of customers each year. You can scope out their whimsical home and garden accessories on Instagram along with their 237k followers. They've even been featured in Town & Country, Refinery 29, and Elle Decor.
Does your life need a bit more playfulness? Well, this MacKenzie-Childs review will go over some of the brand's cult classics, customer ratings, shipping and return policies, and answer a few FAQs so you have all the information you need to know before making a purchase. Follow the white rabbit, Alice!
Overview of MacKenzie-Childs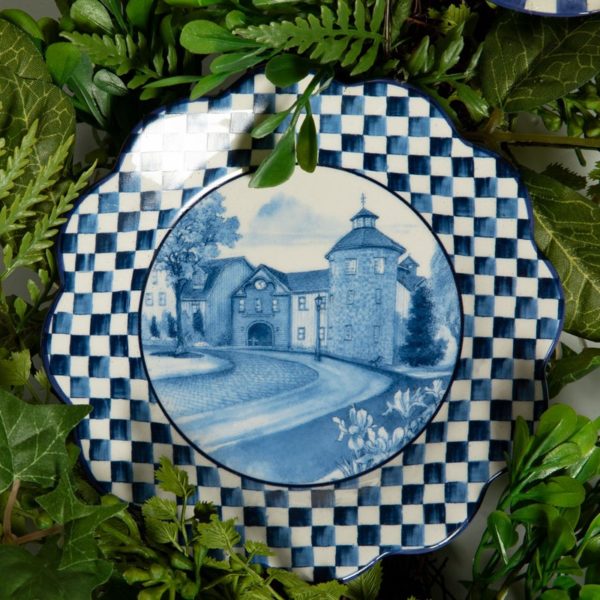 Victoria MacKenzie and Richard Childs founded MacKenzie-Childs in 1983 and began their business in the basement of Wallcourt Hall, an all-girls dormitory built in 1909. Today, MacKenzie-Childs furniture is meticulously crafted not too far from its place of origin — on a farm overlooking Cayuga Lake.
Famous for its playful patterns and Victorian-inspired ceramics, pottery, and enamel tableware and furniture, the brand takes pride in its craftsmanship, believing its artisans' work and attention to detail is what makes their products so special.
Before we delve deeper into some of the company's top sellers, this MacKenzie-Childs review will go over the brand's highlights:
Highlights: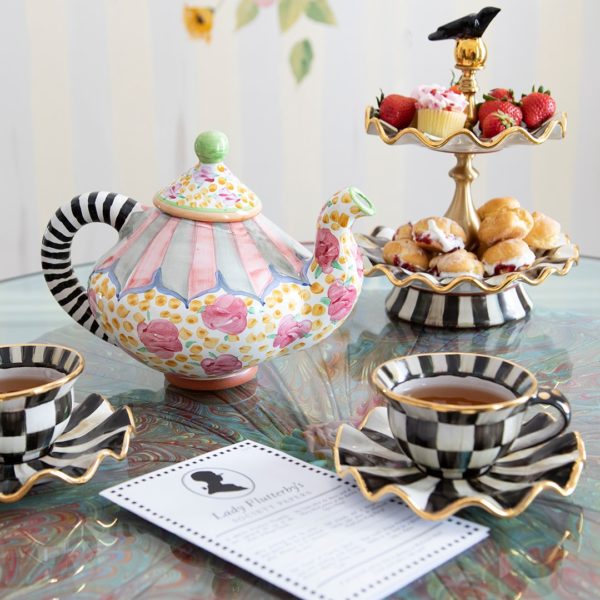 Timeless, high-quality pieces
Free shipping over $150
90-day returns (non-furniture)
Loyalty program to earn points and save on purchases
Next, we'll take a peek at some of the brand's best-selling furniture and kitchenware items. If you want to create an Alice in Wonderland themed home, then you will definitely want to keep reading and see what products MacKenzie-Childs has to offer.
MacKenzie-Childs Furniture Review
The right furniture can make a tremendous difference in how we perceive our home. Carefully chosen items that reflect your personality and style can make your space feel comfortable and sacred.
If you're a fan of the current cottagecore trend, then you will adore some of the brand's one-of-kind pieces. This MacKenzie-Childs review will take you down the rabbit hole and show you the brand's best-selling furniture.
MacKenzie-Childs Moonlight Garden Rumor Has It Ottoman Review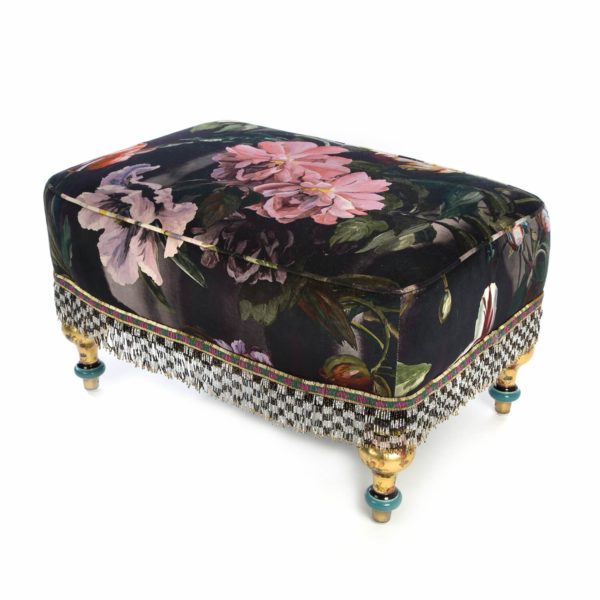 This MacKenzie-Childs Moonlight Garden Rumour Has It Ottoman will have the town a-buzzing with gossip.
This moody dark floral velvet ottoman is inspired by Old Masters paintings, such as the works of Da Vinci and Donatello. It measures 30" x 18" x 21", making it an ideal footrest or accent to any home.
One of the most stunning features of this ottoman is the beaded glass fringe at the bottom which incorporates the brand's famous courtly check pattern. The hand-painted gold legs add an extra elegant touch. At the time of this review, the Moonlight Ottoman is available for $3,995.
MacKenzie-Childs Moonlight Garden Chest Review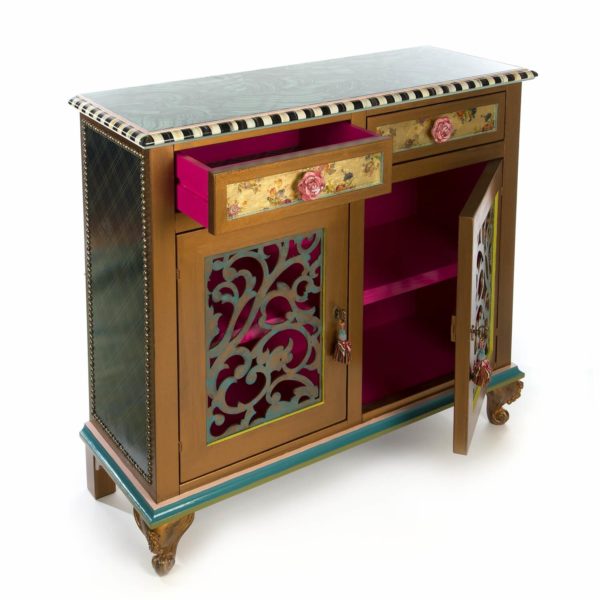 Store your most prized possessions in a chest that will make you feel like you're a character in Louisa May Alcott's Little Women. The MacKenzie-Childs Moonlight Garden Chest has so many details, making this piece a real treasure you can pass down from generation to generation.
Let's start by admiring the vintage-glam aura this garden chest conveys. This item is made out of beechwood and hand-painted with courtly stripes. It also has hand-applied tartan paper, floral transfers, and ceramic knobs.
Measuring 40" x 36.5" x 15", this beautifully designed chest gives you function as well as fashion. With two drawers and an adjustable shelf, you'll have plenty of storage space to place several handwritten love letters and other treasured keepsakes in.
Oh, and you don't need to worry about security as the chest comes with locking hardware that has colorful tassels attached to it. This chest is currently on backorder at the time of this review but will be made available to ship soon. It retails for $3,995.
MacKenzie-Childs Queen Bee Chair Review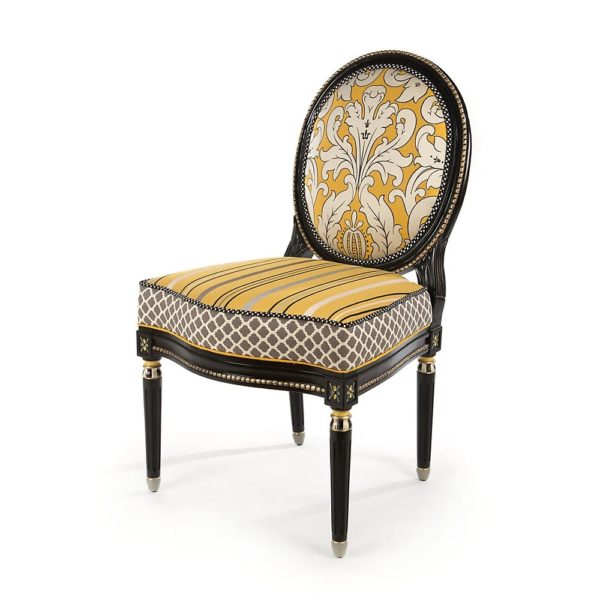 Need a chair fit for royalty herself? Look no further than the MacKenzie-Childs Queen Bee Chair. This buzzworthy item will make you want to nest inside reading Charlotte Bronte and other classic authors all day long.
A lavish yellow, gray, and black color palette brightens up any space. You can show this lovely seat off by placing it in your living room or tuck it in a private space such as your office. This piece is crafted from European beechwood and hand-painted with great care. The fabric even has a subtle honeycomb print that gives the seat an element of sweetness.
The chair measures 41" x 41.5" x 35" so you can sink right into it as you enjoy a midday break or some leisure time. Slow your roll and resist being busy as a bee with this chair which retails for $5,995.
MacKenzie-Childs Tea Kettle Review
A charming kettle can turn your kitchen into a relaxing and quirky space. And a MacKenzie-Childs tea kettle is a great way to add a dash of quintessential British decor to your kitchen.
So fire up the stovetop and pour yourself a cuppa as this MacKenzie-Childs review takes you through the brand's most popular kettles.
MacKenzie-Childs Courtly Check Enamel Whistling Tea Kettle Review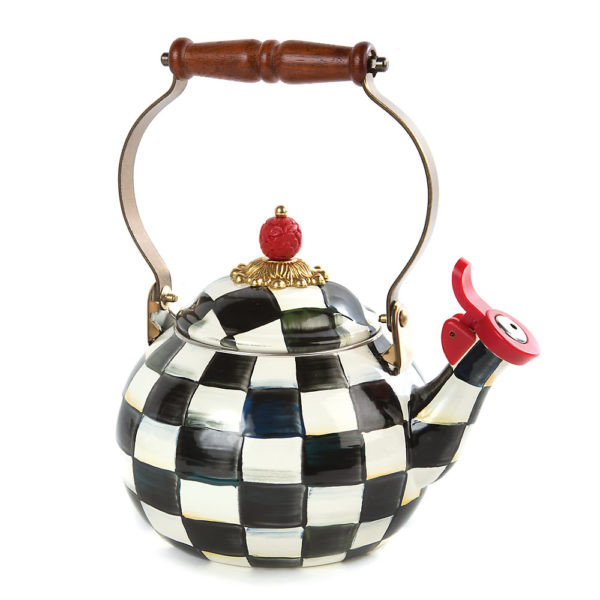 We'll start by exploring a kettle that wears the brand's most popular pattern — the timeless courtly check. The MacKenzie-Childs Courtly Check Enamel Whistling Tea Kettle is stylish and cool but in a way that will also make you feel like you're about to have afternoon tea with the Mad Hatter and the March Hare.
You also don't have to worry about leaving the stove on for longer than it needs to be as the kettle whistles once the water comes to a boil. This kettle measures 5.5" x 8.5" and holds two quarts of water, making it an excellent choice if you're a regular tea party host. Guests will be enchanted by the minimalist appearance as it sits on your stove.
Currently, the Courtly Check Tea Kettle is on backorder. However, this item regularly retails for $158.
MacKenzie-Childs Royal Check Enamel Tea Kettle 2 Quart Review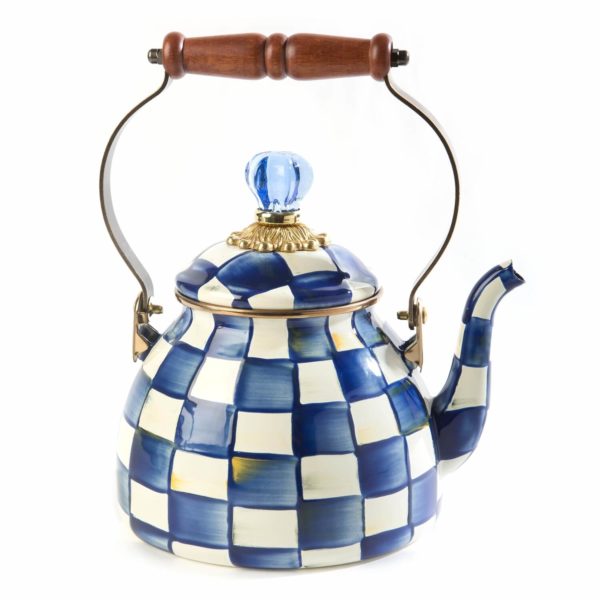 For those who love being by the sea, lake, or ocean, you will be enchanted by the MacKenzie-Childs Royal Check Enamel Tea Kettle.
Artisans were inspired by the ever-changing blue skies and water of Cayuga Lakes, which is reflected in the various blue hues in its classic checkered print.
Each kettle is hand-painted and uses slightly different variations of the same design but no two products are the same. The lid is topped with a delicate blue glass knob and wood handle.
This gorgeous kettle can be purchased for $138. At the time of this MacKenzie-Childs review, this item is on backorder.
MacKenzie-Childs Flower Market 2 Quart Tea Kettle Black Review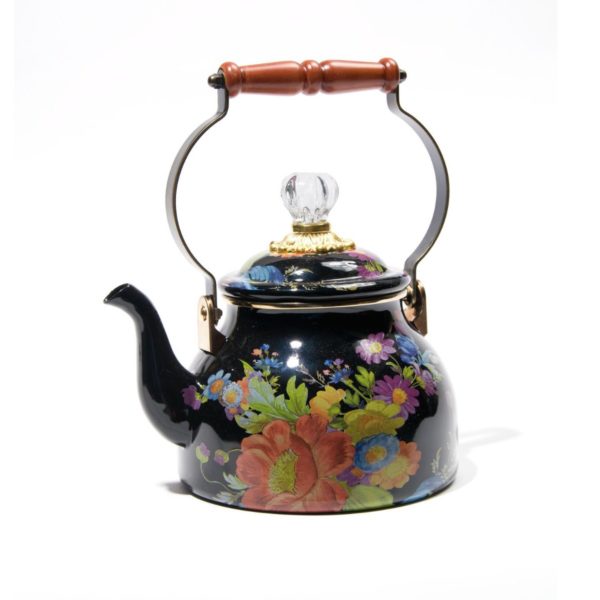 The MacKenzie-Childs Flower Market 2 Quart Tea Kettle Black combines floral elements and Victorian elements that will transport you into a bucolic space.
Fresh floral garden details are hand-painted over a heavy-gauge steel kettle. It comes topped with a glass lid and a wood handle so you can feel like a woodland fairy while you serve your guests a hot beverage.
This versatile Flower Market Tea Kettle can be used for decoration, function, or even as a vase for hand-picked flowers and greenery.
At the time of this MacKenzie-Childs review this kettle is on backorder. It regularly retails for $138.
Who Is MacKenzie-Childs For?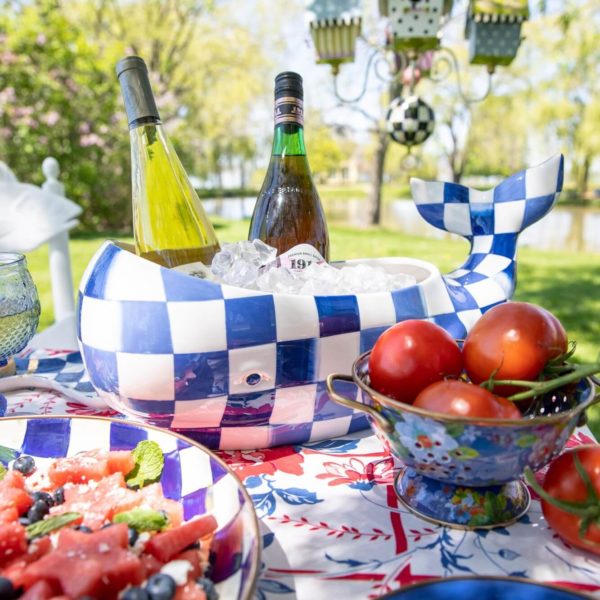 MacKenzie-Childs made for anyone who appreciates more fun housewares with a bit of a twist. The classic appearance and whimsical home décor a good fit for anyone who loves to brighten their homes with creative elements. The brand generally caters to older women with its myriad of vintage floral patterns and checkered prints within their collections.
Since the items are on the higher end of the price spectrum, younger people or those on a budget are not the ideal demographic for this brand.
MacKenzie-Childs Reviews: What Do Customers Think?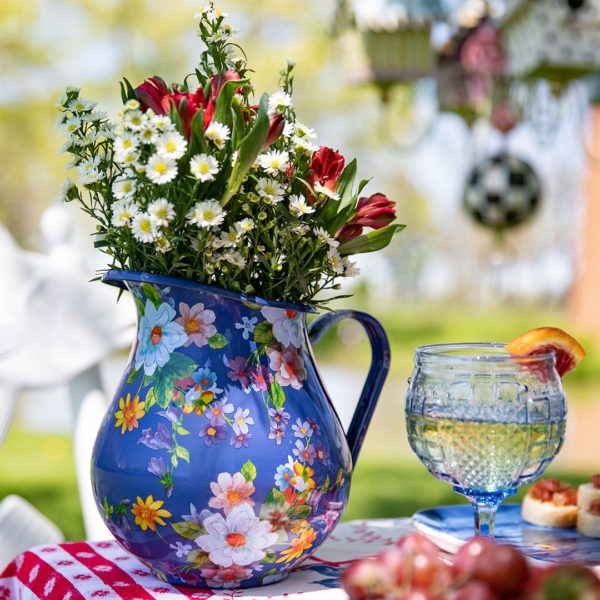 With its over-the-top style, you might be wondering if the products shown above meet customers' expectations when they receive the product. And though many of the items are beautiful, do they live up to the hype?
This MacKenzie-Childs review got the lowdown from third-party sites that captured their customer's thoughts on some of the brand's items. Due to very few reviews on the brand as a whole, we decided to focus on their famous tea kettles instead.
Let's start with the brand's most popular item — the MacKenzie-Childs Courtly Check Enamel Whistling Tea Kettle. Customers from the home furnishing shop Amara seemed to have nothing but nice things to say about the kettle.
From 33 reviews with a 4.9/5 star rating, one happy reviewer says,"This is the most stunning kettle I have ever seen and is unsurprisingly already a talking point with visitors. I haven't yet actually boiled water in it as it is sitting in all its glory looking fab. But I will soon!"
Another 5-star reviewer from Amara says,"This kettle has received so many compliments."
When it comes to the MacKenzie-Childs Royal Check Enamel Tea Kettle, many reviews on Williams-Sonoma say that the product looks lovely in their home and boosts their mood.
Out of 4 customer ratings and a 4.5/5 star rating, one ecstatic reviewer wrote, "Love love my new tea kettle! The blue checkered truly pops in my kitchen! Can't wait to use it and can't wait to keep adding to the collection! Best Mother's Day gift!"
People are smitten with the design of MacKenzie-Childs kettles. From 797 reviews and 4.7/5 stars on Amazon, a satisfied buyer says, "This is such a charming, cheerful piece of serviceable kitchen art. I love having it on my stove… makes me happy. It is so pretty and does a great job heating water quickly."
For an aesthetically pleasing kettle or home décor item that pays homage to the countryside, a MacKenzie-Childs is a great choice.
Is MacKenzie-Childs Worth It?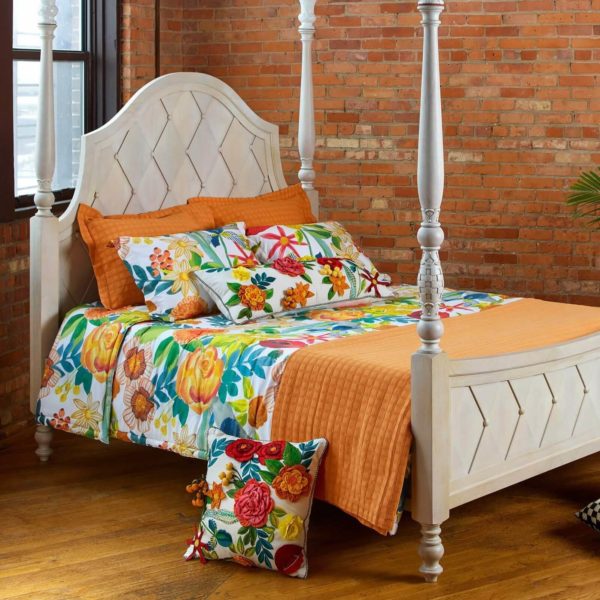 This MacKenzie-Childs review believes that the brand is worth checking out. You can find some lovely imaginative pieces in their collection.
Additionally, when it comes to the company's outlet store and in-person retail location, they have received plenty of positive feedback from customers on Google.
MacKenzie-Childs Promotions & Discounts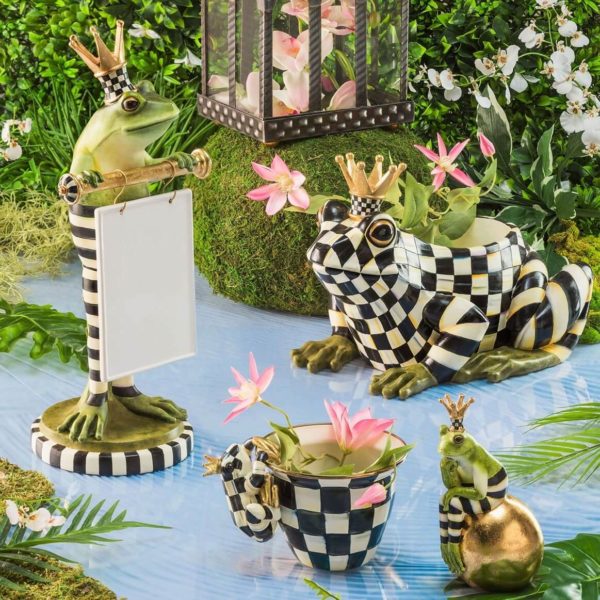 MacKenzie-Childs has an abundance of items in the clearance section on its website. A lot of off-season items are reduced in price so it may beneficial to plan ahead if you're looking for holiday décor so you can maximize savings.
The brand also has a loyalty program where you can earn and redeem points through purchases, referring friends, signing up for email updates, and following the brand on social media. You will receive a MacKenzie-Childs coupon code to save 10% off your first purchase when you sign up for the rewards program.
Where to Buy MacKenzie-Childs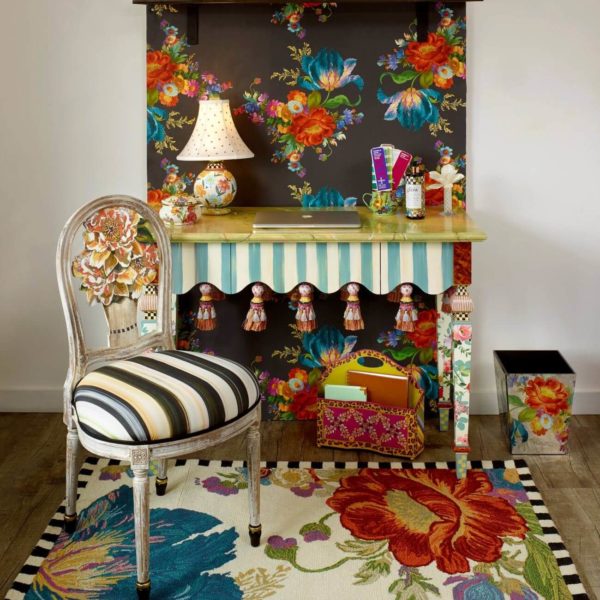 The widest selection of MacKenzie-Childs products can purchased from their website. You can also buy select products from Amazon and other retailers across the US.
To see if there's a store near you that sells this brand, we suggest you check out their store locator tool on their site.
FAQ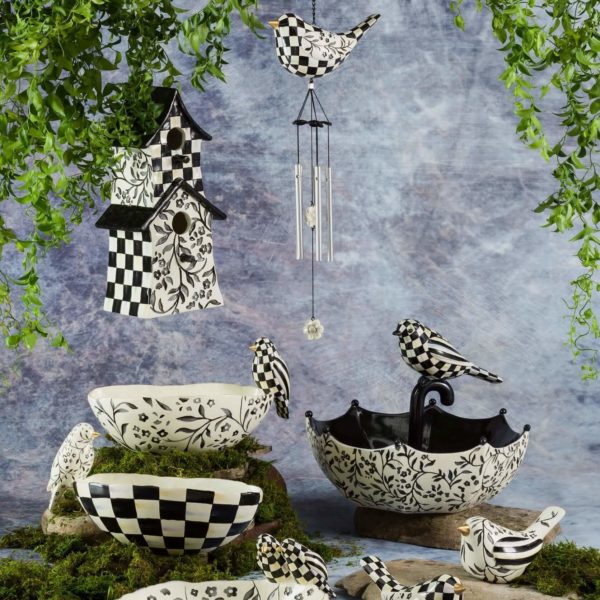 Who owns MacKenzie-Childs?
Aurora Brands is currently the parent company of MacKenzie-Childs. The company's headquarters is located in Aurora, New York.
Does MacKenzie-Childs ship internationally?
At the time of this MacKenzie-Childs review, the brand does not offer international shipping. However, you can purchase from third-party websites or retail locations. To find one close to you, check out their store locator tool we've listed above.
What is MacKenzie-Childs' Shipping Policy?
MacKenzie-Childs offers a few different delivery options and charges shipping fees based on the cost of your order.
Orders $150+: Shipping is free (continental US only)
Orders less than $75: Shipping is $8
Orders over $75: Shipping is 10% of subtotal
For those living in Alaska, Hawaii, or Puerto Rico, only standard shipping is available, with your shipping fee being 25% of your total before taxes and other charges.
The brand offers a couple of unique additional delivery options for furniture items — freight or in-home white glove delivery. If you're wondering which one to use, make sure to reach out to the brand's customer service.
What is MacKenzie-Childs' Return Policy?
Unsatisfied with any of the items you bought from MacKenzie-Childs? The brand has a 30-day return policy for all furniture items. For non-furniture items, returns must made within 90 days of shipment. In both cases, you must provide proof of purchase.
If you purchased your item online, you can return it by mail. Simply fill out a return form and mail it to the address located on their website.
Damaged or missing furniture must claimed within 5 days of receipt. You should also keep in mind that the brand charges a 25% restocking fee. Which will deducted from your total refund amount.
Listed below are the refund options the brand provides:
Full refund in original payment for items returned with original receipt within 30 days.
Items purchased by cash in-store will refunded with cash (under $75) or check (over $75).
Store credit will granted for items returned with a gift receipt.
You have a 1-year expiration date for any store credit.
If you change your mind about your order before shipment, you can cancel and receive a full refund as long as you do so within 7 days prior to delivery. If you cancel 6 or less days before the delivery date, you'll only be eligible for a MacKenzie-Childs gift card.