About Horchow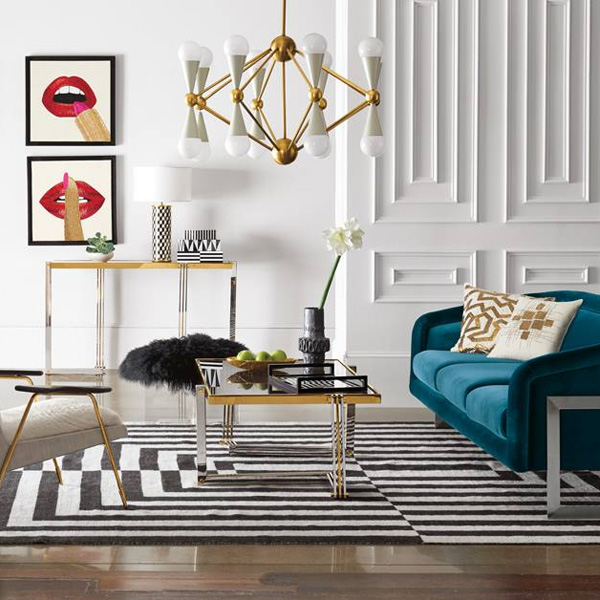 Horchow's collection of luxury furniture, decor, and lighting effortlessly merges comfort and style. Its virtual showroom is filled with fan-favorite lines like Haute House, Kate Spade, and Johnathan Adler, so it's no surprise to find 300k+ followers across its Instagram and Facebook profiles.
Attention comes naturally to this luxury giant Neiman Marcus-owned brand. Features in noteworthy publications like the New York Post, Forbes, and Homes & Gardens aren't hard to find.
Can this collection be the one-stop shop when it comes time to re-design your home? This Horchow review is here to help you answer that question.
In the following sections, we'll dive deep into the company's history before introducing you to its most-popular furniture and decor. We'll also feature feedback, promotions, and more to give you the full scoop.
Overview of Horchow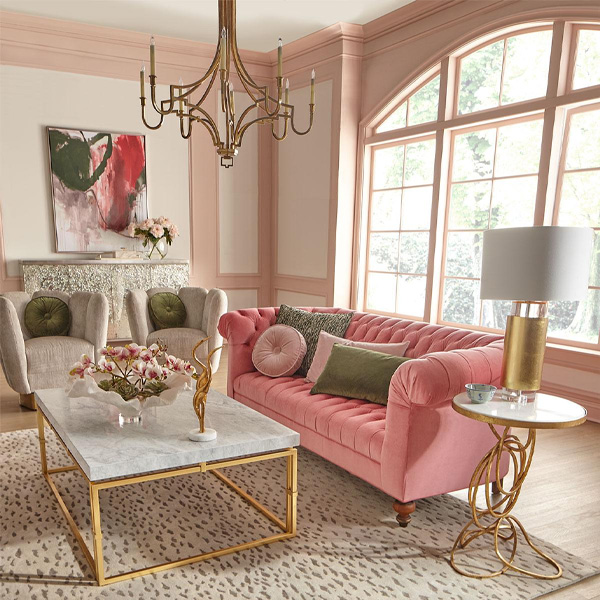 Horchow's history is intriguing. San Francisco-based businessman Roger Horchow worked for Neiman Marcus before launching his namesake brand in 1973. Roger's idea combined the convenience of mail-order shopping with the luxury normally reserved for fancy department stores.
In 1988, Roger sold his namesake brand to the department store to fund his Broadway production and never looked back. Crazy For You went on to win four Tony awards in 1992.
The perfect addition to the Neiman Marcus family, the retail giant kept the strictly warehouse-to-customer model intact. Over time, mail orders became online shopping, but the brand's acute sense of style has remained.
Today, Horchow is all about making you feel comfortable—with what you buy and the joy it brings you when it arrives. Helping you turn your home into the "sanctuary" you've always dreamed of, its uniquely curated collection is filled with inspiring colors, creative designs, and pieces that make a space feel like home.
What's next in-store for this Horchow review? First, we'll take you through a few highlights and then jump right into its charming collection.
Highlights:
Wide range of furniture, decor, bedding, and lighting
High-quality, designer items
Offers an array of luxury brands
Holds frequent promotions and sales
Some items ship for free
Ships internationally by request
If you're ever in need of some design inspiration, head to the brand's website. With a jaw-dropping selection of contemporary furniture, chandeliers, decor, and rugs, click over to the Inspiration tab to shop for whole-room decor trends.
In the next part of this Horchow review, you'll discover a range of the company's furniture, bedding, and lighting to give your home an elevated charm. The products are designed by various luxury brands, and many of them ship for free.
Horchow Furniture Review
The Horchow furniture collection is quite vast. Piled high with tasteful bedroom, living room, and dining room pieces, you'll discover pieces from well-known designers like Miranda Kerr Home and Interlude. Up next, we'll introduce you to its best-sellers from Sarita and Butler that bring an elegant and opulent touch to the modern home.
Horchow Sarita Mirrored Console Review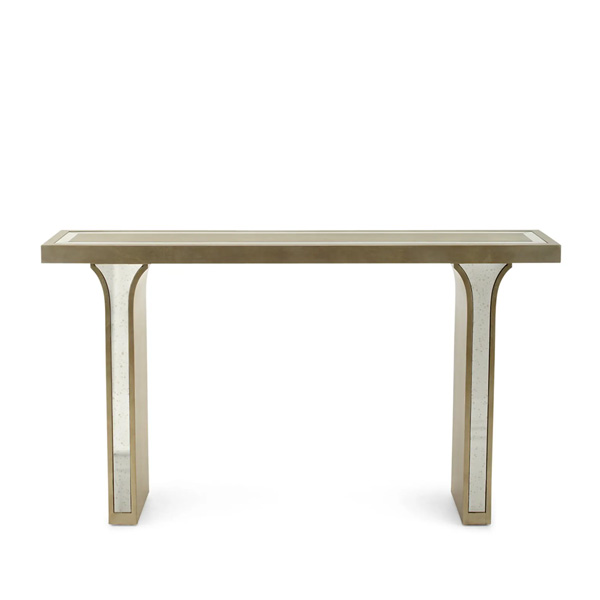 Mirrors have the delightful ability to open up any space. Place one in your room, and magically, it expands. The Sarita Mirrored Console follows a similar logic. With mirrored legs and top, it naturally breathes life into dark rooms.
Handcrafted from solid birch wood with an antique hand-painted, silver-leaf finish, this Haute House masterpiece stuns effortlessly in foyers, parlors, and entertaining rooms. It measures 60″ x 12″ x 34″ and weighs 76 lbs.
Get the Sarita Mirrored Console on sale right now for $899—a normal price of $1,199.
Horchow Butler Amelle Cream Raffia 4-Drawer Accent Chest Review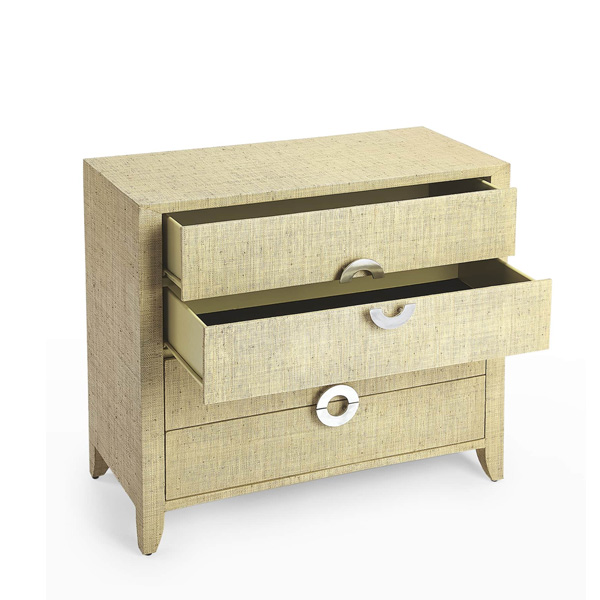 In a soft, natural tone, the Butler Amelle Cream Raffia 4-Drawer Accent Chest lightens up any space. It offers the perfect contrast to dark furniture, bringing an airy touch to your favorite room.
This chest comes equipped with four felt-lined drawers with silver-finished, rounded handles, each one meeting with the next to create an aesthetically-pleasing look. The chest itself is made from wood composite and plywood. It weighs 70 lbs.
Grab the Raffia 4-Drawer Accent Chest in the spring sale for $1,394. It's normally $1,859.
The chest comes with a Prop 65 warning for California residents.
Horchow Bedding Review
Horchow bedding makes it so you never want to close your bedroom door again. Made to be seen, enjoyed, and snuggled in, the collection includes luxury designers like Sferra, Michael Aram, and Ralph Lauren.
Just below, you'll read all about the best-selling styles. We've included a mix of soothing and vibrant colors ideal for the season ahead.
Horchow Mayleen King Duvet Review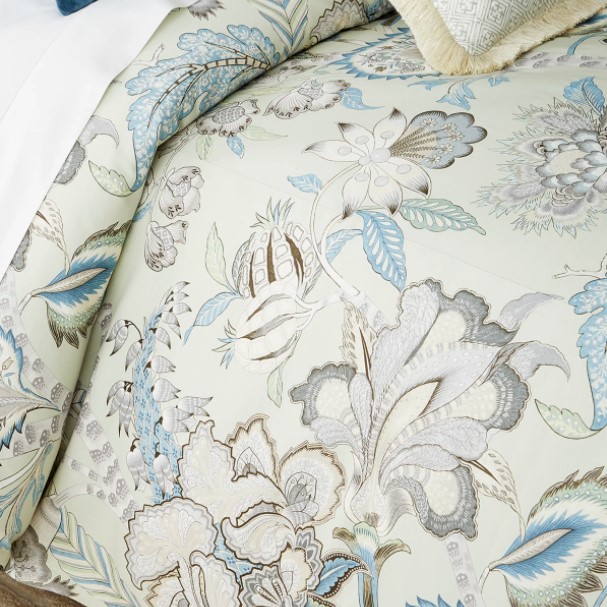 You can't help but relax when looking at Legacy's Marlene King Duvet—and that's something all comforters should do. With a swirling floral pattern in an off-white hue, this duvet cover is accented with grey and cooling blue colors across an antique-looking design.
The ideal pick for a spring refresher in the warmer seasons, it's made from cotton and should be dry cleaned only. This Peru-made beauty is available in king size for $760. Don't forget the matching shams for $210-$240.
Horchow Remy Floral King Comforter Review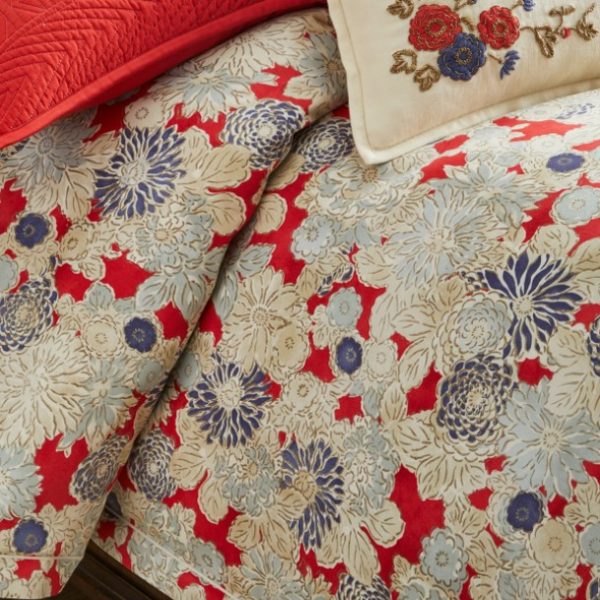 Brighten up your bedroom with the Remy Floral King Comforter. Part of Ralph Lauren's home collection, it exudes a look of modern luxury with touches of red, navy, and gold.
Available in king size only, this cotton comforter features a delightful floral pattern that brings energy to the bedroom. It's inspired by country estates across England, merging earthy tones with blossoming bursts of color.
As part of the Spring For Something New sale, you can get it for $301 right now. It's normally $430. Add on the matching shams for $145.
Horchow Lighting Review
Prepare to be awe-struck by the Horchow lighting and chandeliers collection. If it's a statement you're going for, you'll find tons within the line that pour on the old-world charm with rich metals and opulent crystals.
Up next, you'll meet the brand's two best-sellers that fit wonderfully in the mix.
Horchow Atlas Table Lamp Review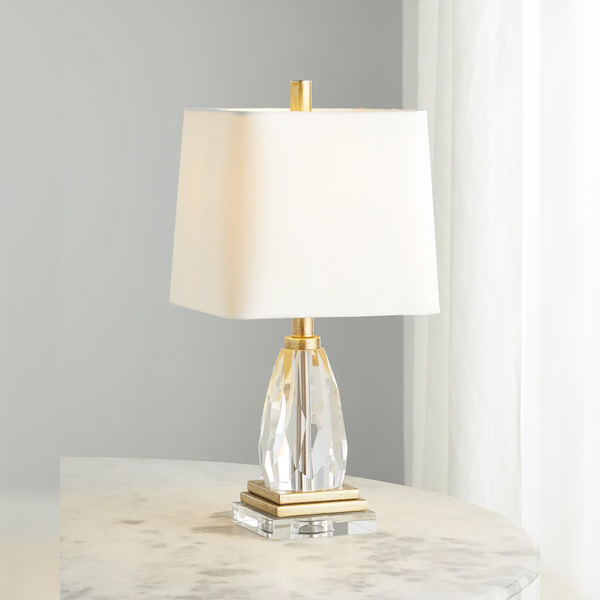 A beautiful addition to the modern living room, the Atlas Table Lamp is handcrafted from crystal for a truly striking appearance. Measuring 10" x 20", this piece catches the light just right, creating a rainbow of reflections within its angles. Gold finishings complete the lamp while an off-white shade adds drama.
The Atlas Table Lamp needs just one 60-watt bulb and comes with a 10 ft cord to make your life easier. Light up your space with this sophisticated piece for $221 (it's on sale from $295).
This item comes with a California Prop 65 warning.
Horchow Alistar 10-Light Chandelier Review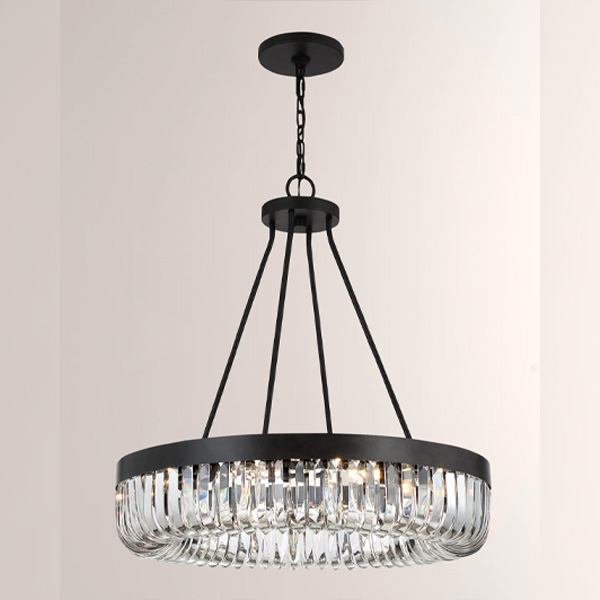 The Alistar 10-Light Chandelier is a breathtaking piece for any entryway or dining room. Designed by Crystorama, this elegant and glistening chandelier is made from black-coated steel with u-shaped crystals hung at its circular base.
Catching the light, each crystal sways gently, deflecting the light for an impressive display. This grand piece measures 30" x 28" and brings charm to simple indoor spaces. Right now, you can get it on sale for $2,055—normally $2,740.
Who Is Horchow For?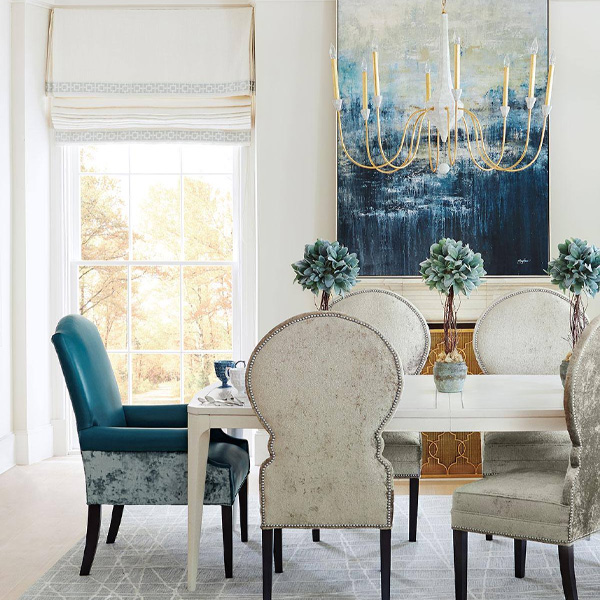 Owned by luxury department store Neiman Marcus, Horchow's collection is aimed at those who love the look of upper-class living, though it offers a great sale section too.
With high-class brands comes high-class price tags, but if you'd rather not pay full price, you can catch many of them on its year-round sales. Check out the Promotions & Discounts section of this Horchow review to find out what's currently running.
Horchow Reviews: What Do Customers Think?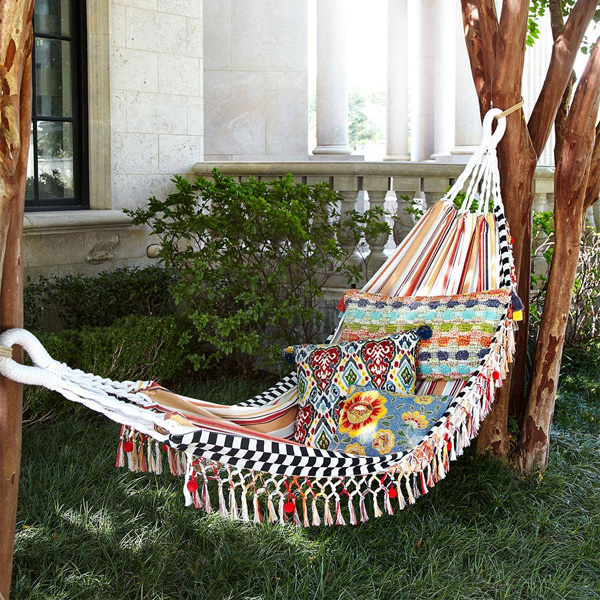 Feedback is the bread and butter of any Horchow review, and in this section, you'll get a ton of it. We've combed the web for helpful comments and ratings to better understand what shopping with this luxury e-retailer is really like.
Our first stop was Houzz.com. There's no denying that people love what's available from this brand and they report on-time shipping and good-looking pieces. One Horchow review read:
"I love the tufted white leather swivel high back office chairs with empire arms! I use them in my dining room, comfortable and a knock-out…It took a while to get here, but arrived beautifully packaged. Horchow always over wraps! I can't find their quality anywhere else, I wait for sales, then pounce. Never been disappointed."
Horchow furniture can take a while to ship, but the brand specifies that online. For instance, the Raffia 4-Drawer Accent Chest can take 41 business days, so it's important to keep that in mind when shopping.
We love that Horchow is so transparent about how long items take to ship furniture. Its smaller items ship out in 5-7 business days.
Our next bit of feedback comes from US-Reviews.com. Horchow was awarded a 7.6/10 score by 2 shoppers with ratings in the following categories:
Ordering: 9/10
Service: 9/10
Pricing: 6/10
Delivery: 6/10
Horchow is a luxury brand, so if you're looking for cheap furniture, unless you catch it on sale, you won't find it here. One first-time shopper reported loving the quality and variety of products offered:
"All products are great by make and colors, also got a discount being a first time buyer. This kind of shop can addict customers to shop at least three to four times in a month. A huge store."
If you're new to Horchow, it's hard not to be overwhelmed by the product selection. From the above review, we learn that the brand makes it super easy to shop and that the selection is awesome.
Our last Horchow review comes from Yelp and is about the online ordering and shipping experience. It reads:
"I don't know if I got lucky because of someone else's mistake, but I bought a Royal Albert tea set (4) on sale for $37.00 on Horchow (my first purchase). This set is approximately 3x that on Macy's, Wayfair, Bed Bath + Beyond, etc. Not only was it cheap, it shipped the next day and arrived a couple of days after that with Fedex."
It's possible to find amazing deals on Horchow, you just need to keep checking back—that's what another customer said on Yelp, saying that they wait until they see the perfect deal. The brand offers deals consistently, so if you don't want to pay full price for designer pieces, you're in luck.
Among all of the sources we checked out for this Horchow review, receiving damaged items was the number one customer complaint, but it sounds like that's not experienced by everyone who shops with the brand.
Is Horchow Legit?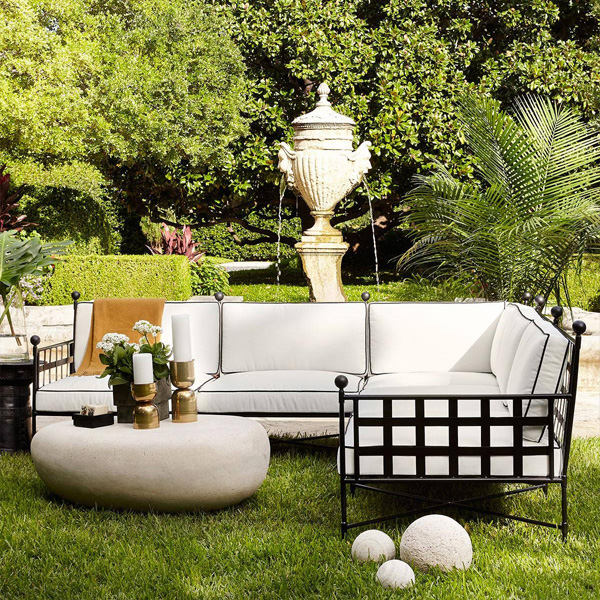 The hardest part about online shopping is the uncertainty. Any Horchow review must be transparent, and within our search for feedback, we found some negative comments about issues with returns and damaged items.
Customers receive their items, so it's indeed a legitimate business, but it's the sending back part that causes trouble. Those who didn't need to return their items didn't run into any trouble with Horchow.
We consulted the Better Business Bureau to see what was up and found an A+ score since the brand has responded to or resolved all of the 23 reported issues. That tells us that if issues do arise and need to be escalated, this company will make it right.
Is Horchow Worth It?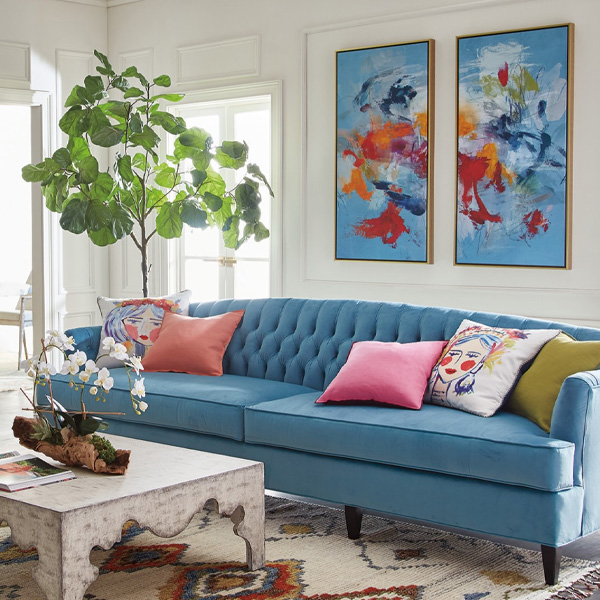 The first thing we loved about Horchow? Its gorgeous selection of furniture. The second? That it's transparent about every item, along with their shipping times and fees. You don't have to wait until you get to the checkout, you can make your decision right there.
Many Horchow items ship for free, and as lovers of luxury designers but also of our savings accounts, we appreciate the sale section and year-round deals the brand offers. In terms of selection and quality, Horchow hits the mark.
Some items come with a California Prop 65 warning to note that they contain chemicals deemed by the state of California to be harmful to reproductive health. Keep this fact in mind while shopping and always remember to read the fine print to stay on top of in-stock items and shipping time frames.
Horchow Promotions & Discounts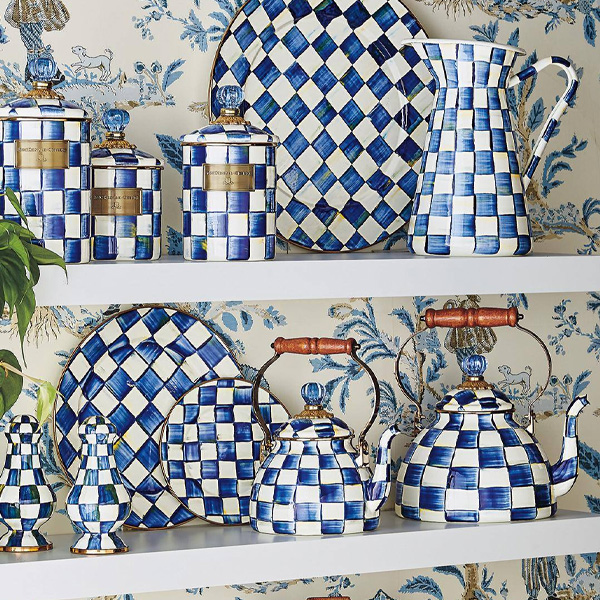 Even those who technically don't have to budget know the value of saving money. This Horchow review wouldn't be complete if we didn't check in on the deals the brand offers. Here's what we discovered:
New customers save 20%
Current Sale—Spring for Something New: 30% off!
Free shipping & returns for tons of items (no Horchow promo codes required)
We've also read in reviews that customers say this brand always has a deal on the go. Great news for those of us who enjoy saving.
Where to Buy Horchow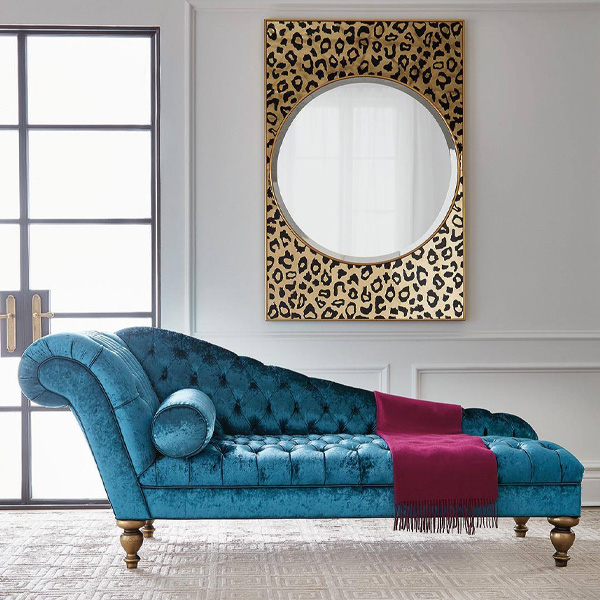 The brand's entire deal is that it's an online marketplace. That means you can only shop its uniquely curated selection from Horchow.com.
FAQ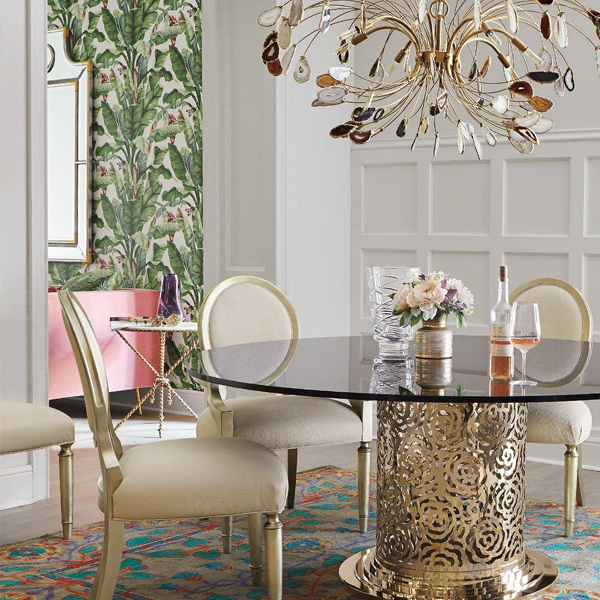 Who owns Horchow?
Horchow was founded back in 1973 by Roger Horchow. His story is pretty epic, creating a luxury mail-order catalog and then selling it to brand giant Neiman Marcus to fund his Broadway production Crazy For You.
It ended up winning four Tony awards for Best Musical (Horchow and Williams), Best Choreography, and Best Costume Design.
Does Horchow ship internationally?
It does, but not through Horchow.com. To place an international order, you'll need to call 1(972)556-6076 and let them know the details over the phone.
What is Horchow's Shipping Policy?
Horchow ships to all 50 states and offers three different shipping methods. You'll find them all below and their price ranges that vary with your order total.
Shipping times and costs are different for both furniture and rugs. To find those, refer to the product page of the item you wish to buy.
Standard: 5-7 business days $8-$150
2-Day: 2 business days $18-$160
Overnight: 1 business day $25-$167
For shipments to Alaska and Hawaii, add $5. Keep in mind that if you ordered more than one item at the same time, your order may ship at different times. Once your order does ship, you'll receive a confirmation email with a tracking link.
What is Horchow's Return Policy?
If you ever need to return something in your Horchow order, you can. There are a few guidelines around making a return though. You'll find them all below:
You have 30 days to start the process
All items must be in new, unused condition
All take must be attached
Personalized and monogrammed orders are final sale
Select merchandise qualifies for free return shipping
To make a return, follow these steps:
Head to the Returns Portal online
Enter your order number and complete the steps
Securely package up your items
Choose a prepaid and insured form of shipping
All returns can sent to the Sales Division, 123 Customer Way, Irving, TX 75039. Allow 10-14 business days for your return to processed.