About FlexiSpot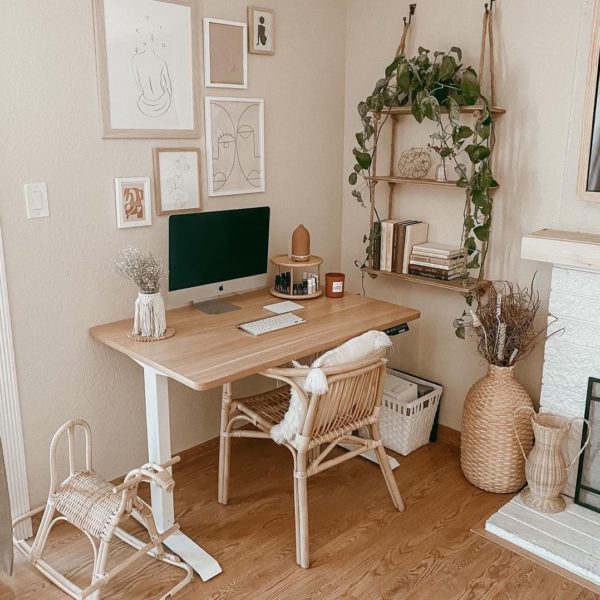 FlexiSpot has found its niche by selling standing desks that are great for both sitting and standing while you game or work. All of their standing desks have a clean design that focuses on functionality while conserving the space the desk takes up in your room. Plus, they come with a variety of wood, glass, or textile finishes to choose from.
The company also offers a line of motorized workstations that sit on top of the classic four-legged desks in your home office or bedroom. These work surfaces are raised platforms with space for a keyboard below and an upper portion where your monitor can rest. They can convert any workstation into a standing desk.
With over 35k followers on Instagram and 6k likes on Facebook, a lot of people are starting to understand how standing desks can be beneficial to their health, as you'll see in this FlexiSpot standing desk review. Even Forbes describes the FlexiSpot Comhar desk as a great way to lessen the impact of sitting for too long on your body.
FlexiSpot also takes office work to the next level by offering an exercise bike that serves as a standing desk. Maybe cycle during that boring Zoom work meeting? Or get some exercise while playing your favorite video game with your squad online.
But why a standing desk?
If you work remotely or spend a little too much time sitting in front of the computer, then the health benefits of a standing desk will do wonders for your back and posture. But what kind of standing desk is right for you? Let this FlexiSpot standing desk review guide you through some of the most popular options.
Overview of FlexiSpot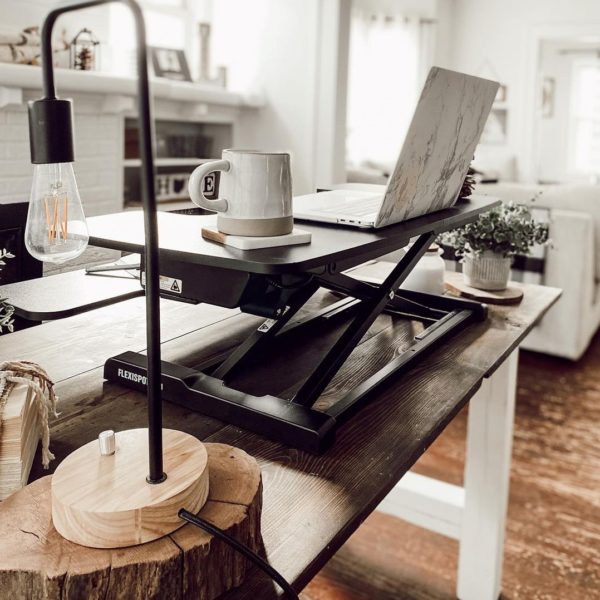 FlexiSpot is more than just desks—they are masters in ergonomics. A term every office worker is familiar with, ergonomics is at the core of this brand as they are not concerned with making items that look trendy, but ones that meet your body's needs.
Launched in 2016, the brand has supplied desks to some major household brands like IBM, Google, and Starbucks. The current CEO, Lane Sharon, leads a team of engineers to help everyone lead healthier lives with their desks. While FlexiSpot has offices in Japan, Germany, the UK, China, Vietnam, and Philippines, the company's main HQ is in Livermore, CA.
The best posture is often a combination of sitting and standing and if you sit in a bad posture for too long your body will be in pain at the end of the day. This is where FlexiSpot comes in.
Let's consider exactly what work surfaces you should consider and this FlexiSpot standing desk review has a lot to offer you and your posture.
Highlights
Simple to adjust with digital controls
The standing desks take less than 10 seconds to change
Child protection keypad
Ergonomic setup guide and assessment
Multiple saved settings features for different users
Stellar customer reviews across the board
Free shipping to contiguous UK
24/7 customer service support
Refer a friend deal
30-day return policy
Student discount
3-year warranty
Affirm available for payment plans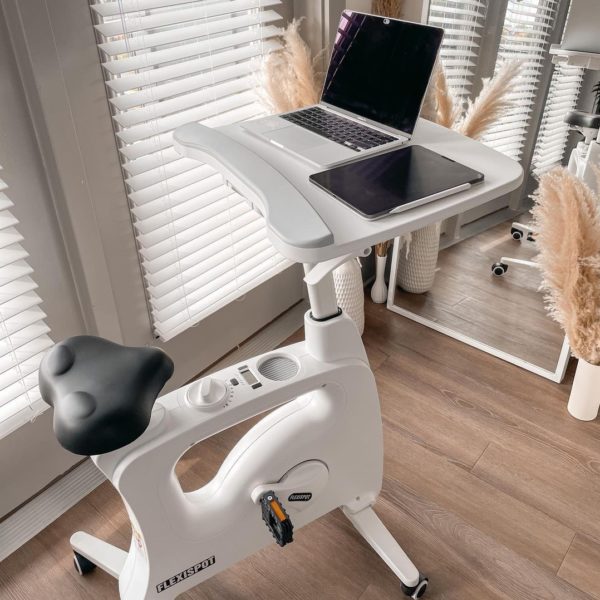 In this FlexiSpot standing desk review, we will go over all the different products the brand offers, what their benefits are, and whether they might fit into your life.
FlexiSpot Standing Desk Converters Review
In our first product section of our FLexiSpot standing desk review, we take a look at some desk converters that go on top of any table you already have, making it into a standing desk. Since there are a lot of different models, we are going to focus on the best-selling items which will give you a pretty good idea of what these desk converters are.
FlexiSpot Motorized Aesthetic Sit Stand Workstation EM6M Review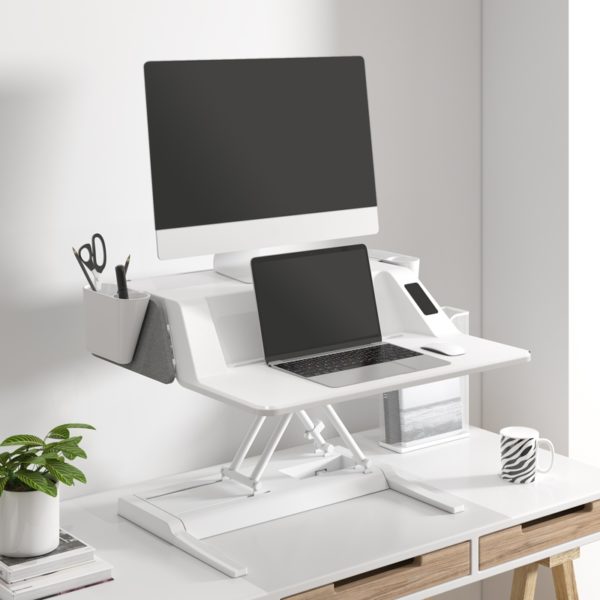 Not just for the workplace anymore, this Motorized Aesthetic Sit-Stand Workstation EM6M can convert any table into a standing desk, especially for content creators. This workstation is quite heavy so it's best to make sure your table can handle the weight and must be at least 28.3"x 22.3" to accommodate the size.
This workstation is not a desk but will convert your table into a standing desk, adding about 20" to it. What's great about this converter is that it has a lot of cool features:
Charging section with 3 USB ports + wireless pad
Areas for your dual-monitor setup
Arrange your cords neatly with a slick design
Customizable height
Tasteful design
Available in either white or grey, the EM6M retails for £400, currently on sale for £360. Affirm is also available with payment plans.
FlexiSpot AlcoveRiser Standing Desk Converters M7MB – 35″ Review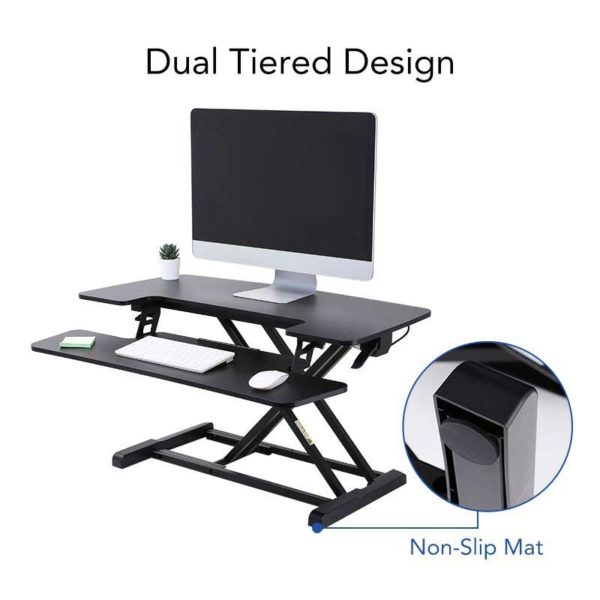 The AlcoveRiser Standing Desk is the less tech cousin of the EM6M without the bells and whistles. However, if you're not ready to fully invest in a motorized converter, this is the one for you.
The AlcoverRiser has two surfaces, The upper 'A' portion supports 33 lbs, and the lower 'B' portion only supports 4.4 lbs. The lower portion of the desk is where you would place a mouse and keyboard, but with less than 5 pounds of support, you'll want to avoid leaning on this surface while working.
Though it's not motorized, you do still get some really good features with the M7MB:
Option to remove keyboard portion
Easy to adjust with one hand
Big workspace
Can reach up to 20" in height
Available in black or mahogany, the M7MB retails for £170. Affirm is also available with payment plans.
FlexiSpot Gaming Standing Desk Review
Gamers are notorious for sticking to their seat for hours on end, without a much-needed break. This is why FlexiSpot has created a special range of standing desks for those hardcore gamers who love long play sessions but hate the risk that sitting for too long brings to your body. This way you can play for hours without stopping.
With your new standing desk, you can avoid harm to your body while killing zombies or slaying dragons with your mates. Just make sure to keep switching between sitting and standing!
This next  gaming desk is a game charger, and one of the coolest in our FlexiSpot standing desk review.
FlexiSpot Ergonomic Gaming Desk with Mouse Pad Review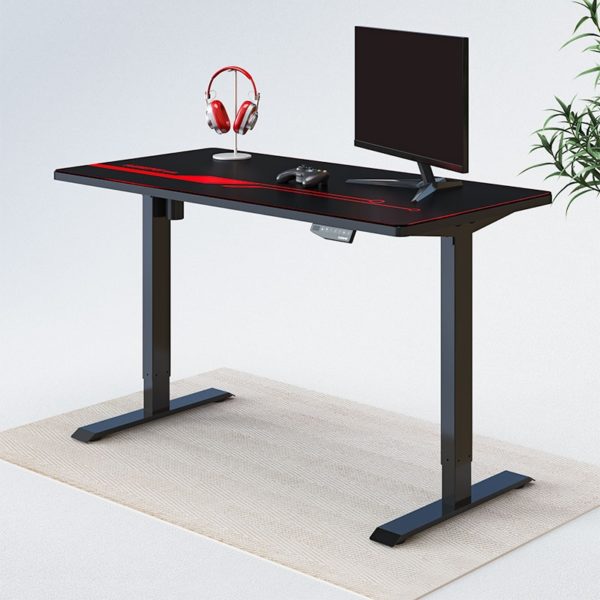 The concept is quite simple, a giant mouse pad that covers your entire desk so you can have a full range of movement, ideal for flicking or moving the camera quickly like in FPS games. The giant mouse pad is made of durable rubber with a smooth cloth finish so you can clean up any spills that much easier.
Desk space can disappear when you use it for gaming, but with this desk's 48"x30" table top, you have enough room for two monitors and all other gaming gear. Not big enough? There's a larger option (55"x28") for an extra £40.
Like all FlexiSpot standing desks, you have a control panel that adjusts it up and down. For another £50, you can get the digital control panel that has height presets and a child-lock option. This keypad is great because it allows you to swap between standing and sitting mode with a simple press of a button.
Even if you are not a gamer, this is still an excellent standing desk. The Gaming Desk retails for £300. Affirm is also available with payment plans.
FlexiSpot Electric Height Adjustable Gaming Desk Review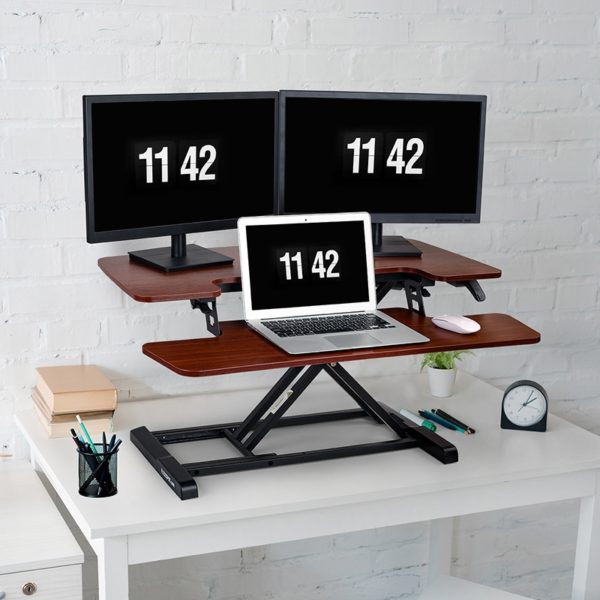 If you're thinking of upgrading your gaming setup, then this Electric Height Adjustable Gaming Desk might be the right thing for you. The desk has a textured black wood surface and the beveled edges of the tabletop are a nice finishing touch.
You will have more than enough space for two monitors as the tabletop's dimensions are 55"x 28". Some other great features of this gaming desk are:
Heavy duty design
Easy-to-use keypad with two buttons
Eco-friendly materials
Quiet engineering
You will feel comfortable standing at this desk for long play sessions.
Available only in black, the Electric Height Adjustable Gaming desk sells for £370, currently on sale for £320. Affirm is also available with payment plans.
FlexiSpot All-In-One Standing Desk Review
The All-In-One desks are amazing because they come with a lot of features. You are no longer simply sitting at a desk, but a great place to work for hours on end. It's one of the strongest surfaces in our FlexiSpot standing desk review because the All-In-One desks come with these features:
Safety button to lock desk in place
Integrated USB Type-A & C charging ports
4 customizable height presets
Large hidden drawer
Object detector
A one-touch button to switch between sitting and standing mode
FlexiSpot Comhar All-in-One Standing Desk Glass Top Review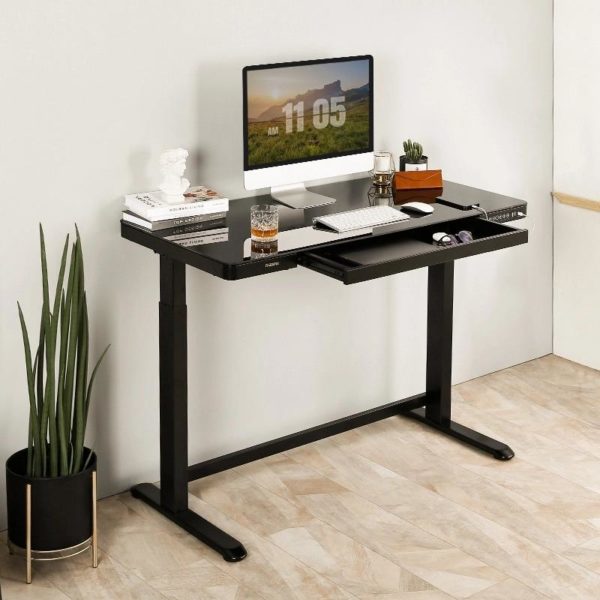 The Comhar All-in-One Standing Desk has all the features mentioned above but also comes with a tempered glass tabletop. There is something satisfying about working on a glass surface—from the feel to the sound of your coffee cup gently touching the covering.
The desk's maximum standing height is 47.6" and is fully adjustable to meet your needs. The Comhar comes in all black, but for an extra £30 dollars you can get it in white.
The tabletop is 47.3"x 23.7", giving you enough workspace for two monitors and whatever else you need to make it your own personalized office desk. Since the desk comes with a really nice tempered glass tabletop, you can use it for a variety of activities, and not just work.
The Comhar retails for £500, currently on sale for £430. Affirm is also available with payment plans.
FlexiSpot Desk Bikes Review
We all know that a sedentary lifestyle is what's really hurting us in the end. So, why not add an exercise bike to at least keep you moving, especially on those cold winter days? Get ready to cycle a couple of miles while you work! The brand's bike desks this FlexiSpot standing desk review looks over are an exercise bike with a desk attached to the handlebars of a bike.
FlexiSpot All-In-One Desk Bike Workstation V9 Review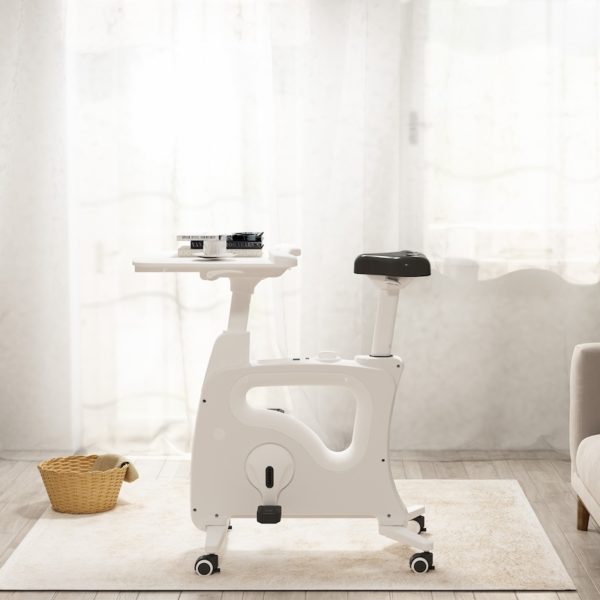 Instead of groaning at the thought of trekking all the way to the gym to get your heartrate going, why not just do it at home during a Zoom meeting? You'll definitely stay awake more easily. The FlexiSpot All-In-One Bike is a great way to stimulate creativity. So you can approach any task with a fresh set of eyes.
Part standing desk, part bike, this workstation stands 48.4" from the ground and the seat is super easy to adjust as needed. At 20" x 22.8", the workstation is a simple tabletop that fits your laptop with enough space for your mouse and a mug of coffee.
You can choose from two colors—black or white—while you burn off any extra calories you racked up the night before. With its eight levels of difficulty, you won't have to worry about being nervous during a presentation when you're working up a sweat!
The FlexiSpot All-In-One Desk Bike V9 costs £450, currently on sale for £370. Affirm is also available with payment plans.
Who Is FlexiSpot For?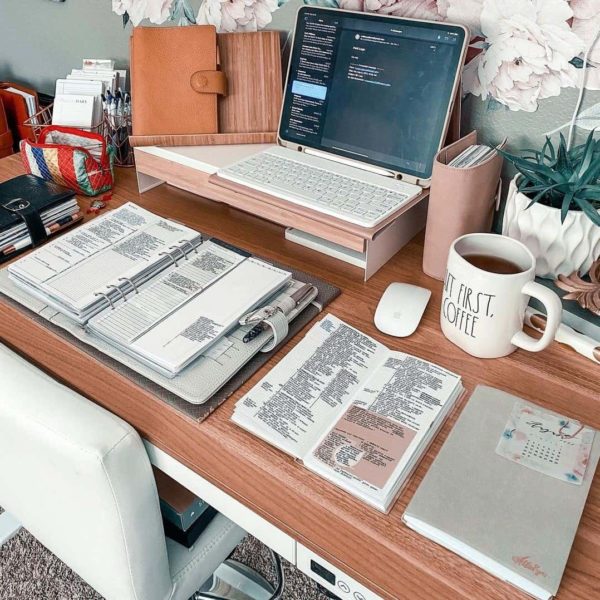 The FlexiSpot Standing desks are for anyone who cares about their health. While they work, game, or study for long periods of time. Spending half the day sitting while you work and the other half standing can lead to less issues with your spine, hips, and lower back.
If you are an office worker or university student, then a FlexiSpot desk could just be the thing for you.
FlexiSpot Reviews: What Do Customers Think?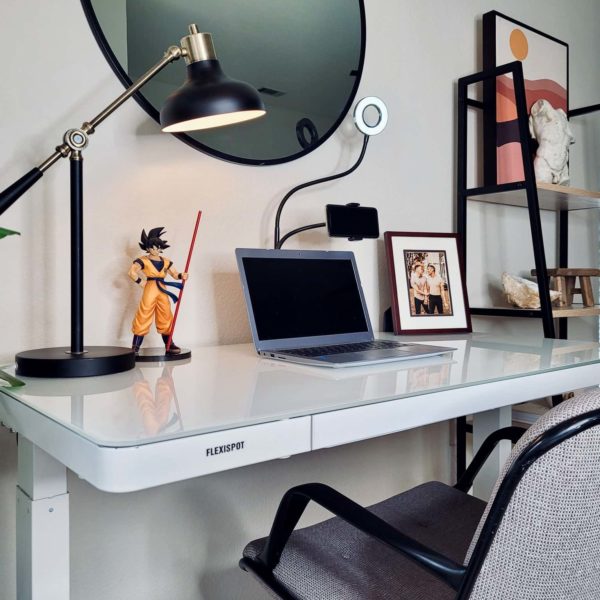 As previously mentioned, the customer reviews for FlexiSpot are very good and TrustPilot has them listed at 4.7/5 stars from over 4000 reviews. The reviews range from stellar praise to complete satisfaction with FlexiSpot's standing Desks.
Take what Ryan F. wrote on TrustPilot, "I absolutely love the desk and the fact that I have the ability to raise the desk to a comfortable height throughout the day."
It is good to know that FlexiSpot products actually work as they are advertised. As Maria Bradley realized, "I am extremely pleased with my desk and would recommend FlexiSpot to anyone and everyone! Great product and great customer service to accompany it!"
V Rain states, "I rate FlexiSpot a 5 star, is just amazing everything they have is so beautiful and amazing I highly recommend looking thru the shop!" You will definitely find a desk for you, or simply pick one from our FlexiSpot standing desk review.
And on Yelp, Zahir P. mentioned that, "Ordered a FlexiSpot standing desk from Amazon and love it. It's as beautiful as the pictures. I had some minor issues with my desk and PATRICIA helped me quickly resolve them to my satisfaction! Highly recommend their desks."
People on Influenster are also happy, with Jessica P. commenting, "I purchased a Flexispot desk in white and it is electric, not a crank. The desk was worth every penny. I also purchased the cycle chair which is amazing, although the seat could be comfier. Admittedly, I don't have much cushion myself making the bicycle seat earn it's keep so bear that in mind."
Even on Amazon, the M2B Standing Desk Converter is rated 4.7/5 stars, making it a popular item among people working from home.
Plus LaptopMag rated the Electric Height Adjustable Standing Desk 4.5/5 stars.
Is FlexiSpot Worth It?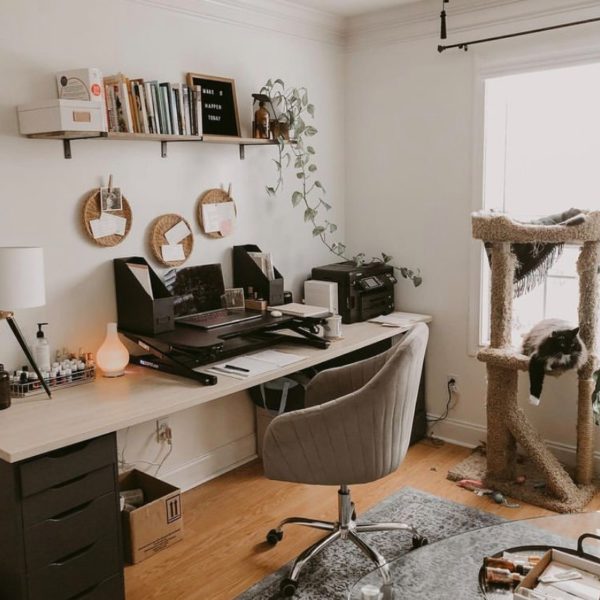 While a standing desk is a bit of an investment, the added health benefits make up for it in the long run. If you need a new desk anyways, the cost between a normal desk and a standing desk is not that big so that is something to consider.
As for the exercise bikes, it is worth it if you actually want an exercise bike. However, if you want a standing desk and need a lot of room for all your items. Then the desk bike will fall short as it is no substitute for an actual desk.
This FlexiSpot standing desk review shows that the products are very much worth it. They find a good balance between quality, design, and functions plus with all the long-term health benefits, you just can't go wrong.
FlexiSpot Promotions & Discounts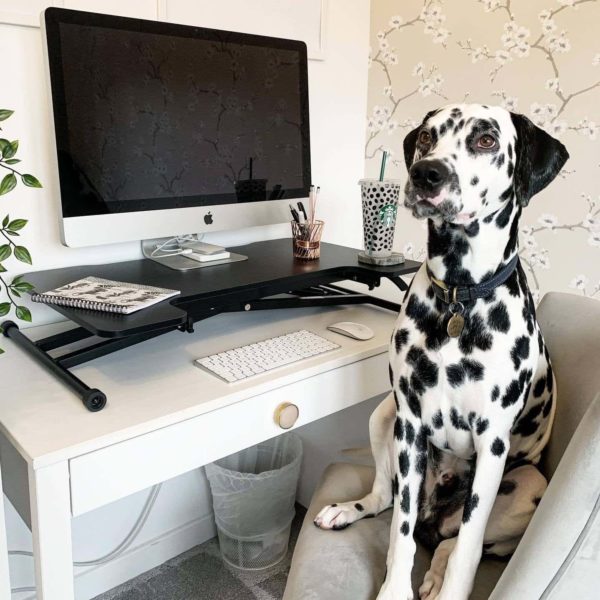 There are several ways you can save money at FlexiShop:
If you sign up for their mailing list, you can get £10 off your first order
Check out the 'Deals' section on the website and save on select items
Fall sale
Receive 10% off as a student through Student Beans.
Where to Buy FlexiSpot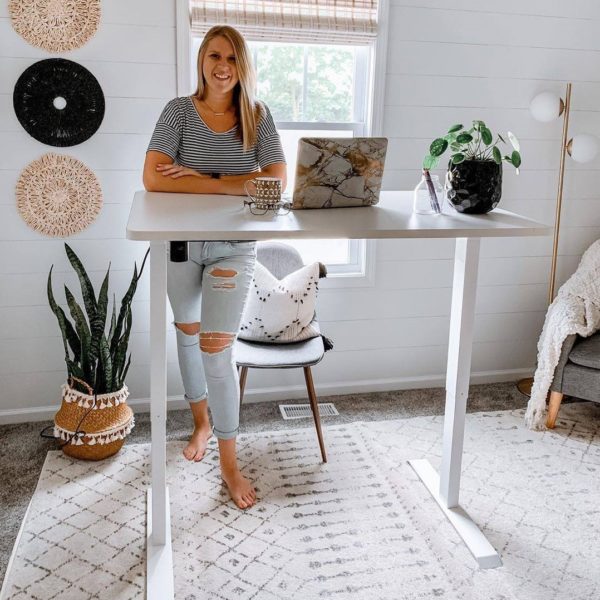 You can buy FlexiSpot standing desks directly off their website or limited products from the following retailers:
Amazon
Staples
Office Depot
Walmart
Wayfair
FAQ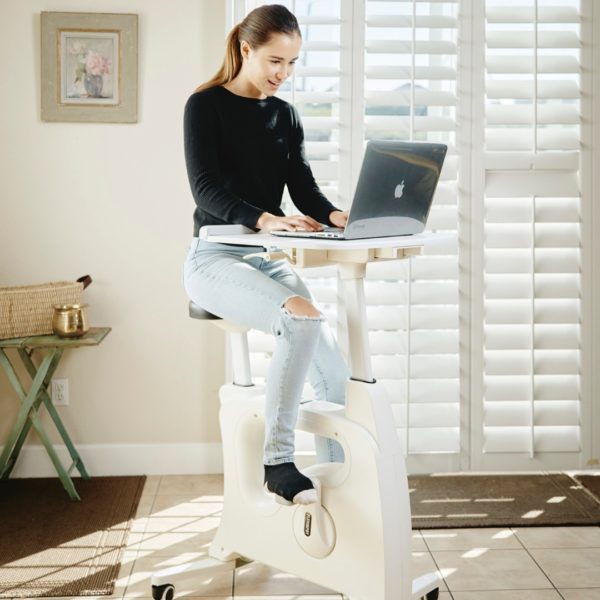 Who is the owner of FlexiSpot?
The parent company of FlexiSpot is Loctek, a global maker of desks with locations all around the world. The current CEO is Lane Sharon.
What are the benefits of using a standing desk?
It is a safer and healthier way to work so you do not affect your mental and physical health by sitting too long. A standing desk also boosts productivity because switching between sitting and standing allows your brain to take a break.
Where are FlexiSpot standing desks made?
FlexiSpot desks are designed in California and made in China and Vietnam.
Do FlexiSpot desks and desk converters come with a warranty?
Yes, your desk will have a warranty but the different parts of your standing desks or workstations each have different time periods on their warranties. The frames have a 5-year warranty, while the electric motors, components, and switches have a 2-year warranty.
What is FlexiSpot's Shipping Policy?
For the continental UK, you will receive free shipping where delivery will take between 3-8 business days. For Alaska and Hawaii, shipping will be calculated based on FedEx rates.
Free shipping to United kingdom but only on their UK website.
What is FlexiSpot's Return Policy?
If you're really unhappy with your FlexiSpot purchase, the company gives you a 30-day window to return your item. All returning items have to be in their original packing and be unused. If you try to return items that are visibly used, then a 10% restocking fee will be taken off your refund.
In order to start your return, you will need to contact FlexiSpot to receive a return authorization number.