Let's talk about skincare. I'd rather have my skin look fabulous with a great skincare routine than figure out how to contour my cheekbones with 14 shades of bronzer. I don't have the kind of time or talent it takes to master YouTube makeup tutorials. On the other hand, it's TOUGH to find a line-up of products you love that also won't force you to find a second job in order to afford. And I found a solution! Here's an honest look at the clean beauty brand, Biossance, with reviews of all of the products I've tried. This brand offers a great balance between effective and affordable.
The search for an effective clean skincare brand
I'd love one day to wake up with that no-makeup J Crew look. I'd prefer to slather on a bunch of magical potions every morning and night to spending time in from of the mirror applying makeup. In other words, I want a great skincare routine to replace any sort of makeup I need to make me look awake.
(Sidenote, I like makeup-skincare hybrid products like Beautycounter Dew Skin and Ilia Multistick.)
I've been plagued with the products to try – especially as the clean beauty industry has exploded. Promising anti-aging products stalk us on instagram. Friends send us facebook messenger to buy their product. There's a serious hype behind switching to safer, for good reason. The evidence against the beauty industry mounts up; making us all skeptical about what the heck is safe to put on our skin.
But. It's all so EXPENSIVE.
I'd love to try Goop, but I don't have a movie star budget. In addition, I love Beautycounter Countertime and definitely splurge on certain products, but it's also expensive. I went in search of finding a clean anti-aging skincare line that actually works. I tried cheap clean skincare brands that were OK but not excellent. Should I start a side hustle in order to afford a decent skincare routine!?
Can I find an affordable clean beauty brand with an anti-aging line that works?
I thought, maybe such a unicorn just doesn't exist.
Can clean beauty brands actually brighten your skin and reduce wrinkles? Yes, they can. Does a line exist that's affordable? Also yes!
HERE IS A ROUND-UP OF BIOSSANCE PRODUCT REVIEWS.
I have been searching for a clean, effective, and affordable skincare line that produces anti-aging results. I FOUND IT, ya'll. Biossance anti-aging line is amazing. And the cleansing oil, serum, eye cream, and moisturizer are $150 – I've been using it twice daily for a few months and still have plenty left (except the moisturizer which I slather on liberally, and I love it. It really makes my skin feel baby soft. My very favorite moisturizer.)
My skin is noticeably brighter. It's not dry. The sun spots have evened out. I had one large freckle on the end of my nose that glared at me every time I looked in the mirror. It's erased. Here are my favorite products!
Table of Contents (links to jump ahead)
This blog post with Biossance reviews uses affiliate links to share our favorite products, which means we'll earn a commission if you shop our links! Thanks for supporting this blog!
Biossance Reviews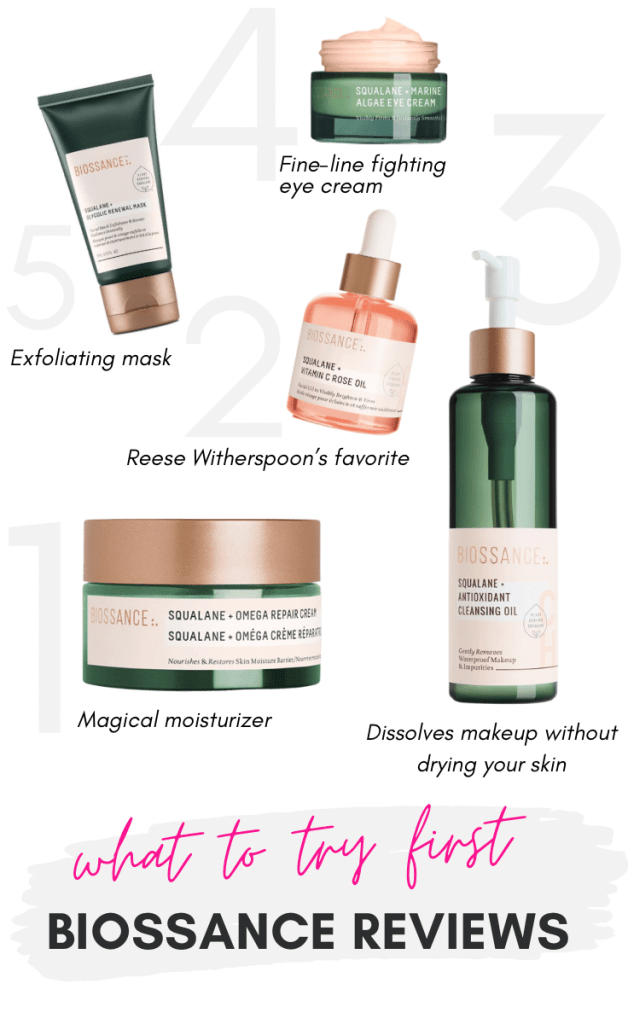 FIRST STEP: BIOSSANCE CLEANSING OIL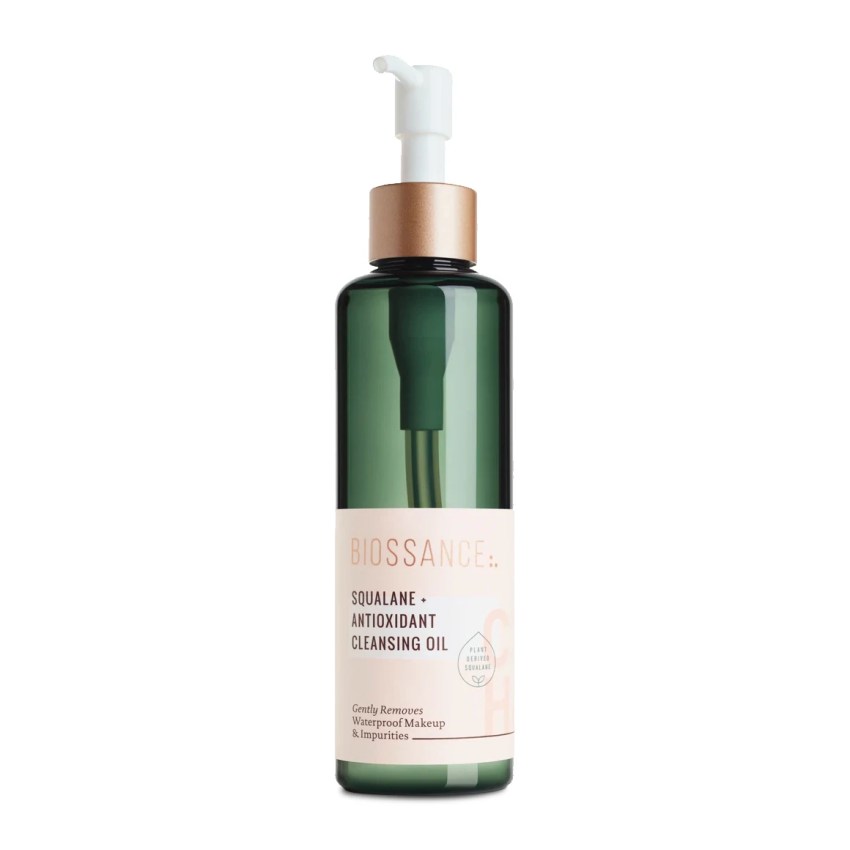 My favorite Biossance cleanser, Squalane + Antioxidant Cleansing Oil, may seem odd if you're used to soap that foams. Love this product. I also like the Beautycounter Countertime line, which is the first time I'd ever tried a cleansing oil. The Biossance cleansing oil is less expensive and just as effective. If you've never used a cleansing oil, it may be surprising because it doesn't feel like soap. It's like your makeup dissolves. Your skin feels so clean, but not dry or tight at all. Amazing!
BONUS STEP: BIOSSANCE MASK
I also love the Biossance squalene + glycolic facial which is an exfoliator and mask. I do this a few times a week after washing my face at night. Leave it on for ten minutes for ultra smooth skin. Delightful.
SECOND STEP: BIOSSANCE TONER
(Or the first step in the morning!)
Some toners suck the moisture out of your skin. This has a thicker consistency, and balances and soothes your skin. It's not a total necessity, but I really love this toner. I like to use the Biossance toner in the morning as my first step, rather than wash my face again since it's already clean from the night prior.
THIRD STEP: BIOSSANCE SERUMS
SQUALENE + PHYTO-RETINOL SERUM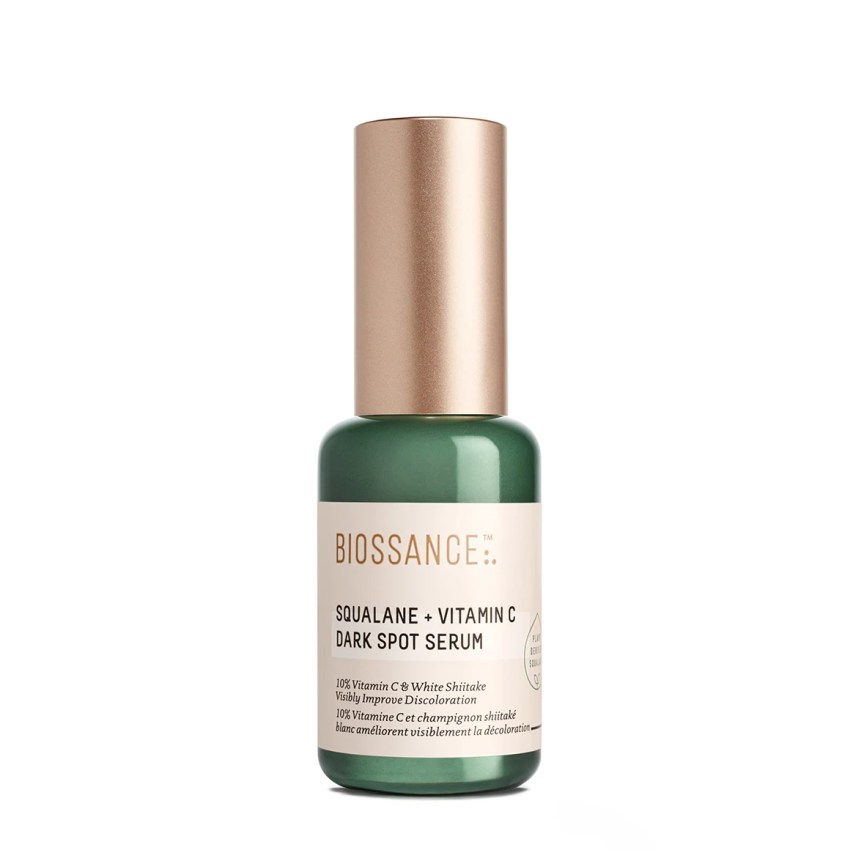 I am pretty sure the real powerhouse is the Squalane + Phyto-Retinol Serum – I love the others, but that's the one doing most of the work. Phyto-retinol serum contains Bakuchiol and acts like retinol, without the harsh side effects. My skin looks fantastic, and I've been using it for a few months. I started by trying the top shelfies, a smaller commitment, then bought the anti-aging line.
BIOSSANCE VITAMIN C DARK SPOT SERUM
Vitamin C serums help with hyperpigmentation and reduces sun spots. Your skin will so much more even toned and brighter with this serum! I am also a fan of the Beautycounter vitamin C serum, but this one is less expensive. Plus, Reese recommends it.
BIOSSANCE RESURFACING NIGHT SERUM
You'll love the biossance lactic acid resurfacing night serum. This is included in the anti-gaining starter kit.
FOURTH STEP: BIOSSANCE EYE CREAM
Any of the wrinkle lines I see get a dose of this ultra-moisturizing and fine-line fighting eye cream. So, Squalene + Marine Eye Cream goes all around your eyelids – plus your lips, especially in the corners! You'll see excellent results.
biossance peptide eye gel wakes up your eyes in the morning, like a cup of coffee does for your brain.
I layer on both sometimes. If you were to choose one, go for the Squalene + Marine Eye Cream.
FIFTH STEP: BIOSSANCE SQUALANE OMEGA REPAIR CREAM
I can never ever run out of this magical potion because it makes my skin look so happy. The Biossance Squalene + Omega Repair Cream is soothing, hydrating, and is the best day and night lotion I've ever tried. In addition, one moisturizer instead of one for daytime and one for nighttime is simpler. This lasts a long time – you only need a few dabs to moisturize your whole face.
Best Biossance product
(and Reese Witherspoon agrees!)
LAST STEP: BIOSSANCE ROSE OIL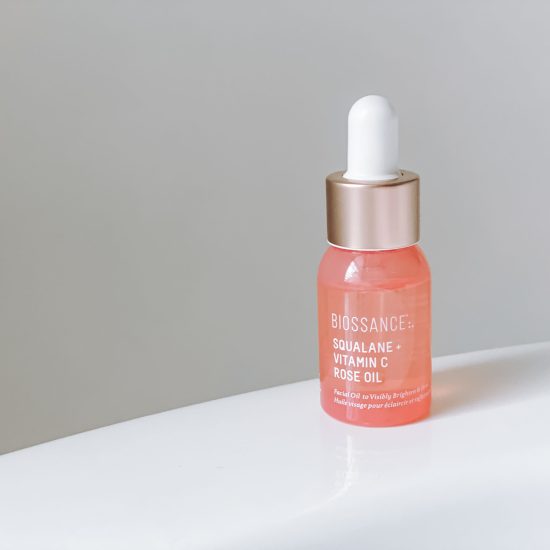 Of all the oils I have ever tried (kind of an obnoxious number…) this is The One, the best Biossance product. Biossance bottled up magic and poured it into a pretty pink and rose gold bottle. This facial oil makes your skin feel hydrated, but not oily or greasy. You'll wake up with in the morning with smooth, luminous skin. Your skin will stay dewy (not shiny) and super soft and moisturized throughout the day.
REESE + BIOSSANCE PARTNERSHIP
I am not the only one who loves this clean beauty brand! Reese Witherspoon announced a partnership with Biossance this year. Here's a video with her routine. The Biossance Rose Oil is Reese Witherspoon's favorite, too!
Biossance Reviews: what to try first
Try the top shelfies first if you want to try something new!!
Biossance makes travel sizes, making it easy for you to try products without investing a lot of money.
Or just get one of the starter sets (which are 40% off), you will not be disappointed. I've loved every product I've tried!
If you get just one product, star with the Biossance Squalene + Omega Repair Cream or the Biossance Rose C Oil.
You can shop Biossance at Sephora or Biossance.com (you can get the anti-aging starter kit for $150 on their website)
Note on where to shop: I recommend shopping directly with Biossance because they have the starter kits (big value!) and seem to always add a gift with purchase that include large travel-sized samples so you can try new products. I've discovered lots of new products this way. Not only is it fun to receive a gift, it's helpful to try products without paying for them!