With cheap subscription plans and unlimited downloads, Vecteezy is a good option for beginner graphic designers. Vectors are gorgeous, images are okay but lack variety and quantity, and stock videos are not the best.
Pros
Cheap.
Absolutely gorgeous vectors.
Easy to use built-in editor.
Access to a community of other creatives.
Cons
Smaller content library than some competitors.
Search is sometimes inaccurate.
Free vectors are limited.
A free account forces you to attribute.
2-minute Vecteezy review
Vecteezy is an online marketplace that provides access to millions of resources, such as photos, vectors, videos, and bundles through a paid subscription plan, which costs $9.00 or $14.00 per month. While these prices are affordable, we recommend the Envato Elements subscription, which offers unlimited downloads for $16.50 per month. It provides a wider range of resources than Vecteezy, including fonts, templates, themes, sound effects and music, add-ons, plugins, and more.
Both platforms are excellent choices for creatives on a budget who require a large number of downloads each month. If you commit to a year of service, you can receive a substantial discount, such as Envato's 57% off deal. However, suppose you have a higher budget for images and videos. In that case, professional stock photo sites like Shutterstock and Adobe Stock offer higher quality images with broader licenses but at a higher cost, ranging from $0.22 to $9.99 per image, depending on the purchase option.
Vecteezy Pricing
Vecteezy offers Free and Pro plans. The Free plan lets you downloads million of free resources, but you don't get commercial rights, legal indemnification, and you will have to provide attribution. The Pro plan comes with a monthly ($14/month) or a yearly commitment ($9/mo, equal to $108/yr) and also includes exclusive access to bundles, priority support, and faster downloads with no ads.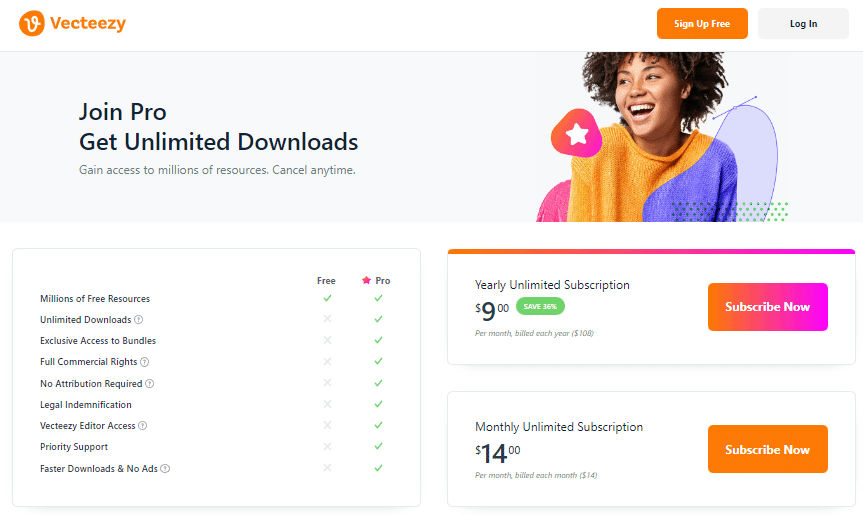 If you're not ready to subscribe but still want the benefits of premium downloads, you can opt for a pay-as-you-go option. This means you pay for each download separately or purchase several in bulk. However, it's important to note that this option can be more costly compared to subscribing.
1 Pro download: $10.00 ($10.00/download)
5 Pro downloads: $15.00 ($3.00/download)
10 Pro downloads: $20.00 ($2.00/download)
Subscription or Pay-As-You-Go?
As a user of Vecteezy, you can choose between two options: subscription plans and pay-as-you-go. Subscription plans provide unlimited access to the library's photos, vectors, and videos, along with special features like the online editor and bundles. On the other hand, pay-as-you-go options offer a chance to purchase individual downloads without commitment.
The best option for you will depend on your needs and budget. If you require lots of downloads, the subscription plan offers the best value. For instance, with the Subscription Pro plan, you can enjoy unlimited downloads for only $9.00/month. However, if you only need a few downloads, the pay-as-you-go option is likely to be a more cost-effective choice. It's worth noting that the pay-as-you-go option is relatively more expensive, with 1 download for $10, 5 downloads for $15, and 10 downloads for $20.
Ultimately, choosing the right option depends on how much you plan to use the library and how much you're willing to spend. So consider your needs and budget carefully before deciding which option is right for you.
Vecteezy Licensing
Put simply, Vecteezy provides royalty-free licensing, which means that you only need to pay for the license at the time of download and can use the licensed content freely and indefinitely within the terms of the license agreement.
Here's the complete breakdown: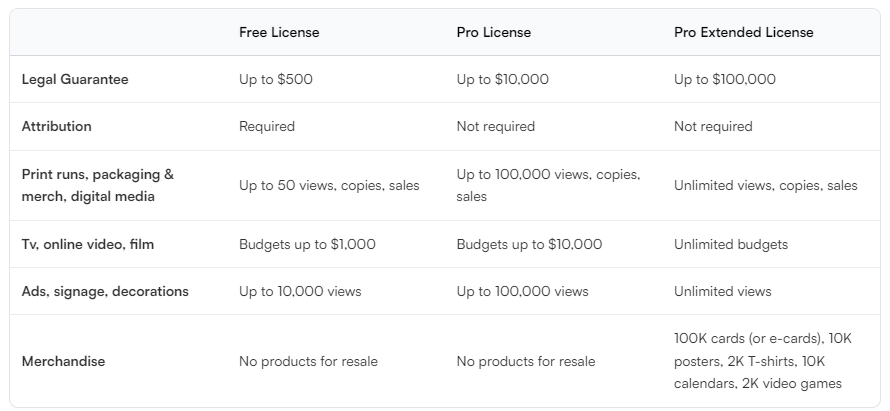 When compared to other stock photo agencies, Vecteezy's licensing options are relatively broad but still have some limitations. For instance, the Extended License provides a $250,000 indemnity and does not allow for unlimited merchandise usage, unlike the options available at Shutterstock or iStock. Additionally, the views and copies allowed under the Pro License are restricted in comparison to most other stock photo agencies, which typically allow up to 500,000 copies.
Features
Bundles
A bundle comprises several creative resources, not just one. These files are usually packed into a folder and distributed as a single download. Like all other resources on Vecteezy.com, the contributors create bundles. However, they may contain content that is not otherwise available, such as fonts, slide decks, Photoshop brushes, mock-ups, and more.
How do I get a bundle?
You can get a bundle in several ways:
Join Vecteezy Pro. You'll receive a bundle of your choice as a welcome gift.
With the Pro subscriptions. Vecteezy periodically releases limited-time bundles to all Pro members.
Buy it for $39. Any user, Pro or Free can buy a bundle. Bundle purchases are not refundable.
How many files are in a bundle?
All bundles are unique, and the number of files varies. Before you buy, you can check the number of included files by clicking on the show page.
Which license comes with a bundle?
Every bundle comes with a Pro license, with a few exceptions. For example, you may not embed fonts from bundles on websites, documents, apps, software, or e-books. Also, bundle content doesn't have a legal indemnification.
Vecteezy SVG Editor
This web-based SVG editor is easy to use and works with the free plan as well. You can add shapes, text, and vector images and edit their attributes. However, it's simplistic and too limited to advanced designs.
If you're into graphic design, I recommend investing in Adobe Illustrator, as it's what most professionals do. So, it'll give you the technological edge over your competition, who doesn't use it.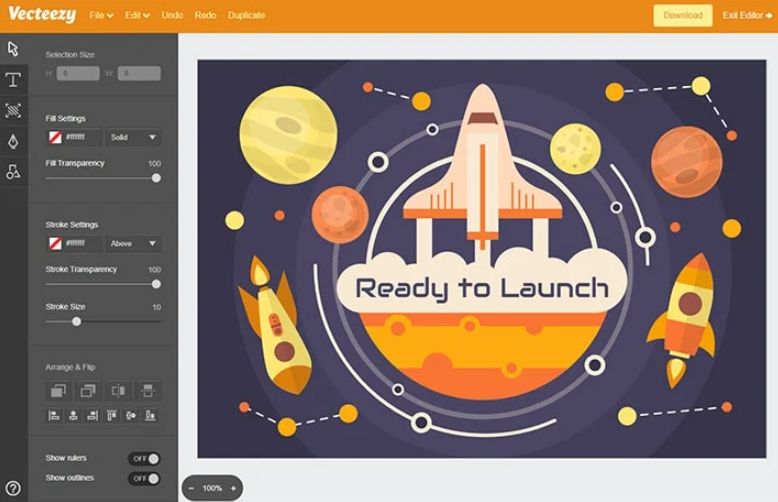 License
Vecteezy licenses all its content with three licenses: Free, Pro, and Pro Extended. The licenses differ in price, legal guarantee, attribution requirement, and view and copy limits. The licenses also differ between vectors, photos, and videos.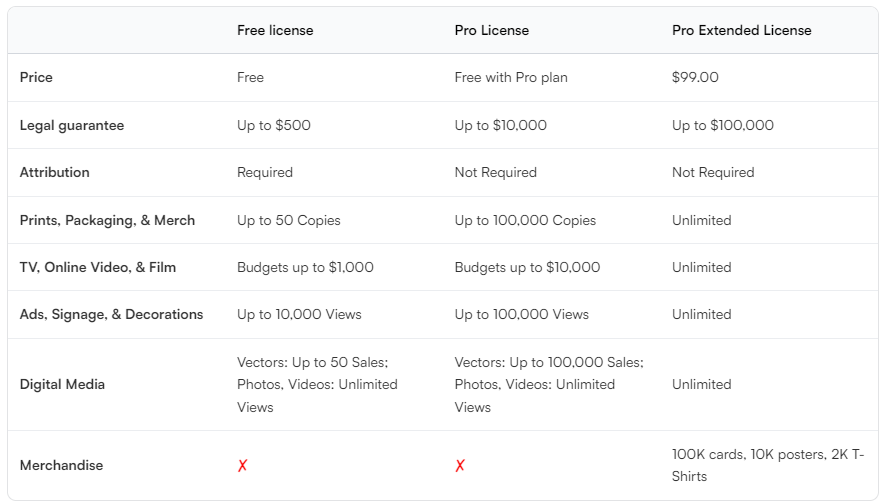 Alternatives
Adobe – Best for Designers
Price: Illustrator – $20.99/month; Photoshop – $9.99/month; Adobe Stock – $29.99+/month or $0.27+/image.
Adobe's features and services make it the best all-in-one solution for creatives like photographers, graphic designers, painters, and video editors. Compared to Vecteezy's editor, there's Adobe Illustrator (for SVG) and Adobe Photoshop (for JPG and PNG). Both are much more advanced than the Vecteezy editor, but also more difficult to use. However, they give you the same design options as the pros.
Use Adobe Stock for vectors and images. Compared to Vecteezy, Adobe Stock offers over 220 million assets created for Adobe by the world's best artists. The best part is that Adobe Stock is integrated with Creative Cloud, which means you can download all vectors (and other assets) from any Adobe app. This saves you a lot of money because you can test the images before you buy them.
Canva – Cheapest & Easy to Use
Price: $9.95/month, $1+/image.
Canva is a remarkable online platform for graphic design. Its drag-and-drop editor is miles ahead of Vecteezy's while being just as easy to use. Canva is better for designers who don't need the advanced features that Adobe offers but want the same integration. Additionally, Canva is cheaper than Adobe and costs roughly the same as Vecteezy.
Freepik
Price: $10.00/month (yearly); $14.99/month (monthly).
Freepik is a decent alternative to Vecteezy with over 5.7 million vectors, 14+ million stock photos, and almost 700K PSD files. Like Vecteezy, the free plan requires you to attribute Freepik. You don't get unlimited downloads, and the website is going to be full of ads. However, Freepik doesn't come with a content editor.
Shutterstock
Price: $0.22+/image.
Shutterstock provides stock photos, vectors, and illustrations. It costs as much as Adobe Stock, but it doesn't come with useful integration. Shutterstock has an image editor, but it's not specialized for vectors.
FAQ
Which is better, Vecteezy or Freepik?
The major difference between Vecteezy and Freepik is that Vecteezy offers a built-in online SVG editor while Freepik doesn't. Both sites offer vectors, photos, and videos, and they both cost around $10/month.
What is Vecteezy used for?
Vecteezy is best used as the source for vectors, but you can also get stock photos and videos.
Can I use Vecteezy for print on demand?
Yes, you may use Vecteezy for on-demand printing, but you must use the right license. You should get either Pro license (up to 500K prints) or Pro Extended license for larger prints.
Can you use Vecteezy for logos?
No, you may not use Vecteezy for logos, unless you buy an Exclusive license that provides you all the right for a logo or trademark use.
Can I use Vecteezy commercially?
Yes, you may use both Free and Pro content for commercial purposes, but certain restrictions apply. I recommend using the Pro license for any commercial projects as they allow more copies.
Is Vecteezy copyright free?
No, Vecteezy is not copyright free. All content is licensed under a royalty-free license.
Is Vecteezy free for commercial use?
Vecteezy is free for commercial use, but certain restrictions apply. You must attribute Vecteezy.com, you may make up to 50 copies or sales or generate up to 10,000 views, and your budget must be below $1,000. To omit the attribution and be allowed to expand your campaign, you need to get a Pro plan, which gets you a pro license.
Summary
Vecteezy is a great source of vector images but not ideal for photos and videos. It's very cheap and allows you to download unlimited vectors each month.
The SVG editor is not the best since it's too simple for most work you need to do. Unless you're a beginner, I recommend an alternative like Canva or Adobe Illustrator.