Braun Oral-B electric toothbrushes are some of the most popular on the market. Along with another big market player, Oral-B has nearly two-thirds of the electric toothbrush market globally.
Their product range suits a wide range of different budgets and brushing needs; in fact, there are so many different Oral-B toothbrushes available you might be left wondering how to decide between them.
Well, this guide is here to help you decide on the best Oral-B electric toothbrush for your needs. We'll explain all the different features and accessories of some of their most popular brushes so you can get a clearer picture of the one that would suit you best.
From the cheapest Oral-B electric toothbrush to the most high-tech, and from the most practical to the most colorful, sit back and get ready to be informed.
Whichever one you pick, you're making a good choice. Electric toothbrushes are more likely to clean your teeth better and keep your gums healthier than manual ones, according to long-term studies.
And some research, like this study from the International Journal of Dental Hygiene, also suggests that Oral-B's oscillating brush heads provide a better clean than some of their side-to-side vibrating sonic toothbrush competitors, particularly in terms of fighting gum disease.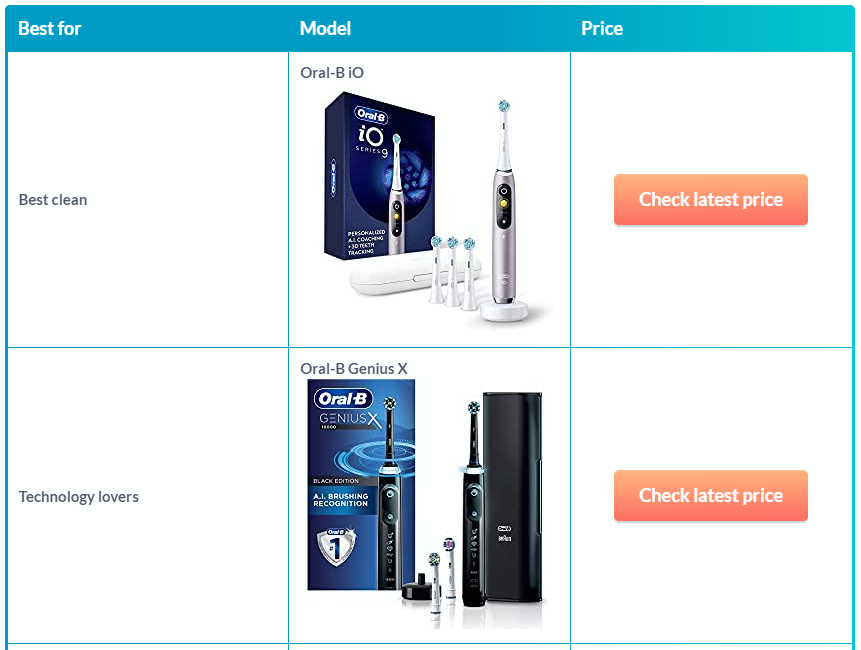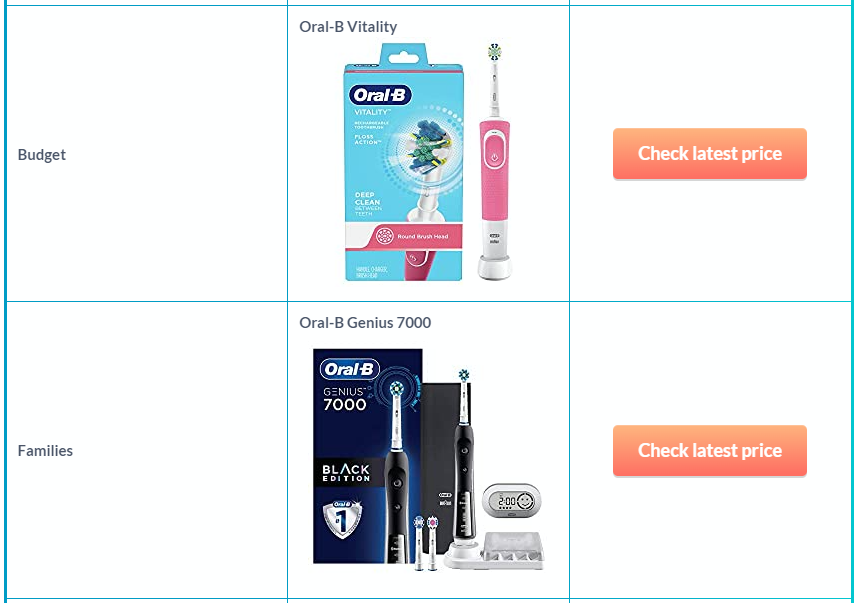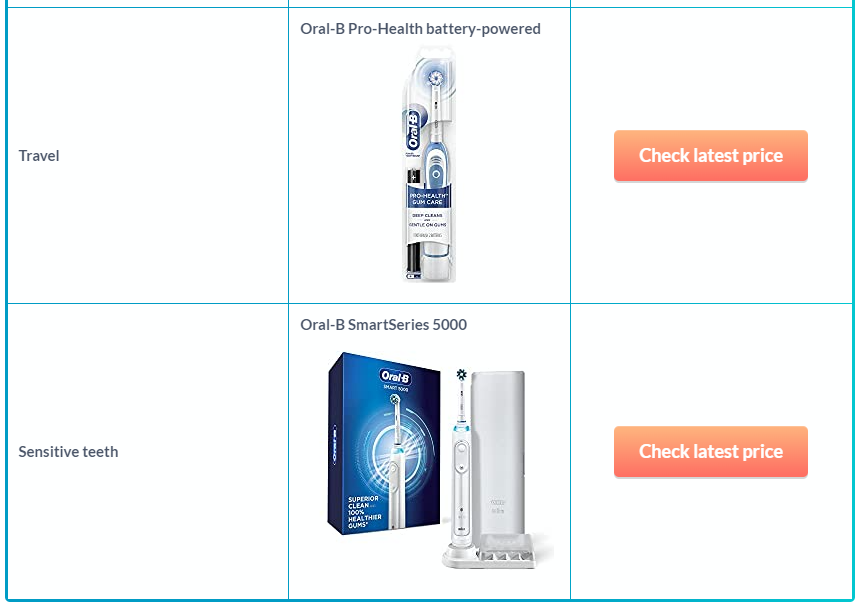 Which Oral-B Toothbrush To Buy
You've probably already realized that Braun Oral-B manufactures quite a few different types of electric toothbrushes. Most of their brushes have a number after their name, and a higher number is generally an indication of more features. We'll explain more about these later on.
Another thing to look for in your Oral-B electric toothbrush is the descriptor that comes with it. You will find brushes with the following branding:
iO is the most technologically advanced Oral-B toothbrush, launched in July 2020. Its frictionless magnetic drive revolutionizes the way their brushes work and delivers more power to the bristles, making it more effective on plaque and gum disease.
Genius uses artificial intelligence (AI), along with other technological features, to help you brush your teeth properly and improve your technique.
Smart Oral-B toothbrushes have a pressure sensor that tells you if you brush too hard, different brushing modes, Bluetooth connectivity, and a timer.
Pro brushes include a timer so you know you've brushed your teeth for two minutes each time.
As more features and technology are added to the brush to help with your oral hygiene, the price also increases. Here we look at brushes across a range of budgets to keep you smiling. You may also want to read our Philips Sonicare toothbrush guide or check out the Sonicare vs Oral-B article.
Oral-B's Best Clean: The New iO Toothbrush
New to the market in July 2020, the Oral-B iO brings a completely new kind of technology to Oral-B's toothbrushes. Six years in the making, its revolutionary design uses the familiar oscillating-rotating movement combined with micro-vibrations to deliver a clean that's gentle but deep and long-lasting.
If you're looking to upgrade your toothbrush and you want the best on the market, this is it. Read our full Oral-B iO review.
Whereas all of Oral-B's other current brushes are essentially the same toothbrush with different features and power levels, the iO is a totally new design. It doesn't feel or sound like your standard Oral-B, and even the brush head has had a makeover.
So, what makes the Oral-B iO worth the admittedly high price tag? Here's what you'll get with the top-range model, the iO9.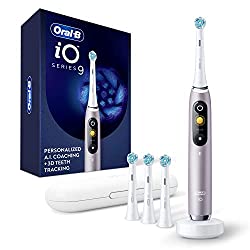 Interactive built-in color display to help you control settings and get instant feedback on your brushing session
Seven brushing modes: daily clean, sensitive, gum care, intense clean, whitening, tongue cleaner, super sensitive
Smart pressure sensor tells you if you're using too much or too little pressure
AI technology with 3D teeth tracking to show you exactly which surfaces you've brushed
A new app to track your brushing and tell you when it's time to switch to a new head
Quick-charging battery that gives at least 2 weeks of use from a 3-hour charge
Magnetic charging base with a two-pin plug
A travel case which doubles up as a charger
Black onyx, white alabaster and rose quartz color options
The iO7 and iO8 are also available for slightly less, but neither of them features the 3D teeth tracking or travel charging case. You also get fewer brushing modes. If you're going to spend this much on a toothbrush, you may as well go all-out on the top model, right?
Compared to other Oral-B toothbrushes, the iO has a sleeker design and operates much more quietly. The 3-hour charge brings them into competition with the majority of other electric toothbrush brands available these days, it's a welcome upgrade to their range.
The Oral-B iO costs around ten times more than some of their more basic and best value brushes. Is it going to clean your teeth ten times better? No. Will it make brushing your teeth feel like less of a chore? Almost certainly yes.
The Best Oral-B Electric Toothbrush For Technology Lovers
The Oral-B Genius X with Artificial Intelligence, an update on the very popular Genius 9600, is Oral-B's next most advanced brush.
It has everything you would want and a few things you probably never thought you'd need from a toothbrush. If you like the idea of an intelligent toothbrush but the iO is a little out of your budget, the Genius X is your next best option.
This Oral-B black electric toothbrush offers: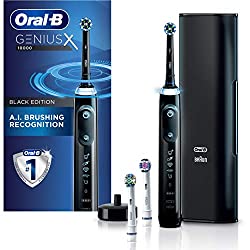 Great cleaning, with up to 100% more plaque removal than you get with a normal toothbrush
A built-in pressure sensor that will change the speed of your brush if you're brushing too hard
An app that tracks your brushing patterns to show you where you need to do more brushing (apparently 80% of us miss a spot when we brush)
Six brushing modes to help with gum care, whitening, and more
The AI technology works with an app to track how well you're brushing and help you improve your technique with the right angle and brush placement. Another feature of the technologically advanced package is a tailored Dental Care Journey that includes reminders when it's time to floss your teeth.
The cool stuff isn't just on the inside with this brush; it has a sleek futuristic look and comes in a selection of colors including sakura pink and anthracite grey in the Luxe version.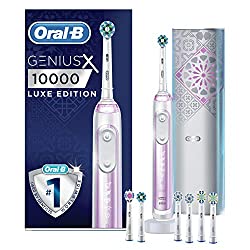 The backlit buttons show you which brushing mode you're in and how much charge is left in the battery. And the LED SmartRing pressure sensor is customizable with a selection of 12 colors to pick from.
The Oral-B Genius X also comes with a USB charging case that charges both your toothbrush and your smartphone. The Luxe versions have a patterned case whereas the standard versions have a plain back or white case.
Genius X vs Genius 9600
You might be wondering what the difference is between the Oral-B Genius 9600 electric toothbrush and the newer Genius X. Well, they both use technology to track how you are brushing, but the Genius 9600 requires you to use your smartphone camera as you brush whereas the Genius X has more advanced tracking technology built-in.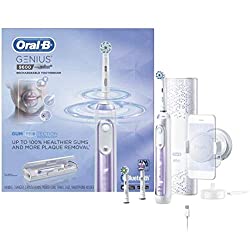 Although they both achieve the same end result, the AI technology in the Genius X is certainly more advanced and easier to use. The Genius 9600 does have more accessories, including a suction cup holder for your smartphone, but that's to aid you with recording yourself brushing. The Genius 9600 also comes in some different colors, including purple.
If you already have a Genius 9600 then there is little reason to upgrade. But if you're in the market for a new brush, the Genius X is a better buy because of its ease of use. The recommended retail price is slightly higher, but both brushes are regularly discounted by 50% or more on Amazon.
Oral-B Genius X Electric Toothbrush Reviews
You might be wondering whether you really need a toothbrush with a high IQ. Let's look at what some other users think. One happy Amazon customer says:
"All in all, if oral care and hygiene is important to you (which is should be) this is a great investment. It is a good product that will last you a long time, there is a 2 year warranty for any malfunctions, 30-day money back guarantee, and several different types of brush heads along with the different modes allow you to customize it for your needs or goals. It's worth it!"
Turning to impressions of the actual brush, an Amazon reviewer said of their recent purchase:
"I love this toothbrush. The color is gorgeous but it works amazing and I enjoy seeing how well or bad a I am brushing with the app. The suction cup for the mirror is awesome. I use it to put my phone in it for brushing my teeth but also to listen to music when I am showering. "
The same reviewer goes on to add that the only thing missing was a brush cap to put over the toothbrush head.
Watch the short video below to see the Oral-B Genius X in action and watch how it tracks brushing in real-time:
So, if you love your gadgets or you just want to give your brushing technique an overhaul, this could be the brush for you.
The Cheapest Oral-B Electric Toothbrush
After a lifetime of using manual toothbrushes, you might be curious about trying an electric brush but dubious about the cost. Some electric toothbrushes can run into triple digits (see above) and this can be off-putting. All the features that come along with the expensive brushes can also be dizzyingly confusing when you've never used one before.
However, a cheap Oral-B toothbrush is available in the form of the Oral-B Pro/Vitality range. They are much less expensive than the higher-end models, ranging from $15 to $50. They won't break the bank but still offer superior cleaning compared to a manual toothbrush. Standard features include: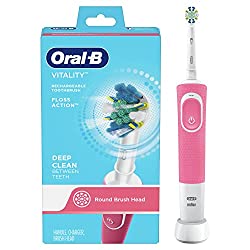 An oscillating, rotating, and pulsating head to clean teeth and remove plaque
A two-minute timer to make sure you get a thorough brushing
A rechargeable battery so you don't need to raid the remote for new batteries
The design of the brush is classic and simple, with just an on/off button and a textured handle for easier grip. The Oral-B Vitality brushes come in light grey, black, and blue, or — to bring a splash of color to your bathroom — there is an Oral-B pink electric toothbrush, too.
The Pro brushes are a bit more expensive than the Vitality models, and one of the top sellers is the Oral-B Pro 1000. It has everything the Vitality brushes have plus a pressure sensor and an updated, sleeker look.
One helpful Amazon reviewer keeps it short and sweet in his comment:
"When you don't need the nutty bells and whistles, this model works fine."
If you're the type of person who likes to keep things simple, this is the one for you. In the box you get the toothbrush and a charger.
The Best Oral-B Toothbrush For Families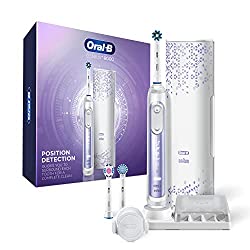 Oral-B electric toothbrushes are great for kids, too — you can read more about the best options in our children's electric toothbrush guide. After age 13, your children should be able to use a regular adult toothbrush. But what if you don't have the space or money for everyone in the household to have their own electric toothbrush?
Fortunately, Oral-B's interchangeable brush heads make it easy for multiple people to share the same toothbrush hygienically. They also feature a colored ring at the bottom of each head (with four colors available), so you won't get confused about whose is whose.
Because all of Oral-B's electric toothbrushes work with their toothbrush heads, it's really up to you whether you go for a budget or high-end model. Would you like your children to have the option of softer brushing modes? And will a brushing app be a help or a distraction to them?
One feature that is very useful for families sharing the same brush handle is a built-in stand for your brush heads. This means the heads can be safely and hygienically stored upright, with no risk of them falling on the floor in between uses. Here are some of the Oral-B electric toothbrushes which have this feature: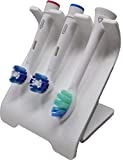 Genius 8000 (case holds 4 heads)
Genius 7000 (case holds 4 heads)
SmartSeries Pro 5000 (case holds 4 heads)
SmartSeries Pro 3000 (case holds 4 heads)
Even if you don't pick a toothbrush with a built-in stand, there are plenty of Oral-B electric toothbrush head holders available to purchase separately.
This one is a good choice because it holds the brush heads upside down. It also can hold other brush heads besides Oral-B, in case you aren't strictly an Oral-B family.
The Best Oral-B Electric Toothbrush For Travelers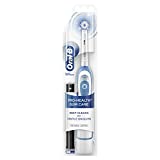 If you are looking for an electric toothbrush by Oral-B to bring with you when you're on the road, you may want to take a look at the Oral-B Pro-Health battery power electric toothbrush. This toothbrush is simple and convenient. It comes with a precision clean brush head, but you can use it with other replacement heads, including CrossAction, Sensitive Gum Care, FlossAction, and 3D white.
It comes with 2 AA batteries and weighs just over 5 oz so it won't weigh your luggage down. This toothbrush has no frills, but it will keep your teeth clean while you're on the go.
One thing to keep in mind is that this brush doesn't come with a travel case, but you can buy one on Amazon.
One traveling reviewer said:
"I always use the Oral B electric toothbrushes. The travel brush is just as good as the plug-in version. Light and compact and easy to pack."
The Best Oral-B Electric Toothbrush For Sensitive Teeth
Having sensitive teeth can range from being a bit uncomfortable to nearly unbearably painful when eating or drinking very hot, cold, or sweet food and drink. It's best to visit your dentist if you start getting pain or sensitivity because it can be a sign of underlying issues.
Buying the right toothbrush for sensitive teeth can help, too.
The iO, featured above, has both Sensitive and Super-Sensitive modes to give you full control over your brushing experience. But if you're looking for something more moderately priced, the Oral-B 5000 electric toothbrush, specifically the Smart 5 version, is a great brush to use when your teeth need some extra, gentle care.
There are five settings that come with this brush that you won't find on lower-numbered models. The settings that you can use are: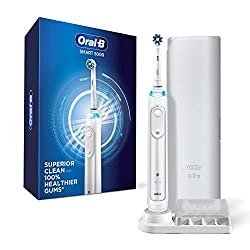 Daily Clean
Gum Care
Sensitive
Whitening
Deep Clean
It also comes with the FlossAction brush head, and is compatible with all Oral-B brush heads.
Combined with the different settings, this means you can completely tailor your brushing to suit your sensitive teeth, even using different combinations in different parts of your mouth.
Being in the Oral-B Smart toothbrush range, it has Bluetooth connectivity so you can use the Oral-B smartphone app to track how well you're brushing. You might find that you're skipping over your sensitive teeth without realizing, when in fact they might need some extra TLC.
Another helpful feature of the Oral-B 5000 electric toothbrush is the pressure sensor that will alert you when you're pushing too hard on your teeth. It will automatically slow down the brush speed until you relieve the pressure, helping to prevent damage to teeth and gums that can cause sensitivity.
"I have had one of these for a year now. I love it! My teeth are white. My gums are healthier. The Blue Tooth part was useless for me – I tried it at first, but unless my phone was pretty charged, it would not pick it up. I just didn't find it at all helpful. I also wish the stand was somewhat smaller. Not sure why you would need 4 toothbrush heads in the stand at the same time. And the water from the brush heads drips down inside making the holders kind of yucky and in need of frequent cleaning."
Oral-B Electric Toothbrush Comparison Chart
There's a lot to consider when it comes to finding the best electric toothbrush for you or your family. Below is a handy Oral-B electric toothbrush comparison chart showing a summary of the best options we mentioned above.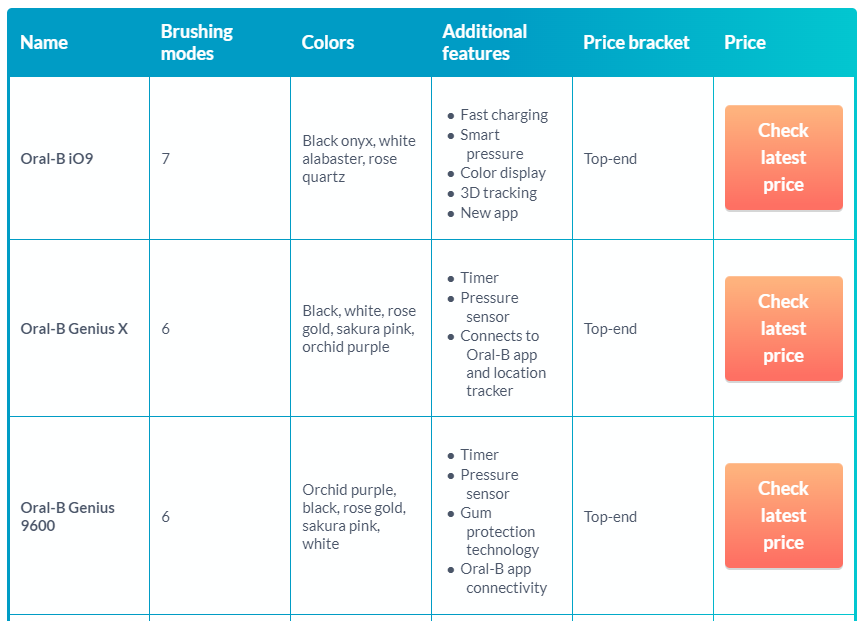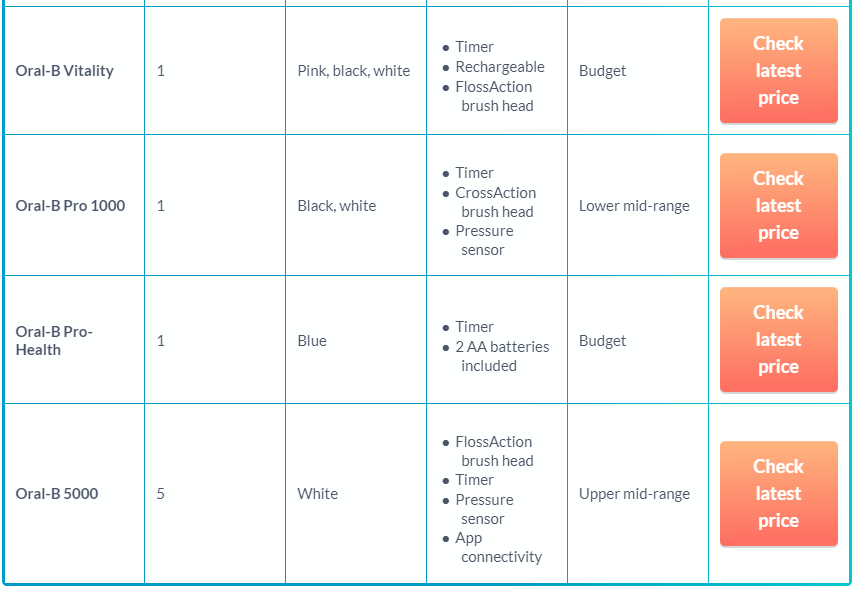 Buying Oral-B Electric Toothbrush Heads
Once you've decided which is the best Oral-B rechargeable toothbrush for your needs, you need to consider which brush head you want to use. You don't need to be concerned about compatibility; Oral-B replacement heads are all designed to work with all brush handles, except iO and pulsonic brushes.
Just like there are different choices of shapes and bristle hardness with normal toothbrushes, you have lots of choices for your Oral-B electric toothbrush heads. You can choose from: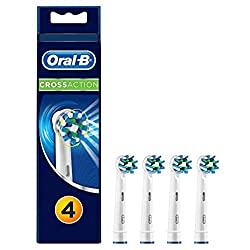 CrossAction brush heads have bristles angled at 16° to give a more effective clean and are available in black or white
3D White includes a polishing cup in the middle to get rid of stains and make your teeth whiter
Sensi Ultrathin heads have soft, rounded bristles so they're ideal for sensitive teeth and can be used by kids age 6 and up
Precision Clean brush heads have been designed to give a thorough clean right down to the gumline
FlossAction means the head will get deeper in between your teeth with the micro pulse bristles
Trizone brush heads are shaped more like a manual toothbrush and have three different cleaning zones
When it comes to iO refills, you have two types to choose between, Ultimate Clean and Gentle Care.
Just like with a conventional toothbrush, you should replace the head on your Oral-B brush at least every three months, but if the bristles are frayed you should change it sooner.
Some of these Oral-B electric toothbrush heads are widely stocked in normal supermarkets and drugstores whereas others are easier to find online (click on the links above to view on Amazon). There are generic brush heads that you can use with your brush, but in testing, they tend not to be as good quality.
Conclusion
Oral-B electric toothbrushes provide a great clean, and some come with extra features to help you get better at brushing correctly. Whatever your budget and brushing needs, you should be able to find an Oral-B brush to suit you and your family.
We hope our guide has given you a good place to start when shopping for your new Oral-B electric toothbrush and you now have a better understanding of what all of their features mean, too.
If you're looking for a midrange brush but you're not convinced by the oscillating rotating head of the Oral-B you an try reasonably priced sonic toothbrush like the Brüush Sonic.
Frequently Asked Questions
How do I get an Oral-B electric toothbrush charger?
Whenever you buy an Oral-B electric toothbrush, you'll get a charger in the box. You can buy a replacement charger if yours is lost or damaged. Be sure to check compatibility with your toothbrush.
You can also buy a USB charger that will fit most Oral-B brushes. It means that you can charge your toothbrush with a power bank when you're on the go rather than having to hunt down a plug socket that you can leave your toothbrush plugged into.
How do I know when my Oral-B electric toothbrush is charged?
Nearly every Oral-B toothbrush has a low battery indicator. The battery light will flash red and the brushing power will reduce. Higher-end brushes also have a battery indicator. When you're recharging your toothbrush, the charging light will turn to solid green to show that it's fully charged.
The Vitality brush doesn't come with this feature; however, you might notice that the speed and power of your brush decrease when it needs to be charged.
How long will my Oral-B electric toothbrush take to charge?
If you go with the iO, you'll get a full charge in around 3 hours with the magnetic charging stand. Otherwise, you'll need to leave it plugged in for up to 22 hours to get it fully charged.
A full power-up can take anywhere between 14 and 22 hours. Because of the charging method, you need to make sure you don't put the brush on a metal surface whilst it's charging.
What battery do Oral-B rechargeable toothbrushes use?
Most Oral-B electric toothbrushes come with a lithium-ion battery, which means you should get up to two weeks' worth of brushing on one charge. It lasts a long time without needing to be replaced. It also has a lower environmental impact than old-style nickel cadmium batteries.