iHerb.com is one of the largest online retailers of nutritional products. My family and I have been buying all sorts of stuff from them for several months now, and my full review is below:
About iHerb.Com
iHerb first appeared online in 1996. Interestingly enough, when the site started, they only sold St. John's Wort. This is where the name "iHerb" came from – they literally only sold one type of product!
Over the years, however, iHerb has greatly expanded their inventory. Today they sell over 35,000 products from over 1,000 brands. With a warehouse in California and another in Kentucky, they now ship all over the world.
They're an online only store, which gives them two big advantages. They have a massive selection of products, and they're able to offer great deals. Prices are typically 30% to 40% cheaper than most other retailers.
Top Features Of iHerb.Com
Products on the site are arranged into eight categories: Herbs (of course), Supplements, Bath and Beauty, Skin Care, Grocery, Kids and Babies, Sports, and Pets. Each category is divided into subcategories. Plus, the search bar for the site works great and will take you directly to whatever product you're looking for – it even accounts for misspellings. Overall, their site is so well organized I found that shopping at iHerb is quicker and easier than buying similar items at a brick-and-mortar store.
iHerb has a high product turnover rate. This is important within this industry. Many vitamins, supplements and similar products have best-by or other expiration dates. Basically, you want to buy fresh.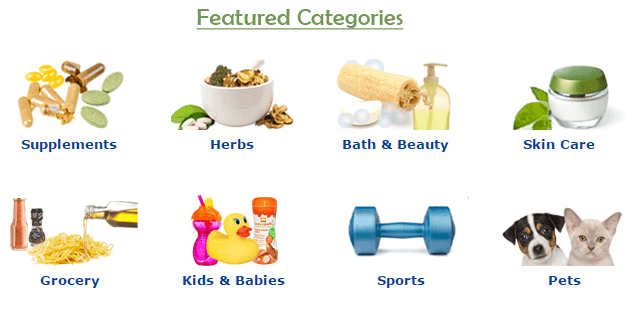 Because iHerb moves such a high volume of inventory, their products never sit on their shelves for very long. Their entire inventory turns over 8.1 times each year, which is a lot for this type of business. You'll never get something which has been sitting around for a long time. Plus, shipping is fast, too, thanks to iHerb's two distribution centers.
These distribution centers aren't simply regular warehouses. They're climate controlled, to ensure the freshness of the products. Normally I don't give much thought to where a product I order is warehoused, but in this case it does make a difference.
Each product has several pictures of the item. You can even zoom in and read the labels directly. The overall experience was very similar to buying the same items in the store. I could wander through the (virtual) aisles and take a look at whatever products caught my eye. Even better, if I wanted to know more about the product, I could head right over to the site's Resources section.
iHerb offers a Trial section. This lets you buy a small quantity of an item for a very low price, so you can try it out at home. I bought a tube of Organic Cocoa Butter lip balm for just fifty cents, and a two ounce bottle of skin cream for about $9. You're only allowed to buy one sample of each product.
Sometimes a product will be temporarily unavailable. It's rare, but it does happen (and is usually an issue caused by the distributor, not iHerb). You can sign up for their "Notify Me" features, where you'll get an email when the product becomes available. The feature works great – once I even got a notification about a product at seven in the morning.
Prices
Practically every item is discounted, and they certainly alert you to how much you're saving. I found that most items really were about 30% to 40% cheaper when compared to both other sites as well as the health food store near my house.
Also, if your order is more than $20, they throw in free shipping and you won't be charged tax. If your order is over $40, you'll also get some bonus items. Over the past few months, I've received all sorts of cool items including water bottles, pillboxes and more.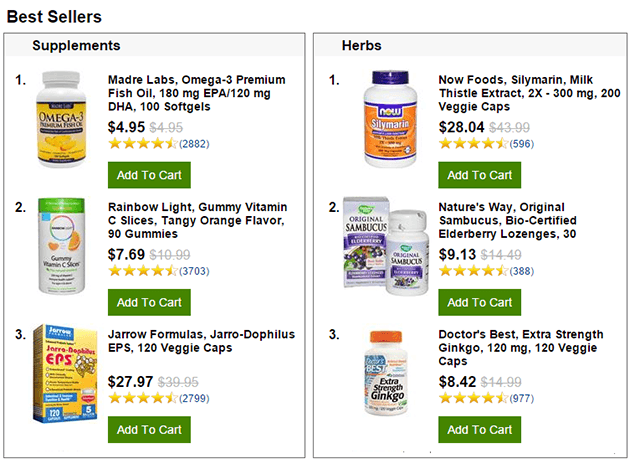 The site always has something good in their Specials section, too. These deals rotate on a regular basis, but are usually deals based around a category. For instance, currently they're offering an extra 10% bonus on products from the Bath and Beauty category, $20 off any Super food and a buy one, get one deal on Omega fish oil.
There are also weekly specials, which change every Wednesday. You get a 20% discount on select brands. Supplies are usually limited (that's why the products are on sale to begin with) and there are no rain checks – so customers are encouraged to check the sale section often.
Criticism Of iHerb
The main criticism comes from long-time customers who used to order by phone. Unfortunately, in recent years, iHerb had to discontinue phone ordering. They didn't want to, but it was becoming too great an expense. The good news is the online ordering system is very easy.
I did have a bit of a hiccup with one order. A sample pack of vitamins they included accidentally opened during shipping, so there were loose vitamins scattered in my box of items. I did contact customer support and they offered to replace the vitamins. Since it was just a free sample, I didn't care, but it was re-assuring to know that they were willing to replace any order damaged in transit.
Customer Support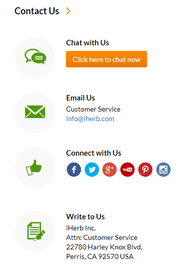 For review purposes, I emailed a question about a product I'd recently purchased. I heard back in less than 24 hours, and the response was friendly and informative. They also offer a large resource section. You can learn about which products work best for different medical issues, as well as more information about the specific products themselves. Everything is easy to navigate and the articles were clear and readable. They provide access to a wide variety of scientific material, including access to The Natural Pharmacy, German Commission E Monographs and Herbal Gram Magazine.
Final Thoughts
During the past few months, I've ordered from iHerb eight times. At first, I only ordered products I was familiar with and had previously purchased from the store down the street. This was just some simple stuff like multivitamins and a superfood powder. Ordering was easy and the prices were cheaper than anything I could find elsewhere, online or off.
My order arrived within three days. Even better, there were some free items. I got a water bottle (which I actually use). Pleased with the site, I explored it further and started expanding my horizons a bit. I ordered some shampoo and skin care products. My wife and daughter started to order from iHerb, too. We even bought some Doggie Sudz Shampoo for our dogs! I can honestly say iHerb has helped our family to become both healthier and more health-aware. We give iHerb our highest (and healthiest) recommendation.