About Gaiam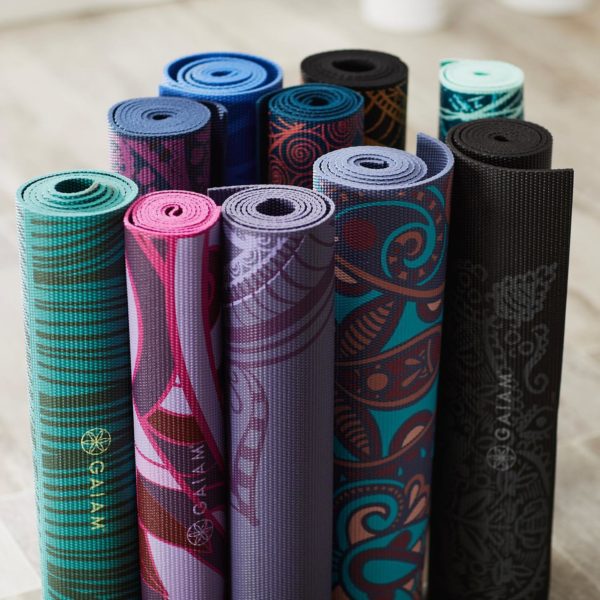 Gaiam offers eco-friendly luxury gear for yoga and meditation. Helping people restore a sense of calm, the brand's comfortable, quality equipment ranges from yoga mats to weights to boxing gloves for adults and kids.
Loved for its high-quality gear made from eco and user-friendly materials, the brand has been featured in 'Best Of' lists in notable publications like Glamour and USA Today. It currently has a substantial 165k Instagram following.
In this Gaiam review, we'll dive deep into information about the brand and its bestsellers, fill you in on what customers have to say about them, provide information on promotions, and more, to help you decide if this collection is the right fit for your lifestyle.
Overview of Gaiam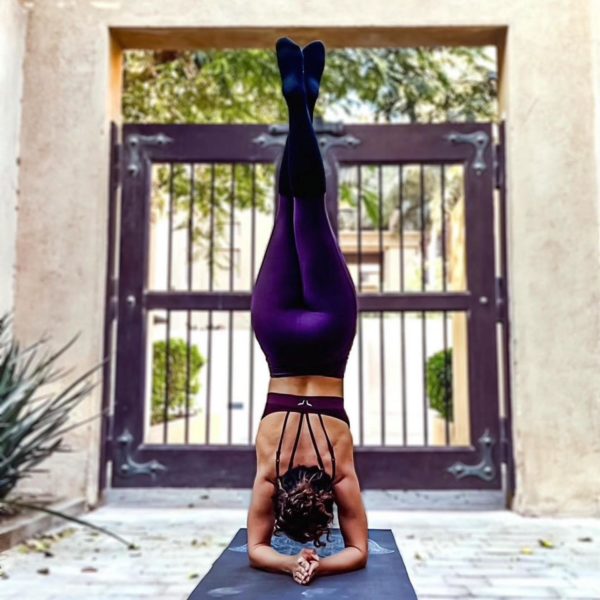 Gaiam was founded in 1988 by Jirka Rysavy. But, back then, it sold more than yoga gear, operating as an alternative media video service that streamed instructional yoga how-to's and preached pseudoscience topics.
In 2016, the retail side of the business was sold to the Sequential Brands Group, while the information side became Gaia Inc. Today, the two have nothing to do with each other aside from supporting the common goal of restoring calm to humanity.
Gaiam, the yoga supply company, is based in Denver, Colorado. Customers can find its products in over 38k stores.
Before we get into a sampling of the brand's bestsellers, this Gaiam review will quickly highlight its highlights.
Highlights
Wide variety of tools and accessories for yoga, fitness, and meditation
Clothing also available
Adults and kids sections
Spectrum of pricing; lots of affordable options
Available in many stores across the US
Positive customer reviews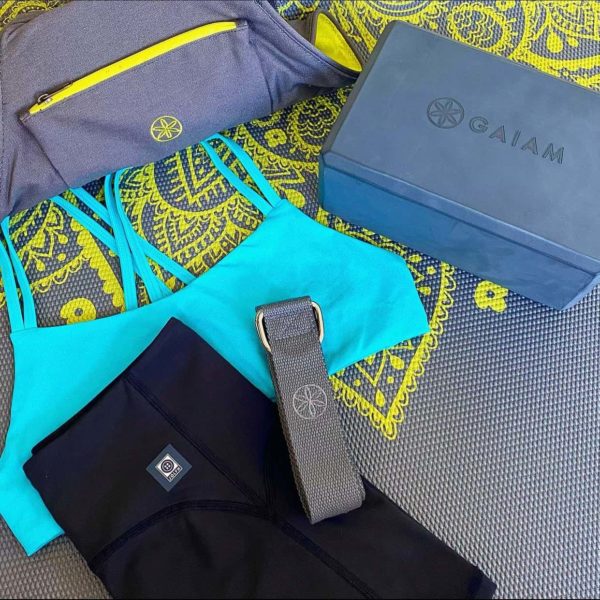 "Gaiam," a combination of the Ancient Greek word for "Mother Earth" and the phrase "I am," combines functional, high-quality yoga gear with inspired prints and cushy materials. One might say this combination signifies the connection of the spiritual and natural world, but, then again, we may be reading too much into it.
With the intent to help restore peace and a sense of balance, the brand's fitness gear and accessories don't skimp on comfort. Comfort is, after all, a byproduct of calmness, and it only makes sense that Gaiam prioritizes this in its products.
The next section of this Gaiam review will lead you through the brand's yoga mats, ball chairs, restorative collection, and hand weights, all of which are made for support, relief, and ease of use.
Gaiam Yoga Review
Practicing yoga without a mat or block is possible, but it's not ideal. The cushy, foam surface of each provides padding between your body and the hard floor, enabling you to stretch further, perform properly, and stay in poses for longer.
Ahead, you'll read about the brand's best-selling yoga mat and block.
Gaiam Premium 2-Color Yoga Mat Review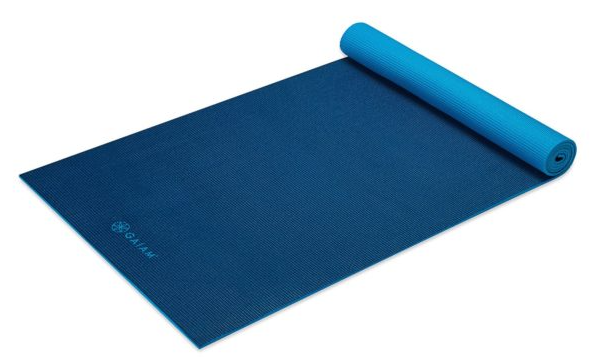 Yoga mats are made for comfort, but a good one is also made for performance. Whether it's to provide support for your wrists while in Crow Pose, or your back while laying down in Corpse (don't mind the name), yoga mats are a vital part of your practice.
The Gaiam 2-Color Yoga Mat provides 6mm of cushiony comfort and a non-slip surface to keep your hands and feet in place.
Available in five color combos, you'll get to choose a theme that matches your mood. For example, check out honey dew—a bright, peppy green and mysterious dark green combination.
Measuring 68″ x 24″, this latex-free mat is made of PVC and is $30.
Looking for something packable and absorbent? Check out the Gaiam yoga towels.
Gaiam Yoga Essentials Block Review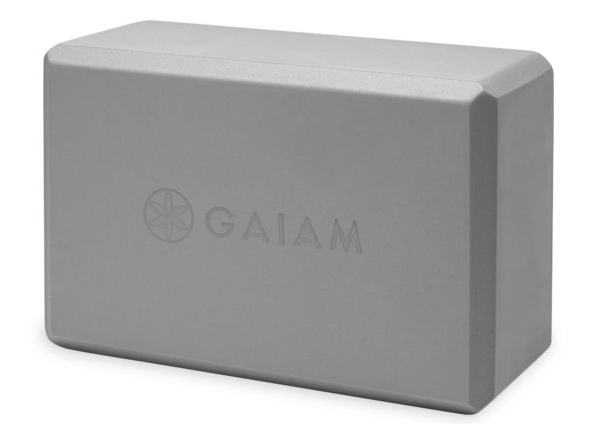 Blocks are incredibly versatile. Use them as a pillow under your head when laying in quiet meditation or wedge them under each side of your leg when in Butterfly Pose.
In general, blocks allow you to support any area of your body that needs a little help during your practice. Sold individually, the Gaiam Essentials Block is made of high-quality foam and comes in 14 soothing colors.
Weighing about 4.6 oz and measuring 9" x 6" x 4", this non-slip Gaiam yoga block is $10.
Gaiam Ball Chairs Review
For the last 30 years, trendy offices around the globe have replaced their regular chairs with exercise balls—a great practice to keep staff healthy and correct posture. While these effects are certainly possible, more often than not, the rolling around of balls can get a little distracting.
Cue: Ball Chairs. Below, this Gaiam review will feature the brand's bestsellers, so keep reading to find out exactly what they're all about.
Gaiam Classic Balance Ball Chair Review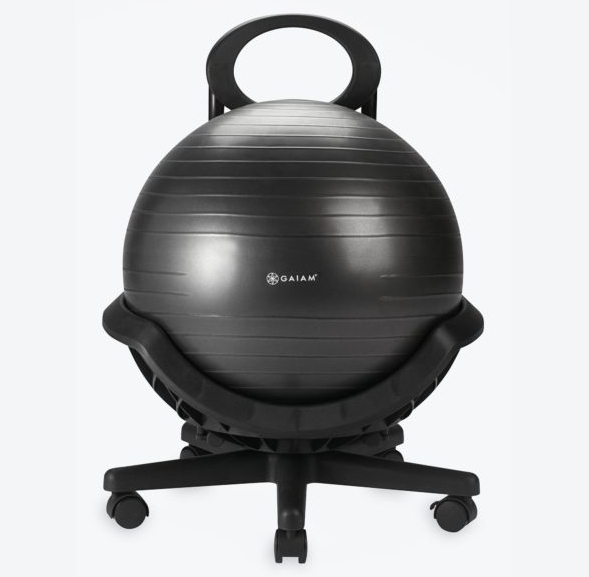 Did you know that strengthening your core can alleviate back pain? You probably did, but maybe never thought a Balance Ball Chair could be the thing to do it. It's a simple, inexpensive switch that can make a big difference in your life.
Providing ergonomic support, this bouncy chair requires your muscles to stabilize constantly, leading to a stronger spine and better posture. Move around your office with ease with the rolling wheels, or lock them in place when you need to stay put.
The Gaiam Balance Ball Chair is suitable for those up to 300 lbs and 5'-5'11" tall. But, just remember to inflate the latex-free ball to your preferred height, or else you'll be sitting quite low.
Available in six colors, get the Balance Ball Chair for $70.
Gaiam Ultimate Balance Ball Chair Review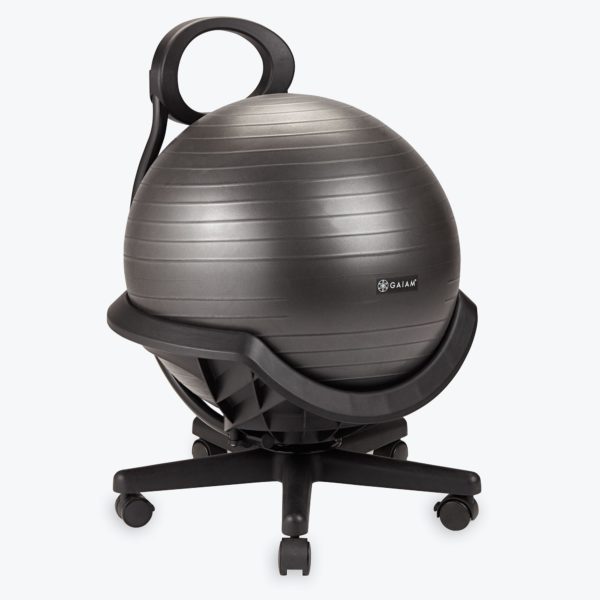 If you love Balance Ball Chairs but are looking for something a little more sturdy, try the Ultimate version. With a professional look, these chairs are better suited for high-profile offices or home spaces that require a more modern touch.
The Gaiam Ultimate Balance Ball Chair is sleeker than the previous version, made of nylon and a steel base that fits a 52cm anti-burst exercise ball. Featuring five high-quality wheels that glide over carpet with ease and lock into place, your chair will come with a pump, as well as a workout guide.
Still recommended for those under 300 lbs and heights of 5'-5'11", this chair serves double duty with the removable Gaiam yoga ball that can be taken out and used for your next workout.
Measuring 23″ x 30″ x 23″, the Gaiam chair comes in stylish black and is $100.
Gaiam Restore Review
How you recover is just as important as how you work out. The Gaiam Restore collection is filled with effective tools to help relieve your muscles so that you can keep going.
Next, you'll read about four of the brand's most popular restorative tools for massage, rolling, and support.
Gaiam Restore Pressure Point Massager Review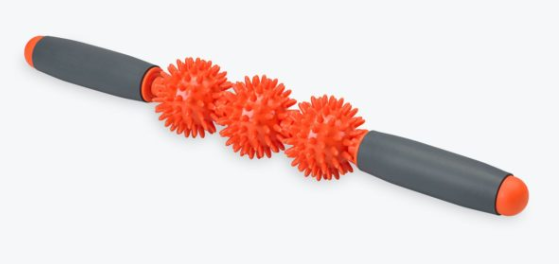 Though this spiky tool looks painful, it's a friend to knotted and sore muscles. Its intuitive design gets into your pressure points to relieve aches and pains.
The Gaiam Pressure Point Massager uses three spiky massage balls, in a sort of rolling pin style, to help you roll out lactic acid buildup. If you're a little intimidated, don't be. The 16.5" massager will come with a guide that shows you exactly how to use it.
Recover the right way with the Gaiam Pressure Point Massager for $15.
Gaiam Restore Total Body Foam Roller Review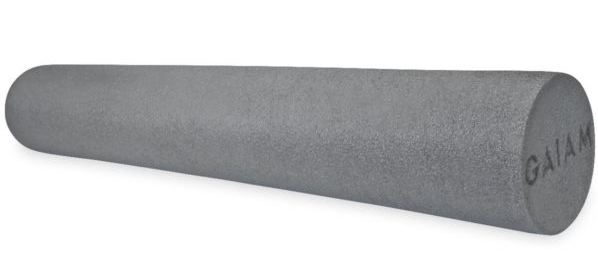 Hardcore full-body workouts require big rollers. The Gaiam Total Body Foam Roller measures 36" in length and has a medium-firm feel with just a touch of intensity.
The roller comes with a 25-minute instructional video on how to use it. After you do, you should feel loose and relaxed, as if you just got a full-body massage.
Treat your muscles to a rolling session with this full-body Gaiam foam roller for $35.
Gaiam Restore Muscle Therapy Foam Roller Review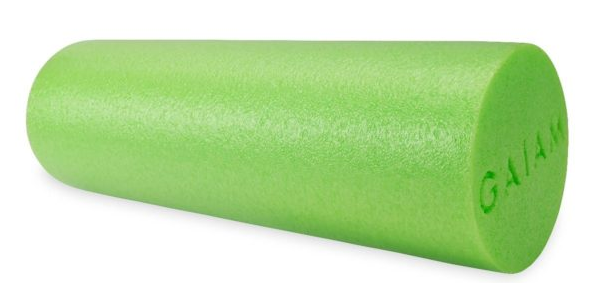 After working out, lactic acid builds up in muscles and results in lethargy. Often, it leads you to skip a workout the following day, but all you need to do is get that acid out.
The 18" Gaiam Restore Muscle Therapy Foam Roller helps roll out tight muscles. It loosens them up for a relaxed, rejuvenated feeling.
Accompanied by a 15-minute digital workout, this medium-firm roller is available in grey, purple, or black for $25.
Gaiam Restore Strong Core & Back Kit Review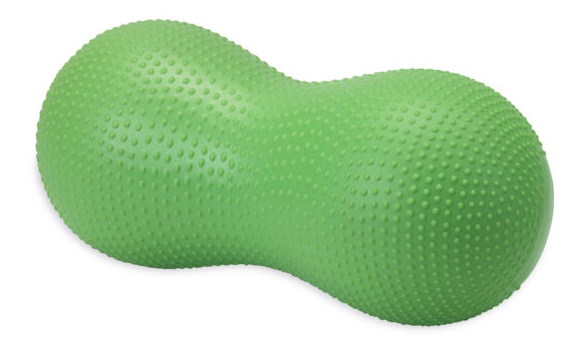 Back pain and strains can prevent you from doing core work, but core work is the very thing that will help prevent back pain and strain.
Get your workout in with the Gaiam Restore Strong Core & Back Kit. It's a peanut-shaped ball that will cushion your spine when you lean back for ab exercises. Plus, it comes with an instructional DVD.
With small, spiky dots, the ball will stimulate the area for added pressure relief. This kit is sold out right now but will be available soon.
Gaiam Weights Review
Weights are an important part of your fitness routine. Skip them, and you may not see the results you want. The best-selling Gaiam weights come in a variety of sizes, all of which we'll outline for you below.
Gaiam Neoprene Hand Weights Review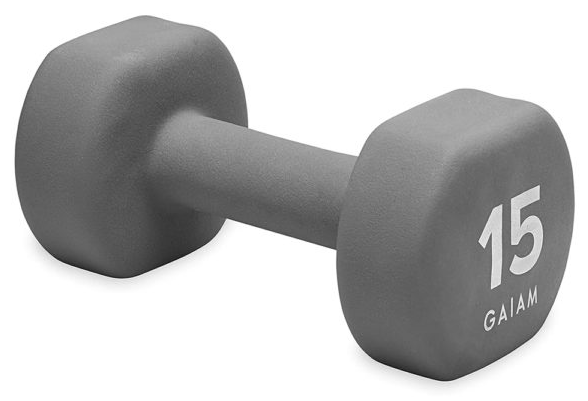 A good pair of weights can really come in handy, helping you to build and tone muscle without ever leaving your home. They allow you to add resistance to your workout but don't require a ton of space.
The Gaiam Neoprene Hand Weights come in super cute, bright colors, so there's a good chance you won't want to even put them away. Made from cast iron coated in a neoprene shell, these non-slip weights are sold individually, so remember to buy two if you want a set.
Right now, the 3lb weight is sold out but check back in soon. The brand also stocks 5lb, 8lb, 10lb, 12lb, and 15lb weights for $12-$34.
Keeping track of your body weight? Try out the Gaiam smart weight scale to see your progress.
Is Gaiam An Ethical Brand?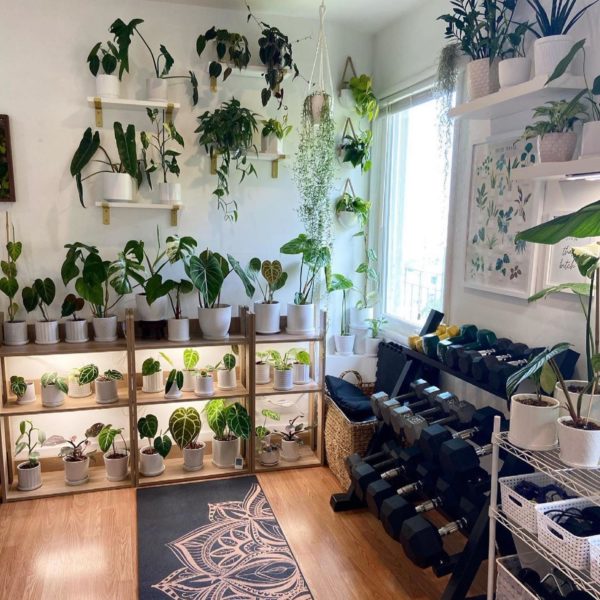 Some sources say that the brand is ethical, but throughout our research for this Gaiam review, we were unable to verify that. Many articles state that the brand is committed to helping people keep up a healthy routine, and so it's considered an ethical brand in terms of how it aims to treat others.
Who Is Gaiam For?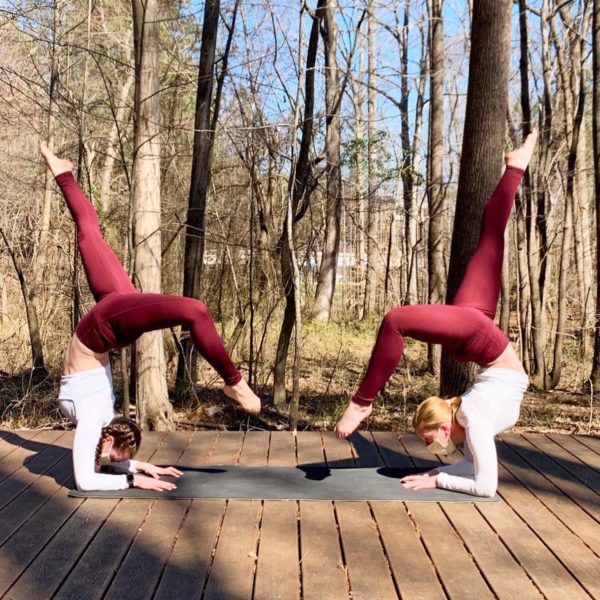 Gaiam is for active individuals who want to get more out of their workouts, yoga sessions, or meditations. From fitness gear to meditation tools like eye pillows and blankets, the brand stocks a full range of supplies aimed at improving your practice and bringing you inner peace.
Plus, the company offers a kid's line. You'll find items to help young ones get into yoga, as well as accessories to help keep them active.
Comparison: Gaiam vs. Beyond Yoga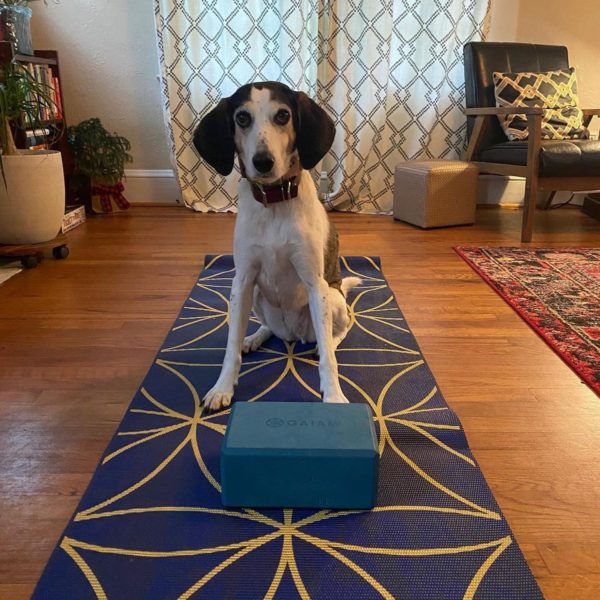 If you've made it this far in our Gaiam review, then you may be wondering how the brand holds up to competitors. Well, you're in luck, because we'll be comparing it to Beyond Yoga to see exactly what makes it unique.
And though these two brands are yoga-centric, they're incredibly different. Beyond Yoga geared towards apparel for the practice. Whereas our featured brand is about equipment and tools.
Beyond Yoga's collection includes everything from tiny tees to maternity wear, but you won't find a single piece of gear in sight. The more we think about it, the more we see that these two brands are a match made in heaven—one supplying the equipment, the other, the apparel.
Gaiam and Beyond Yoga aren't really competitors, they're more like best friends.
With that said, our featured brand does offer a few pieces of apparel (its bras collection includes just one style and there just one pair of Gaiam leggings), but if you're interested in variety, head to Beyond Yoga.
For the sake of interest, we checked out the specs for a similar style that each of the brands carries.
Beyond Yoga Spacedye Slim Racerback:
XXS-2XL
Made in the USA
Polyester & Lycra mix
8 colors
$59
XS-XL
Polyester & Spandex
3 colors
$30
Our featured brand's bra is much less expensive, but we can see where Beyond Yoga's bra pulls ahead in terms of manufacturing and materials. Again, we don't see these brands as competitors, so it may be worthwhile to shop both for all your yoga needs.
Gaiam Reviews: What Do Customers Think?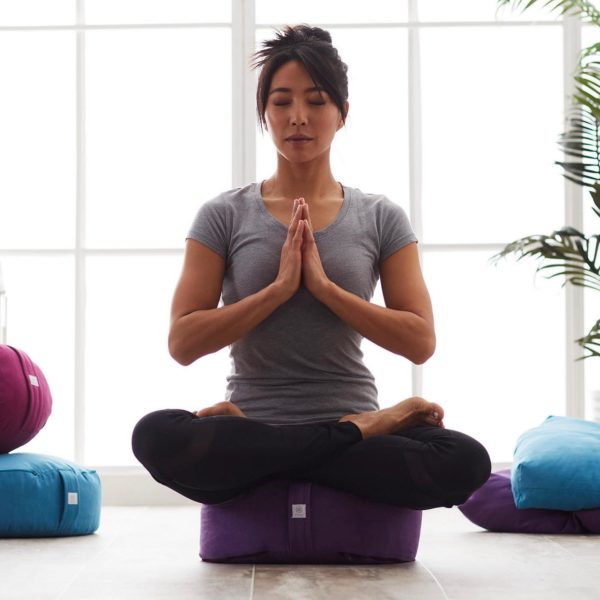 Now that you've got an idea of what sets this brand apart from others on the market, it's crucial to find out what its products are actually like. For that, this Gaiam review turns to customer feedback, of which we scoured the web to find only the most helpful sources.
Below, you'll read a collection of reviews that mention the brand's quality and comfort, but let's kick things off with a small cluster of bestsellers taken from Gaiam.com.
Gaiam Neoprene Hand Weight Blue 10lb: an average of 4.9/5 stars from 313 reviews
Restore Muscle Therapy Foam Roller: an average of 4.4/5 stars from 44 reviews
Classic Gaiam Balance Ball Chair: an average of 4.4/5 stars from 1,533 reviews
Yoga Essentials Block: an average of 4.8/5 stars from 180 reviews
Premium 2-Color Gaiam Yoga Mat: an average of 4.3/5 stars from 161 reviews
We chose to take a closer look at the Classic Balance Ball Chair because it's the brand's most popular product. The most common opinion of the chair is that it's very comfortable.
One Gaiam review read, "This chair…has seriously reduced my back pain…my injuries kinda suck and so I just want to say that while the chair isn't perfect, it's darn close." All in all, it's a budget chair, and considering what it is, it's not going to be perfect, but that doesn't mean it's not a great find.
The most prevalent issue users found with the Gaiam ball chair is that it's too short. Apparently, some shorter women find it's not suitable for their work desks. Upon further investigation, we found out that the ball part can further inflated, adding a couple of extra inches for those who need it.
The next product we looked into was the Classic Yoga Mat – 4mm Printed on Amazon. Over 7.6K shoppers rated the mat 4.6/5 stars, showing us just how popular the brand is amongst yogis.
5 stars: 76%
4 stars: 14%
3 stars: 5%
2 stars: 2%
1 star: 2%
"Comfortable" seems to be the word of choice when it comes to Gaiam gear. Users speak of "plenty of cushion," along with a durable, sturdy construction that makes the mat a joy to roll out day after day. Reports like these show us that this quality mat will last for years if taken care of properly.
But while durability certainly isn't an issue, slippage is. A Gaiam review said that "it's horrible with sweat so if you are practicing seriously…you will slip and slide." This is typical for yoga mats in general, not just this brand, and if you want non-slip, Gaiam has a special mat for that—it's the one we'll discuss next.
The Gaiam review noted that the mat has "better traction as it gets wetter," something that will come in handy during hot yoga sessions or challenging sequences during a desert retreat.
The reviewer noted the same cushiony comfort that typical of the brand's gear, and revealed that after practicing regularly for a month, "it performed beautifully." This certainly echos the things we've heard about Gaiam's gear's durability, and it's always appreciated when a brand releases more than one type of product suited for different needs.
Is Gaiam Worth It?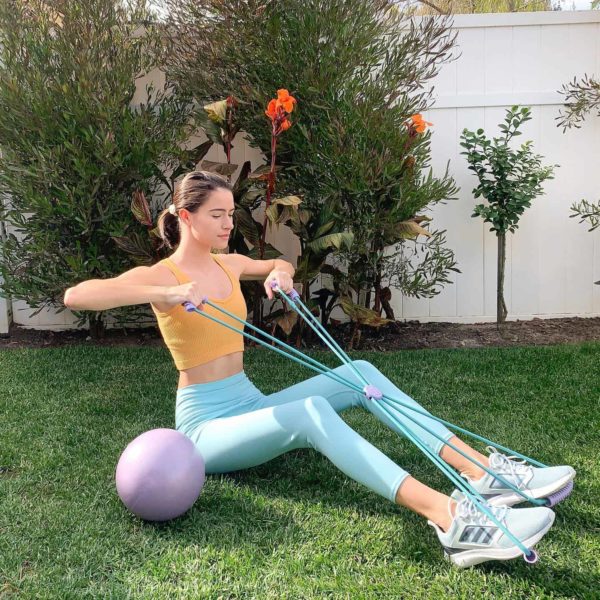 Speaking of associations, Gaiam a brand that's known for its luxury yoga and fitness gear, and yet. It offers some products that sold for extremely affordable prices.
The product range is certainly a plus, as is its spectrum of pricing, and we respect that the brand uses eco-friendly materials and emphasizes customer satisfaction. Though not its defining feature, the brand offers apparel like Gaiam yoga pants, bras, and socks to further aid in your practice.
With all of that in mind, along with the fact that we came up empty-handed when it came to finding fault in the brand, we believe Gaiam is worth the buy.
Gaiam Promotions & Discounts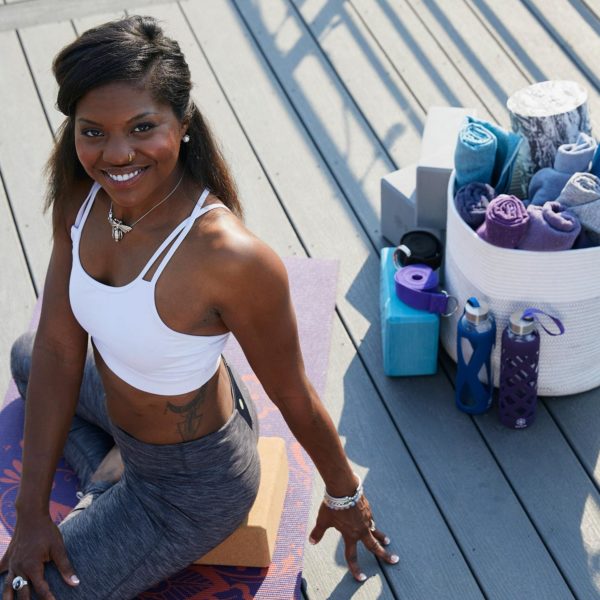 Quality items usually sold for premium prices, so a discount always appreciated. Throughout this Gaiam review, we spotted a few ways that the brand helps its customers save. Check them out below:
Free standard shipping on orders over $125
20% off sitewide sale
Where to Buy Gaiam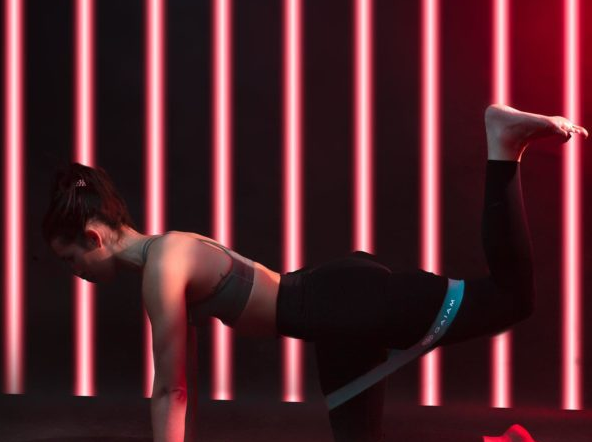 You can find Gaiam in a few stores around the US, but to get access to its deals and return policy. We always suggest buying directly from the brand's website.
Head to Gaiam.com if you'd like to streamline the process. Or, shop for its collection at retailers like:
Amazon,
Target
Walmart
Dick's Sporting Goods
Kohls
FAQ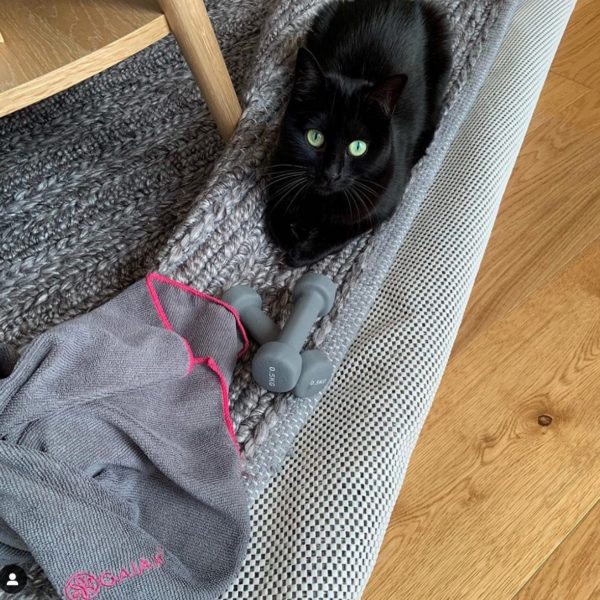 Where is Gaiam made?
The brand's website doesn't specify exactly where it makes its fitness gear. But, in our search, we did find mention that certain products made in China, Taiwan, and California.
What is Gaiam's Shipping Policy?
Gaiam only ships within the US, including PO Boxes and military addresses. Orders typically sent out in 2-3 business days and usually sent by Freight Truck.
Freight orders can possibly take up to 14 days to get to you. So just prepared for long shipping times. The freight service will contact you before it delivers to come at a time that suits your schedule. Freight deliveries can either be:
Lift Gate / Curbside – your item inside yourself, but it's delivered to the front of your home
Tailgate – the delivery vehicle parked at the closest intersection and you'll need to remove the items from the truck yourself
Delivery rates will vary based on your location and the service you select.
What is Gaiam's Return Policy?
Customer satisfaction is very important to Gaiam, which is why it has a 30-day return policy for all of its equipment. If an item isn't up to your standard, simply get in touch with the brand and let its team know.
The company will offer to replace or exchange the item, or, if you prefer, refund it.
Returning an item is really easy, as you'll see in these two simple steps below:
Locate your order form and fill out the back
Send it back using a trackable service to: Gaiam, Attention: Returns, 9107 Meridian Way, West Chester, OH 45069