When you're about to drop $300+ on a pair of boots, you have to do your research. After all, it's not like you're going to buy a new set of legacy boots every month.
Our comprehensive Wolverine 1000 Mile Boot review dives into every detail so you can make sure your hard earned cash goes to good use.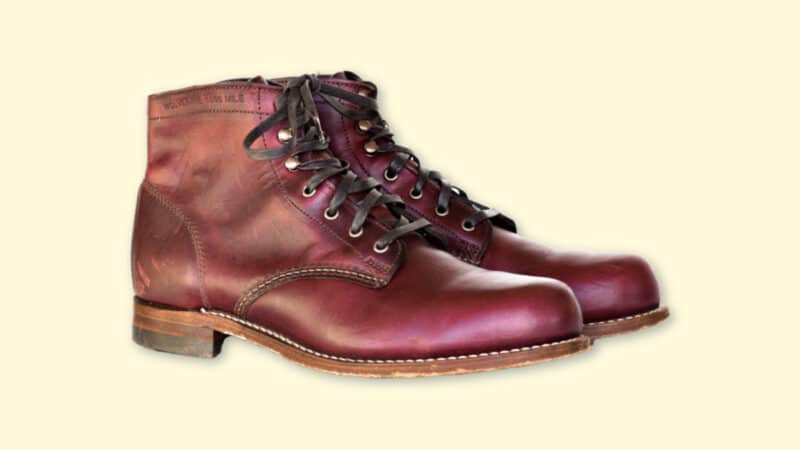 Pros and Cons
Pros:
Beautiful, rich Horween Chromexcel leather
Goodyear welt and triple-stitched vamp means this boot should last years, if not decades
Excellent balance between rugged and sleek
Wolverine is an all-American heritage brand
Cons:
Lack of clarity on whether there's a shank or not
Leather sole isn't as durable or grippy as one would like in harsh elements
First, it was the Iron Rangers.
But like all good boot lovers, I couldn't just stop at one pair.
So now it's the Wolverine 1000 Mile.
It's a boot I've heard so much about, and recently, I took the plunge to see whether it's worth all the hype.
Wolverine says they haven't changed the design much since 1910. Keep reading to find out whether that's a good or bad thing.
Wolverine 1000 Mile Boot Overview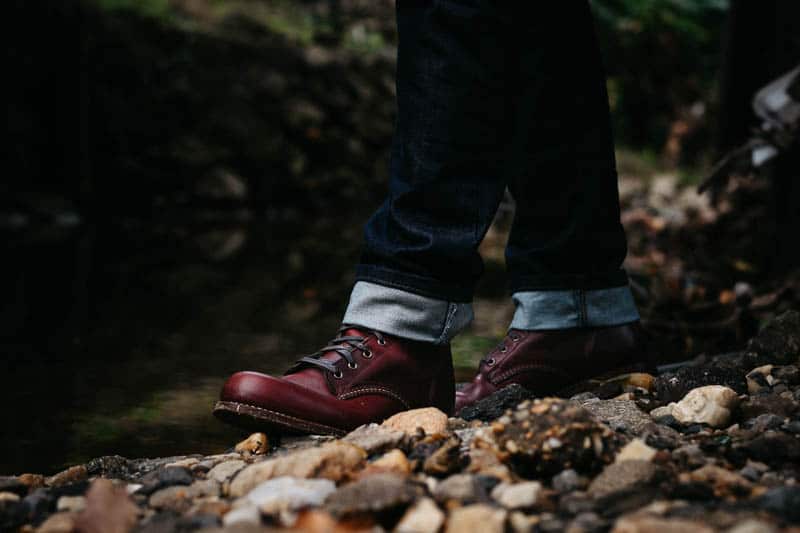 Wolverine has been making boots in Rockford, Michigan since 1883. They're old enough to say they brought electricity to the city of Rockford. Not many bootmakers can say the same.
The 1000 Mile Boot was first released in 1910. You know, before Arizona was a state (it's true, Arizona became a state only in 1912).
The boot originally was made with horsehide leather that held up to rough working conditions in the northern states.
Wolverine has changed a few things—for one, the 1000 Mile is now made with Horween-tanned, full-grain cowhide. But they're still built with top quality materials and designed for durability.
The brand makes a wide range of work boots, but the 1000 Mile is undoubtedly Wolverine's most popular offering. It's beloved by fashion-forward folk and workers alike because of it's masculine, sturdy look.
Things to Consider Before Buying the Wolverine 1000 Mile Boot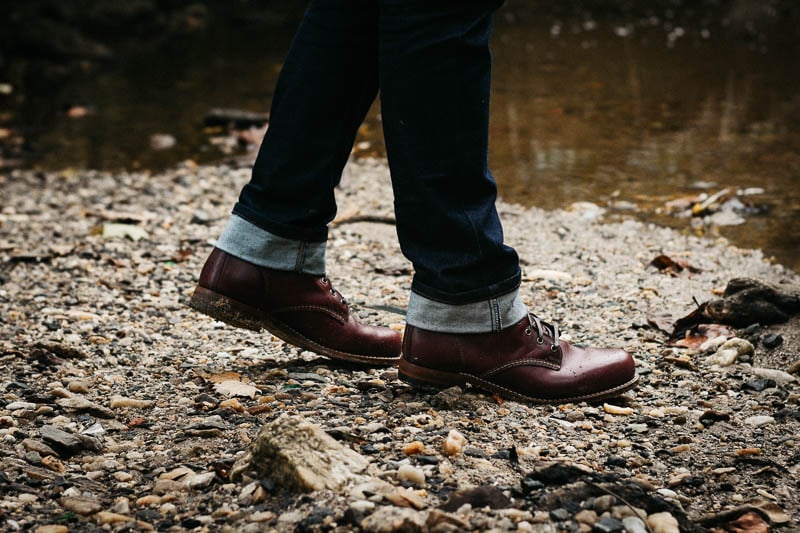 The Wolverine 1000 Mile Boot costs north of $350, so it's not the cheapest boot on the market.
However, the Goodyear welting, triple stitching, and rugged Chromexcel leather means it's built for longevity.
Like you, I'm looking for a balance of value, durability, and style. If a $300+ boot isn't in your budget right now, I've written out some alternatives down below.
But the big questions to answer before buying a Wolverine 1000 Mile is this: are you ready to make an investment?
Because that's what this is.
You spend a decent chunk of change on a well-built pair of boots, and you hope they'll last many years, maybe even decades. These boots appear to have that kind of durability, but they're not the most budget-friendly option in the short term.
Wolverine 1000 Mile Review: Cordovan No. 8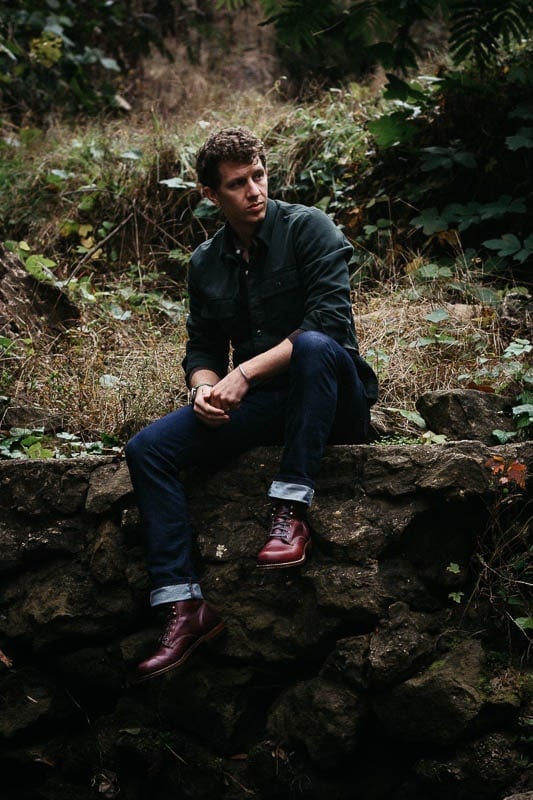 First Impression
I chose the Wolverine 1000 Mile in Cordovan No. 8, which is a sort of ox-blood, light burgundy color. As I opened the box, that beautiful new shoe full grain leather smell caught my nose.
Wolverine adds a piece of cardboard in the box to keep the boots separated, and it's dotted with oil stains—that's how well-conditioned and oily this Horween Chromexcel leather is.
I normally tend toward brown boots, but I recently picked up a pair of Red Wing Iron Rangers, and I wanted to break the pattern a little and get something for fall.
Right out of the box, I love the Cordovan color, but I'm really excited to see how it ages over the next year or so.
The Wolverine 1000 Mile fits squarely into the service boot category. Unlike some of its closest competitors, the 1000 Mile original doesn't feature a cap-toe. There are cap-toe versions available, but I wanted to experience the classic in full.
Leather Quality and Care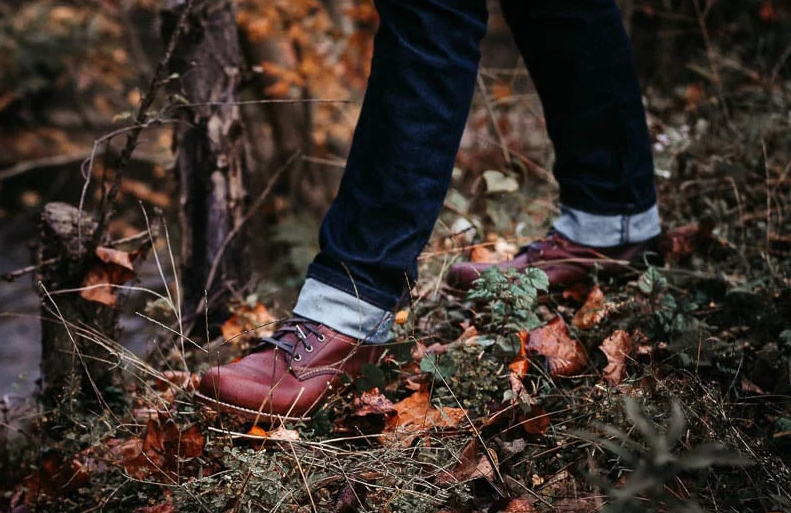 My Wolverines are in the Cordovan No. 8 color, which might cause some confusion as Shell Cordovan is also a type of high-quality leather.
All classic 1000 Mile's are made with Horween Chromexcel leather. The Cordovan No. 8 only refers to the color—not the type of leather.
Still, the Chromexcel is super oily and rich, and I'm excited to own my first pair of boots made with this legendary material.
Made at the Horween tannery in Chicago, Chromexcel uses a mix of tanning agents, beef tallow, and beeswax, which results in an oil-packed, rich texture that's hard to replicate.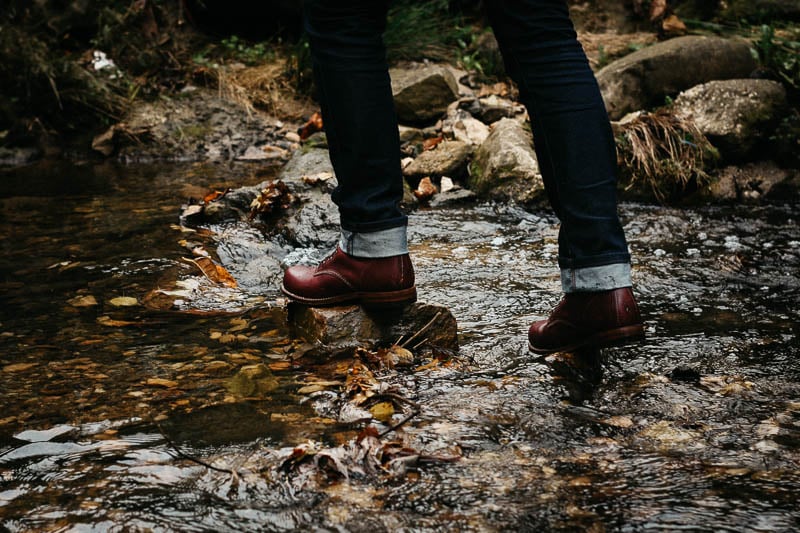 The downside to Chromexcel leather is that it scuffs fairly easily. If you brush your boot against the door, you're going to notice. But on the flip side, because the leather is so packed with conditioners, a little buffing will bring the boots back to their original glory.
What's most exciting about the Wolverine 1000 Mile, in my opinion, is how this leather is going to age. As a full-grain leather, it's very durable and should develop a beautiful patina over the years.
Wolverine recommends reconditioning these boots every 2-3 weeks if you wear them every day. If these are your everyday boot, first, I'd make sure to get a pair of shoe trees to help draw out as much moisture as possible in between wears, and I think every 2-3 weeks is excessive.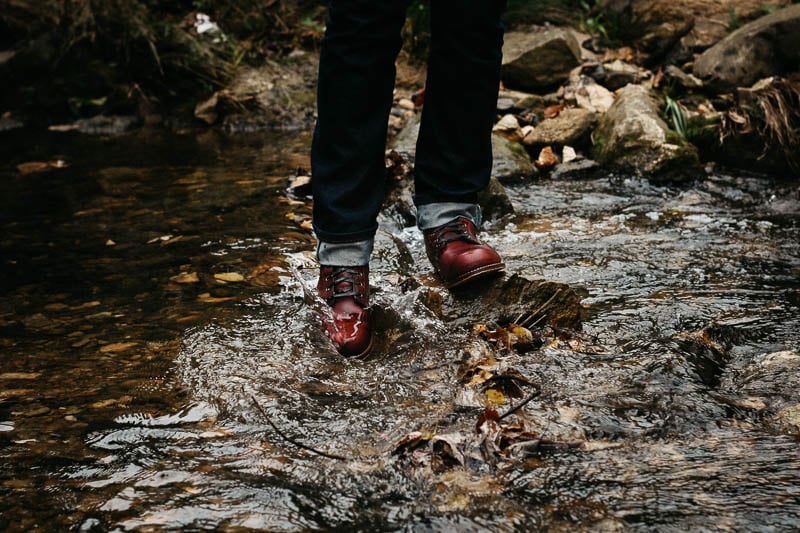 Of course, I'm wearing mine as more of a rugged boot, so I like some of the scuffs these boots develop. While Wolverine suggests their own boot oil and leather dressing, Horween recommends Venetian Shoe Cream for Chromexcel (which makes me happy since I already own Venetian).
I'll likely treat them once every two months or so, though I'm cycling through several boots in a week.
Sole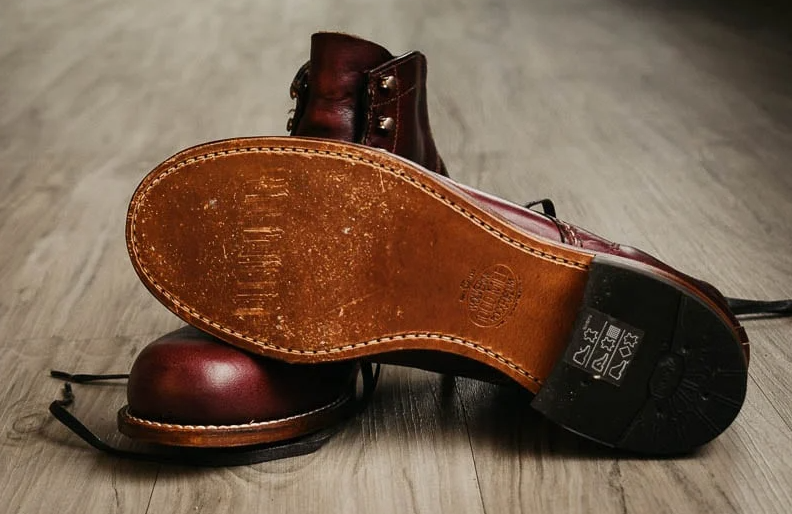 The sole of the Wolverine 1000 Mile is made with butyl leather, and a stacked heel with a Vibram heel-cap for grip and durability.
The butyl leather should help with the sole's longevity and water-resistance, which is a must for this sort of rugged boot, but I'm left wanting more grip.
I give props to Wolverine for sticking as close to the original design of the 1000 Mile as it was back in the 1910s. That's well before rubber lug soles were around, which are clearly better for wet conditions in every way.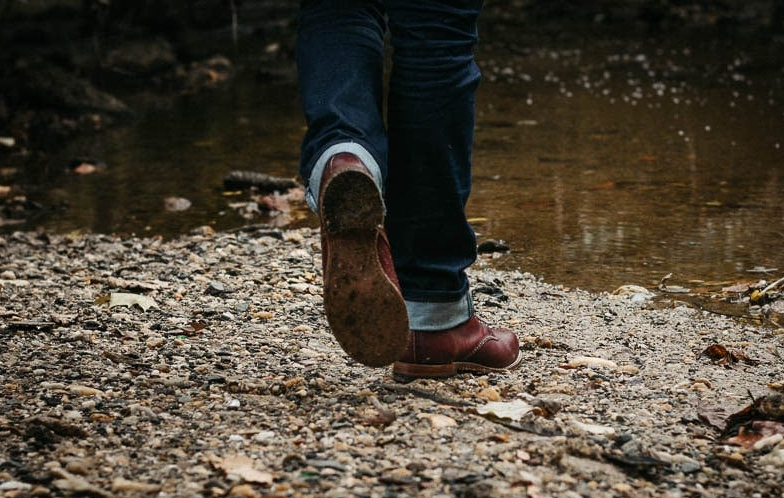 Still, the addition of the Vibram heel-cap is helpful, not just for grip, but also to add some lifetime to the heel.
The insole is leather with a cork midsole, and there's some strangeness around whether this boot has a shank.
Wolverine themselves say the 1000 Mile doesn't have a shank in it:
But I think they're wrong.
Popular cobblers, Trenton & Heath resoled a pair of 1000 Mile Boots on their YouTube channel, and there was clearly a shank in the boot. And the boot looked fewer than 10 years old.
This boot just looks and feels like it has a shank in it. And if Wolverine really stuck close to their original design, it likely does have a steel shank: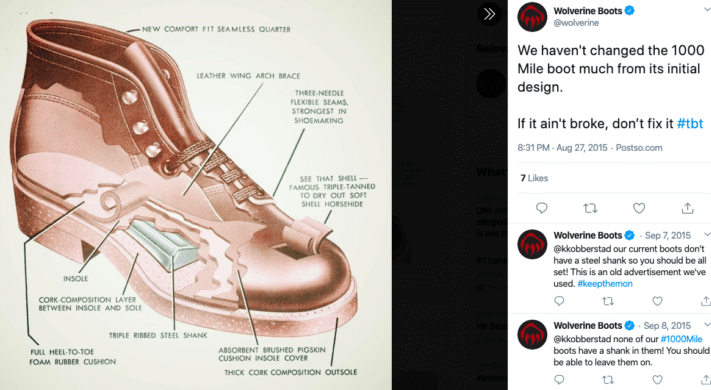 The 1000 Mile is Goodyear welted, which has great water-resistance and is easy to resole. That's the power of these boots—even though they cost a pretty-penny, they can easily last over a decade with the proper care.
Fit and Sizing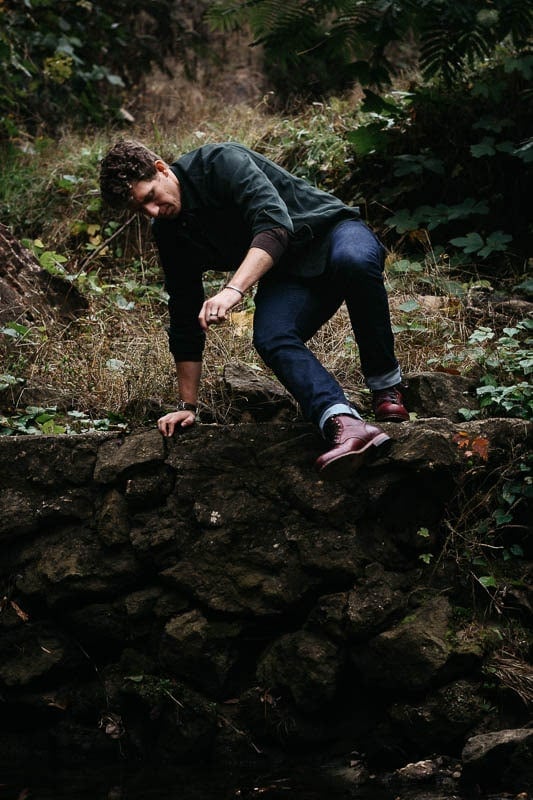 I chose a half-size down from my true size, which is pretty common territory for boots. I'm a 10.5 in most sneakers I own, and I chose a 10 for my 1000 Mile (I did the same for my Red Wings).
They fit really well—not too narrow, plenty of room in the toe, and comfortable around the instep and ankle.
After reading through a few dozen reviews for the 1000 Mile, it seems like a half-size down does the trick for most people.
Wolverine carries two widths: D and EEE. I went with the standard D and it feels perfect through the instep and sides (half-size smaller). I'm a bit shocked that the brand has decided to jump straight to EEE, but in some ways it makes sense. Guys with wide feet (even if you're normally an E) can wear thick wool socks and still get a comfortable fit.
Break-in Period
Given the 2mm thick upper and the butyl-treated sole, I was expecting at least a moderate break in period. But really the experience was pleasant. On my traditional "break-in" walk to my favorite local brewery, the heel rubbed a little, but I otherwise felt no soreness. And if you're wondering, I picked up a few Irish red ales to fit the mood.
After giving the boots a two day rest and heading out for errands in them, they seem to be mostly broken-in. So all-in-all, the Wolverine 1000 Mile is an easy break-in, especially for such a rugged, tough boot.
What Other Wolverine 1000 Mile Reviews Say
Over 300 reviewers on Wolverine's website rate the 1000 Mile Boot at a 4.2 out of 5 stars. Most comments focus on the construction and quality of materials.
A recurring thread among the few negative comments was on the sole—some people were left wondering why such a rugged, utilitarian boot has a slick leather sole. It does make walking down a dew-filled grass hill a gamble, so it's important to know what you're getting into with leather soles.
For my part, I don't mind the leather sole so much—I like the historical nod to how these boots were built over 100 years ago.
Wolverine 1000 Mile Alternatives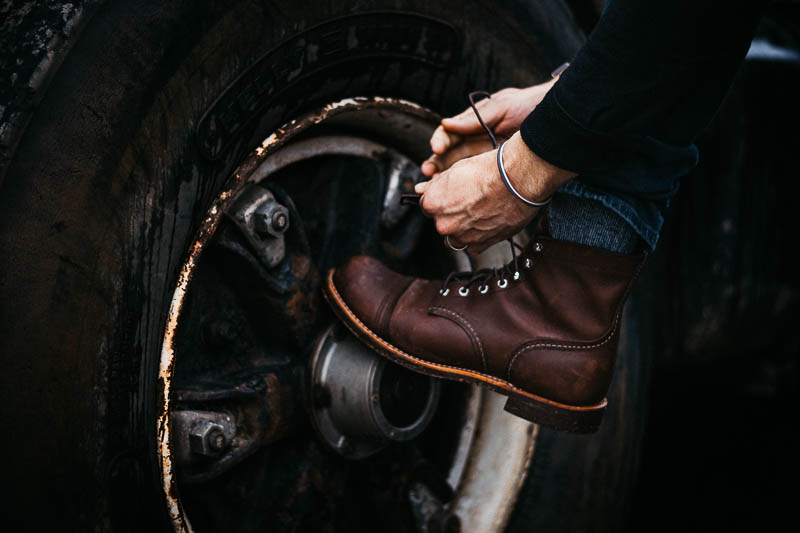 Red Wing Iron Ranger
The Red Wing Iron Ranger is often compared to the Wolverine 1000 Mile. And at first glance, there's a lot of similarities: thick, full-grain leather boots from heritage American brands that have built a reputation for rugged footwear over 100+ years.
Here are the key differences that separate the Iron Ranger:
Bulbous cap-toe
In-house (SB Foot Tanning Co.) tanned leather
Full Vibram mini-lug sole
~$50 less expensive
Rough break-in period
Honestly, I find value in owning both of these boots. But if you're only looking for one right now, it comes down to style. Which do you like the look of more? Build quality and materials for both are top-notch, so you're getting equal value either way.
Thursday Boots Captain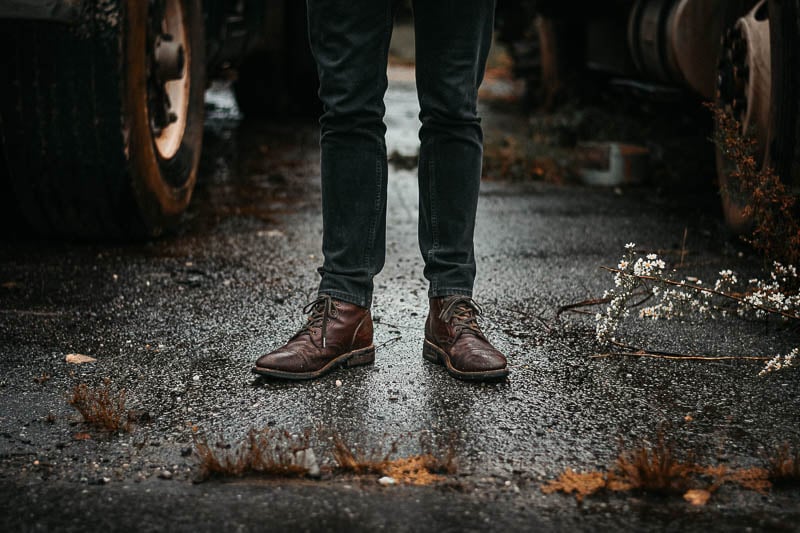 The Captain from Thursday Boots offers a lot of the same benefits but comes at a significantly lower price.
Goodyear welting, full-grain Thursday Chrome leather (made to mimic Horween Chromexcel), waxed laces, and a slim, stylish silhouette. The Captain also features a studded rubber outsole that resembles a Dainite sole, which helps a lot with grip.
If the cost of the 1000 Mile made you gasp, and those Red Wings didn't help you a bit: check out the Thursday Captain. They're an excellent entry point into the world of top-quality boots.
Thursday Captain
The Thursday Captain is an excellent deal. Made with Thursday's Chrome leather from Le Farc tannery (often compared to Horween Chromexcel), these boots are still holding up well after five years of wear. When (if?) these ever wear out, I'll be getting them again.
Allen Edmonds Higgins Mill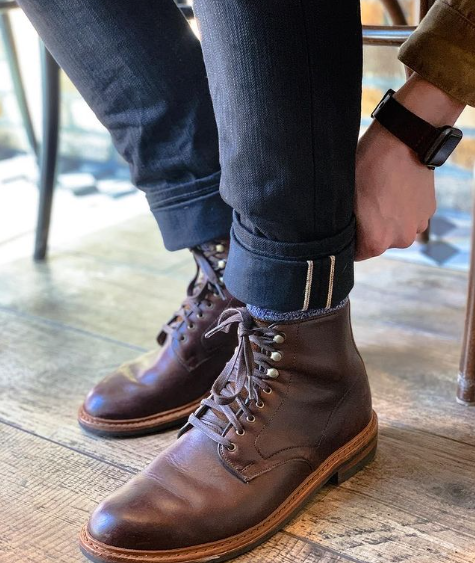 The Higgins Mill from Allen Edmonds is also made with Horween Chromexcel leather, but features a robust Dainite sole.
At full price, the Higgins Mill is about ~$70 more expensive than the 1000 Mile, but you're getting a similar quality and a slimmer profile. The toe-box isn't raised as much as on the 1000 Mile, so the Higgins Mill works better in dressier outfits.
Thoughts On Wolverine 1000 Mile Boot
What I Like
The oily, rich Horween Chromexcel leather is beautiful and robust.
The construction is excellent: Goodyear welt, triple-stitched vamp, butyl leather sole—these boots can easily last a decade.
Style-wise, the 1000 Mile hits a fantastic balance between rugged and sleek.
I love that Wolverine is an American-made heritage brand.
What I Don't Like
It's strange that Wolverine denies there's a shank in this boot. For the record, I'm pretty sure there is.
The leather sole just can't compete with rubber lug soles when conditions are wet.
Who is the Wolverine 1000 Mile for?
The Wolverine 1000 Mile Boot is for the guy who takes pride in owning a piece of American history. If outfitting yourself with a solid, durable, and stylish rugged boot is important to you, the 1000 Mile is a fantastic choice.
The Verdict
A lot of boot lovers know names like Horween and Vibram because of boots like the Wolverine 1000 Mile.
It's basically an all-star team of high-quality American materials, stitched together into one rugged package.
I'm loving the rich Horween Chromexcel leather, especially in the beautiful Cordovan No. 8 colorway.
For wet, slippery days, I'll be switching out to my Red Wing Iron Rangers for the extra grip as the leather sole on the 1000 Mile doesn't offer the same stability.
But for most fall and winter days, I'm excited to take the smooth and rugged 1000 Miles out on the town.
I have no doubt these boots can actually go for 1000 miles. I won't have a pedometer on me for every last step I take in these boots, but I'm confident I'll have them for the next decade at least.
FAQs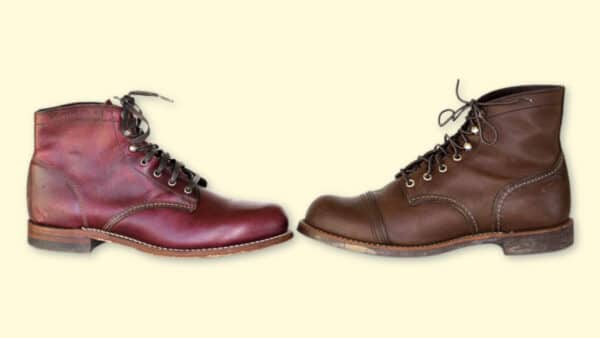 Are Wolverine 1000 Mile Boots worth it?
Wolverine 1000 Mile Boots are well-worth the money. They're not the cheapest boots, but the quality of materials means they'll last well over a decade with even a modest amount of care.
Do Wolverine 1000 Mile Boots fit true to size?
Wolverine 1000 Mile Boots don't fit true to size. We recommend sizing down a half-size to get the best fit.
Are Wolverine 1000 Mile Boots waterproof?
Wolverine 1000 Mile Boots aren't technically waterproof. But the rich, oily Chromexcel leather and Goodyear welt offer a lot of water resistance. If your boots get wet, let them dry for at least 24 hours before wearing them again. And don't apply heat.
Where are Wolverine 1000 Mile Boots made?
Wolverine 1000 Mile Boots are made in Grand Rapids, Michigan, and other factories scattered around the US. They're not legally able to say they're "Made in the USA" because Wolverine uses some imported threads and glues, but the brand is about as close to fully American-crafted as you'll get.
What do you wear Wolverine 1000 Mile Boots with?
Wolverine 1000 Mile Boots look excellent paired with thick wool socks and raw denim. Cuff your jeans for the most rugged style. This pairing looks great with a chore jacket or a waxed canvas jacket on top.