Wise was launched in 2011, with a mission to make international money transfers easier, faster, and cheaper. In fact, the aim is to continually drive down costs until eventually it's free to make a Wise cross-border transfer.
Today, Wise is trusted by over 12 million customers, and sends payments worth around 8 billion dollars a month to 80+ countries around the world.
In this review, we help you figure out if Wise is the best and the safest option for you to use.
Wise: Key points
Key features:
Send payments overseas, or open a multi-currency account to hold and exchange 50+ currencies
Transparent pricing – no markups are added to the mid-market exchange rate, and all costs are clearly shown before you confirm any transaction
Modern approach to moving money internationally – Wise has its own payment network instead of relying on the outdated SWIFT network favored by bank
Key stats:
12 million customers, sending over $8 billion a month, and saving around $4 million a month compared to using normal banks
Send money to 80+ countries, with market beating delivery times
Hold and spend 54 international currencies from your Wise multi-currency account for individuals and business customers
Personal customers can get a Wise international debit card to spend and withdraw in 200 countries – Apple and Google Pay compatible
Receive payments like a local in 10 currencies with your own US routing number, UK account number, euro IBAN and more
Pros and cons of using Wise money transfer
Pros
Low, transparent fees – and no extra costs bundled into the exchange rate – Wise is often one of , if not the, cheapest provider available
40% of transfers are instant, 80% are delivered within 24 hours
Registered with FinCEN, with industry leading approaches to keeping customers' money safe
All services are available online or in the Wise app, with multi-lingual support online, in-app and by phone
Personal, business and enterprise level services available
Cons
No branch network – which means you can't deposit cash payments
Variable fees and limits apply, based on the destination country
Accounts are not interest bearing
How Much Can I Save with Wise?
Wise is famous for offering low, transparent fees. But how much can you actually save by choosing Wise instead of an alternative specialist provider?
Specialist services almost always end up cheaper for international payments, compared to using a normal bank. But the amount you can save will depend on the specific provider, the currencies involved and where you're sending to.
To get a flavor, let's look at how this works when sending money online from your USD account to a friend in the UK. We'll look at a few different transfer values and a couple of other specialist services to build a bit of a picture.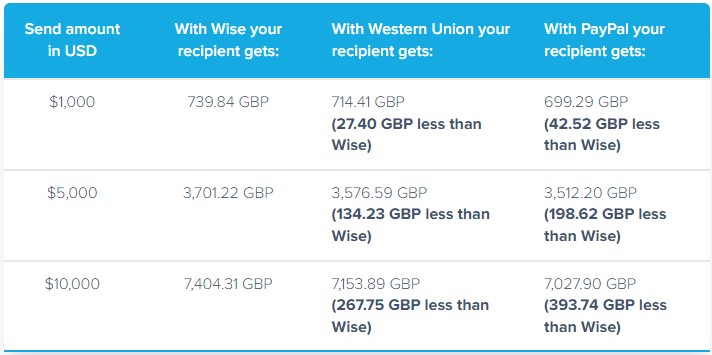 In our comparison, your recipient will get more with Wise. The difference between the costs of using Wise compared to other providers is usually based on the exchange rates available. Because Wise offers the mid-market exchange rate every time, while other providers add a percentage markup to the rate they give customers, the savings available from Wise get bigger the more you're sending.
See how much you can save – and get more comparisons over on the Wise website or app.
What is Wise (formerly known as TransferWise)?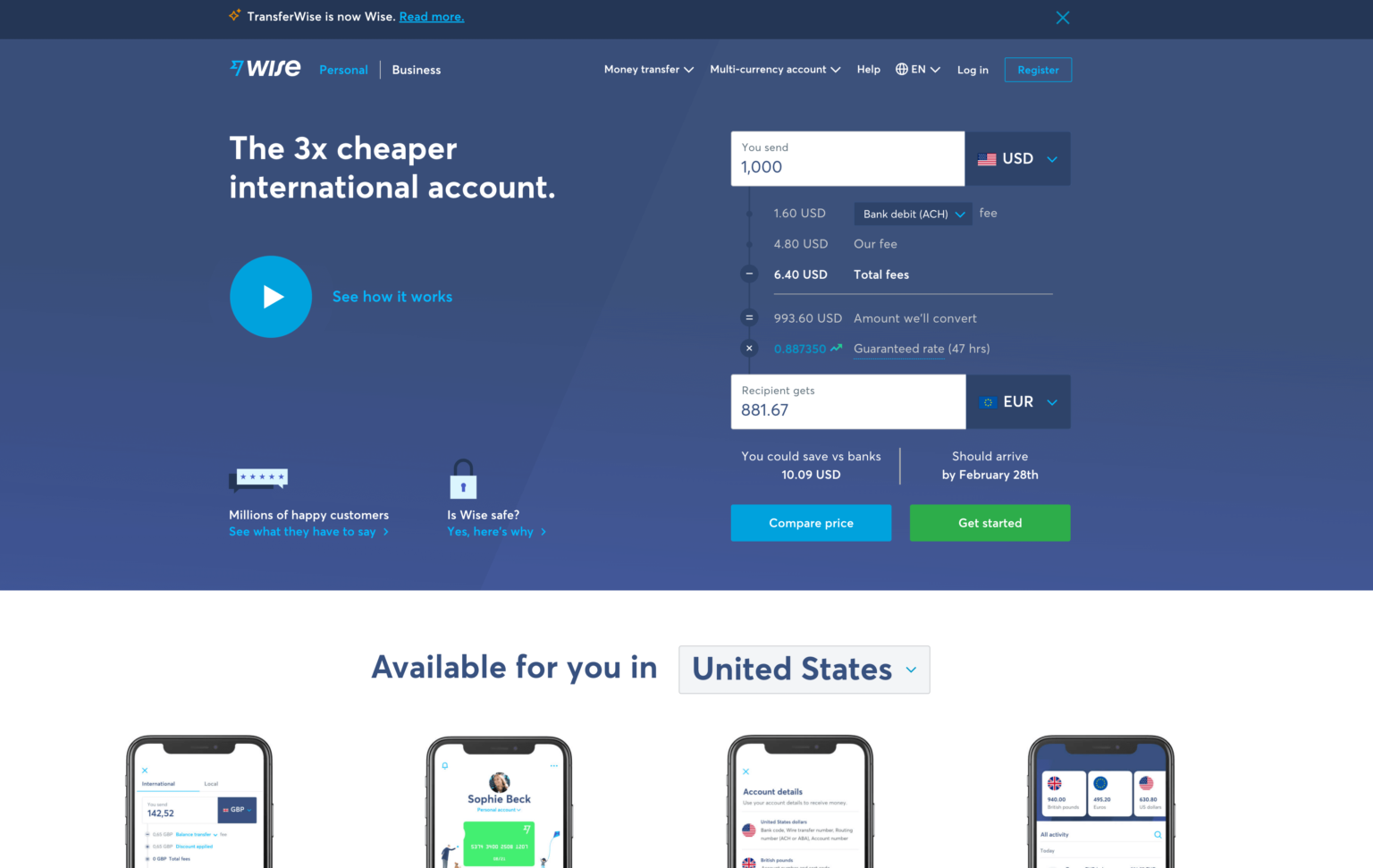 Created by two friends in 2010, Wise makes it fast, easy and cheap for you to send money abroad. A combination of slick, punchy branding and some of the lowest fees in the currency exchange industry have made them one of the biggest international money transfer providers in the USA and the world.
Over 12 million people and businesses around the world use Wise, from individuals using the service occasionally to make small payments, to enterprise level customers moving millions a month.
The Wise USA service is built for speed, simplicity, and transparency. It's extremely easy to create an account and send money — recipients can expect to get their funds quickly after you make payment, and they offer best-in-class exchange rates.
Communications from Wise are top-notch too, and they provide fully featured mobile apps for Android and Apple phones.
All of this has made them into an incredibly popular way for people in the United States to transfer money to family and friends. Even better, they are much cheaper than using your local bank, Western Union or PayPal. These days, Wise has three main focus areas – let's look at them one by one now.
Wise Money Transfer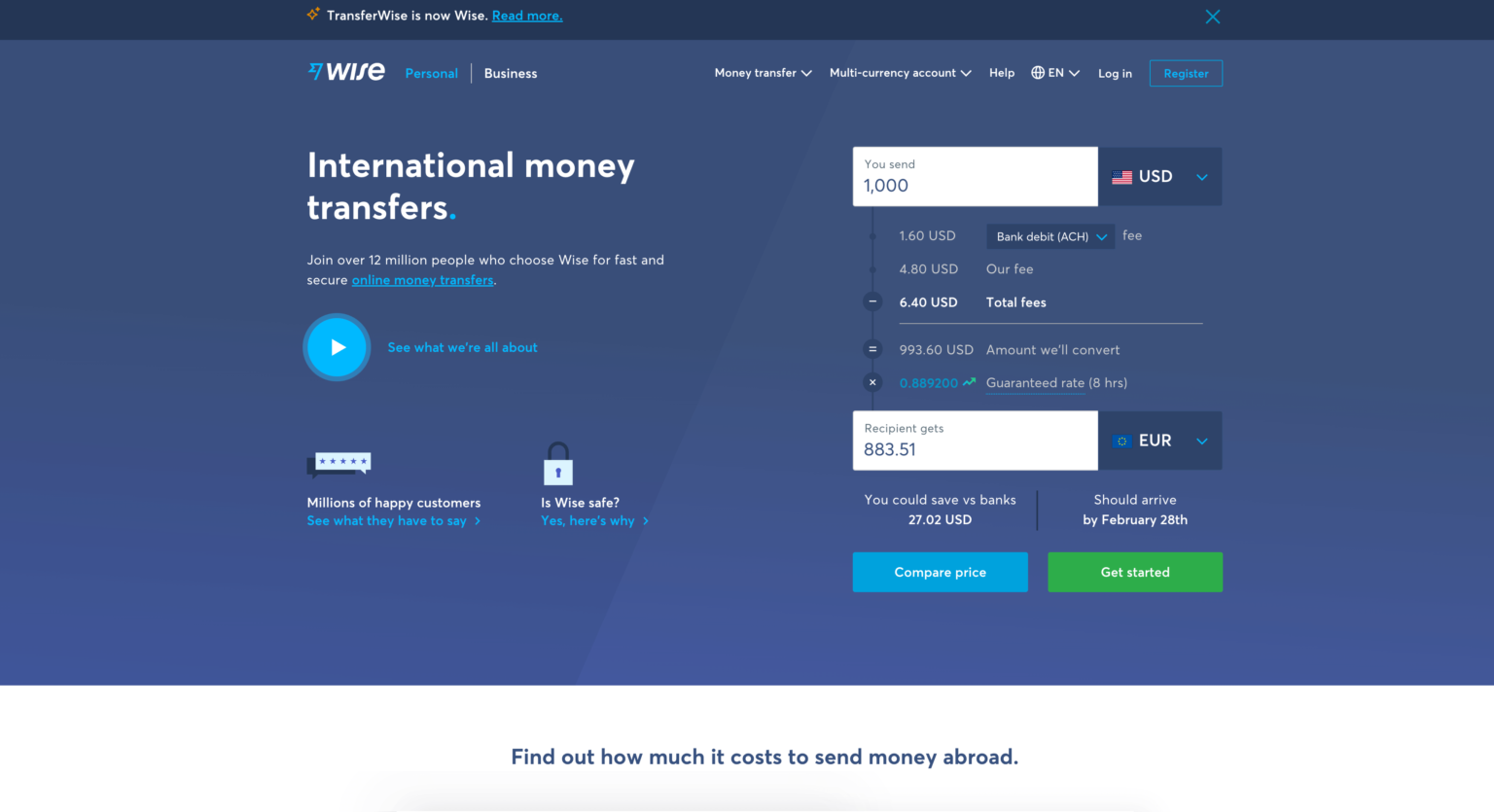 Wise customers can send money to 80+ countries around the world. Payments can be made online and in the Wise app, and are deposited right into the recipient's bank account. That means that – unlike some providers – your recipient won't need to create their own Wise account to get their money.
Because Wise uses its own payment network the costs are significantly lower compared with the traditional methods of moving money across borders preferred by banks. These savings are passed on to customers in the form of low fees – and because Wise cuts out the middle men usually involved with international transfers, your money could arrive faster, too.
Wise payments can be arranged by inputting the amount you want to send, or the amount you want your recipient to get in the end. You'll fund the payment by sending dollars to Wise's account in the US – and Wise will pass on the equivalent in your recipient's currency from their account in the destination country. It's fast, cheap, and safe. All Wise services are overseen by regulatory bodies around the world, and you'll always be able to track your money as it moves, online or in the Wise app.
Great for: Anyone who needs to send money abroad. Whether you're sending a one off payment as a gift to someone overseas, or making regular transfers to cover an international mortgage or support family members around the world, you could save with Wise money transfers.
How Long Does Wise Money Transfer Take?
Wise transfers are fast. Typically much faster than banks. In fact, 40% of Wise's international transfers are instant (delivered in less than 20 seconds), while 80% are delivered within 24 hours.
Ultimately how long it takes for your Wise money transfer to arrive will depend on the currencies and countries involved, how you pay for your transfer and the value of the payment. If you're making your transfer out of hours – or if there's a holiday in the country you're sending to, the money may take slightly longer to arrive on some routes.
Before you arrange your payment you'll see an estimated delivery time, and you can then track your money in the Wise app to see how it's getting along.
What Currencies Are Supported by Wise?
Wise supports 54 different currencies and lets you send to over 80 different countries from the US. The countries and currencies available are updated all the time – for the latest details on the countries supported by Wise check here.
Wise Multi Currency Account and Card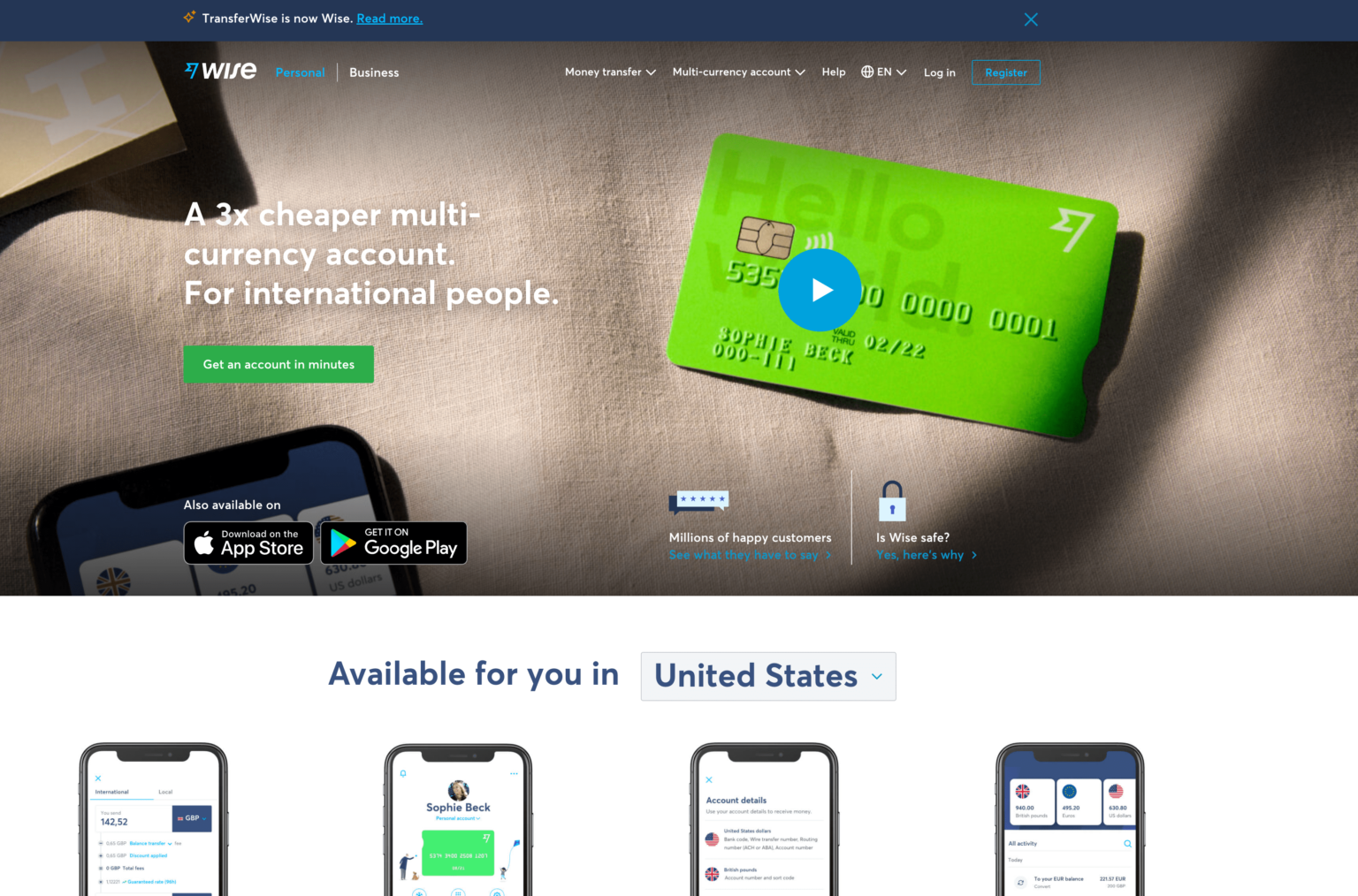 If you love to travel or shop online with international retailers – or if you need to receive or send regular international transfers – a Wise multi-currency account could make it easier and cheaper to manage your money across borders.
Open your Wise account easily online or in the Wise app to hold and exchange 54 currencies all in the same account. You can see all your balances at a glance, send money to 80+ countries, and personal customers can also get a linked international debit card to spend and withdraw all over the world. Get local account details in 10 currencies: GBP, EUR, USD, AUD, NZD, CAD, HUF, SGD, TRY and RON to get paid easily – and without fees – from 30+ countries. All with no monthly service charge and no minimum balance to worry about.
Great for: Anyone who lives, works or studies abroad, people who travel frequently, or who have international income or outgoings. Maybe you get paid as a freelancer from international clients, or you have a vacation home and need to cover your costs abroad – check out the Wise multi-currency account to see how easy it is to hold, convert, send and spend in a broad range of foreign currencies.
Wise Business Account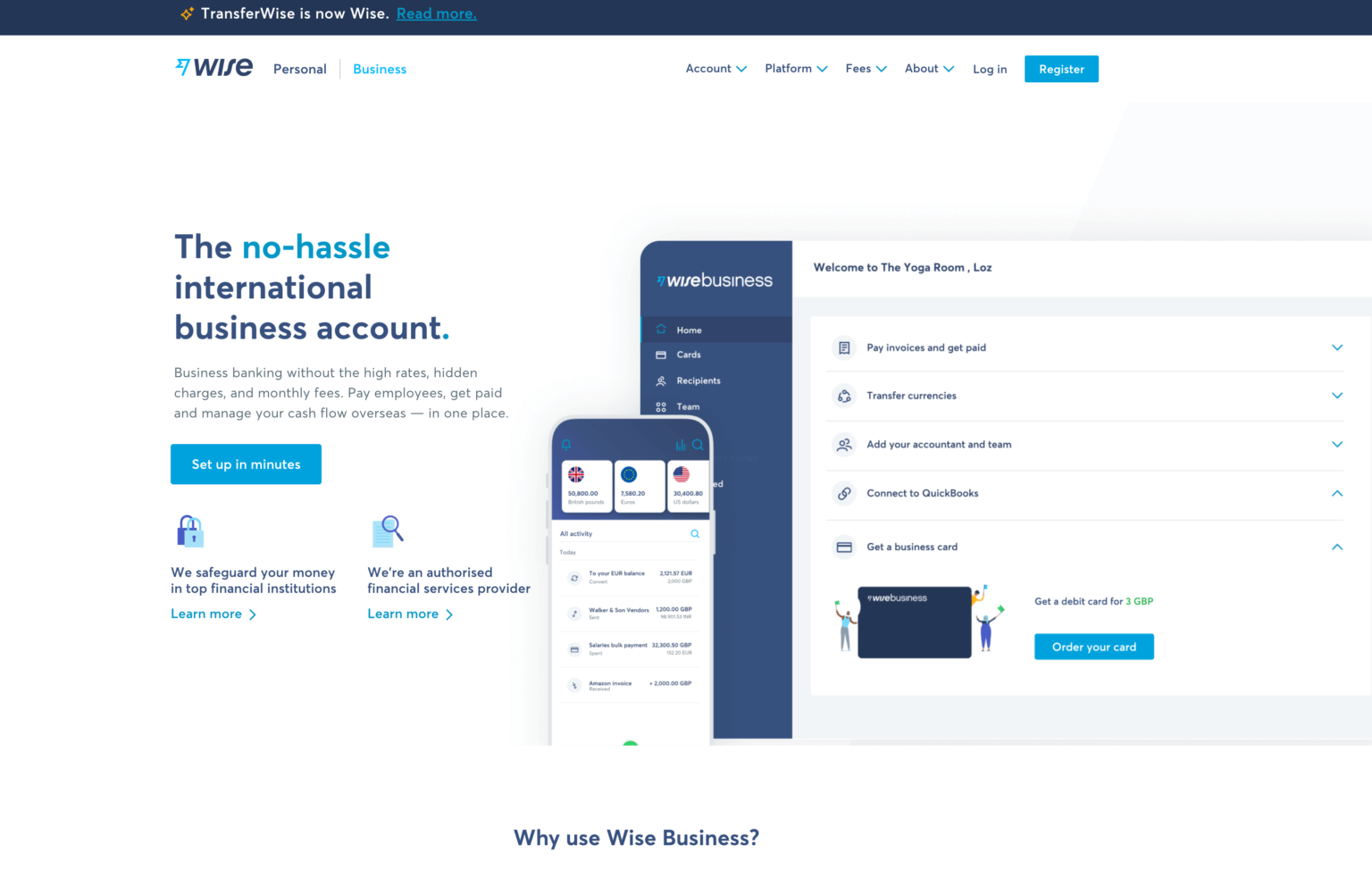 Wise Business customers can make international transfers and open a business multi-currency account. They benefit from many of the perks individual Wise customers do – and get a great range of business friendly features too:
31 USD one-off payment for full account functionality, then no monthly fee and no minimum balance
Make international payments 6x cheaper than old school banks, and 19x cheaper than with PayPal
Get paid using local account details in 10 currencies, and withdraw money from Amazon, Stripe and other PSPs and marketplace platforms
Add team members and manage user permissions
Make batch payments – pay up to 1,000 people in a range of currencies, by uploading a single file
Compatible with cloud based accounting services like Xero and Quickbooks for easy reconciliation
API to automate workflow
Great for: All businesses which have customers, suppliers or employees abroad. Check out Wise Business whether you're looking to start up or scale up, working freelance or employing others, or already operating at corporate or enterprise level.
Is TransferWise a bank?
Wise isn't a bank. However, for the services Wise provides, it's regulated in a very similar way to a normal bank. That means that it's just as safe.
Wise is FinCEN registered, and licensed as a money transmitter in most US states and territories. In the areas where Wise doesn't hold its own license, it offers services through its partnership with Community Federal Savings Bank, which is supervised by the Office of the Comptroller of Currency.
In addition to following legally required safety standards, Wise employs a range of manual and automated processes to keep customer money safe. These include 2-factor authentication, regular auditing of processes, and a 24/7 anti-fraud operation.
Wise (TransferWise) alternatives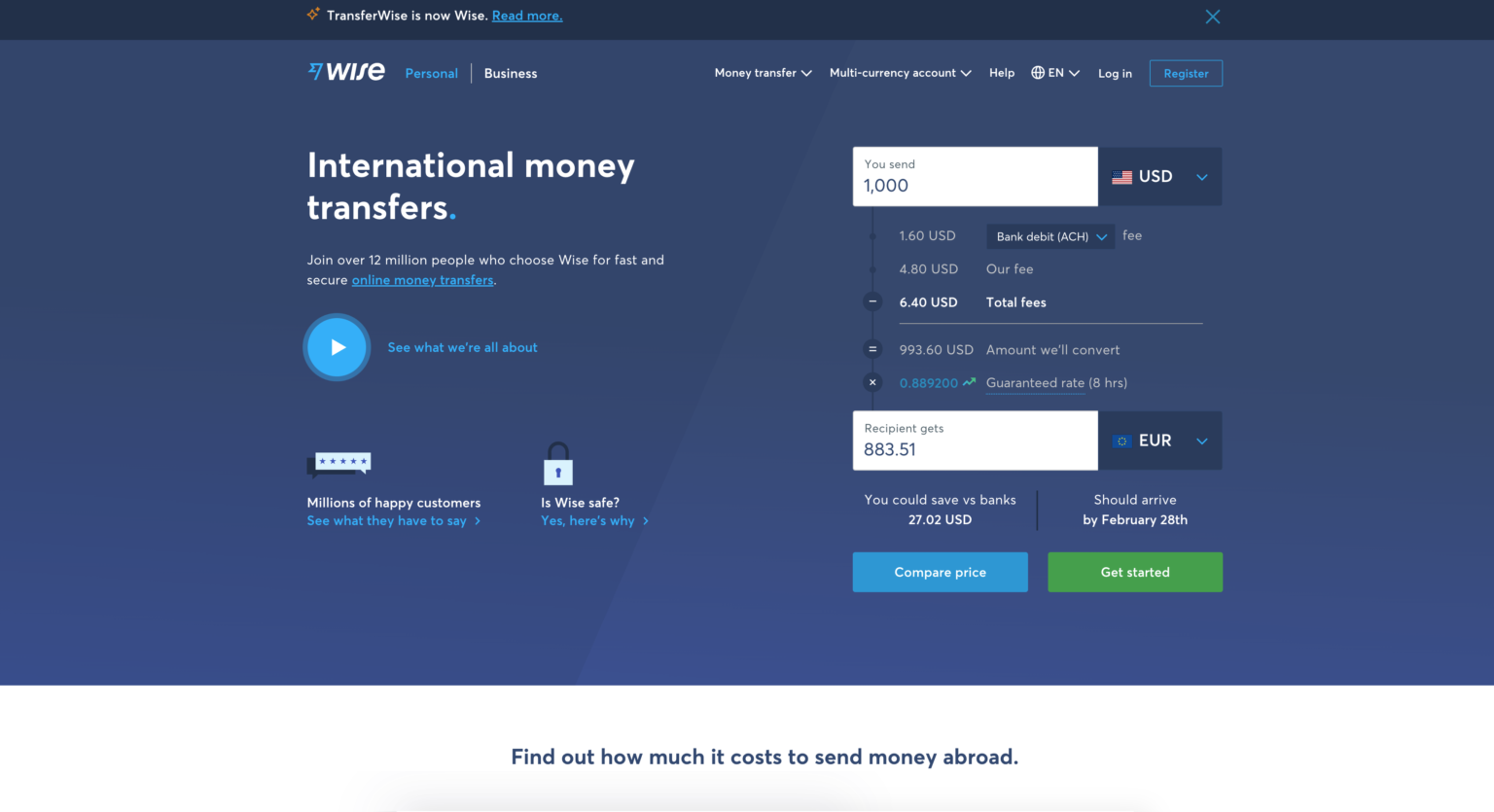 Before you decide how to arrange your international payment, check out a few alternatives. Here are some to get you started:
PayPal – well known and established – but the costs tend to be higher than Wise, with a big exchange rate markup included. Your recipient will also need a PayPal account.
Revolut – open a free account or upgrade to a paid plan for more features. Hold around 30 currencies, get saving and budgeting tools, and some free currency conversion.
XE – send international payments almost anywhere in the world. Fees and rates vary by destination – and may not be the cheapest on the market.
Remitly – great range of payout options if you want your recipient to collect their payment in cash or have the money delivered to a mobile wallet.
Wise (TransferWise vs PayPal)
If you're not sure whether to use Wise or PayPal for your next international payment, this side by side comparison might help. Here's a look at some of the key features of each provider as a starting point: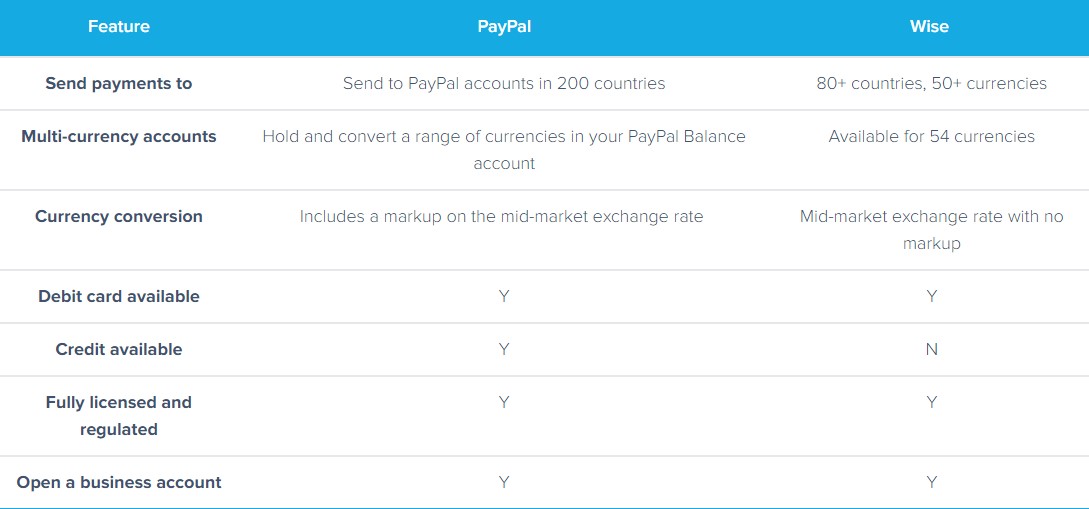 And here's a look at some key pros and cons of both Wise and PayPal to help you make up your own mind on the Wise vs PayPal debate:

How much does Wise cost?
It's easy and very clear what they are charging you, which means there are no hidden fees. However, it's still very important to understand the 2 different types of fees they charge:
Card Payment Fees
If you want to pay for your USD transfer by card, Wise charge a fee. For personal transfers they charge 1.25% for debit cards and 3.8% for a credit cards. Business card payment fees are different. It will cost 1.1% for debit cards and 4.33% for credit cards.
When you pay with a card that's not American to send USD, Wise charges 0.8% if your card was issued in the European Economic Area (EEA), and 4.55% if it was issued outside the EEA.
You can avoid these fees by paying via a bank transfer
Service Fees
The service fee that Wise charge is made up of a fixed fee and a percentage of the amount you send. This varies depending on where you are sending the money or what currencies you are converting.
It's simple to work this out even without signing up for a Wise account if you use the Wise Fee Calculator.
If you want to find out more, take a look at our in-depth wise fees article or Wise's own fees page.
How Wise works
Wise is a peer to peer (P2P) service. The process is seamless and is completed almost instantly.
Once you pay Wise in USD to send money to Europe, they store your funds in a local US account until they find another customer who wants to send a similar amount of EUR to the United States.
After they've found a match Wise will send the EUR from the other customer to your bank account in Europe.
The swap of money happens via Wise's local accounts all over the world so they can cut exchange rates and lower transactions fees.
But this is only the tip of the iceberg, if you are interested more read our article on how wise works.
Trust and safety
Can I trust Wise?
You bet. They have millions of customers and handle billions in transactions every year. They're independently regulated by the Financial Crimes Enforcement Network (FinCEN) in the United States and by other agencies around the world. They use state-of-the-art security to keep all of your information secure, and they have excellent reviews from customers. If you still have questions, check out or complete article on Wise safety.
Where is Wise regulated?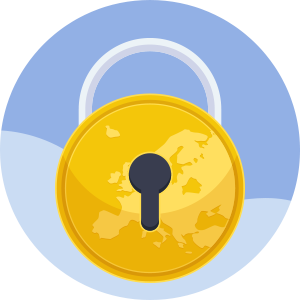 Here's the list.
Australia: The Australian Securities and Investments Commission (ASIC), and registered with the Financial Intelligence Unit (AUSTRAC) as a money remitter.
Belgium and the European Economic Area (EEA): The National Bank of Belgium (NBB) as an Authorised Payment Institution, with passports rights across the EEA.
Canada: Registered with the Financial Transactions and Reports Analysis Centre of Canada (FINTRAC) as a Money Service Business (MSB) with registration number M15193392.
Hong Kong: Regulated by the Customs and Excise Department (CCE) of Hong Kong.
India: Approved by the Reserve Bank of India (RBI) for facilitating outward remittances from India under the guidelines set out by RBI.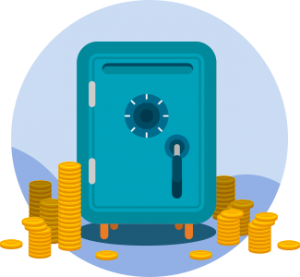 Japan: Regulated by the Kanto Local Financial Bureau and licensed as a Funds Transfer Provider.
Malaysia: Regulated by Bank Negara Malaysia (Central Bank of Malaysia) and has a Remittance (Class B) license.
New Zealand: Wise operates as a foreign entity and is supervised by the Department of Internal Affairs (DIA).
Singapore: Regulated as a remittance business by The Monetary Authority of Singapore (MAS).
United Kingdom and the European Economic Area (EEA): Authorised as an Electronic Money Institution (EMI) by the UK Financial Conduct Authority, with passports rights across the EEA.
How safe are my login details when I use Wise?
They're very safe. Wise has robust security and encryption in place to protect your personal information, and you can also use 2FA for extra security. You should still use a unique, strong password for your Wise account.
When should you use Wise for your international money transfer?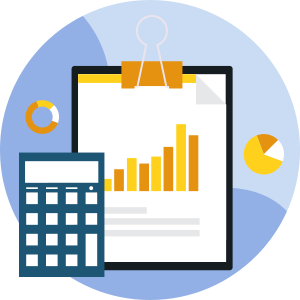 So, you need to send money from the USA to someone abroad and Wise is sounding like a good option, but how do you know if it's right for you? Just ask yourself these questions:
Do you need to get the money to the recipient quickly? If so, Wise is a wise choice, with transfers to most countries only taking a couple of business days (Monday to Friday).
Are you worried about getting ripped off? Wise is upfront about their low fees — they're often the cheapest USA provider around, and they're almost always in the top three least expensive. You'll also get the real exchange rate, meaning you dodge those nasty, hidden fees that some companies charge.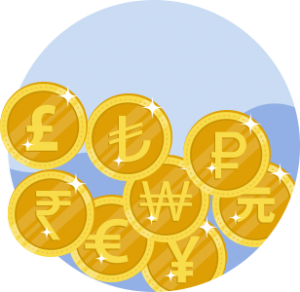 Do you want to make sure your money is safe? Good news, Wise is properly regulated by the Financial Crimes Enforcement Network (FinCEN) in the United States and other agencies around the world. Wise uses the latest encryption and security, so you don't need to worry.
Are you concerned it will take a while to create an account? Wise makes it easy to create an account online, so they will get everything up and running quickly.
Are you looking for a service that's easy to use? Wise has you covered, with fast and easy transfers, multiple ways to pay, and communications and notifications that keep you informed.
Do you want to pay by cash or cheque? Sorry, you're out of luck, Wise doesn't let you pay this way, you can only fund your international transfers with a bank transfer, wire transfer, or a card.
Does the person you're sending to have a bank account? If not, you'll need to look elsewhere as Wise only lets you send funds to other bank accounts. That is, unless you have a Wise Borderless Account.
Does the person you're sending to want to pick up their money as cash? Oops, no can do with Wise, it's accounts only.
Getting set up with Wise
How to create an online account with Wise
Before you can send money from the US, you'll need to create an account with Wise.
Don't worry, it's much easier and faster than it sounds.
Head on over to the Wise sign up page
Sign up for an account using your email and a strong, unique, and secure password
Alternatively, you can sign up by using your Google or Facebook account
Once you've signed up, Wise will send you an email for verification
You'll need to follow the instructions in the email
You're all set and you can make a transfer
How Wise asks you to prove who you are
Wise needs to keep everyone's money safe, and that means verifying your identity. They'll sometimes need to ask you for identity documents — this might happen when you first create your account, or when you make a transfer. We know it can be a bit of a pain, but those are the rules, and every currency provider needs to know who you are.
Depending on how much you're transferring and where you're sending the money, you'll need to provide an ID document and a proof of address.
Here's what Wise accepts:

Helpful hints

Getting these documents to Wise is a piece of cake, as you can upload a scan or photo through their website. Although Wise says it can take two or three days to verify your identity, in most cases it's much quicker — often the same day.
How to send money with Wise
Here's what you need to do:
Create your free account online
Set up your transfer and see how much money will arrive in the overseas bank account
Send digital copies of your ID for verification
Pass on the bank details of the person receiving your funds overseas
Double check the summary Wise provide and press 'Confirm'
Pay for the money transfer and track the international money transfer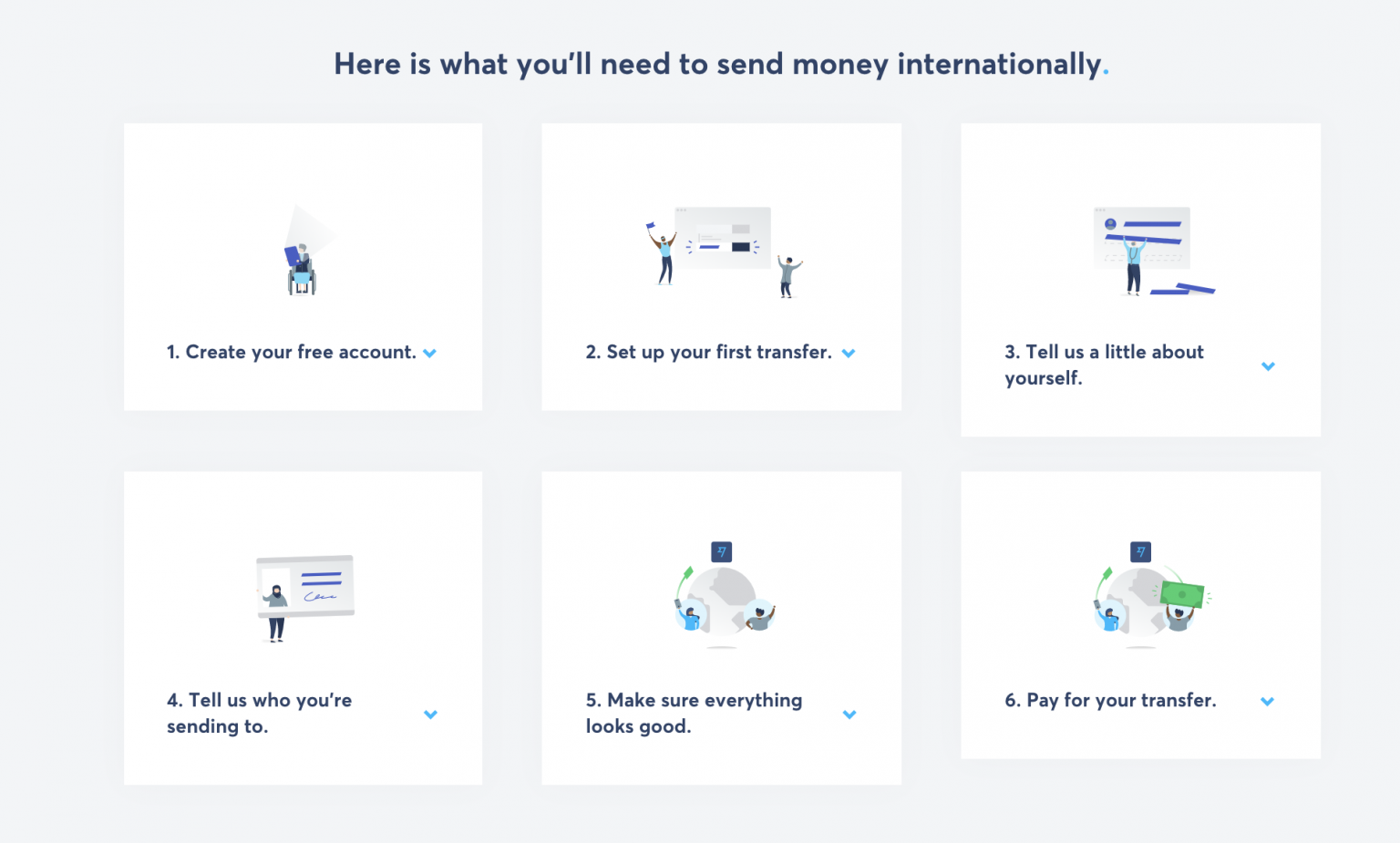 Wise money transfers can be sent to these countries: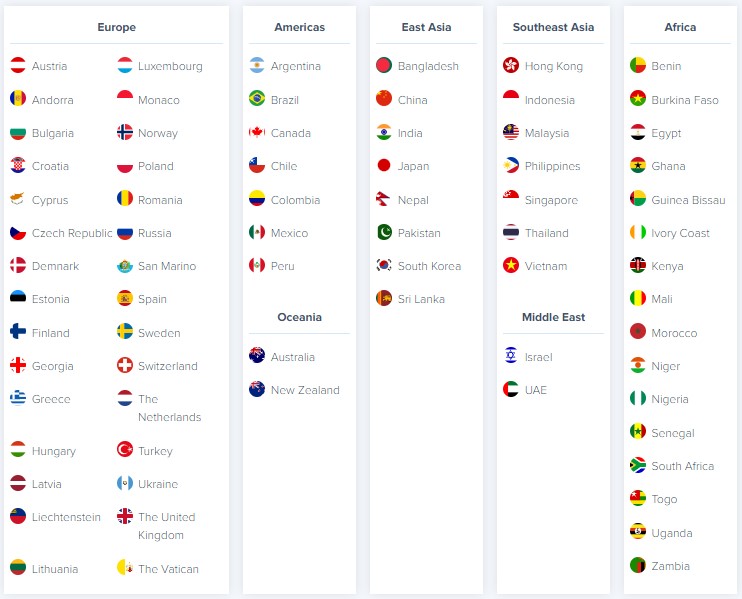 The details you'll need when you're sending money
When you make a transfer, you'll need to provide Wise with information about where you want the money to go. You'll be able to get this information from the person receiving the money, and if they don't know all the details, they can get them from their bank.
Alternatively, if you want the recipient to provide details, Wise has a "Money to Email" service — just provide the recipient's email address and Wise will contact them and ask for the relevant information.
Here's what Wise expects you to provide: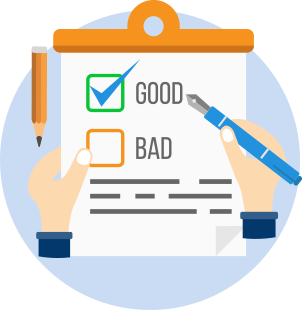 The amount of money you're sending
The countries you're sending money from and too
The currencies that you're sending money between
The recipient's name and address
Bank details of the recipient's account
The bank account details you'll need vary between countries, but typically you'll need to provide the sort code or routing number and the account number. In some cases, Wise will ask you for a SWIFT code or IBAN (International Bank Account Number.)
How you can pay for your transfer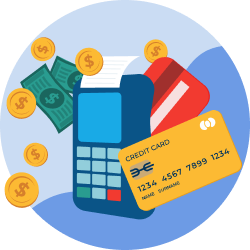 Wise offers several payment methods that let you fund your overseas transfer:
A debit card linked to your bank account
A credit card
You can pay by most types of debit or credit card, including Mastercard and Visa.
If you're paying by bank transfer / wire transfer, Wise requests that you don't pay until you've arranged to send money. They will then provide bank account details and a reference number so that your payment goes to the right place. They accept payment by Faster Payments, Bacs or CHAPS.
If you make a card payment via credit card, your provider may charge your card as a "cash advance." This can mean higher interest rates, and could also result in you starting to pay interest on the amount immediately. Check with your card provider to see if that's likely to happen to you.
Wise does charge slightly differently, depending on how you choose to pay for your transfer, with a payment from a bank account having a low fee, and debit or credit cards charging slightly more.
Wise sending limits
Wise offers several payment methods that let you fund your overseas transfer:
Wise does have some sending limits, but they are very high so you usually don't have to worry about it. You can send up to 1 million USD ($1,000,000) when you transfer money, depending on how you pay for it. For example, paying by card does have lower limits.
Conclusion
Wise has great options for sending low cost, fast international payments – and Wise accounts also offer easy ways to hold, send, spend and receive dozens of foreign currencies.
Whenever you exchange money with Wise you get the mid-market exchange rate with no markups. That means you'll only ever pay a low, transparent fee for the services you use, and you'll always know the full cost of your transaction upfront before you commit. Because of this revolutionary approach to pricing, Wise is often one of the cheapest – if not the cheapest provider on the market.
FAQs
How much does Wise cost?
Wise has very low transfer fees, and you can check out how much they charge using their calculator.
In most cases, the percentage fee will be around 0.5 to 1 percent of the total you're sending, plus an additional fee of $1 or $2. You will also pay a little more if you're paying for the transfer with a debit card or credit card.
How does Wise apply exchange rates?
Wise uses the base, mid-market rate for calculating exchange rates. This is the best exchange rate available.
How long does Wise take to transfer funds?
It can take anything from a few minutes to a few business days for Wise to get money to your recipient. The actual length of time depends on the currencies and countries you're sending money between, how you're paying, when you pay, and if you need to verify who you are. Note: payments with bank transfers can take slightly longer to clear, which may delay things.
In most cases, it takes fewer than two business days.
Does Wise have a mobile app?
Yes, the Wise app is available for both Android and Apple devices. The app is fully featured and well-reviewed, scoring 4.4 (Android) and 4.8 (Apple) out of 5.
The app is very easy to use and you can make transfers, access your Borderless Account, and manage your Wise debit card.