Vueling is a Spanish budget airline that flies around Spain and throughout most of Europe. They are popular for their reasonable prices and short flights around the continent.
I've flown with Vueling a number of times now and for the most part it has been smooth sailing, however I did run into some issues the last time I flew with them which I'll get into in a moment.
But first off here are some of the key things to know about them.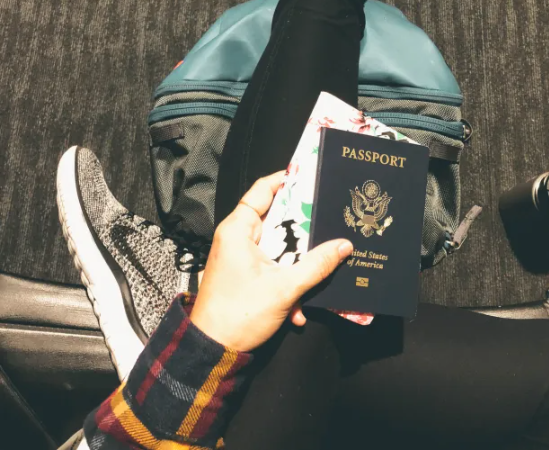 Price/Fees/Baggage
Vueling is a budget airline so their prices are pretty reasonable, they're not quite RyanAir cheap but unlike RyanAir you don't have to print your ticket and you can bring a carry-on bag for free. I've also never run into any hidden fees like many other budget airlines have which is a big plus.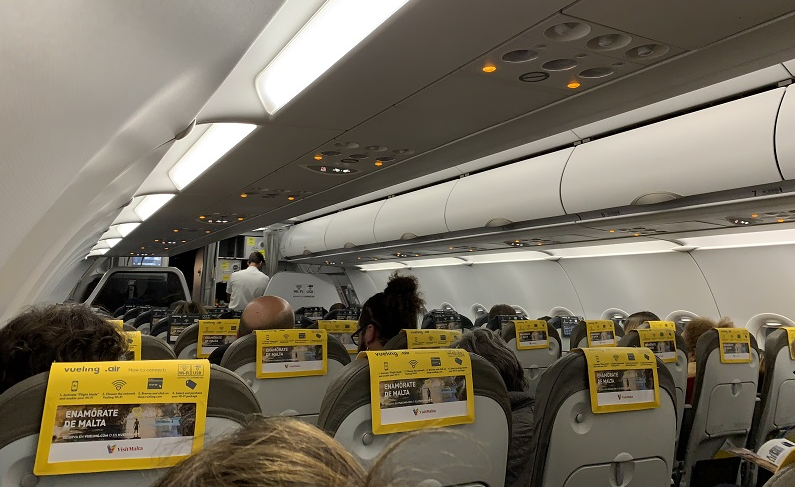 Like I said before, you are allowed one carry-on bag and one personal item for free. However if you need to check a bag you do have to pay for that. Although the most common complaint I've seen about Vueling is that they seem to lose people's luggage. So I would probably stick to carry-ons when flying with them.
What is Vueling Airlines?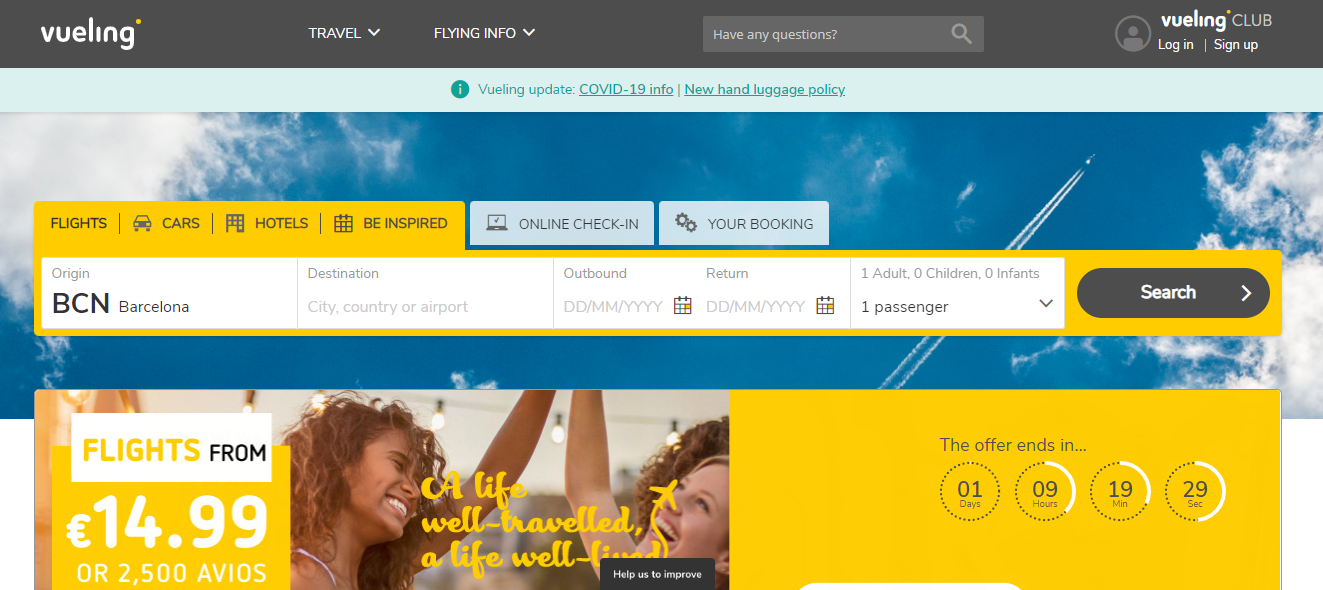 Vueling Airlines is a budget airline establishment that holds the pre-eminent title as Spain's largest airline with the largest fleet size and destinations.
Founded in 2004, the airline's first flight was between Barcelona and Ibiza. In 2019, the airline set a record for carrying 34 million passengers in a single year.
Vueling Airlines also holds a prestigious ranking in the low-budget airlines' category.
Who is Vueling Airlines Owned By?
Vueling Airlines operates under the International Airlines Group (IAG). The multinational airline holding group officially bought Vueling in 2012.
While many people confuse whether Vueling Airlines is part of British Airways, it's not. Although, Vueling Airlines and British Airways are partner airlines, as with other airlines under IAG.
Where Does Vueling Airlines Fly?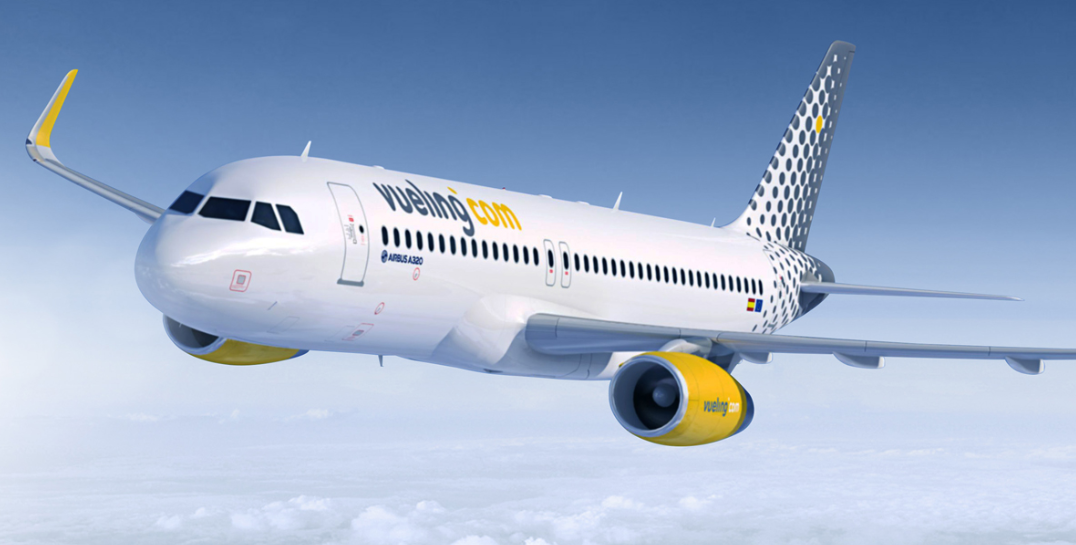 Vueling Airlines only had two Airbus320 aircraft that flew to three selective destinations in Europe and a single airport in France in the initial years. Today, it travels to 140 destinations around the world on multiple continents!
Vueling vows to "open up a world of possibilities" for its passengers and has continued to add more and more destinations to its list. As of now, you can take a look at its web map, where you'll find a list under All Vueling Destinations of the present places the airline flies to and from.
Check-in
Check-in was done at the desk as opposed to an electronic check-in console. However, there were enough staff dealing with the passengers that although there was a wait the queue kept moving. Psychologically you do feel you are getting somewhere when there is movement. At the desk check-in was smooth but above all quick. It was then the usual route to departures through security which at Gatwick South is always pretty quick.
Once through security we discovered the flight was delayed and more information would become available one hour after the scheduled departure. This was extended several more times.
Boarding
Almost an hour and a half after the scheduled departure time we finally had the call to proceed to the assigned gate. As with many low-cost airlines boarding is not via an air bridge but by passengers walking from the departure gate. Both front and rear doors were used which does speed up the boarding process.
Boarding was quickly done. No doubt this was because passengers had been in the terminal departure lounge for a considerable time and were therefore all present and eager to get on board.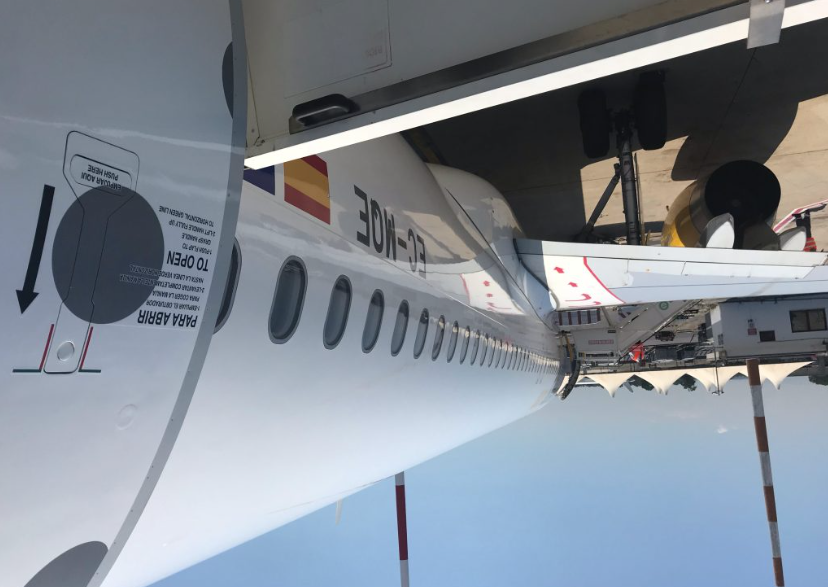 View from the top of the steps during boarding
Hopes of a departure were dashed as the pilot announced we had lost our slot and had to wait for another one. It would be a another 10 minutes before push back. 10 minutes came and went; so did 20 minutes and 30. Finally the pilot told us there was no tractor unit available for to push us back.
The crew came around with water to keep us all hydrated and were considering handing out snacks when the tractor unit to push us back finally arrived. Eventually we departed 3 hours 8 minutes late. Whether it was the airlines fault or something outside their control it did nothing for their reputation as the least punctual European airline. How they dealt with it was definitely up to them. One of the most irritating things about delays is having no information. Once in the hands of the airline staff we were kept up to date about the delay, what caused it and the likely departure time. We did received apologies for each additional delay.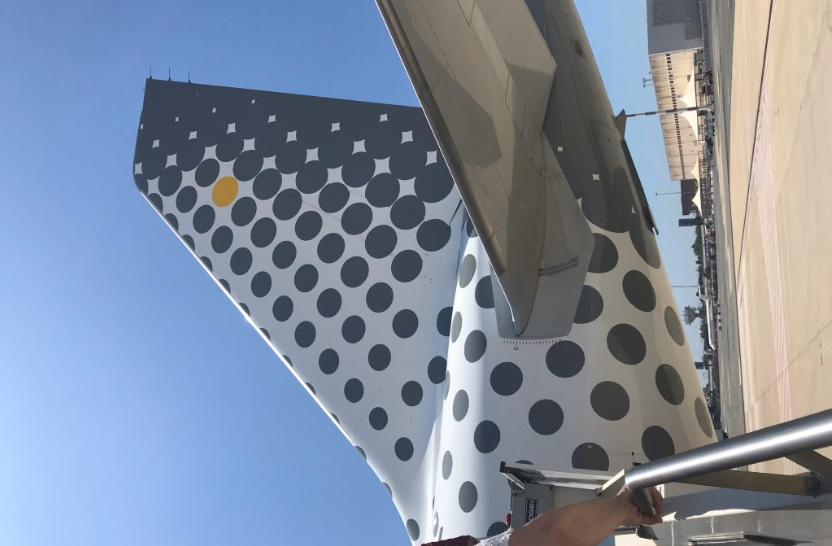 Vueling's corporate colours on the tail fin
The Flight
Service was with a smile. Although there was a willing and helpful aura among the cabin crew there was one thing missing; the verbal welcome at the aircraft door. This is not to say that they were grim faced and grumpy. Quite the opposite.
Interior of the Vueling Airlines Airbus A320
The interior of the plane was corporate neutral grey with darker grey trim. Yellow headrest covers provided the colour. This was pleasant but not gaudy.
The seat pitch was a little on the parsimonious side. I am an average height and found my knees touching the seat in front with little room for any movement. The gentleman behind was taller by a handful of centimetres and I could constantly feel his knees pushing in my back through the thin seats.
It was an extremely turbulent flight due to the heatwave over a great deal of Continental Europe. Inflight service was difficult to assess as it was withdrawn before it reached us. However, it seemed to be the standard fare of snacks and drinks that you had to purchase at the standard industry prices for low cost airlines.
Comfort
Their seats are small but luckily most of their flights aren't more than a few hours so to me that doesn't seem so bad. You can pay a little extra for a larger seat with their  "space one" and "space plus" options. I've done this once, and while it was nice it's probably not really necessary for a short flight unless you are tall and or broad in the shoulders. There is no inflight entertainment so be sure to bring a book or something to keep yourself entertained.
Customer Service/Corporate Policy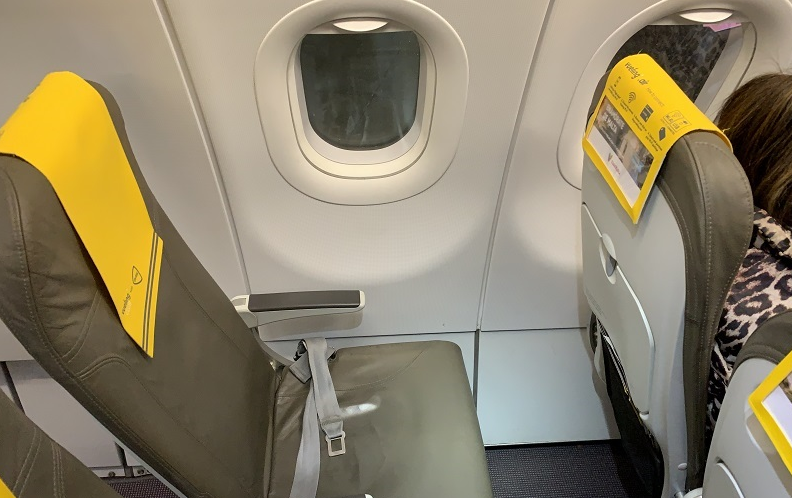 This is where I ran into some serious issues with the airline.
The Back Story:
On October 13, 2018 my friend Carissa and I were flying from Palma Mallorca to Lisbon Portugal with Vueling. Our flight was supposed to take off at 7:55PM but had been delayed about 2 hours so we were just hanging out in the airport when Carissa got a text from a friend in Portugal about a hurricane. I immediately googled "Portugal hurricane" and sure enough Hurricane Leslie was bearing down on the coast near Lisbon. We followed the news about the hurricane while we waited, wondering if our flight would be cancelled or delayed till the next day, but about 30 minutes later our flight started boarding.
We were a little nervous about the situation, flying into a hurricane didn't seem like the best idea so we discussed our options.
Don't go, we could leave the airport and go back to our Air BNB where both of our significant others still were (she and I were taking a side trip from the boys). The problem with that would be that we'd have no way to get a refund for our flight since deciding not to go really isn't an refund option.
We get on the plane and hope for the best. My hopeful thinking at the time was that since the plane was taking off that meant the weather wasn't as bad as the news was making it out to be. An airline wouldn't knowingly put its customers and crew into a dangerous situation would they?
We decided to get on the plane.
At this point I want to take a moment to discuss the impossible situation Vueling put us in – board a plane that is heading towards a hurricane and hope that the airline can safely get us to our destination or play it safe and not get on the plane and lose the $270 for our tickets. Neither option was great, neither option felt safe or smart. But we put our trust in Vueling that they knew what they were doing. And I suppose they did, but just not in the way I was expecting.
I awoken from my podcast induced half-sleep by the announcement. We would landing soon and my first thought was "wow, that was fast, we're already in Lisbon? There was hardly any turbulence!". But we were soon informed that we were rerouted to Madrid due to the weather. The amount of confusion and anxiety on that plane was palpable as we pulled up to the gate. Before we deboarded someone came on the PA system and announced that they would be providing buses. "Wait busses? Busses to Lisbon? Busses to where?" the crowd murmured.
Carissa and I followed the steady stream of people towards baggage claim. Where everyone seemed to be congregating and awaiting instructions. A group started to form around a desk at the back of baggage claim so we wandered over to see if we could get any info. There was one agent back there trying to appease the increasing angry mob. From what we could decipher they were going to be providing busses to take people to Lisbon.
It would be around an 8 hour bus ride and the busses were going to take an hour or two to get to the airport. However the majority of people did not want to take the bus option, because the idea taking a bus into a hurricane didn't sound particularly safe. And I'd have to agree with them on that. "Why can't you just put us on a flight in the morning when the weather is better?" people asked, the agent didn't have an answer. Eventually the poor agent gave us the option that if we didn't want to take the busses we could get a refund. We just had to fill out a complaint form and state that we wanted a refund.
Again Carissa and I weighed our options, the 8 hour bus to ride to Lisbon sounded terrible and at that point it was around 1AM. We opted to the refund and stay in the night in Madrid. We got and filled out the paperwork and gave it back to the agent with the understanding that by filing that paperwork our refund would processed and Vueling would not taking us to Lisbon in any capacity.
Dealing with customer service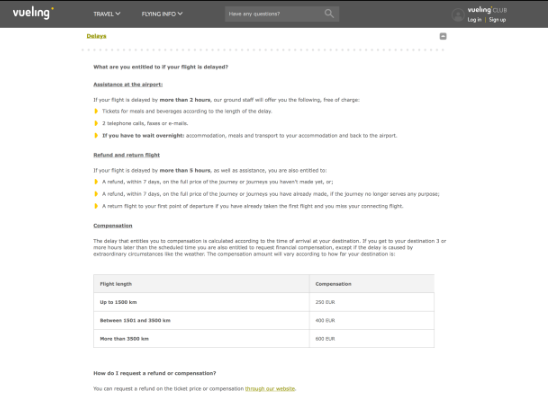 First of all there are some sketchy things about this situation that I didn't realize at the time. By EU law and by Vueling's policy if your flight delayed more than 2 hours. They must provide meal vouchers and if the delay overnight they must provide accomodations. So after they'd delayed for 2 hours I'm guessing they made the decision to board and depart so that they wouldn't have to pay anyone out. They probably knew they would rerouted, but at least they could say they "tried" to us to our destination.
So a couple weeks later, I am back home in the states and figure. I should check in on the status of my refund since I hadn't heard anything from Vueling. Yet and nothing had shown up in my credit card statement. So I submitted a refund request form on their website. A day later I got an email back saying that I would not be getting a refund. I figured there must be a mistake, maybe because I'd submitted. The paperwork in person their system thought I was trying to get a second refund. So I submitted a regular message asking about the status of my refund. The receipt numbers for both my and Carissa's complaint forms. The same canned email back informing me that I would not a refund. You can see their message bellow.

They blame the cancellation on "unpredictable" and "unavoidable" weather and call the whole situation an "extraordinary circumstance". This seems like a bad excuse because the storm was in the forecast all day therefore not "unpredictable" or "unavoidable". But this whole excuse mute because the policy stated on their website says. If your flight cancelled you entitled to a refund for your ticket with no stipulations for the reason of cancellation.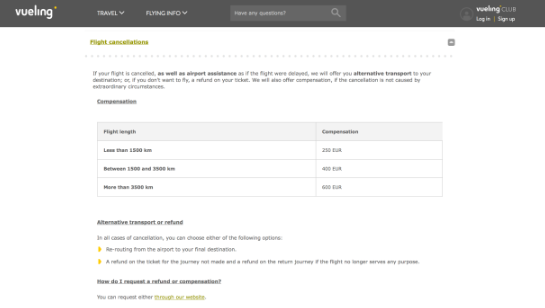 At this point I enlisted Rob to help me out, he's very good at dealing with customer service and things done. We wrote a very thought out and researched email quoting European carrier laws and such and sent it off to them. I got a short email back saying. They had complied with all EU carrier laws and I not entitled to a refund.
I upset at brushed off and wanted to call them out  for their shady-ness, so like any good millennial I took to Twitter. And got a very quick response asking me to direct message them. Our correspondence via Twitter was about the same as with the email customer service. I gave them all my info and outlined what had happened and again told I didn't qualify for a refund. They eventually stopped responding to my tweets.

My biggest disappointment about this whole situation is that the agent helping us going by their policy for cancellations. When he offered the refund to us and it seems disingenuous to later decide. We were not entitled to that refund. Had we known that at the time that a refund wouldn't be an option we could have made a Vueling better decision for our travel plans.
I feel tricked and swindled by Vueling and the whole situation has left a bad taste in my mouth.
Conclusion
If you need a cheap flight to get you from A to B and you don't have a lot of luggage, Vueling is an option. However I wouldn't trust them to do the right thing if problems with your flight are to arise.
I doubt I'll fly with them again and if I do I'll prepared for the worst.
*As of writing this article I still have not received a refund or talked to anyone in customer service who has been anywhere near helpful.