Is flying with Vueling Airlines a good option? Is the travel experience worth the budget-friendly packages? Better to find out now than later, when you've invested time and money. Keep reading to find everything you'll need to know about Vueling Airlines.
While millions of budget-friendly airlines pop up, each promising an experience better than the next, it gets tough picking amongst airlines. What if a budget airline compromises your travel experience and ends up ruining your trip?
We here at Pilot have had our fair share of awful flight experiences, and this is why we're here to help. We've reviewed airlines that fly to Europe like FlyTAP Portugal and Transavia. It's time to give an in-depth review of another European airline – Vueling Airlines. Read on to find out everything you need to know about Vueling Airlines.
What is Vueling Airlines?
Vueling Airlines is a budget airline establishment that holds the pre-eminent title as Spain's largest airline with the largest fleet size and destinations.
Founded in 2004, the airline's first flight was between Barcelona and Ibiza. In 2019, the airline set a record for carrying 34 million passengers in a single year.
Vueling Airlines also holds a prestigious ranking in the low-budget airlines' category.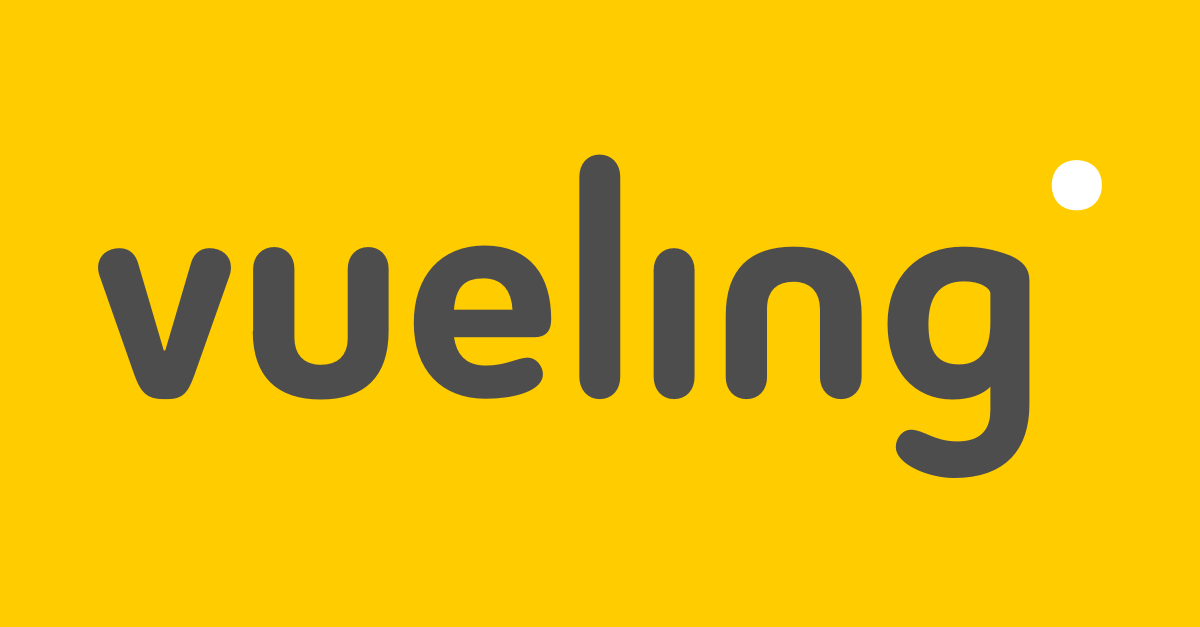 What are the packages Vueling Airlines offer?
Vueling Airlines currently offers four packages to meet the needs of various passengers:
Basic Fare: Cheapest rates for backpackers with a single hand-carry.
Optima Fare: Affordable rates for 25 kg checked-in luggage, 2 hand-carry, and free seat selection.
Family Fare: Reasonable option for families with 25 kg luggage, 2 hand luggage, free seat selection, 2 freehold items for parents with kids under 2 years old, and priority boarding.
TimeFlex Fare: Ideal for frequent travelers with last-minute plan changes. Features include 2 hand luggage, unlimited flight changes free of charge, flight credit as a refund option, and priority boarding.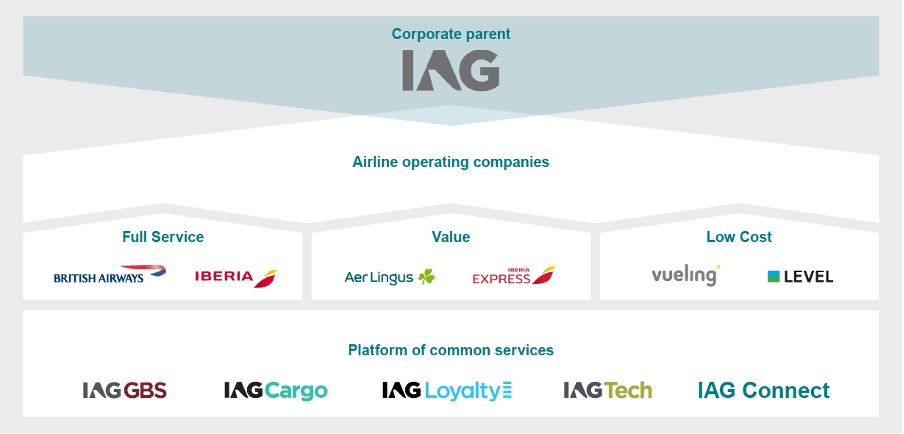 Who is Vueling Airlines Owned By?
Vueling Airlines operates under the International Airlines Group (IAG). The multinational airline holding group officially bought Vueling in 2012.
While many people confuse whether Vueling Airlines is part of British Airways, it's not. Although, Vueling Airlines and British Airways are partner airlines, as with other airlines under IAG.
Where Does Vueling Airlines Fly?
Vueling Airlines only had two Airbus320 aircraft that flew to three selective destinations in Europe and a single airport in France in the initial years. Today, it travels to 140 destinations around the world on multiple continents!
Vueling vows to "open up a world of possibilities" for its passengers and has continued to add more and more destinations to its list. As of now, you can take a look at its web map, where you'll find a list under All Vueling Destinations of the present places the airline flies to and from.
What It's Like to Fly with Vueling Airlines?
Traveling with Vueling Airlines is what you would expect from a budget-friendly airline. Nothing fancy, but your basic needs are taken care of, provided that you chose the right package for your requirements.
The seats are well-enough considering the price in terms of legroom and space. If you want more room for yourself, you can upgrade to the Excellence Service for around 100 euros. With this, you get extra legroom, no middle seat person elbowing into you, and a complimentary snack.
Additionally, almost all Vueling aircraft have Wi-Fi in them. The Wi-Fi packages vary from 3 euros to 5.99 euros depending on the activities you want to indulge in during the flight.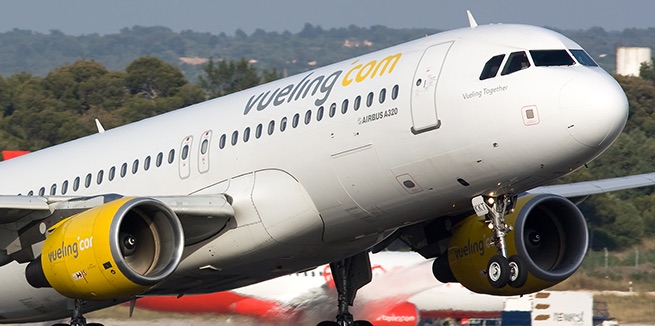 Is Vueling Airlines Safe?
Vueling Airlines is as safe as it gets in terms of safety concerns.
In the past 18 years, the airline has never come across an accident except for very few bird strikes and on-ground engine problems. Vueling follows the high safety standards set for European airlines.
Also, the airline has been ranked as one of the safest low-budget airlines in the world consistently. So, landing at your destination safe and sound is the last thing you need to worry about when traveling with Vueling!
Does Vueling Airlines Serve Food and Drinks?
Unfortunately, you won't have anything to munch on for free on your flights unless you've purchased a business-class ticket.
While Vueling Airline's business class offers food in flight, they only provide free snacks.
However, you can buy food and drinks from their extensive menu during your flight. The menu includes all sorts of stuff such as proper full-course meals, snacks, desserts, beverages, alcohol.
The prices aren't sky-high either, so if your tummy starts rumbling, it's a good idea to call the crew and grab a bite.
What are People Saying About Vueling Airlines?
Based on over 27,000 reviews, Vueling Airlines only holds 2.5 stars on Tripadvisor. So, why exactly are people this disappointed in this airline even though it's relatively budget-friendly?
Most of the bad reviews stem from the lack of on-time departures and arrivals. The reviews have also criticized Vueling Airline for issues related to bookings and the quality and timeliness of their customer service team.
It's not all terrible, though. Around 14,000 reviews rate their experience on Vueling Airlines between average to excellent. Many people have praised Vueling Airlines for being accomodating and a great value-for-money option.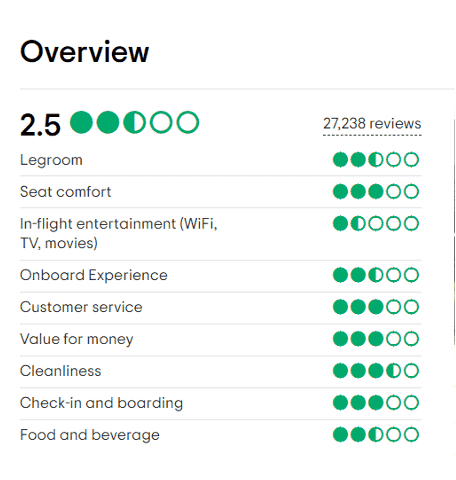 What's Vueling Airlines Luggage Policy?
As mentioned above, there is a restricted baggage allowance under packages according to the ticket you purchased. But all is not lost even if you carry more luggage than your package permits.
For extra under-seat baggage, you'll pay EUR 30 at the check-in desk and EUR 40 at the boarding gate. If baggage exceeds under-seat dimensions (40x20x30 cm) as well, you'll pay EUR 50 at check-in and EUR 59 at boarding. The same is the case with more than two hand-carry, regardless of your package type.
As for check-in luggage, above 25 kg, you'll pay EUR 12/kg. However, this is allowed only up to 32 kg; that's the maximum limit for a single check-in luggage per passenger. Vueling Airlines offers an added advantage to carry special luggage that doesn't fit in your bags. The conditions are that you can carry only one special luggage with a maximum weight of 32 kg.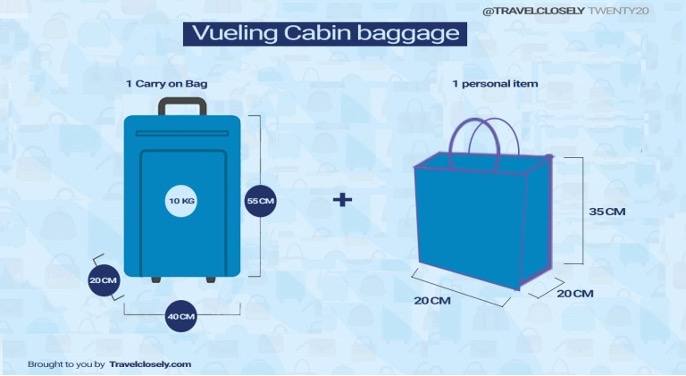 What's the Check-in Process for Vueling Airlines?
With Vueling Airlines, you get to benefit from their online check-in system. Complete the step-by-step process, add the important documents, and pay for extra luggage to avoid inconvenience at the airport. You can do this anywhere between 7 days to 4 hours before your scheduled flight.
Prefer to check-in at the airport? Not a problem. Vueling Airlines opens its check-in desk for every flight 2.5 hours before departure and closes it 40 minutes before departure time. On the other hand, the boarding gate closes 10 minutes before.
Does Vueling Airlines Have a Cancellation and Refund Policy?
Suppose you're unable to travel on your scheduled flight for any reason. In that case, Vueling Airlines offers various options in their cancellation and refund policy.
For starters, you can change your flight within 24 hours of booking for no cost. Once this period expires, you'll have to pay 50 EUR if the flight is in 15 days and 60 EUR for less than 15 days. This does not go out for Flex passengers; they can make changes anytime without charges.
If you decide to cancel your flight, Vueling Airlines offers refunds in cashback and flight credits. For this, you can contact customer support online or through their contact number. You will be charged a cancellation fee if the 24-hour period has expired.
If Vueling Airlines cancels the flight or changes it, the airline will accommodate you fully.
Is Vueling Airlines Customer Service Good?
A big question that most people don't consider when they book flights is whether the airline provides good customer service. Besides, you won't really need to talk to customer service until you start running into problems.
However, the quality of customer service tends to make or break an airline. Most airlines deal with thousands of customer feedback daily, and it's important to know whether the airline values its customers.
Vueling Airlines offers multiple ways to get in touch with its customer service. You can call them on their contact number or send an email their way. The customer representative team handles personalized queries between 9 am to 10 pm Spanish time throughout the week.
Unfortunately, many online reviews state that inquiries often take months for the customer service to get back to you to resolve your issue.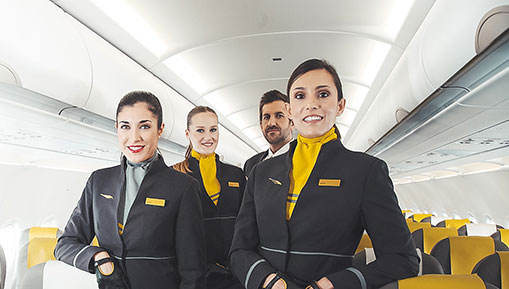 Is Vueling Airlines Worth It?
Vueling Airlines is a decent option for budget travelers. You'll get the basic amenities and a safe travel experience at affordable prices. With four different packages, you'll likely find one that suits your needs. The major downside is Vueling Airline's subpar customer service and frequent cancellations or delays. If you take those downsides into account when you fly Vueling Airlines, the airline is what you'd expect.
Our Rating: 3.2/5
Pros:
Many destinations to fly to.
Low-cost prices.
Decent in-flight experience.
Cons:
Poor customer service.
Frequent delays and canceled flights.
Expensive add-on luggage.
Store your tickets and plan your trip with Pilot.
Whether you end up choosing Vueling Airlines as your travel abroad, you'll need a great plan to help you get your travel plans organized. Whether it's travel resources or a planner that helps make your travel more accessible, organized, and fun, we've got you covered.
Our all-in-one travel planner Pilot has everything you'd need for your trip in one place. Chat, vote, and plan your trip with your friends, partners, and family! Store all of your tickets and documents in one place, easily accessible and secure. Let Pilot help make your travel experience better, for the price of 0 dollars! Give it a try and sign up now.
Do you love to devour travel-related content? Maybe you're looking for your next dream destination. Subscribe to our newsletter Flightdeck, and we'll fly inspiration and much more straight to your inbox!