About Trainline

Trainline is an autonomous computerized rail and coach ticketing platform. It was established in 1997. They sell tickets through their website, by phone, and through its mobile application which is accessible on windows phone, iOS, and Android platforms. They claim to be Europe's leading independent train and bus platform.
Services offered by Trainline
Trainline offers the services of booking bus and train trips through their app and website. They also offer online train tickets, global rail access, online coach tickets, and passenger rail ticketing.
Compliments, complaints, and tips for Trainline
Do you currently use Trainline for your bus or train trip? Did you get value for money? Do you prefer Trainline to any other train app in the market? Maybe you can suggest to us how the platform can improve its products and service delivery. We look forward to hearing from you!
Trainline. is – in its own words –  an "international digital rail and coach technology platform [that] sells train tickets and railcards as well as providing free access to live train times and railway station information through its website and mobile app". It is, more or less, a one-stop shop for train travel.
Within the U.K. it's one of the go-to sites to compare multiple different prices and times across all the British rail operators. Here is everything you need to know about using Trainline to book your travel and finding the best deals.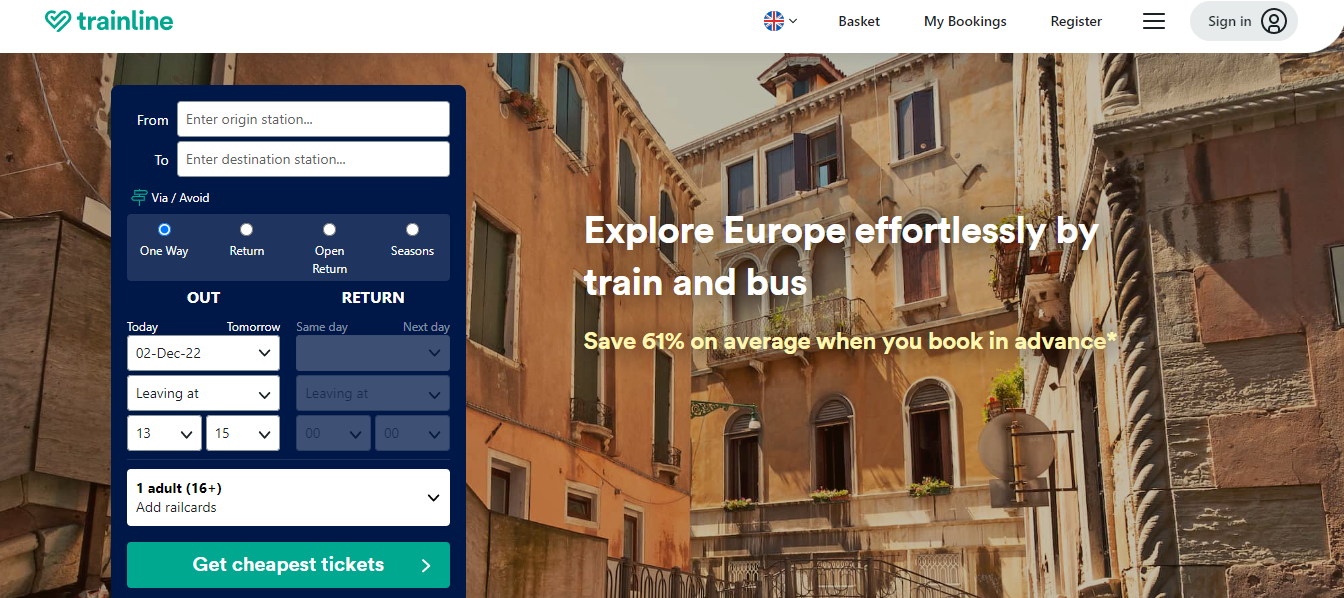 What is Trainline?
Trainline bills itself as "Europe's leading train and coach app", offering a one-stop shop for travel by over 270 rail and coach operators in 45 countries.
It was established almost 25 years ago by the Virgin Group and is now listed on the London Stock Exchange.
Which rail operators does Trainline cover?
You can book a vast range of operators through Trainline up to 15 minutes before departure, including:
United Kingdom
LNER
Great Western Rail
Avanti West Coast
Lumo
ScotRail
Stansted Express
Gatwick Express
You can also add on London Underground tickets to other U.K. train journeys when you want to use London Underground to complete your journey, though they do not offer London Underground only tickets.
Europe and beyond
Trenitalia and Italio (Italy)
SNCF and OUIGO (France)
Renfe and AVE (Spain)
Duetsche Bahn and Flixtrain (Germany)
DSB (Denmark)
SNCB (Belgium)
Nederlanse Spoorwegen (Netherlands)
Bernina Express and Glacier Express (Switzerland)
JR (Japan)
Note that while Trainline covers many major European rail operators, they do not sell tickets for every European operator.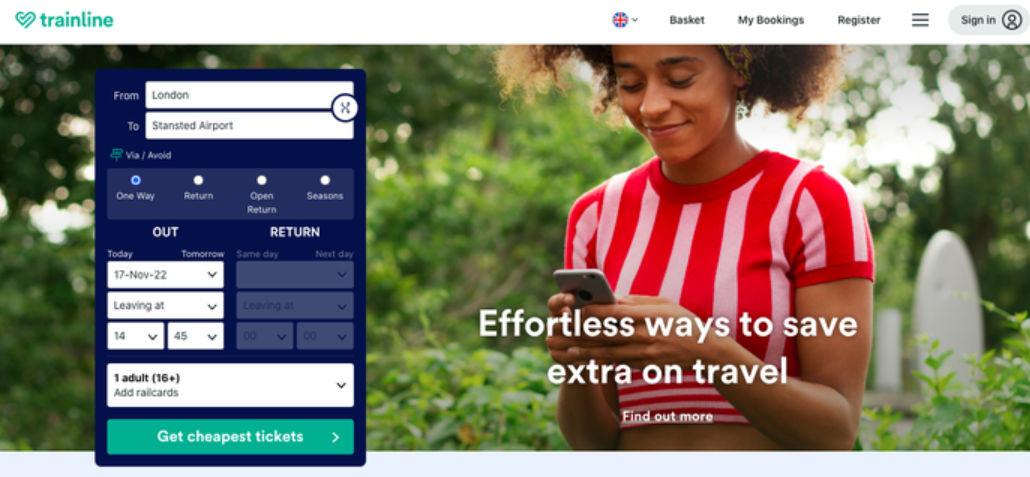 What else does Trainline sell?
Other than train tickets across the United Kingdom, Europe and beyond, you can also book bus (coach) travel within the U.K., from the U.K. across to Continental Europe and within Europe.
It's likely a journey by coach will be cheaper than a train journey on the same route, as it will take much longer. The time difference may not be substantial on a short route like London to a London area airport. But looking further afield at a journey like London to, say, Vienna, in Austria, if you're not choosing a two-hour nonstop flight or a 17-hour train, you could be looking at 26+ hours on a coach, and that is without traffic delays. Most coach trips will also make multiple short stops en route for drop-offs and service stations.
You can also purchase railcards directly from Trainline, and then use them to purchase discounted tickets through Trainline.
Can I use rail discount cards with Trainline?
Yes. As well as buying railcards from Trainline you can then use these railcards when booking train journeys through the platform. It's well worth investigating if you are eligible for a card, especially if you travel regularly by train as you can save up to 33% on the standard prices.
The platform has a handy tool to check what card(s) you may be eligible for, depending on your age, location, and regular travelling companions.
There are nine main types of UK Railcards available. These are:
Network Railcard
16-17 Saver
16-25 Railcard
26-30 Railcard
Family & Friends Railcard
Two Together Railcard
Senior Railcard
Disabled Persons Railcard
Veterans Railcard
How do I book with Trainline?
You can book your tickets directly at Trainline.com.
Trainline also has an app, currently used by more than 30 million people worldwide.
How do I use my tickets on the day of travel?
After booking your tickets you will be sent a confirmation and e-ticket by email. Most rail providers will allow you to use the QR code in the e-ticket to pass through ticket barriers at your departure, and for any onboard ticket checks. This is a convenient and paperless way to travel — no more digging into your pockets looking for a piece of paper or printed ticket.
Some providers may still require you to print a physical ticket at your departure station before boarding using the confirmation number, as well as some older regional train stations in the U.K.. This should be clearly indicated on the e-ticket. If this is the case you should plan to arrive at the station at least an extra 15 minutes before departure, to compensate for the possible queues at ticket printing machines and the time it takes for the machine to print it.
Remember to bring the card you used to pay for the tickets too — you may need this in order to print physical tickets.
You may be given the option between e-ticket collection or printing a physical ticket for a small additional fee. It is much more convenient to use an e-ticket than to go to the trouble of printing the physical ticket whenever this is an option.
The Trainline app will make this much easier, both for booking and ticket management, and is available for both IOS and Android.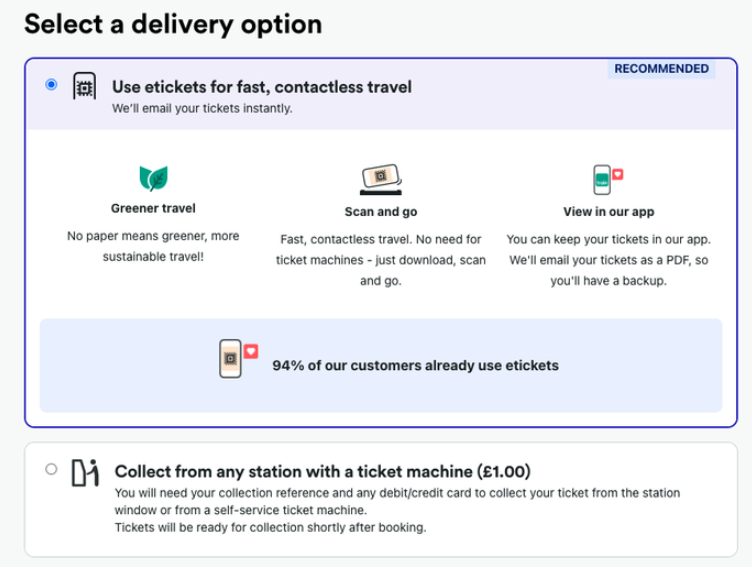 What are the ticket types and refund and change fees?
Trainline sells three main types of tickets for U.K. travel:
Advance – Usually sold between 12 and 24 weeks in advance, these are nonrefundable and usually only valid on the specific train and time selected at booking. Only a limited number of Anytime tickets are usually sold. They are usually the cheapest ticket type and perfect for those booking well in advance.
Anytime – If you want flexibility you can pay for more an Anytime train, which is split into Anytime Day Single, Anytime Day Return, Anytime Single and Anytime Return. These tickets give you the flexibility of having multiple options to travel on the day, some even allow you multiple options over multiple days. If you're heading off for a weekend away, and say, aren't sure what time you will want to return, these are great for added flexibility.
Off-Peak/Super Off-Peak – Peak times run from 6.30 a.m to 9.30 a.m and 4.30 p.m and 7 p.m. If you know you don't want to travel at peak times, a cheaper option is to choose an off-peak time. The trains will likely also be quieter as there will be fewer daily commuters to battle with. They usually offer the flexibility of Anytime tickets though you'll need to make sure the train you choose is not an
As an aggregator of tickets from so many different rail and coach operators, the refund and change options, unfortunately, vary from operator to operator.
Where sold, you can also purchase First class tickets
Can I earn points and miles with Trainline?
Trainline operates its own membership programme called Complete Savings, which allows its members to earn discounts and cashback opportunities at major retailers and service providers. Signing up gives you the chance to earn a monthly bonus and up to 10% cashback at 1,250 retailers and 20% off gift cards.
However, Trainline is also partnered with British Airways Executive Club through the U.K. flagship carrier's online shopping portals, meaning that Executive Club members can earn Avios when booking their train travel via the online portal. While the offer does fluctuate, at the time of writing new customers receive 3 Avios per £1 through the BA eStore for their first booking. Returning customers receive 1 Avios per £1 spent. It is possible to double stack these rewards by also paying for your purchase using an Avios earning reward credit card.
You used to be able to earn Virgin points through Trainline too. But since Virgin launched its own ticketing system, Virgin Trains Ticketing, in 2021, that option is no longer available.
As mentioned you are also earn points and miles for purchases by paying with the right credit card. The site accepts all major credit and debit cards.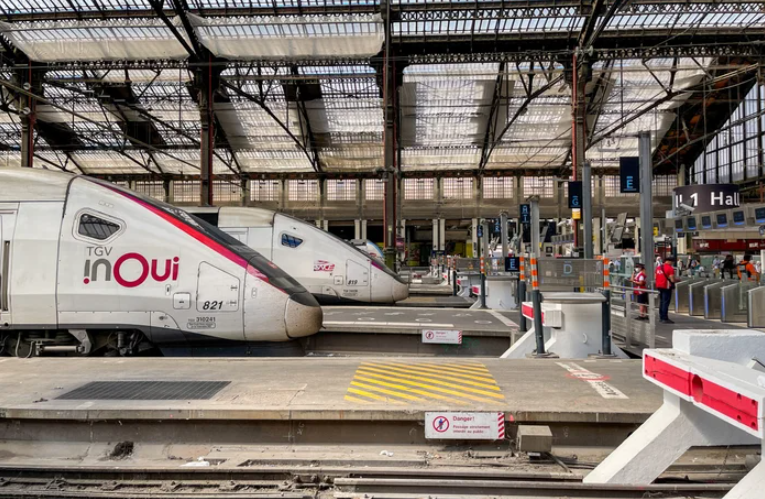 Conclusion
The Trainline app is well worth having just for planning journeys, especially since the National Rail app is so expensive. But the ability to buy a ticket straight from the app makes it even better for those times when you're travelling to the station with seconds to spare, or planning your trips on the go.
When buying a ticket, watch out for the fees, though. Be sure to use a debit card to avoid the massive credit-card fee, and be aware that each journey will incur a £1.00 booking charge.
FAQ
Is Trainline legitimate?
Yes, Trainline is legitimate. Their app and website connect directly to rail and coach carriers' ticketing platforms so every ticket you buy through Trainline is valid for travel. They've been in business since 1997 and sell tickets for 270 train and bus companies in the UK and Europe, trusted by millions of rail and coach/bus travellers worldwide.
Is Trainline safe?
Payments on Trainline and their apps are completely secure. Trainline uses clever payment protection systems to ensure that your money is protected from fraud. Travellers on Trainline can pay with complete confidence – they accept payments in ten different currencies and support multiple payment methods, including Apple Pay, PayPal, SOFORT and iDEAL.
Is Trainline reliable?
Trainline has a dedicated team of over 600 employees in London, Edinburgh and Paris offices working to ensure the website and app works 24 hours a day, 365 days a year! The customer service team offers a mix of phone, email and online chat support and maintains a library of helpful troubleshooting resources in the Help Centre, so if you ever get stuck, you can contact customer support here.
Is Trainline impartial?
Trainline is a fully independent and impartial booking platform. This means that train and bus companies can't pay to have their tickets or services listed in more prominent positions. They highlight the cheapest tickets available for each search to help you save.
How do I contact customer service?
You can contact Trainline's customer support team here, but be sure to check out their help centre first as they've answered many frequently asked questions online already.
How do I leave a review of Trainline?​
Trainline welcomes feedback from users and uses it constantly to improve the product. Get in touch with the customer support team if you need any help with your booking, or head to Trustpilot to leave a review!