Do you buy your pet or livestock supplies at your local Tractor Supply store? Or maybe you just made an online order at their online store at Tractor Supply for a new mower or another product? Why not share your feedback regarding your customer experience and become eligible for the monthly $2,500 gift card being awarded by the retail company?
About Tractor Supply
Tractor Supply Company is among the leading US retail chains in the United States. Which offer gardening, home improvement, farming, agriculture, lawn maintenance, pet, livestock and equine care products, heating and propane supplies, trailers, welding products, power generators, footwear, clothing and other affordable and good quality products.
The company was first established in 1938 as a mail delivery service for tractor parts. Gradually, Tractor Supply began opening stores in different areas around the US.
Today, Tractor Supply Company has 1734 stores located in 49 states. It also sells its products online at the official website of the company. The headquarters of the retail company is in Brentwood, Tennessee.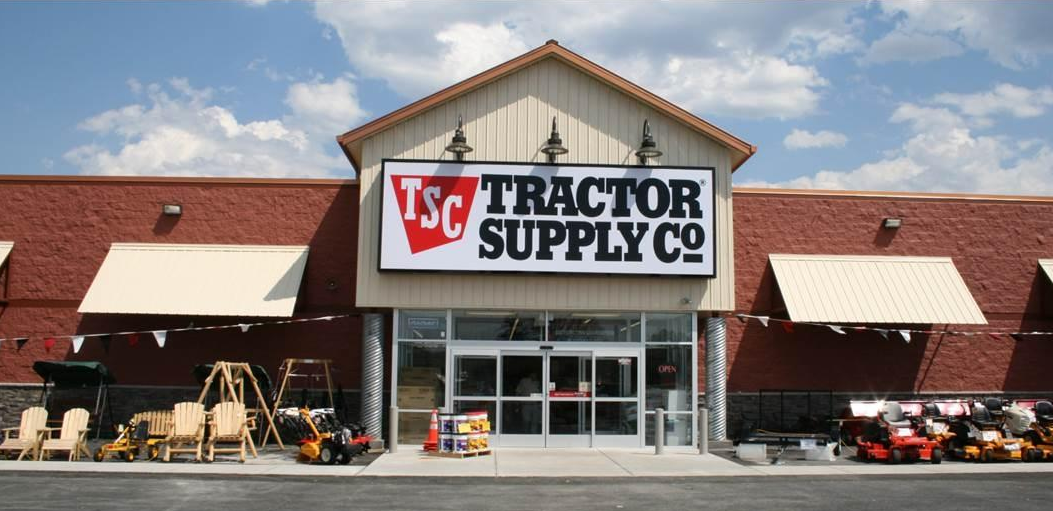 The slogan of the company is "The stuff you need out here."
Tractor Supply Company is among the 100 fastest-growing businesses. Its sales report from 2017 shows that 47% of the sales are of livestock and pet supplies, and 22% for tools, hardware, truck, and towing products. 19% of the sales are of gardening equipment and gifts, and 8% for clothing and footwear, 4% for agricultural products.
After 80 successful years of business, Tractor Supply Co. Determined to remain one of the leading retailers in its department. Which is why one of the top goals of the company is to continuously improve customer satisfaction in order to enhance customer loyalty and attract new ones.
One of the main tools for ensuring a great customer experience is the Tell Tractor Supply customer satisfaction survey being run by the company.
In order to attract more of its loyal as well as its new customers to participate in the survey and to provide valuable honest feedback, an attractive sweepstake is being organized by the company.
You will receive a chance to become the monthly winner of a $2,500 gift card which you can spend on Tractor Supply goods once you complete the www.telltractorsupply.com online survey.
It will take only a few minutes of your precious time, and all you need to do is to be completely honest about your recent shopping experience at Tractor Supply or Del's.
So, why not enroll for the Tell Tractor Supply $2,500 monthly sweepstakes draw today?
TRACTOR SUPPLY OVERVIEW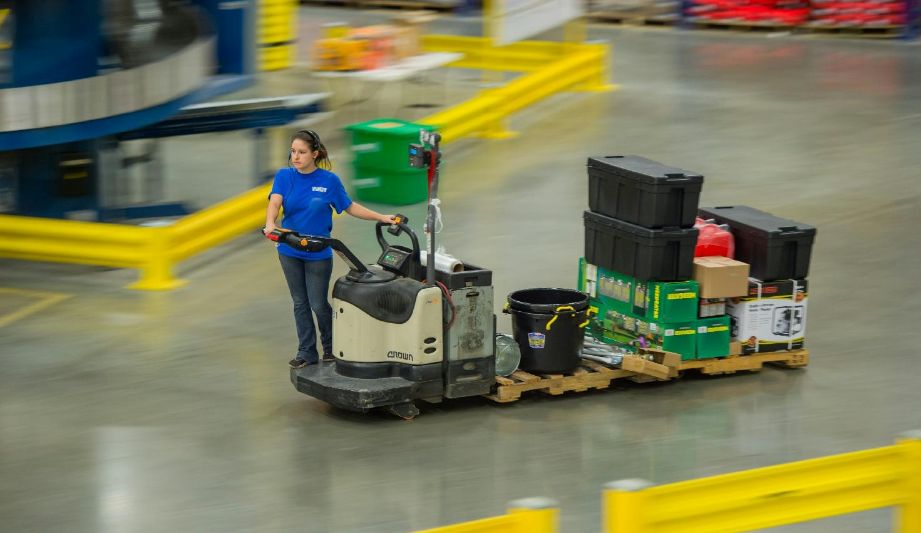 Tractor Supply Company is the largest operator of rural lifestyle retail stores in the United States. The company operates over 1,500 retail stores in 49 states, employs more than 23,000 team members and headquartered in Brentwood, Tenn. Its stock traded on the NASDAQ exchange under the symbol "TSCO". The company founded in 1938 as a mail order catalog business offering tractor parts to America's family farmers.
Today Tractor Supply is a leading edge retailer with annual revenues of approximately $6.2 billion. Tractor Supply stores are located primarily in towns outlying major metropolitan markets and in rural communities. The typical Tractor Supply store has about 16,000 square feet of selling space inside, with a similar amount of outside space.
The staff at Tractor Supply come from unusually diverse demographic backgrounds. The company is 48.0% female and 33.3% ethnic minorities. Tractor Supply employees are slightly more likely to be members of the Republican Party than the Democratic Party, with 59.0% of employees identifying as members of the Republican Party.
Despite their political differences, employees at Tractor Supply seem to be happy. The company has great employee retention with staff members usually staying for 3.2 years. The average employee at Tractor Supply makes $35,972 per year, which is competitive for its industry and location. Some of its highest paying competitors, Southern States Cooperative, Staples, and Nike, pay $41,045, $38,313, and $35,748, respectively.
The official website

Visit the official website of Tractor Supply at www.tractorsupply.com. When you scroll to the bottom of the webpage, you will see a Customer solutions tab. If you click on it, you will get to choose among various options. You may want to check out the FAQs section to see if there is an answer to your query or a resolution to your problem first at Tractor Supply.
In case you can't find an answer to your specific problem or want to provide your feedback to the customer support service, the easiest way to do it is to go to www.tractorsupply.com.
You will get an opportunity to automatically check one of the following: Your order status, log in to your account, or check the returns policy or your gift card balance.
If you want to contact the customer solutions staff for a specific question, problem, or feedback, you will need to choose your feedback type and topic and then fill out the online feedback form with your contact details, as well as the store number, item name and other details regarding your purchase. The customer support staff will back to you via phone or mail as soon as your inquiry is processed. You will to choose whether or not you want to contacted and whether you prefer that it by e-mail or phone.
Take the online survey
Once again, you will need a recent receipt from a purchase made at one of Tractor Supply's or Del's stores. The online customer care survey is available at www.telltractorsupply.com. Once you complete the brief and simple Tell Tractor Supply survey, you will get the chance to sign up for the monthly sweepstakes.
Is Tractor Supply Legit?
It seems like you are trying to get a validation of www.tractorsupply.com, which is a high authority website that is well-known and has an excellent reputation. However, it is worth reading the review below. There are a few details that you need to consider about this site and its Supplements & Vitamins industry.
Tractor Supply Pros & Cons
Pros
I get to interact with the customers & treat them like family. Keeping busy & planograming is very enjoyable.
Helping the customer. Organization of products.
When I can work floor.
I like the fact that everyone stays busy and remains friendly helpful and efficient. It's not too hectic so you can have one on one interaction with customers.
The customers are easy going
Getting to experience how to create and follow a sales pitch being able to sell plenty of products throughout the work day.
Cons
The disrespectful customers and the unfair treatment between other coworkers
The management isn't as organized as I would like it to be
We do have slower hours where I would love to see more floor time with employees as to clean up and re-merchandising in store.
The training was trash and the manager is an ass.
Favoritism, non equaled pay, short handed shifts because management does not show up.
Management is horrible. I've babysat toddlers with better communication skills & better manners. Daily harassment is brushed off & rewarded.
Tractor Supply Most Popular Products
Ultima ZT1-54 24 HP Zero-Turn Riding Lawn Mower with Kohler 7000 Series V-Twin OHV 4-Cycle 725cc Engine, 17AREACM010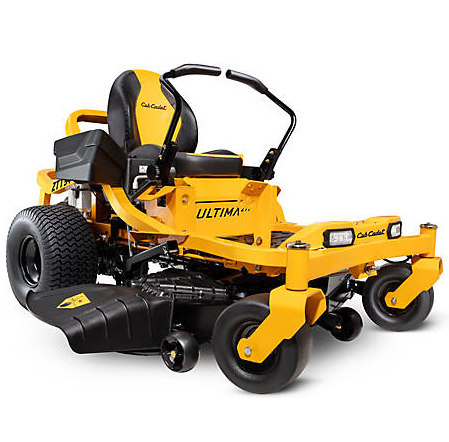 Product Details
Introducing the ULTIMA ZT1 SERIES. Step up to the ultimate all-around mowing experience. The Cub Cadet ULTIMA Series ZT1 54 features a 24HP/725cc Kohler 7000 Series V-Twin OHV 4-Cycle Engine, 2 in. x 2 in. tubular steel frame, comfortable high back seat and much more. The Ultima Zero-Turn Riding Mower was built to raise the bar for enhanced strength, durability, redefined comfort and uncompromised performance.
Equipped with an 11-Gauge 54 in. fabricated (Welded) triple-blade high lift deck with reinforced leading edges that results in finer clippings, fewer clumps, reduced stragglers and increased evenness, protected by the Cub Cadet triple guard corrosion defense system with e-coat and a lifetime warranty
24HP/725cc Kohler 7000 Series V-Twin OHV 4-Cycle Engine, V-twin cylinders reduce vibration for a smoother ride, Designed to run cooler and cleaner for longer, Delivers more power while decreasing fuel consumption
Dual Hydro-Gear 2200 (EZT) Hydrostatic Drive System, Fan cooled 10cc pumps and wheel motors on each drive wheel, Provides optimal torque and speeds up to 7 MPH
Tough and tubular frame the high-strength, continuous square 2 in. x 2 in. tubular steel frame with fully e-coat lower frame and triple guard corrosion defense system, a multi-step process electronically applies automotive-grade corrosion resistance with meticulous care to protect against wear and tear
Dial in your perfect cut with a foot operated deck lift and a dial control knob offering 15 qt. in. deck height adjustments from 1 in. to 4. 5 in. leading to a precise and even cut
High comfort, high performance an automotive-inspired, ergonomic, fully adjustable premium 18 in. H-back seat and a durable, advanced polymer seat suspension system, adjustable lap bars and industry-exclusive ergonomic hand grips optimized for comfort providing you the confidence to maximize your speed and reduce operator fatigue
Turf damage prevention 11 in. x 6 in. to 5 in. smooth tread front wheels pivot 180 without turf damage, 20 in. x 10 in. to 8 in. turf master premium rear tires offer excellent traction, minimize turfing and provide a better ride on uneven ground at higher speeds
Ease of maintenance an open frame design and hinged/removable floor pan allow easy access to the deck and engine for quick and simple maintenance
Command center conveniently located control panel enhances operator productivity and vibration-dampening soft rubber floor mat provides sure footing, comfort and ample leg room
Precision trimming offset front casters align with blade edge for trimming precision while maintaining line-of-sight and stable balance
Illuminating dual-LED headlights provide ultimate vision for mowing in low light conditions and tow hitch come standard
Mow for an extended period of time: 3.5 gal. fuel tank capacity to keep you mowing and minimize time loss for refueling needs
Electronic fingertip blade engagement PTO allows for smooth operation of the deck
3-way adjustable ergonomic lap bar design with integrated parking brake and mow-in-reverse, provides comfort with a simple operation
Ideal for mowing slight rolling hills and several obstacles up to 4 acres
Expand your mowers capabilities: full lineup of premium attachments and accessories include baggers, mulch kits, carts and many other attachments (sold separately)
Cub Cadet Ultima ZT1-54 comes fully crated and requires some assembly upon arrival
The Strongest Warranty in it's class 3-year / unlimited-hour warranty. Plus, limited lifetime warranty on frame and fabricated deck shell.
36 in. 4 Burner Hard Top Griddle, 1866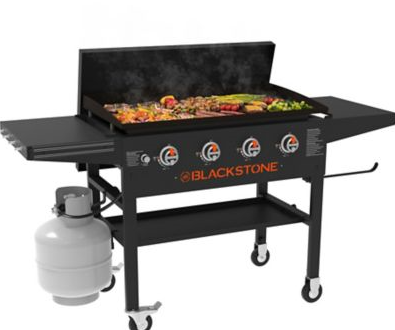 Product Details
The Blackstone 1866 36 in. 4 Burner Hard Top Griddle is the perfect addition to your grilling tools and accessories. The burner hard top griddle measures 36 in. and features a hard top for durability. This hard top grill also includes 4 burners for optimal cooking space.
Hard top griddle measures 36 in.
Includes 4 burners for optimal cooking space
Hard top grill for durability
Gun Safe, 26-Gun Capacity, TS26-45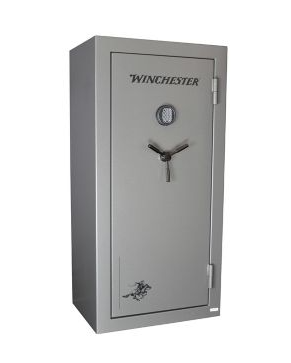 Product Details
Ensure top-notch protection with this gun vault! The Winchester TS26-45 Gun Safe is built with the proven security and fire protection expected of a Winchester safe in a size that fits into nearly any location. With a 3-point vault handle, this gun safe has a sleek finish. Complete with a 45 minute fire rating, nothing can harm this gun safe box!
45 minute at 1400° F fire rating
Gun safe holds up to 26 long guns
Electronic lock on gun safe comes with override key
3-point vault handle on gun safe box
(8) 1 in. solid steel locking bolts
Gun vault comes in gun metal gray finish
Outside dimensions: 57 in. H x 28 in. W x 20 in. D
Weight: 367 lb.
Lock: 1-year from the purchase date; One override key is provided with each safe; Replacement keys are shipped at $50 each, plus S&H; Safe: Limited Lifetime on the materials and workmanship; Locking System: 5-years from purchase date; Includes the handle and spokes, bolt work mechanism and locking bolts
Sentinel Chicken Coop, MDC001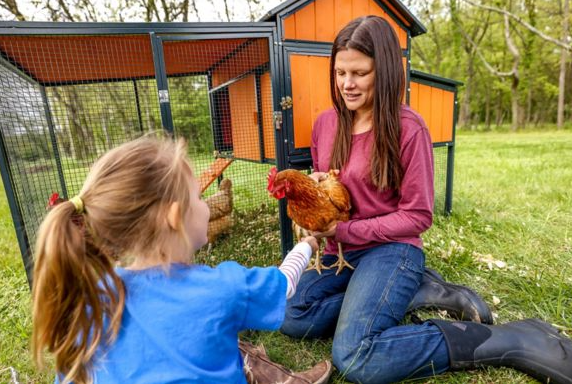 Product Details
Give your chickens a safe and cozy home with the Producer's Pride Sentinel Chicken Coop. This steel framed chicken coop comfortably houses up to 6 chickens. Featuring an extended roosting bar and three large nesting boxes, your chickens will have all the space they need without the threat of predators.
Powder coated all steel frame
Reinforced thick wood panels
Predator resistant door latches
Sliding door for chicken coop entrance
Solid wood ramp
Easy to clean metal slide-out tray
Access doors on both sides of coop
Asphalt roof reinforced with wood
Pre-drilled holes and pre-assembled panels
Contains three large nesting boxes
Accommodates up to 6 chickens
American 12 ft. Jon Boat, 11010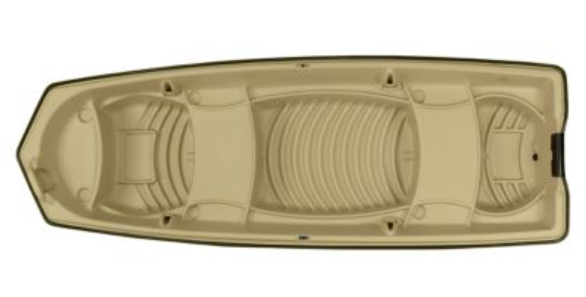 Product Details
The lightweight Sun Dolphin American 12 Jon Boat has everything you need to stay on the water all day long. Stash your gear in the extra space on the bow and stern and still have room for a cooler filled with bait or snacks. Set your rods in the built in rod-holders and sit back as you wait for the fish to bite.
A-Frame Patio Swing, Stained, DS6011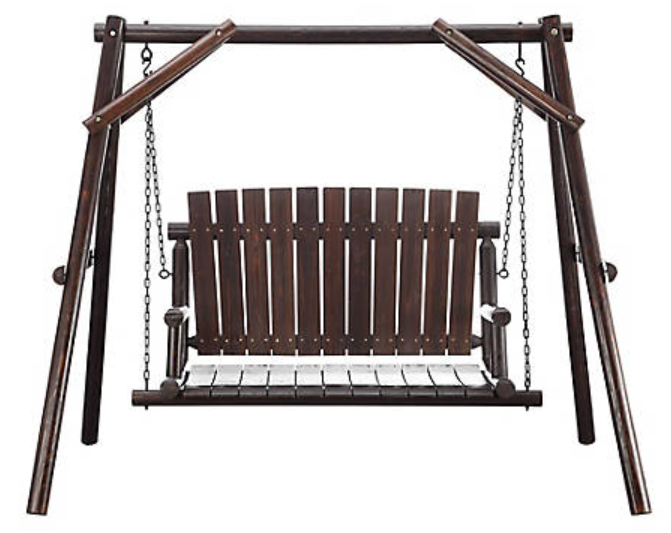 Product Details
It's the seat on the porch that everyone fights for. The Red Shed A-Frame Patio Swing is a fun rocker that's made from superior wood for longer lasting use. This patio rocker offers more comfort and has a universal design making it perfect for any yard.
Patio swing is easy to assemble
For indoor and outdoor use
Adult ATV, 200cc, AT200-B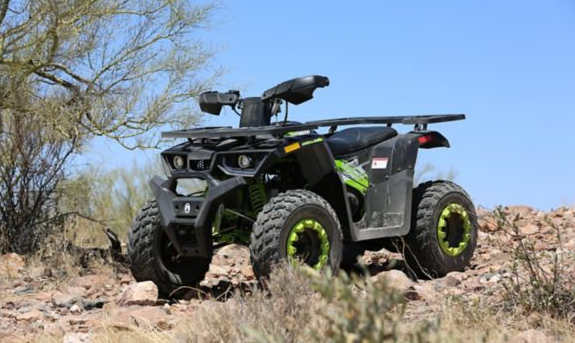 Product Details
The new Coleman Adult ATV is what you have been waiting for. Capable and easy to operate, this ATV features an electric start and automatic transmission that will get you up and running in no time. Front and rear brakes in addition to headlights and a tail light help to ensure your safety while riding. You will be ready for the trails, farm or hunting camp with this amazing adult ATV.
Electric start gets the ATV going in no time
Digital speedometer is easy to read
Automatic transmission ensures a smooth ride
Front and rear brakes make the adult ATV very safe
Adjustable suspension ensures the vehicle navigates terrain well
Headlights and tail light help illuminate you and where you're going
90 day warranty
Recommended for riders ages 16 and up
200 lb. max load
196cc Mini Bike Extreme, Tac Black, CT200U-EX V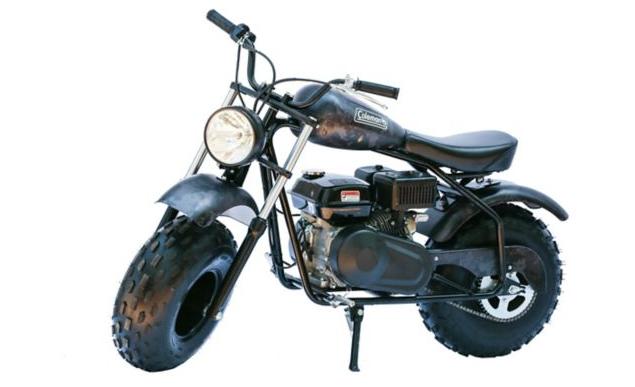 Product Details
The Coleman CT200U-EX V 196cc Mini Bike Extreme is the newest color to our proven and most reliable mini bikes available. This bike is great fun and can keep you and your family entertained and outdoors. Coleman Powersports has been the leader in mini bike production for years and stand behind their products. If you are looking for something fun around the yard, farm, local trails or the hunting camp this bike will be ready when you are. The CT200U-EXV is on the BILT app for easy assembly instructions and warranty registration, just search Coleman Powersports and look for the CT200U-EXV and you will find an amazing resource.
Same Bike as our as the CT200U-EX with over 1,330 FIVE STAR REVIEWS!!!
New Veil Camo Tac Black
Easy pull start operation
Powerful 196cc engine
Front shock suspension and low pressure tires
Sturdy metal frame
Rigged and proven clutch, jackshaft and chain drive
Hand operated rear drum brake
Faux gas tank provides utility storage
Parts and service readily available
Load capacity – 220 lbs
MUST ADD OIL
This unit is can be found on the BILT app by searching Coleman Powersports for easy assembly instructions and warranty registration
90 Days
20V MAX Cordless Drill/Impact Driver 2-Tool Kit, PCCK604L2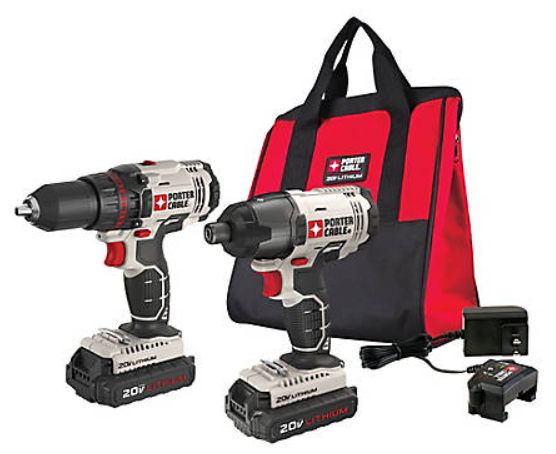 Product Details
Power through medium to large building projects with the 20V MAX* 1/2 in. Cordless Drill and 1/4 in. Impact Driver Combo Kit. Both tools feature high-performance motors and a lightweight, compact design so you and your tools have the power to finish the job from start to finish. Professional-grade 1.3Ah batteries are included for increased runtime. Ergonomic handles, bright LED work lights, and convenient bit storage round out this combo kit so you can complete your drilling and driving needs the right way, every time.
DRILLING AND DRIVING POWER: Cordless Drill/Driver's high-performance motor delivers 283 UWO and 0-350/0-1,500 rpm; Impact Driver delivers 1,450 in-lb of torque, 1-2,800 rpm, and 0-3,100 bpm
EASY ONE-HANDED BIT CHANGES: Quick-release 1/4 in. hex head chuck
DESIGNED for TIGHT SPACES: Both tools feature a compact build for maximum workspace maneuverability
COMFORTABLE USE: Both tools include ergonomic handles for extended tool use
VISIBILITY IN DIM CONDITIONS: Integrated LED work light enhances workspace range of vision on both tools
STORE BITS with EASE: Both tools include bit storage compartments
BATTERIES INCLUDED: Professional-grade 20V MAX* 1.3Ah Lithium Ion batteries deliver increased runtime
(1) PCC601 Lithium Ion Drill/Driver (1) PCC641 Lithium Ion Impact Driver (2) PCC681L Batteries (1) PCC699L Standard Charger (1) Standard Small Kit Bag (1) Double Ended Screwdriving Bit (1) #2 Phillips Bit Tip
3 year limited warranty / 1 year free service / 90 day money-back guarantee
24-Gallon Portable Air Compressor, 8 in. Solid Rubber Never Go Flat Wheels, PXCML224VW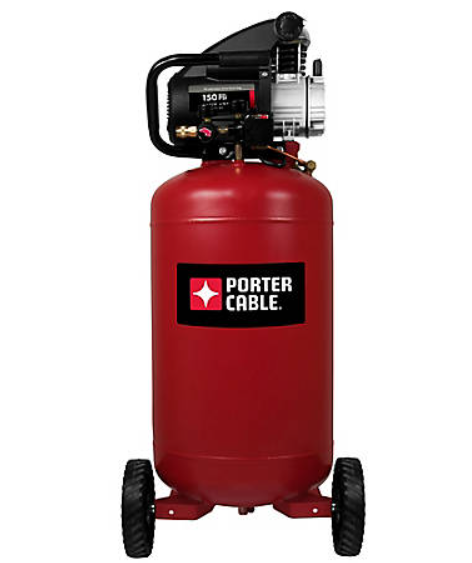 Product Details
The PORTER-CABLE PXCML224VW 24-Gallon Portable Air Compressor features a 1.5 HP heavy-duty induction motor with a long-life oil-lubricated, direct drive pump that delivers 150 max PSI, 4.5 SCFM at 40 PSI and 4.0 SCFM at 90 PSI. This portable air compressor will operate a wide variety of pneumatic tools for automotive and agricultural applications as well as your DIY projects around the home.
8-inch solid rubber never go flat wheels make the air compressor portable while the narrow horizontal configuration gives the compressor a smaller footprint, enabling it to be stored nicely in a corner taking up less space in your shop or garage
Conveniently located regulator and dedicated tank and tool gauges
Air compressor is shipped with high-quality compressor pump oil for optimum performance and long-life
2 year limited warranty on pump; 1 year all other components
20V MAX LI-ON 8-Tool Combo Kit, PCCK6118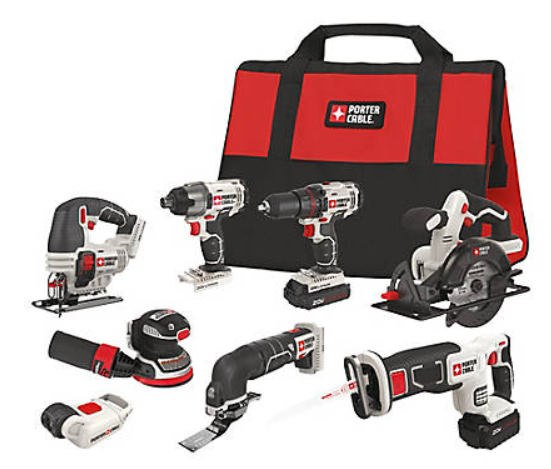 Product Details
Tackle a wide variety of jobs with the 20V MAX* 8-Tool Combo Kit. Ideal for professional contractors, carpenters, trade workers, and do-it-all homeowners, this kit enables you to deliver top-tier work without the hassle of extension cords. It includes a 1/2 in. Drill/Driver, Circular Saw, Reciprocating Saw, 1/4 in. Impact Driver, Jigsaw, 5 in. Random Orbit Sander, Oscillating Tool, and Pivoting Flashlight so you have the power, versatility and durability you need for a solid day's work. This kit is rounded out with 1 3.0Ah battery, 1 1.3Ah battery, 1 20V MAX* charger, and a storage bag to keep your tools organized.
DRILL/DRIVER: Features 2-speed gearbox (0-350/0-1,500 RPM), compact design, and built-in LED work light
IMPACT DRIVER: Provides 1,450 in-lbs max torque at 2,900 RPM and 3,000 BPM, and is equipped with a quick-release chuck
CIRCULAR SAW: Features high-performance motor (3,700 RPM), 5-1/2 in. 18-tooth carbide blade, and 50° beveling shoe
RECIPROCATING SAW: Features high-performance drivetrain (7/8 in. stroke length), tool-free blade release, and variable speed (0-3,000 SPM)
OSCILLATING TOOL: Provides tool-free accessory change and variable speed up to 18,000 OPM for sanding and cutting versatility
FLASHLIGHT: Compact design pivots for hands-free lighting
JIGSAW: Variable speed (0-2,500-SPM) provides speed control for clean and accurate cuts
RANDOM ORBIT SANDER: Orbits 12,000 times per minute for efficient material removal
3 Year Limited Warranty 1 Year Free Service 90 Day Money Back Guarantee
Objectives of the Tell TractorSupply customer satisfaction survey
As one of the leading retail companies in the US. Tractor Supply Company is well aware of the crucial importance of keeping. Its customers satisfied on a continuous basis.
The survey provides you a chance to give your honest feedback about your recent shopping experience at any of the Tractor Supply or Del's stores in the USA, as well as for your online shopping experience.
The company very interested in all the feedback it can from its customers around the country. Which why it offering this attractive chance of winning a $2,500 gift card of one of the participants in the survey per month.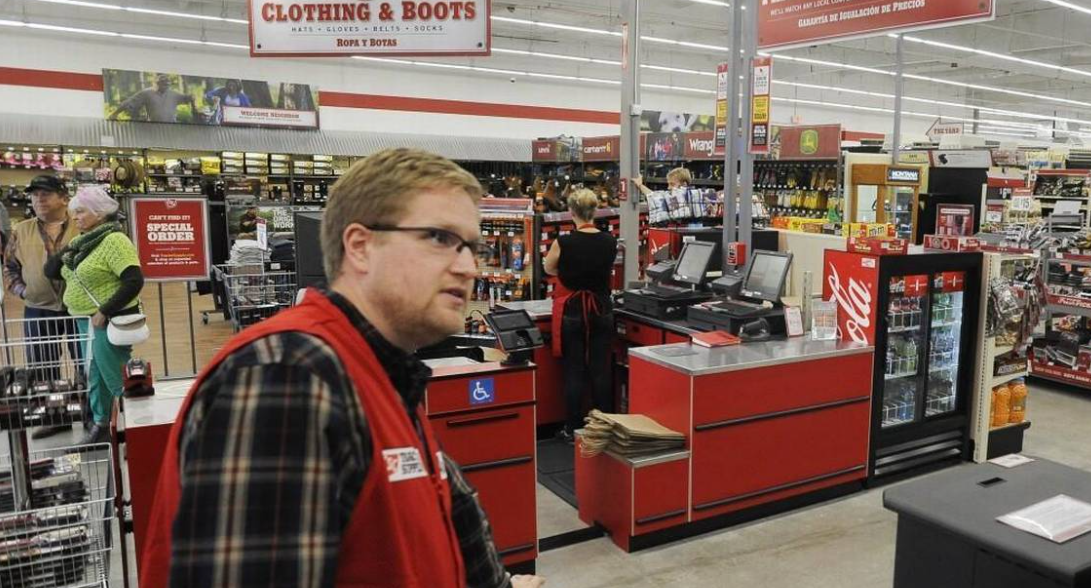 The objectives are:
To find out how the products and services offered by the company can improved.
To resolve any issues with specific products, stores, employees, or other ongoing problems.
To improve the friendliness and usefulness of the employees and to assess their performance.
To ideas about new products that can added to the product line of the Tractor Supply and Del's stores.
To improve the cleanliness and the infrastructure of the stores.
To improve the online shopping process.
To attract more customers and to enhance the loyalty of existing customers.
To get ahead of the competition when it comes to customer satisfaction and sales.
To adjust the prices in accordance with the expectations and feedback when possible.
To improve the discounts and coupons policy of the retail chain
To make Tractor Supply the leading retail company in its department in the US
As you can see, by taking the online www.telltractorsupply.com customer satisfaction survey. You will not only get a chance of becoming the lucky winner of one of the 12 monthly prizes worth $2,500. But you will help Tractor Supply and Del's to improve their products. Services and to make your personal shopping experience at their stores an even better one!
This is a win-win situation for both you and the Tractor Supply Company. Plus, it requires very little effort and time to complete. So don't hesitate to complete the Tell Tractor Supply survey right away!
Who knows, you can be the next lucky winner who gets to spend a whopping $2,500 on your favorite products and goods at your local Tractor Supply or Del's store this month!
Final words
Providing your honest thoughts and impressions. Your latest shopping experience at Tractor Supply will take up only a few minutes of your time. But it means a lot to the Tractor Supply Company which takes all feedback very seriously. In the end, your opinion can make a difference, and can actually help make your own personal experience with this retail chain even better in the future!
So, why not go ahead and complete the brief online customer satisfaction survey at www.telltractorsupply.com right away?
You will immediately receive the opportunity to participate in the draw for the monthly sweepstakes draw for a prize of $2,500 which you can spend in any Tractor Supply or Del's store in the country.
Just remember to save your receipt for your purchase next time you go to your local Tractor Supply or Del's store, or to check your e-mail for a link to the survey after you make an online purchase at www.tractorsupply.com.
This code will allow you to answer the survey questions and then become one. The participants in the monthly TellTractorSupply sweepstakes organized by the retail company.
After all, you never know – you may be the next lucky winner of that valuable $2,500 gift card next month. So don't hesitate to take the www.telltractorsupply.com survey now!
Conclusion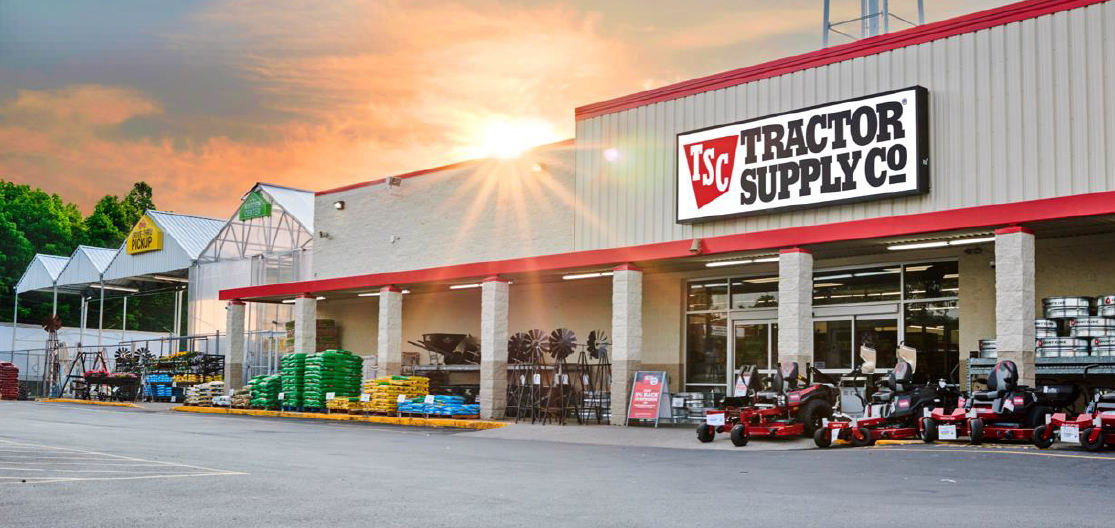 Tractor Supply Company wants to remain in touch with its customers to know their opinions and comments. Further, this survey will help the company improve its product, services, and other factors.
It will also make its payment and online shopping process better with the reviews of the people. Answer correctly to every question and get a chance to win a gift card of $2500 from the store.
FAQ
What is Tractor Supply's mission?
Tractor Supply's mission statement is "To work hard, have fun and make money by providing legendary service and great products at everyday low prices."
What industry is Tractor Supply in?
Tractor Supply is in the retail industry.
What type of company is Tractor Supply?
Tractor Supply is a public company.