Background A couple of years ago Singapore Airlines retired its oldest A380s, welcomed five new ones and retrofitted the rest with a new layout, cabin and seats in all classes (economy, premium economy, business and first).
Singapore Airlines' new A380: All classes reviewed
This flight was operated under the Singapore Government's VTL (Vaccinated Traveller Lane) program so all travellers on the flight were fully vaccinated and pre-approved. More details of this can be found online at
Visiting Singapore with the VTL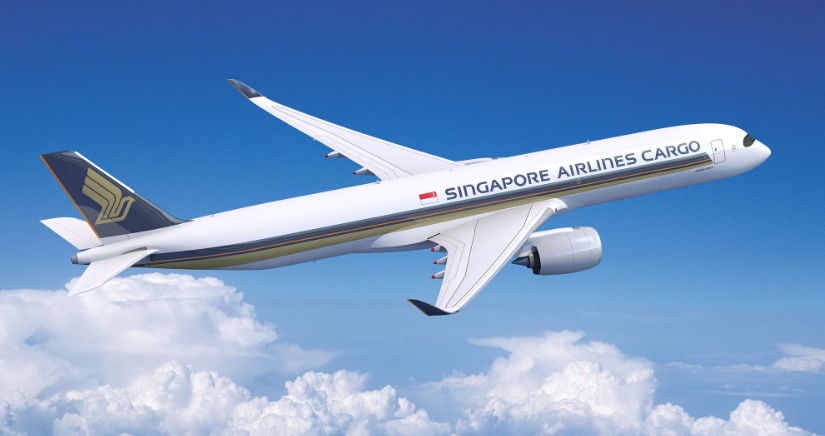 Check in
Whilst I had checked in online and chosen a seat I was unable to get my boarding pass as all paperwork under the VTL needs to be checked at the airport. I arrived at 0910 for my 1055 flight at London Heathrow Terminal 2 which was busy with queues everywhere. The Singapore Airlines check in area had a long queue for economy and I had 16 people in front of me for the one premium economy desk. Singapore Airlines staff were on hand checking paperwork before people reached the counter and the queue started to move quickly once the first and business desks became free. In total, I spent 30 minutes to get my boarding pass.
Boarding
It is a fairly long walk to the B Gates where the Singapore Airlines flights depart from. Boarding started at 1025 for first, business and premium economy. A bottle of water and care kit containing hand sanitiser, face mask and wipe was on a table on the jet bridge. Boarding seemed to go well, but due to an issue with passenger paperwork, it meant the flight pulled away 25 minutes late.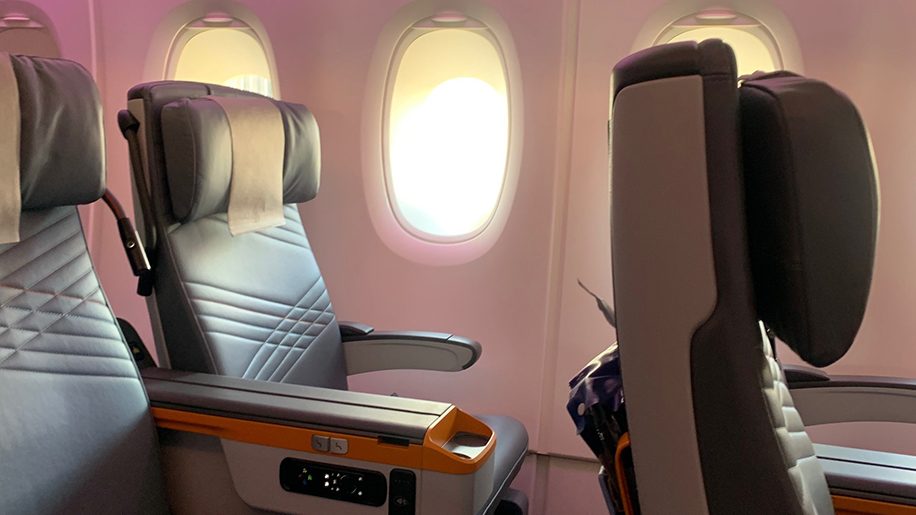 The seat
This A380 has the newer generation of PE seats which are not shown on the Singapore Airlines website. It was one of the most comfortable PE seats that I had tried with plenty of legroom.
The seat comes with a 3 pin (UK) power socket and 2 USB charging sockets (one in the screen and one between the seats at the rear of the armrest next to the headphone jack).
There is an adjustable reading light, generous back of seat storage for books etc, mobile phone storage, coat hook and contactless credit card reader.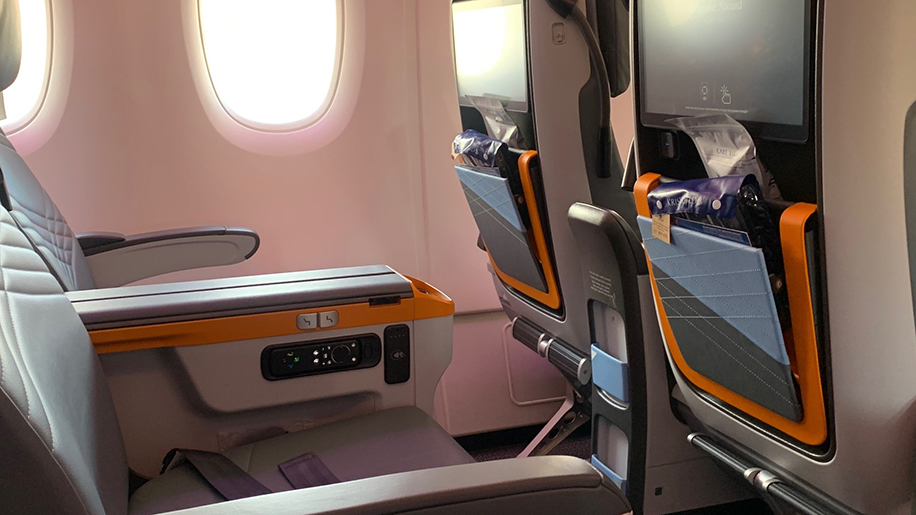 The seat is mainly grey with orange and blue trim. Space is generous and there is a vertically adjustable headrest with movable wings making it comfortable to support the head when sleeping. There is also a foot rest under the seat in front and a calf rest in the seat. At the front of the arm rest is space for a drink and the armrest itself contains a good size and sturdy table for working. A well thought out seat.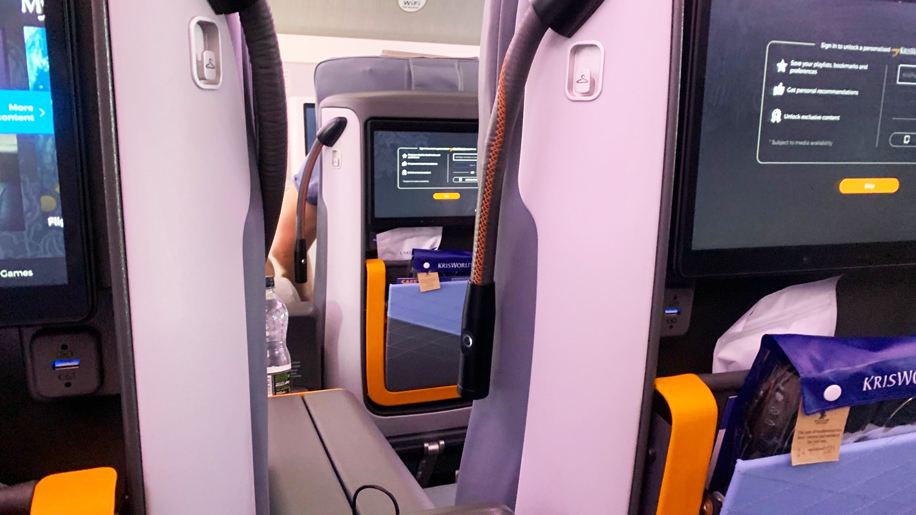 Best Seat
Depending whether you like a window or aisle the best seats are 31 A & C or 31 H & K. These are bulkhead seats and are at the front of the cabin with extra legroom. As the toilets are at the rear and there are no seats D-G in rows 31 and 32 there is little traffic in the aisles to disturb you.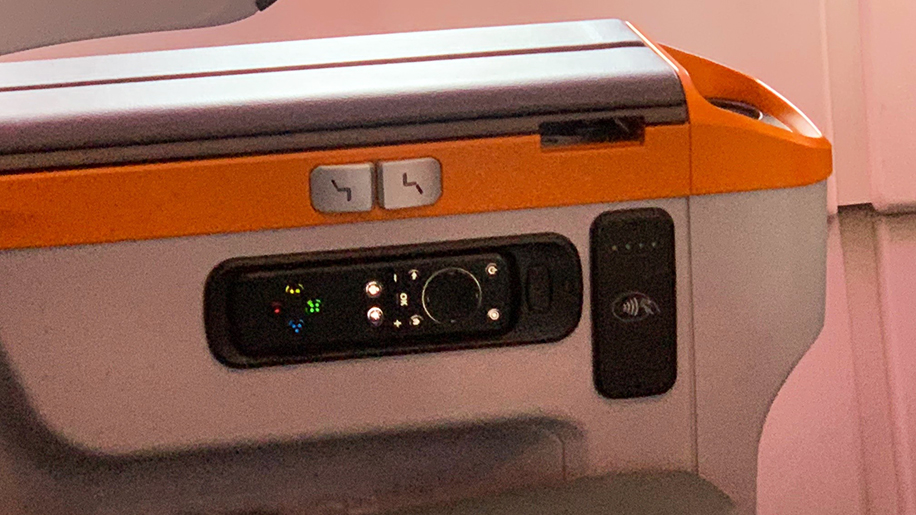 The flight
After almost 2 hours the food service started. On the tray was a tabbouleh salad and roll and a choice of 3 main courses. These were Lamb Rogan Josh, roasted basil marinated chicken breast with pasta and tomato sauce or fillet of fish with sambal sauce. I opted for the chicken which was tasty although it could have been hotter. For dessert there was a Salcombe Dairy popcorn ice cream.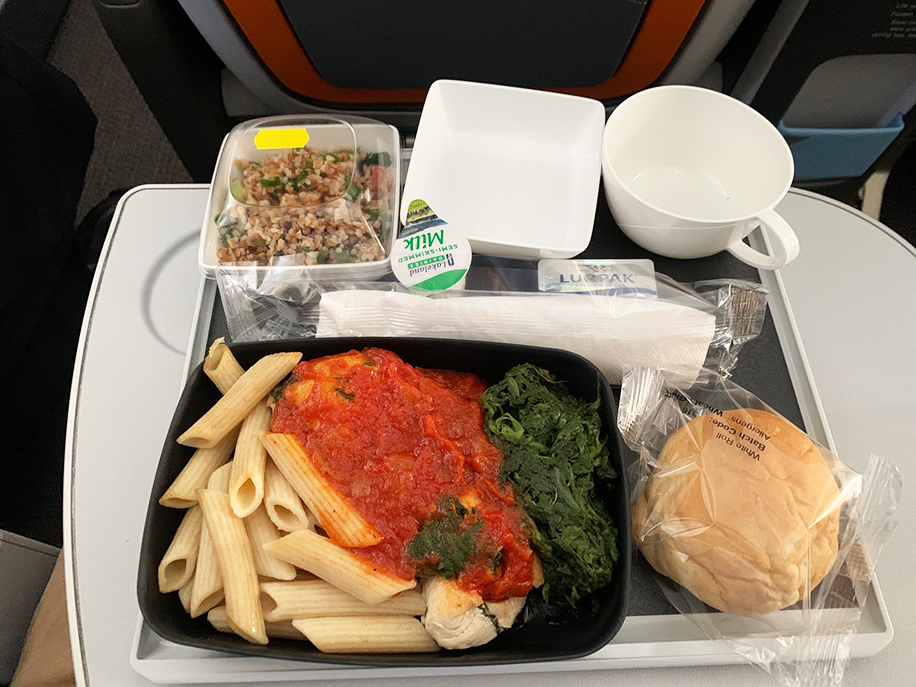 The IFE system was modern and easy to use with a large library of films, TV shows, music, podcasts, audio books and games. You control via a good size (13.3in/34cm) touchscreen. You are encouraged to be a Krisflyer member as you can then create and save your own playlists for future flights or watch films that you did not get to finish on an earlier flight. Members also get access to 'excusive content' although I was not sure what this was! You can also connect your device to the screen and watch your own content. A pair of noise cancelling headphones were provided.
The flight also has wifi. Passengers in First, Business and PPS members get 100M free. Customers in Premium Economy and Economy get 2 hours free for chat (whatsapp, wechat, messenger etc) if they are Krisflyer members otherwise you need to choose the package you want depending on your needs. On this flight there was an offer of 2 hours free so I used that to clear a few emails. Packages start from US$3.99 to US$15.99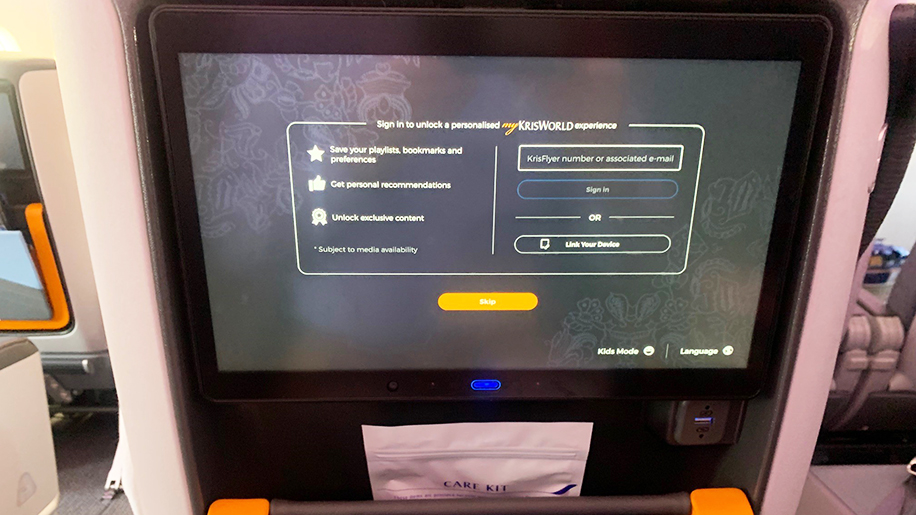 The one disadvantage of this flight is the timing as you take off in the morning and arrive at breakfast so for UK travellers there is no obvious sleep period. I tried closing my eyes a couple of times but sleep was elusive.
Throughout the flight snacks are available from the galley. This includes noodles, nuts, crisps, chocolate, biscuits and dried fruit.
2 hours before landing breakfast served. Yoghurt and mixed fruit served along with a croissant and choice of main course. These were Apple Crepe, Omelette with cheese and stir-fried Asian Noodles. I opted for the noodles which was nice, but again could have done with being warmer.
Arrival
We landed at Changi at 0805 having made up some of the delay. Being at the front of the plane meant. We off quickly and at immigration in a few minutes after the doors had opened. There were a few people at each immigration desk and I was soon in the baggage hall. I had to wait about 10 minutes for my bag but it was one of the earlier ones so I was off for my pre-booked arrival PCR test. There no queue, although judging by the barriers there can substantial queues at times, and my test done in a matter of minutes. I was at my hotel within an hour and 20 minutes of landing. Not bad! Now there was just the wait for test PCR results. Which came through within 5 hours (although they say can take up to 24 hours).
Verdict
One of the best premium economy seats on the market. That along with attentive service throughout the flight makes this a good choice for Singapore and beyond.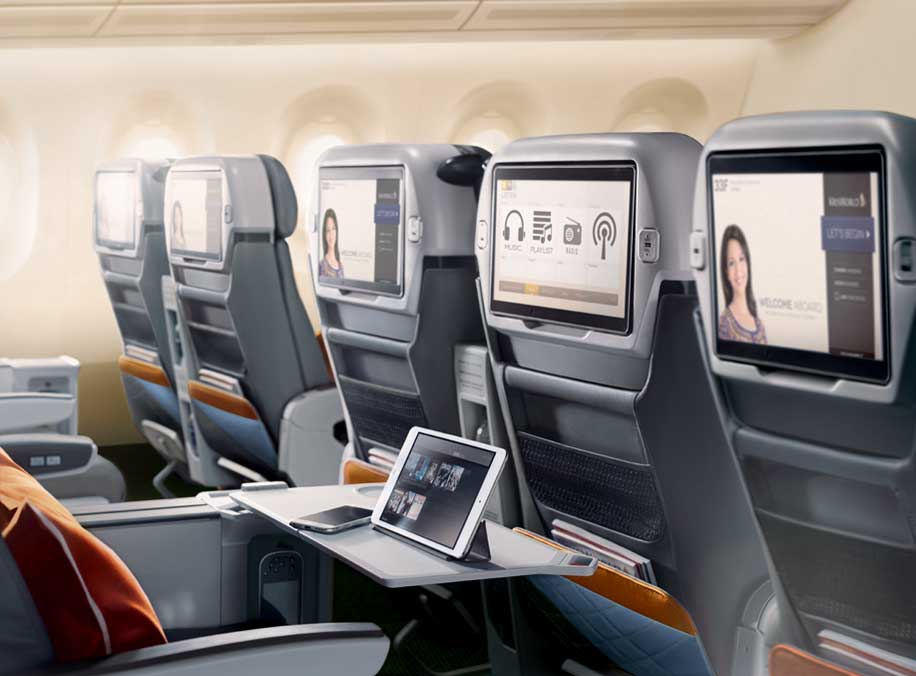 PRICE
Internet rates for a return premium economy flight from London to Singapore start at £1,345 – book by 31 March 2022.
Flight TIME
12hours 55 minutes
Configuration
2-4-2
Seat width and pitch
19.5in/49.5cm; 38in/96.5cm
Seat recline:- 8in/20cm