Singapore Airlines has some 19 A350s in its fleet, and orders for another 50 or so.
This flight was an overnight return flight from Houston into Manchester, a flight time of some eight hours. To read the review of the outward trip in premium economy from Manchester, see
The Lounge
I was a transit passenger at Houston, so made my way to Terminal D to find the departure gate. On the way, I visited the Centurion Lounge, accessible because I have a platinum American Express Card. The review with pictures is here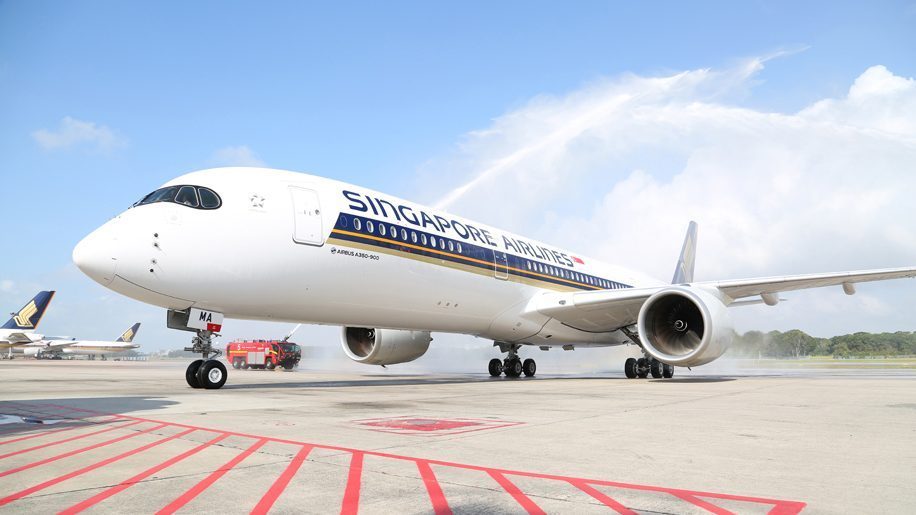 I then visited the United Club Lounge which Singapore Airlines uses, being part of Star Alliance. This is a modern refresh of the normal United lounges. I will post a short review later.
If you want to see a video review of this flight, I filmed a review from the cabin which is available for viewing below (hosted on Perfect Idea Info)
Boarding
We boarded from Gate D1. There were various demarcated queues including one for business class passengers and top tier card holders. Boarding commenced at 1815 and was efficiently done.
I was in seat 21K in the second of the two cabins. I was directed to my seat and my jacket was taken. Boarding for the rest of the aircraft comes through this second cabin, so you have to be quick getting your bag into the overhead locker or you will be in everyone's way.
In this three-class configuration there are
187 economy seats
24 in premium economy and
42 in business
There is no first class.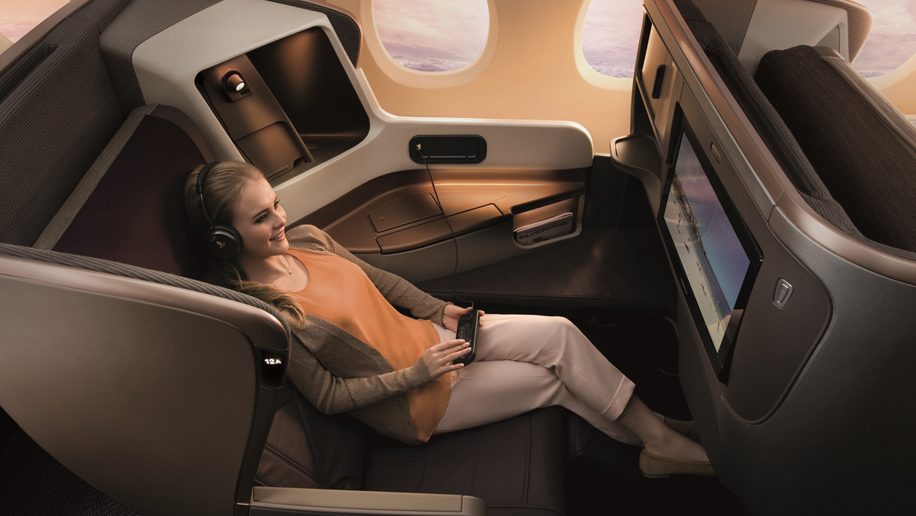 The seats are very similar to those on the B777-300ER. Business class seats are arranged in a four-abreast, 1-2-1 configuration and split across two cabins. The first, located at the front, features 26 seats, while the one behind where I was sitting for this trip contains a further 16.
Seat dimensions are similar to those on the B777-300ER, with 29 inches of width and a pitch of 55 inches. The product itself can be turned into a full-flat bed, but this requires manually flipping the seat over. For some flyers, this is a very bad thing. They like to read and gradually recline the seat as they become tired, and do not like having to stand up when they are about to fall asleep and have a member of crew come and convert the seat and then make the bed. I think there's a lot to this – and I prefer seats that don't require flipping over like this one and the Virgin Atlantic seat, but once it has been done, the bed is very comfortable.
Automation in the seat comes from various pre-set positions including "lazy-Z" and "sundeck" positions. I am about average height (five foot eleven inches) and so had no problem resting my feet on the ottoman seat, but I know that the lack of a leg rest or foot rest on the seat is irritating for those who are shorter, since your feet can be left hanging when the seat is slightly reclined.
In-seat amenities include an 18-inch LCD monitor, vanity mirror, a "business panel" consisting of a full suite of connectivity ports, stowage space and reading light. In-flight wifi is also available, with the A350 having a connectivity service provided by Panasonic.
One key point to consider is that there are no overhead storage compartments along the centre aisles of the business class cabins. While this provides plenty of headroom for customers while making the cabin appear larger, customers planning on carrying large baggage should consider the window seats instead.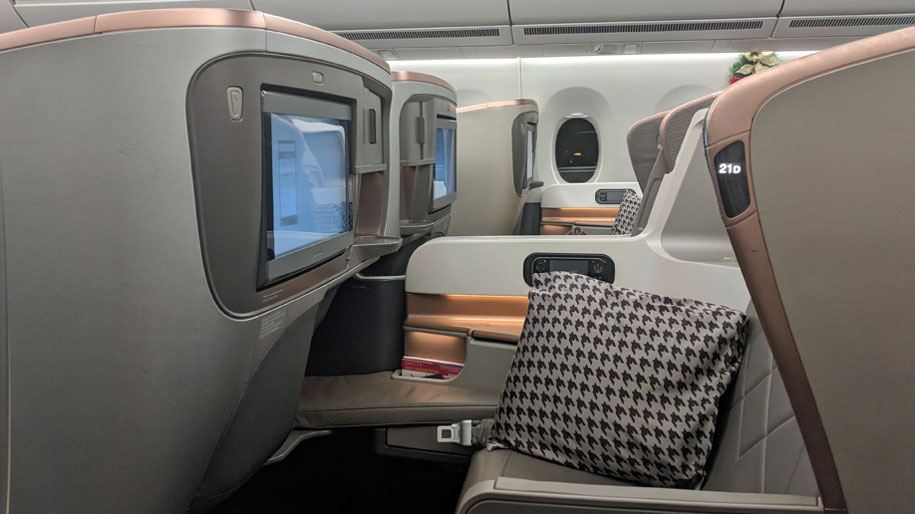 A350 Passenger Comforts
We've reported on this in many pieces previously, but it's worth nothing that the A350 is a new generation aircraft. It is very quiet in flight, and is also efficient in terms of fuel – Airbus says up to 25 per cent more efficient, as compared to other aircraft types of this size.
The business class seat is fully-leather, with a width of 29 inches. The front row seats are different from the other seats in the cabin, and depending on which seat you are in when you recline you will be in a different position in a kind of herringbone configuration, though when viewed from above the seats appear to be completely forward-facing. , is no different.
Each seat in business class comes with a large, soft cushion that acts as a very comfortable lumbar support. The 18-inch IFE monitor is located within arm's reach of the seat but the best way of controlling it is with a detachable touchscreen controller located on the side of the seat to select their entertainment choices. I found this interface took quite a lot of getting used to, and several times on the journey over in premium economy and on this return flight I inadvertently stopped a film or quit it or hit fast forward or rewind without meaning to. This may be my age, however.
Two compartments are located at the arm rest area and pop open at a push. The first is for the tray table while the other holds the noise-cancelling headset. The tray table is excellent – large and sturdy – perfect for any business traveller wishing to get some work done in the air.
Seat controls are located on the other side of the seat, and are responsive. Passengers can control everything from their seating position and reading lights. A "Do Not Disturb" button is also available, as well as one to request assistance.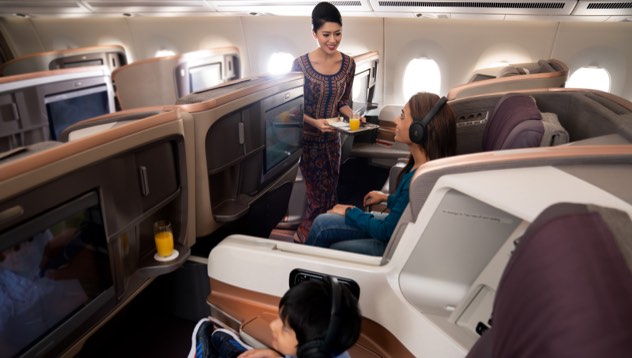 Flanking the sides of the IFE monitor is a coat hanger, vanity mirror as well as a small storage area. Passengers seeking to store larger items can do so under their seat as well as the area next to business panel on the side.
The business panel features a power adaptor, along with two USB ports, HDMI out, and an iPod plugin. A reading light is conveniently located above the panel too. Meanwhile, the magazine rack is located at the front side of the seat, and this came with the latest issue of the Krisworld magazine and a safety card for the A350-900.
The Flight
This flight was a night-time one, and it seemed that most passengers wanted to get some rest (including me). In addition, in the second cabin there was only one other passenger (this was a Tuesday evening departure). My intention was to try the food and then get some sleep.
Shortly after take-off we were offered hot towels and welcome drinks, along with the menu – highlights of which follow.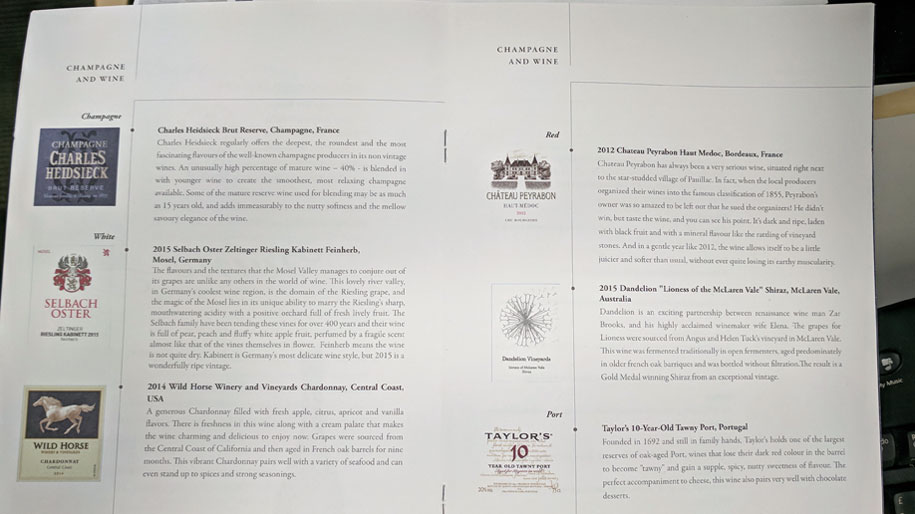 Food and drink
Dinner
Tina Tataki salad with mesclun and balsamic dressing
Main course:
Surf and turf – seared scallop and braised beef short rib with sautéed zucchini-squash and mashed potatoes
Char-siew and wanton noodle soup – egg noodles in rich broth with pork, shrimp dumplings and leafy greens
North Indian Chicken biryani – chicken baked in flavoured spiced rice
Pan-fried sea bream fillet with morel cream sauce – wilted spinach, arror and fondue potato
Dessert:
Haagen-Dasz ice cream,
Apple crumble cake with cinnamon whipped cream,
Brie, Saga classic blue and manchengo cheese with garnishes, grapes and biscuit
The presentation of the food and wine was impressive, with food being brought to the table, but I also appreciated the speed with which the service was carried out – easier, perhaps, since it was very lightly loaded, at least so far as this rear cabin was concerned.
I had the main course of chicken biryani which was delicious and just what I needed since I was tired and so needed some spice in my food to appreciate it. I then finished with the ice cream and then went to the galley to brush my teeth and ask if the seat could be turned into the bed. By the time I returned, this had been done.
Throughout, the flight attendants were excellent. They introduced themselves and were always on hand to help.
The bed takes a little getting used to, since you have lots of room right the way until it narrows for the footwell.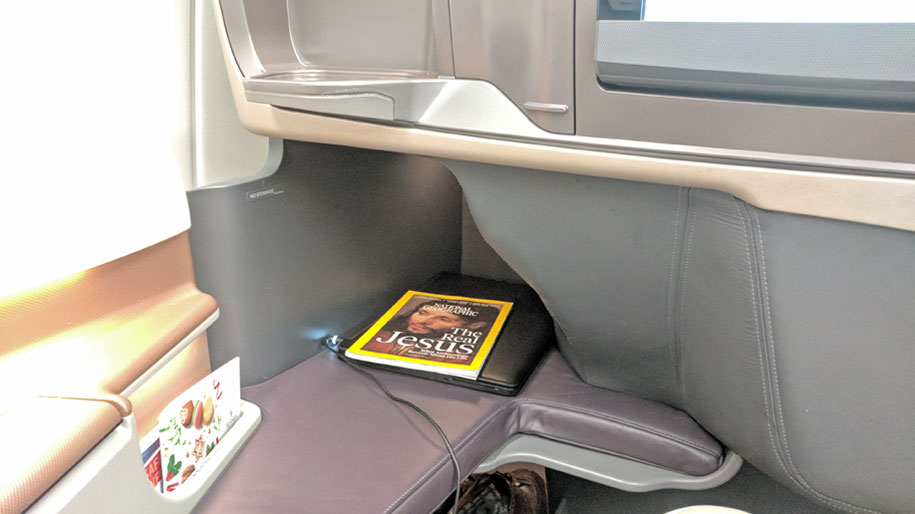 It's not difficult to get comfortable, though I found lying on my side with my knees bent meant my feet didn't feel so trapped. I also found it strange that the seatbelt lay across my upper chest rather than round my waist, and was also quite tight since the mechanism draws the belt that way rather than reaming loose. It's probably much safer that way but again, was unusual.
When I woke, about 90 minutes before landing, I discovered a bottle of water by the side of the bed.
I had taken the chance of using the Book the Cook service for both the dinner and the breakfast, and so for breakfast chose some different noodles from the ones below (mine were chicken noodles). I wasn't hungry so declined the other options apart from the coffee.
Breakfast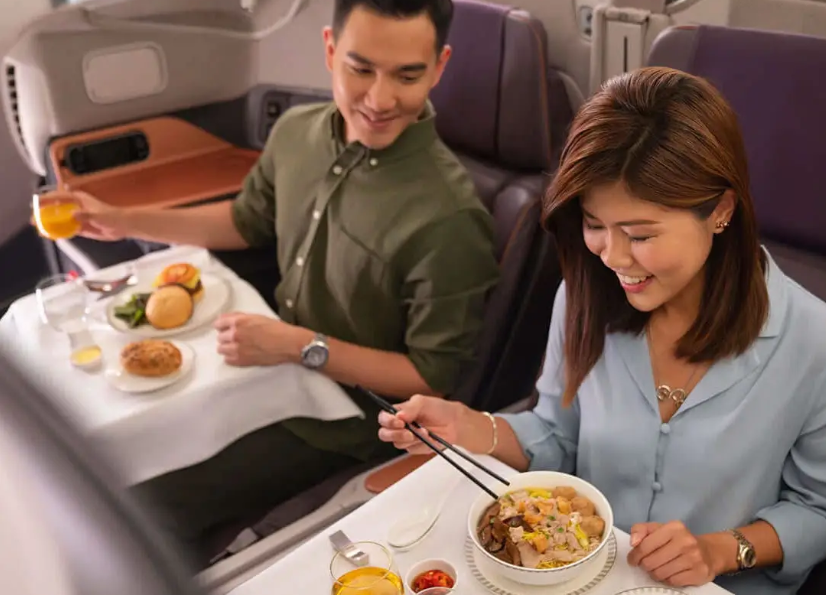 Bircher muesli, all brand, fruit yoghurt and natural yoghurt,
Parsley cheese omelette – pan friend chicken sausages, tomato, sautéed mushrooms and roasted tomatoes
Braised beef brisket with noodles
Belgium waffle
Assorted bread rolls and breakfast pastries.
Coffee with tea.
Arrival
We arrived into Manchester slightly early and had no delays getting off the aircraft.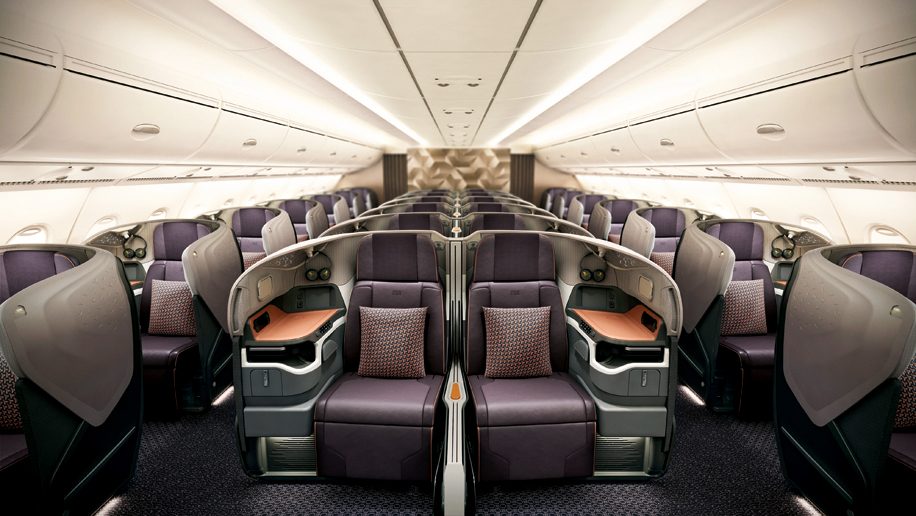 Verdict
This was a very well-organised flight where the flight attendants made sure that everything that needed to happen did so, on time, and with the minimum of fuss.
More generally, this is one of the best business class seats on one of the best long haul aircraft. As noted, the service is exemplary, and the food and drink extremely good. The quirks of the seat are perhaps the only negative point – the fact that it needs to be flipped to be turned into a bed, and the lack of a foot rest for shorter flyers, but it really is an all-round superb business class seat and service.
Having flown in premium economy on the way over to Houston and been extremely impressed, business class needs to be something very special to justify the considerable price premium, but on the evidence of these two flights, it does justify the extra, if you have the budget.