signNow is one of the most popular electronic signature tools with over 45,000 customers. The application is robust and reasonably priced.
What is signNow?
With over 45,000 customers and 20 million users, signNow is one of the most popular electronic signature software solutions. It helps SMBs digitize and automate their document creation and approval processes. Features like templates, flexible signing, and proficient document storage save signNow customers time and money.
Pros And Cons
Pros
signNow allows you to edit and sign documents using a mobile application
signNow supports mass signatures and in person signing
signNow lets you to collect payments in documents through Stripe and Payeezy
Cons
signNow does not include a template or content library
signNow does not give you the ability to receive recurring payments through the platform
signNow's custom branding is limited to adding your company's logo – you cannot customize colors or the design of your documents
signNow Review Summary
signNow was founded in 2011 by Andrew Ellis and Chris Hawkins. The founders' vision was to build an enterprise-grade e-signature solution that scales with customers' workflows. Today, signNow has over 700 employees and is based in Brookline, Massachusetts.
signNow is an electronic signature tool that helps individuals and businesses create, send and sign digital documents. The platform includes the most important core features like legally binding signatures, templates, audit reports, multi-party signing, and document storage. The application is robust – it includes many nice-to-have features and options not found in most other solutions.
signNow is reasonably priced compared to its competitors in the market. Its plans range from $20 to $50 per user per month. This means you can save $10-20 per user per month compared to its top competitor, DocuSign.
signNow Pricing & Cost
signNow's pricing ranges from $20 to $50 per user per month. You can save up to 60% by purchasing an annual subscription. signNow also offers a free trial of its Enterprise plan for 7 days.
Business: $20 per user per month
Business Premium: $30 per user per month
Enterprise: $50 per user per month
airSlate Business Cloud: Contact signNow for a quote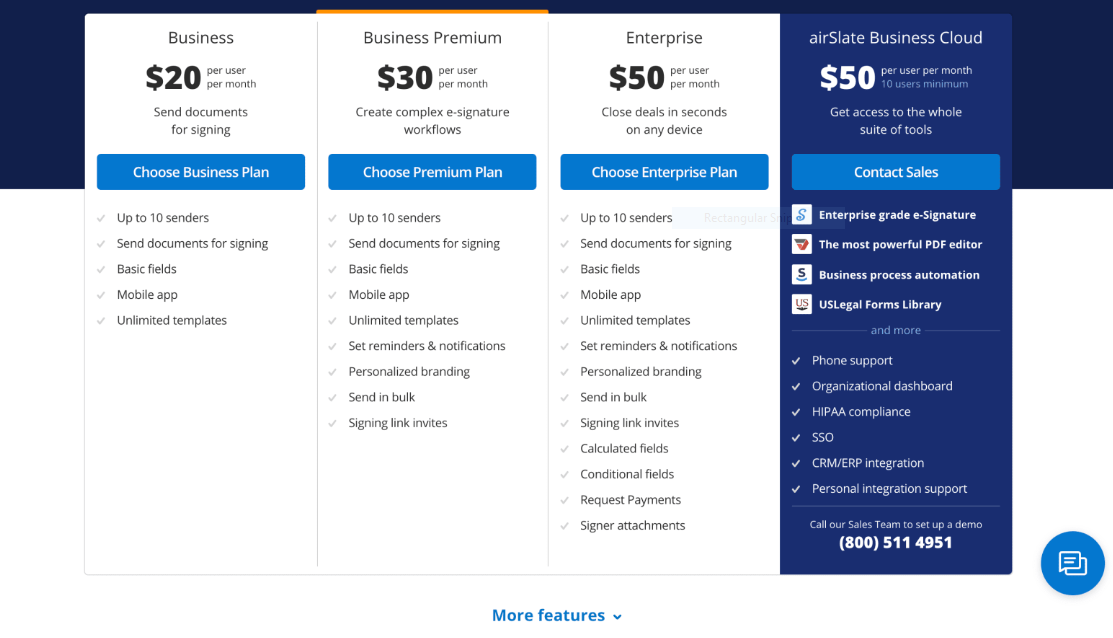 signNow Features
Below, we discuss the key features of signNow. We also include screenshots of the product to give you an idea of its design and architecture.
Templates & Document Editing
Two key components of electronic signature software are templates and document editing. signNow's application performs fairly well in terms of templates and document editing. The system is easy to use and comes with a high volume of features.
Templates
signNow does not come with pre-built templates, but it does allow you to create your own templates. Creating templates that you can reuse for commonly executed documents saves you time, and keeps your content consistent.
Creating and editing templates in signNow is intuitive and efficient. To get started, you upload any of the following 15 document types:

Document Editing
signNow's document editor allows you to add fields efficiently and includes features not found in alternatives. However, it does not let you directly edit the text copy of your uploaded documents. If you need to make changes to your document, you have to edit it beforehand and reupload it into signNow. This can be time-consuming and laborious.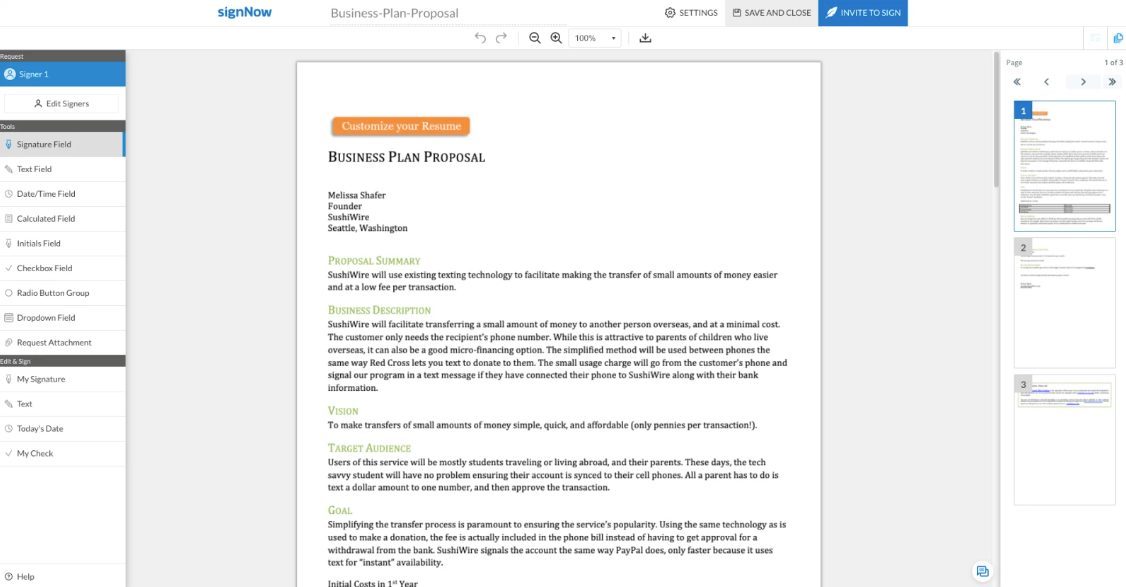 As seen above, signNow lets you drag and drop nine different fields, including legally binding signatures. You can also zoom, download your document as a PDF and navigate by your document's pages.
signNow also includes some nice-to-have features listed in the table below.
Feature:- Field Snapping
Description:- Helps you align and structure fields on a document
Feature:- Smart Fields
Description:- Fields that can autofill with information
Feature:- Payments
Description:- The ability to request payments within a document through fields or after signing
Keyboard Shortcuts
Description:- Helps you edit documents without a mouse
Multiple Languages
The interface used to sign documents in signNow can be translated into 22 languages besides English, which include:
Chinese (Simplified & Traditional)
French
Spanish
Italian
German
Japanese
Thai
Indonesian
Turkish
Russian
Document Workflow
Once you've finished creating your documents, you'll need to manage your document workflow. This involves the sending, signing, and storing of your documents.
Document Sending
There are several ways to send documents using signNow. This includes uploading a CSV file for mass signatures, generating a signing link for mass signatures, or in-person signing.
The most common method is sending documents via email. When you are ready to send your documents, signNow lets you customize a few sending features. This includes the email subject, message and who is CC'd.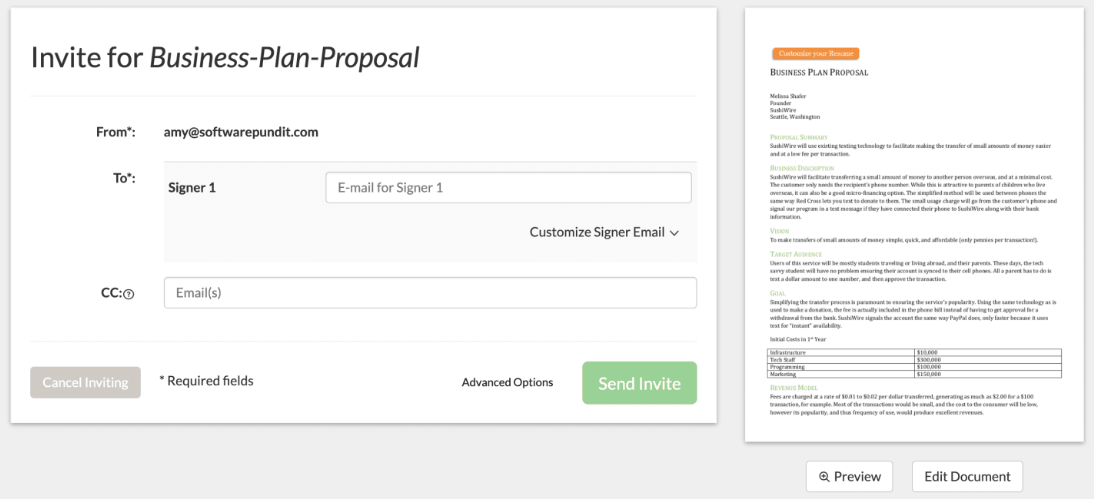 Besides those shown above, signNow includes additional features you can customize:
Add authentication requirements
Set automatic reminders
Set expiration dates
Redirect signers to a site after signing
Request signers to pay after signing
Set who receives documents and its attachments after signing is complete
Real-time Notifications and Reminders
After a document is sent, signNow will send you notifications through email and mobile. We recommend relying on email notifications because mobile notifications are not sent in real time.
You can set the kinds of email notifications that you and all recipients receive. Examples of these notifications include when a document has been sent, signed, and declined.
Document Signing
We found signing documents through signNow to be simple and efficient. For example, signNow includes a "Next" button which guides recipients to where their designated fields are in a document.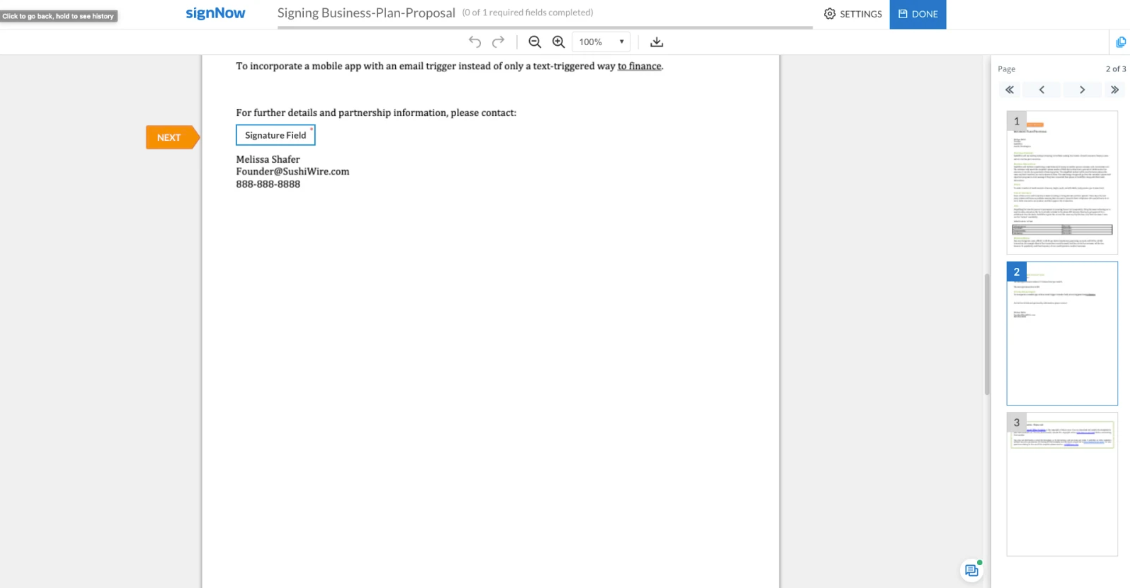 As seen above, signNow also includes these features to streamline document signing:
Zooming in and out of the document
Navigating the document page by page
Undoing and redoing signatures
The ability to decline signing a document
Downloading the document as a PDF
Viewing a document history
Changing the language of the interface
Document Storage
After your documents have been executed, you'll need to be able to efficiently access them. signNow includes document storage features not found in alternative software. This includes a search bar and the ability to create groups or folders. You can also organize documents by status, name, date, and how recently a document has been updated.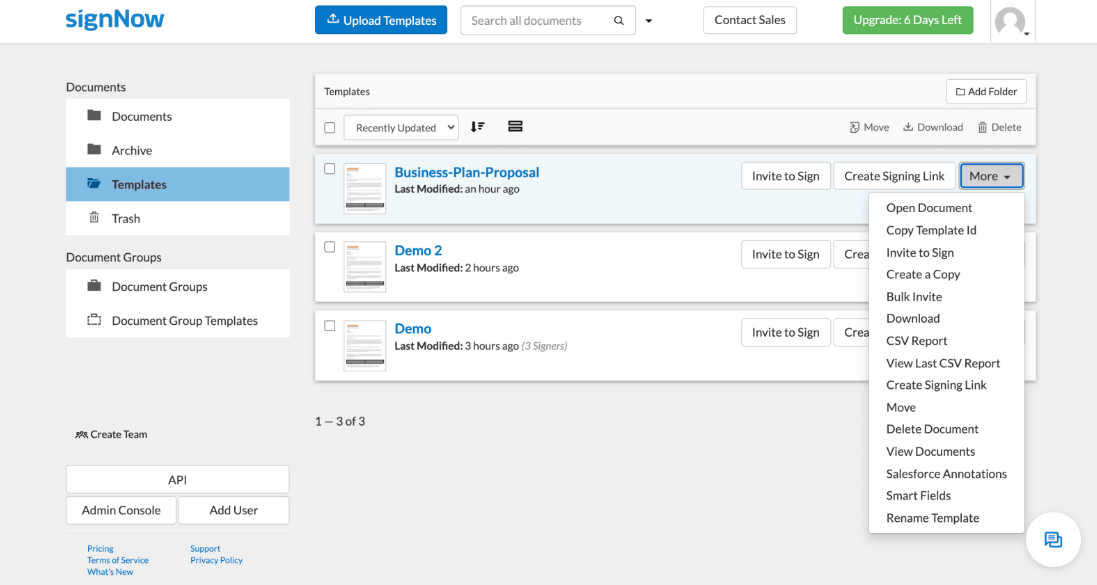 As seen above, signNow also provides shortcuts to different categories of documents. This includes your current documents, archived documents, your templates, and discarded documents.
Integrations & API
signNow has developed integrations and an API to help customers streamline their document workflows. These allow you to integrate your existing software applications with signNow, and build custom applications using signNow's functionality.
The signNow sandbox environment allows customers to test out its API, and integrate with over 40 applications. These include:
Salesforce
NetSuite
HubSpot
Google Drive
Dropbox
Box
Zapier
Legal & Security
Electronic signature software must come with specific legal and security compliances. We've listed those compliances below, and indicated the features offered by signNow.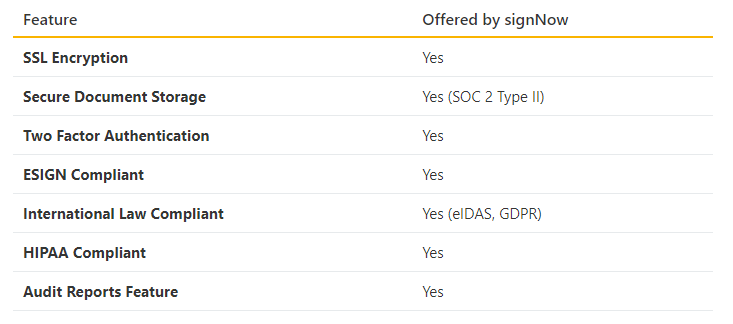 Audit Reports
Audit reports track the important activity and changes for each document. The audit reports are labeled as "Document History" in signNow. You can choose to download the report before or after a document is signed.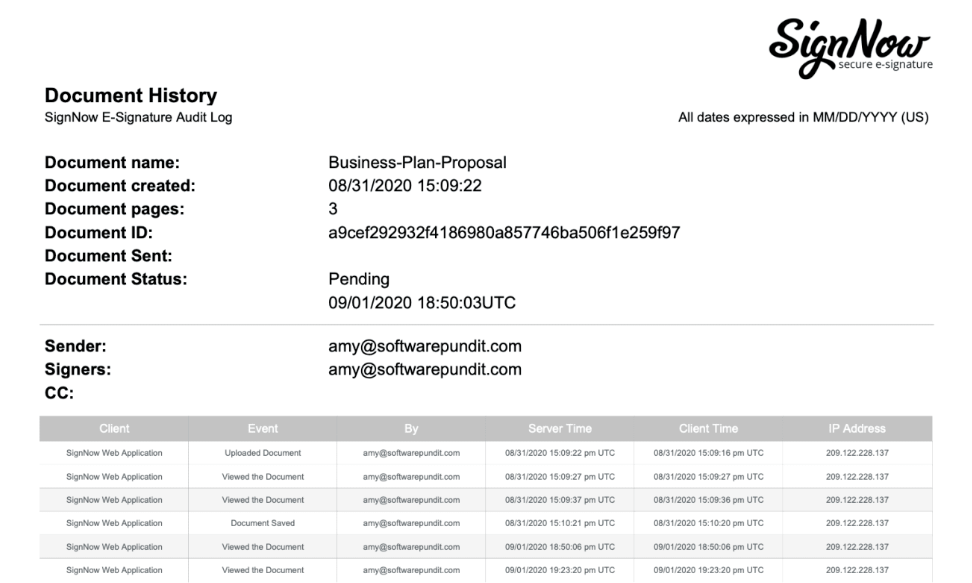 Mobile
signNow has a mobile application for both Apple and Android. We found that signNow's mobile app is not only effective, but more advanced than its competitors' mobile apps. More specifically, signNow's mobile app is one of the few that allows you to edit documents. It also lets you to send and sign documents.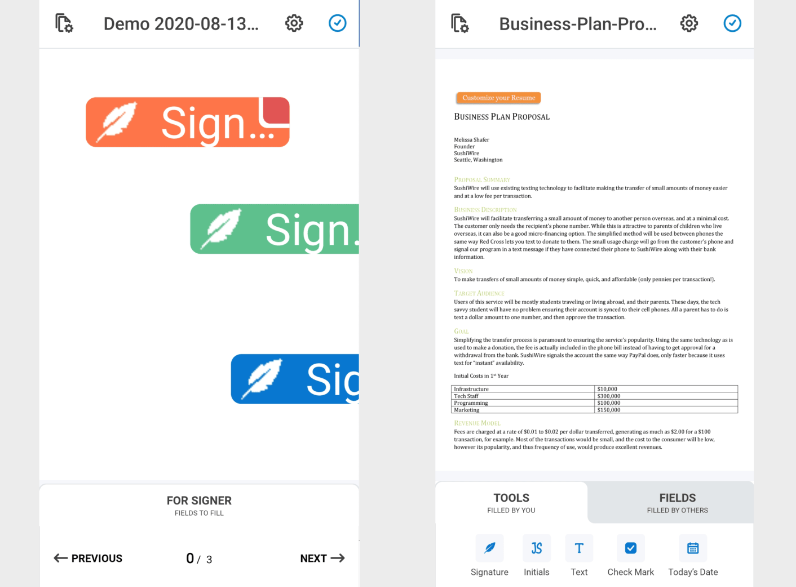 signNow's mobile app also includes a feature called "Kiosk", which is the best method to retrieve in person signatures. However, this feature can only be used on templates.
Customer Support
Effective customer support is critical for a positive customer experience. We found signNow to have above average customer support. In particular, their live chat team responded within one minute to our inquiries.
Customer Support Channels:- Live chat, Email
Customer Support Availability:- 24/7
Other Support Resources:- FAQ page, Knowledge base searchable by question and topic
Platform Update Notifications:- Yes
Application Status Page:- Yes
signNow vs. Competitors
The top signNow competitors are below. The best option for you will depend on the features you need and your budget.
DocuSign
Docsketch
Formstack Sign
Proposify
PandaDoc
HelloSign
Signable
Learn more about how signNow stacks up against its competitor:
You can also read our signNow competitors article, which includes an in-depth analysis of every signNow competitors listed above.
Is signNow Right For You?
With over 45,000 customers, signNow is one of the most popular electronic signature tools in the market. The application is robust – it includes many nice-to-have features and options not found in most other solutions. signNow is also reasonably priced compared to its competitors.
We found that signNow is an ideal solution for companies that need an advanced electronic signature solution, and prefer to save money by not purchasing DocuSign. If your document workflow is simpler, you might prefer Docsketch. Finally, if you operate a sales team, you should consider PandaDoc or Proposify.
To learn more about signNow, try it for free today.