Sem Parar is a system that allows you to go through tolls and parking lots without having to put your hand in your wallet right away. But, it is a system that has a cost. So, is Sem Parar worth it?
Let's see how this system works, what are the advantages and disadvantages and thus, give a verdict: after all, is Sem Parar worth having in your vehicle or not? Check out!
What is Sem Parar?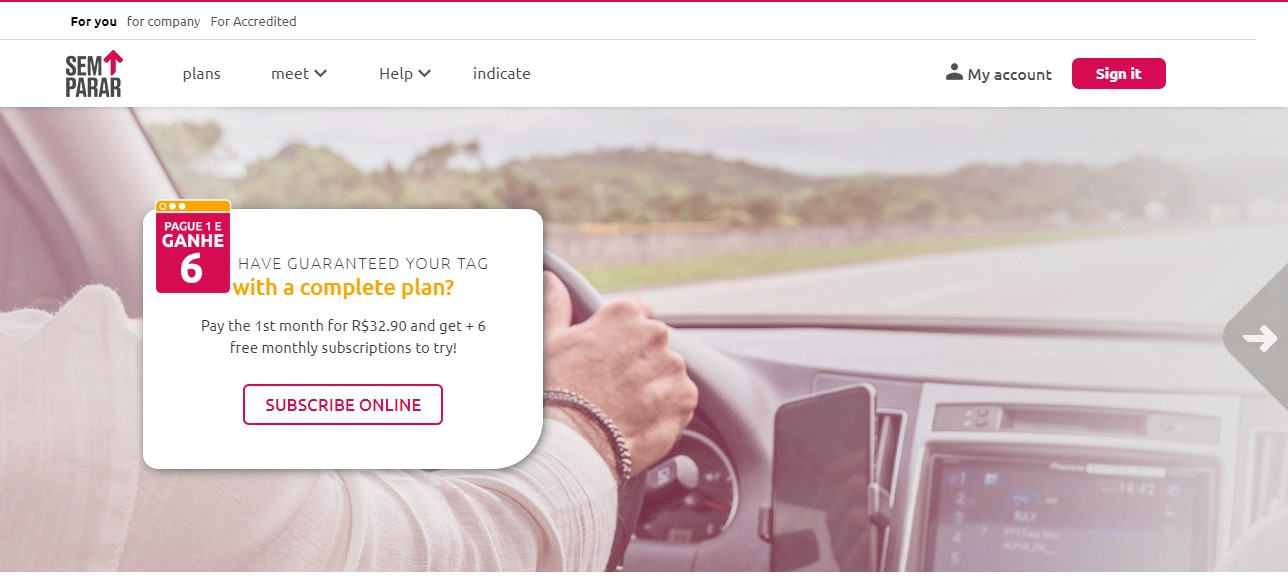 In the Sem Parar system, you purchase a sticker, called a tag, which must be attached to your vehicle's windshield.
After registering, calling the number that appears on the tag and providing your personal information, you can install the app on your cell phone and follow the statement.
You will also have to choose one of Sem Parar's plans: a pre-paid plan or a post-paid plan. The difference is that in the prepaid plan, you must top up to always have a balance. A top-up fee is charged, but there is no monthly subscription.
In the post-paid plan, you have a monthly subscription fee and the toll or parking fees, for example, are charged to your credit card.
In addition, you can use Sem Parar in drive-thrus, like McDonald's, for example, and even in car washes. Another advantage is the use at gas stations to fill up your car.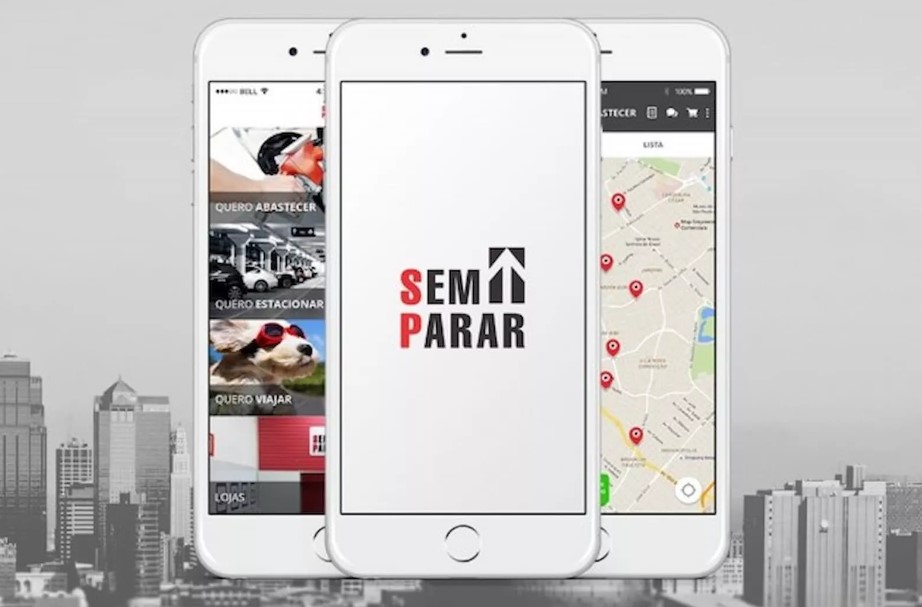 How does SemParar work?
We will describe how Sem Parar works in different locations.
At toll plazas
When you have the Sem Parar tag on your vehicle's windshield, when approaching toll plazas, you can go to the exclusive automatic toll booth.
Reducing the speed to 40 km/h, a radio frequency sensor will identify the presence of the tag in your vehicle and the toll gate will open, without you having to stop.
Thus, the toll amount will be debited from your balance or charged to your credit card bill, according to the Sem Parar plan chosen.
parking lots
In parking lots, in shopping malls, for example, it works in a similar way: the gate opens when you approach, indicating on the parking display that the Sem Parar system will be used. Therefore, you do not need to take any parking tickets on site.
When leaving the establishment, you just bring the car closer to the sensor and the gate automatically opens.
As with toll plazas, the parking fee is charged either to your credit card or from your Sem Parar credit.
You can find more than 2000 parking establishments accredited to use payment via Sem Parar.
Drive-thrus and fast wash
Several fast-food restaurants that have the Drive-thru system are also compatible with Sem Parar. To use the system, just speak to the Drive-thru attendant, by voice, who will use Sem Parar to pay for what you order.
There are more than 750 drive-thrus locations across the country.
In addition, you can wash your vehicle in one of the more than 150 speed wash establishments accredited for payment with the Sem Parar system.
Gas station
Another very useful way to use Sem Parar is at gas stations.
Thus, gas stations in the Shell and Petrobras network, for example, allow you to fill up your car using Sem Parar. There are even specific pumps for those who are going to use this service.
When we compare Sem Parar with other tag systems, such as Conectcar or Veloe, for example, Sem Parar is the only one that allows use at gas stations to fill up the vehicle.
Sem Parar Plans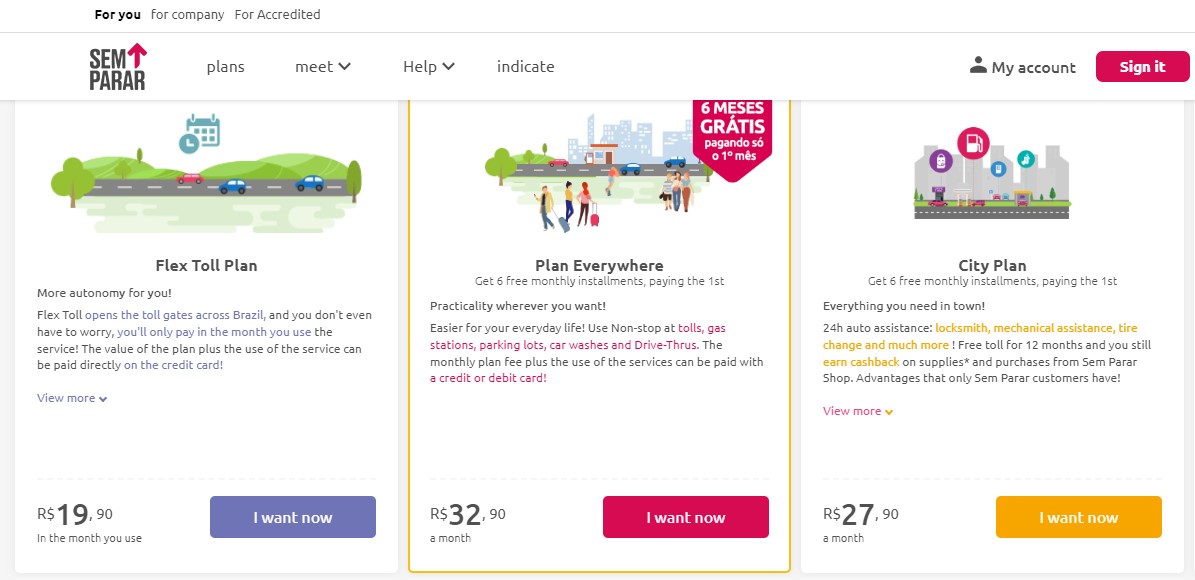 Now that you know how Sem Parar works, let's describe the different plans that exist, for whom individuals.
Basically, there are two options: the pre-paid plan, in which you add top-ups, but you don't have a monthly subscription; and the post-paid plan, which has a monthly subscription and the value for use is charged to the credit card.
prepaid plan
You buy the tag, sold in several establishments, such as supermarkets and stores. Then, register your personal data, calling the number indicated on the tag. Then, put a recharge value and can follow the statement through the app.
For each recharge, a recharge fee is charged and you have 90 days to use the credit. If you don't use it for longer, a fee of R$ 3 is charged.
Top-ups can be made with payment by card, PIX or bank slip.
There is no monthly subscription, but it is important that, if the driver opts for this plan, that it always has value to be spent, that is, do not forget to recharge.
post paid plans
On these plans, the tag is free, with free shipping. There is a monthly subscription fee and usage is charged to your card.
You can choose between different options, depending on the driver's profile.
use everywhere
It is the most complete plan. It covers use on roads, parking lots in urban centers, car washes, drive-thru, in addition to allowing refueling at gas stations.
The monthly fee is R$ 32.90 and you get 12 free monthly fees if you subscribe. It's a nice discount!
Use at toll
Also called Flex toll plan, this is the ideal plan for those who travel a lot on roads, but do not use it in shopping center parking lots, for example.
It costs R$ 19.90 per month and if the driver is going to use it on the road, parking lots, drive-thru or gas stations, he must pay a fee of R$ 13.
Flex in the city
It is the station of the Flex toll plan, that is, the driver can use Sem Parar in parking lots, drive-thru and gas stations, for example.
The monthly fee is R$19.90 and if the driver chooses to use the service on roads, there is a charge of R$15.90.
Free support + use everywhere
Lastly, this plan allows all the benefits of the use everywhere plan, plus assistance for your vehicle.
The following assistance benefits for your vehicle are included in this plan:
Battery recharge;
Seca bread;
Tire replacement;
Trailer.
Thus, the monthly fee for this plan is R$ 24.90. It is also a good option, with several benefits for those who do not have car insurance and want greater protection.
partnerships
Sem Parar also has partnerships with banks, such as Santander and Banco Original.
In both cases, by registering the card of the respective banks, you have discounts on monthly fees.
Other partnerships are with vehicle manufacturers. Nissan , for example, already includes the tag installed on the windshield of its zero kilometer vehicles, free of charge. Thus, the driver must only activate the tag and choose the plan he wants.
There is also the possibility of cashback on Sempare's invoice, when you shop at partner stores.
How does Sem Parar Empresarial work?

Sem Parar also has options for legal entities. These are differentiated plans, which cover both the city and roads, depending on where you use your vehicles.
Subscription prices range from R$9.90 in the first 3 months to R$30.90 for companies that want greater autonomy.
Sem Parar Advantages
Now that you know what the plans are and how Sem Parar works, let's mention its advantages:
Not having to queue at tolls;
Not having to stop at tolls, saving fuel and time;
Exclusive cabin for automatic toll payment;
Not having to have cash on hand when paying;
It is the oldest system in Brazil, with the largest number of accredited establishments;
Works on 100% of toll roads in Brazil;
No worries about change;
Greater protection, since you don't have to open the window to pay;
Practicality and convenience.
Disadvantages
Not everything is perfect and just like everything in life, there are also disadvantages in Sem Parar.
For starters, although rare, the gate may not open right away or an alarm will go off as you pass, indicating a system error. When this occurs, two situations can occur:
The system debits the amount later, with the gate being manually opened by a toll employee;
You run the risk of being charged a toll evasion fine , in the amount of R$ 195.23 and having 5 points in your wallet.
Unfortunately, there are some complaints on the internet about this.
Ideally, you wait for the gate to open and then check in the app if the amount has been debited. According to Sem Parar, they have up to 15 days to debit your account.
A suggestion is to contact the toll concessionaire, by email, indicating at which toll this occurred, approximate date and time. This is what the CCR Nova Dutra Concessionaire suggests , for example. If the amount is not debited, the concessionaire itself sends the data for the payment of the toll.
Another disadvantage is that sometimes the system can make improper charges. Therefore, it is important that you always keep an eye on your statement and contact Sem Parar whenever you notice something different.
But, it is important to mention that all these disadvantages are occasional and are not frequent.
After all, is Sem Parar worth it?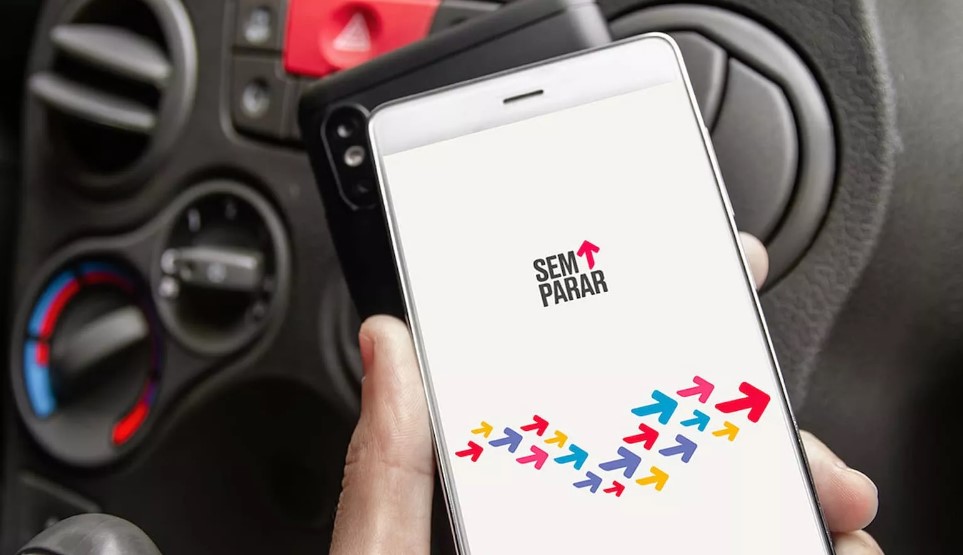 The correct answer to this question is: it depends.
If you are a driver who uses roads a lot, with tolls as well as parking lots in urban centers, without a doubt Sem Parar helps a lot!
It's an ideal resource so you don't have to waste time in long lines at tolls or even have to have cash on hand for payment. You have an exclusive cabin and not for your vehicle, which saves travel time as well.
In addition, other advantages, apart from the tolls, is that you can pay for both snacks in drive-thrus, as well as payment for fueling and washing your vehicle with Sem Parar.
Now, if you don't use your vehicle on the roads, or it's something very occasional, or you don't have the habit of parking in malls or establishments that charge, maybe Sem Parar is not an ideal service for your profile.
Therefore, it is worth analyzing your profile to be able to take advantage of the services that Sem Parar offers you and save money if necessary.