RingCentral MVP is a unified cloud-based business phone system that delivers team messages, video conferences and phone calls through one easy-to-use platform.
RingCentral MVP has an open API and integrates with more than 2,000 popular business software applications and tools.
The RingCentral MVP touts an uptime of 99.999% and enterprise-grade security to ensure remote and hybrid teams can communicate effectively from anywhere.
This review is for small business owners who are considering RingCentral MVP as their business phone system.
RingCentral MVP is a powerful cloud-based business phone system with a long list of messaging, video and calling features for small and large businesses. Our pick for the best phone system for collaboration, RingCentral works especially well with other tools and provides remote teams with everything they need to stay connected. The unified communications system has an open API and more than 2,000 integrations to ensure your business can continue using all of your essential tools, including Salesforce, Zendesk, HubSpot, Mailchimp, Microsoft Teams, and Outlook.

All RingCentral MVP subscribers get unlimited calls within the U.S. and Canada, HD voice, visual voicemail, business SMS, team messaging, document sharing, deskphone phone rental options, mobile app access, and sophisticated call management tools with custom admin and user configurations.
RingCentral Editor's Score: 95/100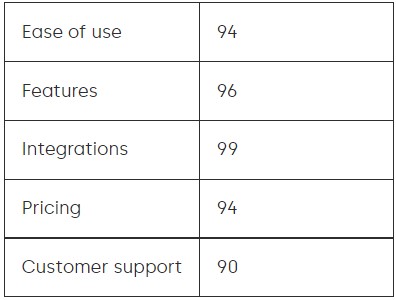 Why We Chose RingCentral for Collaboration
The meteoric rise of remote and hybrid workforces has changed the way teams work, turning out-of-the-office collaboration into business as usual. RingCentral is especially adept at ensuring employees and managers have constant access to the communications features and tools that make working together from different parts of the country feel seamless.
Their best-value Premium plan includes business phone numbers in over 100 countries, unlimited calls within the U.S. and Canada, unlimited audio conferences with up to 1,000 attendees per call, video meetings with up to 200 participants, real-time analytics, document sharing, team messaging, unlimited internet fax, and the ability to add RingCentral Rooms, which can turn any space into a conference room. Team members can use these features from the RingCentral mobile app to divide and conquer large tasks quickly and efficiently.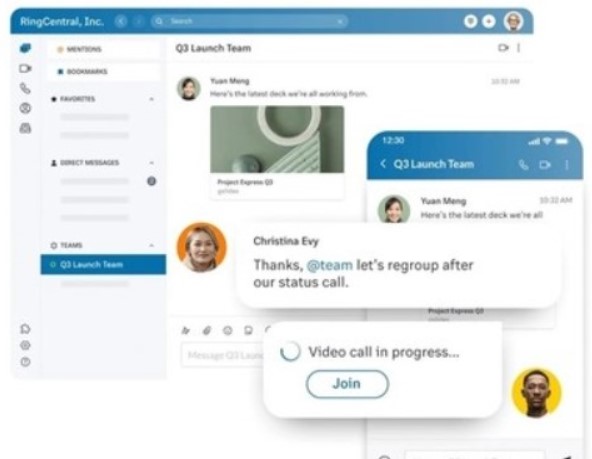 All RingCentral MVP plans include a strong list of call management features for answering, forwarding, screening, parking and flipping calls to other devices. These are all the modern business calling features we looked for, with the exception of a multilevel auto attendant available as a standard feature in most MVP plans. Advanced call handling features like whisper and barge, which allow managers to assist representatives on phone calls or take over when necessary, are available in top-tier plans.
Pros
Unlimited audio conferencing is available with up to 1,000 attendees per call.
You can host video meetings with up to 200 participants.
RingCentral offers thousands of software integrations and an open API for custom solutions.
Cons
You can't mix and match plans for different employees or teams.
Customer support hours are limited on the Essentials plan.
Professional implementation is limited to one free hour.
Usability
After a quick setup, RingCentral MVP makes communicating via messages, video and phone calls easy. Much of the platform's ease of use stems from the administration portal, where you can manage your entire business phone system. If you permit it, your team members can easily edit their call-handling settings with custom rules for work hours and after hours, as well as which devices should ring (e.g., softphone on desktop or mobile phone). The mobile app makes it especially easy to keep remote team members engaged and collaborative throughout the workday with video huddles, tasks and events.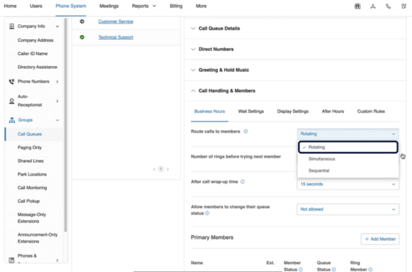 RingCentral's administration portal makes advanced tasks like setting up call queues simple with intuitive fields and step-by-step instructions. You and other admins can build multiple call groups and set your multilevel attendants in a matter of minutes. For any new task that feels complicated, you are likely to find a helpful training course through a RingCentral University learning module.
RingCentral Features
RingCentral includes dozens of great features for messaging, voice and phone. These are a few of the business collaboration features that stood out during our review.

Team Messaging
RingCentral MVP turns the idea of team messaging into a complete digital workspace. Once you build a team chat, members can send direct messages, bookmark important notes, search for older data, create personal folders, share video recordings and move into a conference huddle for last-minute status updates on important tasks. With instant and reliable access, hybrid and remote teams can operate as if they're in the same room working together.
Extensive App Gallery
Combined with RingCentral's open API, this robust app gallery offers more software integrations than any business phone system we've reviewed. Hundreds of apps across categories including analytics, automation, collaboration, CRM software, productivity and many more are easy to sync. Businesses that rely heavily on Microsoft products will be happy to see integrations with 365, Teams, Dynamics 365, Outlook, Skype for Business on Windows, and Bot Framework.
Large HD Video Meetings
RingCentral offers some of the best video conferencing tools with great small touches like a hand raise feature that politely alters the group when someone needs to interject in the conversation. Their focus on video communications is most apparent with the ability to host meetings with up to 200 participants, which is far more than most competitors we've reviewed. RingCentral is also rolling out a free beta for its webinar add-on tool that MVP members can access.
Advanced Call Handling
RingCentral's whisper, barge and takeover features allow authorized users to listen in on employee calls with customers to monitor the conversation, provide live coaching where necessary to facilitate a productive discussion, and even step in and take over when appropriate.
RingCentral Cost
RingCentral MVP is available through four subscription options that range in price from $19.99 to $49.99 per monthly user when billed annually. Discounts are available for companies with more than 99 user accounts.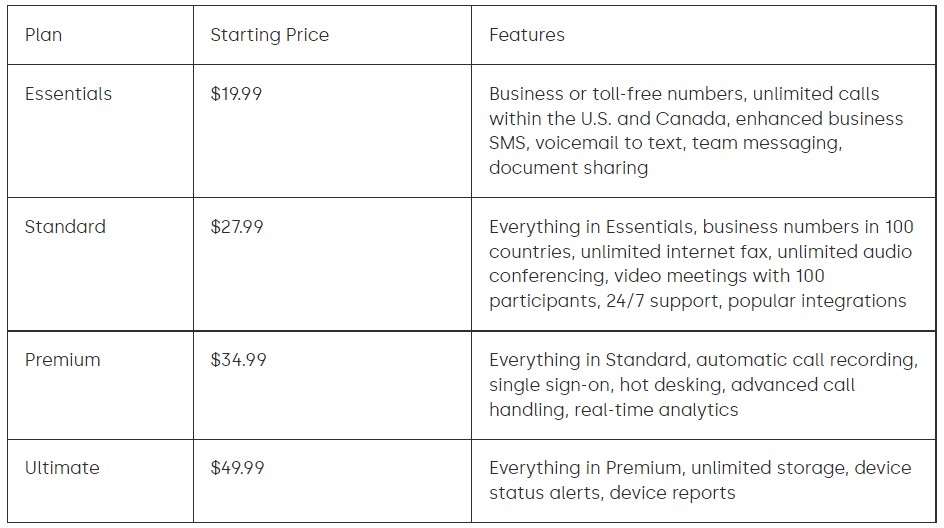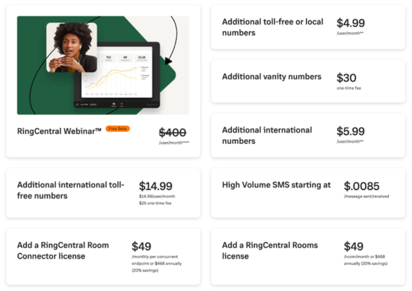 RingCentral Setup
Most RingCentral MVP plans include a one-hour professional implementation session with a RingCentral specialist to get your phone system up and running the same day. Essential users can access an Express Setup tool that walks them through processes such as selecting a strong password, call forwarding and voicemail. For small businesses, setup can take as little as a few minutes, and for mobile users, setup is as easy as downloading the app and logging in with your credentials to start making calls or messaging your team.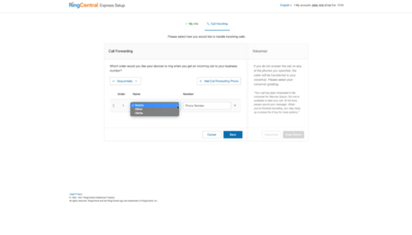 RingCentral has a larger than average selection of compatible VoIP desktop phones, cordless phones, receptionist phones, conference phones and headsets from major brands like Cisco and Poly. These hard phone devices are fully supported and designed to work out of the box with your business phone system. Analog telephone adapters are also available to connect your existing cordless phones and fax machines.
RingCentral Customer Service
Unlimited customer support is available 24/7 through chat and phone for Standard, Premium and Ultimate subscribers. Some competitors provide technical support to all of their business customers 24 hours a day by web form, chat and phone, such as we found in our review of 8×8. For an additional fee, RingCentral Professional Services offers expert assistance with implementation, migration from on-premises PBX systems, custom integrations, and adoption for large companies with complex workflows.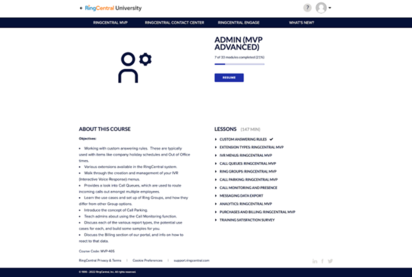 RingCentral also includes a number of self-paced, video-guided learning courses through RingCentral University to train users and administrators on basic and advanced features. While competitors offer similar training modules, RingCentral University does an exceptional job with free education tools.
RingCentral Drawbacks
The inability to mix and match plans for different team members with varying communication needs will inevitably force some companies to overpay for employees who don't need advanced calling features to perform their roles well. This was the primary drawback we found when reviewing RingCentral.
In addition, larger companies only interested in basic business phone service features and tools may be disappointed that RingCentral's most popular Essentials plan is limited to 20 user accounts. The entry-level plan for businesses with more than one to 99 employees is priced at $27.99, making it far more expensive for medium and large businesses that may only need basic phone services. Other providers don't have the same restrictions. See our Ooma review or our Nextiva review for examples of business phone systems that offer more flexibility at their basic pricing tiers.
Methodology
Our editorial staff considered more than a dozen of the best business phone system providers for review. After conducting our initial research into each potential modern phone solution. We identified 11 of the best communications tools on the market today for small businesses: Ooma, Nextiva, 8×8, RingCentral, Dialpad, GoTo Connect, Grasshopper, Vonage, Kinetic Business by Windstream, Zoom and Net2Phone.
Our team spent dozens of hours conducting research, participating in guided product demos. And testing each platform through trial and paid accounts when possible. Finally, we selected the best use case for each platform to help businesses determine. Which phone system provider offers the best features, tools and price for their unique needs. We chose RingCentral as the best business phone system for collaboration due to its many features that support teams working remotely. Such as video conferencing, direct messaging, exceptional uptime, and helpful integrations that keep teams connected.
RingCentral FAQs
Is there a free version of RingCentral MVP?
RingCentral MVP offers a 30-day trial for its Essentials, Standard and Premium subscriptions plans, but it does not offer a free phone service. It does have a free video conferencing service through RingCentral Video Pro that features unlimited meetings with up to 100 participants, cloud storage for seven days, file sharing, virtual backgrounds and HD video.
Does Zoom own RingCentral?
No, Zoom does not own RingCentral. However, the two companies do work together through a partnership that allows them to deliver Zoom's frictionless video platform to RingCentral's customers.
How secure is RingCentral MVP?
RingCentral uses numerous layers of security, including physical, infrastructure, host, data, application and business processes to protect all sensitive data. Both RingCentral MVP and the RingCentral app have been certified for information security by HITRUST, indicating that the applications meet industry-defined security requirements.