After a few nights in Dusseldorf, we flew Condor's A321 business class to Athens. I was looking forward to this, as I've been curious to check out Condor's short haul business class experience. I had previously reviewed Condor's 767 business class, on the fascinating route between Frankfurt and Whitehorse.
Condor is really reinventing itself at the moment — the airline is taking delivey of A330-900neos with a new business class, Condor has a cool new livery, and the carrier is increasingly competing head-to-head with Lufthansa on more routes.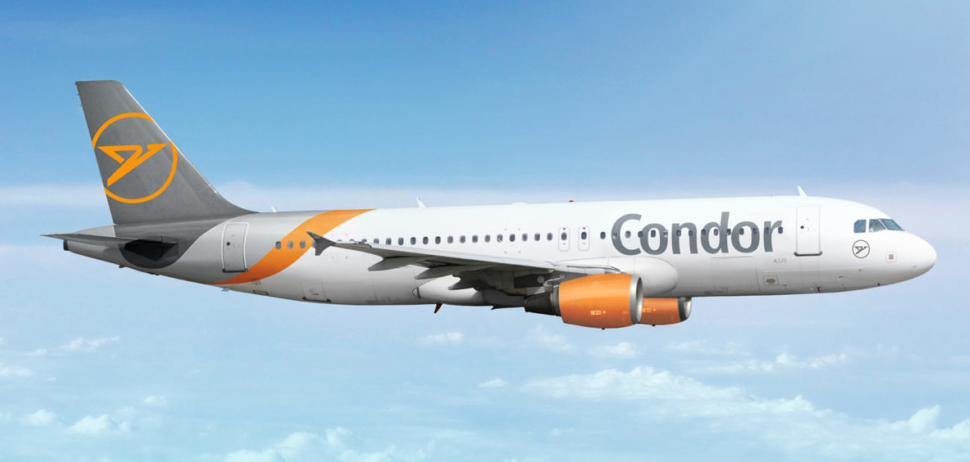 So, how was Condor's A321 business class? Let's take a look…
How I Booked Our Condor Business Class Tickets
Condor had the only nonstop flight between Dusseldorf and Athens on our date. Even though airfare is generally pretty high this summer, we got a great deal. Specifically, we booked the following flight:
06/19 DE1018 Dusseldorf to Athens departing 6:20AM arriving 10:15AM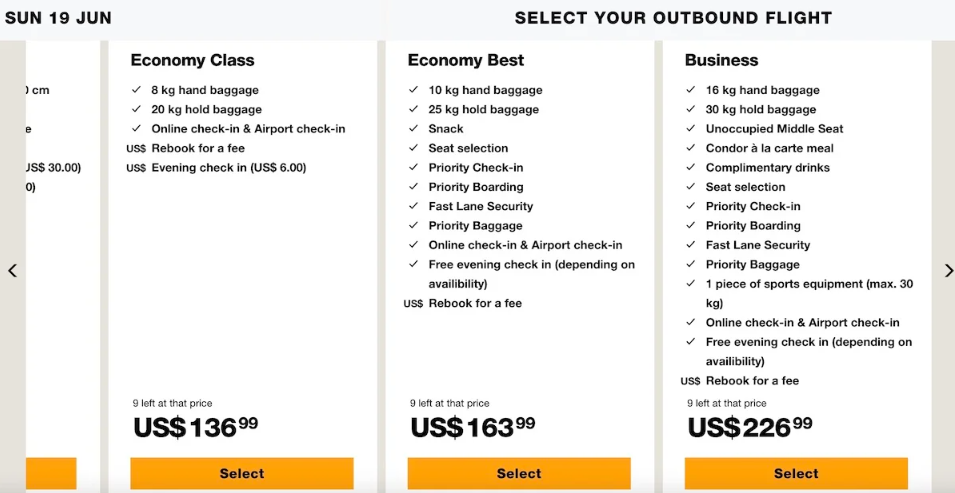 For this flight, economy tickets started at just $136.99 per person, while business class cost $226.99 per person. We found business class to be well worth it, especially since we had quite a bit of checked luggage, which was included with our business class ticket.
At the time we booked, we were also the only people with seats assigned in business class, so I was curious if we'd have the cabin to ourselves.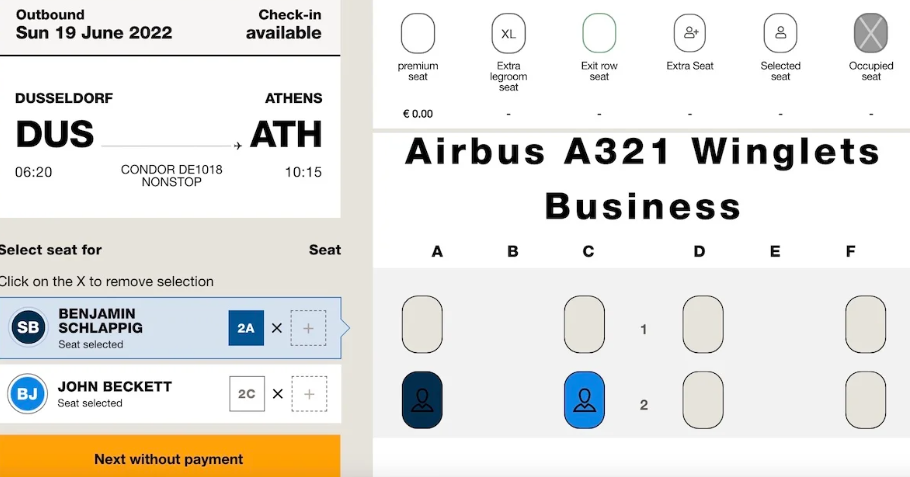 By the way, keep in mind that Condor is an Alaska Mileage Plan partner, meaning you can earn and redeem Mileage Plan miles for travel on Condor.
Dusseldorf Airport Chaos
I've written before about the reality of air travel this summer, and it's especially bad at European airports. The night before our flight I looked at the scheduled flights from Dusseldorf on the morning of our departure. There were 31 flights scheduled from the airport between 5:50AM and 6:30AM. So we decided to show up at the airport shortly before 4AM, to leave plenty of time. Below are some scenes of what the airport looked like at that time.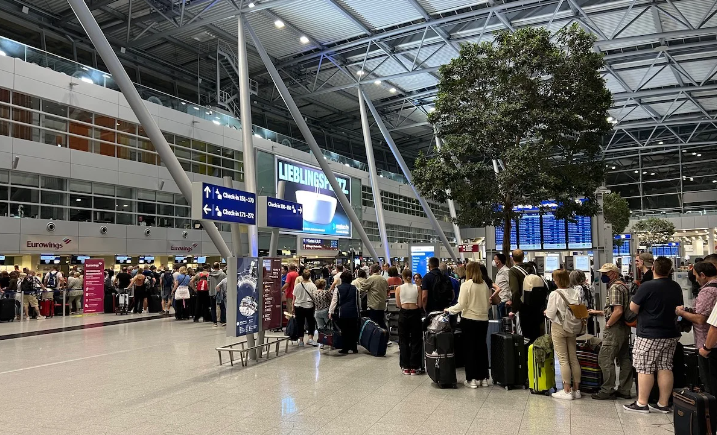 The lines were so long that people largely didn't even know what they were lining up for. I was mostly amazed by the lack of proper queue management. People essentially just had to create their own lines, since there was no one there to direct people about where they should queue.
Condor Business Class Check-In & Boarding
I was happy we paid the premium for business class when I saw the queues at the Condor check-in desk.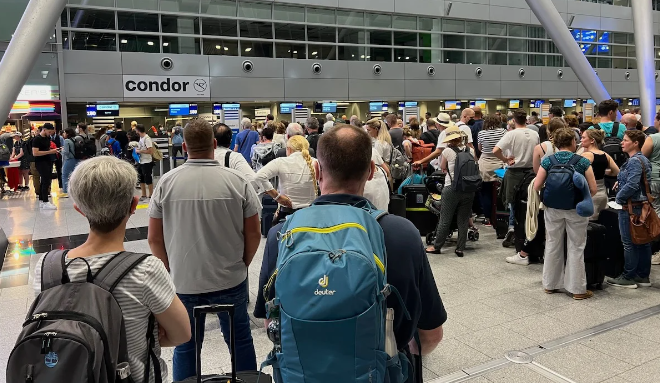 While the business class queue was still really long, with a single agent working, it moved quickly. We "only" had to wait for about 30 minutes, which was a much shorter wait than what other passengers had to deal with.
I was also happy to see how Condor's new branding is already "live" at airports — I'm a fan!
The priority security line took around 20 minutes, as it would have been much longer if we didn't have priority security access. Once airside, we briefly visited the Hugo Junkers Lounge, accessible via Priority Pass.
Our flight was boarding from gate B78, which was only a short walk from the security checkpoint. Flight boarding passes indicated that boarding would start at 5:35AM, though it actually started at 5:45AM, with business class being invited to board first.
Our flight was departing from a remote stand, so it took about 10 minutes for the first bus to fill up. At 5:55AM we were driven to the plane, and we arrived there around 6AM.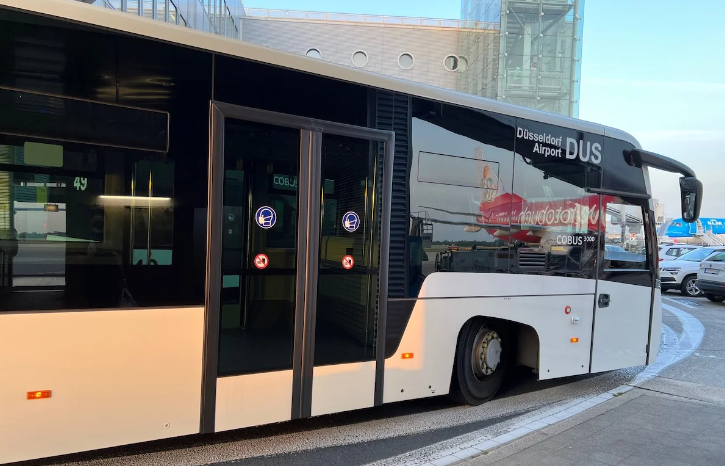 OMG WE GOT A CONDOR PLANE IN THE NEW LIVERY! Condor recently introduced a new livery (the stripes come in different colors), and as far as I'm concerned it's the coolest and boldest livery ever. I liked it even more in person than in pictures.
For what it's worth, we were flying the Condor Airbus A321 with the registration code D-AIAC, a roughly eight year old plane.
Condor A321 Business Class Cabin & Seats
Condor's Airbus A321s are in a really dense configuration, with 220 seats. Generally speaking, intra-Europe business class consists of economy class seats with a blocked middle. Usually there's a curtain between cabins, but in this case there wasn't. Instead there was simply a headrest on the center seat saying "Business" and "Your Space" (meaning that the seat stays empty).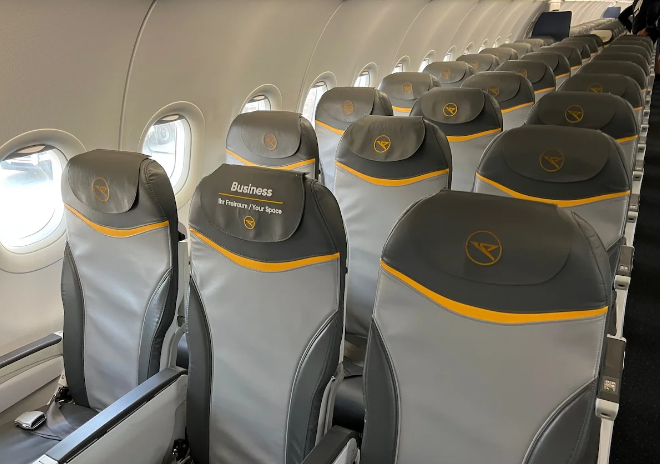 We took our seats in row two, and found the legroom to be awful. Like, I'm not especially tall, and even when sitting as far back in the seat as possible, my knees were touching the seat in front. Otherwise this was a pretty standard economy seat.
Oddly we noticed how the first row of seats had amenities on the center seats and also had the headrest noting that it was business class, while the second row didn't.
I asked the flight attendant about this. She was extremely apologetic and friendly — "ah, so you are the business class passengers, welcome to your cozy, private cabin, and make yourself comfortable wherever you'd like."
We were very happy about that, because the bulkhead had excellent legroom, by comparison. If you fly Condor's short haul business class, make sure you reserve the first row, because otherwise the legroom is awful.
While the flight was otherwise nearly full, the entire first two rows were just for us, so we each took one of the window seats in the first row.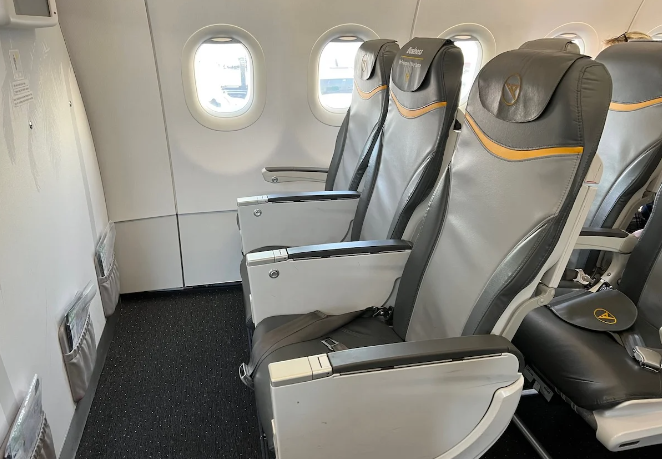 I appreciated that the overhead consoles not only had reading lights, but also individual air nozzles, which is especially useful on a European airline given how warm the cabins are often kept.
The cabin was otherwise pretty no-frills. Condor's A321s don't have any power ports or Wi-Fi, so make sure you bring your own entertainment to stay occupied. That electronics are properly charged before getting on.
Condor Business Class Amenities
Waiting on the seats in the first row were pretty comfortable pillows. It's nice that these proactively offered, given that most airlines only offer these on request in intra-Europe business class.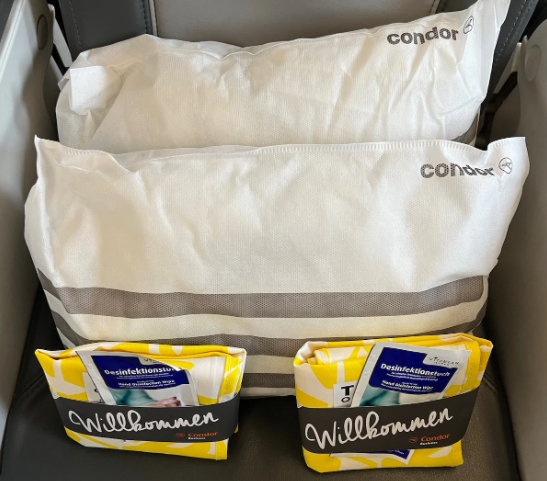 There was also a pouch with a disinfecting wipe and travel organizer. That's an unusual amenity to offer onboard, though it's a cool concept. I guess this probably sponsored by the company that sells these?
Condor Departure From Dusseldorf
The boarding process was a bit chaotic, as the flight attendant had to ask just about every other passenger to put on a mask. Germany requires masks on planes but not at airports. Even though there were several announcements about needing masks during boarding, so many passengers boarded without them on.
By 6:20AM boarding was complete, at which point the captain announced our flight time of 2hr35min, and advised that we'd need to wait another 10 minutes before pushing back, as we only had a departure slot at 6:40AM.
We did indeed push back at 6:30AM, at which point a manual safety demonstration performed. We had a 10 minute taxi to runway 5R, where we'd be departing from.
Hi, fellow sexy Condor plane!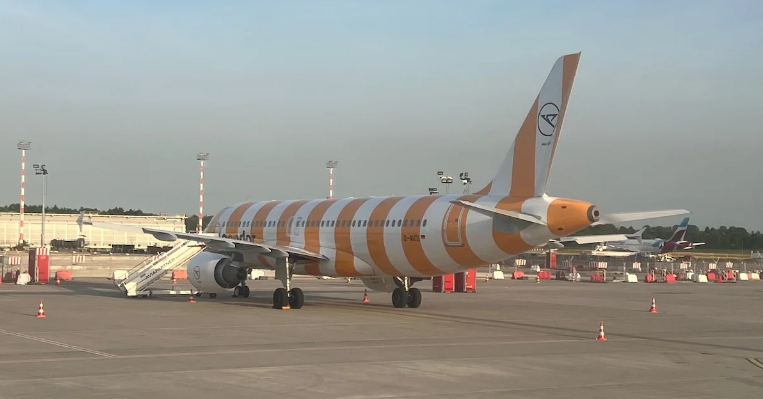 Careful near the runway, bird!
We had a smooth climb out, though oddly it took over 20 minutes for the seatbelt sign to turned off.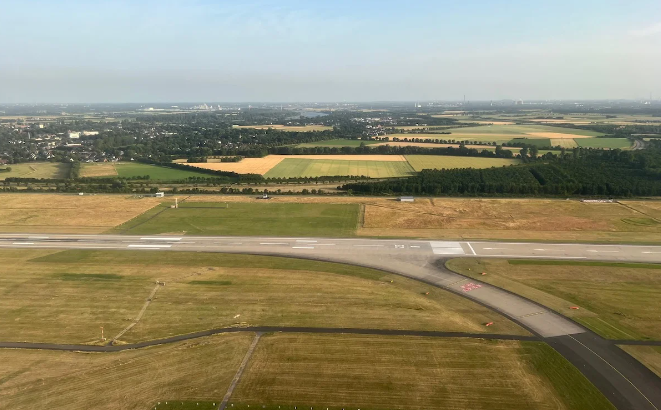 Condor Business Class Inflight Service
Condor business class passengers receive a free hot meal, plus unlimited complimentary drinks. So about 30 minutes after takeoff a tray liner brought out, also with Condor's new branding.
We first offered drinks — I ordered a cup of coffee and a bottle of water. There's no glassware in Condor's regional business class, but rather you receive cups like in economy.
About 15 minutes later our breakfast brought out. This consisted of an English breakfast and a couple of muffins.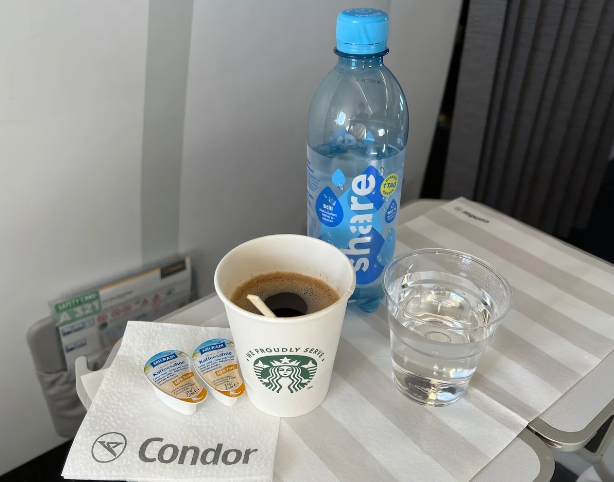 The breakfast consisted of scrambled eggs, potatoes, turkey sausage, and turkey bacon. That was accompanied by a dessert with two different muffins. As far as airplane breakfasts go, I thought this was one was surprisingly decent, and it tasted better than I was expecting when I was first served it.
The purser was primarily just looking after us for the entire flight, since we were the only ones in business class. We offered several water and coffee refills. Toward the end of the flight we also offered a small box of Lily O'Brien's chocolates. As she joked that she couldn't let us off the plane without serving us at least a few more calories.
The flight attendant was truly lovely, kind, and funny, and just seemed a bit less serious than on Lufthansa (in a good way). For what it's worth, below is part of the Condor buy on board menu. As mentioned above, drinks are free in business class, though I don't think you can order additional food for free.
Condor A321 Business Class Lavatory
There was a lavatory located at the front of the A321 cabin. One downside to Condor's business class setup that this isn't actually reserved for business class passengers. Since there's no curtain between economy and business.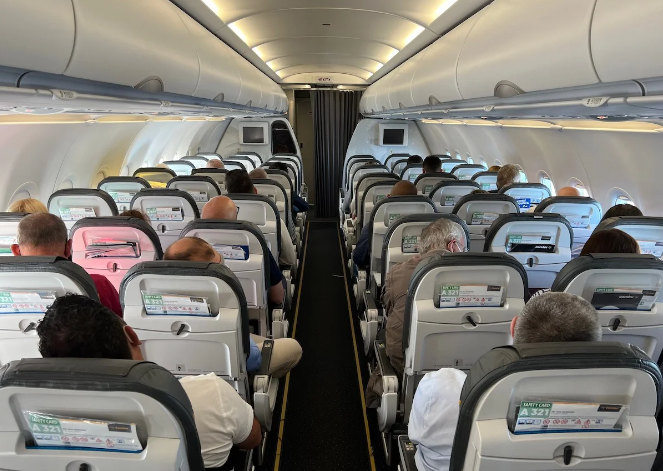 This wasn't at all an issue, since Ford and I were both in window seats. However, if you're sitting in an aisle seat, you may not be happy when a line forms right near you.
Condor Arrival in Athens
About 30 minutes before landing, the captain announced that we'd soon be starting our descent. Just a few minutes after that the seatbelt sign turned on, and the cabin prepared for landing. As usual, views approaching Athens were amazing — I'll let the pictures speak for themselves.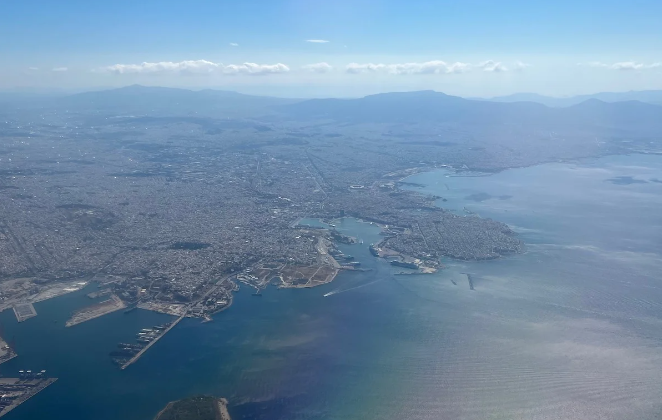 We touched down at Athens Airport at 10:30AM. From there had a five minute taxi to our remote stand, from which bused to the terminal.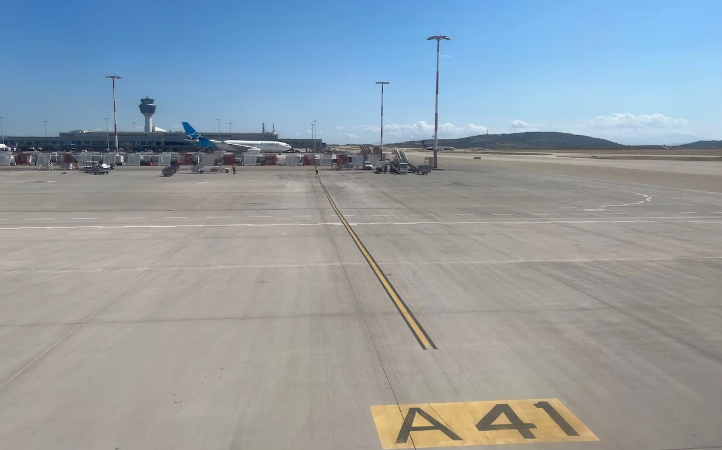 The remote stand meant we got another look at our gorgeous A321!
Once in the arrivals hall, our bags arrived in under five minutes, which was a pleasant surprise.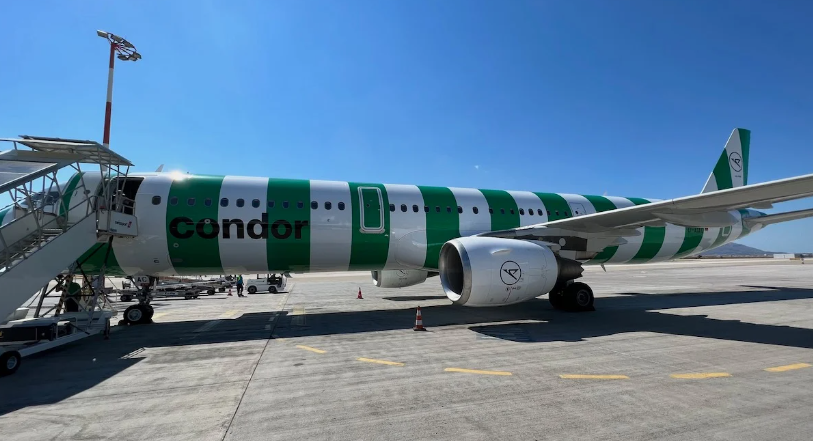 Bottom Line
Condor offers a great value business class on short haul flights, with priority airport services, a decent meal, unlimited drinks, and a friendly crew. I feel like we paid a reasonable premium for what we got, especially given that we were the only ones in business class. Condor's legroom on short haul aircraft really limited, so if flying business class I'd highly recommend booking the bulkhead.
It's exciting to see Condor becoming increasingly competitive with Lufthansa, both in terms of its route network and product. I can't wait to fly Condor's new A330-900neos when they enter service.