A critical review of a first-time Caribbean Princess cruise, from booking and check-in, to dining, onboard experiences, port destinations, and shore excursions.
Note: This travelogue is a long-form, photo-intensive account of my experiences for readers who want to cruise virtually. As well as travelers seeking detailed information before booking a Princess Caribbean cruise of their own.
Unlike my previous travelogues that were written as sequential daily entries. The first part of this post reports about the ship and life on board. The second part is dedicated to port destinations and excursions.
A Caribbean Princess Cruise Review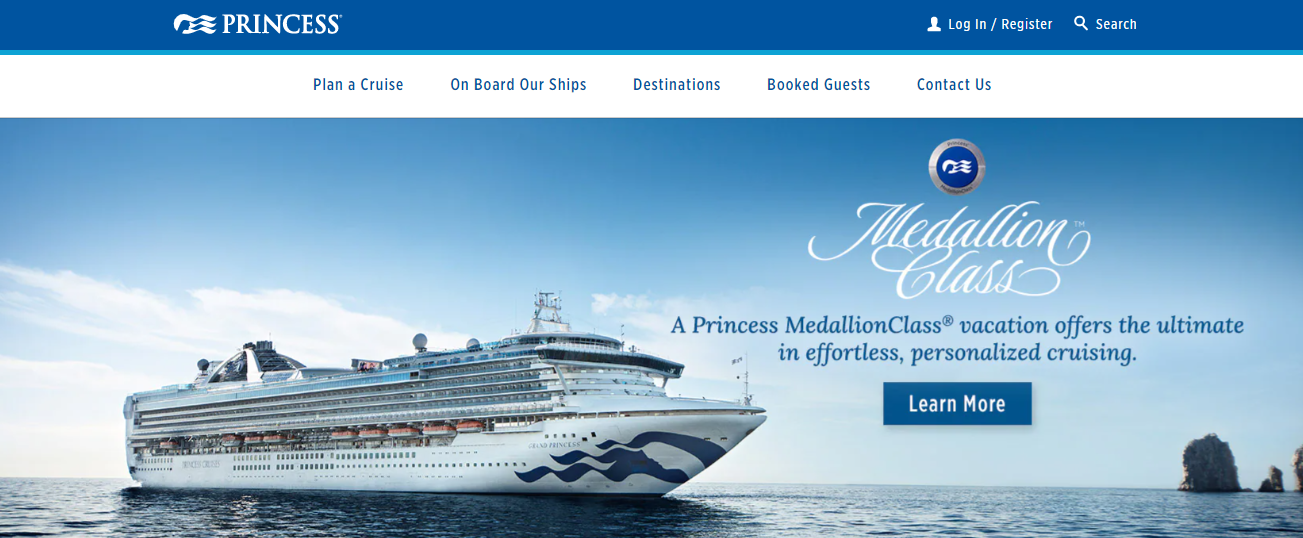 Although I am a seasoned cruiser, this was my first time sailing with Princess Cruise Lines, AKA The Love Boat.
Prior to the global pandemic, I had cruised almost exclusively with Viking. Most of those cruises were hosted media trips, and Viking set a pretty high bar at every level.
After not traveling for more than a year, I got vaccinated (and later boosted). Ended up booking three cruises: the NCL Encore to Alaska in October. The NCL Jade through the Middle East in November, and the NCL Escape to the Eastern Caribbean in December.
With less people traveling after the cruise shutdown, NCL had offered some pretty sweet deals.
Before long, Princess started offering itineraries with zero single supplements. So I booked a 14-day Carribbean cruise—a back-to-back of two 7-day itineraries—on the Caribbean Princess.
Ports of call on the first leg would be Princess Cays, Ocho Rios, Grand Cayman, and Cozumel; and on the second leg Princess Cays (again), St. Thomas, and St. Kitts.
My Perspective and Experience
As I have stated in previous posts, every cruise line is different, every ship is unique. Because people cruise for many reasons, each guest has a singular experience. I don't party, gamble, bake in the sun, nor indulge in spa treatments. I have nothing against people who do, but I assure you their cruise experiences are entirely different from mine.
So before you plunge ahead, please understand that this cruise review focuses primarily on port destinations, shore excursions, and my own unique experiences while aboard the Caribbean Princess.
Sometimes when cruising, things don't turn out as they should, or at least as expected. There are itinerary revisions, cancellations, and disappointments.
Let me be perfectly clear that as much as I enjoyed this cruise, there were some issues, and I address them from my perspective. Hopefully you will take my criticisms as honest and refreshing, as opposed to whiny and ungrateful. Either way, I owe it to my readers to keep it real.
The MedallionClass App
In the weeks prior to departure on any cruise, it is the norm to do preliminary check-in, purchase excursions and onboard services, and make dining reservations. This is typically done online or through a travel agent.
In 2019, Princess began rolling out its MedallionClass WiFi infrastructure in order to create an integrated personalized experience through a wearable medallion, mobile app, stateroom TVs, and shipboard digital portals. Like most revolutionary initiatives, there were some bumps in the road.
My MedallionClass experience did not begin well, but later on, the innovation would make me very happy.
In order to expedite the check-in process, Princess began forcing guests to to use the MedallionClass mobile app if they wanted to be "OceanReady" and move quickly through the "Green Lane" at check-in rather than the slower "Blue Lane."
To qualify as OceanReady, guests must use the MedallionClass mobile app to complete personal information, upload travel documents and profile photos, set up MedallionPay, provide emergency information, select arrival and departure groups, accept the passage contract, and complete a health questionnaire.
The following edited excerpt is from my stream of consciousness notes while using the app:
"The Princess Medallion app sucks: does not want to connect . . . when it does, it is slow, does not allow autofill of fields, each field must be completed manually, does not save content after completion. The save button is greyed-out, there is a death spiral during the saving process, forced to quit app, will not allow a space between PlantCity."
But wait, there's more . . . .
"When you call for support, you are forced to listen to recorded messages . . . . We know you called for assistance with an issue, but forget that. Here's what we want to say to you because even though you have spent thousands of dollars with us, you don't matter, and speaking to a live person is too much to ask. . . Call cuts off, and when you call back you have to listen to all the recordings again."
I also tried the website online chat, but it did not work either.
Eventually, I was able to set up MedallionPay with my credit card. But even after repeated attempts to purchase discounted WiFi, my card was rejected. I took screenshots of my failed attempts, which served me well after I got on board.
Embarkation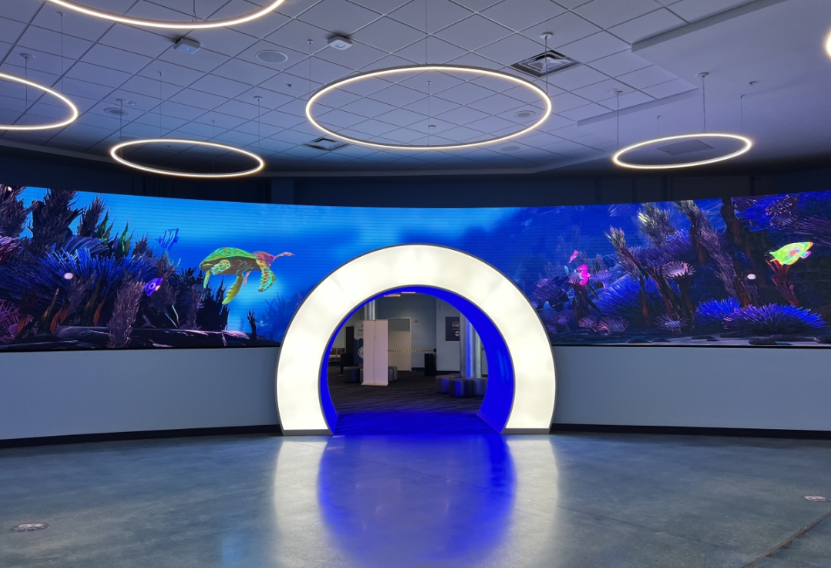 On the morning of departure, I hopped a flight from Tampa to Fort Lauderdale, grabbed an Uber to Port Everglades, and breezed through the boarding process in the OceanReady Green Lane. In fact, it may have been the fastest cruise check-in ever.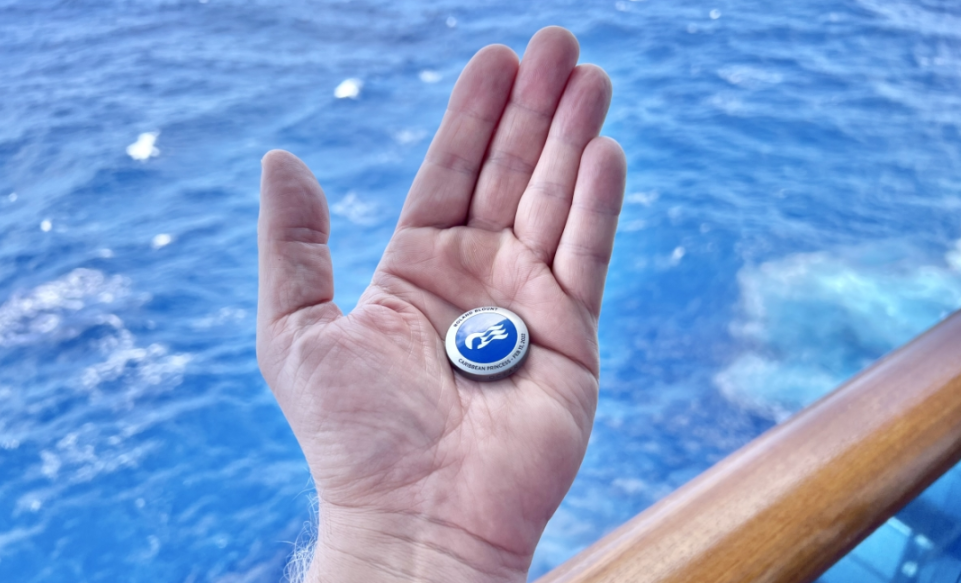 I was presented with a medallion—the Princess equivalent of a keycard—attached to a lanyard. This was not going to work for me because I don't like things hanging around my neck. I don't wear any type of jewelry. I prefer keycards because I can just slip them in my wallet.
The agent mentioned that there were other "wearable" medallion options such as wristbands, clip-ons, and such, for purchase onboard. I did consider them, but ultimately carried the medallion around like pocket change. Surprisingly, it worked out okay.
Having recently completed three successive cruises with NCL, I was acclimated to the NCL culture and general way of doing things. Learning Princess culture would be an adjustment, but I was up for it.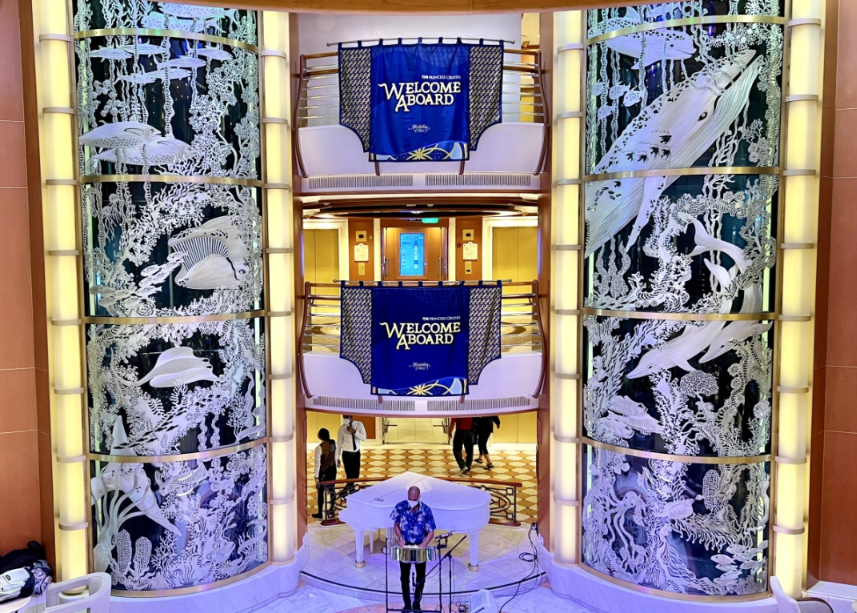 One of the first things I look forward to after embarkation is eating lunch onboard. But I headed first to check-in at my assigned muster station. Then went in search of my stateroom to drop off my backpack. My suitcase would be delivered later, as is the norm.
The Caribbean Princess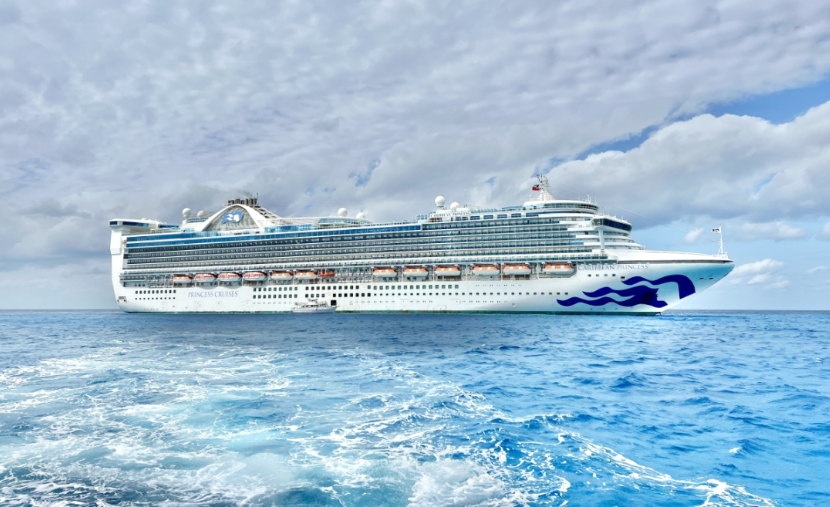 The Caribbean Princess launched in 2003 and was refurbished in 2017, so it is an older ship. That is not necessarily a bad thing. The NCL Jade is also an older ship with dated, yet classic decor. It is one of my favorite ships afloat because it just feels like home.
The ship's passenger capacity is 3,140, and we sailed with 1,110 guests on the first leg and 1,244 guests on the second leg. There were 1,140 crew members aboard.
Every ship is different, so I usually spend the first day learning my way around and checking out the many spaces on board. Actually, I have to purge my mind of the last ship I sailed and reprogram my mental map to the newest ship.
My Balcony Stateroom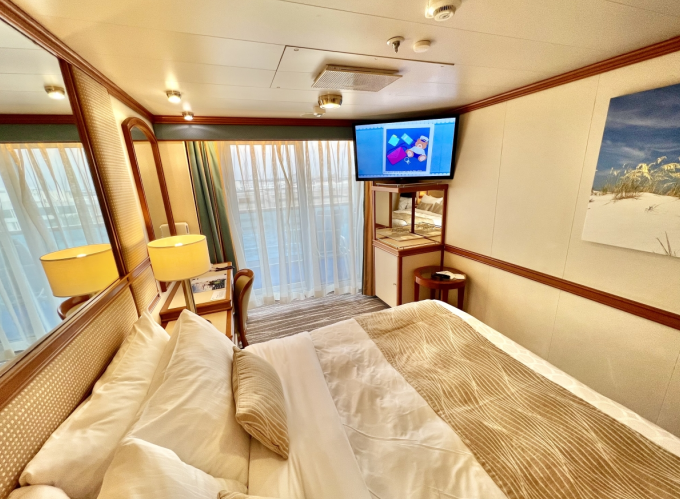 Many times cabins are not ready for occupancy immediately after boarding on embarkation day. Room stewards have a lot of work to do to get staterooms cleaned and ready in the brief window between previous guests off-boarding and new guests arriving. But I was in luck!
My room steward greeted me at my cabin, gave me his contact info. Showed me how the medallion would unlock the door upon approach. He was friendly, but over the course of the cruise he did not make an effort to get to know me like previous room stewards I have met.
I got the same vibe from other Caribbean Princess crew members who were polite. But were not genuinely outgoing and highly-trained to the level of Viking and NCL crew members.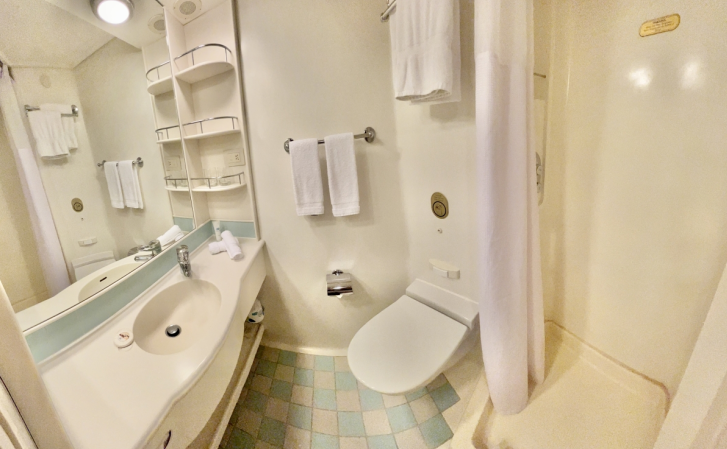 The age of the ship was most evident in the outmoded plasticky bathroom. It looked more like decor from 1985. This was the first time I had seen a stateroom bathroom with a shower curtain; all others have had shower doors.
The balcony did not make an impression either. The chairs and floor covering were splotched with white paint drippings and paint chips.
Although not that attractive, the bathroom and balcony were fully functional.
Before you can use your stateroom TV, you have to watch the longest safety video ever. You and your medallion are tracked, and you must be present for the entirety of the presentation. I watched the entire video, but for some reason my TV would not transition to the home screen. It took me two more replays to get through.
The best part of my stateroom was the bed. The cold sheets, fluffy duvet, and comfy pillows were just heaven. Whatever adventures I encountered in ports or during days at sea, I could always look forward to a soft place to fall at nap time and at night.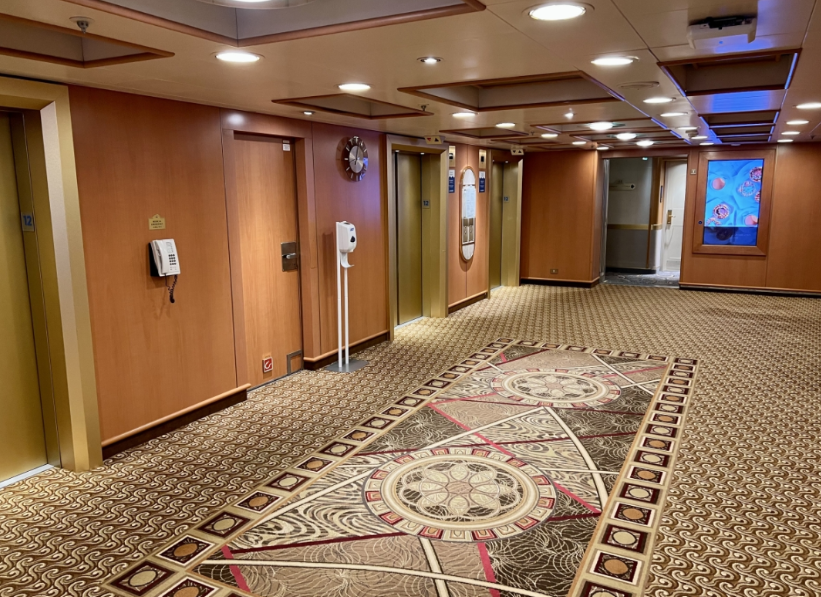 On occasion, there was a sewer smell emanating from the elevator landing and hallway that infiltrated my room.
This has happened on previous cruises with other lines, which is why I now carry a travel-size Medline Carrascent Odor Eliminating Spray I first discovered when visiting at a local hospital. The pump spray has a fresh scent that immediately eliminates offensive odors.
It didn't take long to learn that Princess stewards do not make up your stateroom twice daily, which is the custom on other cruise lines. They make up your room once in the morning, but there is no turn-down service at night, unless specifically requested. It was not a problem.
Onboard Facilities, Amenities, and Services
The Caribbean Princess is appointed with the standard range of onboard facilities, amenities, and services that you would find on any grand-class ocean liner.
The Promenade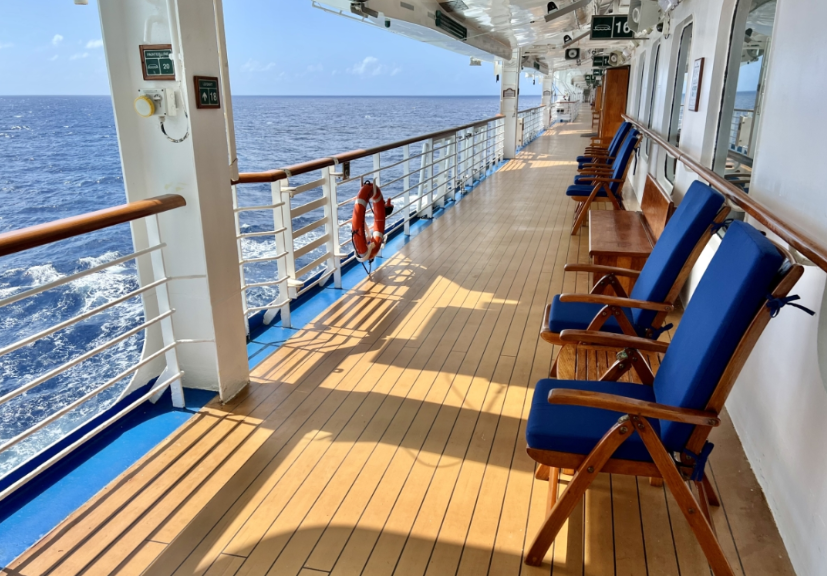 On sea days, I typically walk an hour for exercise and listen to audiobooks, so I appreciate a good promenade.
Most promenades I have walked are either U-shaped or completely circumnavigate the ship. I prefer the latter because when I start my walk I don't like turning around and heading the opposite direction when I meet a dead end.
The Caribbean Princess promenade has a unique design that I came to appreciate. The U-shaped promenade on Deck 7 has two sets of stairs—port and starboard—and the promenade continues around the bow of the ship on Deck 8. Ascending and descending stairs on every revolution actually enhances the experience.
Unfortunately, the promenade has other issues that I don't recall having on other ships. Walking the promenade was a maelstrom of sensory overload. On the first day I walked the promenade I discovered that mechanical sounds drowned the voice of the audiobook reader to the point that I could not follow the narrative. I switched to music for the remainder of the cruise.
Huge exhaust vents alternately blowing hot and cold air added to the noise and created fluctuating temperature inversions along the walk.
A smorgasbord of fragrances emanated from the ship. Unidentified aromas from the kitchens were not unpleasant, but I came to dread the stench of sewer with each revolution around the aft of the ship.
Rounding the bend was a narrow passage with tight squeezes, a mirrored blindspot, and a smokers station. That was the worst! With every revolution, walkers had to navigate through clusters of guests and crew puffing on cigarettes and cigars. Of all the open-air locations across the upper decks of the ship, why would they put a smokers station directly on the most congested part of the promenade? With each turn, I would put on my mask and hold my breath until I reached the other side.
The ship was in need of fresh paint, with rust creeping through in many places. Painters were on the promenade most days. Some days sections of the promenade were cordoned off, forcing a reroute, and other days we just walked through the corps of painters. Though an inconvenience, I appreciated the efforts to keep the ship looking spiffy.
Pools
The Caribbean Princess has tons of pools and hot tubs. In full disclosure, I don't use them, but I know my readers do.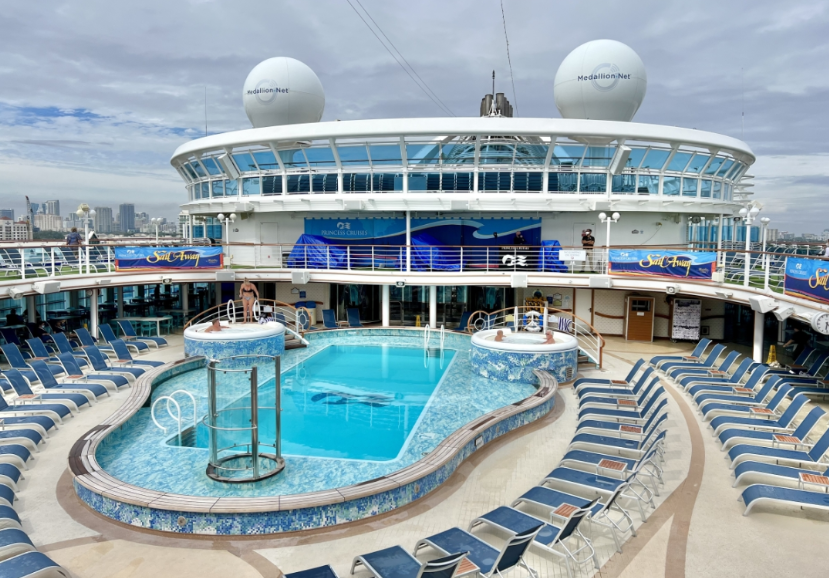 Most ships I have sailed have one main pool, but the Caribbean Princess has two large pools with hot tubs on the Lido Deck.
Neptune's Reef is the larger of the two spaces, encompassing a bar and three fast food dining venues.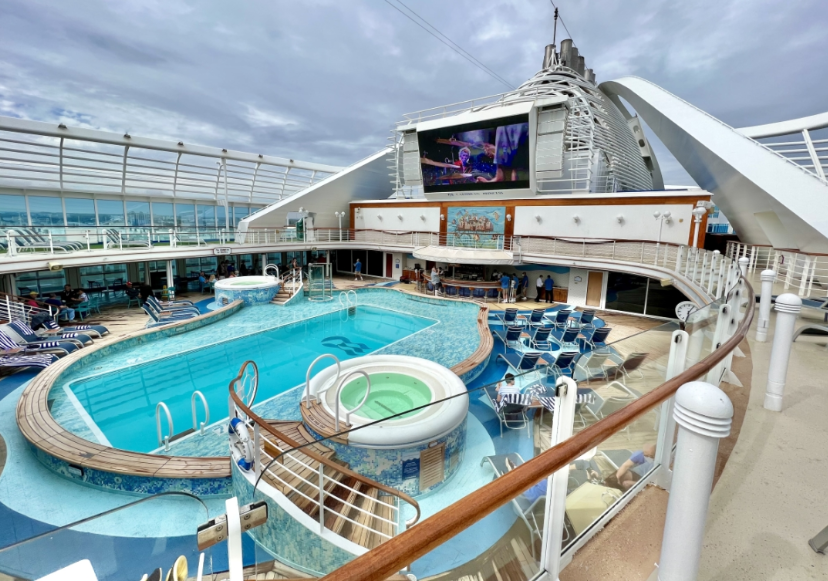 The Calypso Reef has a bar and also features a Jumbotron screen for announcements and movies under the stars.
There are two adults-only pools that offer refuge from the nonstop pounding and blasting "music" that most cruisers who inhabit the Lido Deck pool areas seem to enjoy. On walk-throughs, I witnessed countless guests with books and e-readers in hand. I don't know how they did it. I need a quiet, peaceful space when reading.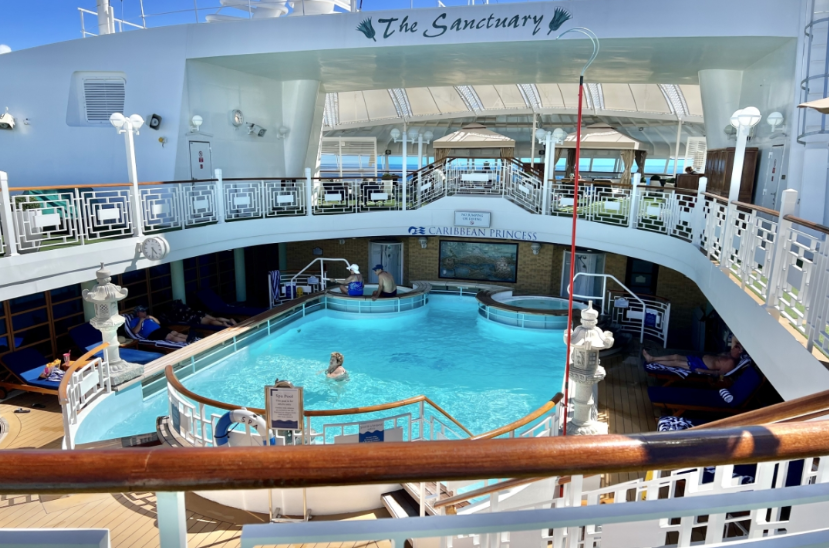 The lap pool on the Sun Deck, situated smack-dab in the middle of the Fitness Center and Lotus Spa, is a quiet nook away from the loud main pool parties. The pool is open to all guests without a spa pass.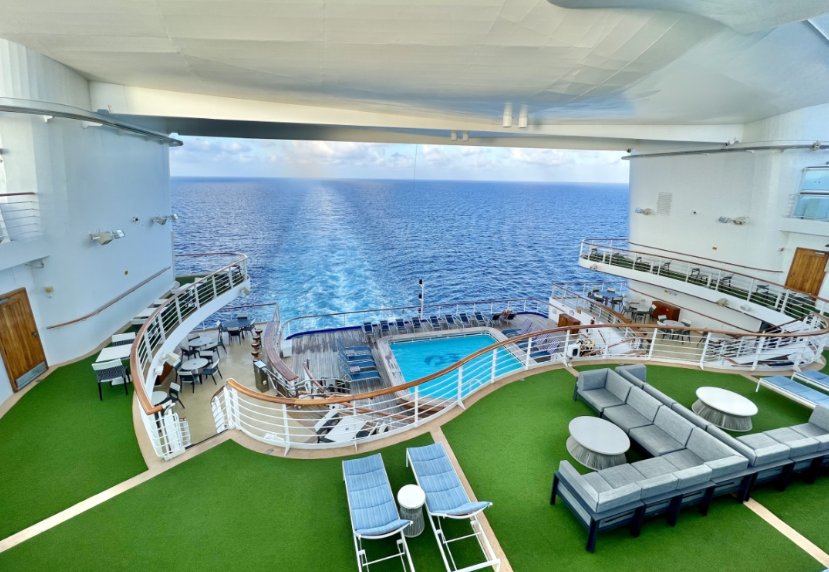 If I were going to use a pool, it would be the aft-facing Terrace Pool on the Riviera Deck. This is a great adults-only space with stellar views, loungers, a bar, dining tables, and blessed tranquility.
Fitness Center and Lotus Spa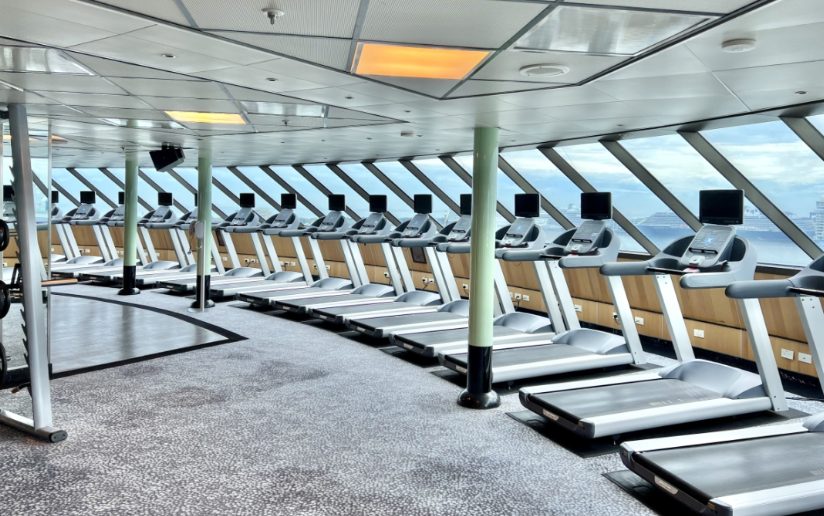 Like most ships, the Caribbean Princess has a well-equipped fitness center.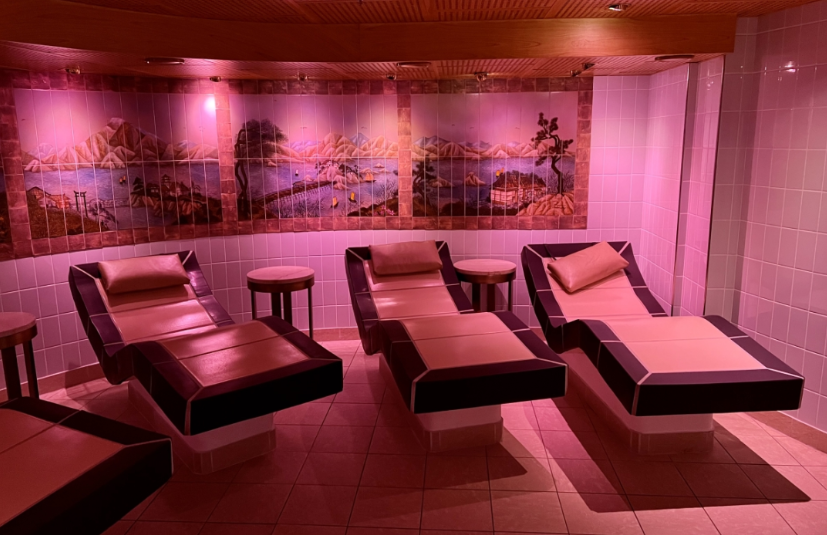 The Lotus Spa offers a complete menu of spa treatments and beauty services.
Most of the newer ships I have sailed only have paid coed thermal spa facilities. As an older ship, the Caribbean Princess has separate sauna and steam facilities in the fitness center's gender-specific locker rooms. These amenities are available to all guests without a spa pass.
Library and Internet Café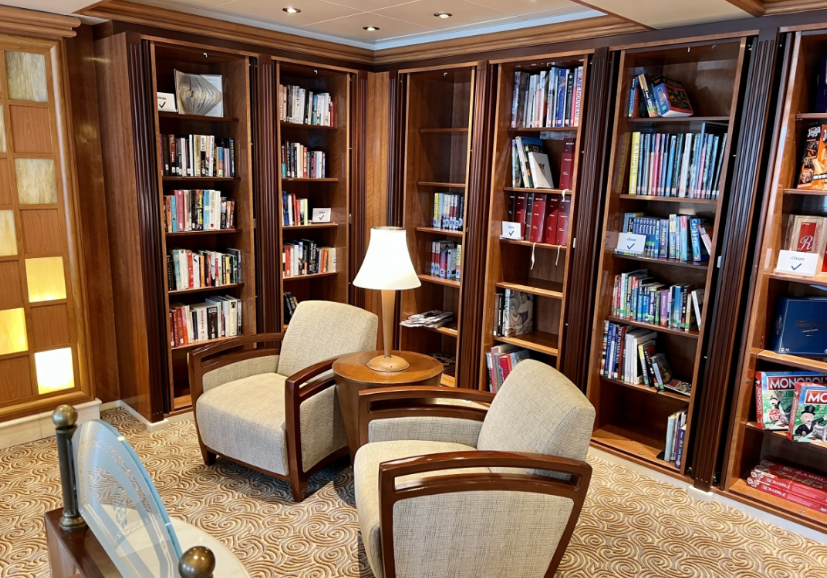 Located on the Plaza Deck, the combo library and Internet café are victims of bad design. The space is open to the noisy Piazza where live music is almost always playing, and immediately adjoins the gangplank entrance where I first boarded the ship.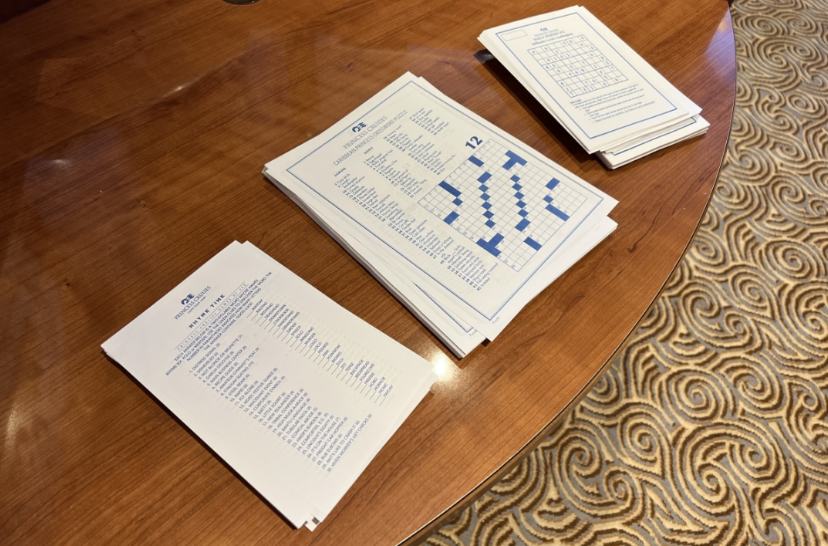 Needless to say, the library is not a quiet place for reading. But there is a small selection of books and boardgames for checkout and daily publications of Sudoku, crossword puzzles, and other word games.
The Internet café is open 24/7, but it is only staffed during set hours, which leads me to the best amenity on the ship.
MedallionNet WiFi
The amenity that made me turn cartwheels down the decks of the Caribbean Princess is the superfast MedallionNet Internet. At $10 a day it is the best value and the fastest speed I have ever encountered while cruising.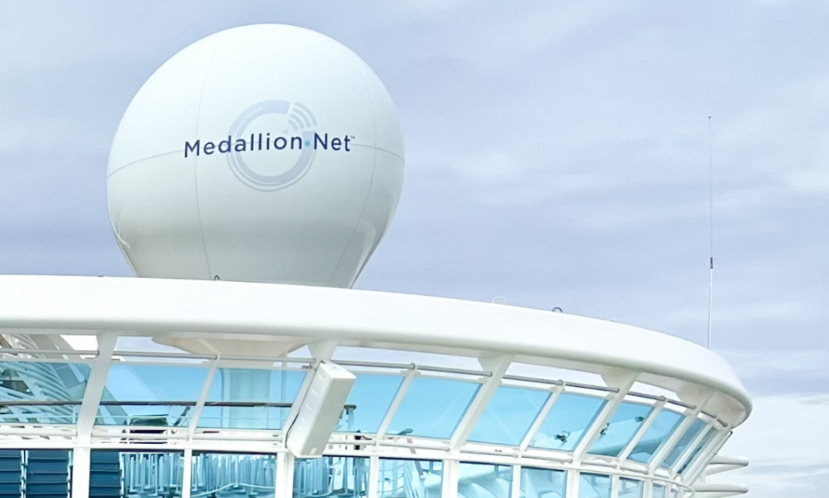 When it comes to WiFi, Princess kicks NCL's butt bad, and for me, that was good! As a travel writer, being connected is of utmost importance. Not only that, photos are everything. If I don't have photos, my stories won't get much attention. When I go out on shore excursions, I need my iPhone photos to back up to iCloud at night. Heaven forbid something should happen to my iPhone while cruising. I would lose all of my pictures.
On my three previous NCL cruises, I purchased their highest level WiFi plan, yet their Internet never backed up my photos. With Princess MedallionNet, my photos would back up any time my phone was plugged-in to the charger.
MedallionNet is also much cheaper than NCL's WiFi, a bargain in fact, IF you purchase it in advance on the MedallionClass app. If you purchase the plan in advance, it is only $10 per day. If you wait to purchase it after boarding, it is $20 per day. After completing 5 cruises or 50 days at sea, and reaching the Platinum tier in the Captain's Circle loyalty program, there is a 50% discount that reduces the price to $5 per day.
As you may recall, I had made multiple attempts to purchase the MedallionNet plan in advance, but the transactions would not go through. Later on the first day, I headed to the Internet café to make my purchase. When I showed the support tech the screenshot of the app's failed attempts, he issued a credit for the difference. Documentation is everything!
Onboard Entertainment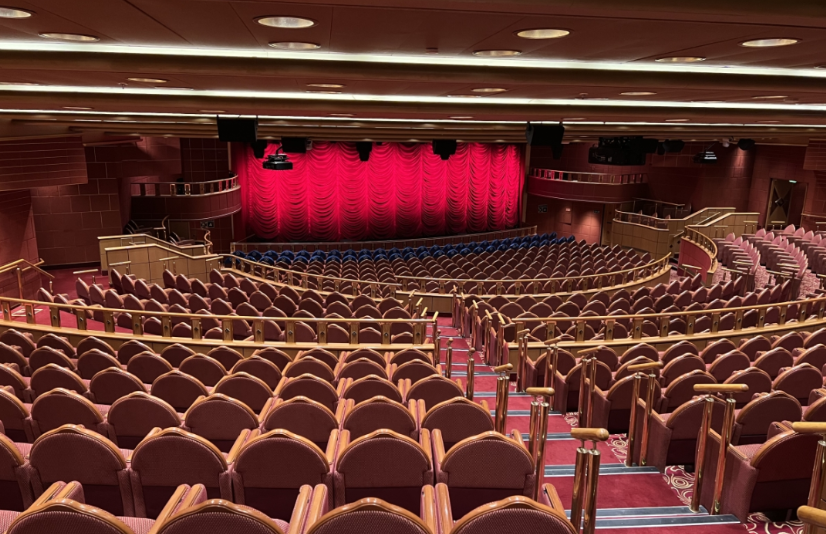 I don't attend many performances on any cruise, but I never miss any of the Broadway-style shows. During this cruise there were two such shows put on by the production team of singers, dancers, and musicians.
The first show I attended was Born to Be Wild, a road trip-themed production centered around a rotating pink Cadillac and a soundtrack of classic rock tunes. The second show was Bravo, a production featuring soloists and a 13-piece orchestra performing light opera and pop standards.
Bravo was the favorite of cast members. How do I know? Because I met two of them, a dancer and a singer, on separate occasions, and they were truly lovely people. I was surprised at how production team members were allowed to fraternize with guests at their discretion.
The ship's mentalist—unfortunately, I missed his show—was sitting at an adjacent table at dinner one night. We began talking, and he joined me for dessert. In conversation I told him I believed in spiritual giftings. He assured me that his tricks were all illusions.
Although I did not attend most of the ship's entertainment offerings, I can assure you according to the Princess Patter daily newsletter that there is a full slate of scheduled acts and activities. Just off the top of my head, I know there were daily meetups, contests, lectures, karaoke, live music performances, and much more.
Laundry
I travel light, always with a backpack and carry-on, and never check luggage, unless the airline forces me to. This 14-day cruise was in the Caribbean, so I did not have to pack bulky winter clothes, and did not need to do laundry on board.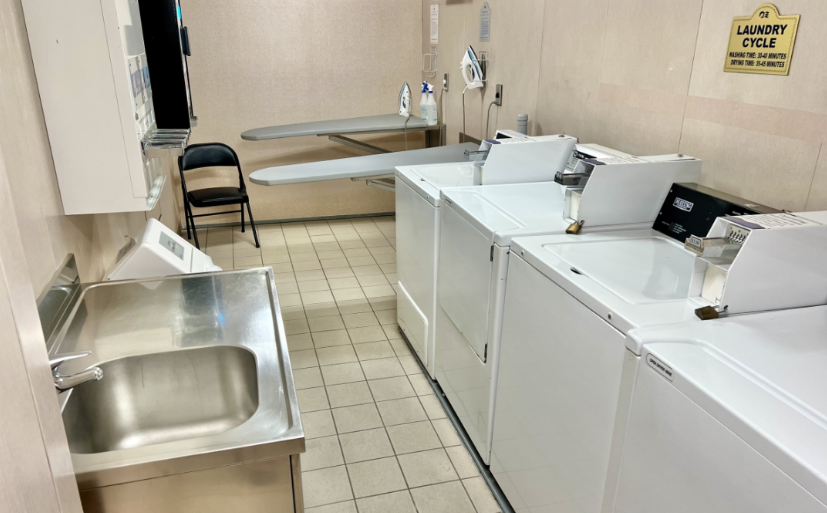 I had done laundry on a previous Viking cruise during a day at sea. So I was familiar with the workflow. The NCL ships I cruised did not have guest launderettes, and charged exorbitant prices for sending out laundry. Except on certain days when they offered a $29 fill-a-bag special.
The Caribbean Princess is outfitted with launderettes on seven decks, and they operate with a token system.
Laundry tokens are $3 each, and you purchase them with your medallion: $3 dollars for a wash, $3 dollars for a dry, and $3 dollars for detergent or fabric softener. If you want to conserve, I suggest you bring your own detergent pods and dryer sheets.
Dining Venues and Bars
Fresh off three NCL cruises that featured chef creations in the main dining rooms. And exceptional dishes in the specialty restaurants, dining aboard the Caribbean Princess was a disappointment. I am no food critic, but I found the food quality at all of the dining venues to be largely institutional with only a few exceptions.
This was a frequent topic of conversation around shared tables at mealtimes. I learned from frequent Princess cruisers that the average-to-poor food quality onboard had not always been this way. The consensus was that Princess had implemented drastic cost-cutting measures as a result of reduced bookings during the pandemic.
I understand why taking these steps might make good business sense. But I do not believe that some of the bait-and-switch marketing practices I observed are acceptable.
World Fresh Marketplace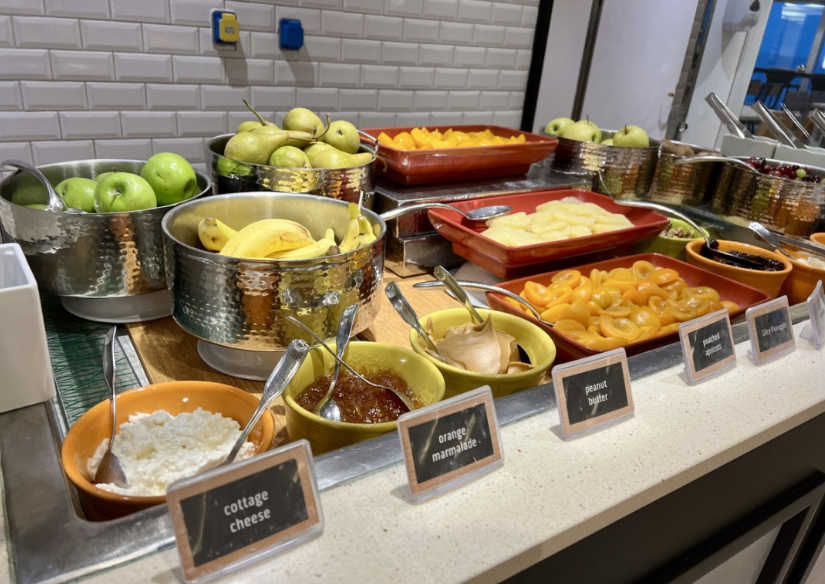 The World Fresh Marketplace is the Princess buffet, but due to health protocols it was functioning cafeteria style. I prefer serving my own plate because I know the amounts I want and where to place them on my plate. This was especially challenging at the salad bar. I am a huge salad fan, and I like salads made my way. But I understand the need to err on the side of safety, and I adjusted.
I often did a walk-through of the buffet stations to see. What was served before deciding whether to eat there or elsewhere. The day the Mexican-style lunch was served was one of the better days at the World Fresh Marketplace.
Coral & Island Dining Rooms
There are three main dining rooms on the Caribbean Princess. The Coral Dining Room on the Fiesta Deck is located directly above the Island Dining Room on the Plaza Deck. They both serve the same menus. The Palm Dining Room was closed.
Guests are able to make reservations in both dining rooms. But as a solo traveler, I never had a problem being seated. The hosts would ask whether I wanted to be seated at a shared table or dine alone. I typically told them it did not matter, because it didn't. I enjoy meeting other guests at dinner, but I also enjoy my solitude.
It got a little awkward on occasion because the hosts direct you to a seat immediately next to a seated diner. I prefer to spread out, but I understand why they do that, so they can easily seat other guests who arrive later.
At one shared table, I met Barry and Rhonda from Toronto. I had to laugh when they told me they had driven all the way from Canada to Florida to meet the ship. I had flown from Tampa to Fort Lauderdale because I was too lazy to make the 4-hour drive.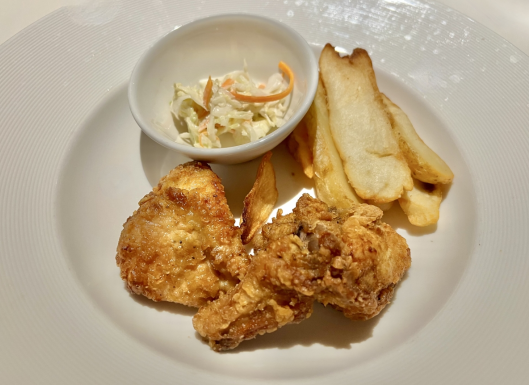 At my first dinner, I was seated with Georgina & Trevor from London. The waiter suggested that I order the fried chicken, which I did. When my plate arrived, there were two small pieces of chicken, a few fries that were stuck together, and a small bowl with a sparse serving of coleslaw. Frankly, I was embarrassed for Princess. I have seen more appealing dishes in school cafeterias.
Dinner was a disappointment, but Trevor had told me about the Princess Volcano, a dessert similar to a banana split that is not on the menu. I decided to go for it, and it was tasty, although it was made with ice milk. Unlike the delicious soft-serve ice cream I had enjoyed cruising with NCL.
I am currently in a stage where if there is a wedge salad on a menu, I will order it. I can't seem to get enough. The flavor profile of crisp iceberg lettuce, thick and creamy blue cheese dressing, and bacon all over always satisfies my palate. So when a wedge salad appeared on the dining room menu, I ordered it. Big mistake. The salad delivered to my table ended up being a few sprigs of lettuce, a dousing of watery dressing, and a sprinkling of bacon bits. Maybe it's just me, but I thought the whole purpose of a wedge salad was that it would actually be a "wedge."
French onion soup was standard on the menu every night, and it was consistently delicious with a generous portion of baked cheese on top.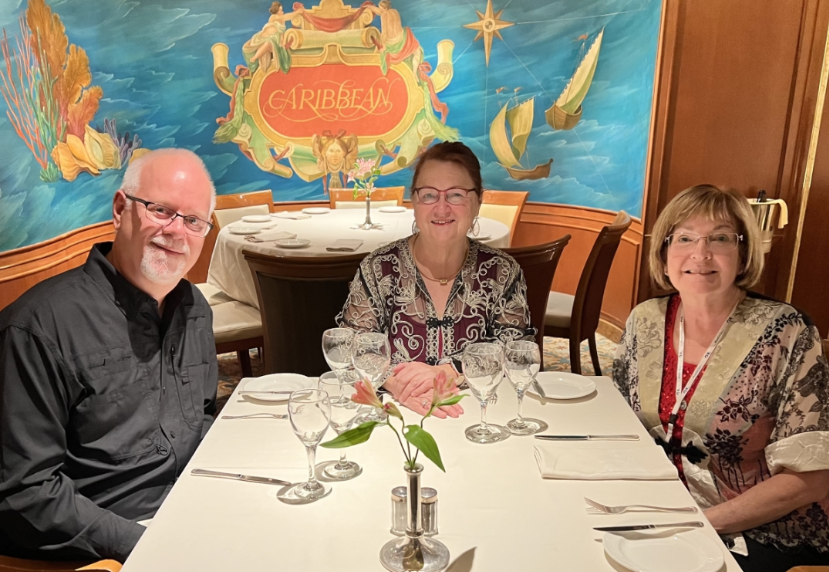 My friends Lucy and Margaret joined the cruise for the second leg, and I enjoyed dinner with them for the remainder of the itinerary.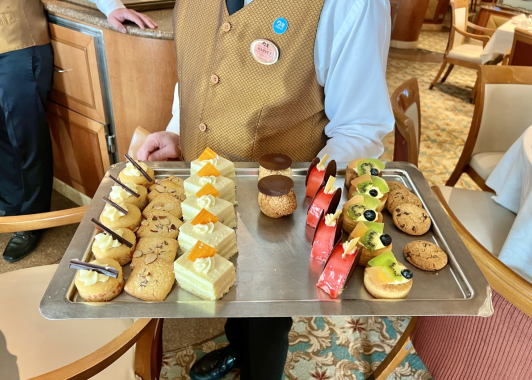 The Coral Dining Room is open for breakfast, and afternoon tea is served there daily from 3:00-4:00 PM. I went to tea a couple of times, and it was very nice. They do not bring a tiered server like I had seen on Viking, but they do offer a fine selection of teacakes, sandwiches, and scones with clotted cream and jam.
The only two specialty restaurants open onboard were The Crown Grill and Sabatini's. I waited to try them during the second leg of my cruise so I could dine with Lucy and Margaret.
Sabatini's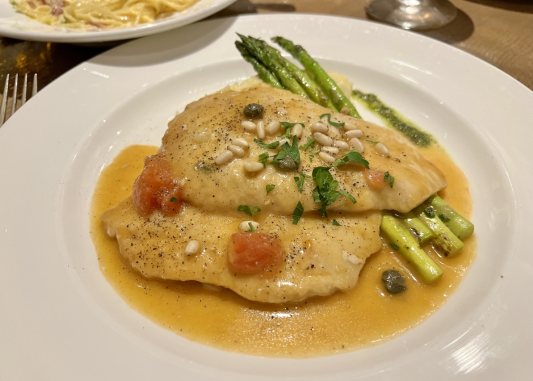 There was a $25 cover charge for Sabatini's. I ordered the cheese fondue (like a soup), burrata cheese and tomato antipasto (like a caprese salad), linguine carbonara, and chicken scallopine. The carbonara was excellent, but the chicken filets were rubbery.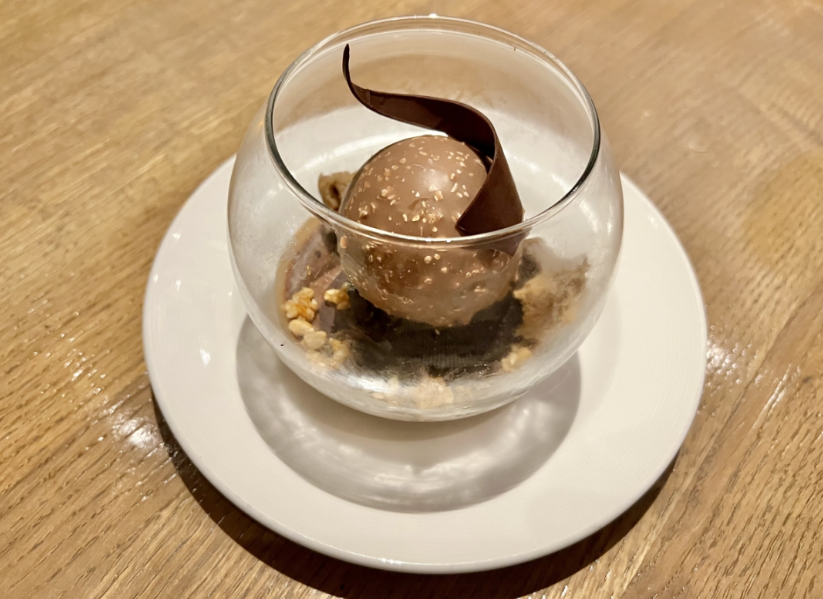 The highlight of the meal was dessert, a selection from the premium Chocolate Journeys program. The Rocher is described as a "blend of chocolate, pralines, and hazelnut ice cream sealed in milk chocolate, surrounded by crushed candied hazelnuts." It was literally a giant frozen bonbon in a fish bowl, and thoroughly delicious!
We ate our meal at a faux-wood laminate table with no linen tablecloth. I could not help comparing the mediocre Sabatini's dining experience with those I had enjoyed at La Cucina, the amazing Italian specialty restaurant on the NCL fleet.
Crown Grill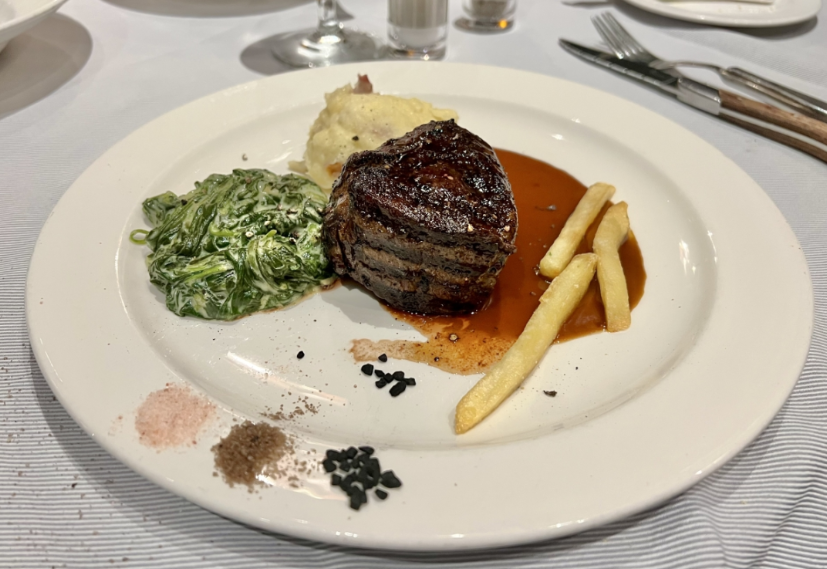 The Crown Grill steakhouse, with a $29 cover charge, was by far the best meal on the ship. I went with a seafood appetizer, black and blue onion soup, a filet mignon with gourmet salts, and creamed spinach and red-skinned mashed potatoes for sides.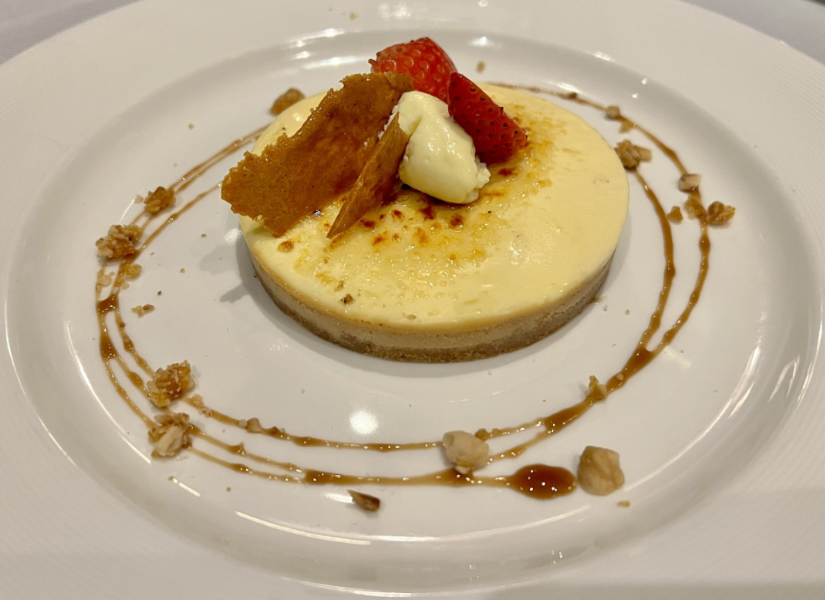 Dessert was a freaking amazing salted caramel crème brûlée cheesecake. We could not stop talking about it to the point that one of us ordered an additional dessert.
The Planks BBQ and Steamers seafood specialty restaurants were shut down. Because both of these venues adjoined the Fresh Marketplace, guests used them for distanced seating. Sadly, Princess had continued to market these specialty restaurants without informing potential guests that they would be closed.
The Salty Dog
I went in search of the highly-touted Ernesto burger, a creation by Chef Ernesto Uchimura, at the Salty Dog Grill located near the Neptune's Pool and Reef on the Lido Deck. Alas, another cost-cutting measure that as I write is still marketed on the Princess website.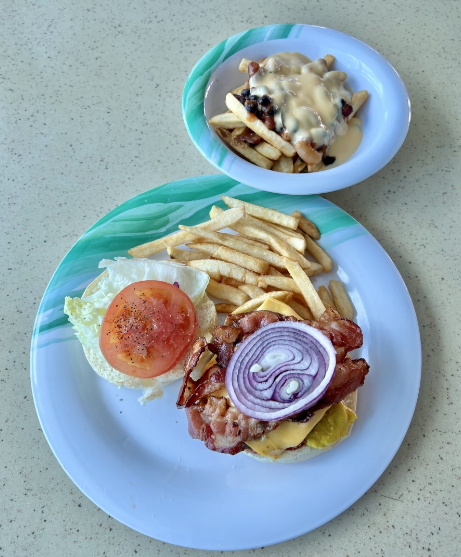 Out of luck, I ordered the BLT burger with cheese, as well as chili-cheese loaded fries. This was one time when I got the feeling the crew behind the counter saw me as just another cog in the wheel. It was all business and no pleasure, even though we were on a cruise.
The burger was okay, but the chili cheese fries were awful. The chili had no flavor whatsoever, and the nacho cheese sauce was watery. A guest came by my table and asked about the cheese sauce. I did not recommend it.
I was truly surprised at how dining experiences did not measure up to what you would expect from an established cruise line, even with the basics. The first time I had a salad made for me at the Marketplace, there was no onion (it later appeared), there was no soy sauce for fried rice, and no cheese for tacos on Princess Cays. I frequently ordered lemonade at the buffet, but it was not available in the dining room.
Slice Pizzeria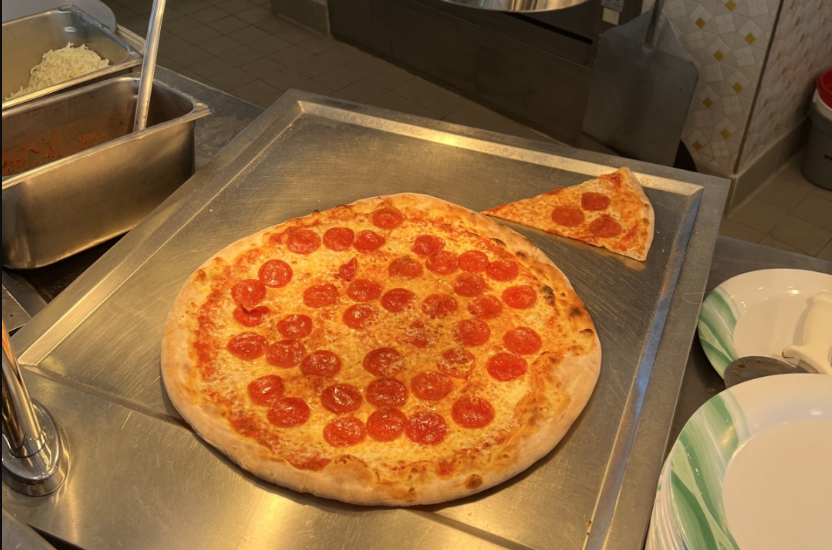 USA Today calls Princess Slice pizza the "Best Pizza at Sea." I would have to agree. This signature hand-stretched thin crust pizza is made and baked right on the Lido Deck, just steps away from the Salty Dog. The menu varies daily, but there is always a basic pepperoni pizza, a specialty pizza, and one additional variety. I quickly learned if the buffet and dining room menus did not excite me, I could always head down for a slice or two of pizza. Yeah, it really is that good!
International Café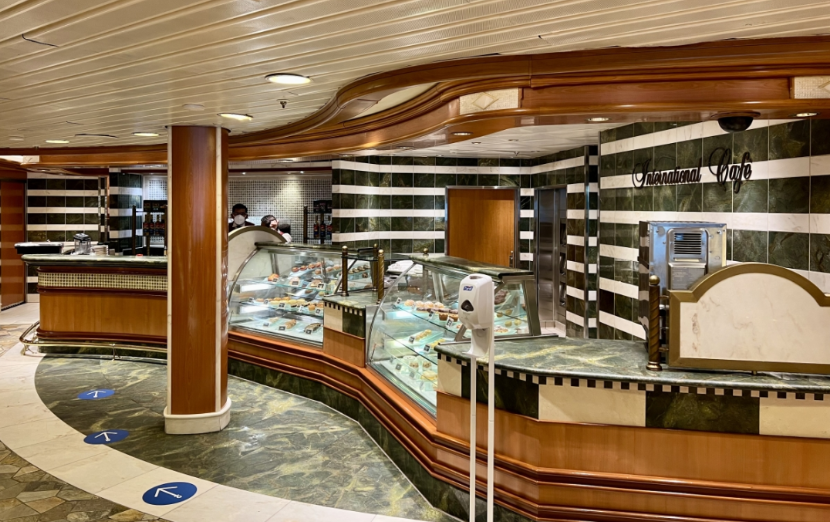 The International Café on the Plaza Deck is open 24/7, serving complimentary coffees and a selection of sweet and savory snacks. There is an upcharge for specialty coffees, teas, and other beverages.
The Wheelhouse Bar and Beverage Package
The Wheelhouse Bar was a nice venue with an English pub vibe. It was a quiet gathering place on afternoons until live music started later in the evening.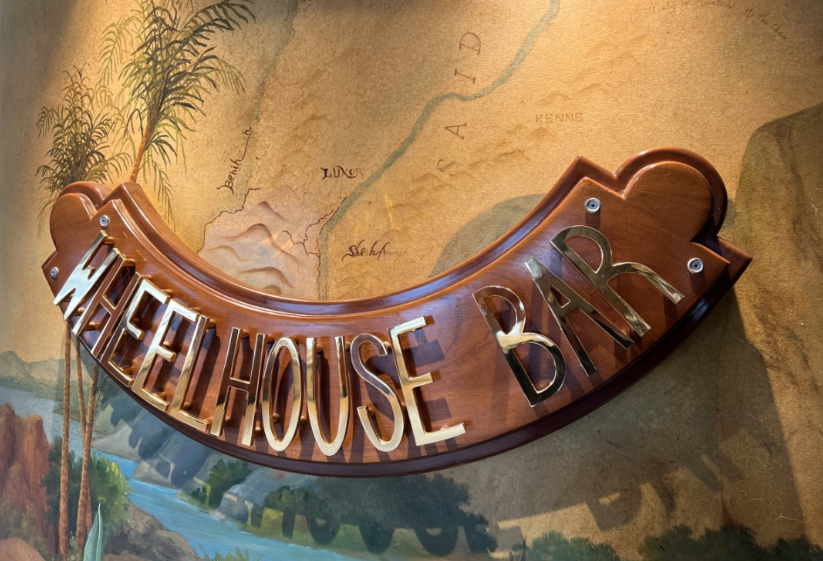 Informal unhosted gatherings were scheduled daily at the Wheelhouse Bar for LGBTQ+ folks at 5:30 PM and solo/single guests at 6:00 PM.
I typically purchase a beverage package when cruising, not because I over-indulge, but because I like to order drinks without considering how much I am spending.
At $70.79 per day, the Premium Beverage Package was cost-prohibitive for me, so I declined.
I had ordered a vodka and tonic at $9.44 on more than one occasion, and they were so weak that I thought I should order a double. It better, but later when I looked at my onboard account. I discovered that I had charged $18.88 (do the math) for one drink.
I mentioned the exorbitant pricing to one of the Wheelhouse servers. He said I should—this—order a Grey Goose martini, minus vermouth, and add tonic. Because martinis have 2.5 ounces of vodka, I could enjoy a stronger drink for $11.80 ($10 plus the included service charge).
Who knew? I mean, I appreciated the inside information, but did I seriously have to go through all of that to get a decent vodka and tonic?
I had heard about special Pub Lunches served at the Wheelhouse Bar, typically on select sea days. Pub grub such as fish & chips, bangers & mash, or the ploughman's lunch would be on the menu. Again, there no mention that this dining option had been discontinued. Even though it still marketed on the Princess website as I write.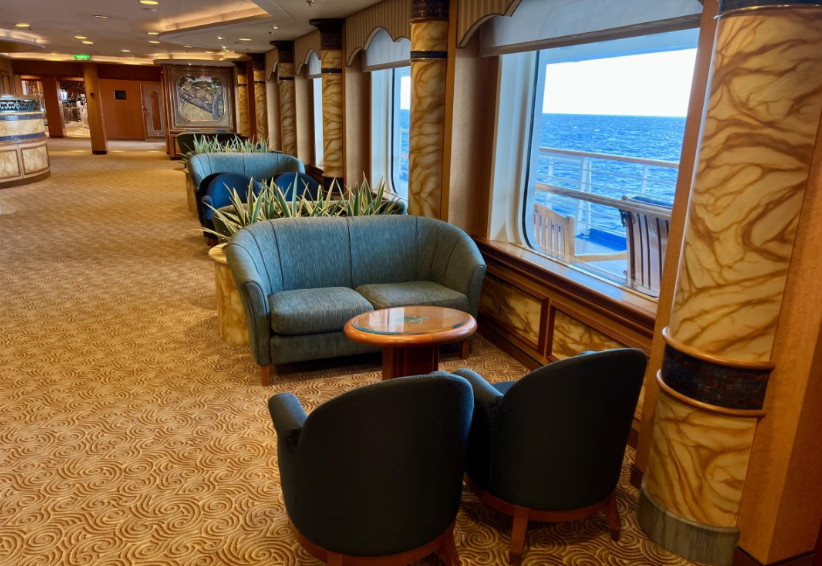 There are many more bars on board, but aside from the Explorer's Lounge I did not frequent them. The bar at the Explorer's Lounge directly faces the main indoor walkway on the Promenade Deck, so I would stop off there to buy bottled water. Although I had to buy water on Princess—unlike on Viking—at least I did not have to deal with the high-pressure water sales tactics on NCL.
You can make dinner reservations, as well as order food and beverages from any location onboard using the OceanNow feature on the MedallionClass app. Delivery is free. Regrettably, I cannot opine on the app feature because I never used it.
Port Destinations and Shore Excursions
The second part of this review focuses on my shore excursions at port destinations. Guests who booked other tours through Princess or private companies or explored on their own would have had experiences different from mine.
Discounting the cruise origin and destination at Fort Lauderdale (Port Everglades) and taking into account one port cancellation, there were only five international ports on this 14-day cruise. I am a Florida native, and I have visited greater Fort Lauderdale many times, so I did not book any excursions.
Because this was a back-to-back cruise, meaning two 7-day itineraries, the ship ported at Princess Cays twice. I did not return to the private island on the second leg.
That left a lot of days at sea, which I have come to appreciate. In my perfect world, an ideal cruise would have a day at sea between every port.
Princess Cays, Bahamas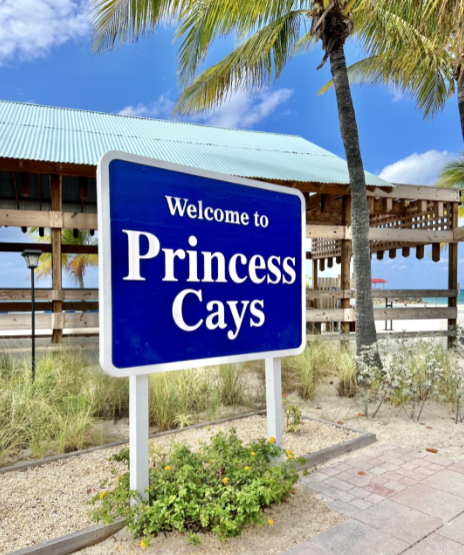 On the morning of Day 2, the Caribbean Princess arrived at Princess Cays, the cruise line's private beach resort on the island of Eleuthera in the Bahamas. The island itself is 100 miles long and two miles wide, and the resort occupies more than 40 acres at the southern tip of the island.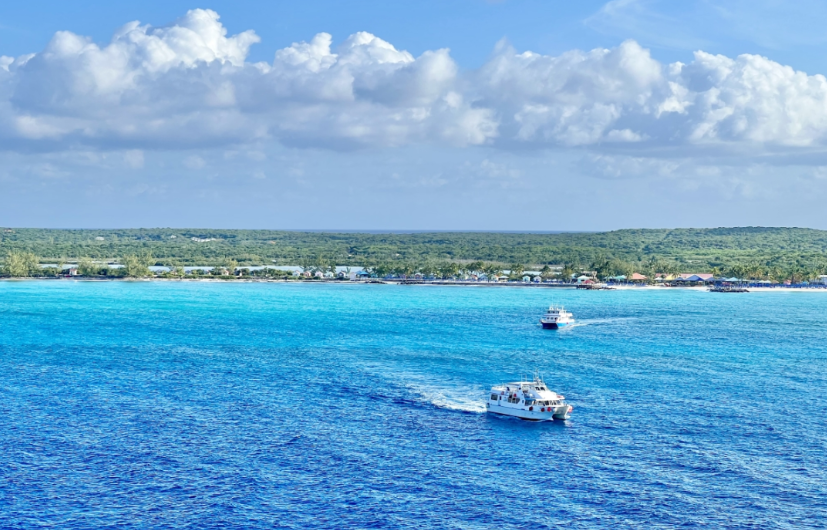 At this location there is no deep harbor, so guests must tender from ship to shore on shuttle boats. I love the natural beauty of the islands, but I don't care to wallow in salt, sun, and sand for hours on end.
Due to my curiosity and duty to cover destinations as a travel writer, I boarded the shuttle to check it out. The rumor that there would be barbecue served up for lunch may or may not have influenced my decision, as well.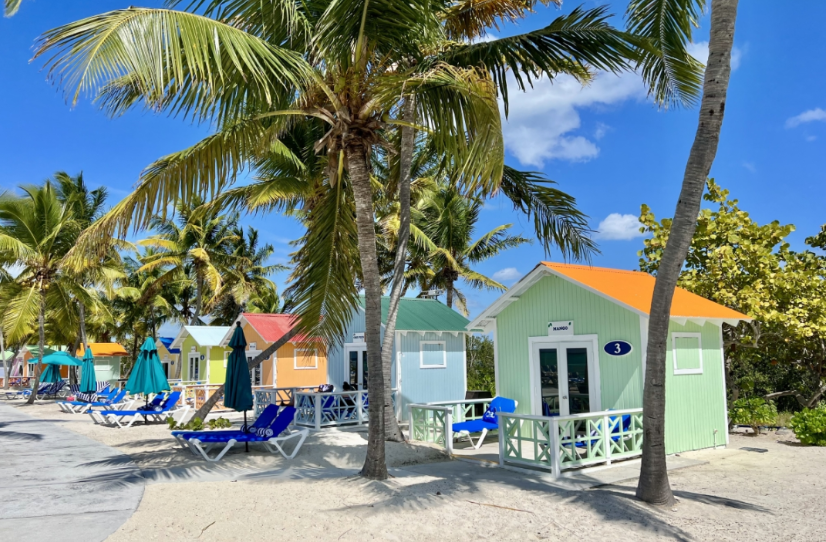 The coconut palms, white sandy beaches, and aquamarine waters were picturesque, as expected. And the pastel-painted cabanas gave the ambience a cool Caribbean vibe.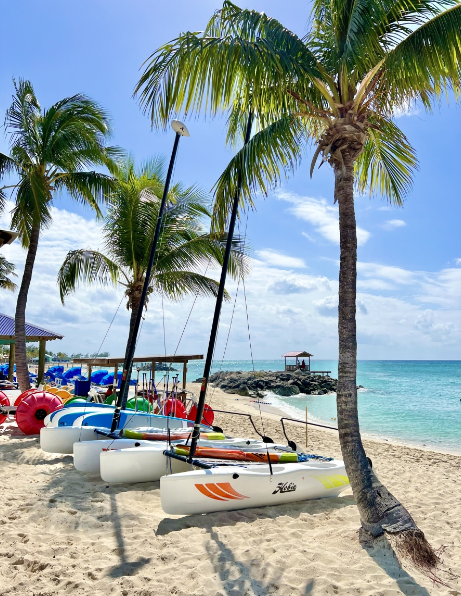 Snorkel equipment, seaboards, floats, kayaks, paddle-wheelers, catamarans, aqua chairs, beach clamshells, and bungalows were available for rental, and several excursion activities could be booked in advance for an additional charge.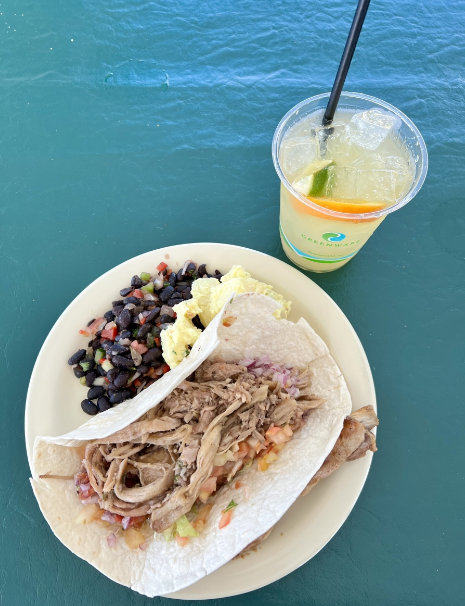 There were barbecued ribs and chicken legs at the lunch buffet, as well as tacos, burgers, and hotdogs, but the lunch pavilion felt more like summer camp than a an upscale beach resort. The tacos were pretty good, but would have been even better with salsa, cheese, and sour cream.
Beachfront bars served up cocktails, beer, and wine for purchase with the guest medallion.
I would say Princess Cays does not measure up to NCL's Great Stirrup Cay private island resort I had experienced a few weeks earlier. I did notice, however, that the Princess cabanas are all air-conditioned, while the NCL cabanas are open air.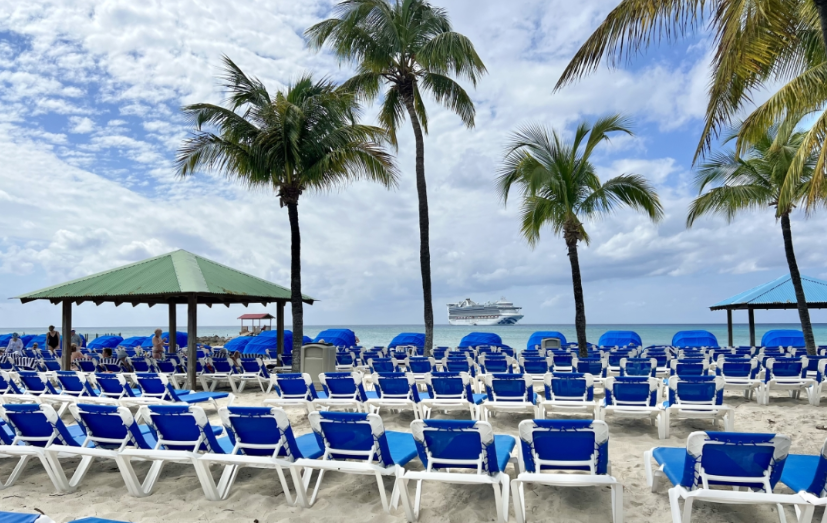 As someone who is not a sun-worshiper, I am probably not the best judge, but I can see how guests who enjoy beach life would have a fantastic day at Princess Cays.
After lunch and touring the facilities, I hopped back on the shuttle, and tendered back to ship. The water was not to be believed.
Ocho Rios, Jamaica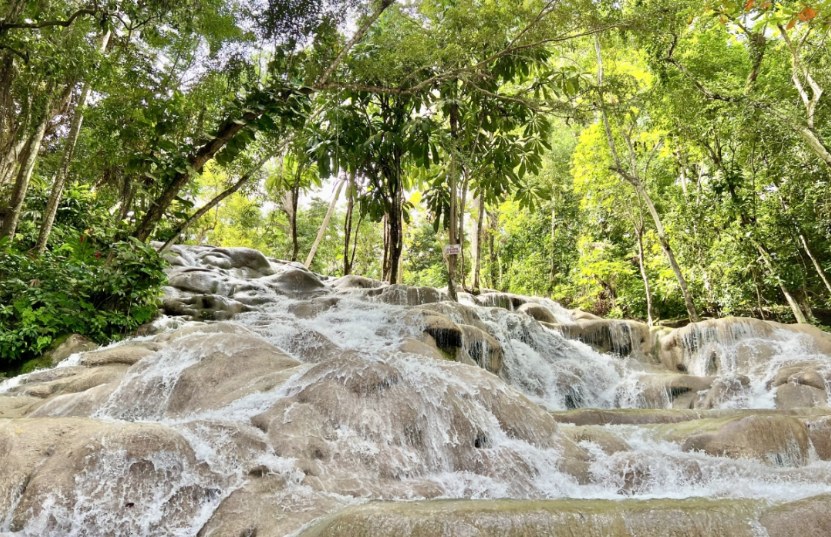 I have a huge fascination with waterfalls and chase them at every opportunity. And Dunn's River Falls in Ocho Rios, Jamaica, is one of the most stunningly beautiful waterfalls on the planet.
It is classified a travertine waterfall because the rock formations are constantly being renewed by the calcium carbonate in the springfed water. In its final descent, Dunn's River cascades 180 feet down a series of winding terraces and lagoons and empties directly onto the beach and flows into the Caribbean Sea.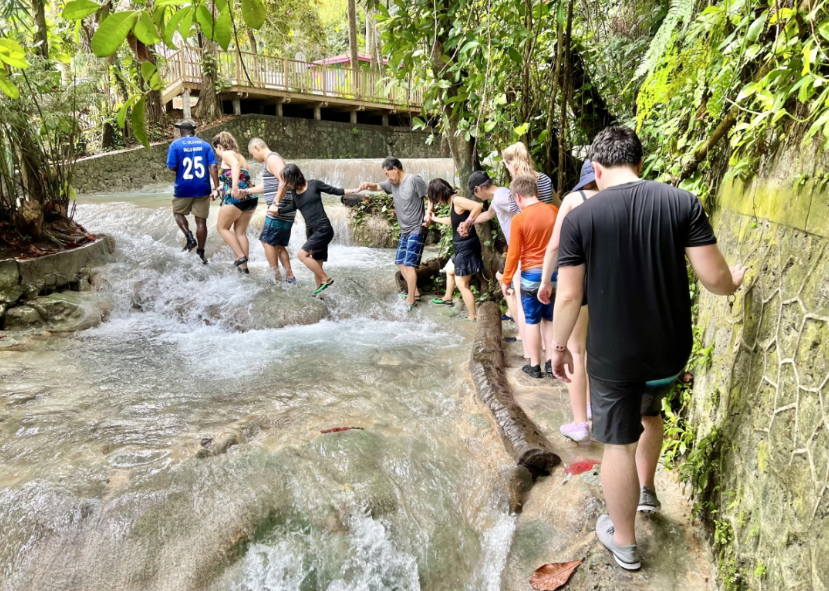 I first learned about Dunn's River Falls on one of the rides at Disney World eons ago, probably the Eastern Airlines-sponsored If You Had Wings. (Who remembers that monotonous song?) But I recall being so curious about this beautiful place where you could actually climb up a waterfall, and I yearned to go there.
That dream came true in 2007 when I got to climb the falls with my beloved 7-year old nephew Nathan and brother-in-law Todd. My sister Carla did not climb the falls, so she served as our terra firma flytographer, capturing amazing photos as we made our way from bottom to top. The experience was truly otherworldly, and you can read that post here.
When Ocho Rios appeared on the itinerary of my most recent cruise, I knew I would have to climb the falls again. Now 15 years older, I was grateful to have our experienced guide Courtney who led our group, held our hands, helped us navigate tricky spots along the climb, and patiently took pictures and videos for everyone in the group.
I could have relaxed in those refreshing waters all day, but there was another attraction yet to experience on our excursion. All I can say is, if you ever get a chance to climb Dunn's River Falls, do it. It just may be the closest you will ever come to heaven on earth.
I remembered from booking the excursion, that I would be visiting a historic plantation after Dunn's River Falls, but that was about the extent of my memory. As we pulled into the parking area, I noticed signs announcing YaaMan Adventure Park. At first it appeared a bit too commercial for my liking, but I decided to just go with it.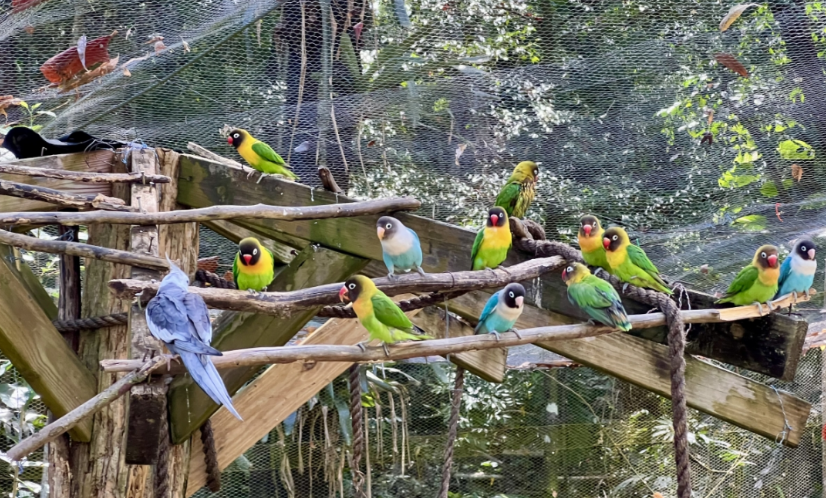 After exiting the coach, our guide Norma directed us to enter an aviary. She gave us a small handful of sunflower seeds. It didn't take long for me to fall in love with this place. Dozens of cockatiels, budgerigars, and other birds in the parrot family flew down to eat out of our hands and perch on our shoulders.
I enamored with these colorful feathered friends. Their personalities were so cute. I loved the way they quarreled with each other and cocked their heads to look at me. I didn't want to leave the aviary.
Next, we boarded a jitney with our guide Donovan. A jitney basically a shuttle trailer pulled by a tractor. We bounced and jolted up and down, over and around the mountains and through the jungle.
Periodically Donovan would stop to narrate a location or give a demonstration. Like when he took a machete to a coconut and shared the delicious meat with the group. He was a natural-born comedian, and his dry delivery kept me in stitches.
Donovan's demonstration of opening a Bombax flower was intriguing and beautiful.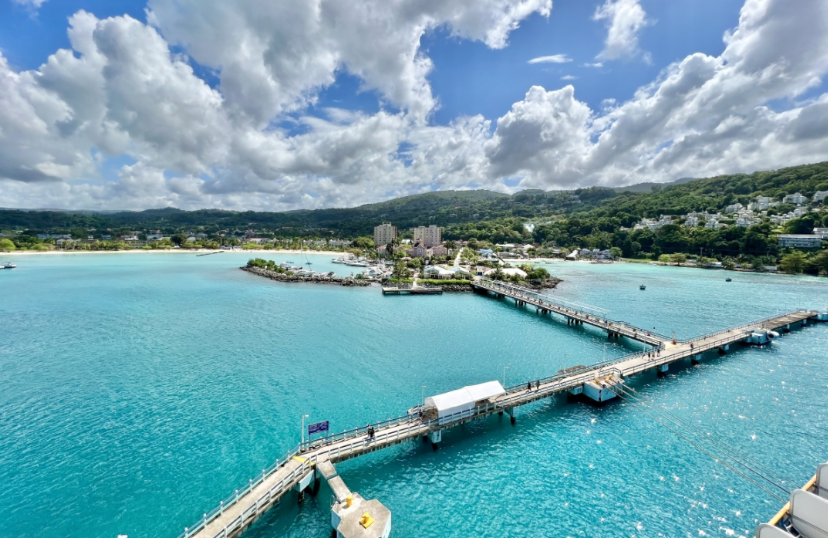 The adventure park situated at the site of the former Prospect Plantation, a thousand-acre sugar cane estate that dates to 1721.
Stepping off the jitney, we toured the 18th-century Great House and grounds.
The front lawn boasts a giant mahogany tree. A framed photo inside the house shows the former British Prime Minister Winston Churchill planting the tiny sapling in 1953.
Before reboarding the jitney, we sampled a communion cup-sized bit of rum punch. A large mug would have been better.
Donovan put the tractor in reverse and gave us a thrilling backwards ride down the lane and then headed back to the parking area.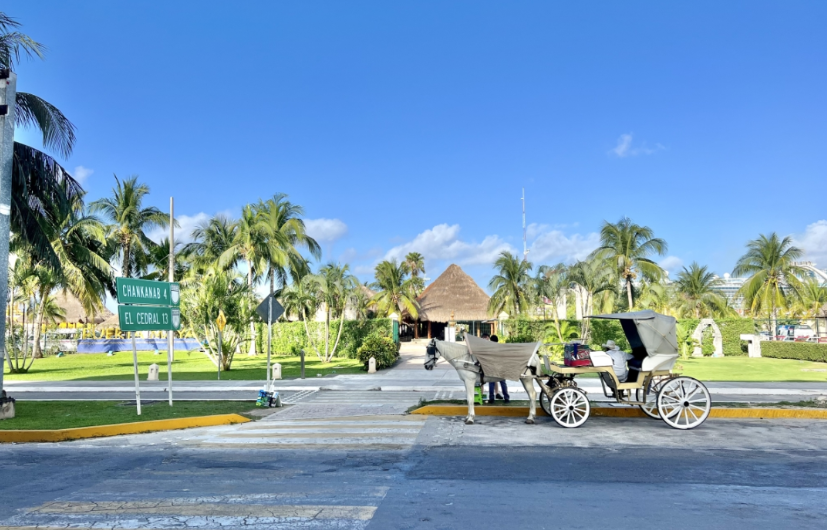 It was the end of a perfect day, and I must confess that I had a lot of fun at the "adventure park." I arrived back at the Caribbean Princess in time for a late lunch and a panoramic view of the Port of Ocho Rios from my stateroom balcony.
Grand Cayman, Cayman Islands
Nine days prior to embarkation, I received an email notification that due to "temporary government restrictions on cruise ships" the Caribbean Princess would not call to Grand Cayman. Rather than substituting another port, the powers that had decided to replace it with an additional day at sea. I did receive an onboard credit for my pre-paid port taxes.
I knew that the Cayman Islands closed to cruise ships when I booked. But I thought perhaps the restriction would lifted by the time I sailed. In discussion with another guest on board, I learned that Princess had continued to market. The cruise with Grand Cayman on the itinerary even though they knew. The port would closed at least until the beginning of the month following our sailing.
Cozumel, Mexico
Prior to sailing I had booked a shore excursion to the Mayan ruins at Tulum for the day we ported in Cozumel. On the second day of the cruise, a letter delivered to my stateroom informed me that the excursion had canceled due to too few guests on the tour.
With such short notice, I posted to Facebook eliciting suggestions from my travel friends for what to do in Cozumel. I finally settled on renting a car to drive around the island. I emailed a rental company, but by disembarkation time I had not received a response. With no definite plans, I got off the ship to see what might happen.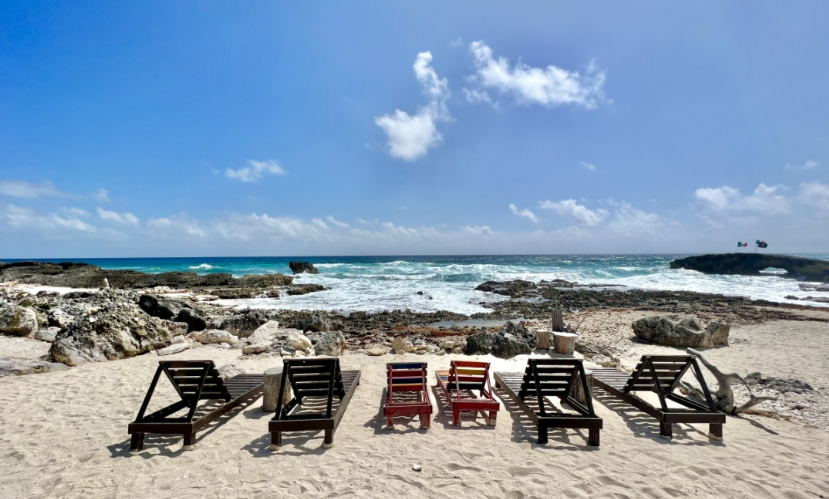 At the cruise terminal information desk, I decided I would try to take a tour to the Mayan ruins at San Gervasio. A taxi driver wanted $70 to take me, and I thought that was a bit steep. I inquired at a tour company across the street from the terminal, and they told me to come back at 9:30 to allow time for more guests to get off the ship and join a tour.
At that point, I went in search of breakfast and found a spot around the corner. I ordered huevos rancheros, and they were just okay. And at $12, plus tip, it was definitely a tourist trap.
When I returned to the tour company, they said no one else had requested a San Gervasio tour. Thinking I might have to resort to a taxi, I returned to the terminal. A tour guide overheard my conversation with the security guard and let me know he would be leading an excursion to San Gervasio. Back inside the terminal, I met with Princess representatives who put me on a tour for $59. The meetup time was not until 10:20, so I had to kill some time in port absorbing the February heat and humidity.
I ended up in a group led by a different tour guide named Gustavo. He was soft-spoken, knowledgeable, and turned out to be the type of guide I prefer.
The island of Cozumel 30 miles long and 11 miles wide. In addition to touring the archaeological ruins at San Gervasio, we would circumnavigate the southern part of the island and take in a few additional sites.
The first stop for a bathroom break at a place called the Mayan Bee Sanctuary. A variety of honey products were for sale, as well as jewelry and carvings by artist Carlos Francisco Pacheco Polanco.
It estimated that there were as many as 2,000 Mayan cities in Mesoamerica. The region encompassing southern Mexico, Guatemala, Belize, El Salvador, Honduras, and Nicaragua, yet only 200 sites have unearthed. The Mayan archaeological site of San Gervasio excavated in the 1970s. The ruins indicate several periods of habitation between 300 and 1650 A.D.
The site was a hub of worship for the Mayan goddess Ixchel, a deity of fertility, childbirth, medicine, and weaving. Pre-Columbian Maya women made pilgrimages and left offerings at San Gervasio.
Our guide Gustavo mentioned that iguanas were guardians of the Mayan tombs. This was certainly believable because fearless iguanas were crawling out of the jungle, onto the tombs, and everywhere else for that matter.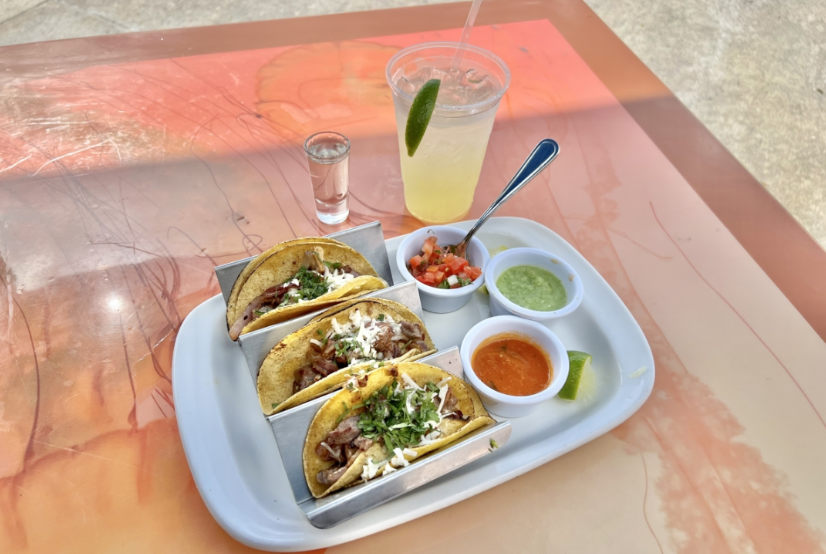 The archaeological park packed with tour groups, but surprisingly I able to capture many photos minus people.
Back on board the air-conditioned coach with bottles of ice cold water, we headed toward the eastern coast, and stopped at a scenic spot with a beach bar called El Mirador.
A small band of modern mariachis serenaded us accompanied by guitar, violin, and trumpets. A server insisted that I sample peanut butter tequila and coffee tequila. Not bad!
The final stop of the excursion at a commercial site called the Mayan Cacao Company. We sampled mole, chocolate, and several flavors of tequila. It was all good, but I didn't buy anything. I prefer not visiting shopping venues on shore excursions.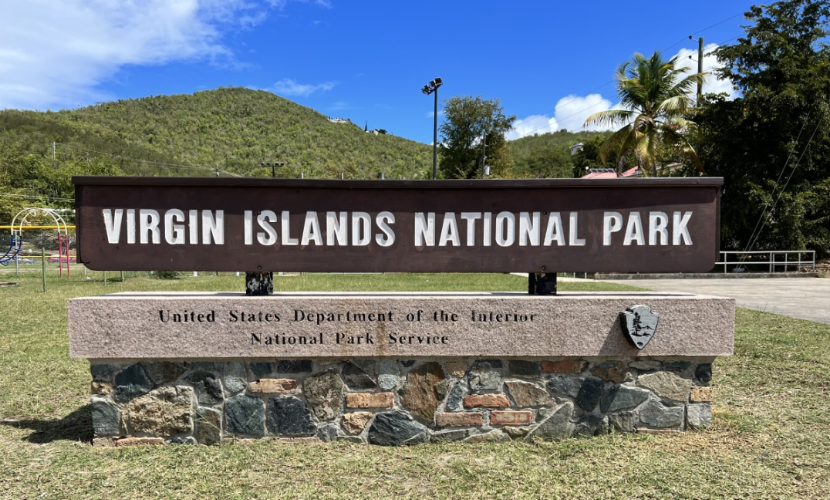 Against my better judgment, I stopped at Jimmy Buffet's Margaritaville for a late lunch before heading back to ship. Huge mistake! The prices were exorbitant, the steak tacos were pretty good, and the margarita was the second-worst I have ever had. It literally tasted like watered-down Kool-Aid. I mentioned to my server that I didn't think there was any tequila in the drink, and she returned with a full shot glass. I poured the liquid in the cocktail and stirred the beverage. It still tasted weak, so I stuck my tongue in the shot glass. Methinks it was water. Don't fooled by the photo. Tourists beware!
I am sure I will visit Cozumel again on a future cruise. Although I enjoyed the excursion and thought it a fair price, I will plan better next time in order to appreciate more authentic Mexican cuisine at some of the locations recommended by my travel buds.
Fort Lauderdale, Florida
This was my first back-to-back cruise, so it seemed strange returning to Port Everglades for the day. Guests staying on board who did not have shore excursions in Fort Lauderdale. Had to meet in the Island Dining Room and called by groups to go through immigration off ship.
I set off on foot to explore the port area, stretch my legs, and visit an ATM.  I made it back to the ship in time to meet my friends Lucy and Margaret, who had just boarded the ship, for lunch.
St. Thomas, US Virgin Islands
On my previous visit to Saint Thomas, USVI, I did a historical walking tour of Charlotte Amalie. But there was not much time on the ground because we had to report back to ship by 1:30 PM. This time we did not have to be back on board until 9:30 PM.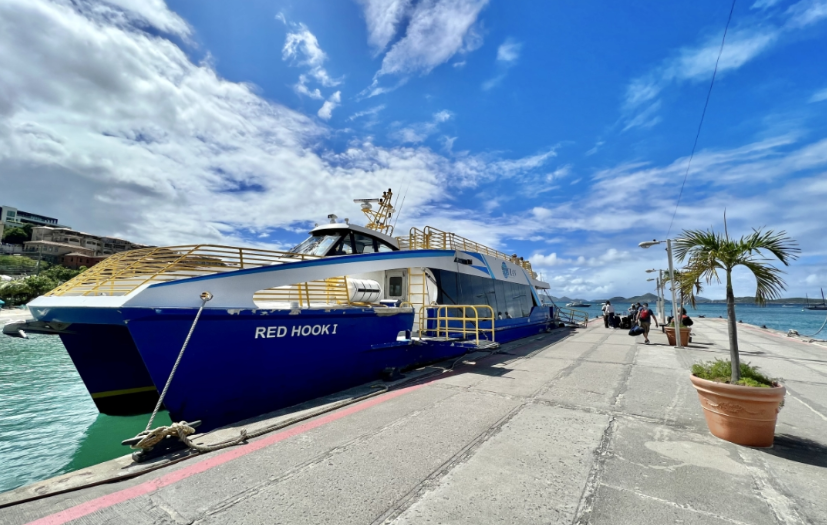 I calculated that there was plenty of time to tour Virgin Islands National Park, located on the neighboring island of St. John. My friend Lucy who an experienced cruiser explained the best way to arrange transportation. So as soon as we received port clearance, I off the ship and on my way.
I boarded an open-air group taxi (AKA safari) at the station directly across from the Havensight cruise port. The flat rate fare for the 20-minute ride to the ferry terminal at Red Hook was $10. I purchased a round-trip ferry ticket to St. John for $16.50. After I had already paid, I noticed that there was a discount for travelers over age 60.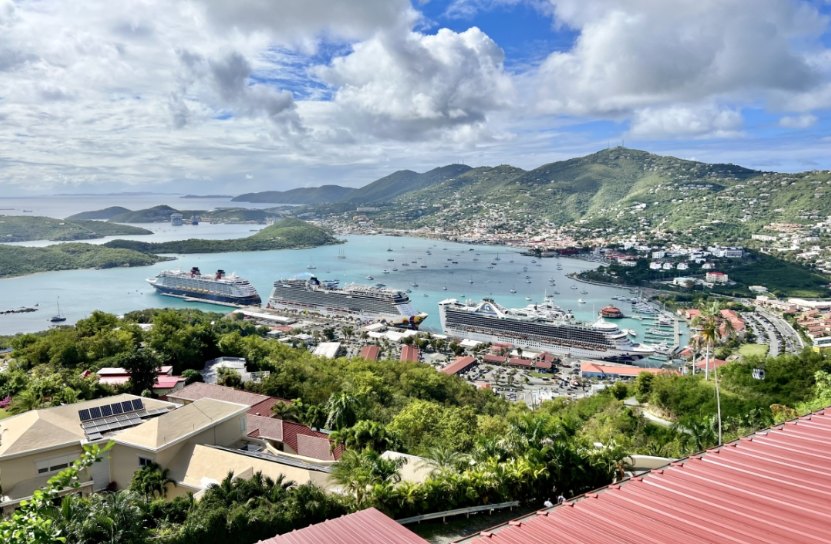 Ferries between St. Thomas and St. John depart every hour on the hour, so I had to hang around the terminal for about 45 minutes. The ferry ride between the two Virgin Islands was scenic and pleasant, and only took about 15 minutes.
Arriving at Saint John, it was a short walk over to the national park visitor center. I collected my NPS passport stamp and inquired at the ranger desk how best to tour the park. The ranger suggested that I hire a taxi to carry me to key scenic and historical sites.
Easier said than done.
The guys at the taxi station were friendly and helpful, but unfortunately I the only guest interested in touring the park. The overwhelming majority of visitors to St. John head for the beaches. One of the agents suggested I wait to see if anyone else arrived on the next ferry at 1:15 who might interested in sharing the fare of a group taxi. No one did. Déjà vu, much?
The agent said he knew someone who would give me a tour for $100, but that was not in my budget.
Unfortunately, my Virgin Islands National Park adventure ended as quickly as it had begun. I boarded the 2:00 ferry back to St. Thomas and shared a taxi ride to the cruise port.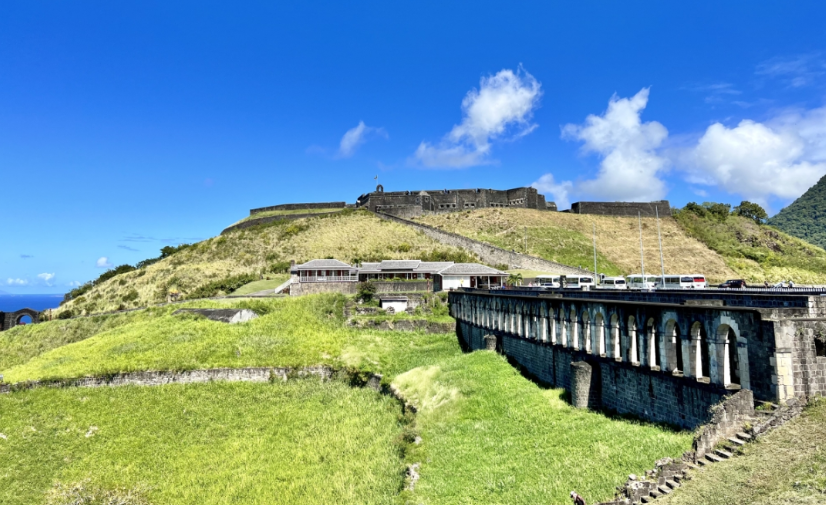 I had purchased a ticket in advance, so I took the Skyride to Paradise Point.
At the top there were expansive views of Long Bay, Charlotte Amalie, and beyond. It was cool to spot the NCL Encore that had carried me to Alaska docked directly behind the Caribbean Princess.
I had heard rumors of the legendary Bailey's Bushwackers and banana daiquiris from the Taste bar at the top. They did not disappoint. Unlike many tourist trap frozen beverage vendors, there was no skimping on the spirits. At $10 per cocktail, a great value and highly recommended!
My experience that day taught me that in order to tour Virgin Islands National Park. You either need to be traveling with a group or join a group to split the expense of a shared taxi. As much as I enjoy solo travel, sometimes it sucks.
Basseterre, St. Kitts
When you book group tours, you're never quite sure what you're going to get. They can be disappointing, or they can be incredible. This one turned out to be a bit of both.
St. Kitts (an abbreviated derivation of St. Christopher) and Nevis is a dual-island sovereign nation in the West Indies, that gained independence in 1983. At 68 square miles, it is the smallest nation in the Western Hemisphere and a member of the British Commonwealth.
Columbus the first European to sight the islands in 1493, and St. Kitts became the first Caribbean island to colonized by both the British and the French.
Our driver and guide drove us through the capital city of Basseterre. Pointing out many historical sites, but stopping for none. The tour continued with a drive north along the coast on Island Main Road.
It quickly became evident that St. Kitts was my type of destination, an island with rich history. Lush vegetation resulting from abundant rainfall and fertile volcanic soil, and phenomenal scenic views.
The driver pointed out the dormant Mount Liamuiga and the site of St. Thomas, the first Anglican church in the Caribbean, dating to 1622. The present building constructed in 1860. I had to grab pictures of these locations through the bus window. We also drove past the remains of a fishing boat wrecked on the rocky shore, but again, no stopping for a photo.
Turning off the Island Main Road, we drove along a winding dirt road into a dark tropical jungle with giant trees and a high canopy. We passed the Wingfield Estate sugar plantation ruins. I cannot tell you how badly I wanted to climb out of that bus to explore and take photos. But again, no stopping.
There would be two destinations on the excursion. The first was at Romney Manor, an estate once owned by the great-great-great-grandfather of Thomas Jefferson. The first plantation on the island to free its slaves in 1834.
The site is now home to the world-famous Caribelle batik, introduced in the 1970s.
The fabric designs works of art, and the manor grounds beautifully landscaped. But I couldn't escape the feeling that this stop included on the itinerary due to its commercial appeal. I firmly maintain that separate excursions should offered for shoppers and history buffs.
The second destination of the excursion was everything.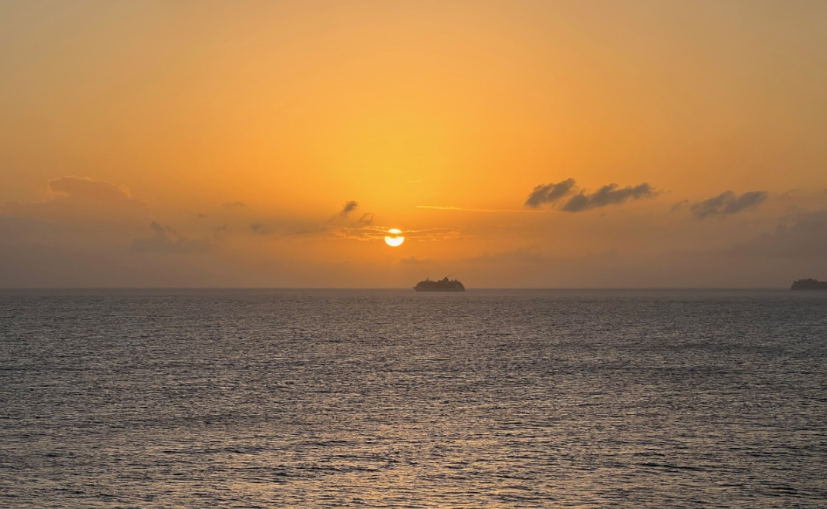 Brimstone Hill Fortress National Park is the site of the oldest fort in the West Indies. Construction of the fortress, designed by British architects and built by African slaves, began in 1690 and reached completion just over 100 years later.
The French invasion known as the Siege of Brimstone Hill in 1782, was a battle of the American Revolutionary War. Brimstone Hill designated a UNESCO World Heritage Site in 1999.
The 360° views from atop the fort were absolutely stunning! On a clear day you can see forever, with the islands of St. Eustacius and St. Martin in the distance. (This photo reminds me of "Bali Hai" from South Pacific.)
I have toured innumerable historical forts during my travels. This one just may be my favorite due to its age, well-maintained condition, and spectacular location. We had 45 minutes to explore the site, and I could not stop taking pictures.
All too soon, the excursion ended, and our driver-guide delivered us back to the ship before noon. I would love to have explored more of the island, but at least now I know how to plan my next visit, including Nevis, the birthplace of Alexander Hamilton.
Afterword
The final port of St. Kitts followed by two days at seas as the Caribbean Princess made her way back to Fort Lauderdale.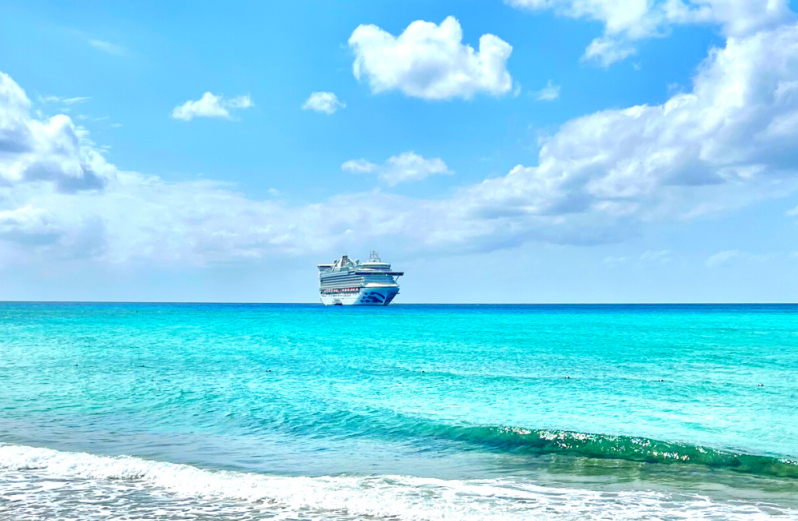 Looking back, in spite of the temperamental mobile app, occasional foul odors, fair-to-average dining. Expensive beverage prices, deceptive marketing practices, cancellations, and shore snafus, I still had a great time!
The most exemplary onboard features were a heavenly bed, kick-ass WiFi, a plethora of pools. Complimentary sauna and steam facilities, multi-floor launderettes, and Broadway-quality production shows.
I also appreciate that Princess does not conduct high-pressure nickel-and-dime strategies like NCL, aside from pesky photographers in virtually every public space.
I did not allow my first Princess experience to keep me from another booking. In fact, my next cruise is a 25-day transatlantic and Western Europe itinerary on the line's newest ship, the Enchanted Princess.
Upon repeated admonishments from my fellow cruisers. When I returned home, I bought 100 shares each of Carnival and NCL stock. Shareholder benefits for both parent companies include generous onboard credits for every cruise on any of their corporate brands. Carnival is the parent company of Princess. The onboard account for my upcoming cruise already shows a credit of $350. Can you dig it?
Because I am a frequent traveler, I have an annual travel insurance policy. I don't plan to inquire at this point because it is not that important to me. But a fellow passenger mentioned that some travel policies include reimbursement for missed cruise ports. Such as the Grand Cayman cancellation on my itinerary. Just throwing it out there so my readers will be in the know.
I Would Love to Hear From You
I enjoy dialogue with Backroad Planet readers, especially when they share off-the-beaten-path destinations and useful travel tips. Have you ever done a Caribbean Princess cruise? If so, I would love to hear about your experience. I invite you to leave your comments and questions below, and I always respond!