Pomelo is a Bangkok-based fashion firm known for its modern fashion style. Pomelo Fashion Review suggests that the convenience that Pomelo gives is beyond the ease of ordering products through a desktop. Launched in 2013, Pomelo took over the Asian market with its modern fashion brand. It provides the most trendy on-the-go clothes loved by Singaporean ladies who value the convenience of online shopping.
Pomelo Fashion Review – Pomelo aims to offer women their best look to become their best selves. Their fashion sense is undisputable. Every product at Pomelo is priced under 50 dollars which is quite affordable. The Pomelo a policy that all products are delivered with a 365-day return guaranteed. Pomelo delivers to more than 50 countries with new arrivals, core fashion, and trendy looks.
Pomelo Fashion Review – Exclusive Perks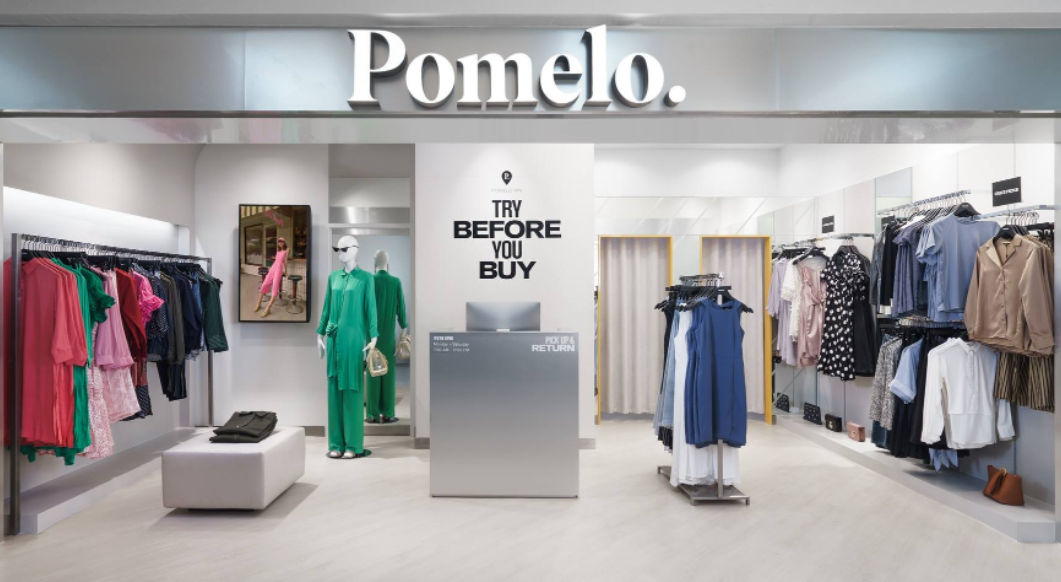 It's an online high-street fashion brand for ladies. Pomelo has a wide range of clothes from beachwear to sportswear. They are like the H&M of the online market. Pomelo provides you every fashion item that can make you glamorously from head to toe on every occasion, be it casual, sport, or party wear.
Pomelo provides you with quality products at affordable prices. All the products come from the fashion capital Seoul. Korean fabric is used to express the design and ideas that gain inspiration from the fashion trend in cities like New York and Paris. The apparel mostly ranges from 24 dollars to 50 dollars, which is pretty reasonable.
Pomelo has fast delivery and a long return policy. If you are in Singapore, you don't have to pay for the delivery. Expect your purchased dress after two to four working days, counted from the day you placed your order. In case you want to return the item, you can send the parcel back at any point in time within 365 days. But for a full credit card refund, you should do it within 28 days.
Pomelo Fashion Review– The Best-Sellers at Pomelo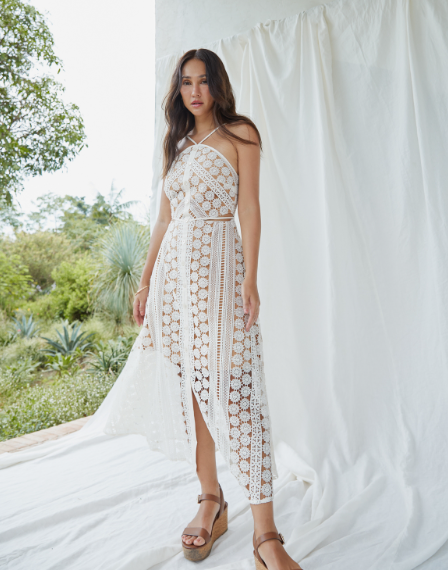 Pomelo offers more than 700+ styles of dresses available on their website. The Wave print mini dress and Crochet floral cut-out dress come in multi-color are one are the Famous picks. The floral midi dress in navy color looks beautiful on Asian women. The Vibrant Cold shoulder ruffle buttoned dress will give you 90s vibes.
Pomelo Fashion Review – Pomelo got some gorgeous knee-length dresses like a Checkered halter keyhole dress, a Gingham puff sleeve mini dress, and the puffed sleeve off-shoulder dress. Pomelo also sells adorable tops. The Watercolor print short sleeves shirt and Wave print tie-front blouse are perfect for that beach look. Bring the inner sexy by wearing the Puffed sleeves crop top, which comes in cobalt and beige color.
Other than sustainable baggy jeans, Pomelo Fashion Review says that they provide printed and checked pants. The high waist wide led pants come in wave print, and the beige color goes with literally anything. Go for tacky flower print high waist pants and the Powerpuff girls sweatpants for those heavenly look.
Pomelo Fashion Products
Floral Sleeveless Mandarin Collar Dress – Yellow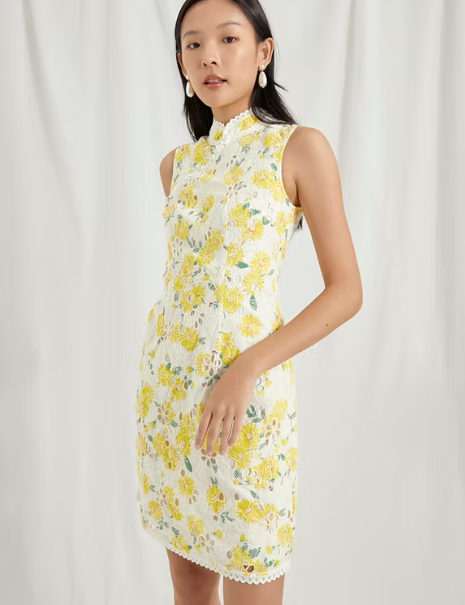 Victorious & vivacious: Upgrade your wardrobe for the Year of the Tiger & beyond. Rake in the compliments in special prints, cheongsam buttons, & more. Look so stylish, everyone will ask you about your outfit!
Please note that the size of this product runs large. It is recommended to go one size down from your regular Pomelo size.
Hits at the knee for a knee length
Sleeveless
Mandarin collar
Eyelet design
Floral print
Faux pearl accents
Style #59604
Short Sleeve Lace Mini Dress – Red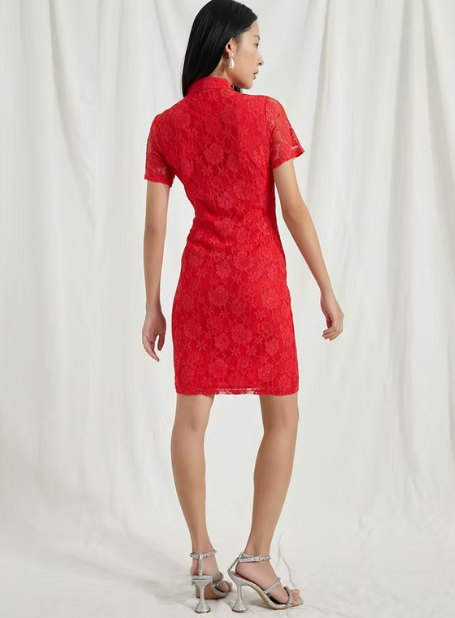 Victorious & vivacious: Upgrade your wardrobe for the Year of the Tiger & beyond. Rake in the compliments in special prints, cheongsam buttons, & more. Look so stylish, everyone will ask you about your outfit!
Please note that the size of this product runs large. It is recommended to go one size down from your regular Pomelo size.
Hits the upper thigh for a mini length
Mini dress
Mandarin collar
Keyhole neckline
Short sleeves
Style #56320
Sweetheart Neckline With Puffed Sleeve Dress – Black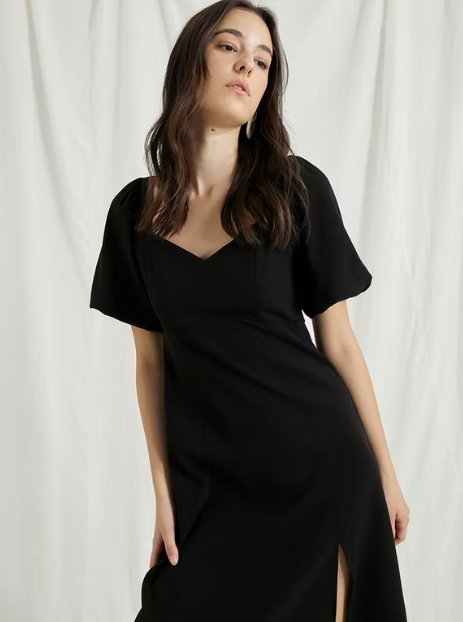 Puffed sleeves
Sweetheart style
Consists of a single side slit
Features an open back
Features a zipped closure
Style #55055
High-Waisted Fit & Flare Pants – Beige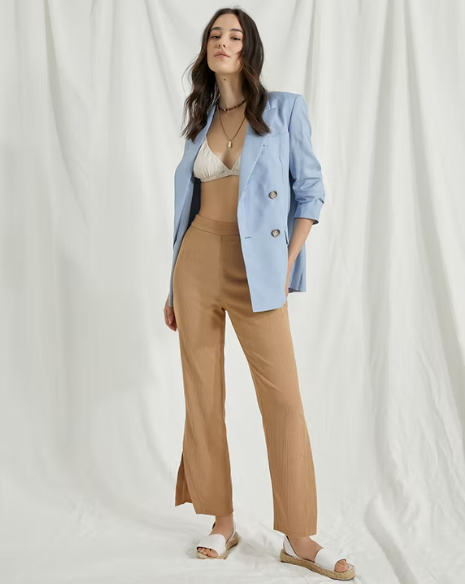 High-waisted fit
Consists of side slits
Elasticated drawstring waist
Includes a zipped side closure
Fit and flare silhouette
Classic, regular fit
Style #55727
Sustainable Sleeveless Ruffles Floral Tee – White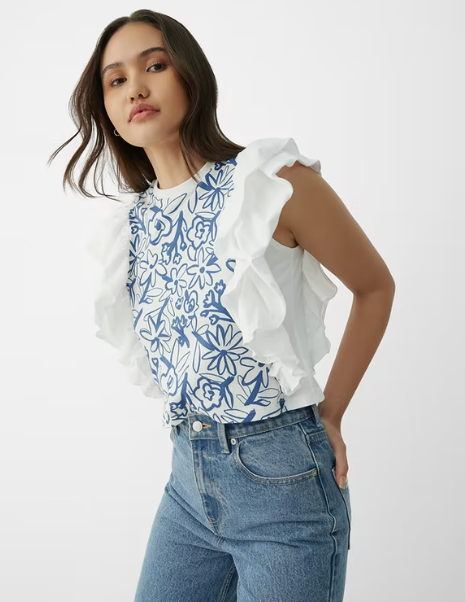 This item was crafted from 100% sustainable cotton. Pomelo is proud to work with Members of The Better Cotton Initiative (BCI) to source the fabric used for this item. Eco-friendly and ethically sourced, this sustainable cotton is softer than the conventional cotton fabric. Designed to be breathable, durable, anti-microbial, odor-free, skin-friendly, and low maintenance.
Sustainable cotton
Comfortable material
Abstract floral print
Slim fit
Rounded crew neckline
Sleeveless
Consists of bold ruffles
Style #60044
Floral Long Sleeve Shirt – Pink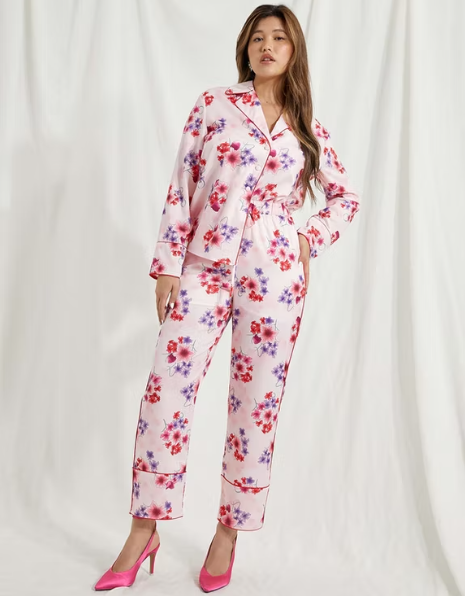 Victorious & vivacious: Upgrade your wardrobe for the Year of the Tiger & beyond. Rake in the compliments in special prints, cheongsam buttons, & more. Look so stylish, everyone will ask you about your outfit!
Please note that the size of this product runs large. It is recommended to go one size down from your regular Pomelo size.
The image 1 model is 5 feet 3 inches/ 164 cm tall and wears a Pomelo size XXS
The image 2 model is 5 feet 7 inches/ 174 cm tall and wears a Pomelo size M
Loose fit
Long sleeves
Collared with front button down
Floral print
Style #56359
Pleated Bagueette Bag – Beige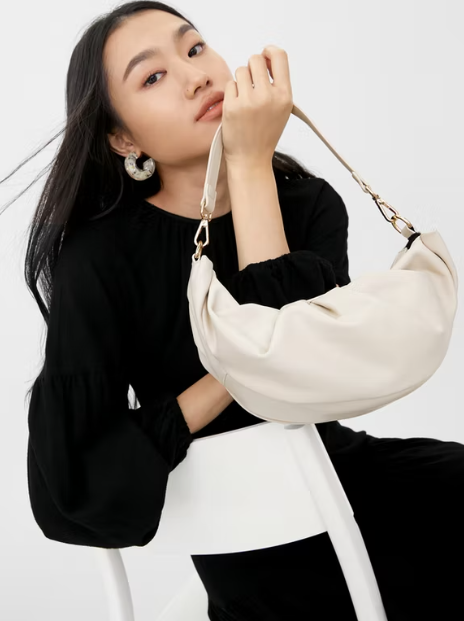 Polyurethane
Shoulder bag
Features a metal zipper pull
Semi pleated texture
Style #40204
Square Cat Eye Sunglasses – Black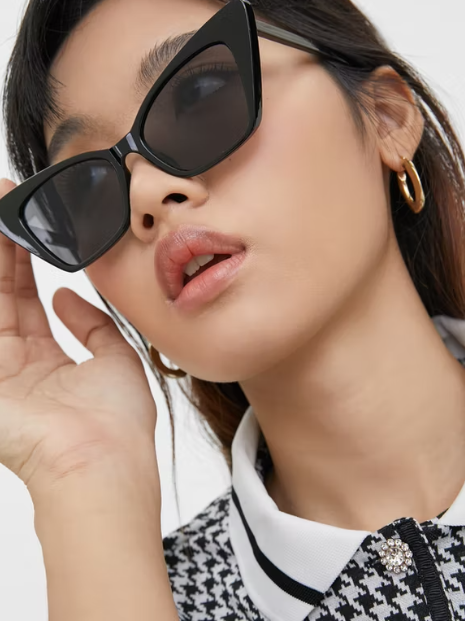 Cat eye silhouette
Tinted lens details
Suitable for everyday wear
Style #40575
Pomelo Fashion Review– Stunning Accessories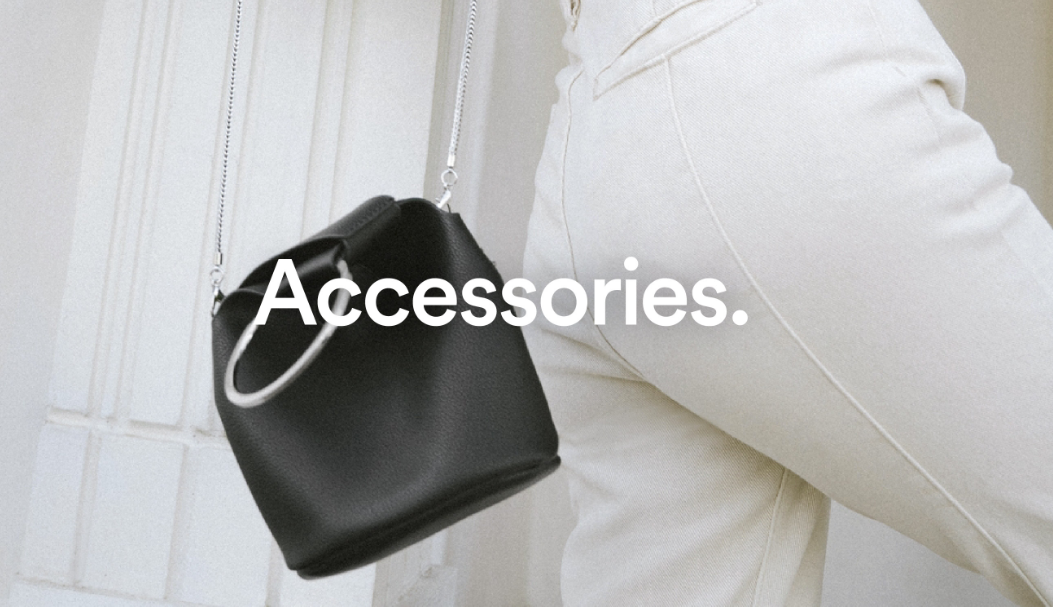 On the Pomelo websites, you get scarves, belts, sunglasses, jewelry, and lifestyle products. During the global pandemic, Pomelo also manufactures Pomelo Marks. The masks have beautiful prints with seasonal vibes. They have affordable thick gold chains and multi-color neckless. The heart drop and the heart layer gold earrings are the go-to pieces in your closet.
Is Pomelo Fashion Trustworthy?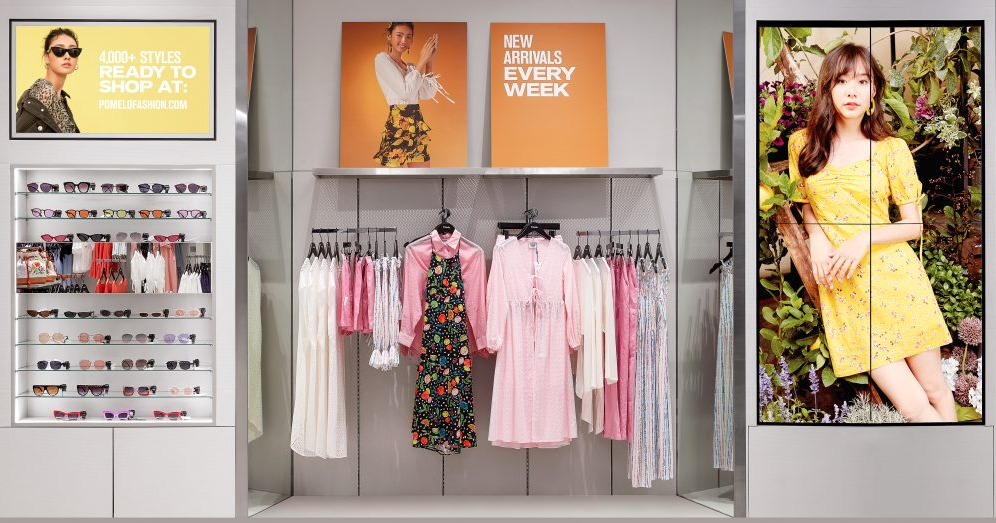 Check if pomelofashion.com is a scam website or a legit website. Is Pomelo Fashion fraudulent or infected with malware, phishing, fraud, scam or scam activity. It is always best to be safe on shopping online.
Why did pomelofashion.com get this review?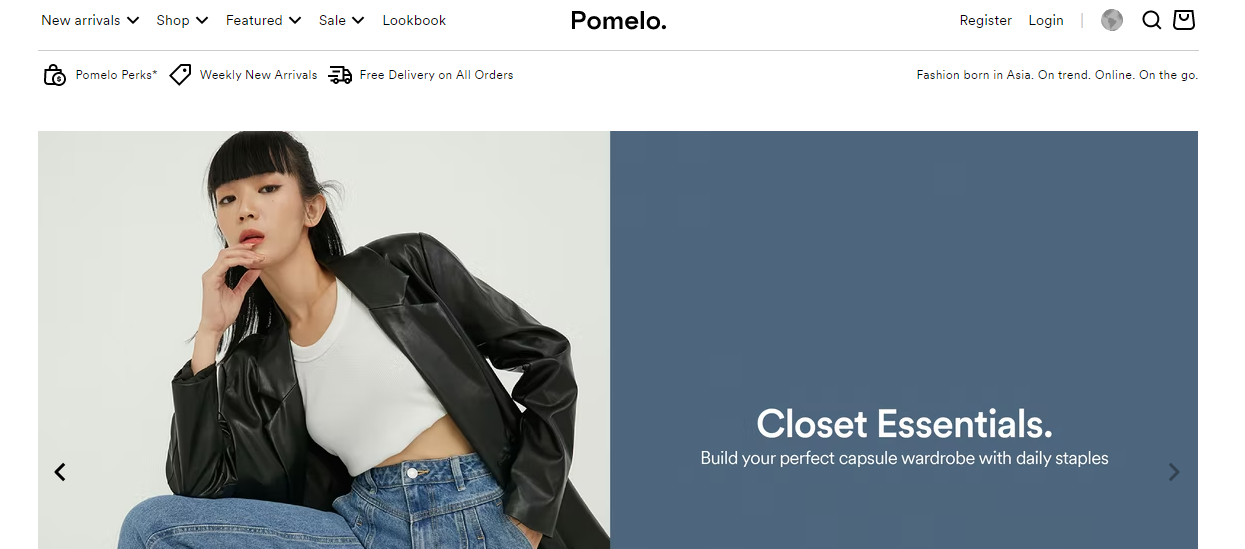 Our algorithm gave the review of pomelofashion.com this score. We have based this rating on the data we were able to collect about the site on the internet such as the country in which the website is hosted, if an SSL certificate is used and reviews found on other websites.
The rating of pomelofashion.com indicates the site is safe or a scam. However, we cannot guarantee that the site is a scam. Many websites look legit but are in fact fake. Before you shop at a site you do not know, check for yourself.
The remainder of this page shows all the data we were able to find which may help you review pomelofashion to determine if it is a reliable website or a fraud.
Pomelo Style Pick #1: Glitter Floral Midi Top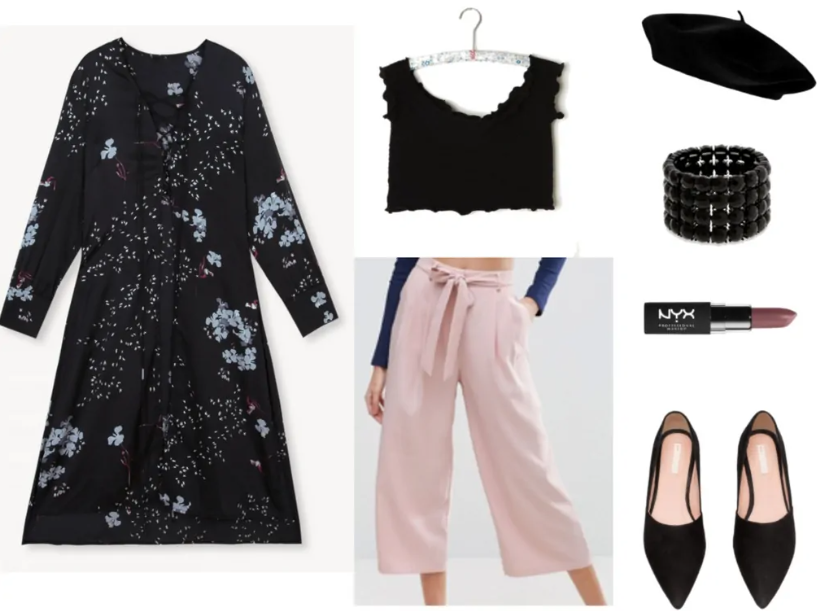 Products: Midi Top – Pomelo, Crop Top – Free People, Culottes – ASOS, Flats – H&M, Beret – Amazon, Bracelet – Belk, Lipstick – Ulta
For my first Pomelo pick, I chose this lovely long, glittery, floral, lace-up midi top (as shown in the header pic way at the top!). This top is the perfect combination of dainty/ladylike and sassy/confident — I mean, that plunging neckline says something. Also, this top is gonna turn heads. Is it a top? A coat? A dress? Way to keep 'em guessing.
I paired this top with a black crop top for underneath and baby pink culottes to bring a bit more color into the mix. Depending on the occasion, you can pull on your trusty black pumps or some pointy-toed black flats, like these ones from H&M.
Pull your hair into a low, messy bun for this look and grab a beret for on top — très chic. Accessorize with a black chunky bracelet and swipe on some taupe velvet lipstick. You are so ready! Pomelo would be proud.
Pomelo Pick #2: Rose Top + Skirt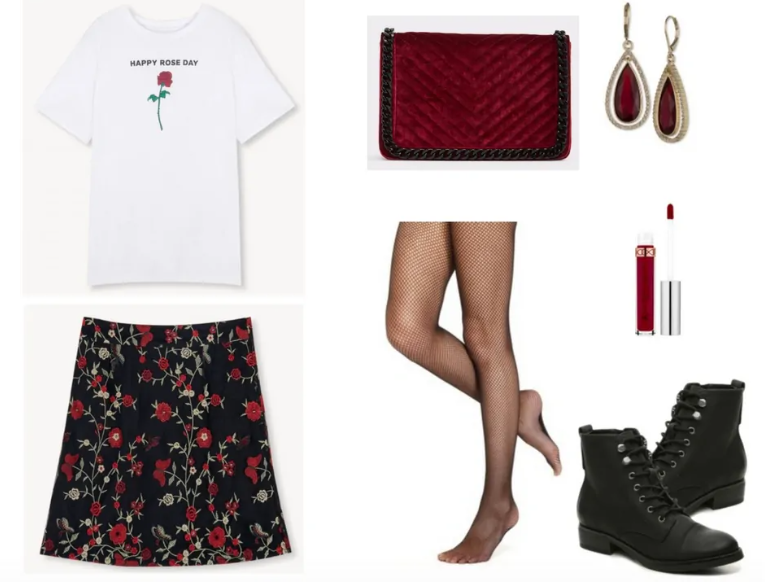 Products: Tee – Pomelo, Skirt – Pomelo, Tights – Macy's, Boots – Amazon, Earrings – Macy's, Handbag – ALDO, Lipstick – Sephora
This second Pomelo outfit includes two of my faves from their Pomelo Soho line: this Happy Rose Day tee and floral embroidered mini skirt. The tee shirt is loose-fitting and perfect to throw on for a casual day or a fancier one (like the outfit I made). The embroidered skirt (super in right now) is high-waisted and A-line and a perfect, dainty addition to any gal's wardrobe.
To fanc-ify and edg-ify this pairing, I added some black fishnet tights and black moto ankle boots. Curl your locks for this look, for even though it's edgy, curled hair will give it just enough femininity. A bordeaux-colored handbag comes next, along with ruby red drop earrings. Swipe on your favorite red lipstick, and see this day through rose-colored glasses.
Pomelo Pick #3: Dark Green Bodysuit + Boyfriend Jeans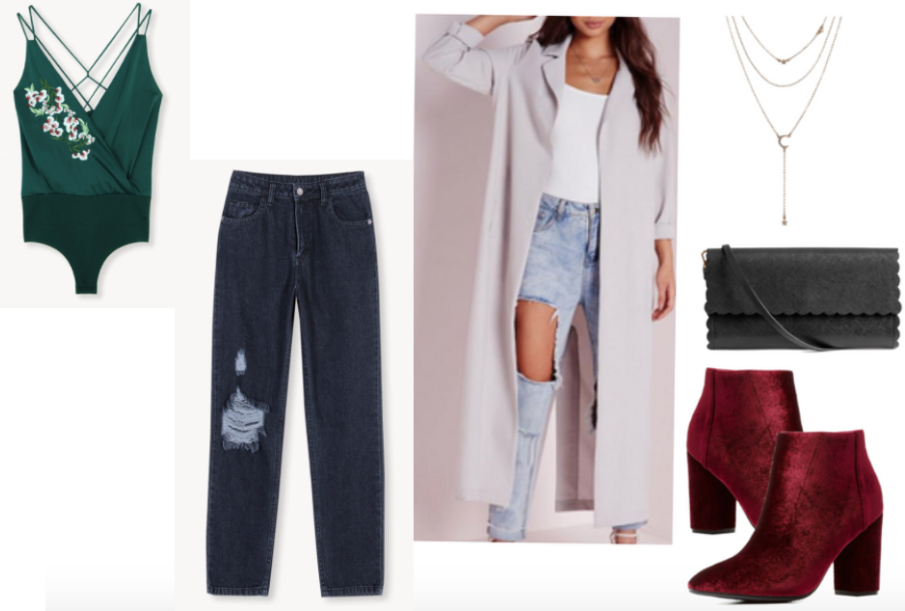 Products: Bodysuit – Pomelo, Jeans – Pomelo, Duster – MissGuided, Booties – Charlotte Russe, Necklace – Target, Bag – H&M
For our third and final Pomelo outfit, I chose this delicate dark green embroidered bodysuit and classic distressed boyfriend jeans. This outfit is simple yet the perfect mix of traditional Asian fashion (the embroidered florals) and modern Tokyo roaming (the duster and booties). This strappy bodysuit has a gorgeous plunging neckline making it perfect for a long, layered necklace and the jeans are your dark-wash staple.
Pair these with burgundy velvet booties and a long grey duster for a more modern feel. Pull your hair into a tight, straight, high pony for this look. A long, gold layered necklace comes next, as well as a black, scalloped handbag to carry your lipstick and phone. This look is complete and you are ready to destroy this day.
FAQ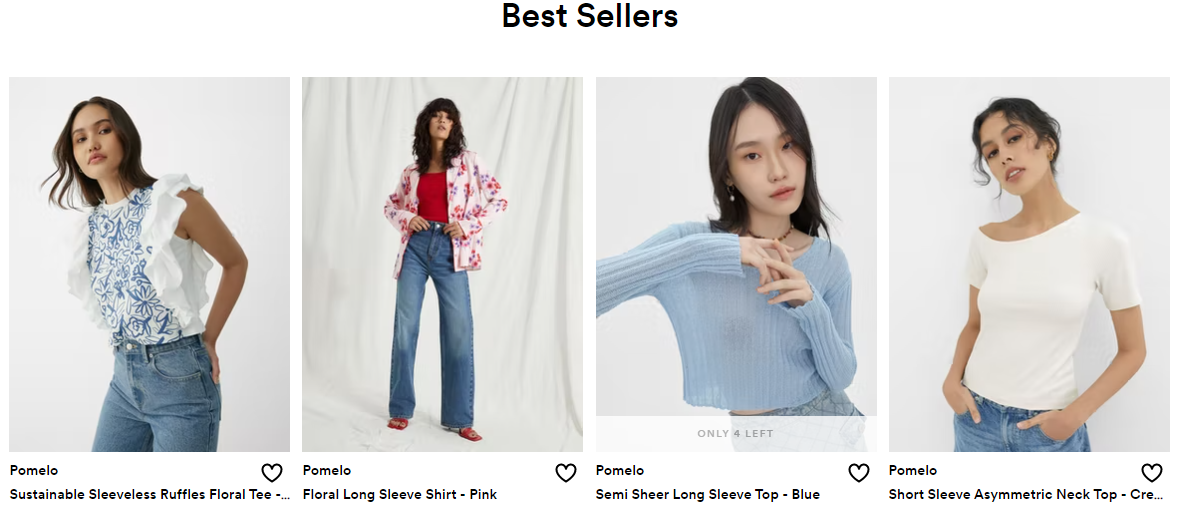 When are new items available?
Pomelo launches New Arrivals three times a week.
Is Pomelo available offline?
Yes, Pomelo has stores in both Thailand and Singapore.
How Much Will Shipping Cost?
Pomelo offers free delivery above 49 dollars, and orders less than 49 dollars will charged a shipping fee of 9.95 dollars.