Polynesian Cultural Center is one of the most popular activities in Oahu. So much so, that it's often even rated as the #1 attraction in all of the island! And it's no wonder why – the Polynesian Cultural Center boasts one of the best luaus on the island.
But that's not all. With Polynesian Cultural Center luau tickets, you'll not only get a delicious dinner with entertainment, but also admission to the Islands of Polynesia theme park. With the right tickets, you'll also be able to watch the nightly show, which in our opinion, is not to be missed.
I've been to the Polynesian Cultural Center three times and I still find myself learning so much about Polynesian history and customs each and every time.
In this Polynesian Cultural Center review, I'll provide you with everything you need to know, including what to expect at the park, what the different luau packages look like, and how to snag some discounts (hint: book early at least 10 days in advance!), as well as some essential tips for visiting.
Disclosure: This post may contain affiliate links. You won't be paying a cent more, but in the event of a sale, the small affiliate commission I receive will help keep this blog running/pumping out useful and free content. Thanks a lot!
What Is Polynesian Cultural Center (PCC)?
For those of you who are less familiar, the Polynesian Cultural Center is essentially a cultural park that brings to life the spirit of Polynesia through its six Polynesian villages. You'll be able to enjoy shows, demonstrations, and immersive activities, all while learning facts about the islands of Fiji, Samoa, Tahiti, Tonga, Aotearoa, and Hawaii.
As soon as you arrive at the Polynesian Cultural Center, you'll notice that this 'theme park' is unlike any other park or attraction in Oahu. It's unlike any other park across all of the Hawaiian islands, for that matter!
This venue was founded by The Church of Jesus Christ of Latter-day Saints in 1963 as a way to provide job opportunities for students at Brigham Young University who were looking for work opportunities during the summer months.
Thanks to the Polynesian Cultural Center (PCC), thousands of students have been able to achieve an education when they may have otherwise not been able to afford it.
Today, the Polynesian Cultural Center has become a very popular tourist destination where guests can learn truly immerse themselves while learning about different Polynesian cultures, histories, and customs.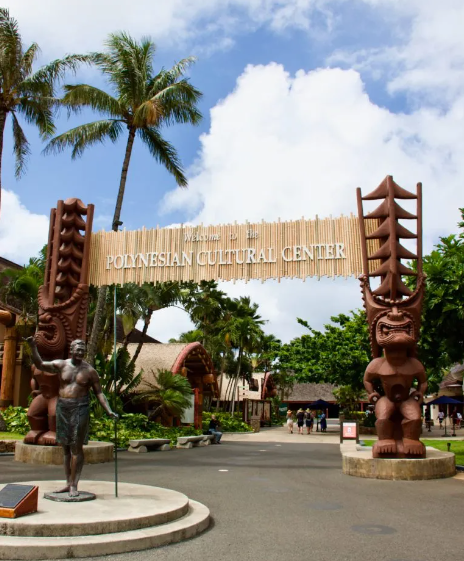 What To Expect At Polynesian Cultural Center
When you're there, get ready for a sensory overload. There's a wide variety of interactive exhibits, replica Polynesian villages, and hourly spotlight shows featuring traditional rituals, music/dance performances, and even fire dancing!
The immersive aspect is what's coolest about PCC. It's a great place to experience what it's like to have lived on these islands because you can take part in so many activities that are unique to each island.
Outside of the villages, you can do some shopping in the large marketplace, take a tour of La'ie, see the football hall of fame, watch a quick movie on Hawaii, go on a canoe ride, and grab a bite to eat.
When night falls, you can partake in an award-winning luau and even watch their high-production value evening show.
Having said that, the villages (or islands) are really the main attraction during the day. These six villages of the Polynesian Cultural Center have a lot to offer, so let's dive into these first!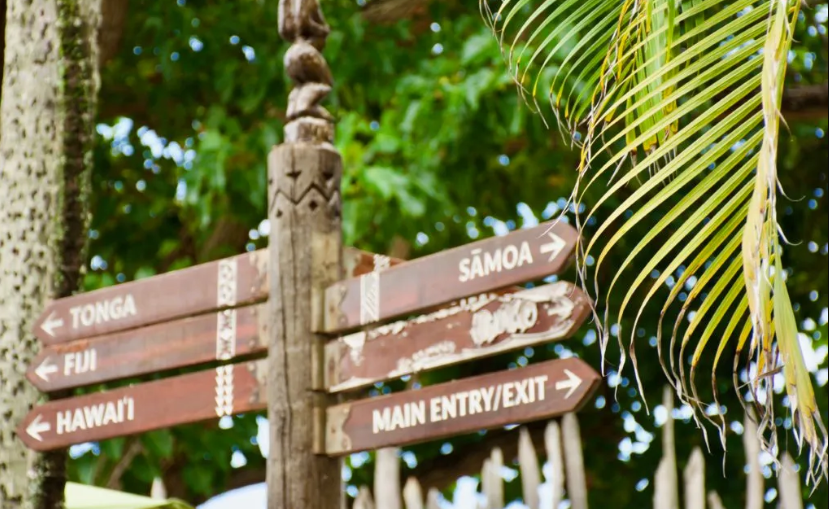 Polynesian Cultural Center: Islands of Polynesia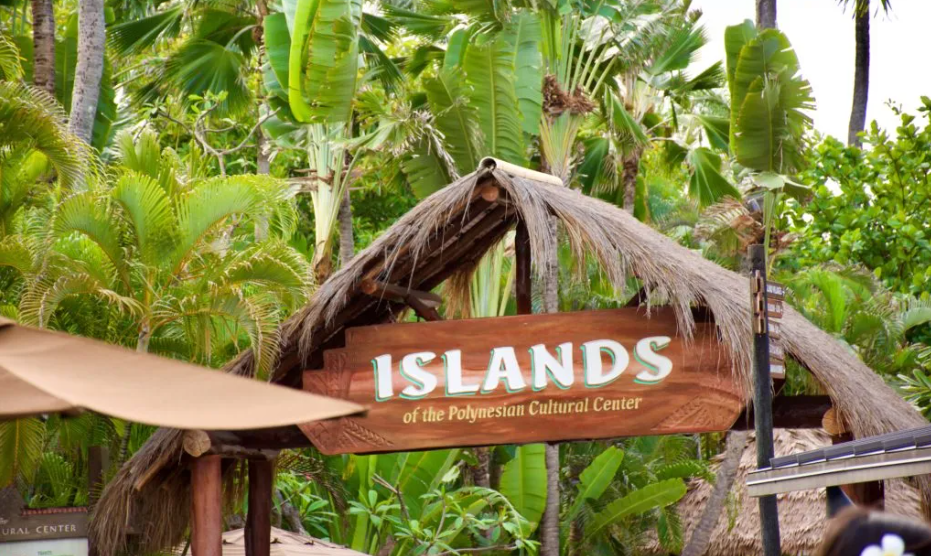 There are six villages at the Polynesian Cultural Center: Samoa, Fiji, Tonga, Tahiti, Aotearoa (New Zealand) and Hawaii. Each village has its own history and customs, as illustrated via the interactive island cultural presentations and hands-on activities.
One of the coolest aspects of visiting the villages of PCC is that most of the people staffing each village are actually from the island they're representing!
Here's what you can expect from each of the islands.
Samoa
Samoans are known throughout Polynesia as the "happy people"! Samoans are famous for their cooking skills as well as fire knife dances. You can experience both of these skills at the Samoan Village.
Since Papu is half Samoan, we always like spending a little extra time in this village!
Activities include:
Weaving your own fish with coconut leaves
Learning how to spin a fire knife
Making fire the Samoan way
Learning how to cook Samoan dishes in the outdoor kitchen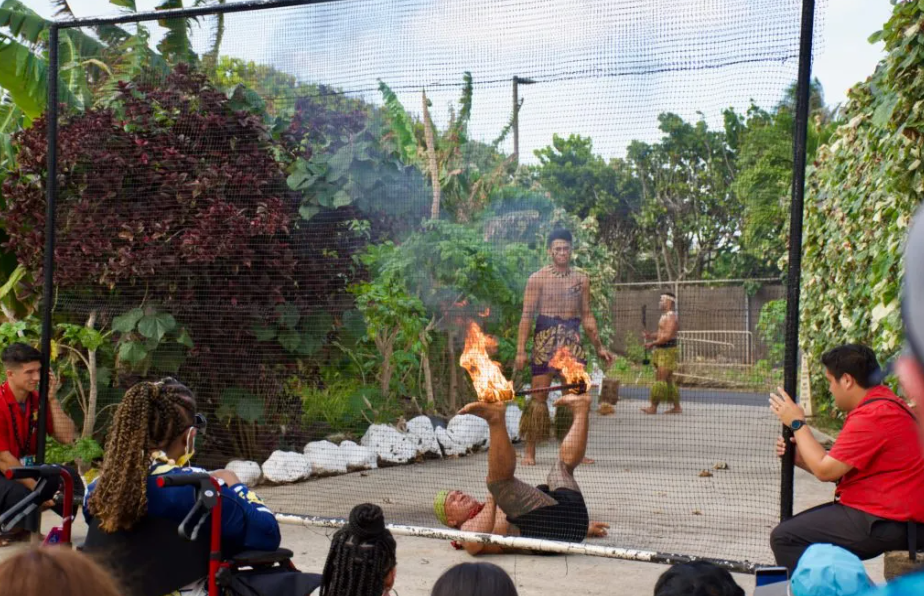 Fiji
Fijians may be most famous for their skills in battle, but they are also wonderful singers and makers of clay pottery. This is definitely a very energetic and exciting village to visit!
Activities include:
Discovering how coconut oil is made
Learning about an authentic Camakau (Fijian outrigger canoe)
Getting a washable Fijian warrior tattoo
Tonga
If you're at PCC and you hear drumming in the distance, chances are it's coming from Tongan village. This area is a ton of fun, as you'll get to try your hand at a lot of activities such as spear-throwing and even paddling in an outrigger canoe.
The canoes here are not on a track, so you'll actually have to paddle to get moving! For a more leisurely canoe ride where you can just sit back and relax, hop on the 30-person canoe ride instead.
Activities include:
Paddling in a Tongan-inspired outrigger canoe
Competing in a spear-throwing contest or trying lafo (Tongan shuffle board)
Touring a replica of the Queen's Summer Home
Learning Nafa-drumming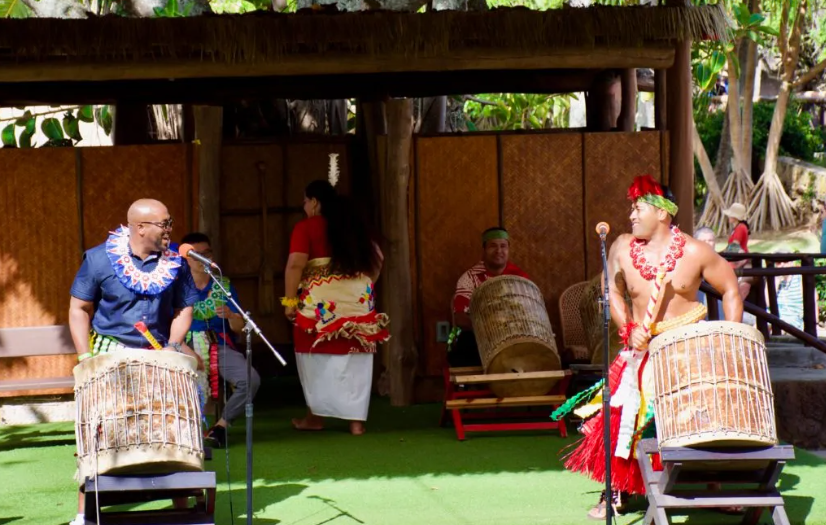 Tahiti
On top of showcasing the dancing skills that they're so famously known for, you'll also get to learn about other aspects of Tahitian culture such as love and marriage, fishing and cooking.
Activities include:
Tasting handmade coconut bread
Fishing in the lagoon with bamboo poles
Learning how to dance the Ori Tahiti
Witness a traditional Tahitian wedding ceremony (and even renew your own vows!)
Aotearoa (New Zealand)
Aotearoa (The Land of the Long White Cloud) is the home of the Māori, the indigenous people of New Zealand.
Māori people are known for their elaborately carved meeting houses as well as their dancing, including the Haka which many of you may have already seen without knowing it at some point in your lives!
Activities include:
Twirling the double-long Poi (ball on end of string)
Viewing a fully carved Maori war canoe
Testing your hand-eye coordination skills with Titi-torea (Maori stick game)
Exploring a replica of an ancient dwelling site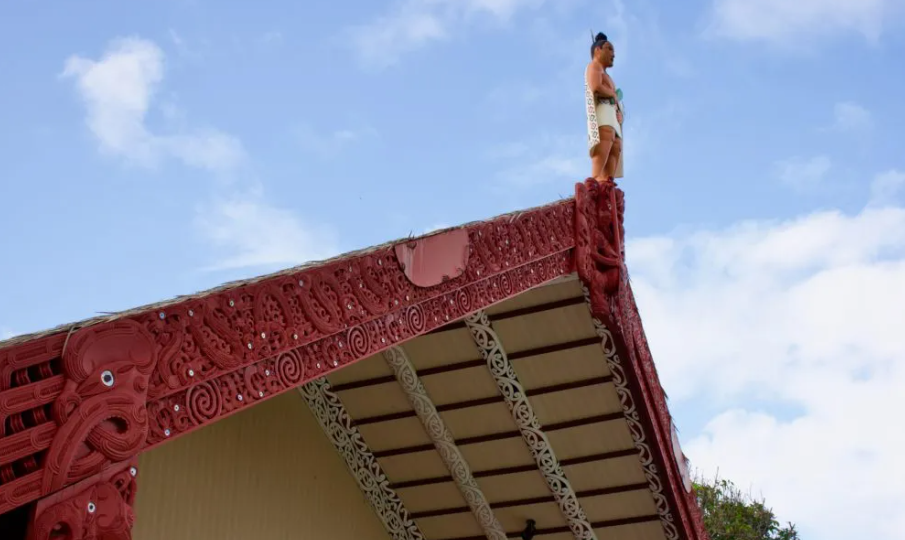 Hawaii
Hawaiians are great storytellers, at at the Hawaiian village, you're going to hear a lot about not only the beauty of their islands but the beauty of their culture as well.
Our favorite activities here and taking the hula lessons and trying the freshly made poi!
Activities include:
Practicing Hawaiian hula
Watching how poi is made (and then tasting it for yourself!)
See all of the beautiful items that can be made with lauhala
Try your hand at traditional Hawaiian games of skill
Don't forget to head to the corner of the Hawaiian village, where you'll find the Iosepa Canoe. We found that it was so awe-inspiring being that close to it, imagining what life would have been like in the past, traveling on such a massive yet traditional watercraft!
Rapa Nui (Easter Island)
This island exhibit in the center of the villages features seven hand-carved moai, or stone statues, created onsite by artisans from Rapa Nui.
There are no activities in this area, but there sure is a lot to learn via the interpretive signs detailing the Rapa Nui history.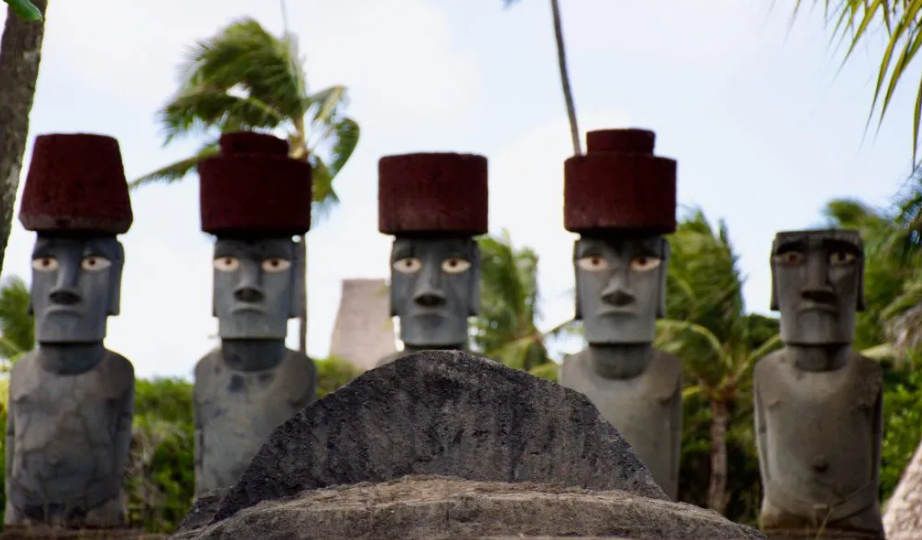 Other Daytime Activities At Polynesian Cultural Center
Other daily activities that aren't tied to a specific island include catching a quick film about Hawaii in a movie theater (a great place to get some shade and air-conditioning) and taking a canoe tour from the comfort of a 30-passenger double-hulled canoe. This canoe ride will take you to the other end of the park so you can hop off there and continue exploring.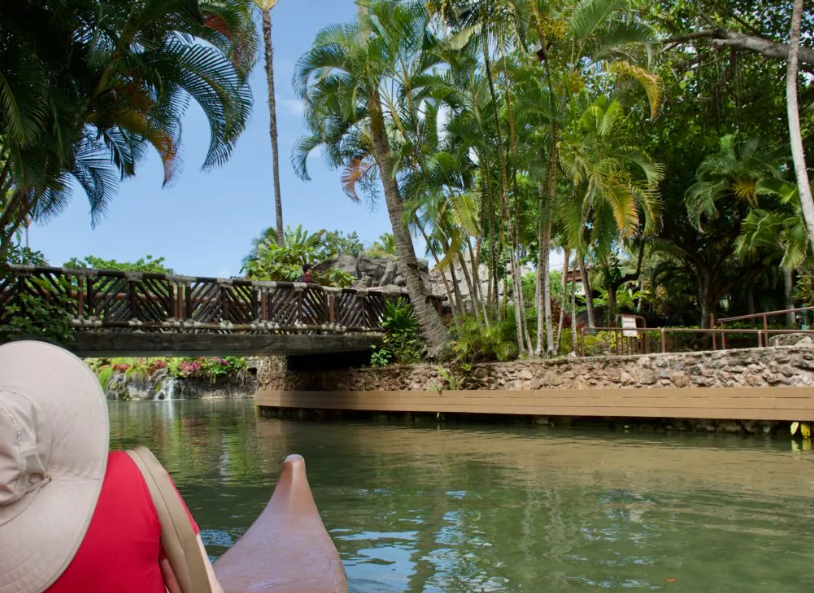 You can also marvel at the Iosepa Canoe, a fully-functional double-hulled canoe, where you'll be able to learn about the migrations of early Polynesia.
Outside of the village area by the entrance, there are a few other fun places to check out, including the Hukilau Marketplace where you can shop for Polynesian gifts and clothing, as well as a few restaurants including Aunty Emily's Bakery, Pounder's Restaurant, Elephant Shack, and Tita's Grill.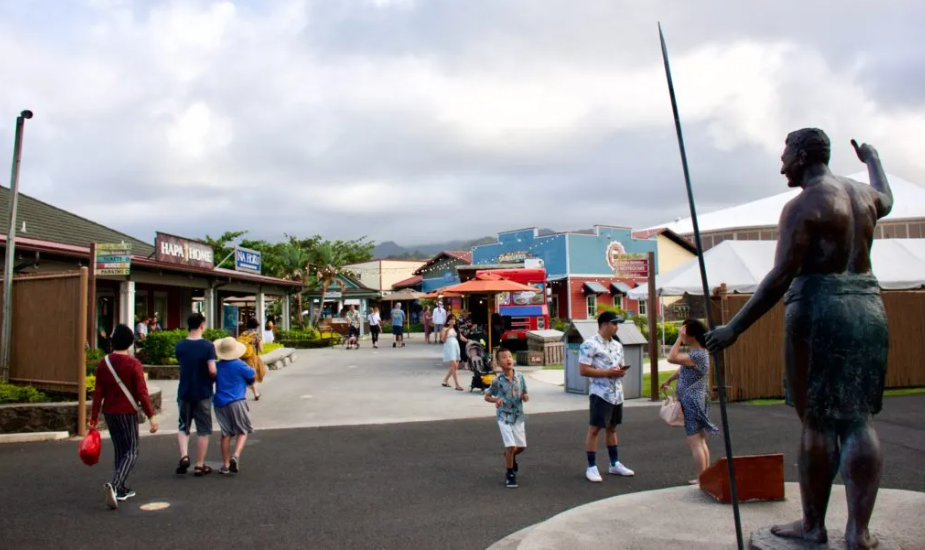 And if none of those restaurants get your tastebuds going, there are food trucks dotted throughout the area, too!
You can even buy a high-quality ukulele from Mahinalani to take home or a piece of artwork by Kap Tafiti at Kap Culture & Art Gallery.
If you're unsure of who Kap is, you'll know of him as soon as you visit PCC–I beg you, do not miss him at the Samoan cultural demonstration! He is pure comedy!
Sports lovers will enjoy the Football Hall Of Fame, where you'll be able to see many of the Polynesian football legends honored alongside coaches and contributors.
The last activity is to take a shuttle out to the town of La'ie and through the campus of Brigham Young University–Hawaii. You'll then enjoy a 20-minute stop at the La'ie Temple Grounds where you can either tour the Visitors Center or simply enjoy the beautiful garden's fountains and waterways.
The villages at PCC do close at about 5:30 to 6 pm (check the PCC website for the latest hours), but the fun doesn't stop there! There are two activities in the evening worth partaking in–the Ali'i luau and the Hā: Breath of Life evening show.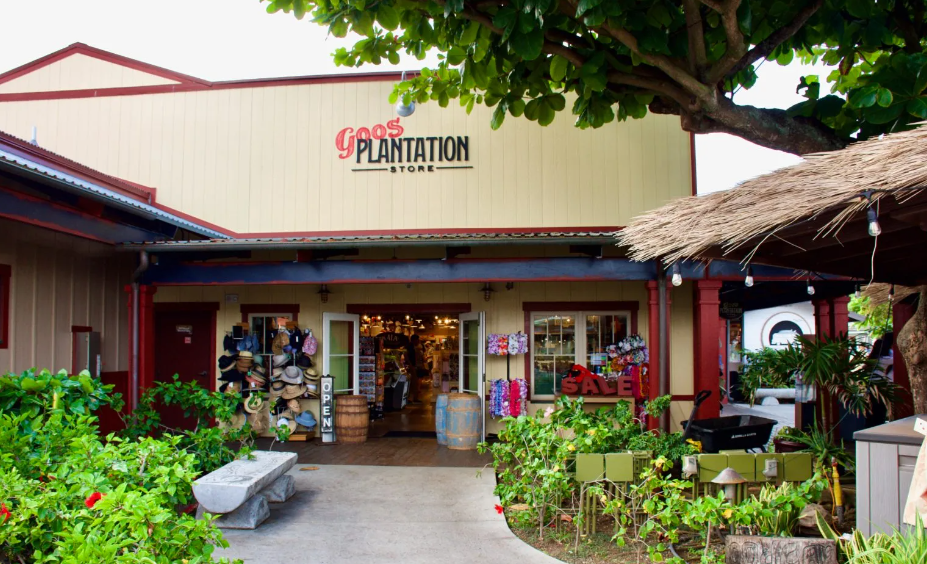 The Dinner Options At Polynesian Cultural Center
Ali'i Luau At Polynesian Cultural Center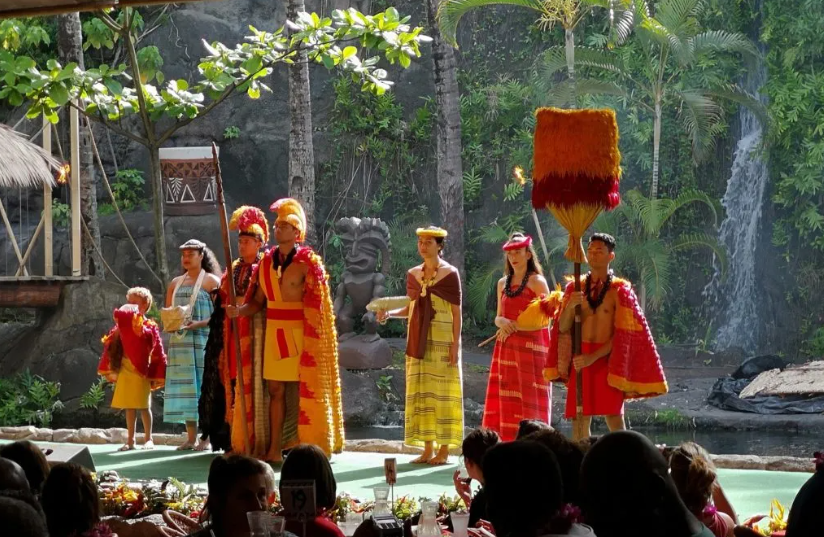 The Ali'i Luau is a traditional luau set up, where a couple hundred people will attend and dine around the main stage. The food is served buffet-style for about 30 minutes before the entertainment begins.
You can expect typical luau buffet-style food such as taro rolls, poke, kalua pork, steamed Kona kanpachi fish in ti leaves, teriyaki brisket, huli chicken, fried saimin, salads, assorted fruits, and desserts.
The entertainment usually lasts around 30 minutes and is comprised of a mix of professional performers (hula and fire knife dancing) and bits where the host is calling people up to the stage to dance.
While the food was by no means "gourmet", the whole luau was interactive and really just a lot of fun!
The Gateway Buffet At Polynesian Cultural Center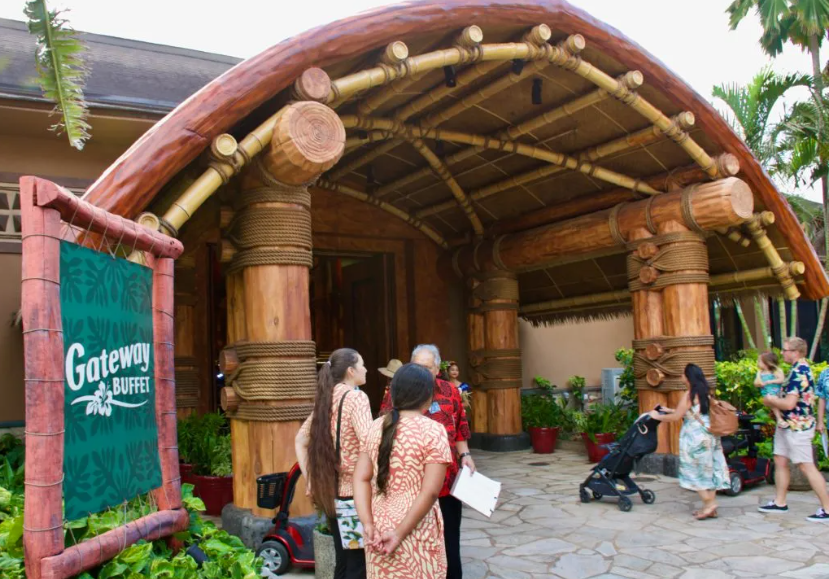 If you're looking for a less expensive dinner package without the show, there is another dinner package–the Gateway Buffet.
At the Gateway Buffet, you can expect food such as whole grilled Kona kanpachi fish, top sirloin roast, salads, vegetables, beef, seafood, poke, chicken, keiki-friendly foods (kid-friendly), beverages and desserts.
Ali'i Luau or Gateway Buffet? The price difference between the Ali'i Luau Package and the Gateway Buffet Package is about $35-45, depending on if you're buying a child or adult ticket. You can compare the two options here.
Evening Show: Hā: Breath of Life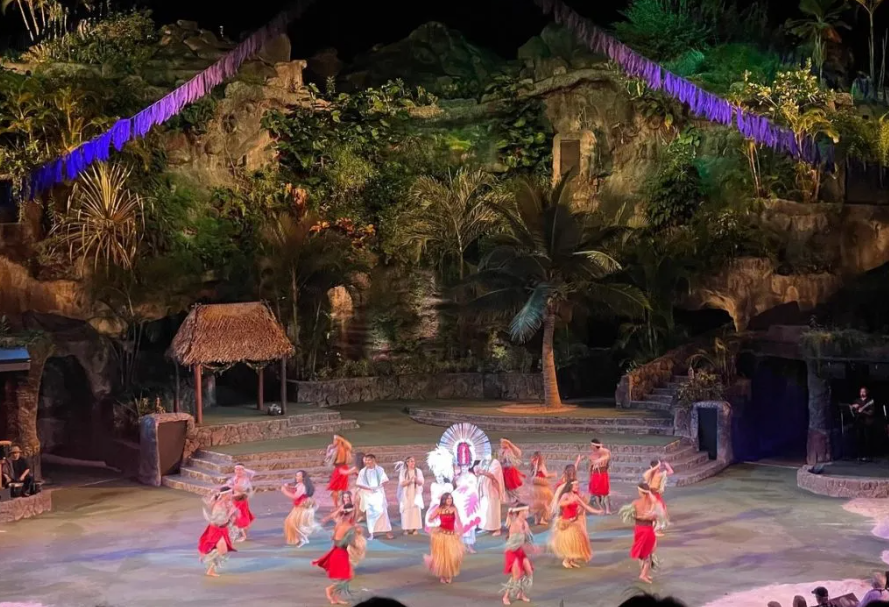 Regardless of your dinner choice, the one thing at the Polynesian Cultural Center that you absolutely can't miss is the evening show, Hā: Breath of Life.
This show is truly entertaining! I don't want to give any spoilers, but you can expect a lot of dancers and performers, a good plot, lots of acting, and fire dancing!
Per the PCC website, this "stunning evening show featuring over 100 Polynesian natives, special effects, animation and surround sound. It is a Pacific isle saga of birth and death, love and family, tragedy and triumph."
Polynesian Cultural Center: Packages Available
So now that you have a good idea of everything you can expect at PCC, let's dive into some of the packages they offer. Because there are so many options, it can be confusing for first-timers. Let's break it all down.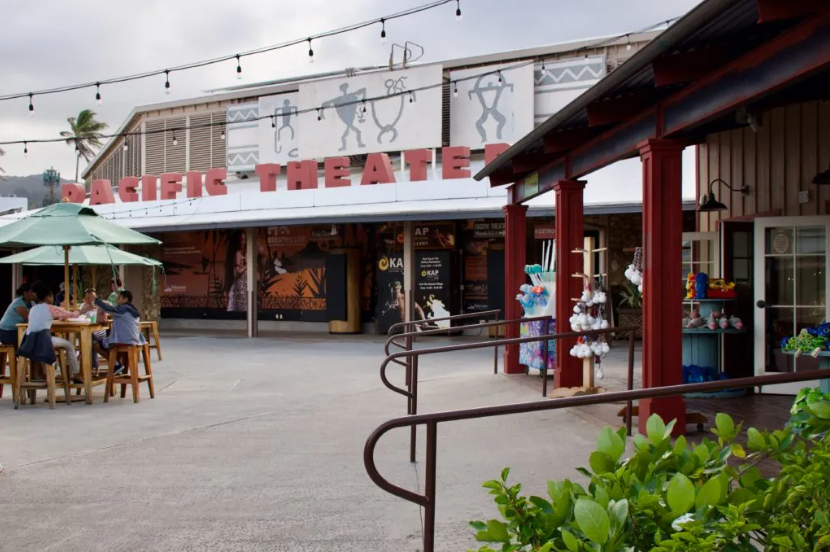 Super Ambassador Luau Package
This is PCC's most premium package. If you're interested, do book as early as possible because these sell out FAST.
Package Details
Admission to the park
All the activities and demonstrations during the day
Access to the Ali'i Luau buffet with live entertainment
The nighttime show, Hā: Breath of Life
Private guided tour through 6 island villages
Platinum level seating at "Hā: Breath of Life" show (Super Ambassador level seating is in the front two rows by stage, with unobstructed views)
Additional Perks
Ivory kukui nut lei at arrival and flower lei greeting at luau
Free photo pass (includes 8 free welcome photos)
Reserved premium seating at all village presentations
Reserved canoe ride
Free Smoothie at Ali'i Luau
Free 3-day re-admission pass to the island villages
Again, you can expect a luau menu of veggies, taro rolls, poke, kalua pork, steamed Kona kanpachi fish in ti leaves, teriyaki brisket, huli chicken, pipikaula, fresh fish, fried saimin, salads, assorted fruits, vegan entrees, and desserts.
Ali'i Luau Package
Package Includes
Admission to the park
All the activities and demonstrations during the day
Access to the Ali'i Luau buffet with live entertainment
The nighttime show, Hā: Breath of Life
Group guided tour through 6 authentic island villages
Gold level seating at "Hā: Breath of Life" evening show (right behind the Super Ambassador rows)
Additional Perks
Flower lei greeting at Luau
Free smoothie at Alii Luau
Free 3-day re-admission pass to the island villages
Free photo pass
Gateway Buffet Package
The Gateway Buffet is PCC's most popular dinner package and is offered as an alternative to the luau. This dining experience includes live music in a relaxed atmosphere with an expansive buffet of island-inspired dishes.
Package Details
Self-guided experience through 6 island villages
Gateway Buffet dinner with live music
Silver level seating at "Hā: Breath of Life" evening show
Additional Perks
Free 3-day re-admission pass to the Islands of Polynesia
Free photo pass
At the Gateway Buffet, you can expect food such as whole grilled Kona kanpachi fish, top sirloin roast, salads, vegetables, beef, seafood, poke, chicken, keiki-friendly foods (kid-friendly), beverages and desserts.
Islands of Polynesia & Hā: Breath of Life Package
This will be the package for you if you're not interested in buffet or luau-style dining. Because dinner is not included, this is PCC's most affordable package.
Package Details
Self-guided experience through 6 island villages
Free photo pass
Dinner NOT included
Bronze level seating at "Hā: Breath of Life" evening show
Free 3-day re-admission pass to the Islands of Polynesia
Tickets for Islands of Polynesia (Only)
Not interested in the luau or the evening show? It's possible to buy tickets for just admission to the Islands of Polynesia.
In fact, that's what we did on our most recent trip to Oahu. We had Go City Oahu passes, which at the time, offered free daytime admission with the pass. So, we visited PCC from about 1pm to 5pm, leaving when the dinners were just starting.
We ended up eating poke closer to our hotel for dinner–and despite not being able to enjoy the luau or evening show, it was still a very fun day out!
Having said that, if you have not yet had the chance to do the whole thing–the islands, the luau, and the show–I would highly recommend it!
Pros And Cons Of The Polynesian Cultural Center
Pros
A jam-packed day of entertainment–you will never be bored!
The food at the luau is good and comes with entertainment.
High production value show included in the cost of many packages. We highly recommend seeing the evening show if you can!
You have the ability to go back to PCC (Islands of Polynesia) with the complimentary 3-day readmission ticket, free with any package purchase.
Cons
Limited hours of exploration before the islands close for dinner. We recommend getting there right when they open so you can maximize your time for exploration and hands-on activity.
Compared to other excursions or activities on Oahu, PCC is a tad bit on the pricier side.
Thoughts About The Polynesian Cultural Center
PCC is a great place to spend a day. Not only is the luau a ton of fun (especially if you're traveling with friends/family), but so is the Hā: Breath of Life evening show. If you're on Oahu and looking for an excursion to do with your family or friends, PCC can be a great option.
Heck, Papu and I love PCC so much that I've gone on three separate occasions! We opted for the Ali'i Luau Package on 2 out of 3 of our visits. And the only reason we did not go for the luau package on our third visit was that we were attempting to travel on a budget that month!
It is worth noting that because this luau (like many other luaus on Oahu) is buffet-style, you shouldn't go in expecting fine-dining quality food. They are cooking for the masses, so while the food is not Bib Gourmand or Michelin star-worthy, it certainly is not bad.
Luau aside, it's impossible to ignore how educational this place is. I not only love the hands-on demonstrations and activities, but the hourly presentations at each village all have history, comedy, and culture weaved into them.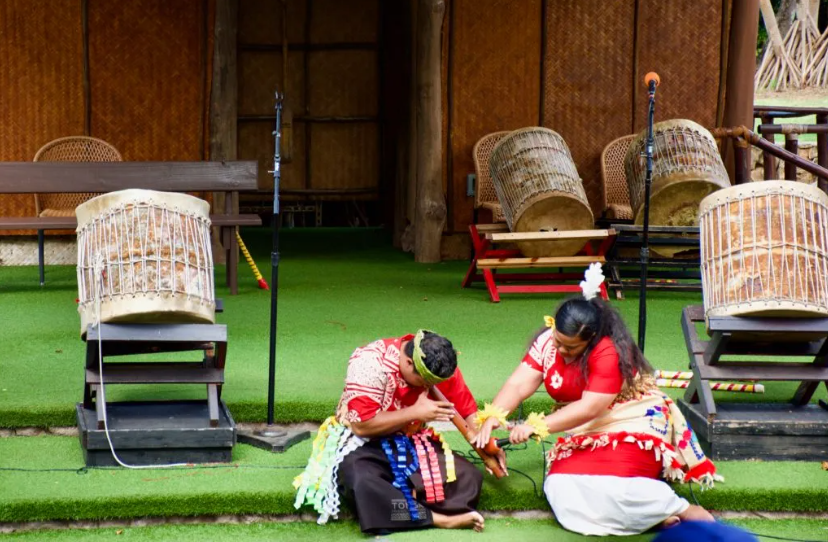 We especially loved the shows and activities at Samoa, which–over the course of our three visits–has remained our favorite village at the Center!
The cultural presentation that featured Kap (pictured above) was essentially a comedy skit with a lot of Samoan-related facts thrown in. This was followed by coconut tree climbing and fire knife spinning. It was all so funny and  a really great time!
We also found the cultural presentations at Tonga and Aotearoa to be a lot of fun and educational too. We witnessed what playing the flute with a nose sounded like for the first time. Something that I didn't even know existed!
And if there's one activity I recommend you not miss, it'd be the canoeing activity.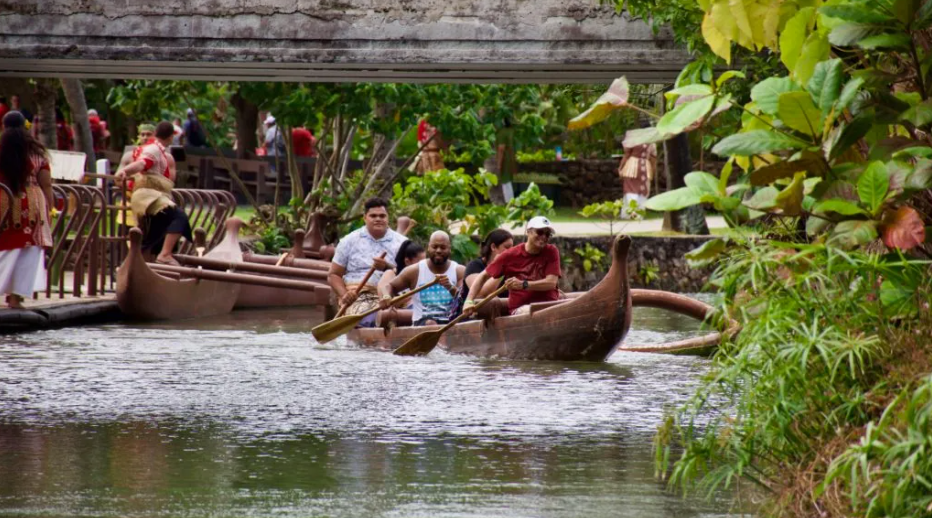 I just love the Polynesian Cultural Center's three-pronged approach to a good time–educating through interactive shows and activities, feeding you a good meal, and providing top-notch entertainment to round out the night.
On top of being a really fun day out, they have a mission I can really get behind, being a non-profit dedicated to preserving the cultural heritage, arts, and traditions of Polynesia.
All of the revenue that they make is used for daily operations and to support the education of its student-employees from Brigham Young University-Hawaii.
No matter how much you already know about the Polynesian islands, you will leave with a deeper knowledge and appreciation for these cultures!
Last note here–if I'm a grown adult gushing about how much I love PCC, I'm sure the kids will be huge fans as well!
Is It Worth Going To The Polynesian Cultural Center?
Ultimately, whether PCC is worth going to depends on what you're looking to get out of the experience.
If you're looking primarily for a luau experience, PCC is a good option, but not the greatest. We think there are better ones out there like and .
However, if you're looking for a jam-packed day of immersive fun, learning, activities, and entertainment with a luau, I'd say PCC is unbeatable and 100% worth the money!
If you're down to visit the Polynesian Cultural Center, I'd recommend you at least opt for the Ali'i Luau Package. This is our go-to package whenever we visit with friends.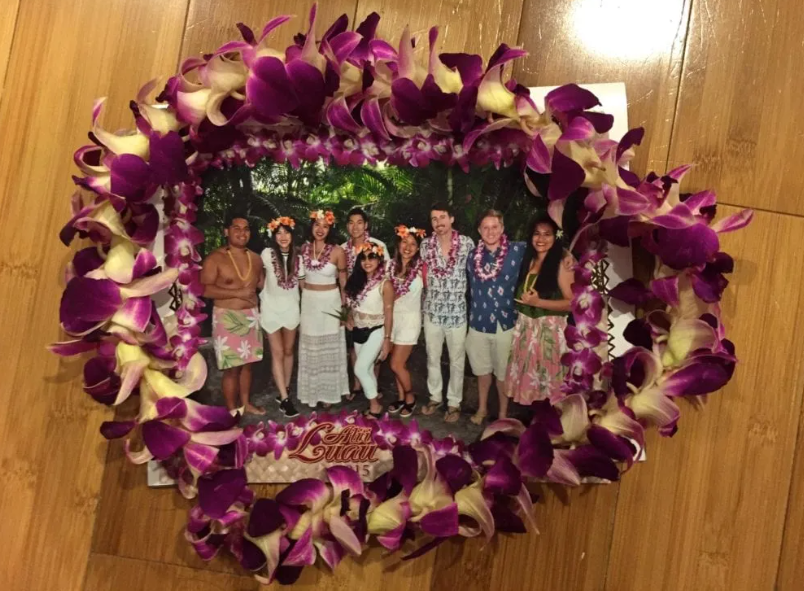 How To Get Discounted Tickets To Polynesian Cultural Center
The most straightforward way to get your tickets is to go straight to their website and book directly. The PCC website clearly outlines all of the ticket package options, and provides you with a 10% discount on tickets purchased at least 10 days in advance.
This is a great deal because finding Polynesian Cultural Center promo codes or coupons is pretty hard to do. Check out all of the ticket options here.
DEAL ALERT: Save 10% on select PCC packages when you book at least 10 days in advance!
If you only want basic admission to the villages, the Go City Oahu Pass offers excellent value. Pick up your digital pass here.
Essential Tips For Your Visit To The Polynesian Cultural Center
Arrive early! You will need all of the hours PCC is open in order to see everything in the Islands of Polynesia area. (This is the exact reason I've gone 3 times–I've always gone later in the day and ran out of time to explore.)
Take advantage of the transportation option from Waikiki if you aren't renting a car for the duration of your trip. More on that below.
You will walk a lot (several miles worth of walking), so wear comfortable shoes. You can go with comfortable walking shoes or supportive sandals.
It can get very hot during the summer months so make sure. You pack plenty of water to keep yourself hydrated throughout the day. Bring a water bottle and refill it throughout the day.
Shoes and shirts must be worn at all times; no swimsuits.
Wear sunscreen and a hat! The Polynesian Cultural Center is mostly outdoors with grassy fields. The cultural demonstration shows do have shaded seating,. But some of it can be in the sun (depending on time of day and whether you can get a seat or not).
Two great reef-safe sunscreens that we like to use. We go to tropical destinations are: Thinksport SPF 50+ Mineral Sunscreen or Kokua Sun Care 50/80 Min Water Resistance Reef Safe Natural Zinc Sunscreen
When an island/village is putting on its cultural presentation (usually about 30 minutes long). The island activities will not be held. You have two choices here–either watch the main show or visit other villages until they resume their activities once the show is over.
Island villages close at around 5:30 pm to allow visitors. Who opted in for the luau to eat before the evening show (seating starts at 7 pm).
For those visiting with very young children who may also be jet-lagged: the evening show runs from about 7:30-9 pm Hawaii time. This can be really late depending on what your home time. Especially for those who are dealing with a large time change. Do carefully consider whether or not they can make it through. The show without being too fussy and disrupting others' viewing experience.
Be aware that strobe lights and sudden loud noises are used in the show.
Best Time To Visit Polynesian Cultural Center
The Polynesian Cultural Center is open from the early afternoon until about 5:30 to 6pm, and the best time to visit is as soon as they open.
This allows you to see the entire park as well as take advantage of all the activities in each island village before they start to shut things down for the dinner and evening show portions of the night.
You can easily keep yourself busy for five hours at PCC. Start your day at the park with some shopping, followed by a visit to all the 6 villages where you can do activities and watch their super-fun cultural presentations (these typically run for 30 minutes).
If you complete all of that early, ride the canoe, catch the quick movie about Hawaii in the theater, take a ukelele lesson, or chat up the workers to learn even more about Polynesian culture.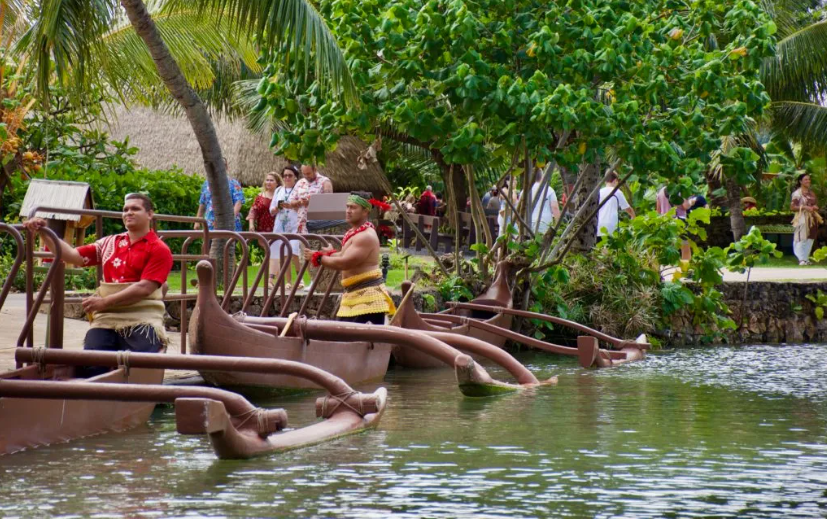 By the time you know it, it'll already be time for the luau/buffet and the post-dinner show!
How To Get To The Polynesian Cultural Center
By car / bus
The PCC is located on the north shore of Oahu in Laie. It's easy to reach by car or bus. Simply follow Highway 8 east from Honolulu and head toward Laie town. The best part about driving is that you can arrive on your own time and parking is completely free!
Allow yourself at least 60-75 minutes of straight drive time. Please note that commuter traffic from Honolulu to the North Shore can be heavy from 3:30 pm to 6:30 pm on weekdays.
Staying in Waikiki and don't have a rental car? PCC offers convenient transportation from Waikiki to the Polynesian Cultural Center and back. They have two transportation options: Motor Coach or the Circle Island Tour.
Motor Coach (from Waikiki)
This is the standard transportation option. This includes roundtrip transportation in a top-of-the-line motor coach with A/C and restrooms on board.
You'll be picked up at a designated location near your Waikiki hotel. Where you'll simply hop on and enjoy the road trip, narrated by a local guide. Pickups start around 10:30 am and the entire trip takes about 90 minutes.
Circle Island Tour (Sightseeing Tour from Waikiki)
The Circle Island transportation option is for those who want to tack on an island sightseeing tour before arriving at the Polynesian Cultural Center.
While you will have to be up a bit earlier for this tour (pick-up time starts at 6:45 am). You will have the pleasure of visiting various scenic and historical sites on Oahu. The trip will be narrated by a professional local guide and includes at least 3 stops of 10 to 20 min each.
If you need transportation provided by PCC, you can add that to your online cart upon checkout.
Hotels Near The Polynesian Cultural Center
The Polynesian Cultural Center is quite the drive from Honolulu and Waikiki. Where most visitors tend to stay. With traffic, it could easily take 1.5 hours to drive back to your hotel!
If you want to make the most of your time at PCC. As well as enjoy the change of pace on the quieter northeast side of Oahu. Consider staying a couple of nights at one of these hotels near the Polynesian Cultural Center:
Turtle Bay Resort – If you're looking for a splurge-worthy resort on the North Shore, this is the best of the best! We're talking world-class golfing, spas, and restaurants–the whole shebang. If you're traveling during off-peak seasons. You might be able to find some nightly prices that really aren't too expensive.
Paradise Bay Resort – This little resort is located slightly down the highway near Kaneohe. The resort offers so much! Not only are free yoga and meditation classes offered, but kayak rentals and snorkel equipment also included in the resort fee. They have an Aloha Nights Buffet Dinner offered on certain days of the week as well as other scheduled entertainment.
Courtyard by Marriott Oahu North Shore – This is the closest hotel near the Polynesian Cultural Center (located just across the street). It's modern, with a cute touch of Hawaiian flair!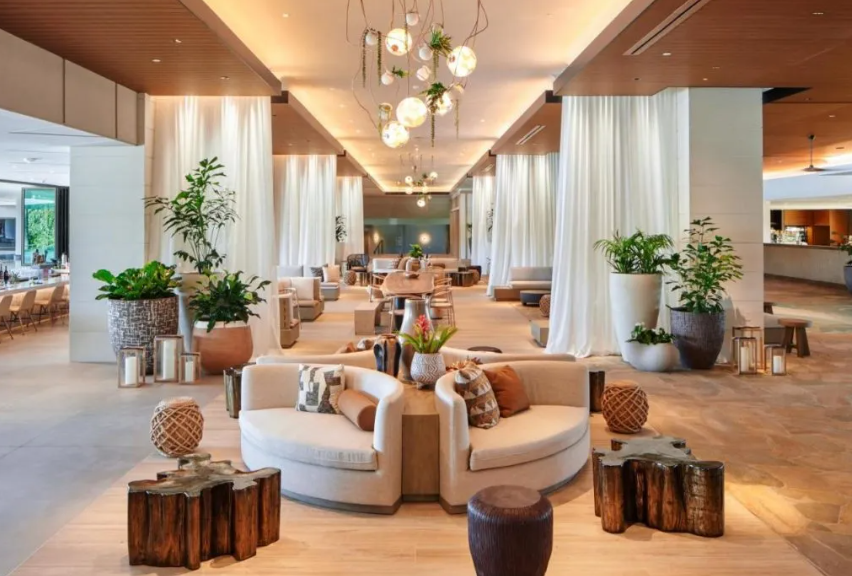 PCC: Frequently Asked Questions
What do you wear to the Polynesian Cultural Center?
First off, wear comfortable shoes! You will be doing a lot of walking over the course of the day. So you'll want good support for your feet.
Next, because it will likely be hot and sunny, plan to wear comfortable clothes and a hat for sun protection.
While there is no requirement to look fancy or done up, for the ladies and fellas. Who want to dress up a bit for the luau, flowy dresses and light linen shirts/pants will do.
How long does it take to do the Polynesian Cultural Center?
Honestly, it could take the whole day from the time the park opens until the park closes.
The park typically opens around the early afternoon and closes at 9 pm.
For the best experience in the island villages, plan to spend five hours there alone. If you have tickets to the luau and evening show, plan on being there until 9 pm.
Polynesian Cultural Center Luau vs Paradise Cove Luau
In my opinion, the Polynesian Cultural Center experience is a much better value than the Paradise Cove experience. Why? Because it is so much more than a luau!
While you can get nearly the same food at both luaus. There are some differences in what their admissions come with.
Drinks: Paradise Cove does offer a welcome mai tai drink as well as bars with alcohol for purchase, while PCC has no alcohol, but offers punch, soft drinks, water, coffee, and tea.
Night Entertainment: The entertainment at Paradise Cove can considered 'better' to some. As it more traditional Polynesian acts compared to what you'll get at PCC.
Activities: And while Paradise Cove does offer pre-dinner activities, PCC offers. A whole afternoon filled with activities and shows (6 villages, canoe rides, a marketplace for shopping, and a movie theater).
All in all, I'd say if you're looking for a more traditional evening luau, then go with Paradise Cove.
If you're looking for a whole day of entertainment that also happens to have a luau and an evening production (a show with a storyline that features Polynesian dancing), go with Polynesian Cultural Center.
The decision between which luau to choose is ultimately up to you and what you're looking for!