Want to elevate your ecommerce site or small business, but you don't know the first thing about web design, marketing, or video production? If so, you're in the right place; this Placeit.net review will explain why Placeit may be the answer to your problems.
Ecommerce merchants often feel the pressure to know everything- from product design to sales, to marketing and product mockups – and everything in between. But, this isn't realistic for most people. Thankfully, there are tools out there you can utilize to transform your business ideas into a money-making reality.
One such way is creating and selling branded products and custom apparel to set your business apart from others.
This is where Placeit comes into its own. This brand enables you to create this kind of merchandise in next-to-no time, without any Photoshop or design experience.
In light of all that, you're probably wondering: what else does Placeit offer? How much does it cost? What are the pros and cons of using their service?
Well, this review aims to answer these very questions and more. So, read on to discover whether Placeit is the right tool for setting your business in a winning direction.
Placeit Review: Who's Placeit?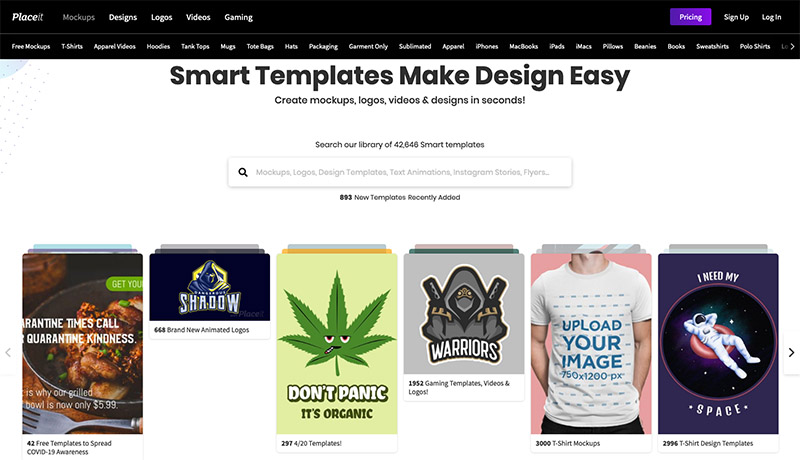 Placeit offers thousands of apparel, video, and graphic design templates you can download and edit within moments. But, not only do they offer tons of stunning templates, but they also provide a variety of other marketing and branding tools.
For instance, do you need a new logo for your business? If so, Placeit has an easy-to-use logo maker that's bound to produce something that sets your brand apart from other e-commerce sites.
Or, perhaps a t-shirt design is what you're looking for? Placeit offers thousands of apparel and digital mockups to choose from. You can design merchandise that looks professional and reflects your business in just a matter of moments.
In essence, Placeit provides users with all the tools they need to create branded items quickly and efficiently, without the need for any technical or artistic skills.
A Placeit Review: How Much Does Placeit Cost?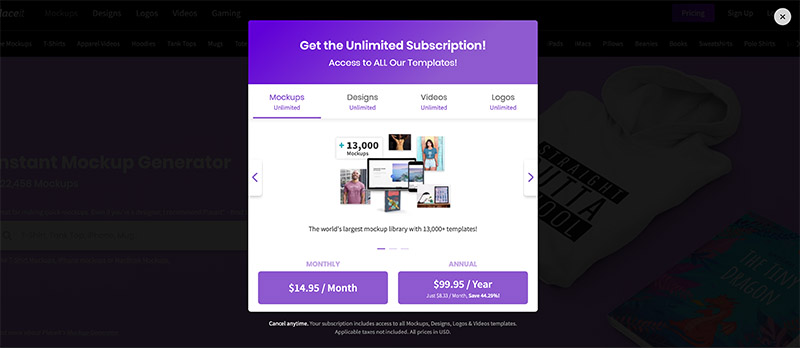 No Placeit review would be complete without a breakdown of its costs. So, how much does Placeit cost, and is it worth it?
You can test all of Placeit's tools with their free trial. Then, if you find it useful and you think it aids your business, you'll have upgrade to one of the following options:
The Unlimited Subscription – $14.95 a month, or $99.95 a year.
With this option, you'll enjoy unlimited access to all of Placeit's design templates, video templates, mockups, and logo makers. You can download as many assets are you want, and keep your subscription going for as long as you like.
Single Purchases: Don't want to commit? This option offers a 'pay as you go' style of purchase, where you only shell out for the services you use. For example, if you're just making just a single T-shirt or only one mockup, you can pay for only those items. This is a good option if you don't think you'll use Placit often enough to warrant a subscription, or for testing Placeit's quality and ease-of-experience without spending more than you have to.
Here's a list of Placeit's one-off costs:
Mockups: $7.95
Design template: $2.95
Logos: $39.95
Video mockups and single video: $9.95
Free options: As mentioned, you can opt for a free trial before committing. Other than that, Placeit sometimes has free download options on their selected images, so be on the look-out for those.
It should be noted that your monthly subscription will automatically renew; however, there's no minimum commitment, and you can cancel any time. You need to ensure you cancel in advance of the next billing date (at least one business day before) to make sure you're not charged for the next month/year.
Placeit doesn't offer refunds for periods where you don't use the subscription. Plus, they have the right to terminate your account for any reason (such as breaching their terms and conditions). However, the assets you've created will still be available for you to access after you cancel your subscription.
A Placeit Review: Pros & Cons
Now, let's briefly analyze the pros and cons of this tool. Placeit does lots of things right, but of course, there are a few drawbacks, and knowing about them will help you make a more informed purchasing decision.
A Placeit Review: The Pros ?
For most, Placeit is really simple and easy to use. It can be a priceless resource for ecommerce retailers with little to no design, art, or technical skills and can create mockups and videos by using the thousands of support they have available.
Placeit offers a vast library of mockups that are growing almost every day. These can range from anything from a mug, coupons, banners, and social media posts. If you want a piece of apparel as part of your merchandise, Placeit offers a vast range to choose from: leggings, hats, hoodies, and t-shirts being just some of the options available.
As we've already discussed above, videos are an essential part of your content marketing arsenal, and Placeit is an excellent tool for creating this kind of content, easily and quickly. There are thousands of templates to choose from, across all manner of video formats.
Positive reviews include comments such as:
"The videos you can make are amazing, along with the mockups and social media posts."
"Not only does it offer devices screenshots but also shirts, banners, and more that I have used for training and marketing purposes."
"They use high-quality photos and videos with models to help give your products a more personal connection."
"PlaceIt is an excellent marketing tool. It has helped a lot with visuals for customers and email blasts."
Placeit Review: The Cons ?
You can't be good at everything, and you can't win everyone over. So, unsurprisingly, Placeit has its faults, but is it enough to put you off? Let's take a look and find out.
As we've just established, Placeit's excellent for novice designers and marketers. However, for those more experienced in design, technology, and branding, Placeit will probably be a little too simple for your liking.
Though the tool allows for simple customization, it doesn't provide advanced editing features, or the kinds of integrations professional web designers may be looking for. It also doesn't allow for gif support, advanced cropping, or realistic blurring.
Placeit can also get a bit pricey if you don't subscribe to their membership package. Even then, unless merchandise is a massive part of your business, you should weigh up whether this deal is worth it.
Without a membership, you need to pay per download. This can get expensive, especially in terms of logos, which are $39.95 per download! So, if you're just making one logo, and you feel it will elevate your business, this may be money very well spent. If not, consider a membership.
Negative reviews include comments such as:
"You can't adjust DPI or download in different formats. The fonts are also rather limited, and I've found no ability to upload custom fonts."
"The non-subscription costs for downloads is also way too high, even with the variety of bases available."
"Their models could be more diverse in terms of looks."
"I wish I could set my branding colors as a template."
Placeit Review: Print on Demand
What's print on demand? This is where single or small amounts of something, like text or images, are printed to order, usually using digital technology.
Say, for example, you're selling a T-shirt – a print on demand company will provide a blank tee, and you'll then upload your design onto the shirt. Once you're happy with the mockup, you can start marketing and selling the item. Then, once you've made a few sales, the print on demand service will make up the orders and ship them directly to your customers.
With all that in mind, it's essential to be aware that Placeit is NOT a print on demand tool. You don't get physical items sent to you, and neither do your customers.
However, if you want a print-on-demand service, and the tools provided by Placeit to create branded wares, you can use Placeit alongside a print on demand service like Printful. These two sites complement one another exceptionally well. They may just be the perfect combination for elevating your dropshipping business to the next level.
What Exactly Does Placeit Have to Offer?
Placeit boasts an ever-growing library of templates to choose from. From these templates, you can design and create:
Logos: Choose from a list of industries, and then browse thousands of logo templates – you're bound to find one that complements your niche!
Design templates: It doesn't really matter what you're designing – t-shirts, flyers, business cards, social media images, etc., you name it, you should be able to find a decent design template on Placeit.
High-Resolution Mock-ups: If you want to create fashion items like t-shirts, hoodies, tank tops, hats, etc. Or things like mugs, tote bags, pillows, phone cases, etc. There are tons of HR mockups to peruse through!
A Drag & Drop Videomaker: Use Placeit's easy-to-use video maker to create product demos, Instagram stories, social media marketing videos, etc.
Gaming: Brand your gaming channel by creating assets for your Twitch profile – Placeit provides everything you need to get going with this!
Now we've listed the five main areas Placit focuses on, let's review each of these in a little more detail…
Logos: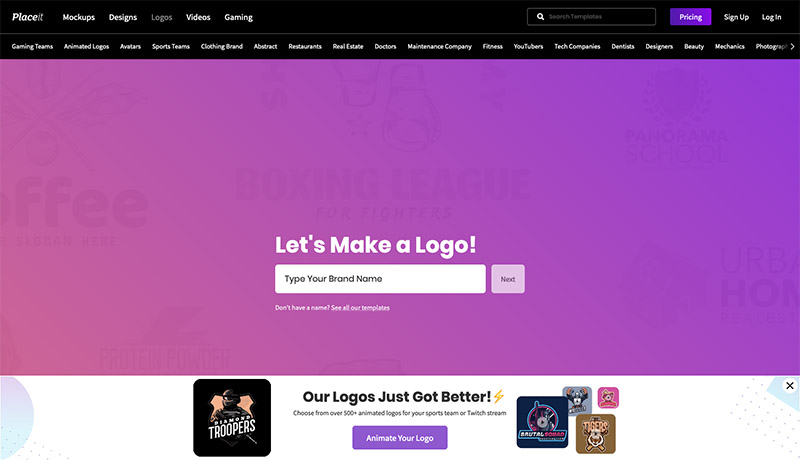 Logos are crucial for establishing your brand's aesthetic. Period.
So, you need to design something that's innovative, memorable, and relevant to your business- maybe don't create a logo with a deer on it, if you're selling cat food, for example.
Placeit can help you create a fantastic logo in just a few clicks. Its interface is super simple and provides over 8,000 professional-looking logo design templates to choose from.
To create your logo, follow the steps below:
Click on the "Logos" tab on Placeit's website.
Type your brand name into the field under "let's make a logo!"
Select your industry category or search for your niche.
Customize the colors of your logo *tip: be consistent with branding; if your brand has a color scheme, utilize that. Placeit will tailor its logo suggestions based on your color choice.
Now you can tweak the components of your logo: text, font, frame, etc.
When you're happy with the design, hit Save and download.
Design Templates: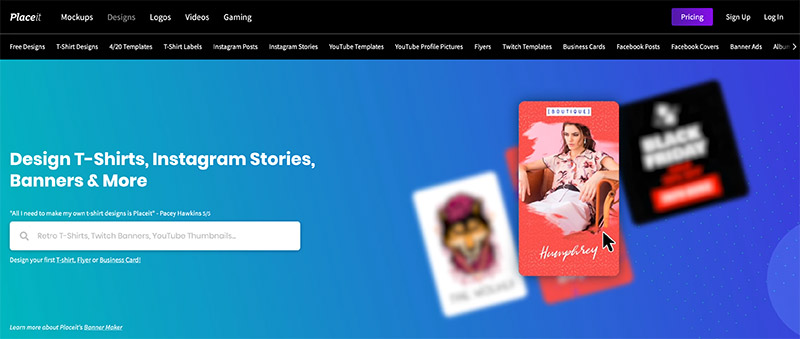 As we've already hinted at, you can use Placeit to design your first t-shirt, business cards, banners, flyers, social media images, and more.
Here's how:
Click on the "Design Templates" tab on Placeit's website.
Select the asset you want to design from Placeit's extensive range.
Then, simply click on the template you like.
Now, you can customize your template design by adding text, changing the font, setting a featured image, and adjusting the frame to meet your specifications.
When you're happy with your final design, press save, and download.
Mockups: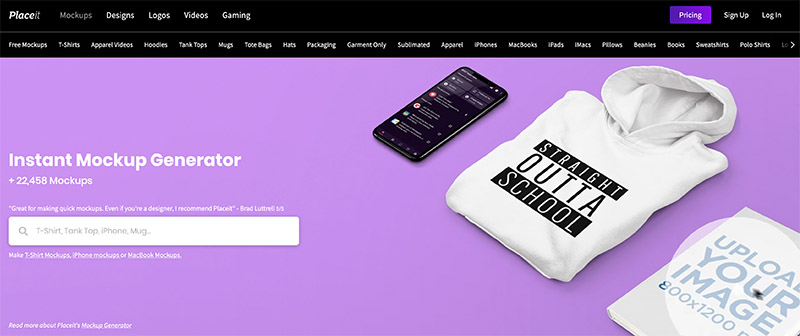 With over 22,000 mockup templates to choose from, Placeit gives you plenty of scope to select a design that's right for you.
You may be wondering, "hang on; what's a mockup?"
If that sounds like you, never fear, a mockup is a pre-set template for a piece of merchandise, for example, a t-shirt. You can then customize it by inserting your own designs, text, images, etc., on it.
To create your own new mockup:
Click on the "mockups" tab located on the top of Placeit's website.
Select the type of mockup design you would like to create. There are lots of options, from tote bags to mugs, to T-shirt mockups and leggings – you name it, Placeit probably has it.
Once you've decided on the type of merchandise you want a mockup for, you can now browse Placeit's vast library of templates and designs.
Once you've selected your template, it's time to customize it by adding your own text and images. If necessary, crop the graphics to meet your needs.
Then when you're happy with your finished mockup, download it with or without a watermark.
Video Maker: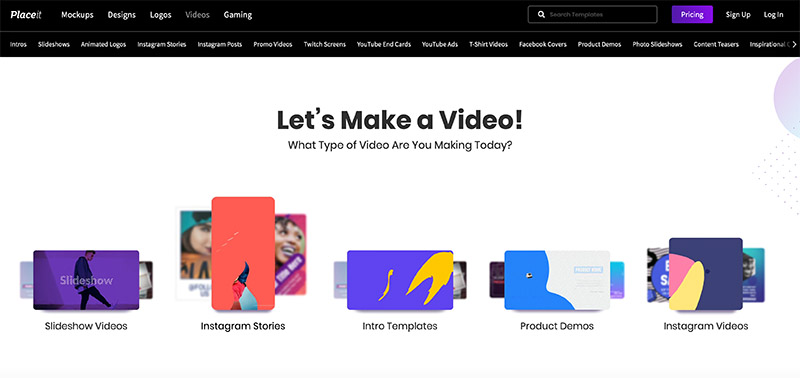 Video content is an excellent way of engaging with your audience. There's so much you can do with a quick film. For instance, businesses can promote their latest products, create a viral sensation, introduce themselves to potential customers – just to name a few!
In fact, data suggests that videos are better for capturing people's attention than images alone. Interestingly, social media videos generate as much as 12 times the amount of shares than text or images combined. Not only this, but you're likely to get more visitors to your website using video than company's that don't – 41% more likely actually.
Some believe videos are so useful because they require people to stop and pay attention, whereas, with pictures, it's easier to scroll on by mindlessly.
Therefore, publishing professional-looking and captivating video content could be the key to enhancing your online marketing strategies.
Luckily for you, Placeit offers hundreds of video templates for various types of videos.
Here's how it's done:
Click on the "videos" tab on Placeit's website.
Choose the video format you want to create: slideshow videos, Instagram stories; intro templates; product demo videos; Instagram videos, etc.,
Browse Placeit's library of video templates and select one that works for you
Customize your video to suit your brand: text, images, colors, playback speed, etc.
Sound is an essential element to your video, so skip using cringey ringtone-style audio and choose something that' right for your company's image. Placeit has a vast audio library, with over 1,300 audio tracks to choose from, ranging from alternative beats to jazz. So, at this stage of the video-making process, utilize this resource!
When you're ready, download your video!
Gaming: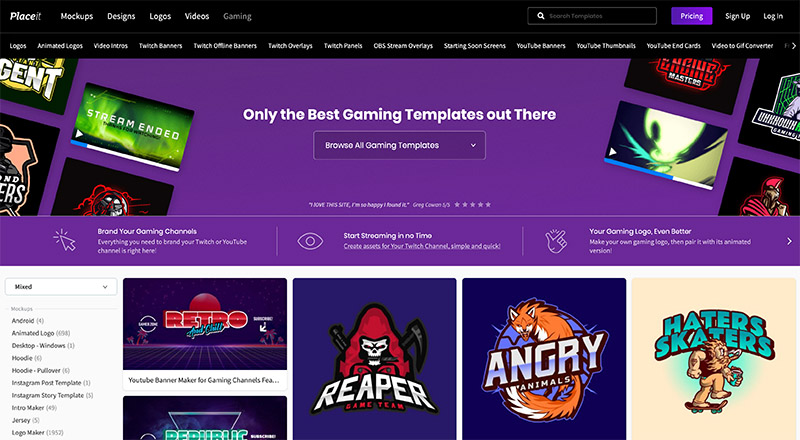 Over the last decade, online gaming has exploded in popularity. For some, streaming videos of their gameplay has even become a career… and a lucrative one at that.
Sites like Twitch and Youtube allow people to live-stream as they game to an audience and potentially earn money by doing so. You can even do this from the convenience of your iPhone or iPad. There's a big audience for this kind of content. Twitch, for example, has over 2 million streamers per month, with 9.7 million active daily users. That's an incredible amount of people!
So, if you're a gamer, branding your channel is incredibly important if you want to stand out in the ever-growing crowd of live-streamers. It's no easy thing to do nowadays, so you need to look the part by reflecting a professional yet unique image.
Placeit can help you create fabulous templates to brand your gaming channel, most notably for your logo, assets on Twitch, and merchandise you want to sell.
Here's how to kickstart the creation process:
Click on "Gaming" tab at the top of Placeit's website
Choose the category of templates you want to search: For example, all gaming templates; logos; animated logos; Twitch banners; Twitch overlays; video intros, etc.
Once you've decided the category, browse through their selection and choose the option that best suits you
Customize the template's text, colors, etc. *Tip: designing a logo? Inject a bit of movement into your design by opting for an animated logo.
Then download when you're ready!
The Best of All Placeit Reviews: The Bottom Line
So, there you have it, we've come to the end of our in-depth Placeit review.
Boosting your branding game doesn't have to be a strenuous and time-consuming task. With the right tool, the process is simple, quick, and accessible. Placeit prides itself on providing an easy-to-use service, even for the most novice of designers.
With thousands of templates, designs, and mockups to choose from, you'll have plenty of scope for finding the right vibe for your business. Want to create a video? Placeit has you covered there too. From business cards to banners, to book covers and more, Placeit has what you need to create the right image for your company.
This Placeit review has looked into what Placeit offers and how it can help grow your business and its branding. It's reviewed the services Placeit provides, as well as its pros and cons. With this info, we hope you'll be able to make a more informed choice as to whether this tool is the right fit for your venture.
Have you ever used Placeit before? Or, are you considering one of the Placeit alternatives on the market, like Envato, Magic Mockups, or Mockupsjar? Or, maybe you prefer to use a mockup generator? Either way, let us know your thoughts in the comments box below. Speak soon!