About Palladium Boots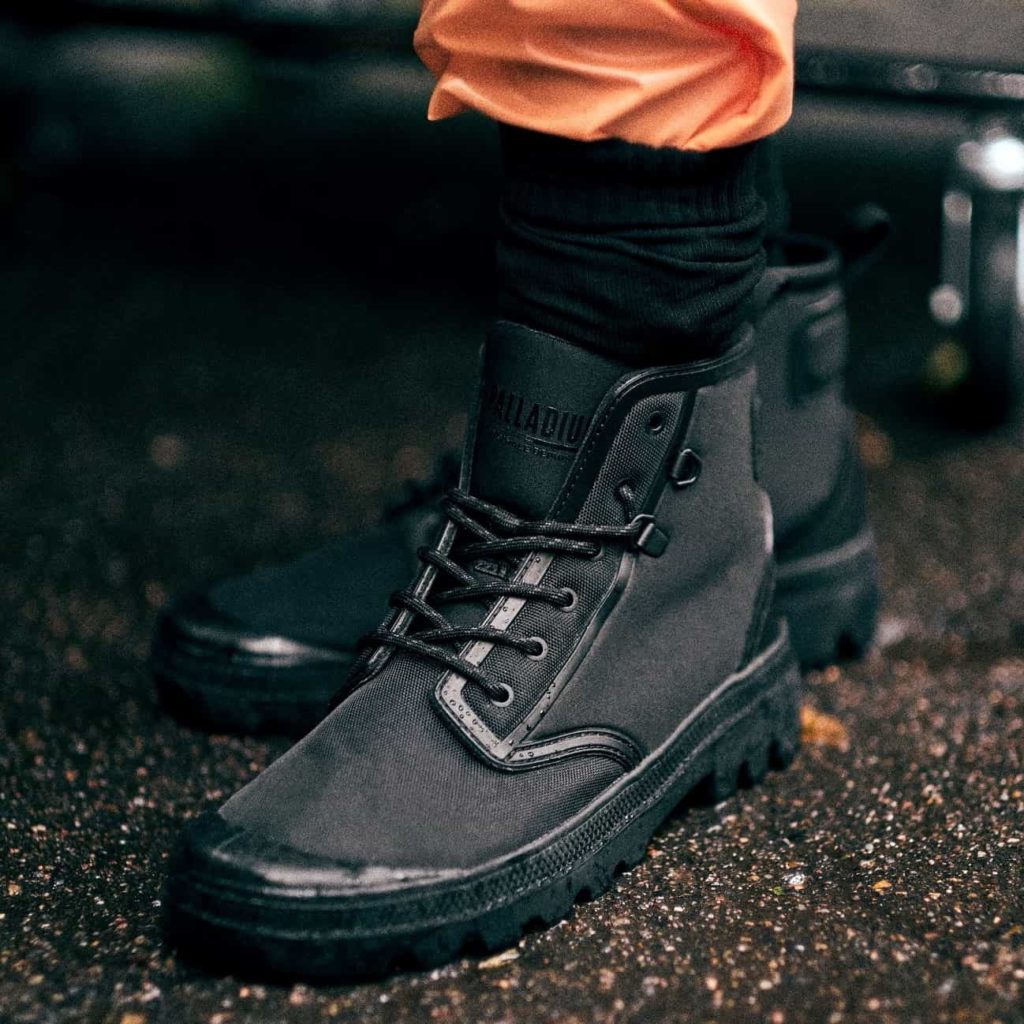 We all know that boots were made for walking. Plus, with colder months approaching for some of us, having a solid pair can get us through the harshest weather. It's a bonus if they're super stylish.
Palladium Boots is a popular shoe company known for their rugged, urban style. Evidently, they're most known for their collection of boots for men, women, and children that can trek the trails and the streets. Additionally, they've garnered about 226k followers on Instagram.
Are you in the market for some sleek new kicks? This Palladium Boots review can help you out. Join us as we look at the company's history, best-selling products, policies, customer feedback, and more so you decide if they're worth buying.
Overview of Palladium Boots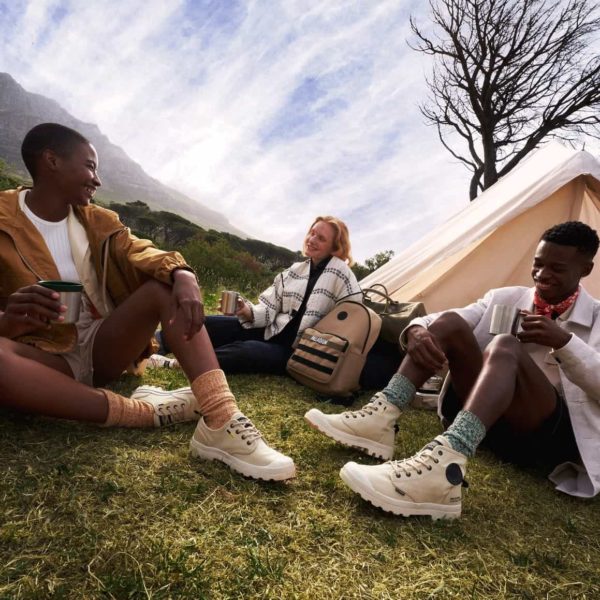 Palladium Boots was founded in 1920 in Lyon, France. They initially manufactured aircraft tires following the first World War. The tires were made by layering canvas bands underneath the rubber. This resulted in durable tires and became one of the most popular ones in Europe.
After the Second World War, tire demands decreased. So, they took their canvas and rubber expertise into creating boots for soldiers and adventurers. In 1947, they introduced the Palladium Pallabrousse ("For The Bush") along with the popular Pampa two years later.
These boots were tough and water-resistant, making them perfect for trekking in the most hostile places. Now, they have an updated version of the Pampa boot hiking and exploring. They were also a companion to Haroun Tazieff in the 60s. He was a volcanic geologist who frequented the world's most active volcanoes.
In the following years, Palladium became popular among student protestors, families, and athletes. They eventually made their way into street style, becoming popular in the American art scene. So, the company became associated with counter-cultural trends and movements and even came out with leather styles to rival Doc Martens.
Now, Palladium can be seen partnering with brands like Stussy and the Billionaire Boys Club. They continue to support and endorse young rappers, city-slickers, and adrenaline junkies. They do still cater to outdoorsy types, too, with the re-release of their original designs. Their goal is to continue supporting people to explore their surroundings.
Talk about a rich history. Now, before getting into the meat of this Palladium Boots review, let's talk about some highlights.
Highlights
Shoes and boots available for the entire family
Long history and a good reputation
Local websites are available in certain countries
Free shipping is available with an order minimum
Financing options are available
Generous return policy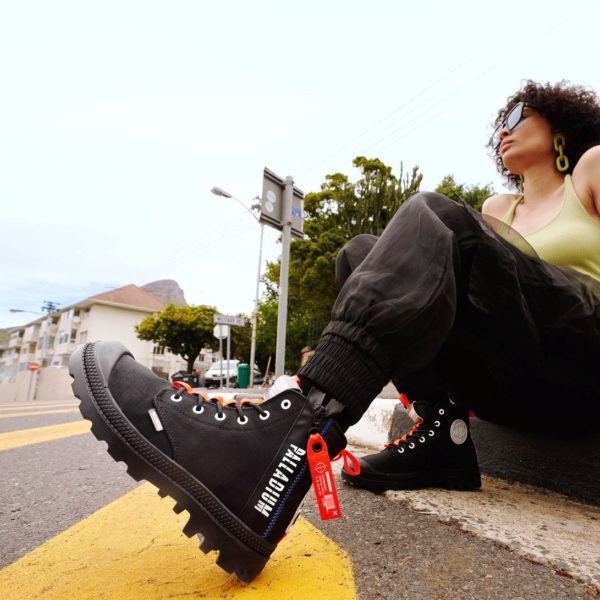 If you're on the search for durable and stylish kicks, the Palladium shoes might become your new faves. Their styles are modern, rugged, and great for everyday use.
Keep reading this Palladium Boots review to learn more about their best-selling shoes for men and women. Also, note that there are financing options available with AfterPay.
Palladium Boots Men's Review
The Palladium Boots Men's collection ranges from simple classics to fashion-forward streetwear styles. So, you'll definitely be able to find a pair that suits your look. Read on to find out more!
Palladium Boots Pampa Lite Overlab Camo Review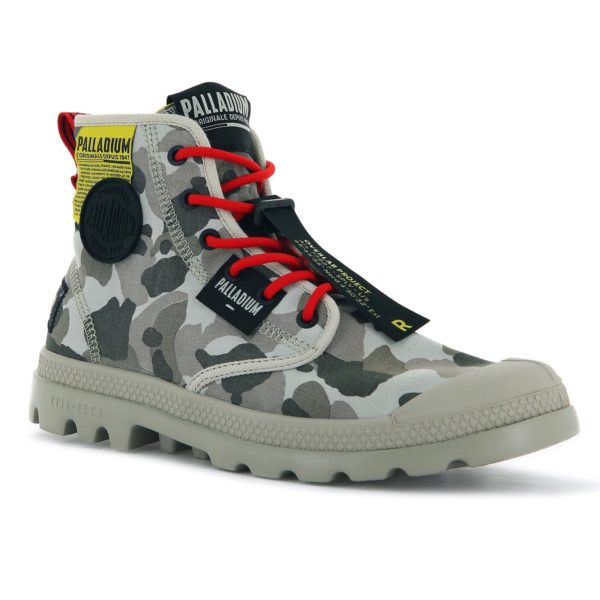 The Palladium Boots Pampa Lite Overlab Camo is a modern take on the original Pampa boot. It's designed with city streets in mind and features a blue, gray, and white camo print. With black soles and branding against the bold design, the Pampa Lite Overlab Camo definitely achieves its urban aim.
The boots' lining is 100% polyester and is approved vegan by PETA. It's also designed with a Lite-Tech outsole, which helps reduce weight and even has moisture-wicking abilities. Basically, it makes the boot lightweight and perfect for exploring your favorite city spots. Of course, they would also make great companions during festivals.
Throw on some cargos, joggers, or jeans with these boots to really seal the deal. Available in two other designs, the Pampa Lite Overlab Camo retails for $100.
Palladium Boots Pampa Hi Review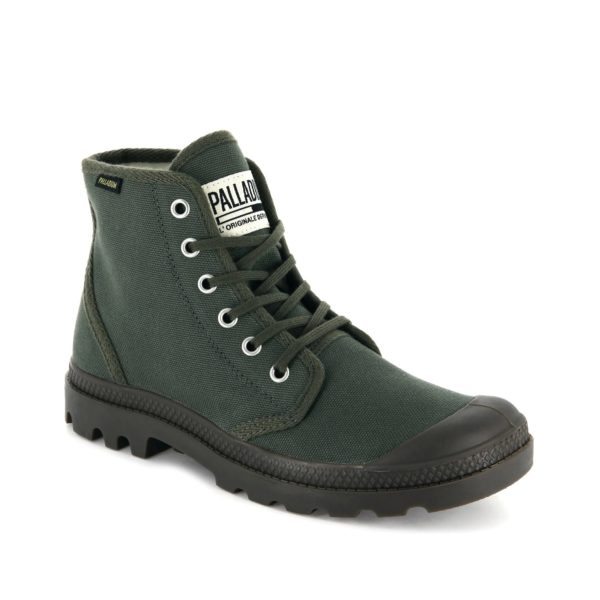 If you're looking for a versatile shoe, the Palladium Boots Pampa Hi can be your go-to. As the name suggests, it features a high-top design and a rubber outsole for traction. While it is a boot, we can't help but notice the sneaker-like qualities it has, making it perfect for everyday wear.
Depending on the color you decide on, each option has a vintage look and feel to it. It's made from canvas, which might feel similar to other pairs of high-top sneaks. In addition, the boot is EVA-cushioned and has a heel cup cradle for extra foot support.
It'd be super easy to pair with a pair of slacks or slim-fit jeans. Plus, no matter what you're doing, you'll be comfortable all day. The essential Pampa Hi boots will run you about $75 at checkout.
Palladium Boots Pampa Smiley Change Review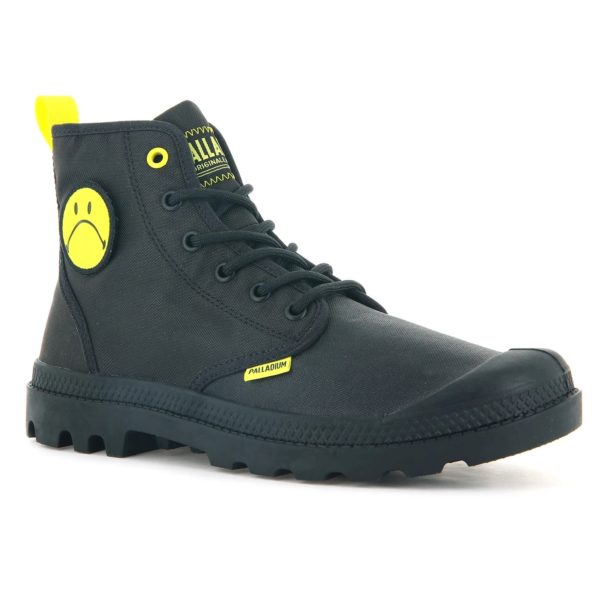 Add some pep to your step with a pair of Palladium Boots' Pampa Smiley Change. In collaboration with Smiley, Palladium created a bold boot with the signature happy-faced branding. It amps up the classic Pampa with a modern and amusing design.
The colorway is clean, and you can choose between black, yellow, and bright white. So, of course, they're versatile. Going totally monochrome or pairing it with your favorite black, yellow, or white pieces will definitely put a smile on your face.
If you're not into the Smiley patch, though, you're able to remove it. The Pampa Smiley Change boots cost $110.
Palladium Boots Women's Review
Now, onto Palladium Boots Women's selection. These shoes are stylish, functional, and will definitely have all eyes on you.
Palladium Boots Pampa Hi Re-Craft Review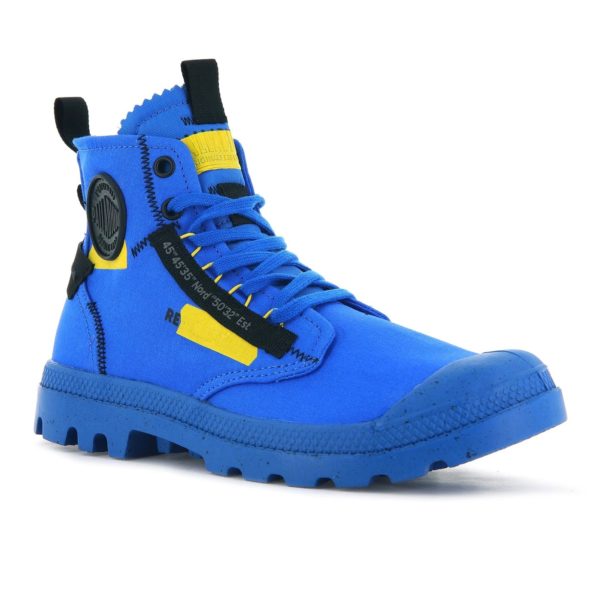 First up are the Palladium Boots Pampa Hi Re-Craft shoes. This design takes the initial Palladium boot to new heights with a high-top design and contemporary embellishments. It's mainly made from almost-trashed fabrics and recycled rubber to eliminate the fast fashion methods of shoe manufacturing.
The Pampa Hi Re-Craft is available in blue, red, white, and black. They all have the same yellow and black detailing, adding some futuristic aesthetic to the boot. The white Pampas are incredibly stylish and will help up your outfit game.
These certified vegan Palladium shoes retail for about $100.
Palladium Boots Revolt Hi TX Review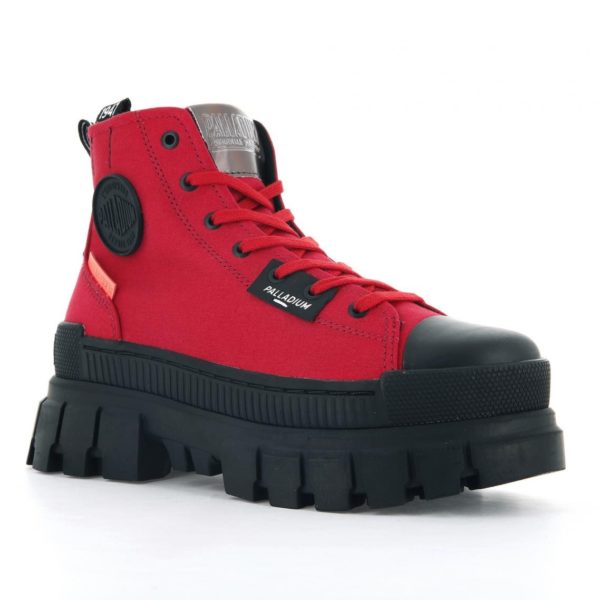 For all you chunky boot enthusiasts, the Palladium Boots Revolt Hi TX is basically made for you. The bold, red shoe's chunky sole will give you some height and confidence as you walk the streets. Honestly, it's an editorial look that would definitely work for everyday wear.
As we said, these shoes will definitely have eyes on you. If you're going for an edgier look, some black denim, a leather jacket, and a red top will definitely set the look off. For something more editorial, this Palladium Boots review thinks you could even pull off a black maxi dress. Don't worry, though. It'll still carry the same fashion-forward energy.
The Revolt Hi TX boots cost $120.
Palladium Boots Revolt Lo TX Review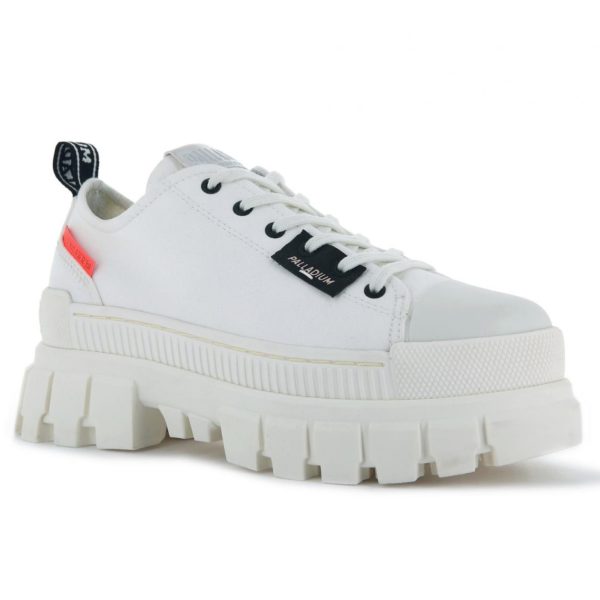 Last but not least are Palladium Boots' Revolt Lo TX shoes. These shoes feature a bold, chunky platform attached to a smaller, low-cut package similar to the high-tops. But, there's nothing subtle or timid about these chunky sneaks.
The Revolt Lo TX shoes will obviously add height. Plus, it's another shoe in Palladium's collection that's reminiscent of fashion-forward styles. This Palladium Boots review suggests wearing them with some wide-leg pants or jeans. You could even get away with wearing a skirt and rock these platforms a la Baby Spice.
You can get your hands on the Revolt Lo TX for $100.
Who Is Palladium Boots For?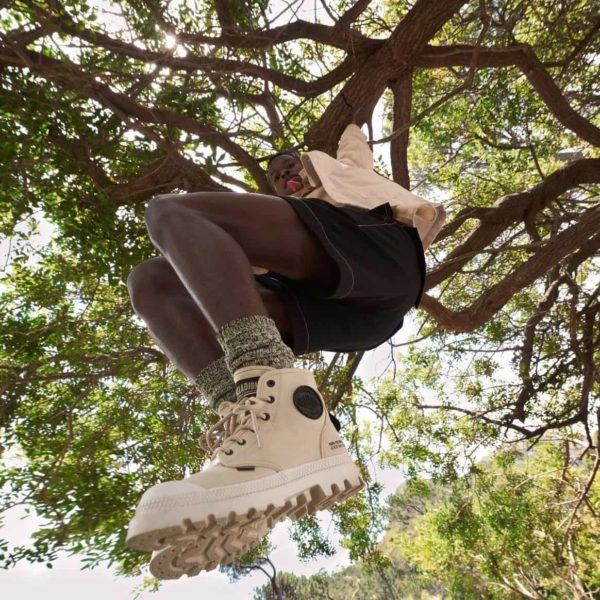 Palladium Boots are for anyone looking for functional and stylish boots. Their classics can accompany you through any terrain, while their more unique pairs can bring out a different fashion sense. The more unique pairs are perfect if you're into streetwear and urban fashion in general.
Additionally, they offer shoes that are certified vegan by PETA. So, the boots will be able to suit a vegan lifestyle. That being said, they are on the expensive side, but you can opt for a financial plan.
Palladium Boots Reviews: What Do Customers Think?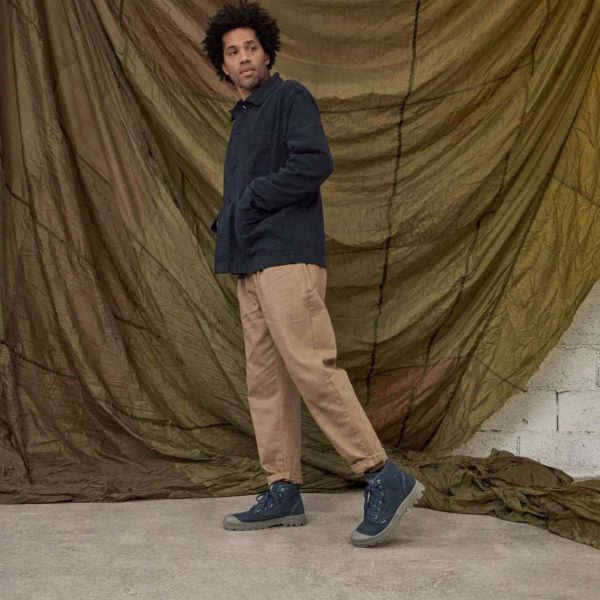 So, you've read about the brand's best-sellers. Now, this Palladium Boots review is going to look at some customer feedback. Besides the main website, we also found testimonials on Amazon and Trustpilot.
Unfortunately, not all of the featured shoes had ratings. But, here are the boots that did:
Pampa Hi: 5/5 stars from 8 reviews
Smiley Change: 5/5 stars from 1 review
The men's Pampa Hi is definitely one of the brand's most popular items. One reviewer writes. "Best boots I have ever bought. I will be a return customer from here on out […] Comfortable and broken in straight out of the box. From my experience, these do not fall apart whatsoever. I can't stress how happy I am that I found my perfect shoe company."
Another customer says, "I bought my first pair of Palladium boots from a thrift store six years ago for $9. I wore those boots until my lady got sick of them and tossed them out. I currently have three pairs plus the black Pampa Hi in my online cart, and I'm putting the gray ones on my Father's Day wish list. Wish me luck!"
The boots also get some love on Amazon, where they have a 4.5/5 star rating from 1k reviews. A customer writes, "My husband had a pair of these boots more than 20 years ago and had been looking for them ever since. I suggested Amazon, and lo and behold, here they were. He loves them."
Back on the main website, the bright Smiley Change boots have one glowing review. The customer writes, "Very comfortable shoes with flex material that makes you feel like you aren't wearing shoes at all. This was my first pair, and I'll definitely be getting more."
We also found some general reviews on Trustpilot. One reviewer says, "They are the most comfortable boot I ever bought. I bought at least three pairs over the last four years. I love that they have high and low top boots and different colorways."
Another reviewer writes, "I've got two pairs of Palladium Boots. One is an ankle height suede boot that I've had for around 8 years. The other is the Pampa […] I've had for around 4 years. I wear both regularly and love them. They still look as good as new. They're light, comfortable, and waterproof. I've never had any issues. […] full five stars from me!"
This Palladium Boots review found that despite good reviews on this webpage, the company has a 1.6/5 star rating from about 64 reviews. Some customers had trouble buying their boots online and experienced delayed delivery times. As a result, we would recommend looking into making your purchase from a physical location if possible.
Is Palladium Boots Worth It?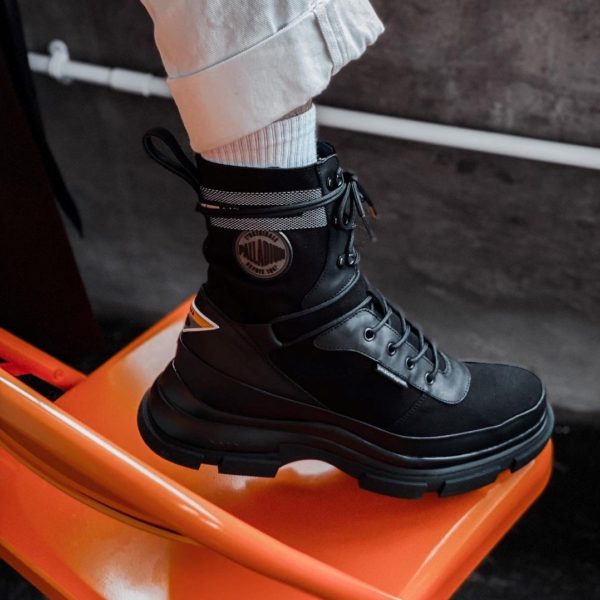 Functionality and style are definitely things you want when buying a pair of essential boots. Palladium offers both and then some with their classic and revamped styles. Plus, you'll be able to find new kicks for the whole family.
Based on this Palladium Boots review, we think the brand is worth browsing. They have a great selection for anyone, and their edgier styles are unique and contemporary. If they're not within your budget, though, the company does offer financing with AfterPay.
Palladium Boots Promotions & Discounts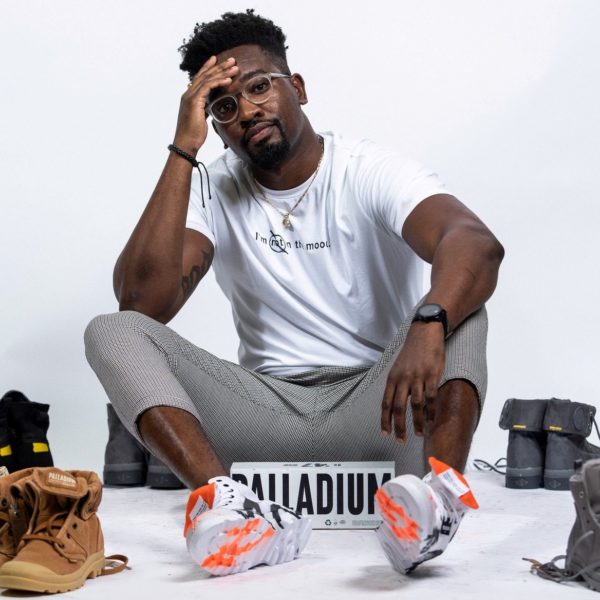 If you can wait to get your hands on some Pampas, you can get 15% off your first order when you sign up for Palladium's newsletter.
They also offer a rewards program where you can redeem points for every dollar you spend. This will also give you exclusive access to events, birthday points, and a few loyalty coupons.
Where to Buy Palladium Boots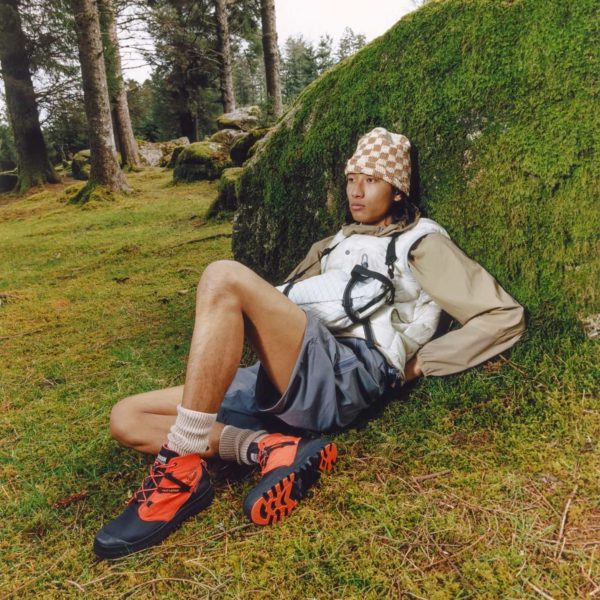 Itching to get some new boots after reading this Palladium Boots review? You can buy them at palladiumboots.com or at the following retailers:
Amazon
Nordstrom
Journeys
Zappos
Walmart
FAQ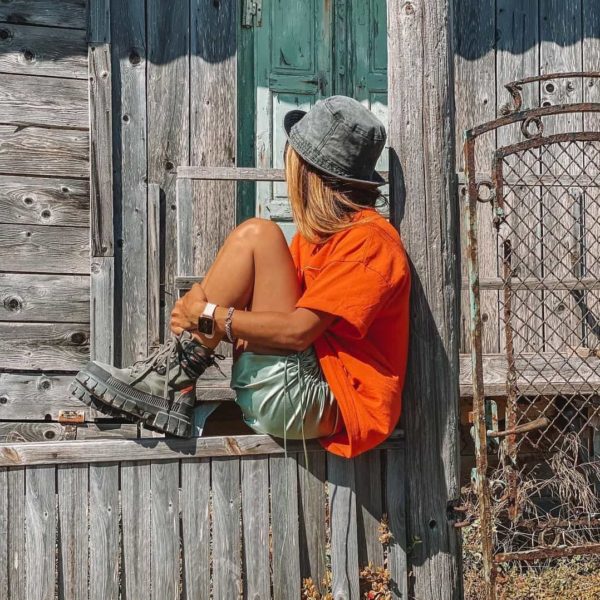 Who owns Palladium Boots?
Unfortunately, we couldn't find information about the Palladium Boots owner online. But, we did find that Barney Waters is the company's VP of marketing.
How long has Palladium Boots been around?
Palladium as a company has been around since the 1920s. They started manufacturing boots just after the Second World War.
Can you wear Palladium Boots in the snow?
You can wear certain Palladium Boots in the snow, but the Pampas might not be able to tough it out. The material might let the water soak through.
Does Palladium Boots ship internationally?
Palladium Boots does not ship internationally from their US site. But, you can find out if they have a local site in your country.
What is Palladium Boots' Shipping Policy?
Palladium Boots offers free shipping in the continental US for orders over $100. Orders typically take between 1 and 2 business days to process.
Additionally, orders placed by 11AM EST will ship the same business day, Monday to Friday. Any orders made afterward will ship out on the next business day. Palladium offers different shipping options as well, and orders are fulfilled by FedEx.
Here are the different shipping options and prices available for orders under $100:
Standard (7-10 business days): $10
Two-Day Air (2 business days): $25
Priority Overnight (1 business day): $40
Unfortunately, because of the current pandemic, Palladium is not offering Overnight shipping. Also, as we mentioned, they don't offer international shipping from their US site. Still, you might be able to find a local website in your area.
What is Palladium Boots' Return Policy?
If you're not satisfied with your Palladium Boots purchase, you can return it within 30 days of purchasing. It's important to note that $8 will be taken off your purchase amount for an included shipping label. Additionally, any shipping fees are non-refundable.
You can initiate a return at the company's Returns Center. First, include your order number and email and follow the provided instructions. Then, pack up your order with the return label and drop it off at the nearest FedEx office or partner.
If you bought your Palladium boots or items from one of their authorized retailers, you must return them to the store you purchased them from. Evidently, you'll also have to adhere to the retailers' return policy.