NordVPN is a secure, fast and incredibly easy to use VPN.
Their VPN app uses the industry standard 256-bit AES encryption and OpenVPN tunneling protocol (by default).
Their server park is large, with 5300+ servers across 59 countries. This makes streaming videos and accessing blocked content a walk in the park. In our tests, Netflix streaming worked with over 90% of servers we tested. This is the highest, we've seen.
Since they have so many servers, it's easy to find a fast performing server – especially important for torrenting. NordVPN also supports P2P & torrenting on all servers and also have an Onion over VPN feature for the ultimate privacy and anonymity.
NordVPN does not collect any logs and they operate out of a country with no data retention law (Panama).
Their pricing starts from $3.29 up to $11.95/mo depending on your subscription length.
NordVPN Pros
1. The Biggest Server Park We've Seen
With over 5,200 servers across 59 countries, NordVPN automatically selects the best server based on location, loads, or your specific needs.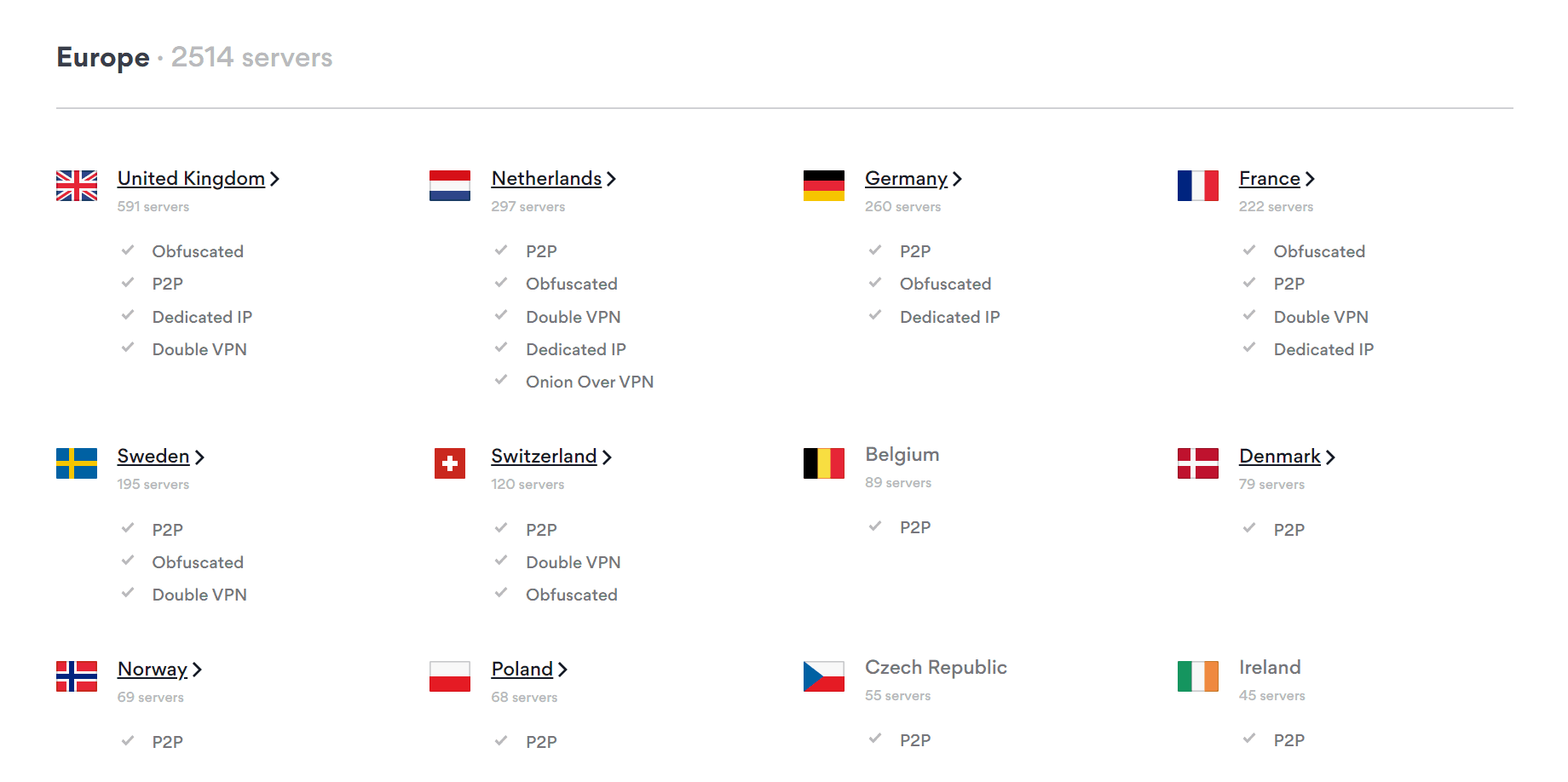 Take your pick from a plethora of servers from almost anywhere in the world.
2. Fast Speed on All Three Tests
Speed, along with the stability and consistency of that speed, is necessary when comparing VPNs to be sure that loss of speed is not significant, and to ensure a positive online experience.
Our benchmark ISP connection speed is 250Mbps down and 25Mbps up as you can see below.

I tested the download speed with NordVPN in three locations: two in the US and one in the UK. You'll see in the results below that download speed was above 110 Mbps for all three tests, which is among the best VPN speeds with current VPNs. This speed and stability easily allow for torrenting and streaming.
New Jersey (Quick Connect: Fastest/Closest Location)
Ping: 18ms
Download: 131.44 Mbps
Upload: 9.10 Mbps
New York
Ping: 18ms
Download: 140.52 Mbps
Upload: 11.28 Mbps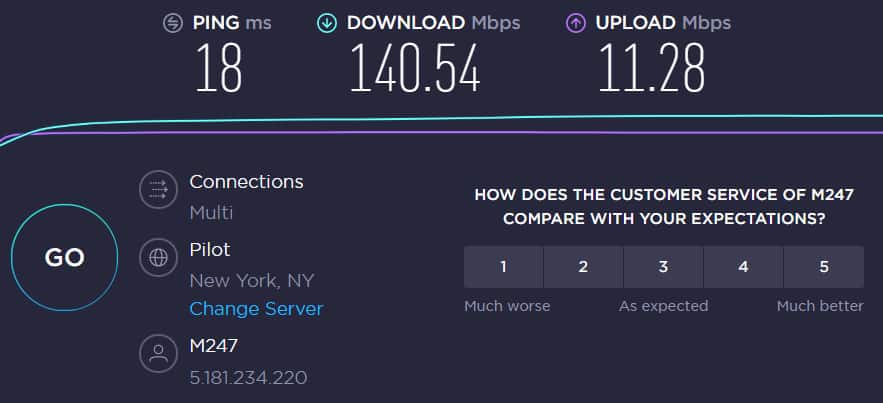 Europe (UK)
Ping: 154ms
Download: 110.82 Mbps
Upload: 11.47 Mbps
3. 95%+ Servers Worked with Netflix
Since geo-locations and restrictions are often found with Netflix, NordVPN allows you to bypass these restrictions. When attempting to unblock Netflix with NordVPN, we found that while not all servers worked with Netflix because of Netflix's crackdown of certain IPs that belong to VPNs, 14 out of 15 US servers work, 3 out of 3 CA servers work, and the UK server works. You can view the specific results below.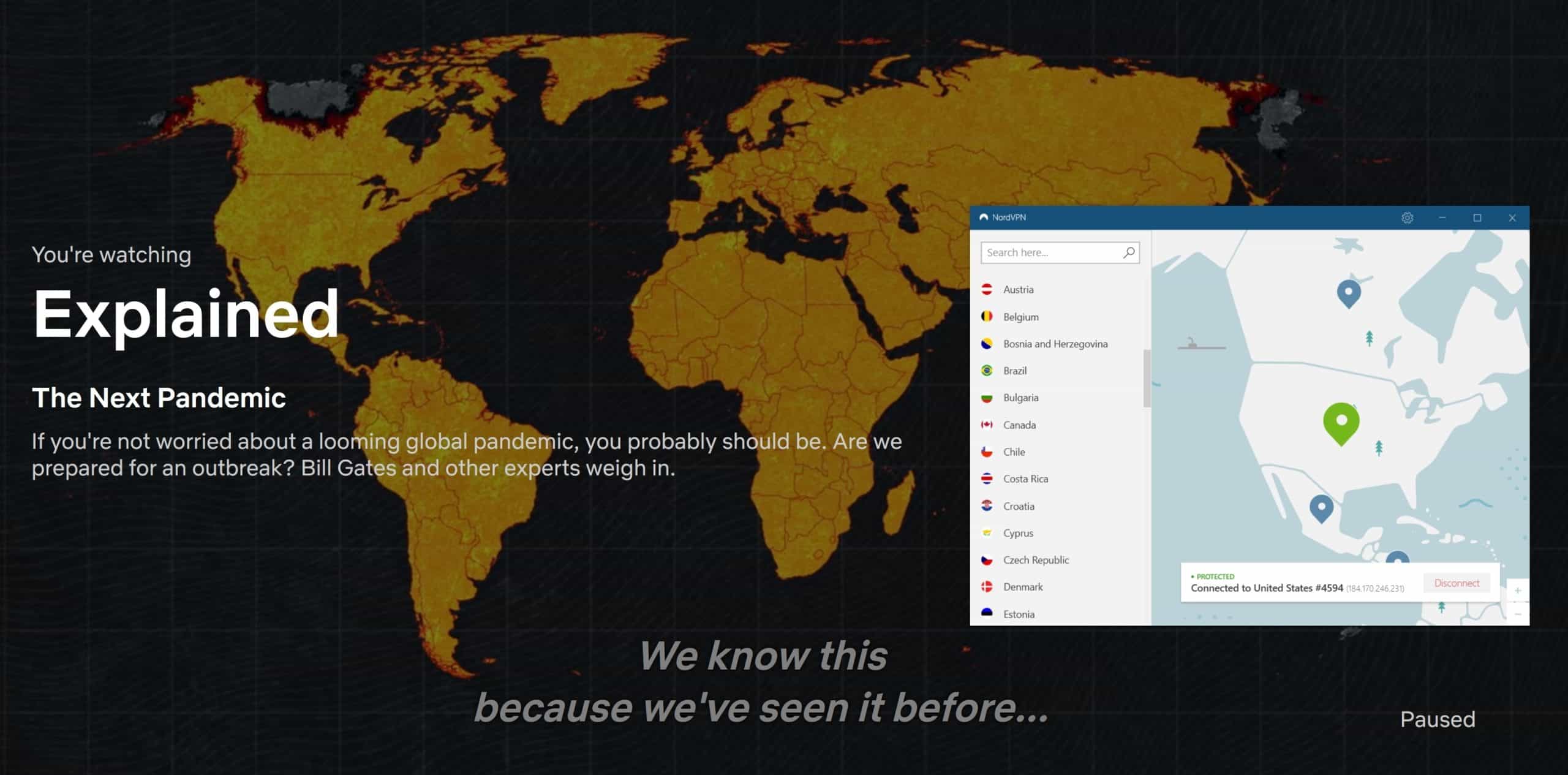 14/15 US servers work
3/3 CA servers work
UK server works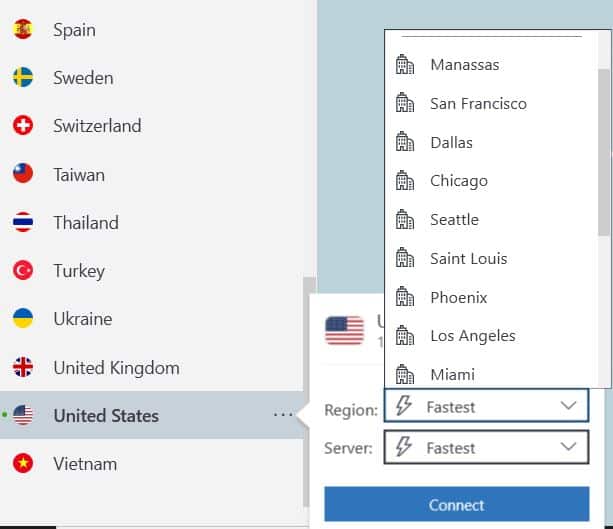 I selected the region and connected to the fastest server.
US
Manassas (US) – Yes
San Francisco (US) – Yes
Dallas (US) – Yes
Chicago (US) – Ye
Seattle (US) – Yes
St. Louis (US) – Yes
Phoenix (US) – Yes
Los Angeles (US) – Yes
Miami (US) – Yes
Buffalo (US) – Yes
Atlanta (US) – Yes
New York (US) – Connection Issues/Proxy Detected
Charlotte (US) – Yes
Salt Lake City (US) – Yes
Denver (US) – Yes
CA
Vancouver (CA) – Yes
Toronto (CA) – Yes
Montreal (CA) – Yes
4. Usability: An Extremely Smooth & Satisfying User Experience + Wide Range of Features
The 3-step process for signing up and installing NordVPN is extremely simple. First, head to NordVPN.com to choose your payment plan. You can choose between 1-month, 1-year, 2-year, and 3-year plans. Once you select and create an account with your billing information, you'll be directed to the setup process you see below.
Step 1:
Download NordVPN from NordVPN.com.
Step 2:
Be sure you have at least 19 MB of free space on your local drive. Choose which drive you would like to install NordVPN.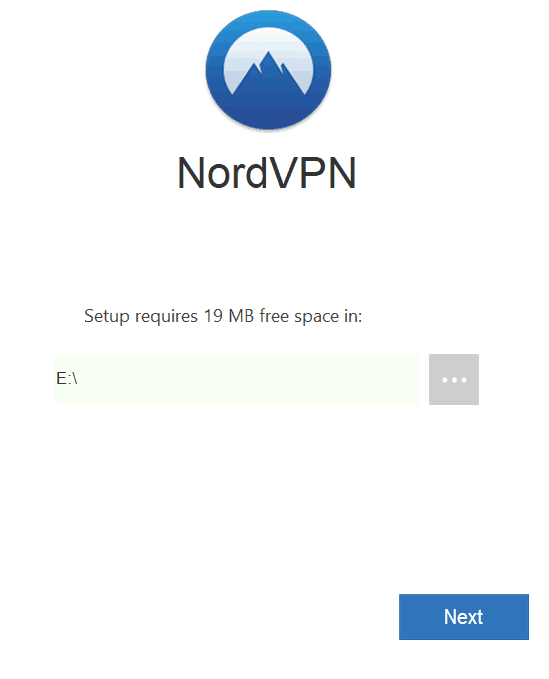 Step 3:
Select where you would like to create shortcuts for NordVPN. The setup wizard gives you the option to select between the desktop and start menu/finder folder, or both.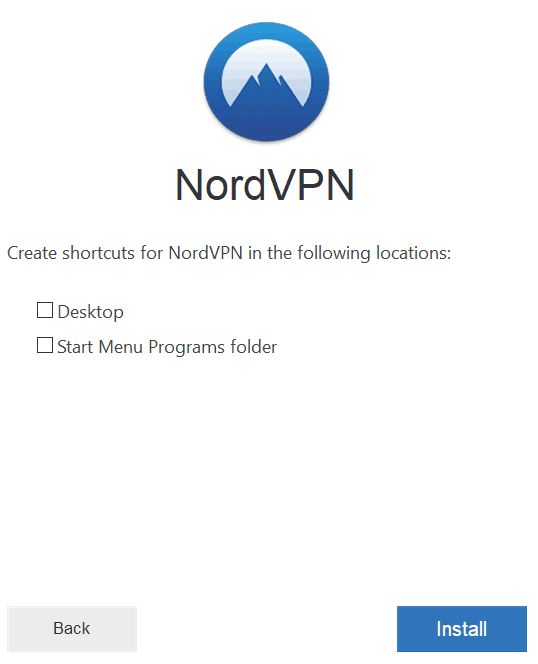 Step 4:
And it's as easy as that! NordVPN has been installed. From here, you can automatically launch and begin using your VPN for secure browsing, streaming, and torrenting.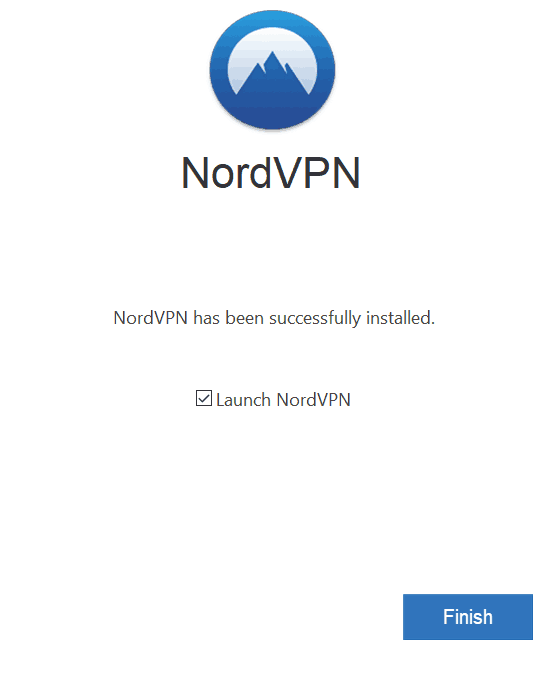 Once installed, NordVPN will provide an automatic software update if available. You can either choose to do so then or remind you of the update at a later time.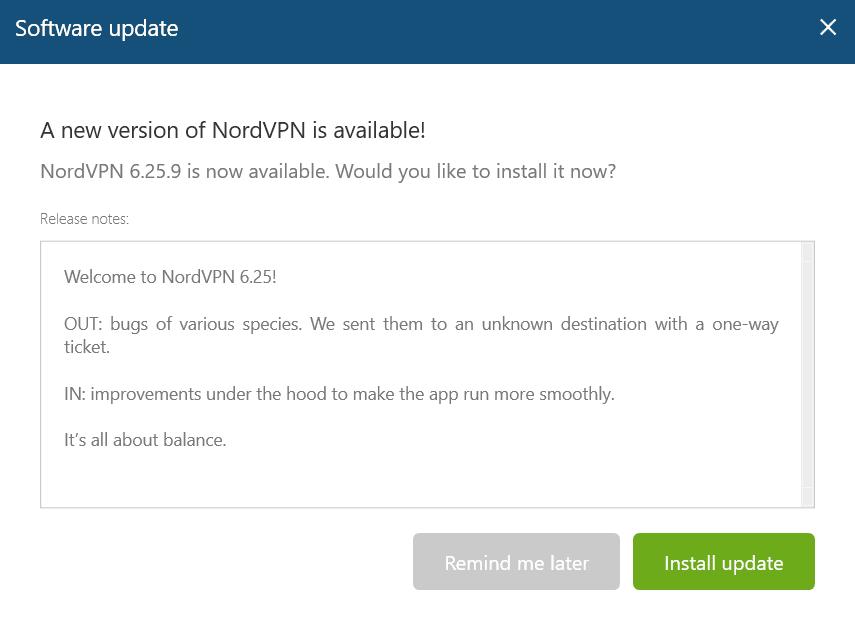 Feature: CyberSec
One feature of NordVPN is CyberSec, which you will be prompted to add after the completed install. This can further protect you against intrusive ads, malware, phishing attempts, and other threats.
While it is optional, there are three major benefits to enabling CyberSec:
First, the main feature of CyberSec is integrated protection from phishing scams and major cyber threats. It immediately compares websites you're browsing with known blacklists and will block your access if malware, spyware, or any malicious software is known.
Second, CyberSec will protect from any DDoS attacks, even if malware has already begun to infect your device. CyberSec will immediately eliminate connection and communication between your device and the control server of the botnet.
Third, CyberSec will hide any of those pesky pop-ups, autoplay ads with or without audio, and other distracting advertisements. This allows for faster load speed and an all-around better browsing experience.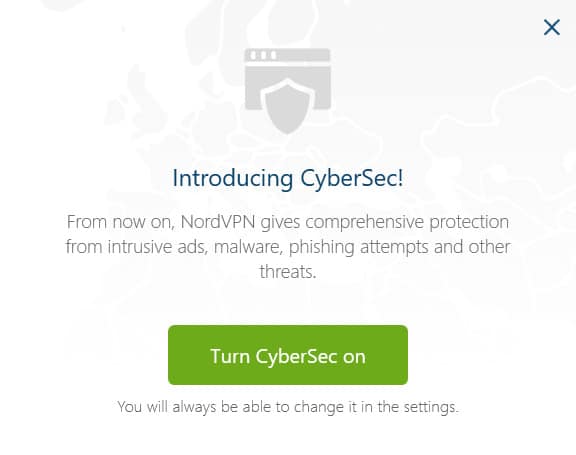 Specialty Servers
NordVPN offers multiple types of specialty servers, allowing you to choose which best fits your needs:
With dedicated servers, you can select an IP address that is unique to you and unable to be shared with any other NordVPN user, creating an even more secure browsing experience.
Need extra security? NordVPN offers double encryption while sending your information through two secure VPN servers.
Trying to load information abroad in a location with restricted internet access? With NordVPN, you can browse or stream using one of their obfuscated servers that gives you full access to the information you need right away.
If you're looking for even better security in protecting your data and behaviors online, NordVPN can be paired with The Onion Router, or Tor, that enables anonymous communication and protects from traffic analysis.
Have no limit on peer-to-peer file sharing with NordVPN, with no bandwidth threshold or activity tracking.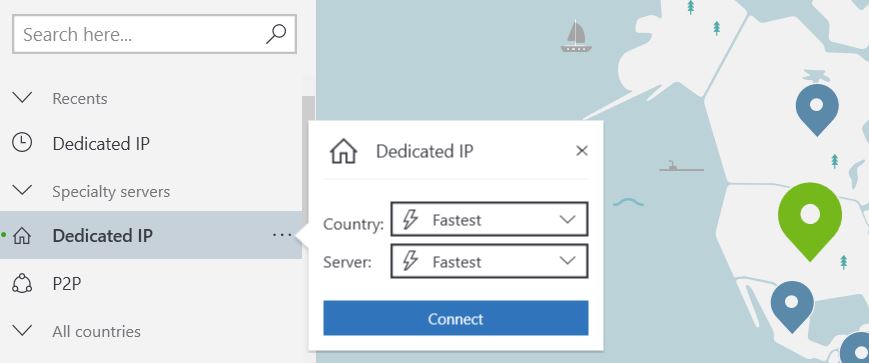 NordVPN's features create a secure online experience for you, whether it's protecting you while on a public Wi-Fi network or giving you access to any content while traveling. While NordVPN's setup and use are extremely simple, their 24/7 support is one of the strongest features that will help you along the way.
Military-Grade Encryption and Data Protection
NordVPN's military-grade encryption protects your connection to the internet and ensures your privacy, but not just from hackers. Did you know that internet service providers often track your internet usage to sell that data to advertisers? As well, any of your internet usage and traffic can be summoned by the government for your activity logs. Any time you are connected to the web, these logs and activities are being tracked, unless you use a VPN. With this military-grade encryption, your data, IP address, and location are entirely private.
Many people think they may not have anything to hide, but so much of your data can be used against you without you knowing. Your medical history, banking information, work emails, etc. can all be at risk of being accessed when not using a VPN. NordVPN uses an Advanced Encryption Standard (AES) with 256-bit keys, which is recommended by the NSA for securing any classified and top-secret information.
Nord VPN also uses two different VPN protocols. However, there is no need for you to determine which is best for you since NordVPN aims to make using their VPN easy. The IKEv2/IPsec protocol is default for iOS and macOS apps, while the OpenVPN is the default for Windows, macOS, and Android apps. This means that macOS users can choose between the two, but both are dependable and recommended by NordVPN.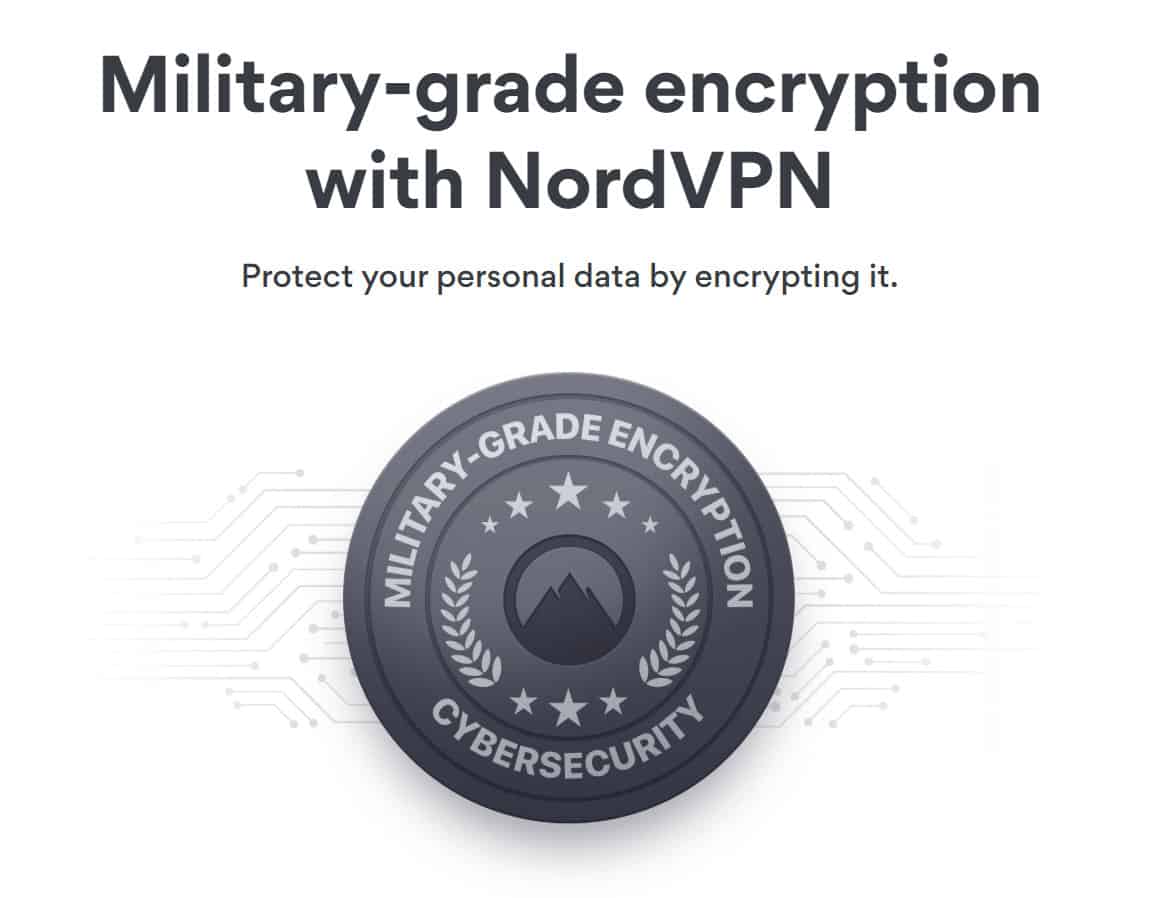 Double VPN
One is good enough, but two is even better! With NordVPN, you have the option to enable Double VPN, which means as your traffic passes through the first remote VPN server to be encrypted, it passes through a second VPN server to be encrypted a second time before reaching your online destination securely. This allows for double encryption, increased security, and IP address privacy and protection.
While not everyone needs Double VPN, you have the option to protect your communications and information securely with this feature. NordVPN recommends disabling it for private everyday browsing, when you need high-speed internet, and for browsing the Tor network. Double VPN is included in the NordVPN subscription package (and can be enabled whenever you feel it is needed) in their Android, macOS (OpenVPN), and Windows apps.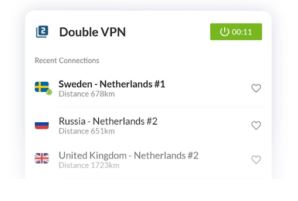 No Logging Policy
Using a VPN keeps your online activity and logs completely private. With NordVPN's no-log policy, they promise that no logs are kept of connections or usage, which means no connection timestamps, no IP addresses, and no traffic data. They go a step further to accept multiple cryptocurrencies for payment to ensure you leave no trace of who you are.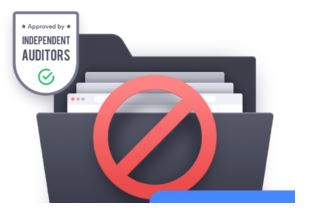 However, they do monitor some lesser important data, such as:
Service performance data (for recommending most suitable servers)
E-mail address
Payment data (but you can also use bitcoins)
That's the regular stuff that most (if not all) VPN providers are logging and it's nothing you should be worried about. Especially when NordVPNs payment processor isn't tied up with their main company. If you want to, you can read their logging policy.
Kill Switch
NordVPN ensures your greatest protection with their Kill Switch feature. This is an advanced security measure that immediately blocks your device from accessing the web if your connection to the VPN server is dropped. NordVPN will continue to keep you blocked until the VPN tunnel is restored or you manually disabled the Kill Switch.

Internet Kill Switch

App Kill Switch

DNS Leak Test
If you are running Windows or have set up a VPN manually, your system can revert to the default Domain Name System (DNS) servers, allowing your ISP to see what websites you are visiting. Oftentimes, you may not even know a leak like this has happened unless you choose a VPN service that guarantees DNS leak protection.
With NordVPN, your devices only use DNS servers operated by NordVPN, so you don't have to worry about your information leaking and being sold to third parties. As well, NordVPN promises that if you test and still see a DNS leak with NordVPN, they will immediately help to sort out any issue.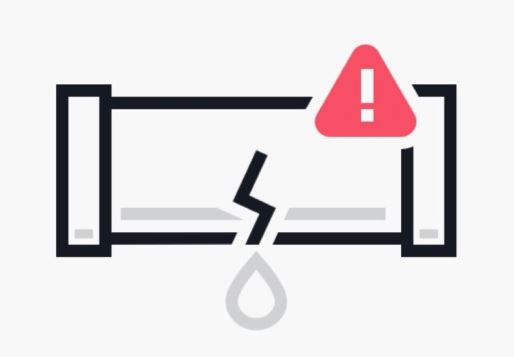 Multiple Devices
You've got an android phone, MacBook laptop and Windows PC? Don't worry, NordVPN works perfectly on them all. NordVPN is our top pick for both Android and Mac.
NordVPN supports simultaneous connections and allows you to secure up to six devices with one account, no matter what operating system you use. What is great about NordVPN as well is that you can connect to your router, which allows you to secure every device connected to that network, while only using one of the six available spaces.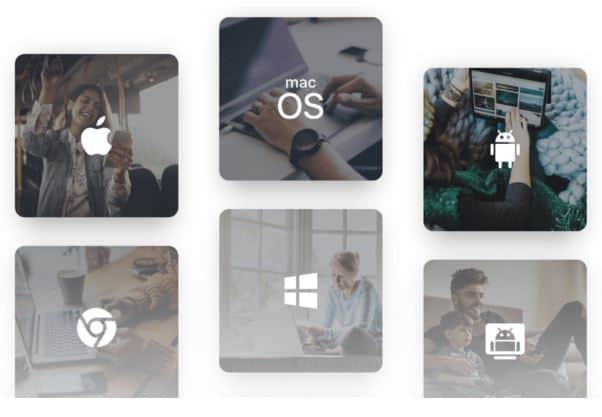 5. Torrenting/P2P Supported + Onion Over VPN Special Feature for Tor Users
NordVPN allows peer-to-peer (P2P) traffic on certain servers, but you will need to find which server to connect to with their server recommendation feature. With this option, you instantly get a suggestion for the best server for you. For further security, if you connect to other NordVPN servers using P2P, the app will automatically reroute you to servers in Canada or the Netherlands.
This is why NordVPN is actually our top recommended VPN for torrenting.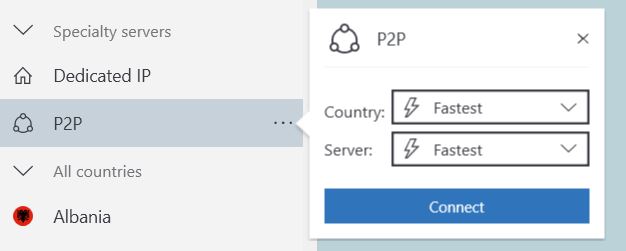 Tor Network
With NordVPN's Onion Over VPN feature, you gain the advantage of Tor combined with the security of a VPN tunnel. The Onion Router (Tor) allows you to browse while hiding your identity, but the entry node can still see your real IP address. Using the Onion Over VPN feature, not even the entry node can see your IP address.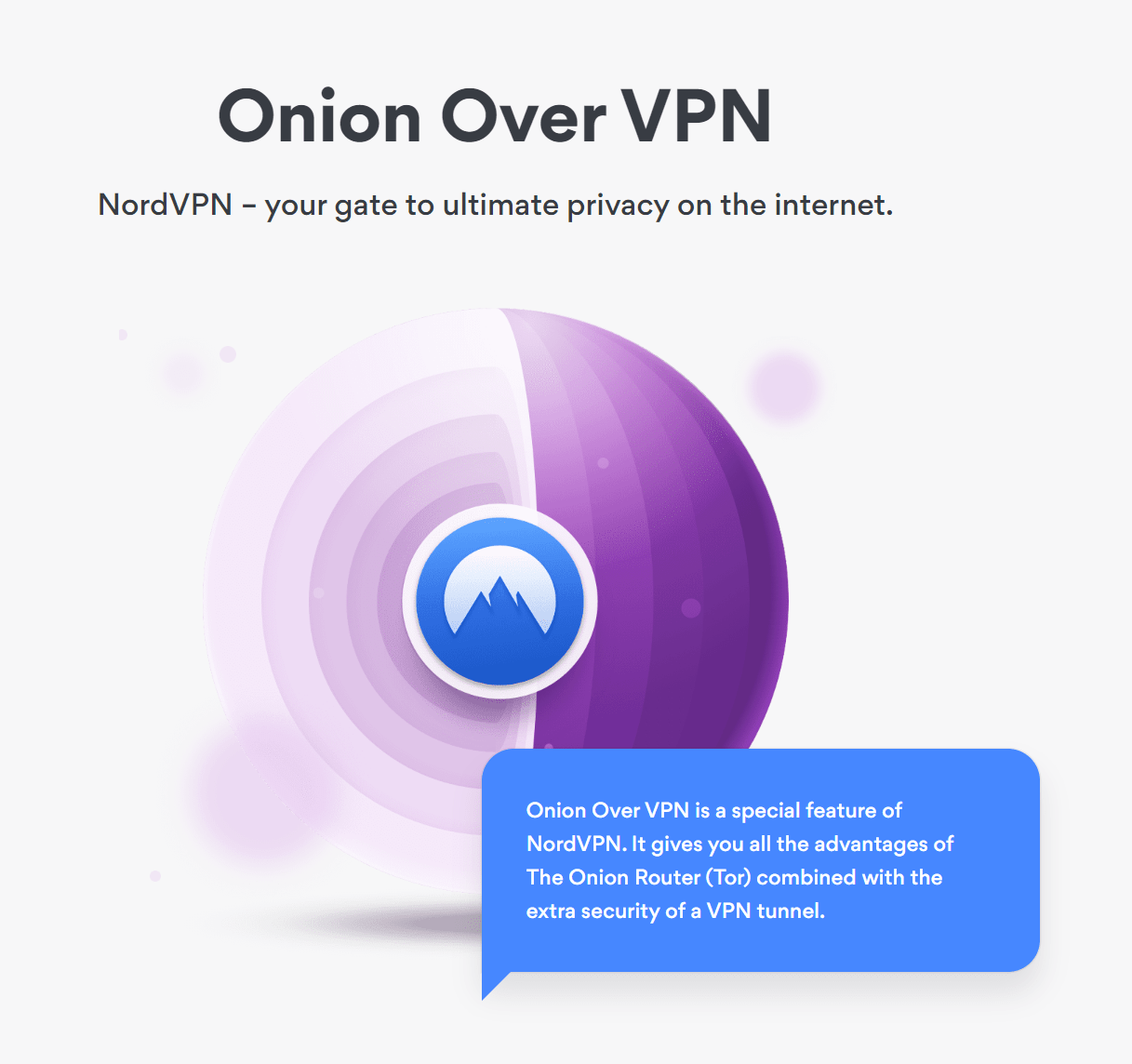 Have complete anonymity while using Tor, as NordVPN keeps third parties from seeing that you use Onion and does not track your online activity. Onion servers are often volunteer-operated which means that anyone can run them, which allows you to be open to attack. Onion Over VPN ensures that you are fully protected from these attacks while still securing your anonymity.
6. Absolutely No Leaks Found In Five Tests
For this VPN review, I ran IP and DNS leak tests to ensure that NordVPN's claims were accurate. I used:
IPLeak.net
Perfect-Privacy.com
BrowserLeaks
IPX.ac
VirtualTotal.com
You can see the full results below. Every test ensured our confidence, as well as NordVPN's claims, on their leak testing and protection.
IPLeak.net Test – No Leak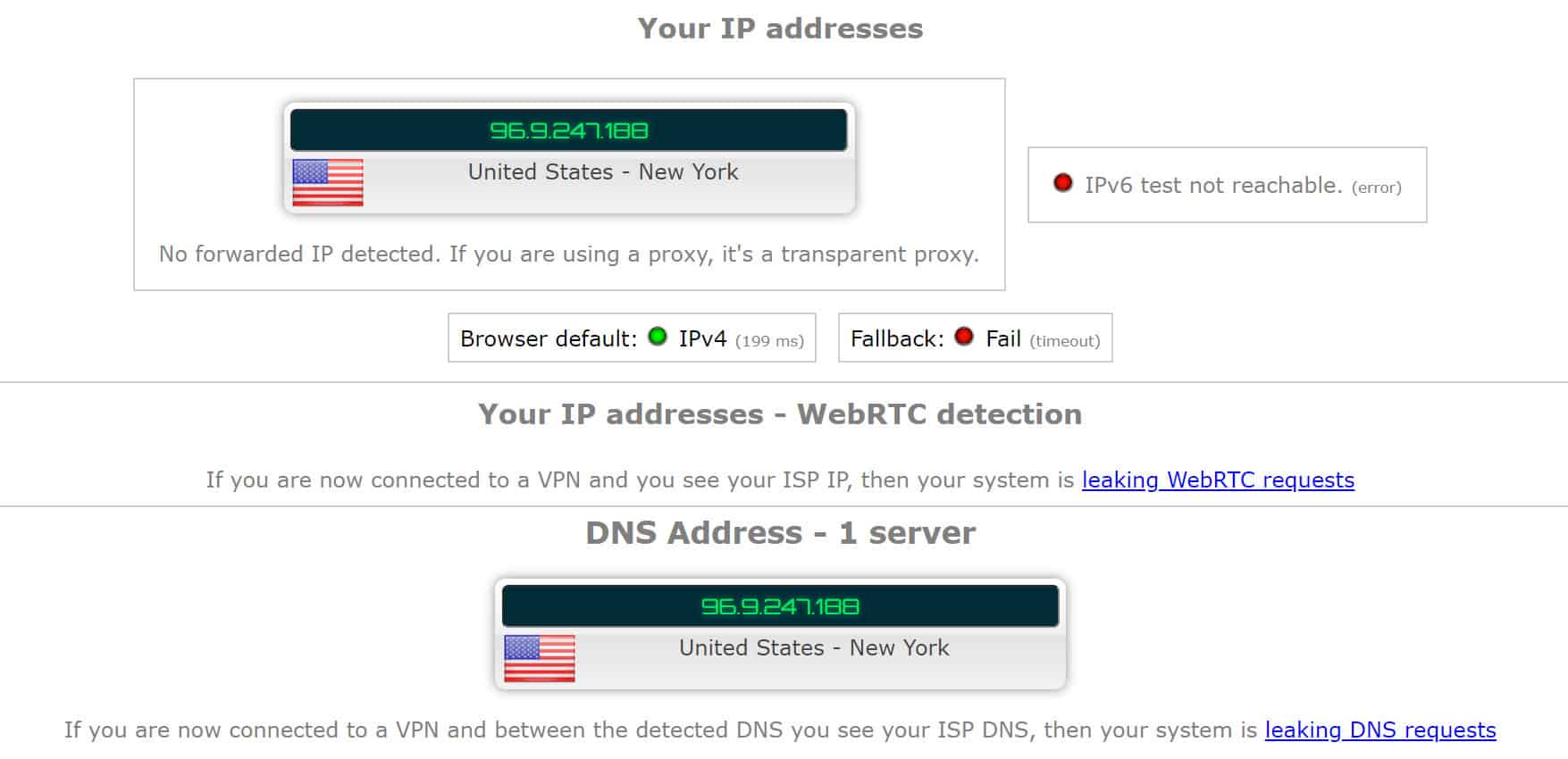 IPX.ac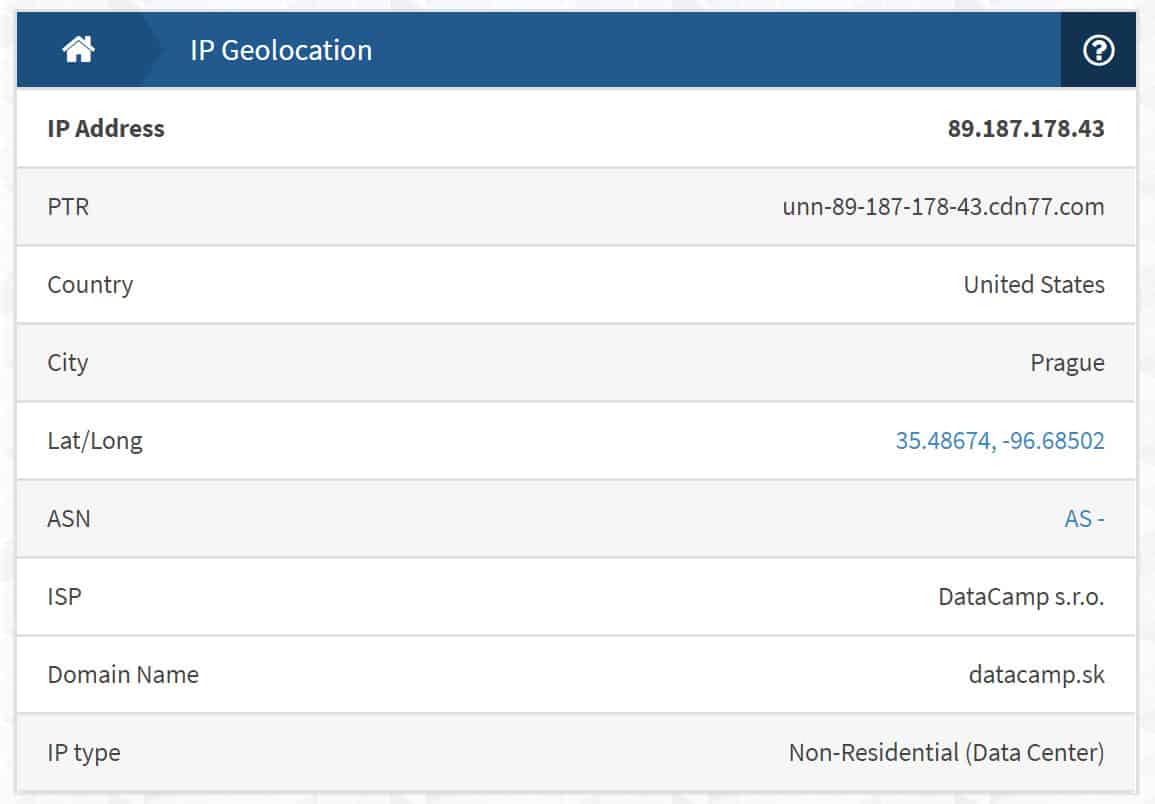 VirtualTotal.com Report – Scan on the Installer
There were no viruses detected in the installer package.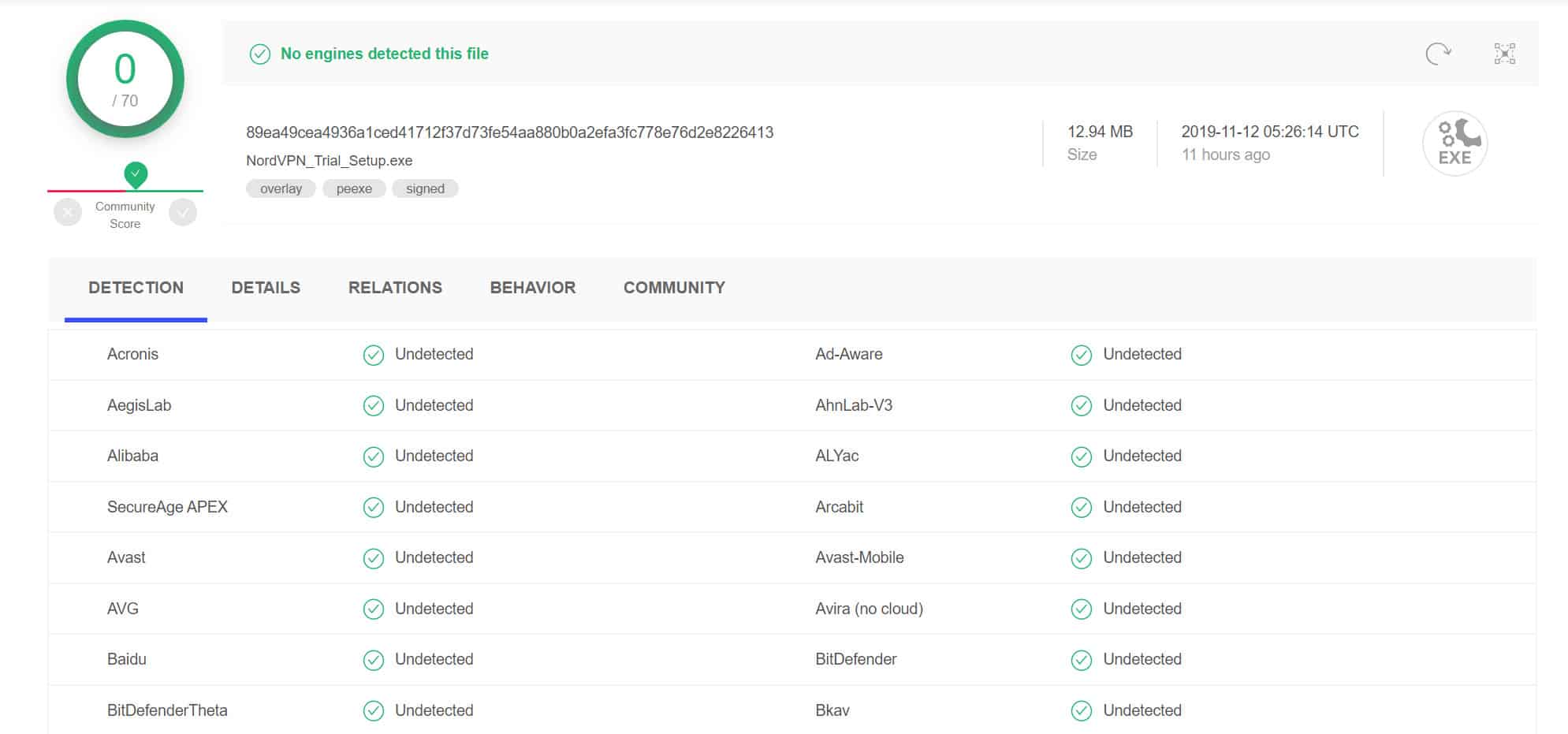 7. Jurisdiction & Location – Panama (Great For Privacy, No Data Retention Law)
NordVPN is based and operated under the jurisdiction of Panama. Because of their "no mandatory data retention" law, NordVPN does not need to store any logs.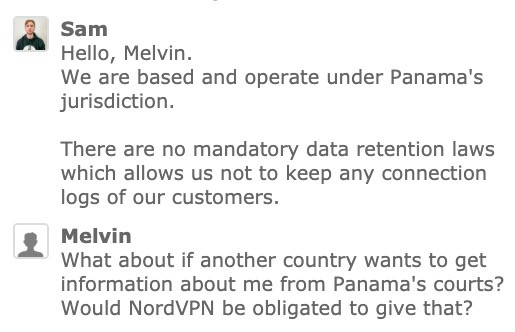 There are no obligations in which NordVPN is required to keep the activity or communication logs of its users.

8. Knowledgeable Customer Support via Live Chat
NordVPN can be contacted by [email protected] or through live chat.
Even after reviewing over three dozen different VPN providers, hundreds of hours of testing, examining and reviewing, we still have questions or need for technical assistance. Whether it's to double check the encryption offered for your router, or a simple troubleshoot on a newly built rig, you will be forced to deal with the customer support of your VPN of choice.
If you're a newcomer or not technically inclined? You might have some technical questions. Any VPN worth their salt will have a prolific database of tutorials, how-to guides and informational articles in addition to live chat & quick email support.
Live Chat & Email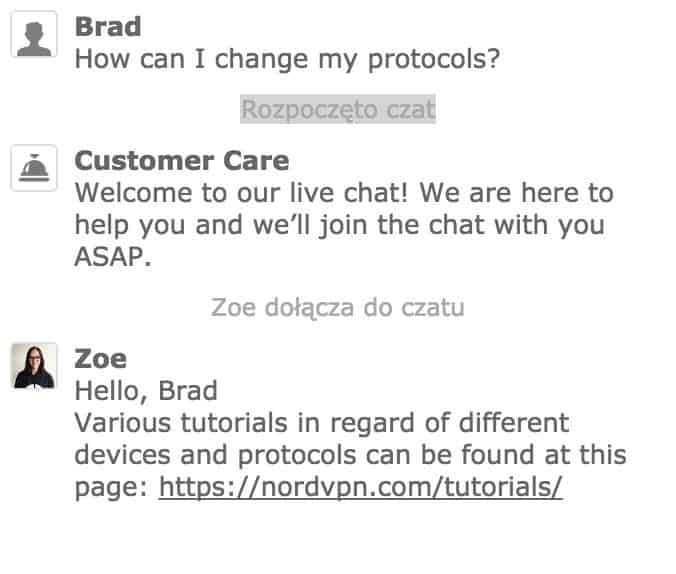 NordVPN supportNo different to the best of the best, NordVPN offers 24/7 live chat that will assist you with any question you may have. I used their live chat twice, for an encryption question and an open-ended question.
Both times the Customer Support Rep was quick to help, but came with copy & paste answer. Should you opt to use their email support, for more technical questions or if the live chat agent did not fully resolve your issue, you'll receive another assistant who will help you with your VPN.
Knowledgebase
Just as important as live assistance for minor questions is the vast directory of support articles you will have access to. For a topic as technical as networking, making it accessible to your everyday layman is no small task.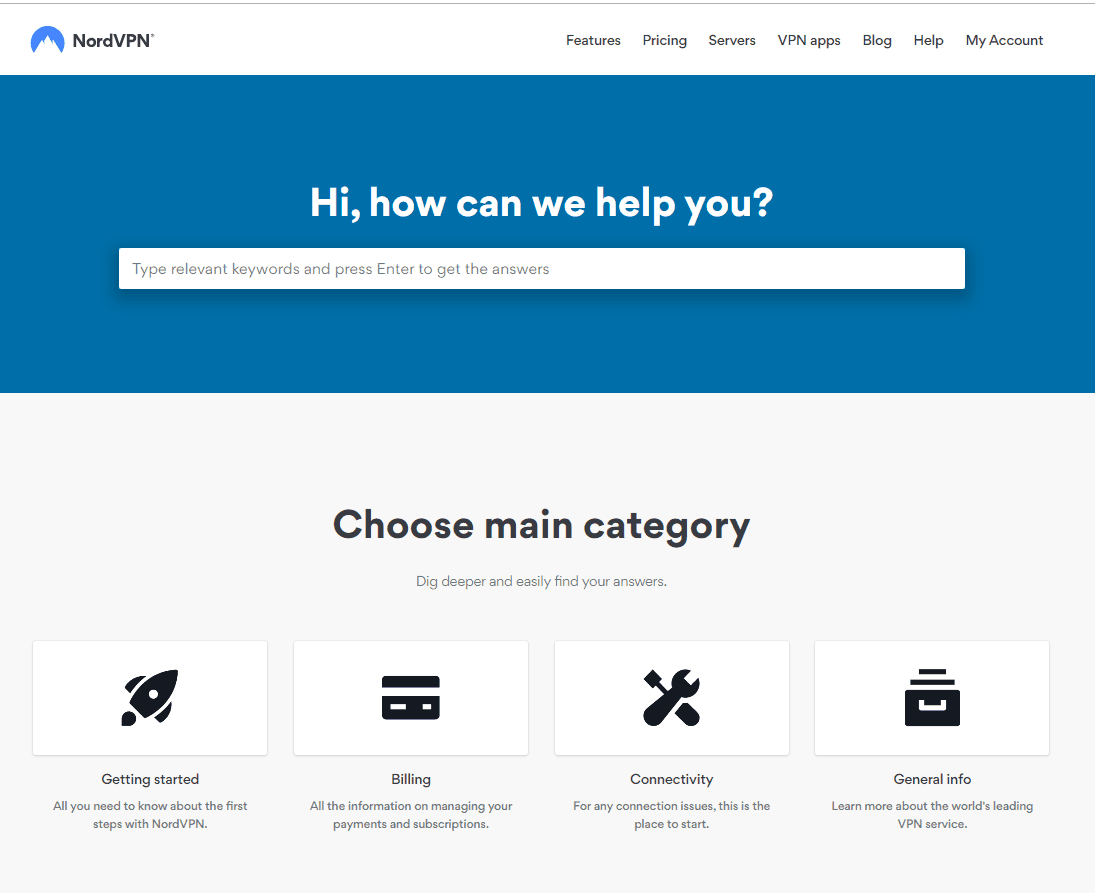 After going through their directory and quickly skimming to any support related page I could find, I estimate NordVPN to have well over 500 guides and tutorials.
9. Great VPN for Gaming
NordVPN excelled once again. They had fast server connections, good stats and we had zero issues while gaming. Besides being awesome at gaming related stuff they are also our overall top-rated provider.
Haste Game Recap
While connected with their Quick Connect feature, NordVPN had a connection speed almost identical as without VPN. Ping was down only 5.1ms and a total Packet Loss was a mere 0.1%.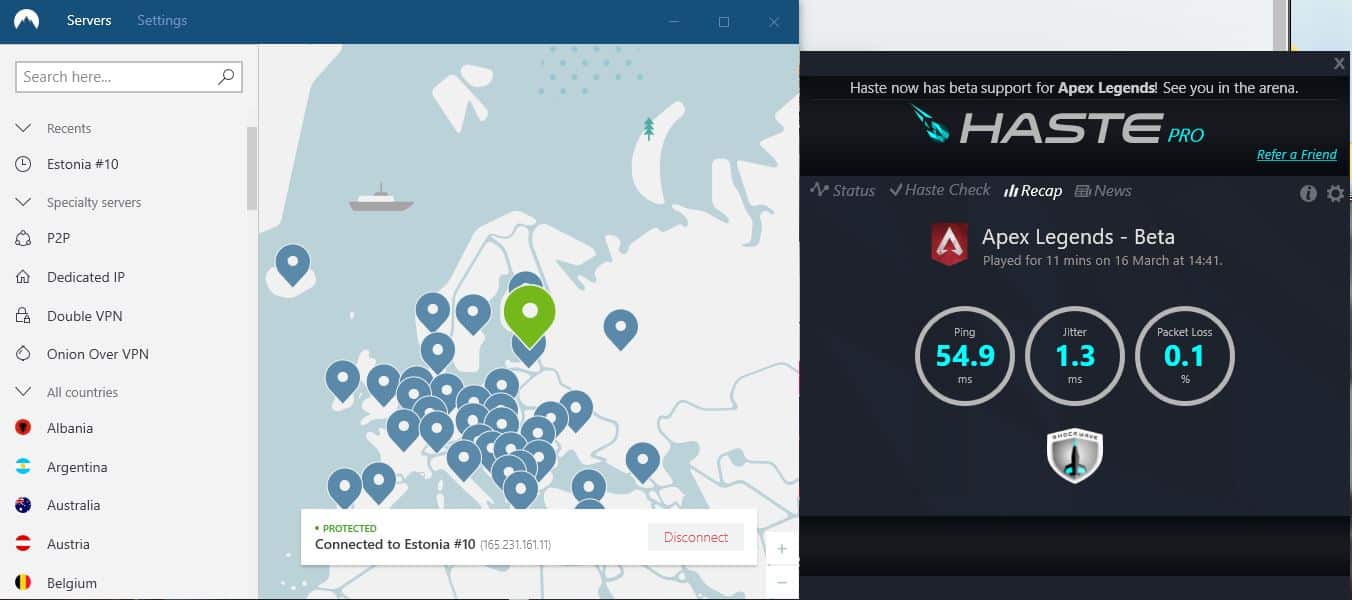 Ping: 54.9ms (+5.1ms)
Jitter: 1.3ms (+0ms)
Packet Loss: 0.1% (+0.1%)
Speedtest.net
In our test, the ping climbed from 7ms without VPN to 22ms with VPN, which in all honestly was not even noticeable. Download speed loss was 1.31Mbps and Upload loss was 0.20Mbps.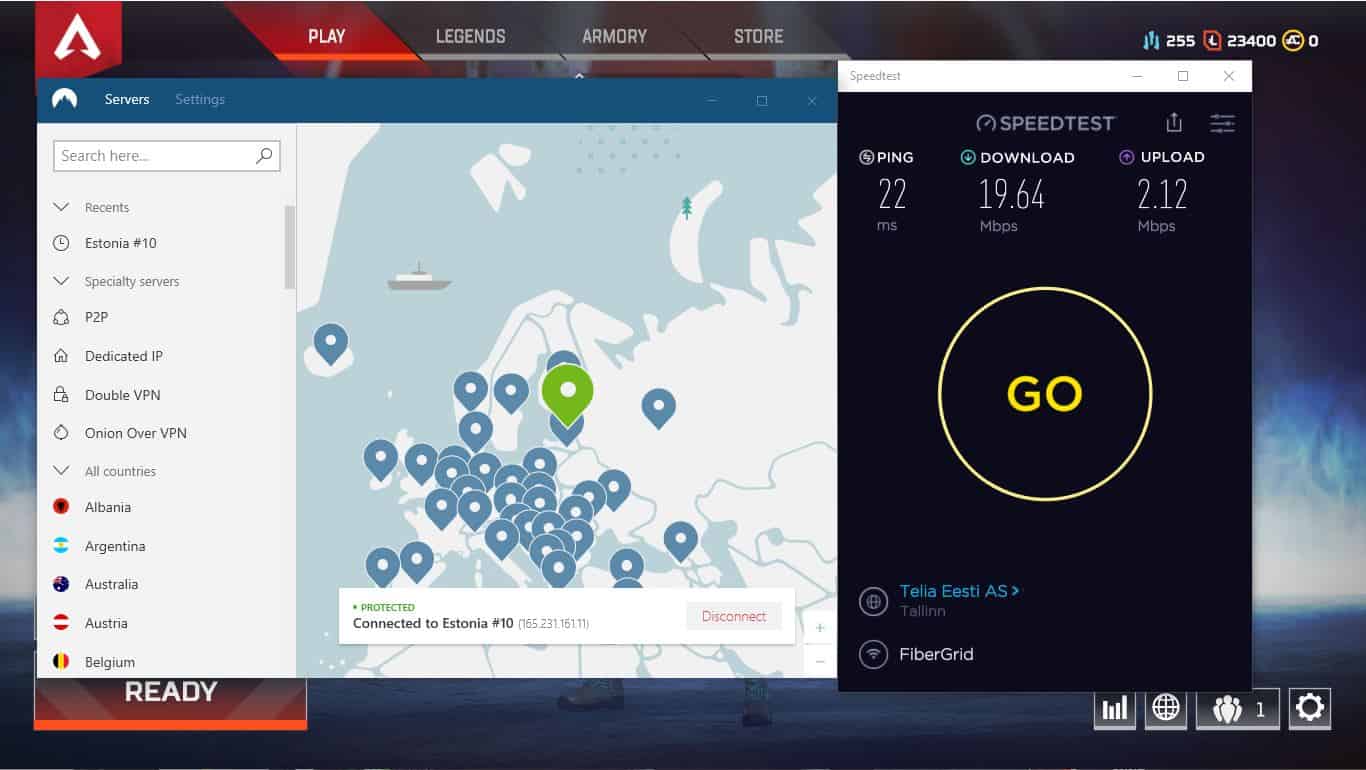 Ping: 22ms (+16ms)
Download: 19.64Mbps (-1.45Mbps)
Upload: 2.12Mbps (-0.67Mbps)
We also took a look at the Apex Legend's own servers to guarantee that we are always connected to the best server available. The best ping happened to be their Amsterdam server, coming in with 58ms.
Playing on US Servers
Of course, when connecting so far away there is going to be a delay in your connection. Just based on the physical distance the data has to travel there is going to be a loss on connection time, nothing a VPN provider can do about that. But what they can do is minimalize extra time on their end, and NordVPN has done it very well. Here are some stats about our connection to the US server.
Haste Check
Ping: 132.6ms (+82.8ms)
Jitter: 3.3ms (+2.0ms)
Packet Loss: 0.0%
Speedtest.net
Ping: 128ms (+122ms)
Download: 11.27Mbps (-9.82Mbps)
Upload: 2.00Mbps (-0.79Mbps)
Gaming Session Recap
Ping (EU to EU): 54.9ms (+5.1ms)
Long Distance Connection PING (EU to US): 128ms (+122ms)
Download: 19.64Mbps (-1.45Mbps)
Upload: 2.12Mbps (-0.67Mbps)
10. Great 3rd Party Ratings
Apple Store
NordVPN has over 100 thousand ratings on Apple's app store. With a 4.6 stars rating it ranks as the top 23rd app in the utilities category.
Google Play Store
On Google's play store, NordVPN has racked up over 280 thousand ratings, concluding in an overall score of 4.2 stars.
Trustpilot
NordVPN has a rating of 4.5 stars on Trustpilot, it has been rated 4700 times.
NordVPN Cons
1. Apple iTunes/App Store Purchases Will Not Be Refunded
Unfortunately, NordVPN notes that if you purchase NordVPN through the Apple iTunes/App Store, refunds must be requested with iTunes/App Store support and cannot be processed directly with NordVPN. In addition, payments made using any prepaid or gift cards cannot be refunded. NordVPN cannot process purchases made through resellers, including Amazon, BestBuy, StackSocial, etc.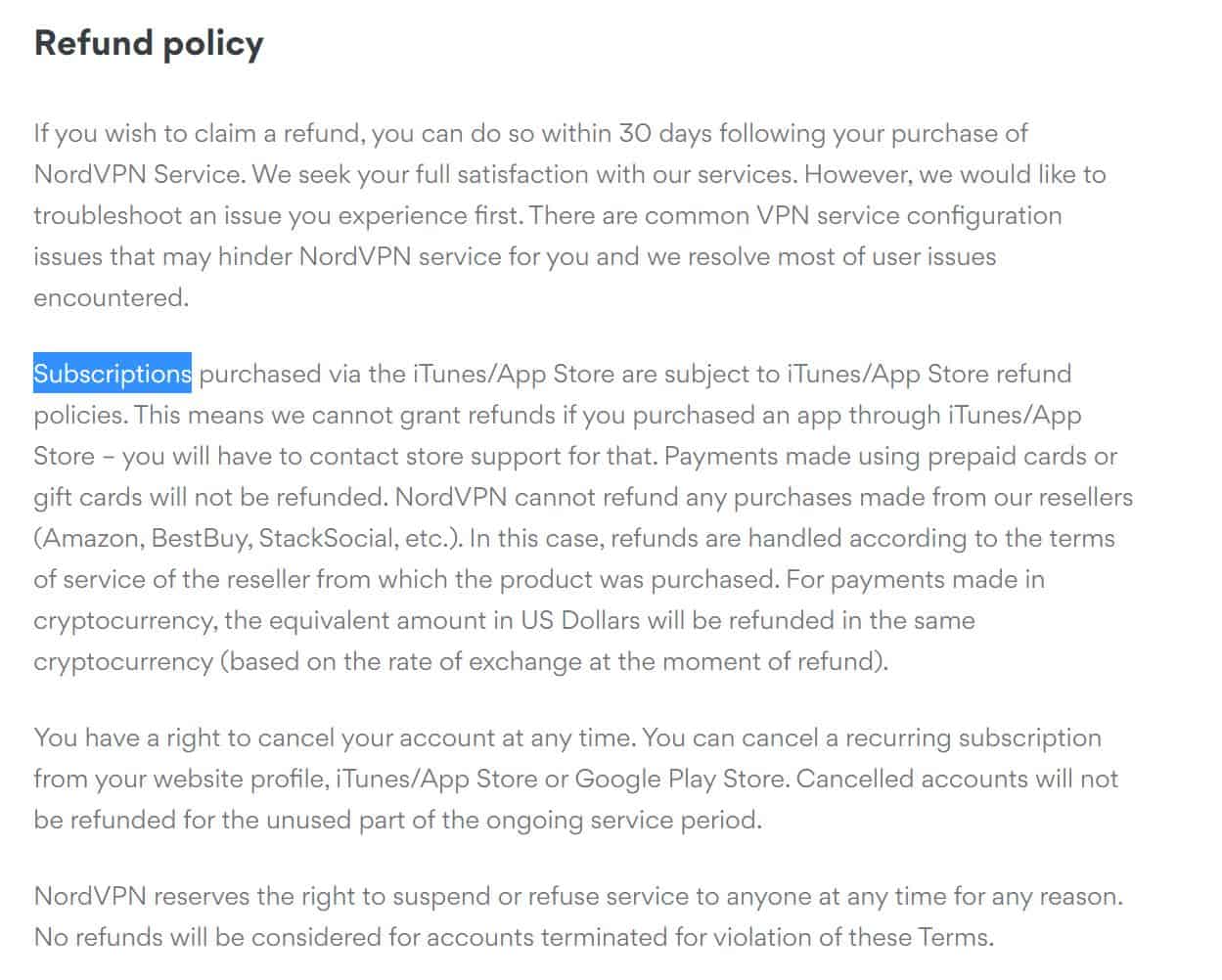 Pricing: Subscription Plans, Payment Options, and Money-Back Guarantee
NordVPN offers tiered pricing depending on the length of the plan you can commit to. Beginning with their one-month plan at $11.95 per month and going all the way to $3.29 per month if committing to pay up front for two years, NordVPN has a very clear pricing policy with no hidden fees. They also offer a 30-day money-back guarantee for all pricing packages.
NordVPN Trial
NordVPN doesn't offer a free trial, but they do offer a 30-day no questions asked money back guarantee, which works as a trial for you. You will need to enter your credit card credentials though, so be sure to cancel it if you're not happy with the service.

Monthly: $11.95/mo ($143.4 per year)
1-Year: 4.92/mo ($59.04 per year)
2-Years: $3.29/mo ($39.50 per year)
With one plan, you can secure up to six devices, including a smart TV and router.
All those subscriptions come with a one-size-fits-all plan. Including:
No logging: Yes
Ease of the VPN software: Signing up and using the app was VERY user-friendly.
Hidden fees & clauses: They cannot grant refunds if you purchased an app directly through the iTunes/App Store. Payments made using pre-paid cards or gift cards will not be refunded.
Upsells: No upsells.
DNS leaks: None.
Jurisdiction: Panama
Protocols: OpenVPN, IKEv2/IPsec and WireGuard (NordLynx).
Kill-switch: Yes.
Personally, I am all in favor of simplicity and fairness when it comes to pricing. Give me one plan all-inclusive plan and a few payment options and I'm happy. What's more, they don't set a bandwidth limit like many free VPNs.
Payment Options
Along with all major credit cards and payment services, NordVPN accepts multiple cryptocurrencies for payment. PayPal is currently not supported.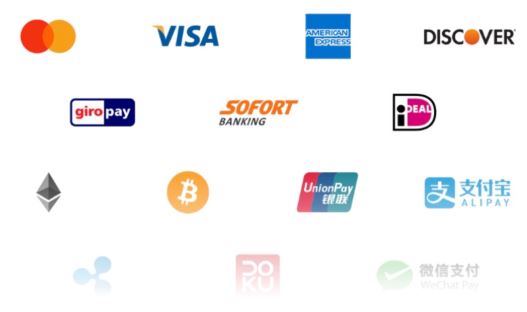 Money-Back Guarantee
NordVPN offers a 30-day money-back guarantee for any accounts that are in good standing. Simply contact their customer support team, which is available 24/7, to request a refund.
Conclusion: Do I Recommend NordVPN?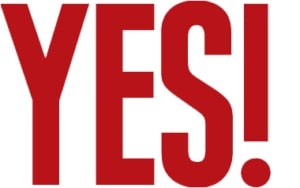 NordVPN has been one of the leading VPN providers with the best security. As you can see throughout this NordVPN review, the reasons for their popularity are valid. It's secure, fast, and easy to use, with some amazing features to ensure your data and information are always protected. That's why they take the first place on our list of VPNs.
Also, with a customer support team like NordVPN's, you'll never have to feel alone in ensuring you're browsing securely.
I absolutely recommend NordVPN if you're looking for a great solution for an even better price!