About Mott and Bow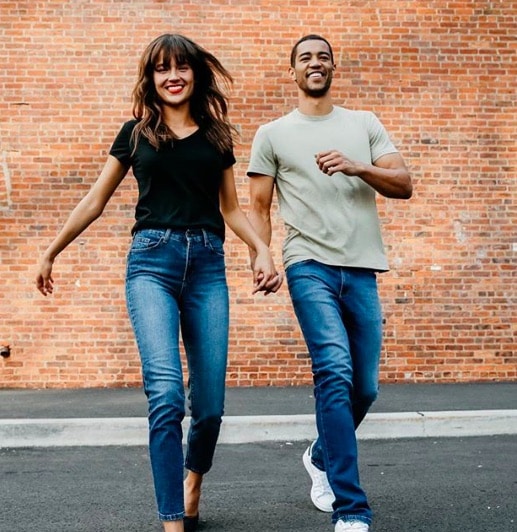 Mott and Bow crafts premium jeans at a reasonable price for men and women. The denim and clothing line is built on principles of simplicity and their intricate passion project results in high-end handcrafted jeans. Mott & Bow takes jean making seriously—to them it's both a well honed art and a precise science. This Mott and Bow clothing review will showcase their bestsellers to help determine whether the brand is right for you.
Overview of Mott and Bow
Mott & Bow Founder & CEO, Alejandro Chahin has an intriguing background. The roots of his story are in Honduras, where he grew up around fabrics, production and all things denim. His family owned a well-known Honduras-based denim manufacturing business. It was here that Chahin gained his acumen for perfectionistic denim processes and the spark for his later passions.
Alejandro went on to study engineering at the University of Michigan and from there, he earned his MBA from New York University Stern School of Business. He would combine his academic knowledge with the styles that were familiar and potent from his childhood, to develop the trendy Mott & Bow online brand.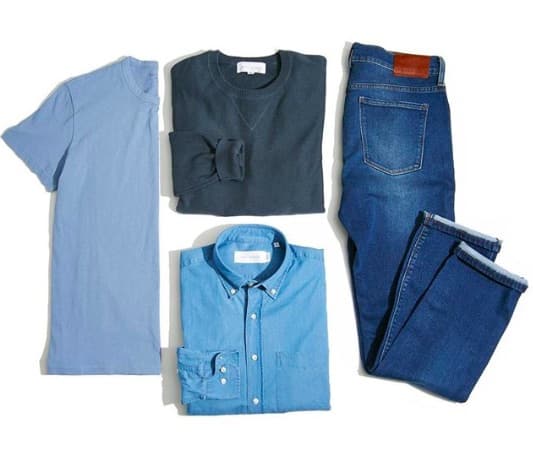 Alejandro is a believer in good quality materials. He thinks that you reap all the benefits from them, like durability, a good fit and an authentic look. Alejandro began Mott & Bow because of a "love of premium goods and not wanting to overpay for them." With an intricate production process that individualizes each garment, he holds true to his promise:
Mott & Bow does their work out of the best mills in the world. The company has 32-years of denim experience, which is evidenced in their evolved manufacturing process. Mott and Bow stands out in their manufacturing as a family owned facility that controls production from start to finish.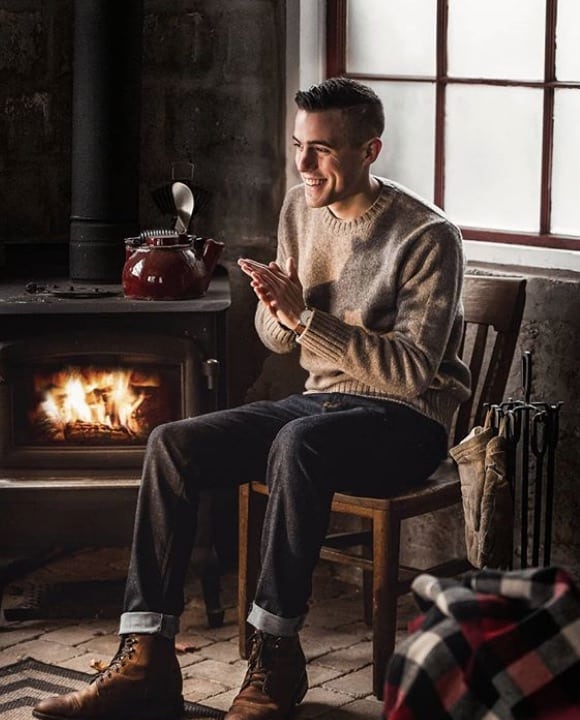 Their perfect fit provides signature comfort, allowing you to pick from a cool vintage look, a slim weekend jean or a skinny with your rise of choice—whatever tickles your fancy! This leads to better quality, the elimination of waste and better pricing. Mott & Bow gives you the best for less, with age old jean secrets.
This Mott and Bow clothing review dishes out the whole truth on the brand:
Pros
Reasonable prices
Long history in denim production
Production occurs in a family-owned facility, which cuts costs and ensures quality
Each pair of jeans goes through an extensive handcrafted process
Variety of clothing items available
International shipping
Home Try-On program
Cons
Customers complained that the fit and quality were poor
Customer service described as ineffective
Additional shipping costs which were not detailed at checkout
Slow shipment times
Mott and Bow Mens Jeans Review
In our Mott and Bow clothing review, we'll focus on three best sellers: the Slim-Jay, the Straight-Crosby and the Twill Chino-Charles. Mott and Bow's Men's denim is constructed based on comfort, craftsmanship, fair value and convenience.
You have your pick between straight, slim or skinny style—maybe you're strictly a slim jean guy, but if you're thinking of dabbling, the field of quality mens jeans has a lot of other styles to offer.
Slim – Jay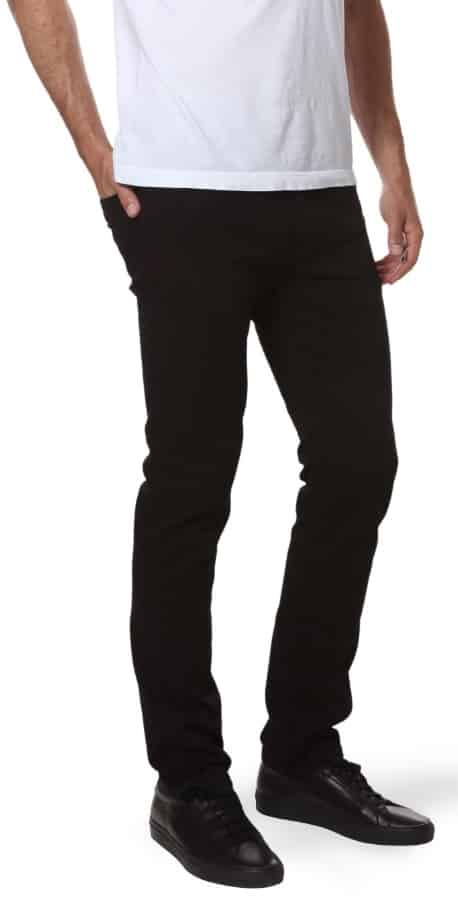 You remember that little red riding hood scene where she wanted the porridge not too hot, not too cold but—just right. Mott & Bow are thinking along the same lines with the Slim-Jay whose fit is not too tight or too loose for $118. Let's face it, you don't always feel like mens skin tight jeans.
The Slim-Jay jean has no distress, it is simply soaked and dried. It's fabric is unique. It's sourced from Italy with a left hand weave, which means it's buttery soft. The jeans are comfortable, with a mid-rise fit and a blend of elasticity and cotton that makes them breathable and easy to move in.
The Slim-Jay has all the markers of a classic; it's straight through the hip, slim through the thigh with a narrower leg opening and a zipper fly. If you're in between sizes, Mott & Bow suggests you stick with the snug size. These jeans are seriously flattering, just check out the Mott and Bow model repping them.
Straight – Crosby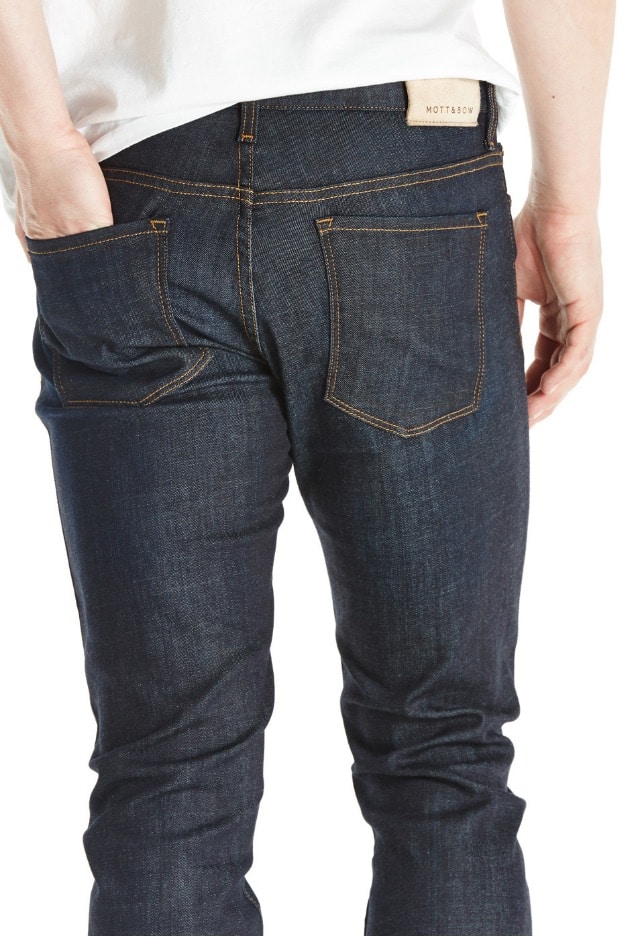 If it ain't broke, don't fix it! This straight fit, original straight leg jean was your childhood favourite. Not much has changed—it does the job. The Straight – Crosby jeans are individualized, having been through a process of resin spray, curation, light hand sanding, rinse and dry for $108.
Like you'd expect from the name, the Straight – Crosby is straight from hip to thigh and knee to leg opening—no surprises here. They've been a bestseller in dark blue and medium dark blue from the start. The medium-weight makes for these comfortable mens jeans. Made of 26% elasticity and 98% cotton, you can get it all done in these affordable jeans.
Twill Chino – Charles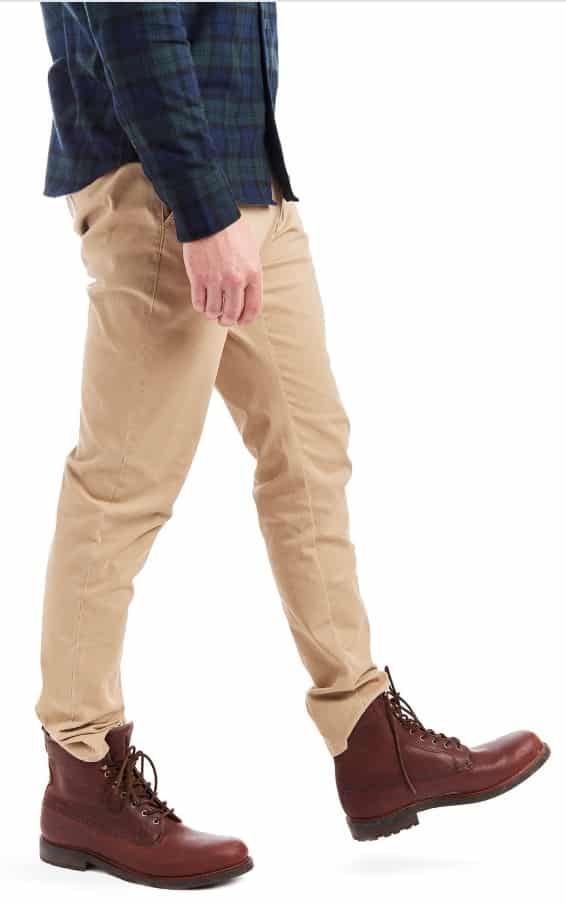 If you're looking to mix things up, a twill chino might be up your alley. Easy to wear and just as easy to maintain, you can machine wash these pants and tumble dry on low. The Twill Chino – Charles is washed to give a lived-in look for $125.
Made of 97% cotton and 3% spandex, the medium weight Twill Chinos are breezy to move in. The pants are slim through the leg without being tight with a mid-rise waist, so you can feel as fine as you look.
Mott and Bow Womens Jeans
The High Rise Skinny-Bond, Slim Boyfriend-Laight and Midrise Skinny-Ann are the styles we'll highlight in this Mott and Bow clothing review. Once you get a taste, you'll want to explore beyond these bestselling comfortable womens jeans.
It might be hard to pick between the high rise skinny, the mid rise skinny, the slim boyfriend and the mom jean. Mott and Bow jeans are made for every mood and occasion, so they'll be the base for tons of attractive outfit combinations.
High Rise Skinny – Bond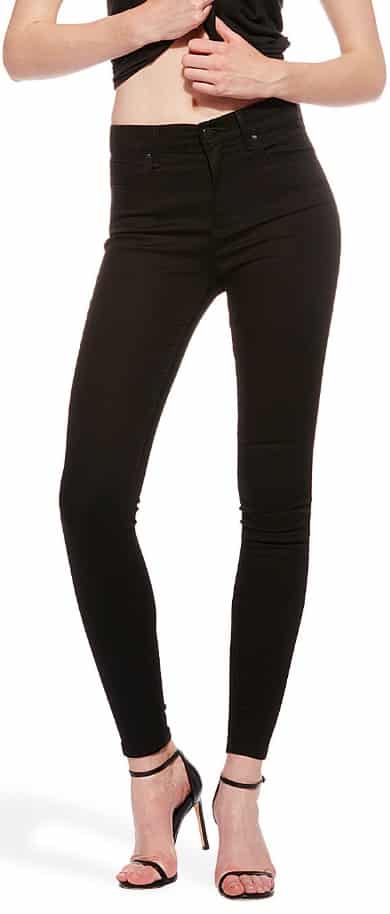 The most discouraging part of a beautiful pair of black skinny jeans is their fade. Push that association out of your mind though, because the High Rise Skinny – Bond has fade-resistant technology, so they keep their rich black colour.
If you want to invest in skinny jeans, you want them to stay that way! These High Rise Skinny – Bond jeans have a stretch and compression ratio which helps maintain their shape, priced at $128. We're not sure if these skinnies were named in reference to Bond girls, but they're definitely sexy enough to pull off the name.
With a front rise of 10", these high rise jeans will tuck your tummy in—you'll feel free to chill in them and enjoy more than a few donuts, if you desire. For a more edgy look for a late night out, the High Rise Skinny – Bond is available in black with slits, with a flattering 9" leg opening.
Slim Boyfriend – Laight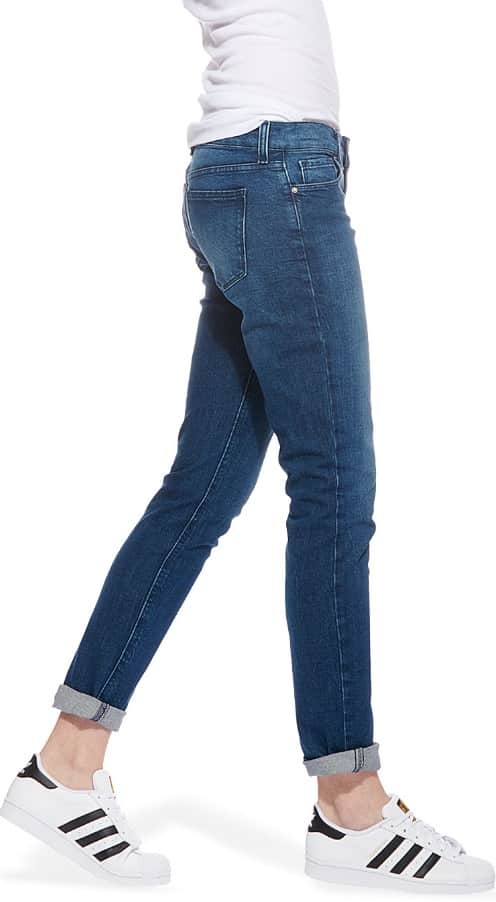 Slip into a boyfriend jean and the slouchy and supportive fit will put you in the mood to relax. The Slim Boyfriend – Laight has a laid back cuff to really accentuate the chill vibes. Our Mott and Bow womens review revealed that the slim boyfriend fit comes in a dark or a medium blue with ideal stretch. The Slim Boyfriend – Laight is made for the classic plain white tee and jeans look.
These Mott and Bow slim boyfriend, mid rise jeans have been through all the hoops: with a 10 month wash, they go through hand sanding, are tied, stone washed, dried, sprayed, rinsed and dried again. Talk about a detailed process to give you pure indigo comfort denim for $108.
Midrise Skinny – Ann

The Midrise Skinny – Ann comes in medium/dark blue, medium blue, and medium blue with an uneven hem, so you can pick the one that feels most like you. The Midrise Skinny -Ann jeans are comfortable and seriously flattering for $118. These skinnies have undertones of black as opposed to the usual white. You'll feel like you've slipped into pajama pants with 53% elasticity and a supple cotton blend.
The Midrise Skinny – Ann jeans go through an extensive wash process to their unique lived-in look. The mid-rise shows off your simple tees and more delicate blouses. The skinny fit ties together with any heel or boot. If you're between sizes, Mott and Bow recommends going for a tighter fit.
Mott and Bow T-Shirts Review
Men's Classic Crew – Driggs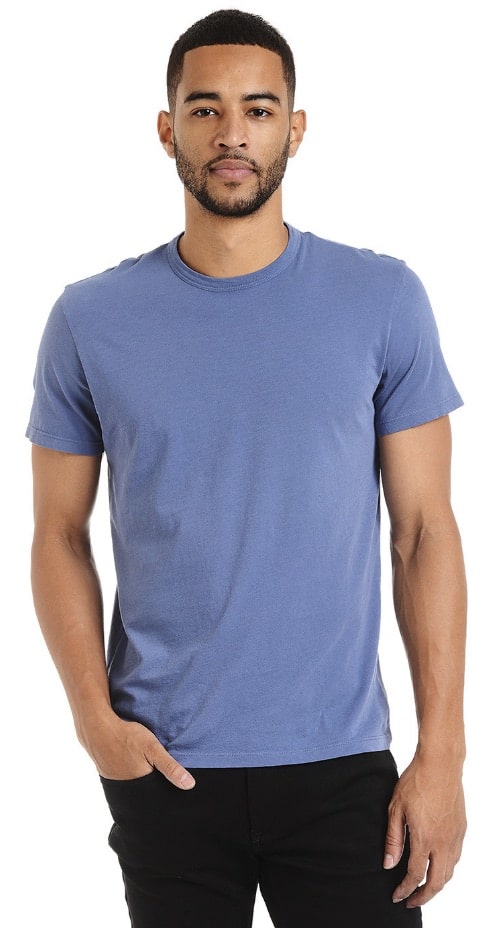 In our Mott and Bow clothing review of mens t-shirts, we'll showcase the popular Classic Crew – Driggs. Your search doesn't have to end here, though. Mott and Bow has a wide selection of men's tees: if you're looking to build your wardrobe beyond the classic crew, take a look at the heavyweight pocket tee, the classic, the V-neck, or the long sleeve.
The Classic Crew – Driggs comes in 12 colours, so you can fill your drawer with tees depending on your mood for $30. Soft and lightweight, the Classic Crew made of 100% combed cotton. The yarn tightly knit for durability in Peru, so it won't wear down like your typical cheap tee.
You want to know that you can wear and wash your short sleeve crew without fear of shrinkage. The fabric preshrunk with easy care instructions so that you can enjoy day-to-day wear without fuss. Mott and Bow cares about getting it just right and so: the shirt is not too slim or too loose, basic and classically masculine.
Fitted V Neck – Marcy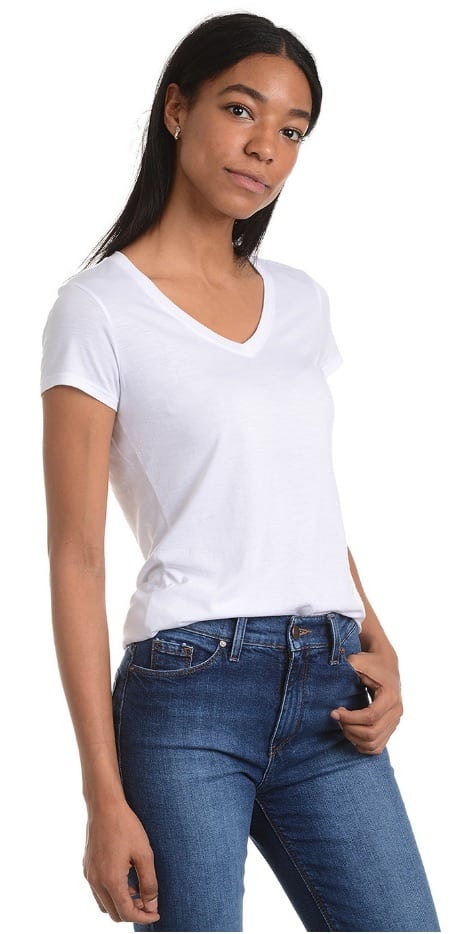 Having variation in women's everyday tees makes mornings and packing for holidays simple. Our Mott and Bow clothing throws a spotlight on the Fitted V Neck – Marcy. If you're looking to spruce up your wardrobe, consider the women's fitted crew, boxy semi-crop, classic crew, long sleeve crew, and long sleeve V-neck.
A Fitted V-Neck has an elegant line that compliments any pair of jeans in 6 colours with soft and strong shade variations. The Fitted V Neck – Marcy preshrunk with a mix of 50% Pima cotton and 50% Modal which gives it a soft and silky feel for $30.
The Fitted V Neck – Marcy has a fit that's closer to tight, though there's comfy space in the arms. Its length allows you to do a tiny tuck in the front to show off your jeans and a sweet belt. You don't need to look further than the classics to feel your most natural self.
More Mott and Bow
We couldn't possibly get through Mott & Bow's entire clothing collection, but we'll give you a sense of their extended line:
Mott and Bow Women
Aside from their basic tees, Mott & Bow also sells stylish tops, dresses, sweaters, sweats, jackets, and accessories. Obviously, they're designed to pair well with Mott & Bow jeans! Some top sellers to check out on their site: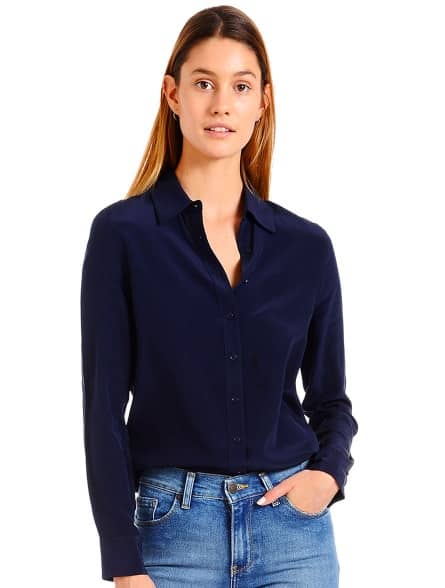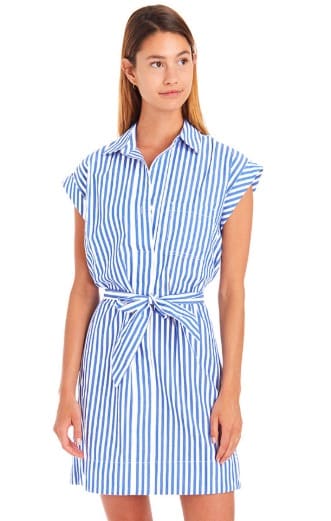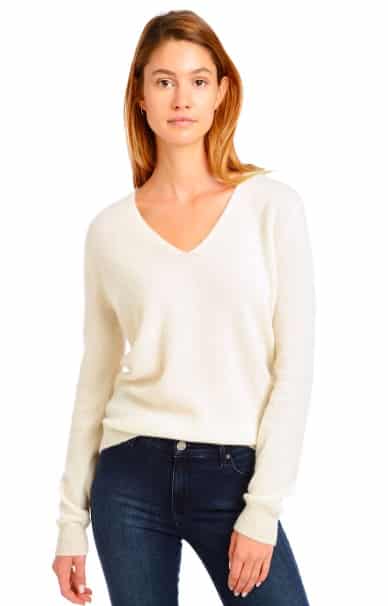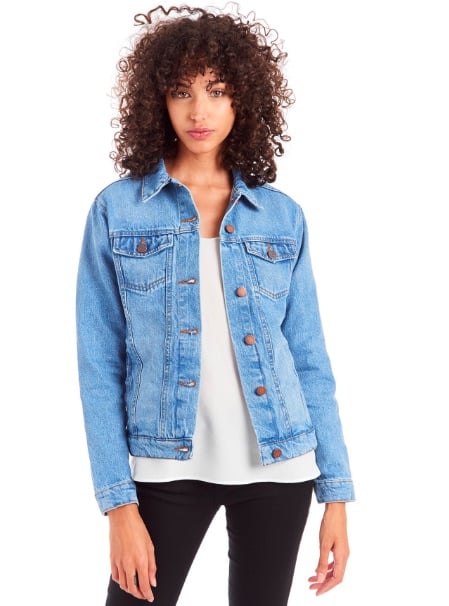 Mott and Bow for Men
Mott & Bow's clothing line for men includes classic tees, sweaters, sweats, shirts, and accessories. Check out these popular pieces: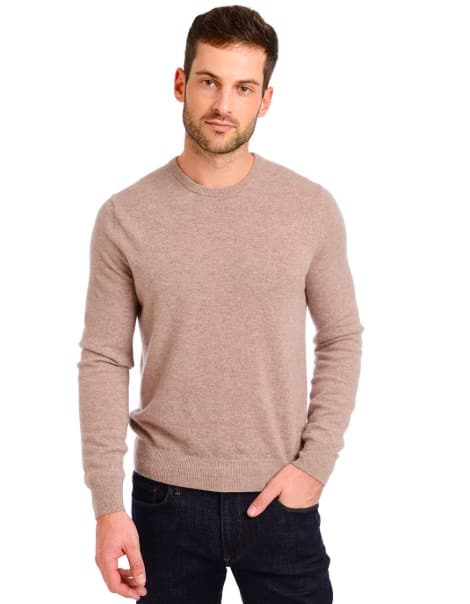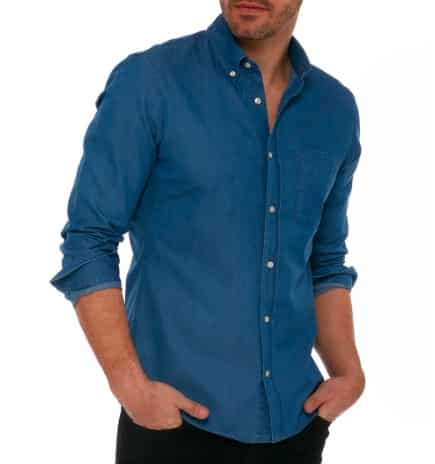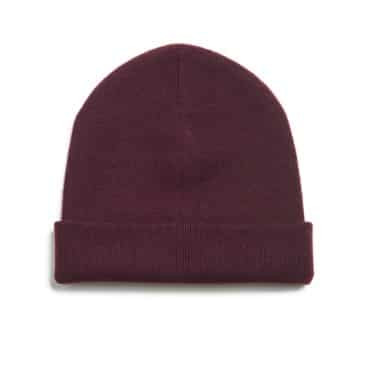 Mott and Bow Clothing Review: What Do Customers Think?
Mott and Bow's mission is to make premium denim at an affordable price. but in our Mott and Bow clothing review, we looked at customer response and found that there was some dissonance between the stated aims of the company and their on-the-ground performance.
Customers relayed to other prospective customers that they shouldn't purchase jeans from Mott & Bow. They were frank in their Mott and Bow reviews stating that the delivery was poor, as were the quality and the fit. Customers felt that the price was high in relation to the quality of their jeans.
Our Mott and Bow clothing review turned up many customer stories of incurring shipping fees that not detailed at checkout. They mentioned that the jeans were thin and they didn't look like the pictures online. Many customers tried the jeans on and sent them right back and found customer service to be unsupportive and unprofessional.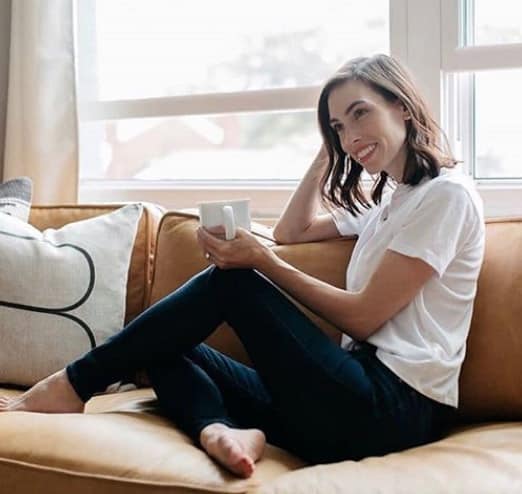 This is a far cry from the longstanding Honduran denim business knowledge of the founder and CEO detailed in the manufacturing of the jeans. A good pair of jeans is the most important part of the closet for many of us, and the disappointment that customers felt was significant.
Our Mott and Bow clothing review disheartened to find that the ambitious and promising aims of the company not backed up by high quality products.
Mott and Bow Promotions & Discounts
Our Mott and Bow clothing review turned up some promising deals:
Free shipping on orders over $150
Get 30% off selected final sale items using the Mott and Bow promo code 'final sale'
Continue to visit the website for a new Mott and Bow promo code.
You can purchase a Mott and Bow giftcard for that special someone for $30, $50, $75, $100, $125, $150, $200 or $300.
Where to Buy Mott and Bow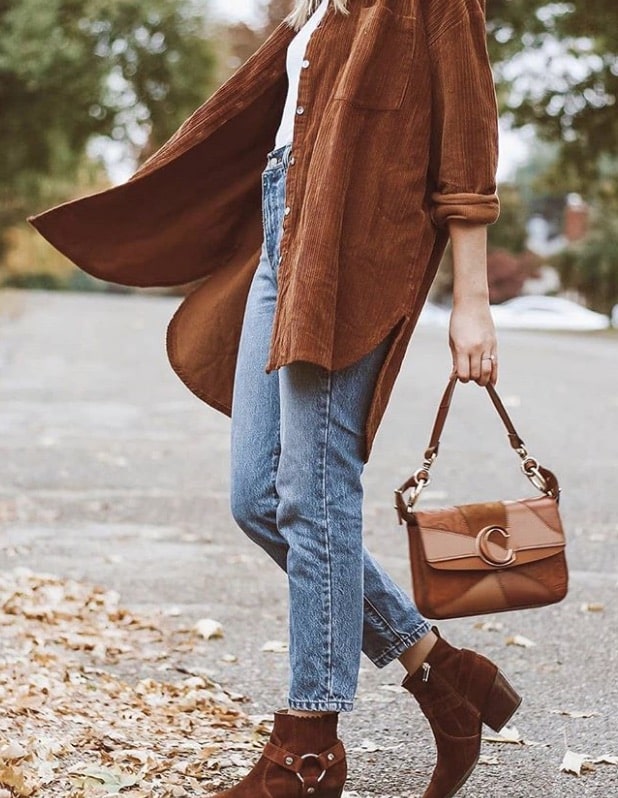 Mott and Bow locations are only virtual (ie. the internet). Our Mott and Bow clothing review researched where to buy their apparel online:
Huckberry.com
Amazon.com
Uncrate.com
FAQ
Mott and Bow Sizing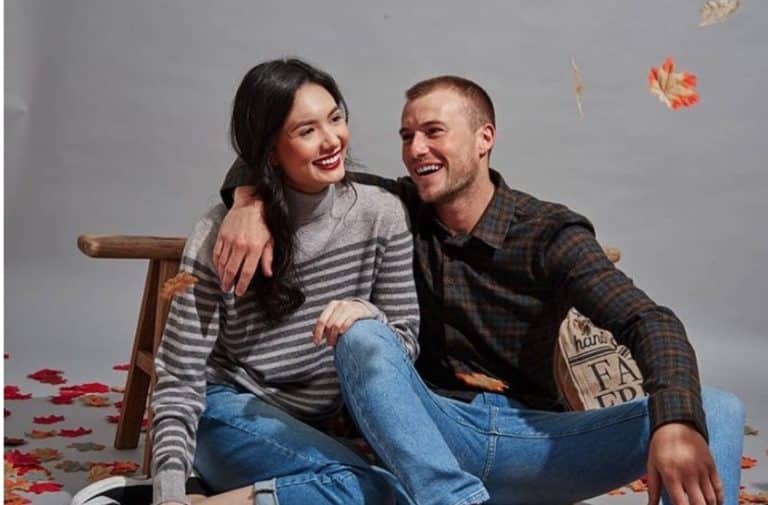 Our Mott and Bow clothing review Mott and Bow turned up their Home Try On Program:
Buy your first pair & choose a second waist size for free
Mott & Bow will send you both so you can decide on the best fit
Keep the pair you like and send the second pair back for free
Use the free pre-paid label and drop the box off at the nearest UPS
Mott and Bow Shipping Policy
Good news in this Mott and Bow clothing review: they ship internationally! Standard shipping orders take between 3-7 business days to get to your front door. When packages ship, Mott & Bow sends a tracking number in an email. If you have any questions about the status of your order or wish to change the address, contact the carrier with your tracking info:
U.S Postal Service: 1-800-222-1811
UPS: 1-800-742-5877
You can cancel your order for up to 30 minutes after placement. E-mail Mott & Bow to request changes. Hold back from placing another order until you've received confirmation of your cancellation.
Mott and Bow Return Policy
Mott & Bow wants the fit to be perfect and you can exchange your order if the jeans don't fit well. With Mott and Bow returns, refunds are processed within 15 business days from the time you send the package to Mott & Bow. Once Mott & Bow inspects your returned items, the team will send you a confirmation email.
Mott & Bow will process and send out your exchange order within 3 business days. Once the items shipped, it will take 3-7 business days to receive your new items. Additional information on refunds:
To request a refund, go to the Returns Page
A $5 restocking fee charged for the whole order
The cost of shipping not refunded
The Mott & Bow address is printed on the prepaid label: