About Missoma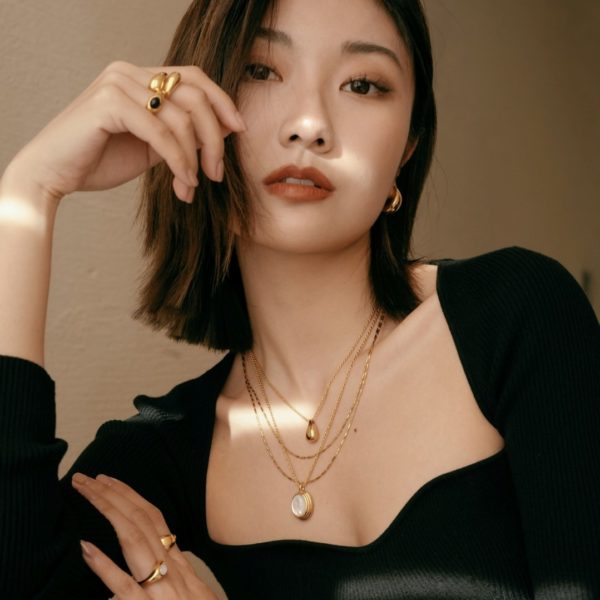 Jewelry is like the icing on a cake — it adds just that extra bit of something to your outfit. With so many companies to choose from in the semi-fine jewelry space, how do you choose? Not to worry, we'll introduce you to a company that will look great and won't break the bank either.
Missoma specializes in affordable, quality accessories that can be worn for any occasion, bringing class to every outfit. Between their vast collection of earrings, necklaces, and other gorgeous items, their service and their presence is creating a reputable stir.
Celebs such as Meghan Markle, Gigi Hadid, and Margot Robbie are embracing their stunning designs, and we can see why. Missoma reviews are also plentiful with features in Harper's Bazaar, Fashionista, and Forbes. So, it's pretty obvious they're popular, on top of their 480k followers on Instagram.
But let's find out what all the fuss is about. This Missoma review is going to dive right into its history, brand values, how they came to be, and why you should decide whether or not you want to be sporting some of their accessories.
Overview of Missoma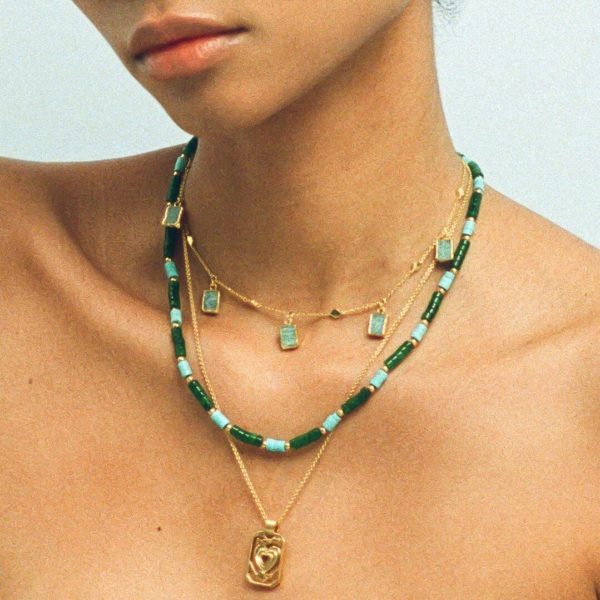 Founded in 2008 by Marissa Horden, who wanted to create a fashionable, affordable, and high quality accessories line after failing to find one. With the help of her mom and sister, they've created a brand that has surpassed all of their expectations.
This brand has several solid core values, beginning with their 100% carbon neutral footprint — that sets them lightyears ahead of their competition alone. Along with their goal of versatility, the women behind the designs wanted their jewelry to remain flexible, so people with alternative styles could still wear it throughout their lifetime.
Some of their items come with a 2-year warranty, and they're known for mixing, matching, layering, or being worn solo. With a headquarters in the fashion mecca of London, England, this company is thriving in the heart of the style industry, which is likely what inspires so many of their popular designs.
With a mission towards sustainability, this Missoma review is sure you're curious about what else this brand carries. Before we get into the actual products, let's start with some highlights of what this company offers:
Highlights
Wide variety of accessories to choose from
Can make payments with Klarna
2 year warranty on most items
Free shipping and returns
100% carbon neutral company
Sign up for newsletter and receive 10% off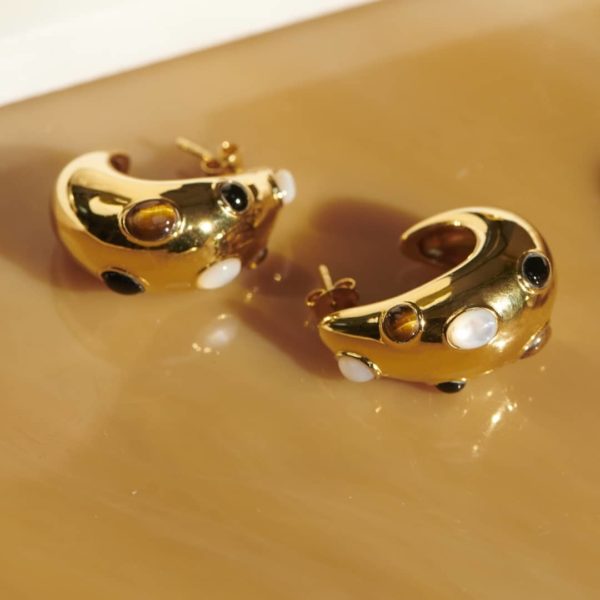 With highlights as appealing as this, we can see why Missoma reviews are pretty darn positive. They're doing everything right! But highlights don't quite cut it for us, which is why we're going to take a look at some of their best-selling products.
And don't let these prices make you pause before clicking 'Buy' as they are all available with payment plans through Klarna, plus the majority also come with a 2-year warranty. We can all appreciate when a company stands behind their products.
Missoma Necklace Review
If you love adorning your neck with lots of graceful jewelry, then you're going to love Missoma necklaces. We want to showcase some seriously cute pieces from their line, and their necklace category is a fantastic place to start. You'll get a chance to see what customers are going crazy for, and why they keep coming back for core classics like the ones we're about to show you.
Missoma Lucy Williams Square Malachite Necklace Review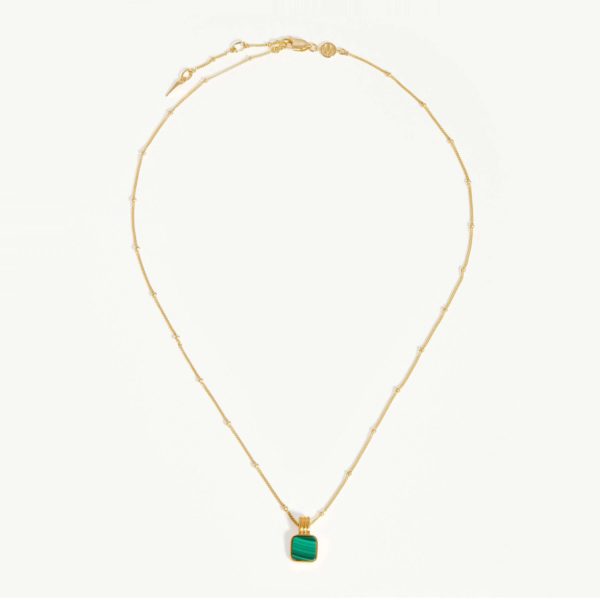 When you want to create an impact with your outfit, you definitely want to put on this Missoma Lucy Williams Square Malachite Necklace. This gorgeous and refined piece features a malachite pendant with a square profile. Known as the essence of joy stone, you'll want to wear this transformational pendant with its flexible chain all the time.
The pendant's dimensions are 8 mm x 8 mm, and the chain can be worn as long as 450 mm. With its 18k gold plated vermeil, this green gem retails for $123, and comes with a 2-year warranty.
Missoma Lucy Williams Roman Arc Coin Necklace Review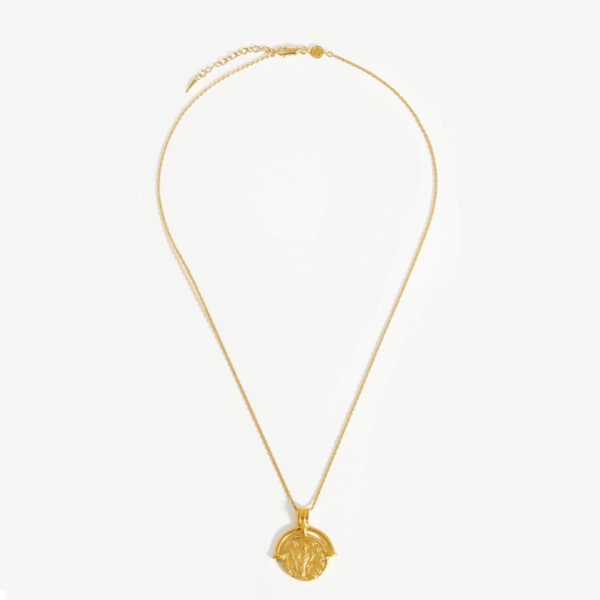 The Missoma Lucy Williams Roman Arc Coin Necklace is a simple but enchanting piece of jewelry that can be paired with jeans and a t-shirt or an evening gown. With a more prominent pendant dimension of 22 mm x 27 mm, this 18k gold-plated or sterling silver piece features a pressed design and a sterling silver rope style chain that can be worn as long as 500 mm.
With an engravable backside and Roman icon adorned on the front, this piece can be layered for maximum wow-factor. To have more people curious about what's draped over your décolletage, you can have this necklace for $175.
Missoma Lucy Williams Square Snake Chain Necklace Review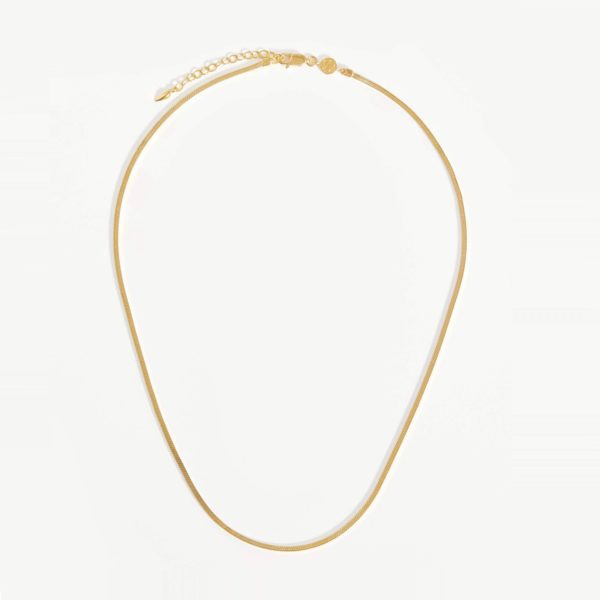 The Missoma Lucy Williams Square Snake Chain Necklace is a regal, classy number, with a simple but declarative design that rests on the collarbone. With its flexible necklace length, you'll catch everyone's eye with this statement necklace. The 18k gold-plated vermeil or sterling silver has a thickness of 1.5 mm, making it a timeless piece in your collection.
This piece can be worn alone for a statement that embraces its namesake or layered for a casual and powerful look. The Square Snake Chain retails for $206.
Missoma Earrings Review
Earrings are an amazing frame for any beautiful face, upgrading a look even with the simplest of designs. This Missoma review wants to show you a few of their customer favorites, so you can start dropping hints to any loved one what you'd prefer for your next gift.
Once you go through this brief selection of their pieces, you'll know why they've accumulated so many loyal fans for their Missoma earrings, necklaces, and other gorgeous accessories!
Missoma Mini Claw Charm Hoop Earrings Review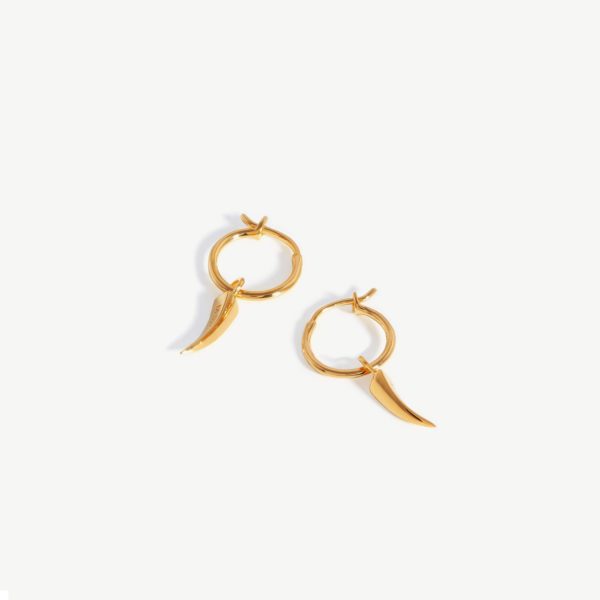 With their powerful and pretty presence, the Missoma Mini Claw Charm Hoop Earrings are the perfect addition to any outfit. From the hoop earring to the dagger-like claw, these little cuties are available in either 18k gold-plated vermeil or sterling silver itself.
The dimensions of the hoops are 11.5 mm, and 11 mm x 3.5 mm x 3 mm for the dagger. Tap into your inner wild animal for $84.
Missoma Zenyu Chandelier Hoop Earrings Review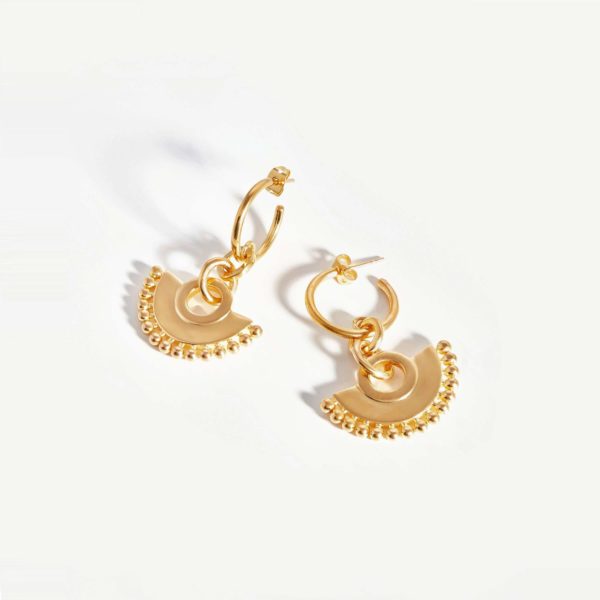 The Missoma Zenyu Chandelier Hoop Earrings are a fun and chic take on a classic silhouette. With the versatility to pair with a stud or alongside another simple hoop, these statement earrings are inspired by a Columbia style and complete with bottle-trimmed charms. With a total length of 48mm, these delicate but powerful beauties are 18k gold-plated brass.
Elevate your outfit with these Zenyu Chandelier hoop earrings for $162.
Missoma Mini Molten Hoop Earrings Review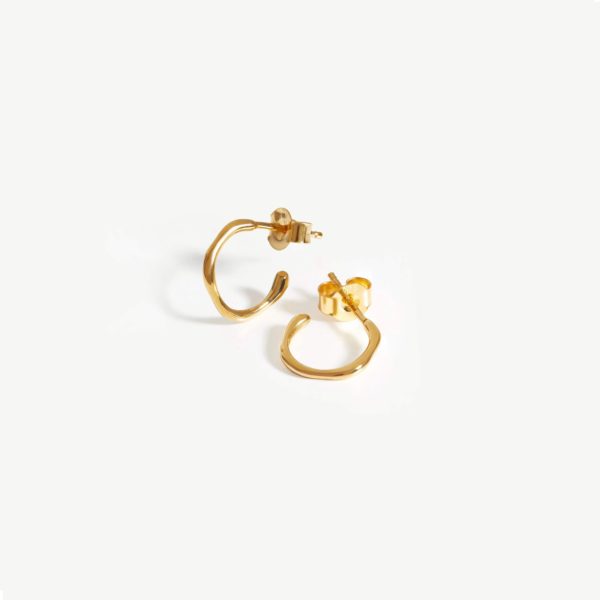 The Missoma Mini Molten Hoop Earrings are a unique design that hugs the ears and adds a little bit of pizzazz to a simpler silhouette. Inspired by a classic hoop but with a more elegant and noticeable edge, these hoops come in 18k gold-plated vermeil or sterling silver. Their dimensions are 12 mm x 1.6 mm.
With versatility at the core of their creation, these little beauties can go to dinner, brunch, an evening soiree, or gala. That's why we love them. Well that, and they retail for $64.
Who Is Missoma For?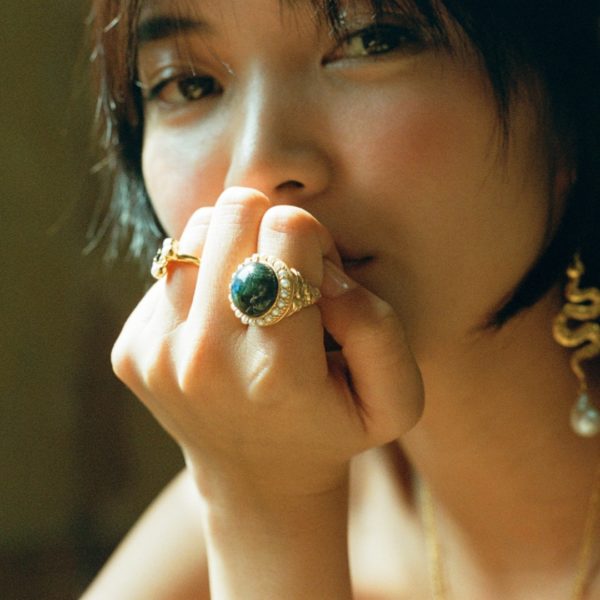 Missoma was created for those who love and appreciate style, simplicity, and flare in the form of subtle yet powerful jewelry. With their all-purpose designs and variety, this accessory company gears its goods towards fashionistas who don't want to break the bank buying necklaces, earrings, or accessories. We totally get that, because neither do we!
When it comes to Missoma's approach, this brand nails their marketing by speaking to a crowd of style lovers who value quality over quantity, and want to include statement pieces in their wardrobe that go beyond the scope of clothing and footwear.
In life, we're learning that price doesn't always equal quality, so why not look for a company that can provide both? Whether you love quality pieces or prefer gold-plated and sterling silver accessories that can pair with literally any article of clothing in your wardrobe, then Missoma is for you.
Missoma Reviews: What Do Customers Think?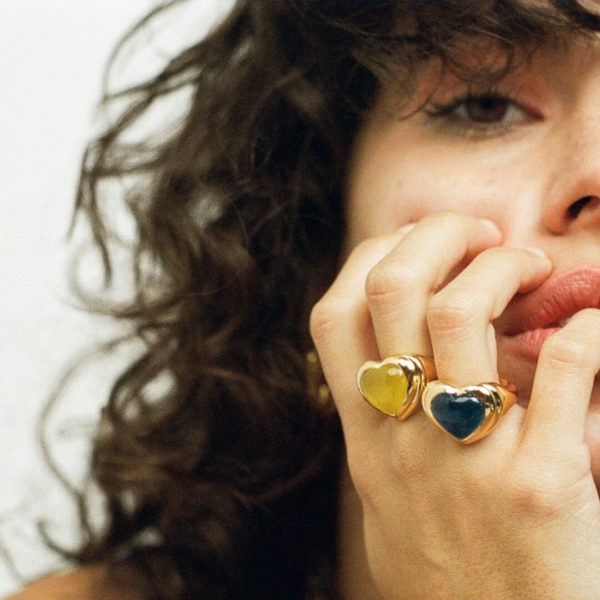 Now that we've given you an idea of what they do best, we're sure you're wondering what people really think about the brand. Up next, this Missoma review into the customer feedback section.
To be sure this is the most thorough outline of the company's assets, we knew we needed to gather some solid reviews from tried and true consumers so you could see for yourselves how Missoma stands up.
First, let's talk about the 4.1/5 star rating they have on TrustPilot, out of 420 reviews. Yep, you heard it right folks, and here's a 5 star rave from one happy customer: "Gorgeous quality items as usual. Fast delivery and free which is always a bonus. Really happy with the items received, especially as they were in the sale with an amazing discount. Will last for many years to come."
Meanwhile, on Oak & Luna, one of Missoma's third-party retailers, they have 8 reviews that give them a 4.8/5 star average. That's not bad at all! This customer, who ultimately showered Missoma with love when speaking of their Spike hoops, said:
"I'm super happy with my earrings! They are delicate, well made and stunning. I highly recommend ordering from Oak and Luna and I can't wait to receive my newest order. Thanks guys!"
Lastly, Fashionista, a popular and knowledgeable collective of style leaders, did an article on Missoma, giving them a rave review with notes on their affordability, quality, and designs:
"Want to cover yourself in pretty gold jewelry without breaking the bank? Thanks to new business models and manufacturing options, it's no longer necessary to shell out more than a couple hundred dollars for a decent pair of gold hoops, stackable rings or layer-able necklaces."
And, speaking to their success, this reviewer had great feedback: "Missoma, a rapidly growing direct-to-consumer brand. Positioning itself as a reliable go-to for jewelry at this price point, often referred to as 'demi-fine.'"
With these fantastic Missoma reviews coming from experts, consumers, and jewelry enthusiasts, what's there not to love about the brand? As with any company, there were a few negative comments, but they mostly referred to the security of certain clasps. But the company was always quick to respond and rectify the issue.
Is Missoma Worth It?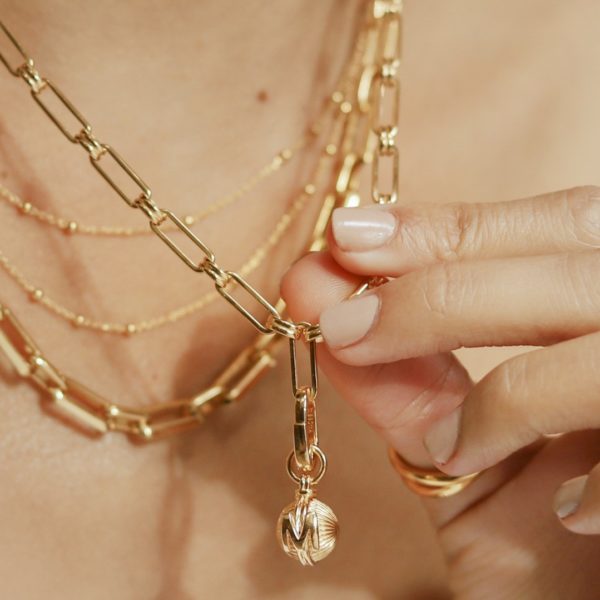 Those of us behind this deep and thorough Missoma review may or may not be huge jewelry fans. But like many of us out there who can't afford million dollar jewels, gems, gold, or really any of those precious materials. That are highly coveted and rarely available, we're grateful a company like Missoma is available.
If you're wondering if it's worth it to purchase a few of their key pieces. This Missoma review would definitely have to say you won't disappointed. Between their quality guarantee, the mass selection of incomparably gorgeous accessories. Their general approach to fashion, we have a hard time finding a fault in their offerings.
They have proven that they supply great customer service, impressive jewelry pieces, and edgy yet desirable designs, all at an affordable price. Just make sure you grab pieces you love before they sell out!
Missoma Promotions & Discounts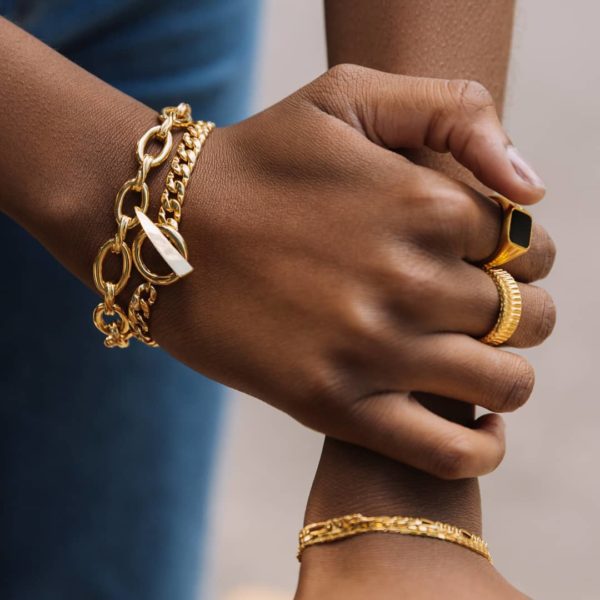 We went on the prowl for a Missoma discount code, but currently, couldn't find anything at the moment. That being said, they will give customers a 10% discount for signing up to their newsletter. Which will keep you up to date on upcoming sales, promotionals, and discount opportunities.
Where to Buy Missoma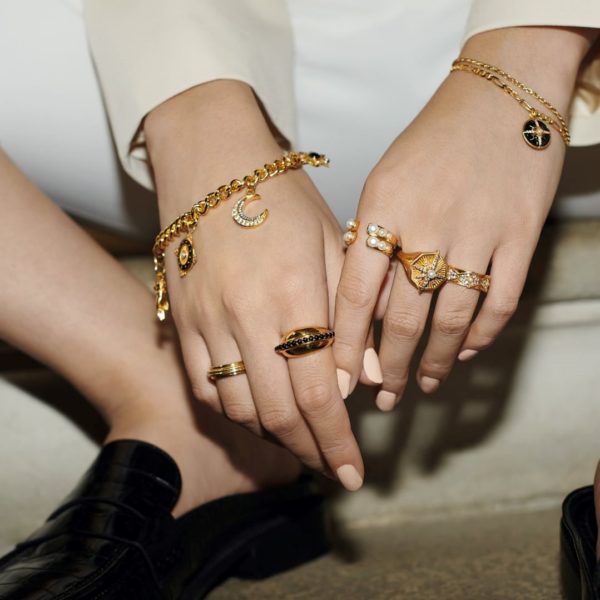 Missoma's own website carries the best selection of their jewelry and other accessories. Plus, anything you purchase from their site comes with a 2-year warranty. Which shows how much they stand behind their products.
Sometimes it's fun to check around to see what others might be carrying too. In that case, consider the list below for top Missoma options:
Oak & Luna
Farfetch
ModeSens
Poshmark
Shopbop
As Missoma is available in 200 countries, you might even be able to browse in-store versus online. To find a full list of places that stock this brand, check out their store locator tool.
FAQ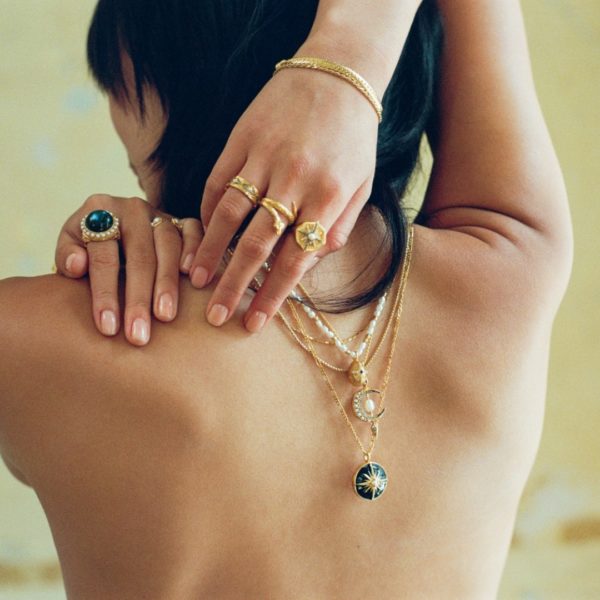 Who owns Missoma?
Missoma owned by Marissa Horden, and founded by herself, her mom Michelle, and her sister Sophie in 2008.
Does Missoma ship internationally?
Yes! Missoma ships internationally, including Canada, the UK, and other locations in Europe. For a complete list of locations to where Missoma might ship, take a peek at the stockists link above for more info.
What is Missoma's Shipping Policy?
If you're in the US, this Missoma review found they will provide ground shipping to you for free on all orders, arriving within 2-5 working days. They'll even provide premium shipping if your order is over $1000. For a full breakdown of costs for shipping outside of the US, see the list below:
UK (mainland)
Standard: Free (2-3 business days)
Next day less than $75: Shipping is $8
Next day over $75: Shipping is free
Europe
Standard below $150: Shipping is $10 (7-10 business days)
Express over $150: Shipping is free (3-5 business days)
Express under $150: Shipping is $12 (3-5 business days)
Rest of the world
Standard: $15 (5-7 business days)
Standard over $200: Shipping is free (3-5 business days)
What is Missoma's Return Policy?
Missoma has a pretty easy and straightforward returns process. You have a 60-day window from the delivery date to return your items. The brand pretty understanding when it comes to their returns. But they won't accept items that have worn (especially earrings) or engraved, unless there's something wrong with it.
To start the returns process, you'll need to use their Returns portal. For any returns that are outside the UK and the US, you will have to pay a return fee but they don't mention how much it'll cost. They also don't reimburse you for return shipping fees.
Once accepted, it may take up to 30 business days for you to receive your refund.