About Lattelier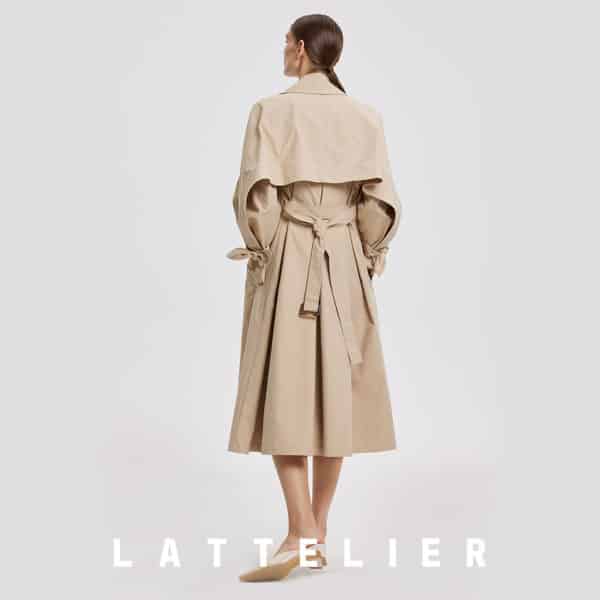 Lattelier is all about creativity. The brand designs modern apparel essentials with artistic features and mesmerizing details.
Their collection for women includes a mix of high-fashion styles—like oversized tops and asymmetrical hems in materials such as cashmere, silk, and linen.
We stumbled across their 56K followers on Instagram, a number that isn't surprising given the account's pleasing aesthetic.
This Lattelier review will take a close look at the brand and its bestsellers, provide customer ratings and information on deals, answer FAQs, and more. We'll help you decide if any of the pieces are worth saving a hanger for.
Overview of Lattelier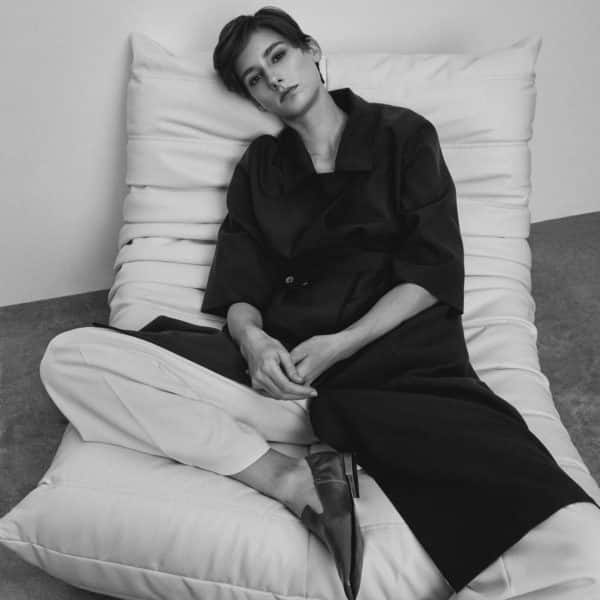 If there's one thing you notice when looking at Latterlier's clothing, it's the details. Even seemingly simple items are created with at least one element that demands attention.
These pieces blend utility with imaginative colors, lines, and features that capture the hearts of many who come across them.
Additionally, the brand strives for sustainability in its design process. By using organically sourced materials such as silk, wool, linen, and cashmere, Lattelier cuts down on plastic pollution.
Owned by Aponic Inc. and run by CEO Liang Zhou, Lattelier is an NYC-based brand with facilities in Hong Kong. The brand's website states that using Chinese factories allows them "to be affordable while manufacturing ethically."
Before we get into the brand's collection, this Lattelier review will quickly fill you in on a summary.
Highlights
Lattelier offers a variety of intimates, activewear, casual and formal attire
Their collection merges functionality with high fashion
The brand uses organically sourced materials instead of synthetic
Customers report good quality items and accurate pictures online
Ships worldwide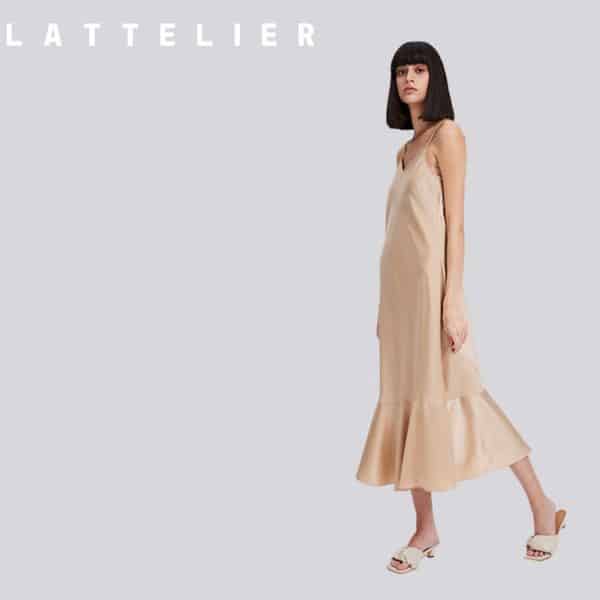 Upon entering the brand's website, you'll find a breezy selection of contemporary wardrobe staples. No crazy prints—just rich, luxurious colors and flattering pleats.
In the next section of this Lattelier review, we'll take you through a few of those items. Get ready for a haul of silky tops, flowing bottoms, and creative outerwear.
Lattelier Review
This Lattelier review will feature the brand's best-selling clothing below. We'll start things off with this review's namesake shirt, glide into elegant dresses, and wrap things up with coats for snowy days.
Lattelier Silk Black Poet Shirt Review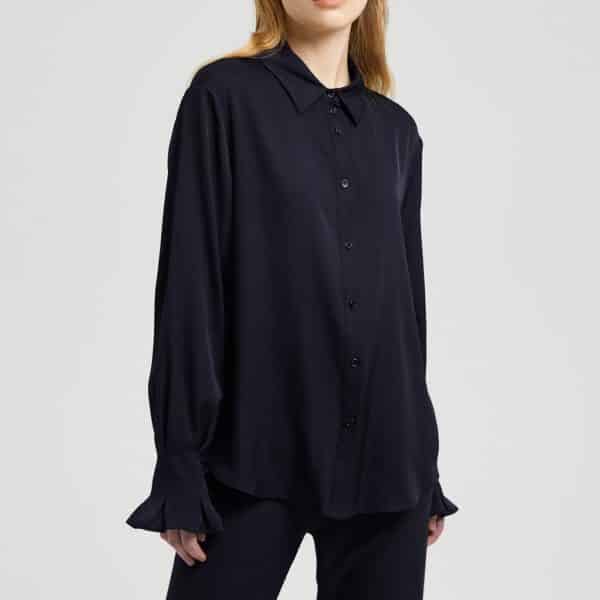 You can always tell the difference between silk and rayon, even though the fabrics closely mock each other. The way silk is cut, how it falls, and the type of sheen it has are dead giveaways of the luxury material.
The Silk Black Poet Shirt is all theatrics and art, embodying the profession it's named after. With long billowy sleeves and fitted cuffs, this top brings character to any outfit.
A touch of spandex allows for stretch in the cuffs, giving a Shakespearean feel. To pump up the drama, the Silk Black Poet Shirt is available in black only, as everyone knows this is every creative's preferred shade.
Add this rousing shirt to your collection for $178.
Lattelier Short-Sleeved Knitted Polo Shirt Review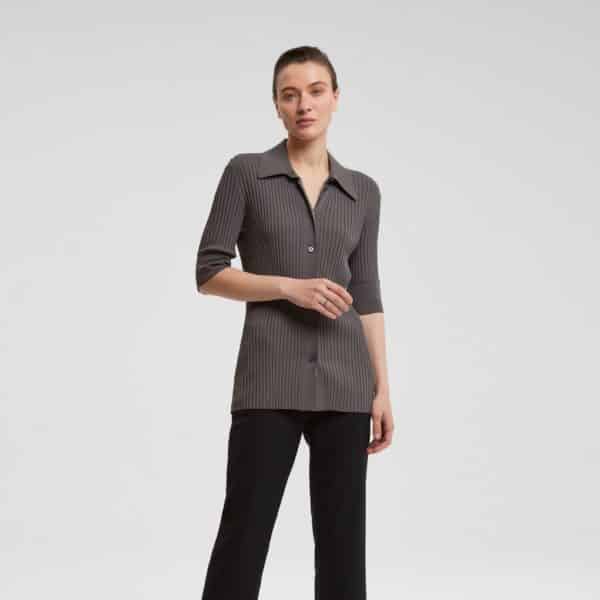 The classic polo received a major upgrade in the Short-Sleeved Knitted Polo Shirt. Unlike bulky classics that do nothing for the female figure, this one is tight-fitting and closely knit for a complementary look.
The front button placket adds some subtle detailing, breaking up the solid dark gray color of this cotton-blend shirt. Play with the length of this mid-sleeve polo by tucking it into a chic high-waisted skirt.
Rock the office or a typical Saturday with this polo shirt paired with your favorite pair of leggings. This shirt was a hot seller and is currently out of stock. Be sure to check in to the brand's website for updates.
Lattelier Pleated Flare Skirt Review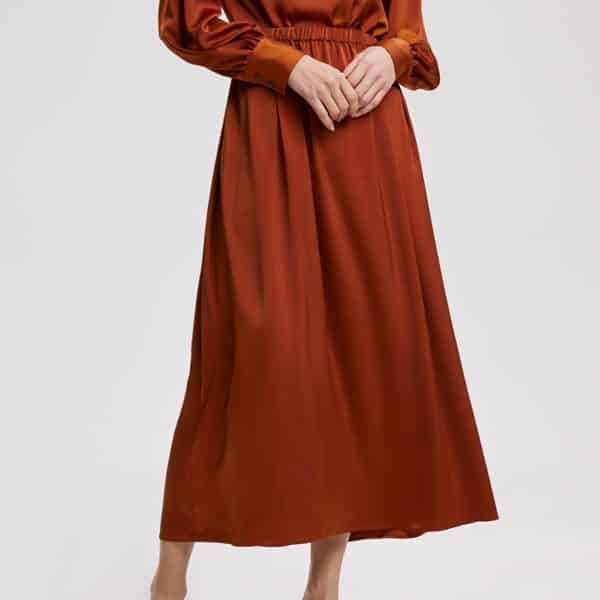 This skirt is all about movement. Take one step in it and the delicate fabric will shimmy lightly, giving you a graceful and picturesque stride.
Giving off a summery vibe, the Pleated Flare Skirt can be worn with a simple white tank top, a flawless low bun, and gold hoop earrings.
Though it's a great choice for hotter days, this polyester skirt transitions into an autumn staple with the simple addition of a long, knitted sweater and leather boots. The burnt orange color works for all seasons and pairs wonderfully with neutrals.
Personify elegance in the Pleated Flare Skirt for $68. For a more laid-back look, try the Lattelier navy blue flared skirt instead.
Lattelier Flared Silk Skirt Trousers Review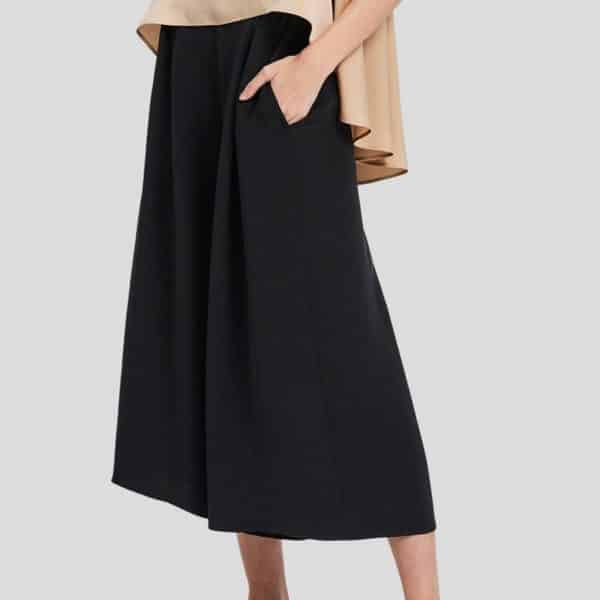 At first glance, the Flared Silk Skirt Trousers appear to be a knee-skimming, flowing skirt.
But upon further inspection, you'll find it's actually a pair of paints. Mixing the feminine with masculine, these tomboy pants come in stark black, the most versatile shade in existence.
Made from 100% silk, they carry quite a bit of tasteful sway to them, with fabric that drapes artistically around your legs. These lightweight, poetic trousers are $178.
Lattelier Slip Cami Midi Dress Review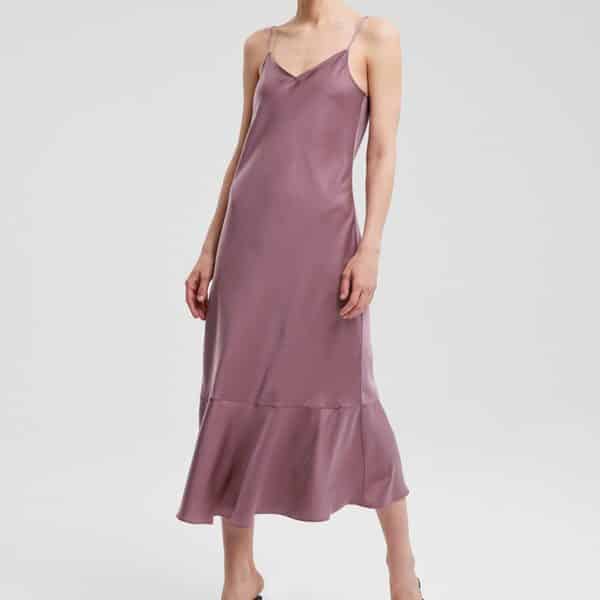 Slip dresses blend the sex appeal of slinky lingerie with the streetwise style of a camisole dress. Careful detailing like thin straps and a bottom hem flare make Lattelier's Slip Cami Midi Dress stand out from the crowd.
Motion is important in fashion; something the flare at the base of this Lattelier cami midi dress allows for. Pair with a kitten heel and baguette bag for a classy late-night dinner date at a low-lit restaurant.
Available in Ash Rose, Black, and Light Camel, the Slip Cami Midi Dress is $98.
Lattelier Single-breasted Cropped Blazer Review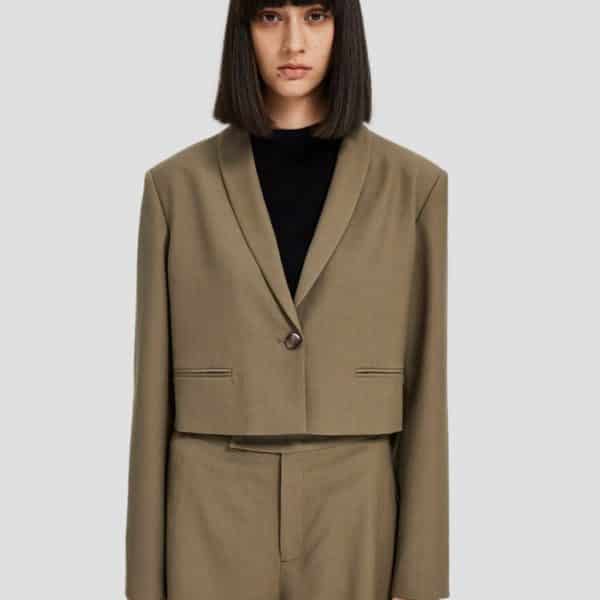 Like a chic, modern version of a men's suit jacket, the Single-Breasted Cropped Blazer creates a boxy look. Cropped at just the right place, this piece matches well with high-waisted trousers or skirts.
Leave the blazer unbuttoned to reveal a simple shirt and an attention-grabbing necklace, or a detailed blouse. With fitted shoulders and a roomier body, the Single-Breasted Cropped Blazer still oozes modern femininity even with its square silhouette.
Made from a blend of wool, polyester, viscose, and spandex this blazer is currently discounted from $108 to $78.
Lattelier Cream Faux-Leather Puffer Jacket Review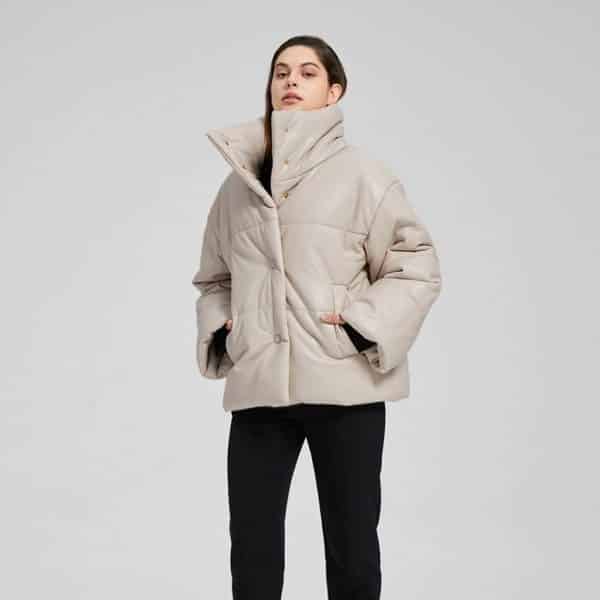 In a cream color that looks as if it's been mixed with just a hint of espresso, this Lattelier Faux Leather Puffer Jacket is a wonderful addition to your winter wardrobe. All you need to add now is your comfiest pair of sweatpants and grab a cup of hot coffee.
The material brings an opulence coupled with the incredibly durable construction of this Lattelier cream puffer jacket. A quilted design and funnel-neck collar ensure no chilly breeze makes it past its barrier.
Face the cold with the Faux-Leather Puffer Jacket for $158, normally $198.
Lattelier Single-Breasted Suit Jacket Review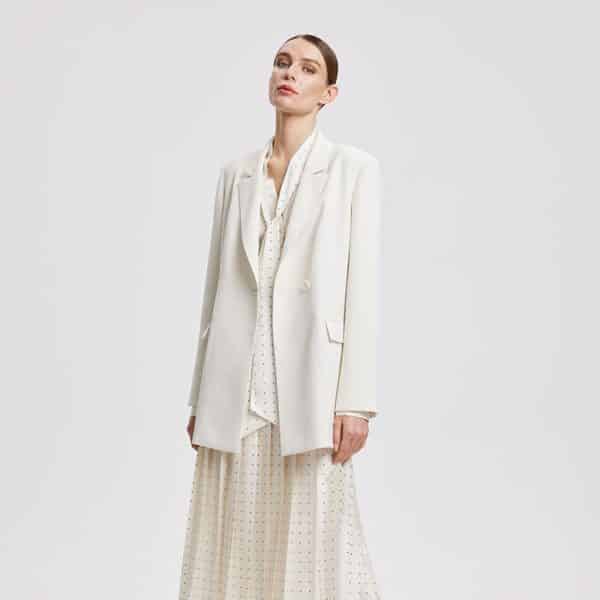 With a long suit jacket, you can't help but come across as high fashion. Creating a sleek outline, this fitted Single-Breasted Suit Jacket is made from a loose, polyester fabric that allows for just the right amount of flow.
The slightly off-white color is an ideal choice for a summer lookbook, so dress this Lattelier blazer with a V neck up at the office, or down on the weekend to a smart-casual event. When the buttons are left open, this jacket gives off a completely different feel.
Style it with a simple tank tucked into blue jeans, pumps, and a sleek, low ponytail. This professional and multi-use Single-Breasted Suit Jacket is $68.
Lattelier Double-breasted Trench Coat Review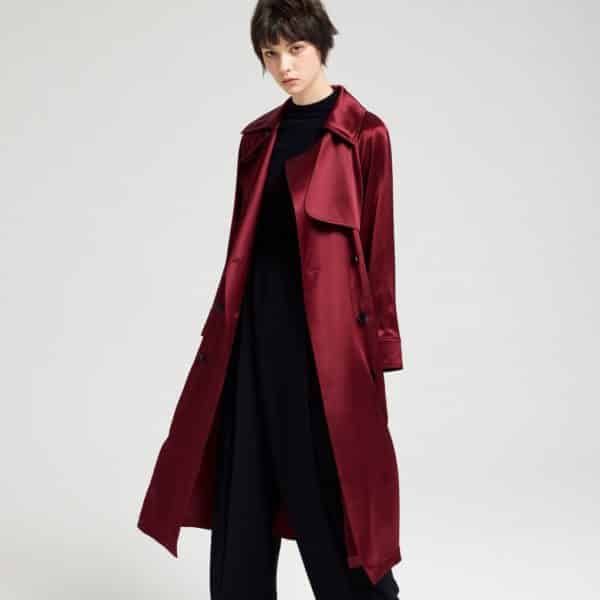 Made in 5 colors, the Double-breasted Trench Coat has a lavishly silky look regardless of the shade it comes in. Almost like an expensive satin robe, it has a sexy, mysterious sense about it—making you look like a woman on a mission.
The blend of acetate and polyester creates a soft, flowing design that pumps up the volume of any outfit. With double-breasted buttons and a tie waist, you can cinch in your middle to show off those curves.
For a look that turns heads, we recommend pairing this coat with a little black dress and some black heels. Add allure to any outfit with the Lattelier trench for $188 (originally $228).
Lattelier Reviews: What Do Customers Think?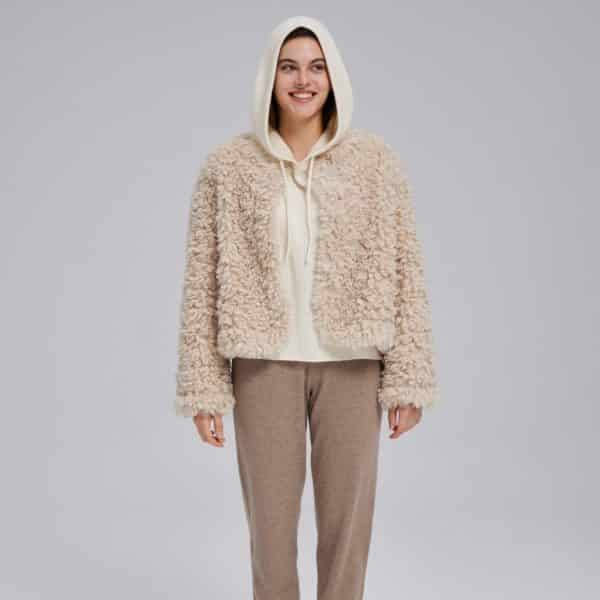 Flowy, romantic, professional…The selection of gorgeous clothing is truly something to admire. But, no Lattelier review would be complete without hearing from customers, so we searched the web to find helpful feedback.
Below, you'll find a compilation of comments and ratings sourced from the brand's website, Trustpilot, and AE Trust Score.
Reviews on the brand's website are few and far between, but we did manage to find some for a few of its products:
Cami Slip Dress: 4.9/5 stars from 33 reviews
Double-breasted Trench Coat: 4.9/5 stars from 49 reviews
Lunken Bundle: 5/5 stars from 13 reviews
Buyers wrote about the Lattelier Cami Slip Dress's great fit and the fact that it doesn't show every "lump and bump". A true feat for gowns of this nature.
Another reviewer spoke of its material, "The cotton is thick and soft. I'm taller so the dress hits my leg in a great spot. If you have wide hips, I'd size up." This is good information to read, as it's always tough to determine how a dress will fit around the hips and the amount of give it has.
Though there are no reviews under 4 stars, one buyer commented that the fit looked "a little boxy" in person. This aspect certainly isn't portrayed in the photo and may be due to the wearer's body type.
There's a chance that the seams under the arms could give an angular shape, but this is just speculation, as no other reviewers mentioned this.
Lattelier's pieces are also ideal for special occasions and formal events. One customer wrote for the Tie-Waist Blazer in dark green, "Love the color, the fit is nice and I was very comfortable. I received a lot of compliments from my colleagues."
Lattelier scored 2.9/5 stars from 4 customers on Trustpilot. We've included the rating snapshot below, although, with such minimal reviews, it looks quite sparse:
Excellent 25%
Good 0%
Average 0%
Poor 0%
Bad 75%
This Lattelier review must note that because there are only 4 ratings, the comments included may not be an accurate depiction of the brand.
A buyer who received their purchase and fell in love with it wrote, "My beautiful burgundy trench coat arrived yesterday and I don't want to ever take it off. It's [a] very rich, thick, satin-like material, much heavier than I thought but very fluid."
This is exactly how the Lattelier drench coat looks in the pictures, so it's nice to know the photos are accurate when it comes to material and sizing.
AE Trust Score, a website that assesses if businesses are trustworthy, broke down Lattelier into a few sections. In the report, AE Trust Score reveals a 99/100 rating for the brand's customer support, so it appears that they have a solid team of representatives to resolve issues.
Even though there are some comments that mention issues with delivery, there simply aren't enough for us to say whether or not this behavior is typical for the business.
Other testimonials speak to the difficulty in getting a refund. There are only 3 negative reviews here, which could actually be a good sign because if this happened to more people, they would probably have written about it.
Is Lattelier Worth It?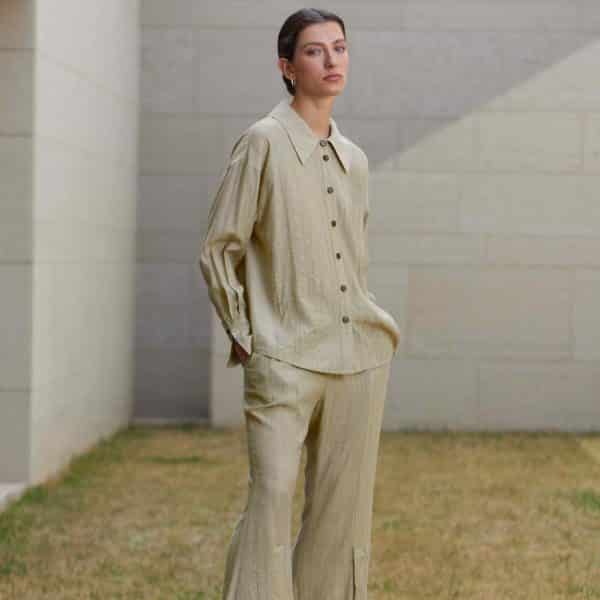 Lattelier has curated luxurious collections of dresses, shirts, outerwear, blazers, and more—cut from irresistible fabrics such as silks and cashmere. Their apparel is designed for women with refined taste; these are similar to pieces you would find in upscale boutiques.
This Lattelier review was hard-pressed to find feedback online. The fact that there are only a few complaints is usually a good thing, but it's tricky when there's a lack of positive comments outside of the brand's official website as well.
So what does that mean? Is Lattelier store legit? We believe the brand to be a credible clothing retailer.
According to the customers that have spoken up, it's fair to expect beautiful, mid-priced garments that arrive looking the way they were represented on the website and fit true to size.
The reviews seen online, the styles offered, and the brand's environmental practices mentioned above, this Lattelier review believes that this brand is definitely worth the buy.
Lattelier Promotions & Discounts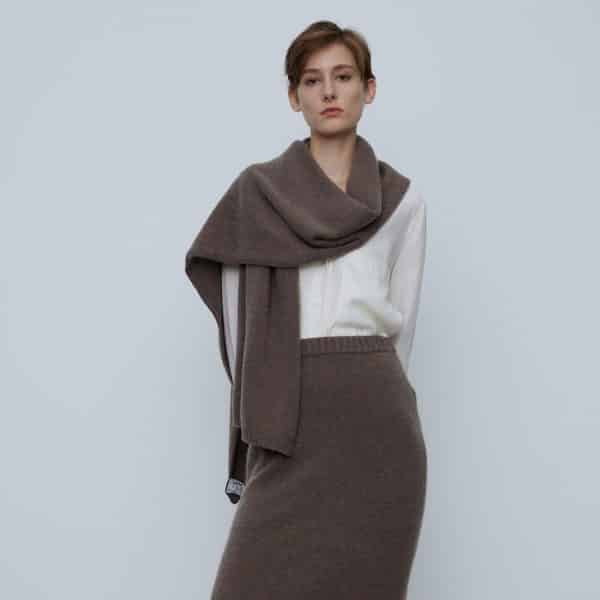 This Lattelier team was kind enough to offer our audience a special discount only for our community!
Special Black Friday Sale:
Get 35% OFF using code "HBR35" at checkout! Limited time.
Where to Buy Lattelier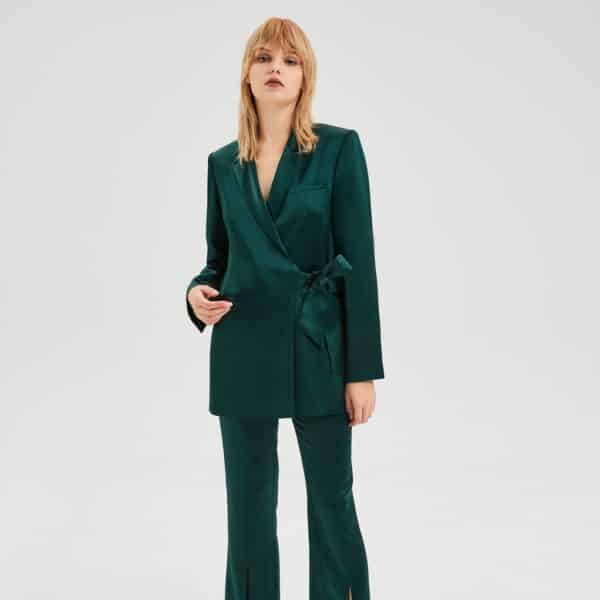 As Lattelier is an online retailer, all apparel can only be purchased through LattelierStore.com. There are many other stores with similar names, so be sure you're on the right website!
FAQ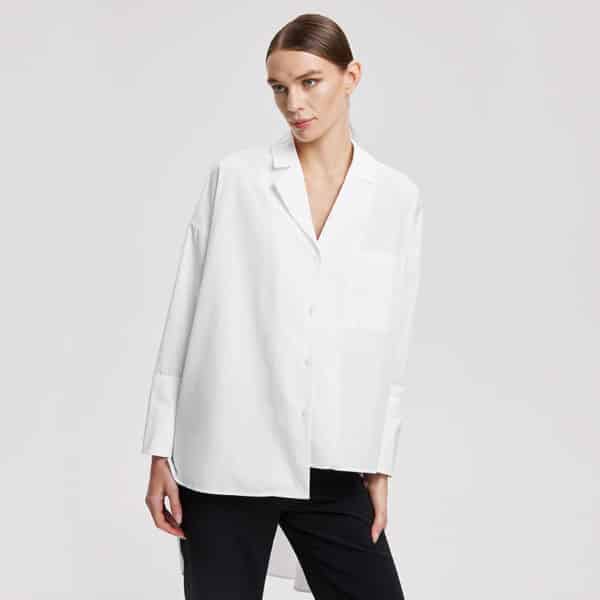 What sizes does Lattelier have?
Lattelier carries Small, Medium, Large, and in some items, Extra Large. Many of the brand's items are quite loose and flowy, so be sure to keep that in mind when choosing a size. If you need some help with deciding what size would work best for you, refer to the chart below.
What is Lattelier's Shipping Policy?
Lattelier offers free shipping for all orders over $99. If your total is under that amount, a fee of $10 will apply.
The brand promises that the entire processing and delivery timeline takes 7–14 business days total. Because they ship worldwide, certain countries may experience a 1–3 day delay.
Due to COVID-19, you should be prepared to add an extra 4 nights to the expected arrival date. (Irregular shipping times may not be typical, but they are possible.) Once your order ships out, keep an eye out for a confirmation email and tracking link.
What is the Lattelier Returns Policy?
You can return your order within 30 days of delivery in case the garment did not fit or was unsatisfactory in some way. This Lattelier review notes that customers can only exchange one item per buy.
For example, if you ordered a few Lattelier abstract shirts but they were the wrong size, you can swap each one of them for a new item only once. After that, they no longer qualify for returns or exchanges.
To be eligible for a return, your item must meet the following requirements:
In new-like condition
Undamaged
Tags attached
Contained in the original packaging
Lattelier is "committed to exceeding customer expectations." Their policy states that if you opt for store credit rather than a full refund, the brand will issue a credit worth 130% of the original value of your item.
For example, if your shirt costs $100, you would get $130 in-store credit. Pretty great deal.
To start a return or exchange, email [email protected].