Even good airlines have bad days. Maybe you've gotten a grumpy flight attendant flashing you attitude or you're matched with a smaller aircraft for a domestic flight with lousy seating and lame food choices.  But whenever I've flown with Korean Airlines, I've always had a consistently same experience– pretty impeccable. I'm not saying Korean Air will never have a bad flight, but so far I've not experienced anything bad enough to change my feelings about flying with them. So I'm going to share my Korean Airlines review.
I first flew with Korean Airlines during Chuseok, while living and teaching English in Korea in 2010.  I thought my vacation in Jeju Island was set when I booked my flight. But Korean workplace schedules can change at the last minute and being a native English teacher in the school system, I was subject to its whim. I needed to change my flight dates and when I requested the change, it was easily done with no fee- I would only need to pay the fare difference. This was a time when U.S. airlines had instilled baggage and change fees and neither felt cheap. It started this thing with me that as long as I booked with Korean Air, my flights dates had flexibility should I need and they were my preferred airlines.
Recently I flew with Korean Air from Honolulu to Colombo with a layover in Incheon Airport Terminal 2.  The first leg was from Honolulu to Seoul taking 9.5 hours. My second flight was from Seoul to Colombo, Sri Lanka, taking approximately 11+ hours.  Both were long haul flights, so I was glad to be flying with Korean Airlines. I had a decent layover in Incheon Airport Terminal 2 (enough to tour the entire terminal, do a 7 Eleven food haul video and take a free shower). This is the experience I'm reviewing.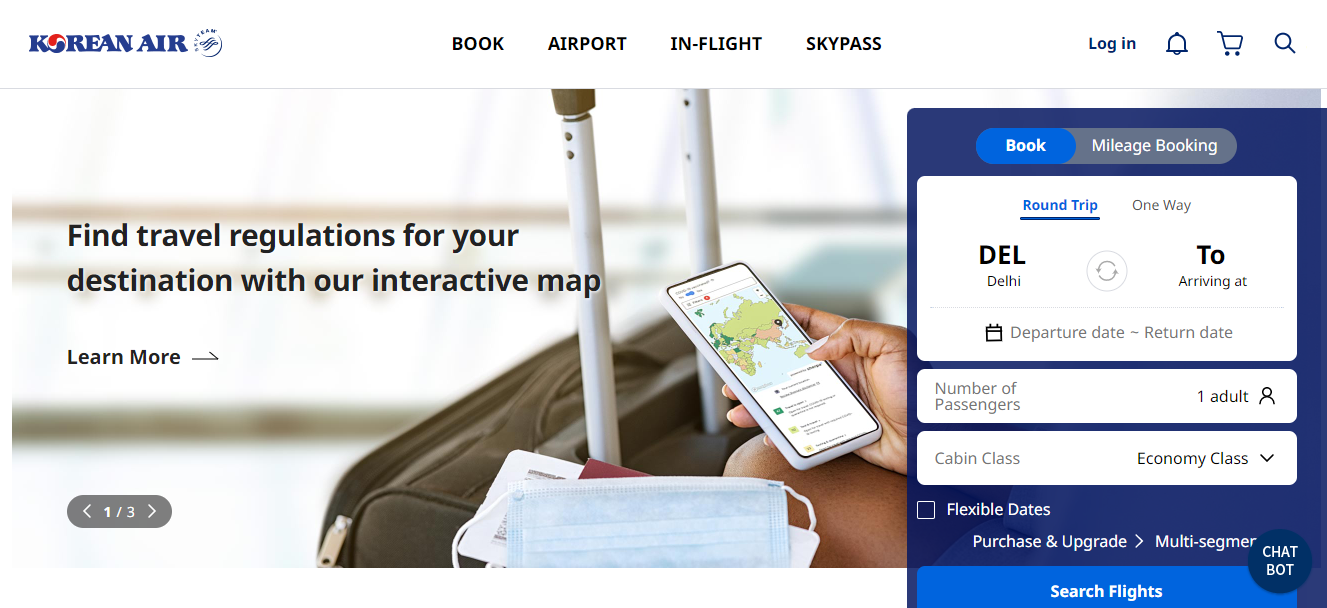 Korean Airlines Review: Is Korean Air the Best Economy Airlines?
Korean culture is strong in hospitality and this is where I feel Korean Airlines surpass other airlines carriers.  The Korean way of dealing with annoying or reactive customer situations is very Confucian, like the values of their culture- the client is always right and emotional balance is preferred, giving way to a high standard quality and convenience.
Flight attendants adopt a neutral but pleasant demeanor, which means you won't get toothy smiles or a casual joking nature from them but you will get a "country of the Morning Calm" politeness and welcoming hospitality.  I have never seen a grumpy or reactive Korean Air flight attendant displaying that they are having a bad day.
The visual design elements of the Korean Air branding is both calming and soothing. Flight attendants are tightly uniformed and groomed in calming colors of turquoise, white and tan.  Short hair can be worn down, while long hair must be put up in a bun. Skin complexion is light and bright (easily remedied with Korean BB cream– I've gotten a Michael Jackson glows on my ruddy complexion and I still use them).
Female attendants wear a tailored pencil skirt with a lovely hair ornament which hints of modern sophistication while echoing back to tradition. The entire aesthetic and lets you know that professionalism is taken seriously. It reminds you of older days when flight attendants wore tailored uniforms, which perpetuated glamorous values, which made being a flight attendant a popularized status as air models.
Reasons why Korean Airlines is best airline for economy travel
What type of plane does Korean Air fly?
The Korean Air fleet uses an Airbus A330-200. It is a wide body plane with USB charging ports and a 110V electrical outlet in First and Envoy.
Seat Comfort & Leg Room on Korean Air
Seats are comfortable and spacious. At 5'8″, my knees felt like they had at the very least, six inches or more of space before hitting the seat back in front of me. The seats were wide and there was a lot of leg room for me to stretch out and wiggle in despite the fact I had my carry-on between my feet. Even if you're in the back row, there is space to comfortably recline.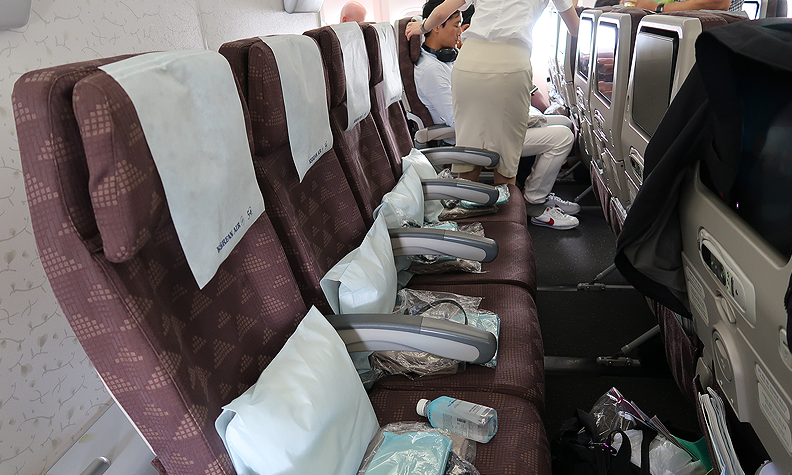 Entertainment System
You get your own entertainment system console with USB charging port. Complimentary headphones come with a newly packaged ear cover for sanitation. This means you're not sharing earwax with someone. Interestingly, my entertainment system only allowed me to choose between Korean and French, but I am not sure if this was a momentary bug or something they switched onboard later, as I did not have a problem watching Hollywood movies spoken in English nor did I find a problem with navigating.
Korean Air Flight Attendants and Hospitality
You will get enough water and snacks onboard and if you are traveling with a baby, not only do they have a fold down crib seat for a mother to take rest, but I've also seen them bring a gift bag of organic baby food for the baby. Shocking to say the least! I wished I were a baby just to sample the quality of that baby food.
Korean Airlines Food & Food Service
My favorite part of flying Korean Airlines is its food. You will largely get Korean food. But if you've never tried Korean food, do not worry.  As a once expat living in Korea, I've not known a fellow newbie foreigner to not like Korean food. It's highly flavorful and pleasant. For the foreign traveler who has never tried Korean food and does not know if they will like it, the easiest thing is to order the Bibimbap, a traditional Korean dish with rice, veggies, soy oil, sesame seeds, beef (vegetarians can pick this out– that is what I do) and it comes with a gochujang paste.
Bibimbap is a special dish which must be mixed together so they give you instructions on how to mix it- it's really a cute touch.  Or you can watch my Korean Airlines video review at the bottom of this post. Some lovers of Asian and Korean food will actually save this bottle of paste because it is very tasty and flavors other foods and rice.  The meal also came with seaweed soup and fruits.
Korean food also comes with banchan or sides of pickled veggies. Again, it is highly flavorful. This was also the first meal of two major meals and one breakfast snack.
Ordinarily, Korean food tends to be spicy– very spicy– but Koreans tend to understand foreigners may not appreciate that palate so the food are modified for foreign taste buds.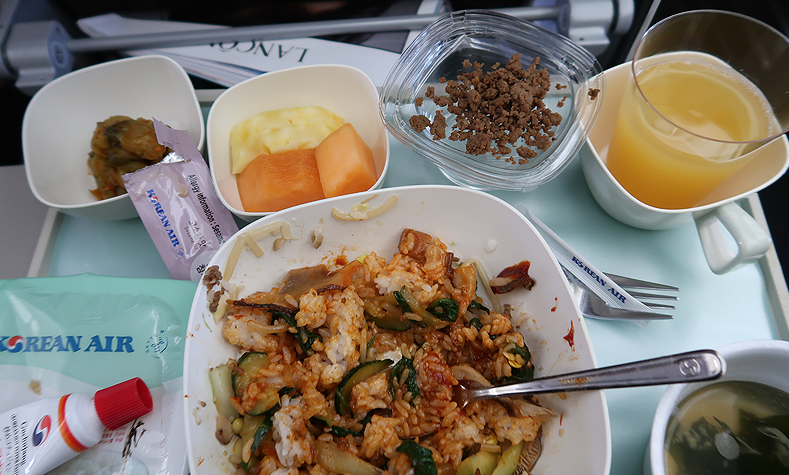 In-Flight Hospitality bag
Korean Air offers an in-flight hospitality bag for all passengers. Economy class passengers get disposable flight slippers in a plastic reusable pouch and Jeju Pure water bottle (Jeju Island is said to have good water).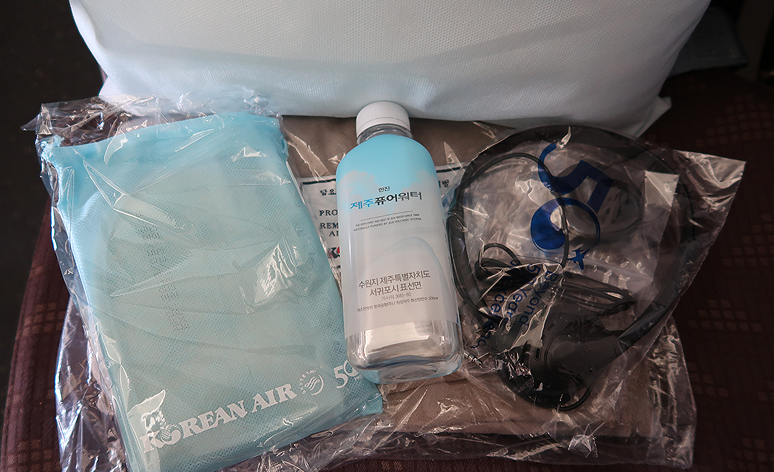 Checked Baggage & Carry On Fees
If you're flying Economy class the good news is that you are allowed one checked baggage and one carry-on (plus one personal article). If you wanted to travel with your pet as carry-on baggage, you would pay a $200 USD fee. For specific baggage fees, check here.
Free cup of noodles
One thing I didn't know about but I've just heard from someone else that Korean Air does is they give you cup of noodles if you ask for it! Test that out and let me know!
Things to Dislike about Korean Airlines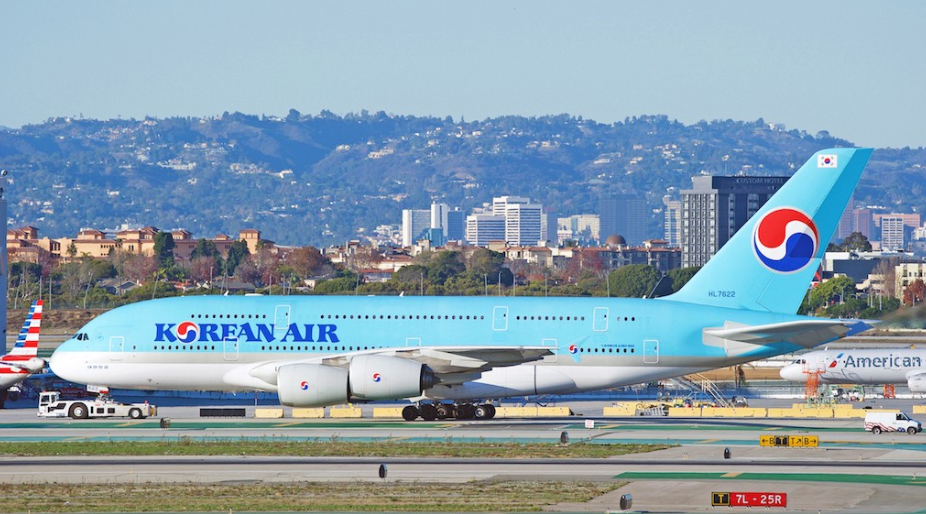 Honestly, I find it hard to dislike Korean Airlines when hospitality and gifting is part of their cultural ethos. In Korea, they reward you for your loyalty by giving complementary service; Korean Air sorta adopts a similar policy.
Ticketing Fees for Changes
If I really had to nitpick, I'd say the only thing I might not like about them is that they now charge fees for ticket changes. Before, it was free to make changes, so if anything happened in schedule plans, you could easily change your schedule with no questions asked. You would simply pay the difference in fare. Today, there is a ticketing fee for changes:
Economy Class: USD  50-100 based on applicable fare rules.
First/Prestige Class: Complimentary or between USD  50-150 based on applicable fare rules.
Okay, now seriously, a lot of U.S. air carriers charge as much if not more, so even this fee for Economy Class is not a deal breaker for me.
Best Travel Insurance for Travelers
American travelers often pay a premium on travel insurance.  World Nomads offers economic solutions for travelers who seek security and peace of mind.  It covers 150 countries.