Seoul-based Korean Air is one of Asia's largest airlines, offering domestic and international flights out of its hubs in Seoul–Gimpo and Seoul–Incheon to 10 cities in the continental U.S. including Los Angeles, San Francisco, Seattle, New York-JFK, Washington-Dulles, Dallas-Fort Worth, Atlanta and Chicago-O'Hare.
The airline offers three cabin classes, including Korean Air economy class. Its loyalty program, Korean Air Skypass, rewards members for collecting Korean Air Skypass miles.
The Korean Air Skypass program was more popular among award travelers before Chase Ultimate Rewards® dropped the airline as a partner in 2018. Even though Chase members can no longer transfer their points into Skypass miles. There are still ways for travelers to get good value out of a Korean Air economy class booking, regardless if they're paying in miles or cash.
What to Expect Flying Economy With Korean Air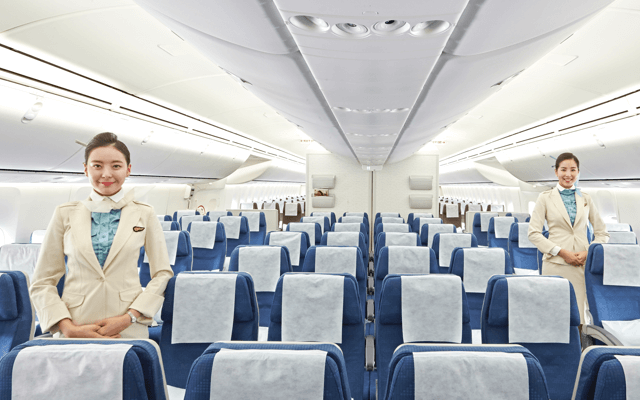 Korean Air's fleet is a mixture of Boeing and Airbus aircraft. Models include the Boeing 787, 777, 747 and 737, and the Airbus A380, A330 and A320. Economy, Prestige (business class) and first class seat availability depends on the plane that you fly. With that said, let's dive into this Korean Air economy review.
Bag Allowance: For flights to or from the U.S., a Korean Air economy class ticket includes two checked bags that weigh about 50 pounds (23 kilograms) or less and have dimensions less than 62.2 inches (158 centimeters of length plus width plus height). Children two years and older get the same baggage allowance as an adult, plus one foldable stroller no larger than 45.2 inches (115 centimeters) in total and a car seat or bassinet. Children younger than two years old are allowed one bag no larger than 45.2 inches (115 centimeters) in total and less than 22 pounds (10 kilograms) plus one foldable stroller and one car seat or bassinet.
Boarding: Passengers traveling with young children, passengers with special needs and seniors board first. Following this boarding group are SkyPriority passengers, an exclusive service offered to SkyTeam alliance elite passengers. Next, all economy class passengers board by zone from the back of the plane forward.
Seats: Seat pitch on Korean Air economy flights ranges from 33 to 34 inches on the Boeing 787 and from 30 to 31 inches on the Boeing 737 and Airbus A220. Seat widths are 18.5 inches on the Airbus A220 and 17.2 inches on the Boeing 787, 747 and 737. The entertainment system, personal monitor, power supply, USB charging port and seat reclining angle vary by aircraft.
Upgraded Economy Tickets: For Korean Air international flights, travelers can book Saver, Standard and Flex economy tickets. The most basic ticket tier, Saver, earns the least number of Korean Air miles, is not eligible for seat upgrades and does not allow you to select your seat in advance. The highest economy fare, Flex, earns the largest number of Korean Air miles and offers seat upgrades; plus, you can select your seat in advance of the flight. Standard tickets sit between Saver and Flex in terms of perks. See its "Fare Type at a Glance" page for more information on Korean Air economy class ticket options.
Food and Drinks: Bibimbap, noodles, soybean paste stew with rice and stir-fried spicy octopus with rice are some of the meals served to economy passengers on Korean Air. In addition, Western, Chinese and Japanese cuisines are offered, depending on the flight's destination. Snacks available include samgak gimbap (rice wrapped with seaweed), cup of noodles, pizza and rice cakes. Drink offerings include wines from France, Chile and Australia. The flight route, time of day, season and aircraft type determine the food and drink offerings available on your flight.
Ways to Get Good Value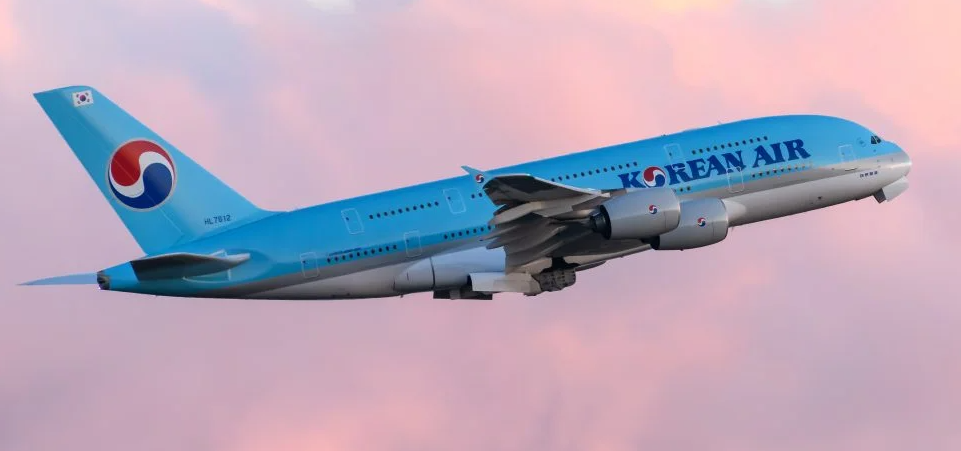 Book Korean Air Flights Using Skypass Miles
If you don't fly Korean Air often enough to accumulate Skypass miles, there are a few other ways to get them.
You can fly partner airlines like Delta and Air France and select Korean Air Skypass for your miles earning.
You can use a Korean Air credit card, like the SKYPASS Select Visa Signature® Card.
If you have Marriott Bonvoy points, you can transfer them to Skypass.
Once you have enough Skypass miles, you can find some good value redeeming them for flights on Korean Air. Off-peak round-trip flights from the U.S. to Korea, Japan or China in economy class can be found for 70,000 miles. Or use 85,000 miles to fly Korean Air economy class round-trip from the U.S. to Southeast Asia.
Book Partner Airline Flights Using Skypass Miles
Using Skypass miles to book a flight on a SkyTeam alliance partner airline can also yield value. Examples include using 110,000 miles to book a round-trip Delta business class flight from the U.S. to southern South America or 80,000 miles from the U.S. to Europe.
There are currently 19 SkyTeam alliance member airlines, giving travelers ample options for booking partner flights with Skypass miles.
Korean Air economy class doesn't offer amenity kits like the ones passengers in business and first class get. If you need items like headphones, bring your own. Snacks are offered, but you also may want to pack your own if Korean Air's offerings aren't what you're looking for onboard.
Final Thoughts on Flying Korean Air Economy Class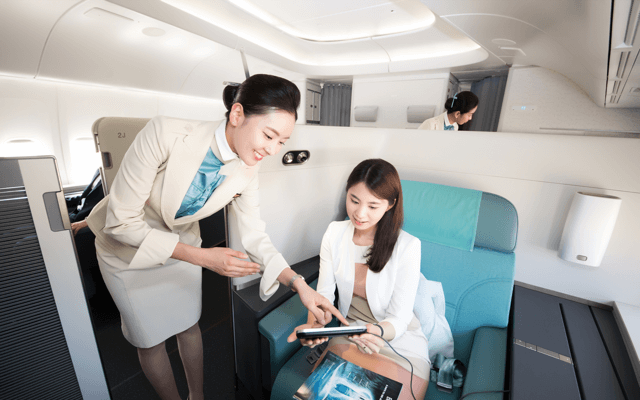 Korean Air offers flights to cities across the continental U.S. giving you ample opportunity to fly Korean Air economy class. Once you book your Korean Air flight, it's helpful to know your baggage allowance and the boarding rules. As well as the types of seats and food and drink options for your selected flight. While it can be difficult to earn Korean Air miles, Korean Air's Skypass loyalty program can offer value. When booking both Korean Air and its partner airline award flights.