Singapore Airlines' much anticipated Premium Economy cabin launched in 2016 and is offered on the longer routes of the airline including the ultra-long service to New York which only has Premium Economy and Business Class.
The airline typically prices its Premium Economy product at about 50% more than Economy and about half of the Business Class price. This means there often business class products from other airlines priced just above the airline's premium economy.
So I wondered, is Singapore Airlines Premium Economy worth it?
Given the price, I wanted to test it on a long journey from Singapore to Barcelona and back. See how it stacked up against the airline's regular Economy or its Business Class products.
If you are an #AvGeek you may also want to read these other airline reviews:
Singapore Airlines Premium Economy class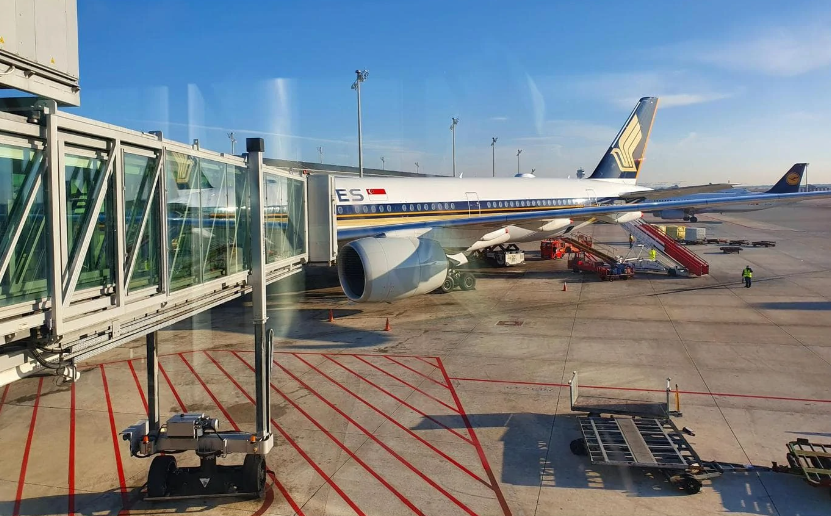 Singapore Airlines offers Premium Economy seats on several long-haul flights to most European, US, and even APAC destinations and on the flagship ultra-long-haul flight to Newark in New York. The world's longest flight before Qantas starts to commercialise the flight to London.
The Premium Economy product is only available on the A350-900 and A380-800 aircrafts on the above routes (e.g. some flights to Shanghai are on the Boeing 787 and these don't have Premium Economy seats).
Also bear in mind that some of the older A380 aircrafts have refitted with the new product and are different configurations to the new A380 interiors.
Here is a comparison table of Singapore Airlines Premium Economy by aircrafts.

Singapore Airlines offer the premium economy seats on the following destinations: Amsterdam, Auckland, Barcelona, Beijing, Shanghai, London, Paris, Milan, Rome, Brisbane, Canberra, Cape Town, Christchurch, Copenhagen, Dubai, Dusseldorf, Frankfurt, Hong Kong, Houston, Johannesburg, Los Angeles, Manchester, Melbourne, Moscow, Mumbai, Munich, Delhi, New York, San Francisco, Seattle, Seoul, Stockholm, Sydney, Tokyo and Zurich.
However, check-in advance because not all flights on the routes will have it. For example, some of the medium-haul destinations like Dubai or Shanghai don't always fly A350 or A380 planes.
Singapore Airlines Premium Economy check-in and boarding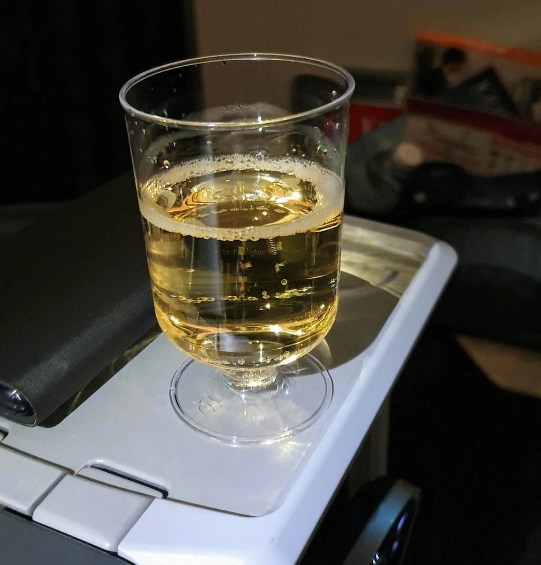 Check-in for Singapore Airlines Premium economy can be done via. The dedicated counters between to online checked-in passengers and business class passengers. If you are checking in at Changi Airport. You will most likely be using Terminal 3 where there are also automatic check-in machines.
Given there are only 24 passenger seats in any Premium Economy cabin on long-haul flights. There is unlikely going to be any queue at check-in. If you are flying on the ultra-long-haul destinations, the volume of passengers is much larger.
Singapore Airlines boards the plane by class of travel. First Class passengers and Singapore PPS Club members board first, followed by Business Class passengers and Star Alliance Gold members. Premium Economy class passengers board in the third group.
Once onboard, we were offered a wet towel (all classes get this) and a glass of champagne served in plastic cups (as opposed to the glasses given in Business Class) which was a nice touch.
The cabin on Singapore Airlines Premium Economy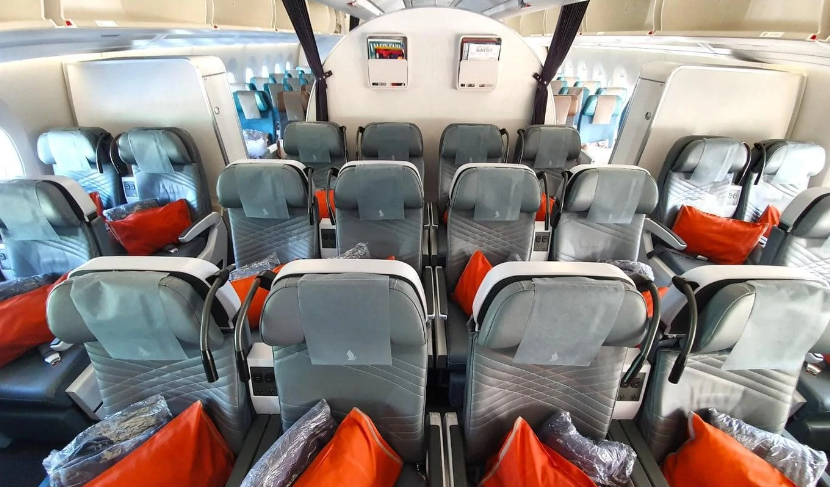 In the regular long-haul flights, the Premium Economy cabin is located between the second smaller Business Class cabin and the Economy Class cabin separated by a partition. For ultra-long-haul destinations like New York, the Premium Economy Class cabin takes over the space of the Economy Class and is located after Business Class.
In general, the Premium Economy cabin looks very much like the rest of the economy cabin but feels much more spacious.
As I mentioned earlier, all Singapore Airlines Premium Economy class cabins are the same and follow the 2-4-2 layout, this is two fewer seats than in Economy where the layout is 3-4-3, and has only three rows. Because of its smaller size, it feels very intimate and there are very clearly differentiated seats.

The first row of seats has much more legroom than the rest of the cabin and is priced at a premium that can go up to USD100 per seat each way. These seats certainly feel much more comfortable, but come with the downside of not having a backseat to place items in and you soon end up with a mess of things on the floor (pillows, shoes, blankets).
On the other hand, the last row of Premium Economy is on the other side of the partition to the Economy bassinet seats so you should consider there being a risk of noise should there be a baby who is having a bad flight (although the semi noise-canceling headsets provided go a long way to help with that).
I flew on a middle seat first row on my way to Barcelona and on the last row window seat (without anyone next to me) on the way back. I found the last row window seat more private. This is also because the armrest between the seats are not all made equal.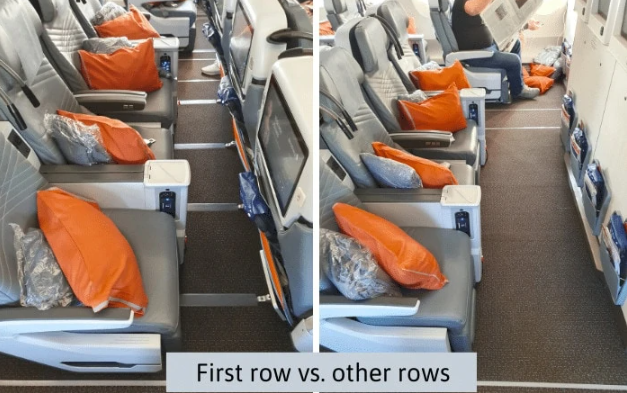 The armrest between the 2 seats on the sides and the two pairs of seats in the middle wider and fixed. Like in Business Class, and provide quite a bit of privacy and separation from the guest next to you. While the pairs of seats in the middle four are narrower and can lifted. These are thought for passengers traveling together.
Therefore, these are my recommended seats:
If you are traveling alone, I recommend the window seats on the first row, even if you need to get up during the flight (which you will) you can easily walk over the passenger next to you without bothering them. Alternatively, any of the side seats on other rows.
If you are flying with someone, take two of the seats where one has aisle access. You will then have a soft armrest between the seats.
The seats on Singapore Airlines Premium Economy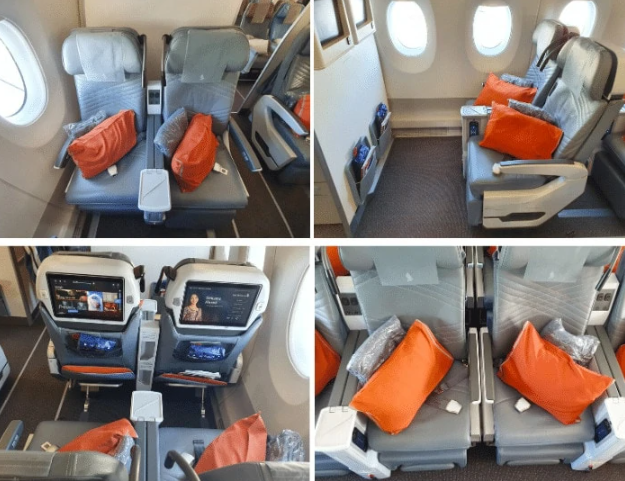 Besides looking at the cabin, the most important element on Singapore Airlines Premium Economy (and the reason why you are paying a higher price) is really the seats.
Seats on SQ Premium Economy measure 19.5 inches in width compared to 18 inches for regular Economy seats and 27-30 inches for Business Class seats. The pitch is 38 vs. 32 in regular Economy seats or 60 in Business Class.
On paper, you can already see that the seats are much better than in regular Economy class, and in fact, they feel more than proportionally better than the figures would say. However, they don't go flat which is the main reason why you would pay for Business Class.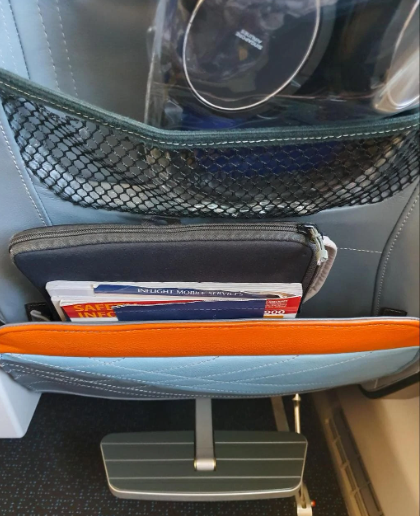 Besides the size of the seat, there are other great additions to the Premium Economy Seats on Singapore Airlines.
For starters, they come with two USB ports to charge your personal electronic devices. This is handy since these seats make the most sense on long-haul flights when you might actually want to charge more than one time. It is worth noting that Economy Class seats have one USB port.
The added seat comfort is the calf and footrest which can extend quite a bit and helps to rest your feet. I found this quite useful to bed my legs and raise them up, however I did not find them very convenient or easy to use.
On the way back, the footrest must have been faulty because it barely raised from the floor and I found it to be too short to stretch my legs, and I am only 1m69cm.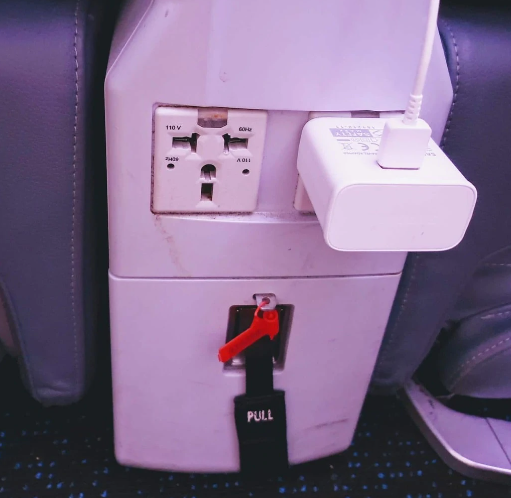 What the seats have which Economy seats don't are a series of useful compartments to store things. On long-haul flights, I always carry lots of stuff with me. My phone, my charger, laptop and charger, a jacket, a book, etc. and it all ends up getting messy, so it is useful to have these compartments.
Singapore Airlines has designed the Premium Economy seats with the travelers in mind and there are dedicated compartments for your water bottle (you get one complimentary one), for a mobile phone and headsets and for the laptop.
The small space on the armrest, which is divided into two so both passengers don't have to fight over. It useful for small things you want to keep handy like a lip balm or for a drink.
Besides these compartments, the seats come with individual reading lights, the same ones that are on Business Class seats, and with a hook to hang your jacket.
Dining on Singapore Airlines Premium Economy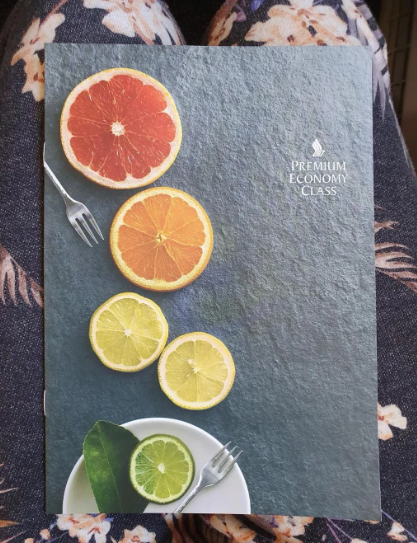 Premium Economy passengers on Singapore Airlines get a different meal service to Economy Class but this part is not significantly different. What you do get is the opportunity to choose a main dish before the flight via the "Book the Chef" option.
Premium Economy meals served in trays, like in Economy, and all at once. There are the same drinks on offer, including wines and some spirits and liquors as in Economy. Premium Economy passengers do served first as they are at the front of the cabin.
Since Singapore Airlines only sells Premium Economy on medium to long haul flights, the menu includes several meals depending on the flight duration. In my case, since this a very long flight stopping in Milan on the way back, we served two to three meals.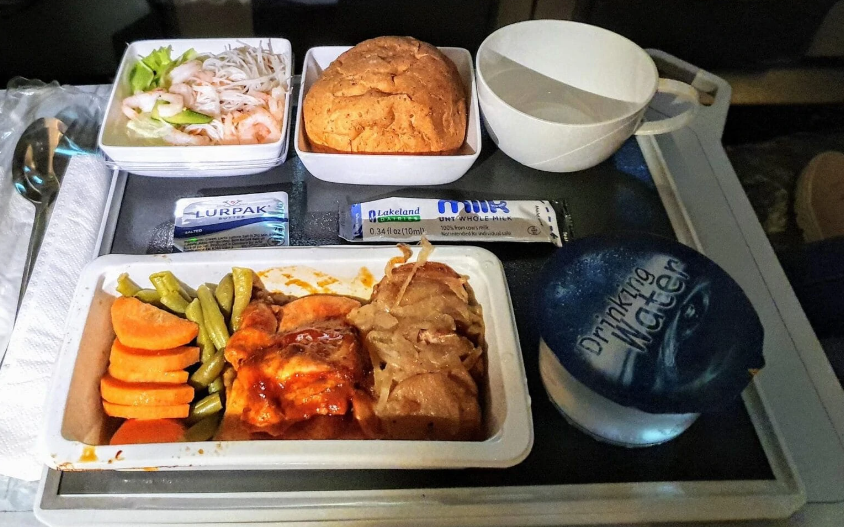 My flight from Singapore to Barcelona was direct and it was an overnight flight. We served dinner after take-off and breakfast before arrival. During the flight, snacks and drinks were available including apples, crisps, cereal bars and chocolates which the crew came around with. There were also sandwiches.
On the way back, the flight stopped in Milan but you don't get off the plane. We departed in the morning and landed in Singapore the next morning. We were served a sandwich after take off from Barcelona to Milan, lunch after take off from Milan and breakfast before landing. Snacks and drinks offered throughout the flight too.
I liked that Singapore Airlines offers a bottle of water to Premium Economy passengers, even if it is a smaller one to the one given in Business Class.
Service on Singapore Airlines Premium Economy
There is not a lot that can be faulted with Singapore Airlines service, and I know it because I have flown them in all classes of travel while being a Silver, Gold and PP Club member for the last 9 years. These two flights were no exception.
The Singapore Airlines staff are attentive, they are helpful and they anticipate needs. They will come to help place your bags in the overhead compartments. They will bring your essentials back down after take off and they will always respond to calls quickly.
We offered snacks and drinks several times throughout the flight and when I wanted anything. I just had to press the button and a cabin crew materialized in no time.
Premium Economy passengers use the same toilets as regular Economy passengers and I appreciated that they are always clean. Singapore Airlines goes the extra mile to ensure the toilets are in good condition no matter the flight duration or class of travel, this is something not a lot of airlines do.
Amenities for Singapore Airlines Premium Economy passengers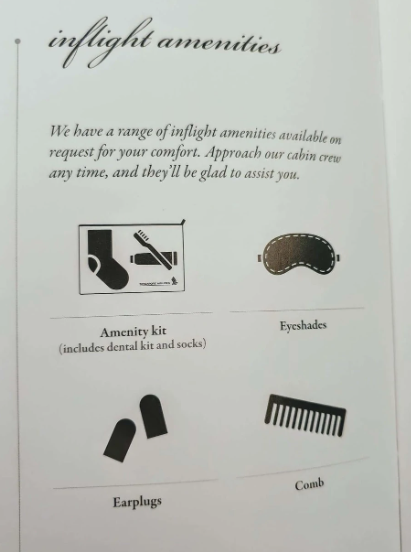 Surprisingly, Singapore Airlines gives an amenity kit to Premium Economy Class passengers. I say surprisingly because the airline known for not giving them to Business Class passengers so I found it interesting that they do give them to Premium Economy.
Amenity kits given out upon request only and this mentioned in the menu cards. You can request for socks, eyeshades or the amenity kit which includes a toothbrush and earplugs. It is nothing fancy but something I always appreciate because I like to wear the plane socks. In fact, I have accumulated so many that I recently gave away 20 pairs of them!
The amenity kit comes in a simple cloth bag that you can reuse for makeup or other small items when you travel. The items included are the same ones you get in Business Class, only they do not come in a pouch in Business but are rather given away along with sleepers.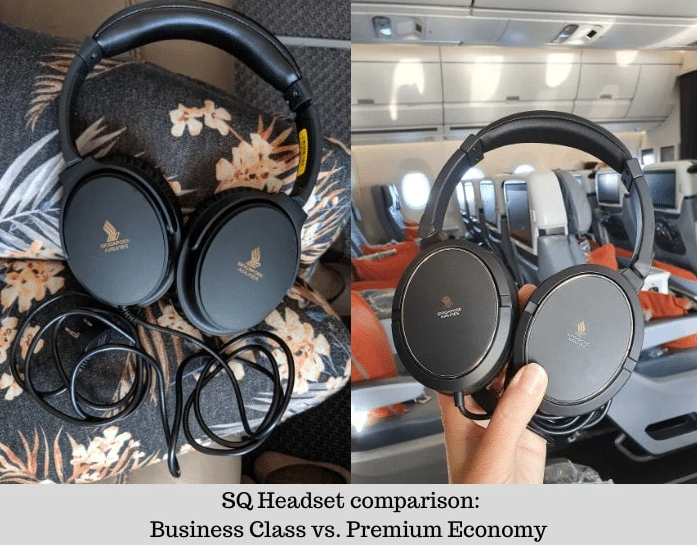 Perhaps the real value-added for Premium Economy passengers in Singapore Airlines is the noise-canceling headphones given. Economy Class passengers simple earphones while Premium Economy passengers nice upgraded headsets.
These are the same ones given in Business Class so they are quite good and were great at canceling the noise around me and helping me disconnect.
Entertainment on Singapore Airlines Premium Economy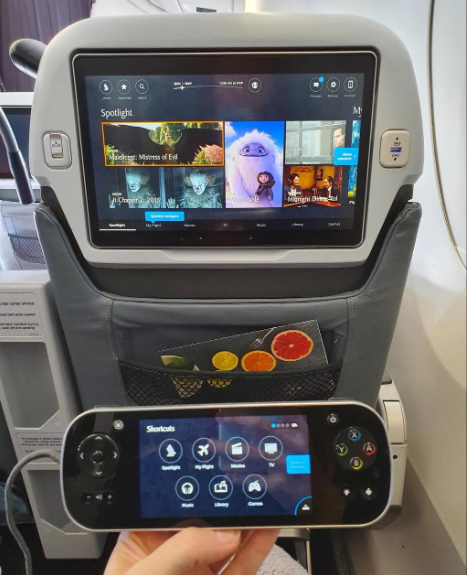 Singapore Airlines has one of the best in-flight entertainment systems in the market.
The system quick, intuitive, a huge array of content options. Updated monthly and of high quality, with large screens making it a great experience. Add the noise-canceling headsets and you have quite a pleasant flight ahead, no matter the duration.
You can screencast your phone too, allowing you to watch your Netflix downloaded shows via the WiFi system. If you are a frequent flyer of Singapore Airlines, you can also sign in to your profile and access. Your watched list and wishlist of movies and shows to watch or continue watching a movie you didn't finish on a previous flight.
Singapore Airlines also offers in-flight WiFi on all the flights with Premium Economy. While expensive, this is a good resource if you are on a really long flight. My experience with Singapore Airlines WiFi is that it is not the fastest. But it is good enough for email and social media.
Singapore Airlines Premium Economy – Is it worth the price?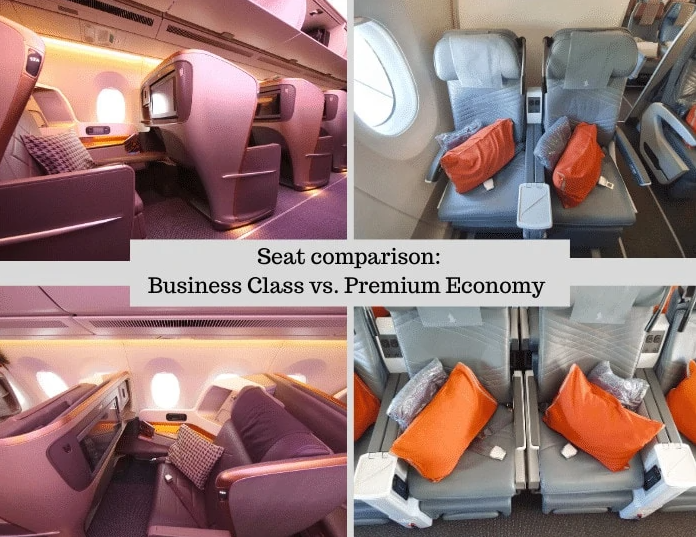 Singapore Airlines consistently ranks as having one of the best Premium Economy products in the market. So I wanted to know how it stacked against its Economy and its Business Class seats.
There is no doubt that the Premium Economy seats on Singapore Airlines are a significant upgrade from the Economy ones. The larger size and pitch plus the more spacious cabin gives a real premium feel. You feel less like you are in for a painful ride than for a fun one, always a good reality check.
But the question is whether this was worth the extra money. I flew Singapore – Barcelona – Singapore and the rates were:
Singapore Airlines Economy: SGD2,000.
Singapore Airlines Premium Economy SGD3,000.
Singapore Airlines Business Class for SGD6,500.
This ratio between the classes is a typical one for Singapore Airlines where Business Class is usually 3 times more than Economy and Premium Economy is 50% more than Economy.
For the same dates of travel, I could also fly:
Emirates in Business Class with a stopover in Dubai for SGD4,500.
A couple of Chinese Airlines with a much longer layover for SGD4,000 or even less.
Regular Economy Class with many other European airlines with stopovers in various cities for around SGD1,200-SGD1,500.
Assuming the direct flight with Singapore Airlines was the choice, the question. Singapore Airlines Premium Economy worth it? And specifically, was the extra comfort worth the extra SGD1,000?
I was going on a long holiday home for Christmas in Catalonia so I did not need to arrive fresh in Barcelona. It was fine for me not to have much sleep. I don't usually sleep much unless I go flat so I knew that despite the extra comfort. I would still not sleep a lot, which was the case.
However, I did arrive much more rested and less anxious to get out of the cabin after 15h and the extra space allowed me to move and stretch in the seat often.
Buying a Business Class ticket did not make much sense and the points option was no longer available. When I booked (flights to Barcelona sold out 6+ months ahead). So I am happy that I purchased the Premium Economy ticket because the extra cost was worth it for me.
If you are flying for business and Business Class is not an option. The Premium Economy product is definitely worth the extra splurge.
Where buying a Premium Economy Class seat is really worth it is if you are using miles. Premium Economy Class seats in Saver are cheaper than regular Economy Class seats on Advantage and are usually available to book with miles. What is more, Premium Economy seats only offered in Saver, or not available.
It is common to check availability for a flight and have only Advantage Economy seats available while cheaper Premium Economy Saver seats go for fewer miles.
I suspect this is because travelers are still not aware and don't even check, assuming they wouldn't have enough miles to book it.
For example, the flight to Barcelona is:

Bottom line: Before buying an Advantage Economy Class seat on Singapore Airlines, check the number of miles required for a Premium Economy Class seat as it is likely it will be cheaper.