There are countless hosting providers offering affordable web hosting, and they all claim to be the best. How does iPage stack up with other web hosting services?
Like most entry-level web hosting companies, iPage comes with some trade-offs. It's affordable on just about any budget but doesn't quite hit the speed and performance benchmarks of pricier web hosts.
Does iPage's affordability make up for its performance?
In this iPage review, you'll learn everything you need to know about iPage web hosting services, including price, performance, features, support, useability, and more…
Let's start with an in-depth look at iPage's different hosting plans.
iPage Hosting Plans
iPage offers three types of hosting: shared hosting, virtual private server (VPS), and dedicated hosting.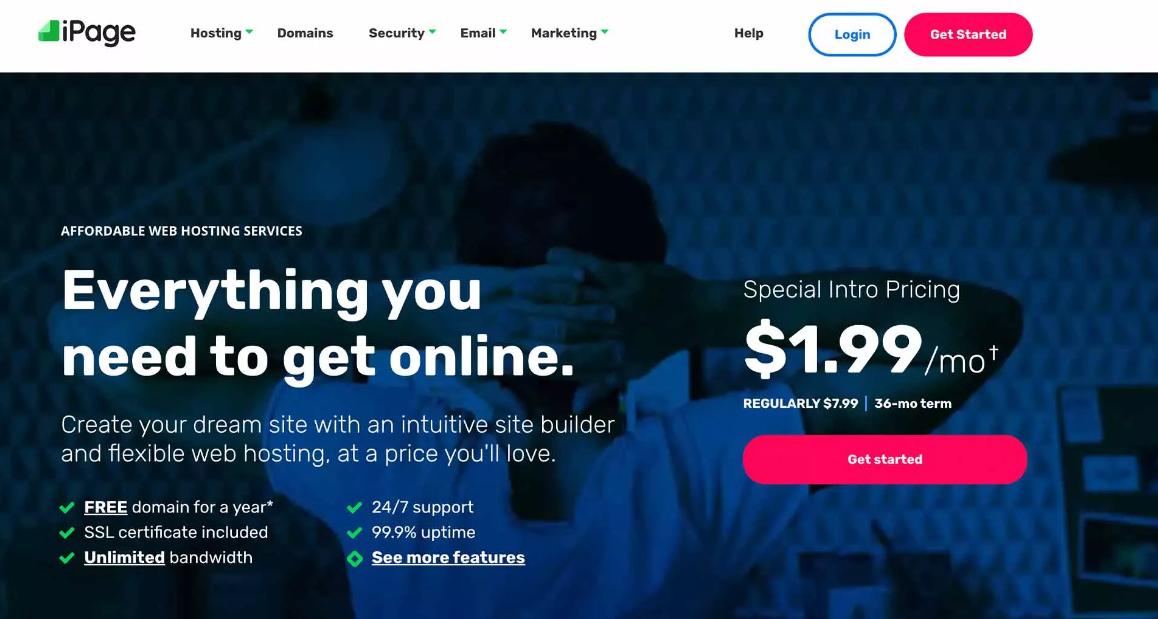 With shared hosting, your website shares a server with thousands of other websites. If another website on your shared server has a big spike in traffic, your website might slow down as a result.
Dedicated hosting gives your website its own server, which means you don't have to share resources with any other website. You never have to worry about another website slowing you down when you're on a dedicated server.
VPS is sort of the middle-ground between shared and dedicated hosting. You share a server with other websites, but you have exclusive use of a certain portion of that server's resources.
Here are each of iPage's hosting plans in detail:
iPage Shared Hosting
If you're launching your first blog or affiliate site, you'll likely start with a shared web host. iPage's shared hosting service is one of the cheapest shared hosting plans available today. The plan currently runs at the promotional rate of $1.99/month.
What features does iPage offer? Here's a quick look:
Affordable Hosting: It's hard to find another web host out there that can beat iPage on price. If you opt for the three year plan, you'll only pay $1.99 per month.
Ease of Use: iPage's user dashboard is beginner-friendly and intuitive. You can install WordPress with just a few clicks. There's also a free website builder to help you design your site's layout.
Free Domain For One Year: iPage charges $19.99 per year for a standard dot com domain name, but you'll get yours for free for the first year.
Unlimited Domains: iPage lets you add as many addon domains to your hosting account as you want. That means you can host multiple website from one hosting account.
There aren't too many providers out there who can compete with iPage on price. However, "you get what you pay for" definitely applies here. iPage lags behind other shared web hosts in speed, uptime, and customer support. More details on that later…
VPS Hosting
VPS is the next step up from shared web hosting. If your website has outgrown the resources you can get from a shared server, VPS can give you the speed and performance you need. It's the perfect middle ground between shared and dedicated.

Here's a breakdown of what you'll get with iPage's VPS hosting packages: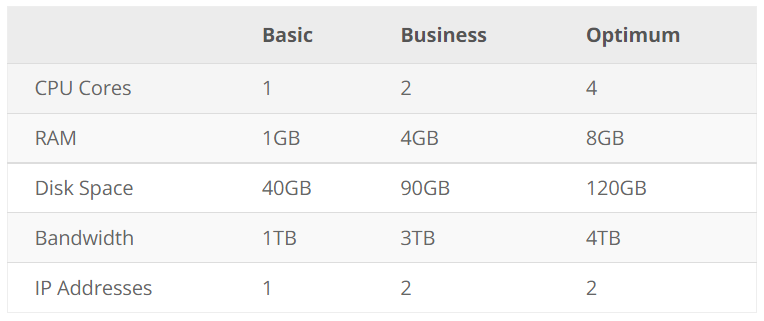 For VPS hosting, iPage ranks somewhere in the middle compared to other hosting providers. Its basic plan is cheaper than Bluehost's with comparable stats. On the other hand, GoDaddy offers a 2 CPU core, 2 GB of RAM, and 100 GB of disk space for the same price as iPage's Basic VPS package (before renewal).
Dedicated Hosting
If you've got an established—and profitable—site with lots of traffic, you might be interested in dedicated hosting. Dedicated servers are the most expensive option, but they give you the best possible speed and performance.

Here's a look at iPage's dedicated plans: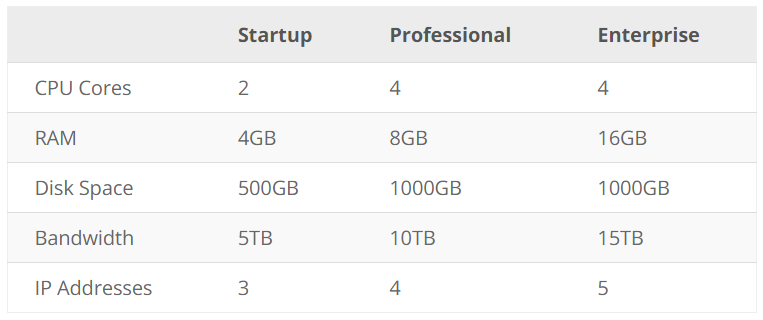 Going with dedicated servers mean making a serious investment. Unfortunately, iPage isn't too competitive in the dedicated hosting arena either. Bluehost has nearly identical plans for around two-thirds the price.
iPage Pricing
iPage displays promotional rates for all of its web hosting plans. As with other web hosts, you really need to read the fine print here.

Once your initial hosting term runs out, you'll have to renew your hosting plan—often at a higher rate than the one you signed up for. Renewal rates are sometimes more than double or triple promo rates. If you have auto-renewal set up, you could be in for an expensive surprise.
For example, let's look at their shared plan. The $1.99/month promo price only applies if you purchase 36 months of hosting upfront. If you want a shorter term, like 12 months or 24 months, you will pay a bit more per month.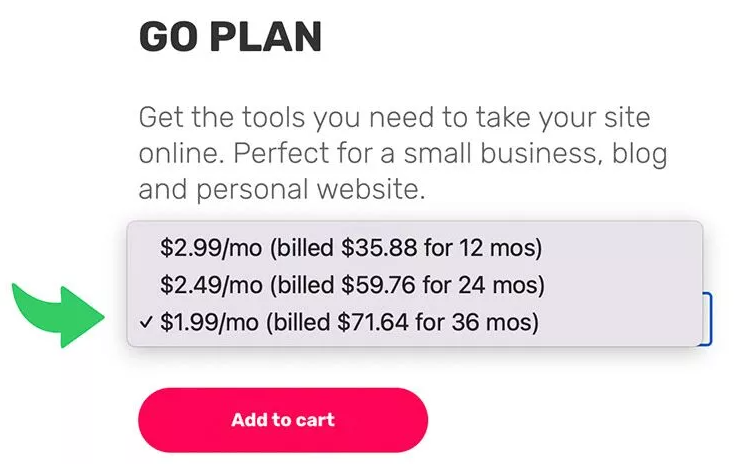 After your initial hosting runs out, you'll move onto their standard pricing, which varies depending on how long your new term is.
VPS and dedicated hosting plans follow a similar scheme of promotional pricing plus a higher renewal rate:
iPage shared pricing:

The iPage VPS pricing:

iPage dedicated pricing:

The iPage also has a 30-day money back guarantee which means there's little risk in taking their shared web hosting plan for a test drive.
iPage Performance: Speed And Uptime
One of iPage's biggest weaknesses is performance. A fast-loading and reliable website is critical if you want to make money online.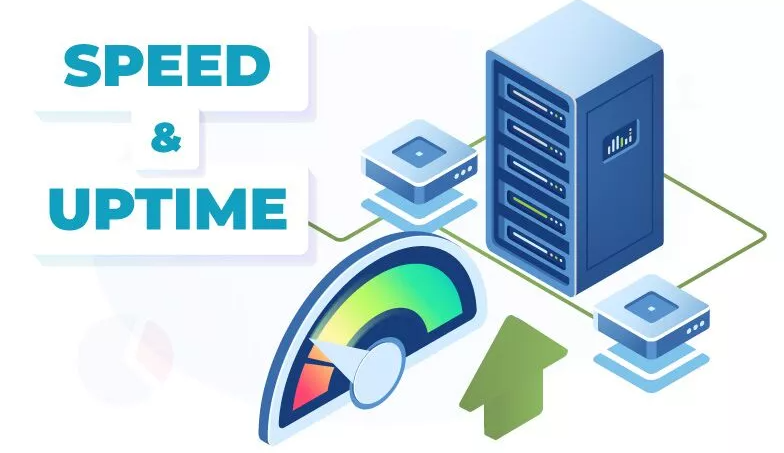 When it comes to performance, we're looking at two key metrics: speed and uptime. How does iPage handle the speed test? We'll be blunt—not very well.
We ran speed tests through GT Metrix to see how well iPage performs from three different locations around the world. Here are the results: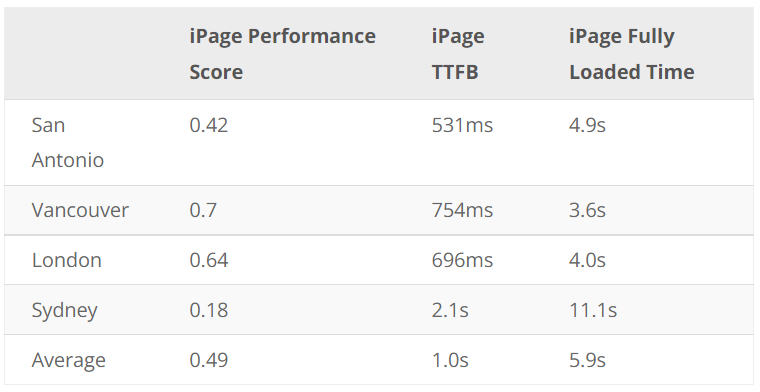 Pretty poor performance across the board. iPage's servers are all located in Boston, which means slow speeds for users outside of the US.
So speed's a bust, but what about reliability? Let's look at iPage's uptime.
iPage guarantees 99.9% uptime on their website. According to Pingdom—which has uptime data going back to 2015—iPage doesn't make good on that promise. In 2021, iPage had a 99.82% uptime, with over 400 outages and 15 hours of total downtime.

Reliability is huge, and for site owners building an audience or selling online, that level of downtime is pretty unacceptable, even for the most affordable hosting provider.
If you rely on your website for affiliate commissions, product sales, or even display ad revenue, those 15 hours of downtime could cost you hundreds or thousands of dollars.
Check out this roundup of the fastest hosting providers if you're looking for speed.
iPage Features
Free Domain Registration

iPage offers free domain registration with all of its plans. However, you'll have to pay the standard renewal rate to keep your domain registration after one year. Rates vary depending on your domain extension. For a standard .com domain, that's $19.99 per year—a pretty average price for domain hosting.
What if you already have a domain name?
You can transfer domain names to your account right from the dashboard. You'll need an authorization code from your current domain registrar. Once you go through all the steps in the dashboard, your transfer should complete in 7 days or less.
Unlimited Storage

iPage states on their hosting page that they offer unlimited disk space for customers as long as they're compliant with iPage's terms and conditions.
When it comes to shared web hosting, "unlimited storage" almost always has some caveats. If a website gets too big, it will eat up way too many server resources for a shared system to handle. When that happens, every website on the shared server can take a performance hit.
iPage has a disclaimer on instances where they've had to work with customers to reduce the number of files on their servers. As per their terms of service, they have a "soft cap" of 20,000 files.
Scalable Bandwidth

Speed is necessary to running a successful website. The bandwidth you get from your web host is what determines how fast your site will ultimately be.
Most shared hosting platforms claim to offer unlimited bandwidth, and iPage makes a similar claim with "scalable bandwidth."
The truth is, no shared server can actually give you unlimited bandwidth. But since most websites will never need more bandwidth than a shared server can provide, hosting companies say "unlimited" instead of getting into specific numbers.
So how does iPage's scalable bandwidth translate into performance? We'll cover that in some speed tests below.
Unlimited MySQL Databases

MySQL databases are how your website stores and organizes data. Within a MySQL database, different types of data are organized into various tables. It's not the same as file storage, but it's a central aspect of web hosting.
As with storage space, iPage puts a soft cap on MySQL databases: 1,000 database tables and 3 GB in total database size (or 2 GB for a single database).
If you go past those limits, iPage will request that you pare down your databases or move to a VPS or dedicated plan.
Should you worry about those limits?
The short answer is not really. The average MySQL database for a WordPress site is around 85 MB. If you're starting a brand-new website, it would take years of posting content every day to get your database even close to those levels.
Free SSL Certificate

Even if you plan on running a simple info blog, you want to keep your site secure. An SSL certificate tells browsers like Chrome and your users that they can trust your website. Google even uses it as a ranking signal. In other words, you need an SSL certificate.
Every iPage plan comes with a free SSL certificate that you can activate from the dashboard with a single click. Free SSL is a standard basic feature for many shared web hosting providers, so they don't really have an advantage here.
iPage might try to upsell you on a premium SSL certificate for an additional $3/month—don't take the bait.
WordPress Hosting
iPage offers a free WordPress install with their shared hosting plan. Setup is a super easy process—just a few clicks from the dashboard, and you'll have WordPress up and running in less than five minutes.

iPage also offers managed WordPress hosting plans, which could be useful if you just want to get a WordPress site up and running. It's a little more expensive than their standard Go Plan: $3.75/month for the WP Starter plan and $6.95/month for the WP Essential plan.
Like their other hosting plans, you'll pay higher renewal rates once your term is up.
Now, you might be wondering: Why should site owners go with WordPress hosting when iPage's standard plan comes with WordPress for free?
With WordPress hosting, you'll get 24/7 WordPress support and pre-installed themes and plugins. As you'll find out later, iPage customer support isn't exactly a selling point, so you're essentially paying a monthly subscription for themes and plugins.
Website Builder
If you're not looking to run a WordPress website, iPage features a free site builder that can hold your hand through the web design process.

The iPage Website Builder works by taking you through a series of questions to generate a custom web template. You can run with the template they generate for you or browse through various pre-made templates organized by website type (blog, online store, etc.) and niche (fashion, photography, sports, etc.).
Website Builder has a free tier and two premium tiers
This is the free Website Builder that's included with all hosting plans. It lets you build a 6-page website, access pre-made templates, and select from over 550,000 stock images.
For $6.99/mo, the Business tier gives all the Starter features plus unlimited pages, revision history, and analytics data.
For $12.99/mo the eCommerce tier gives you all the Start and Business features and lets you sell products online, track and manage inventory, use PayPal integration and offer promo codes.
Their Website Builder is passable, but it's missing the drag and drop functionality and other quality of life features that other web hosts and content management systems provide.
cPanel
Almost every web hosting provider uses cPanel for backend site management. cPanel has a lot of functionality, but you might find it a little overwhelming if this is your first time running a website.
iPage uses its control panel, and it is much more beginner-friendly than cPanel.
On the dashboard you'll see a summary with domain info and options. The left-hand sidebar lets you navigate to Website Builder, WordPress, email management, security, DNS & nameservers, and transfers.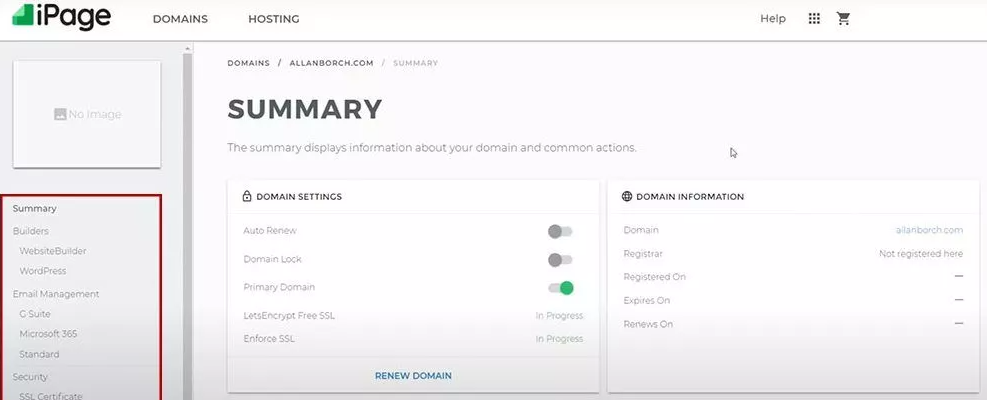 One thing to be aware of is that iPage really tries to upsell you in their dashboard. For example, the SSL option in the left-hand sidebar takes you to their paid SSL certificate. But on the main page, there's an option called LetsEncrypt Free SSL. Simply toggle that option on, and you have the free SSL iPage advertised.
Support
If you plan on running your website for several years, you're inevitably going to run into some roadblocks. A strong support system can help you troubleshoot issues you're having with your site.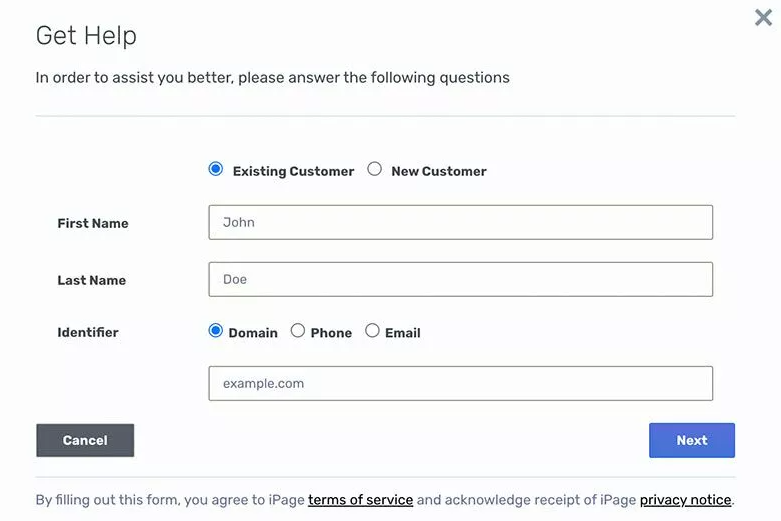 iPage boasts 24/7 support, but availability doesn't mean quality. Granted, iPage has an incredibly fast support response time. When you reach out to their customer support team, you'll likely get a response in less than five seconds.
Unfortunately, things go downhill after that.
The support team doesn't always have the technical knowledge to answer your questions. When that happens, they'll create a support ticket, and you're stuck waiting for someone to get back to you.
Here are a few Trustpilot reviews lamenting iPage's poor customer support: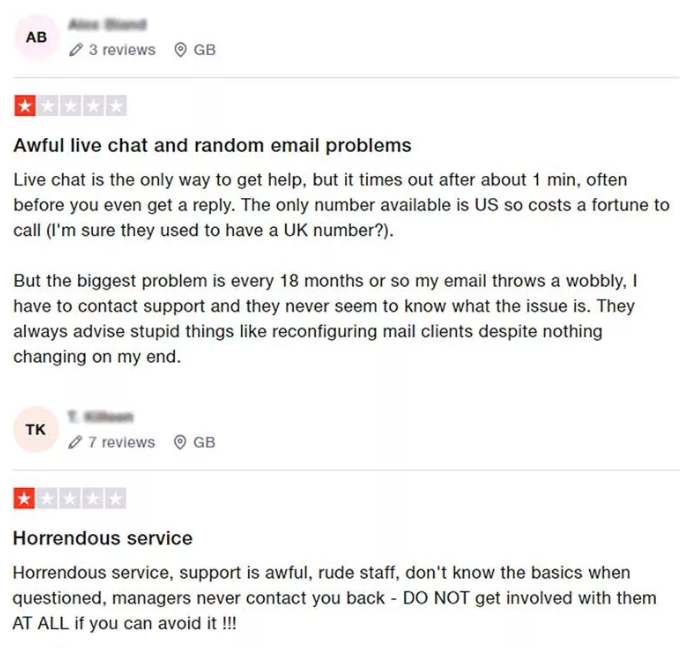 Some problems can wait, but if your whole site is broken, waiting for hours or days for help can be excruciating.
On top of that, users have reported iPage support trying to upsell them on premium features instead of working to resolve their issues.
In the end, iPage's near-instant response time doesn't make up for their poor support.
iPage Pros And Cons
Pros
Low Price. Few shared hosting plans can compete with iPage on price. Just make sure you know when your initial term is up and when you'll start paying higher renewal rates.
Ease of Use. iPage is a hosting platform designed with beginners in mind, and it shines through on their backend. One-click WordPress installations and email setup are easy to find and navigate.
Cons
No Free Backups. iPage is missing some crucial features that other shared hosting platforms provide. The biggest standout is their lack of free daily backups. This might be a tradeoff for the low price, but Kinsta—another cheap provider owned by EIG—provides free weekly backups.
Poor Support. iPage has earned a reputation of having lackluster support. While response times are impressive, the lack of helpfulness from support staff and constant upsells are irritating.
Performance Issues. If you're looking for a hosting package with decent uptime and load speeds, prepare to be disappointed with iPage. Since their servers are all located in the US, visitors from overseas will experience abysmal load speeds.
iPage Vs. Bluehost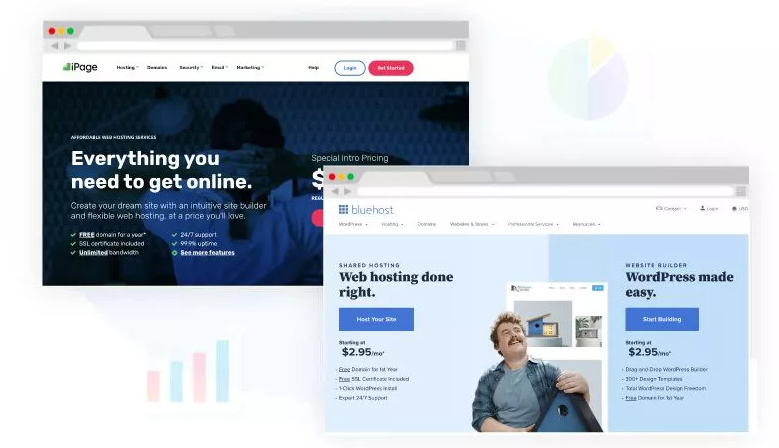 So far this iPage review has only considered iPage in isolation. But how does it stack up to other popular web hosting plans?
For comparison, let's take a look at how iPage compares to Bluehost when it comes to performance, pricing, ease-of-use, features and support.
iPage Vs. Bluehost: Performance
Fast and reliable performance is one of the top factors to consider when choosing a web host. When it comes to shared web hosting, the cheapest options usually mean slower performance.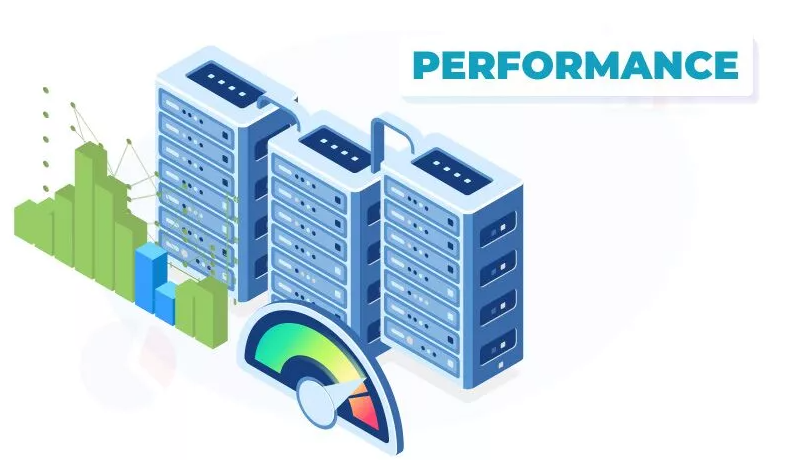 We ran iPage and Bluehost through GT Metrix to see how their speed stacks up side-by-side: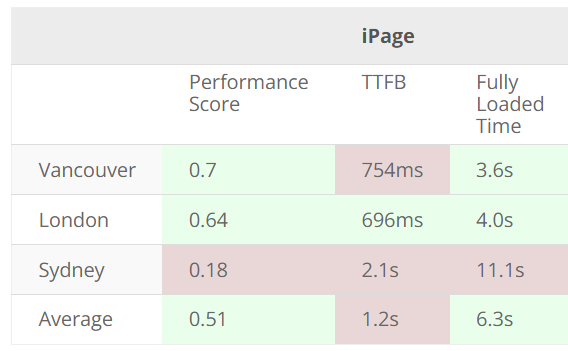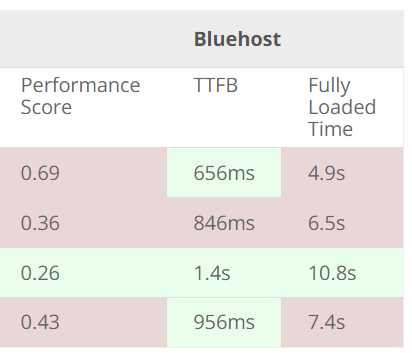 Both providers suffer from only having data centers in the United States, but iPage tops Bluehost in performance scores and fully load times.
iPage Vs. Bluehost: Pricing
We've already mentioned how affordable iPage's shared hosting plan is. Compared to Bluehost's cheapest plan, you can save heaps of money with iPage.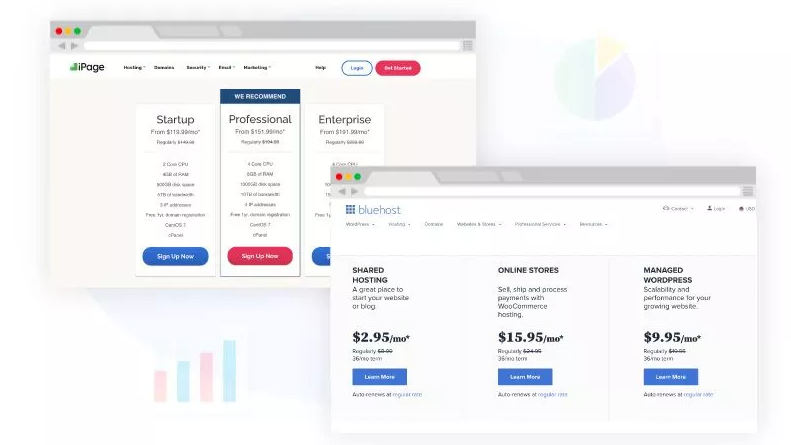 iPage offers a three-year hosting plan for $1.99/month, which equals an upfront cost of $71.64.
Bluehost's basic plan is on sale for $3.45/month for the first year, after which the standard renewal rate kicks in. For comparison, let's go with the $9.49/month renewal rate for a two-year plan.
The total cost for 3 years of Bluehost would be $269.16—nearly four times the price of iPage.
iPage Vs. Bluehost: Ease-Of-Use
Bluehost uses cPanel while iPage uses its own control panel dashboard.
cPanel has a lot of options and can have a bit of a learning curve. But once you get the hang of it, cPanel is actually pretty intuitive and easy to use.
iPage's dashboard takes a minimalist approach and is easy to pick up right out of the gate. More advanced or lesser-used functions are hidden in submenus, which helps avoid the overwhelm new users might feel with cPanel.
iPage Vs. Bluehost: Other Features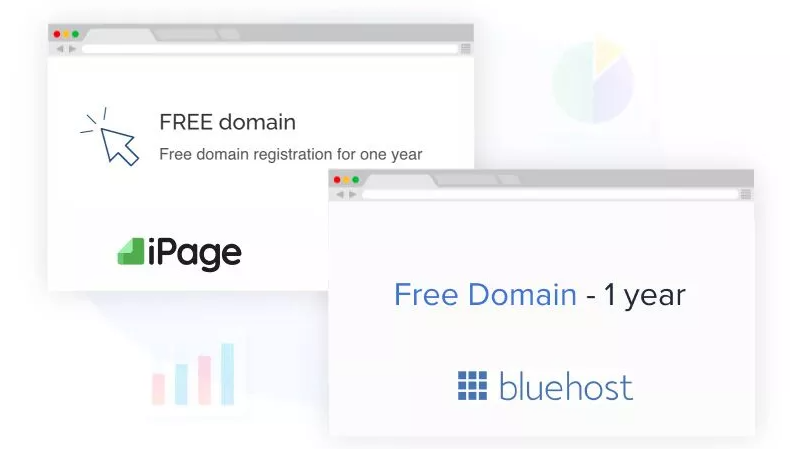 Both companies offer a free domain name for one year, a 30-day money-back guarantee, free SSL certificates, and one-click WordPress installs. Both offer similar premium add-on features like domain privacy and Sitelock Security.
Bluehost has the edge over iPage with its Website Builder, which has a drag and drops functionality and better customization.
iPage Vs. Bluehost: Support
We mentioned iPage's abysmal support earlier, but how does it look next to Bluehost?

Support isn't a strong selling point for iPage or Bluehost. iPage has the response time, but their support team isn't always helpful and loves pushing the upsells. Bluehost offers better support but has issues with response time.
How do they fare on Trustpilot?
iPage has a 1.7 rating, while Bluehost has a 3.0 rating. Neither of those scores are good, but Bluehost is the clear winner here.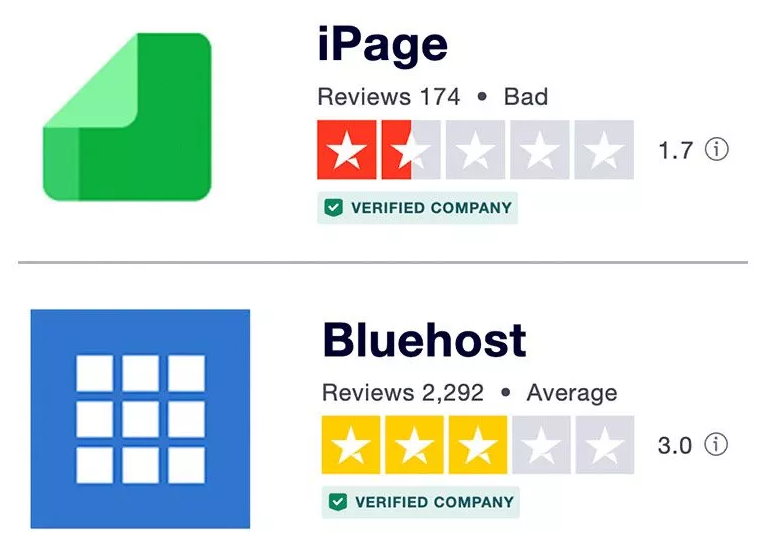 iPage FAQs
Where are iPage's servers located?
iPage's servers are located in Boston, MA in two data centers. If you're using iPage, visitors from outside the US might experience slow load times when using your website. Consider using a free CDN like Cloudflare.
How Do I Add A Second Website To My iPage Account?
Add a second website to your iPage hosting account by logging into your account, going to the domain dashboard, and selecting "Purchase Domain." After purchase, your new domain will be listed on your domain dashboard, where you can set up WordPress or use the Website Builder.
How Do I Contact iPage?
You can contact iPage in two ways. You can their online support chat from the menu at the bottom. The home page or the contact page. You can also call iPage at 1 (877) 472-4399.
How Do I Delete My iPage Account?
You can delete your iPage account by going into the dashboard, clicking on the hosting tools icon, and selecting hosting renewal. From there, you can cancel your automatic renewal payment or cancel your account immediately.
Does iPage Use cPanel?
No, iPage does not use cPanel. Instead, they use their own custom dashboard for back-end website management.
The Final Verdict
For a hosting service, iPage is not the best option. Granted, it's cheap—$1.99/month for three years might be the lowest price around for a shared hosting service. But that affordability comes at a cost.
Speed and reliability are two things you don't want to compromise on for web hosting. iPage's uptime and load speeds are not up to par. Site owners looking to grow an audience or build an online business should probably steer clear of iPage. Other hosts like Siteground or Dreamhost can give you much better performance at a decent price.
We can only recommend iPage if you're just trying to get your feet wet in running a website and want to get started on the lowest possible budget.