Overview
Iberostar resort in Cancun is a luxury all-inclusive hotel in the hotel zone with a focus on family fun.
If your ideal vacation features a lot of time in the water, you won't be disappointed. Iberostar Selection Cancun has ten pools, including a kids' splash area with water slides.
The on-site dive center is perfect if you prefer the natural waters of the Caribbean, or simply hang out on the white-sand beach.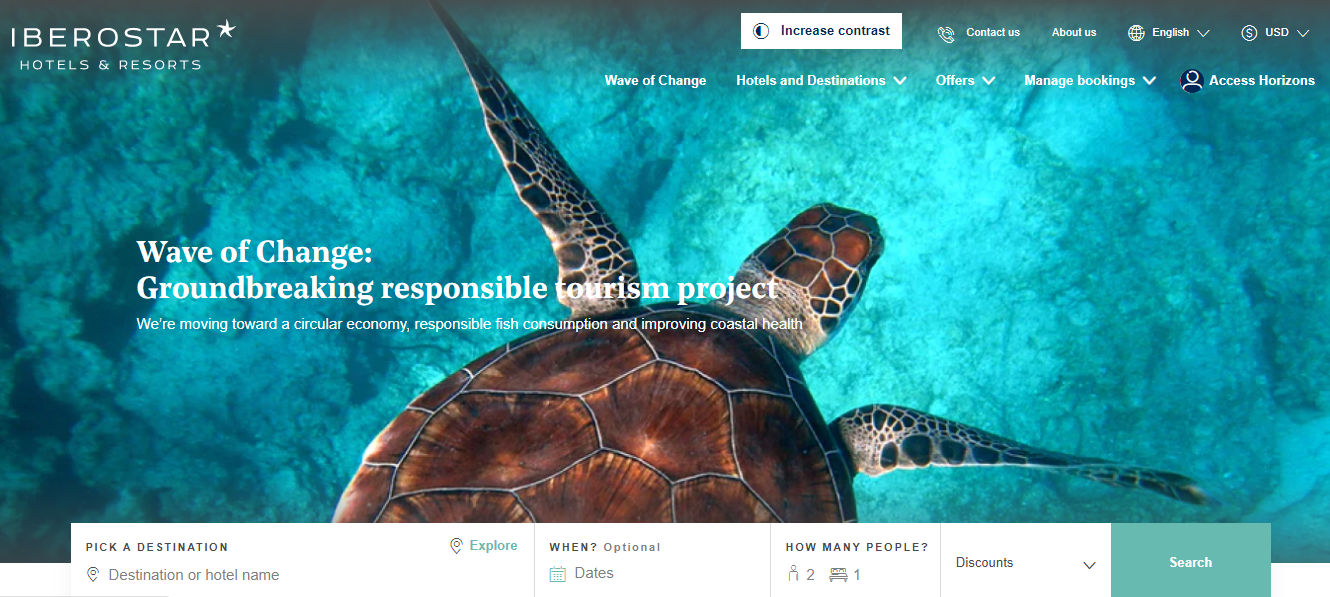 Included in the room rate is all drinks, food, daily activities, kids' club and nightly entertainment.
If you are wondering how far is iberostar cancun from the airport, the answer is not very: the resort is just a 15 minute drive from Cancun International and around half an hour from downtown Cancun.
Another question that often comes up around Cancun: is Iberostar Cancun safe? Fortunately the area is safe for tourists and millions of tourists visit every year without safety issues.
Read on if you have been looking for Iberostar Cancun reviews and find out if this is the right resort for you.
What We Love
All-inclusive resort
Beautiful views and beach
Huge choice of pools
Lots of activities and kid's clubs
What We Don't Like
Conventions can feel like they dominate the place
Mixed reviews for the food
Music by the pools can be annoying
Things to Consider Before Booking
Budget
All-inclusive room rates may appear expensive, but when you calculate the cost of food, drinks and activities they work out to be pretty good value for a family.
If you're asking "is it crowded?" then you might want to save money and avoid people by booking in the off-season.
Iberostar offers a good balance between value and luxury. It is not as pricey as some of the more upscale resorts in Cancun but still offers a five-star experience.
Packages
Deals on flights and accommodation are available from the hotel. Booking early, last minute or off-season are always good strategies to finding a cheaper price.
Iberostar also has a rewards program, so regular customers can access gifts or discounts by enrolling.
Transfers to the hotel from the airport are available to guests who book directly with the hotel and are staying for a minimum of five nights.
Family Interests
It can be difficult to balance family expectations but Cancun has a lot to offer in one place.
You can enjoy the natural beauty of the ocean, or take a tour to a cenote; visit the ruins of El Rey, just a 15-minute walk away; take part in a yoga class or workshop; or just snooze on a lounger.
Children are well catered for with two kids' clubs: one for four and up, and another for teens. Kids' activities are scheduled daily, plus there is a great kids' pool.
Check-in Time
Check-in time is 2 p.m. and check-out is before midday. However, if you expect to arrive earlier, let the hotel know and they will do their best to get you in your room earlier.
Late check-out is available for a fee.
Features & Benefits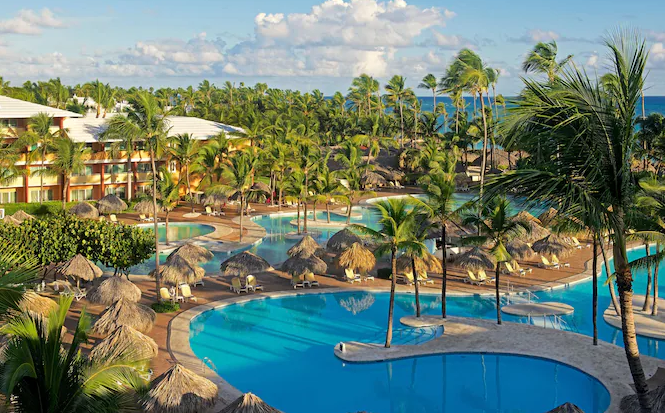 Amenities
Pool
Golf Course
Tennis Court
Spa
Babysitting
Children Programs
Cribs
Free Wi-Fi
Dive Center
Pool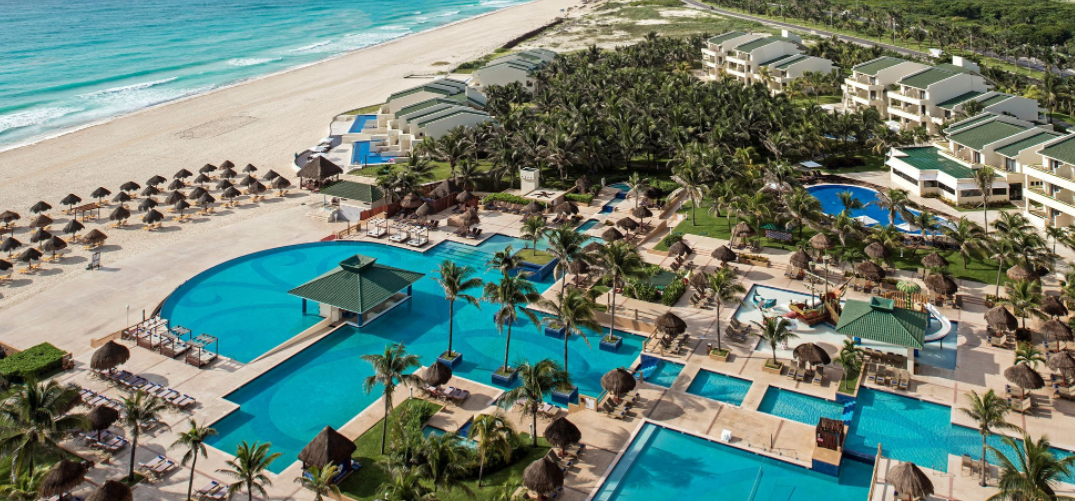 With ten pools, there is plenty of places for a swim. Iberostar Cancun has hot tubs, infinity pools, a swim-up bar and a kids' pool.
There are plenty of places to relax but with a busy onsite convention center, you may suddenly find yourself competing with convention guests who unexpectedly descend in large groups.
Families who prefer peace and quiet may also get tired of the poolside music.
Golf Course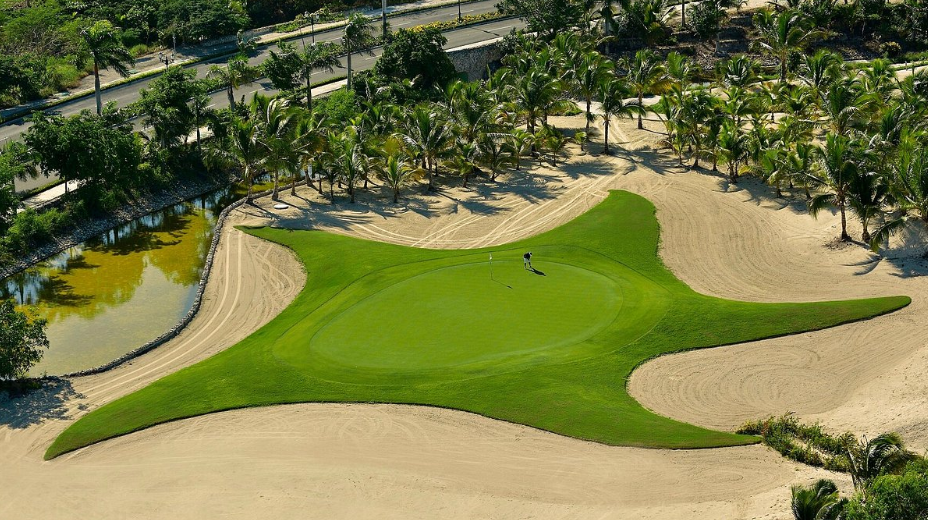 Iberostar Cancun hosts an oceanfront, 18-hole golf course. There is also a driving range with experts on hand to help you perfect your swing.
As this is all-inclusive, all equipment is provided and there is no need to bring your wallet to the onsite restaurant.
Ask the hotel directly for up-to-date golf rates for guests and golf club rentals.
Tennis Court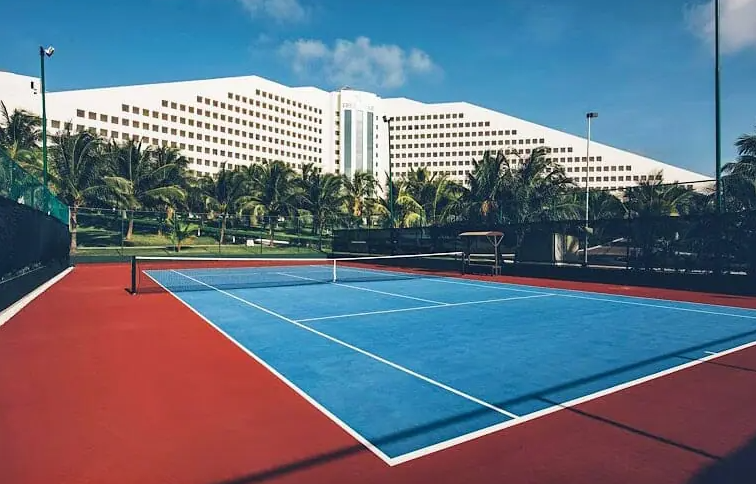 Iberostar has some great sports facilities included in the price, such as tennis courts, a volleyball court, basketball courts and even a regulation FIFA soccer field.
Spa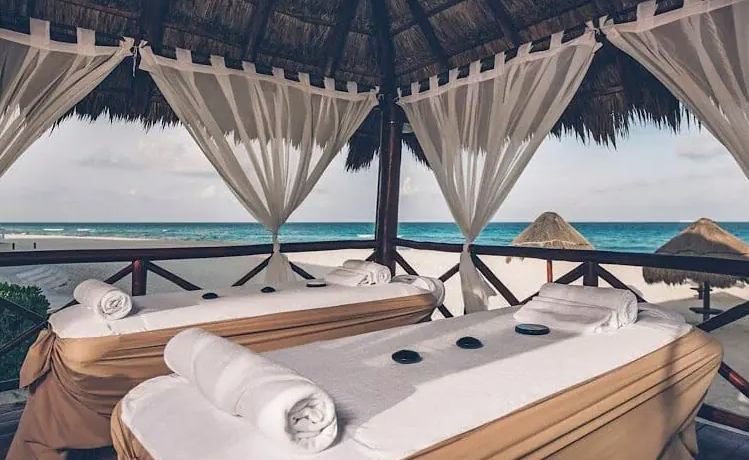 The spa, which costs extra, offers popular treatments including hot stone massages and chocolate body scrubs.
There are also hydrotherapy areas in which to unwind.
Babysitting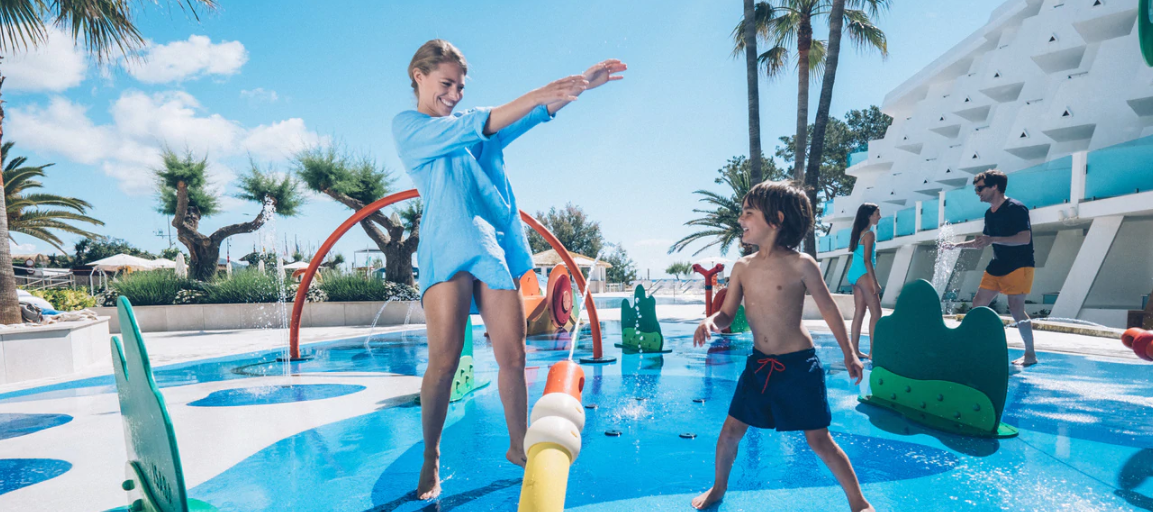 Babysitting is available, for an extra fee. Check with the hotel for the latest prices.
Children Programs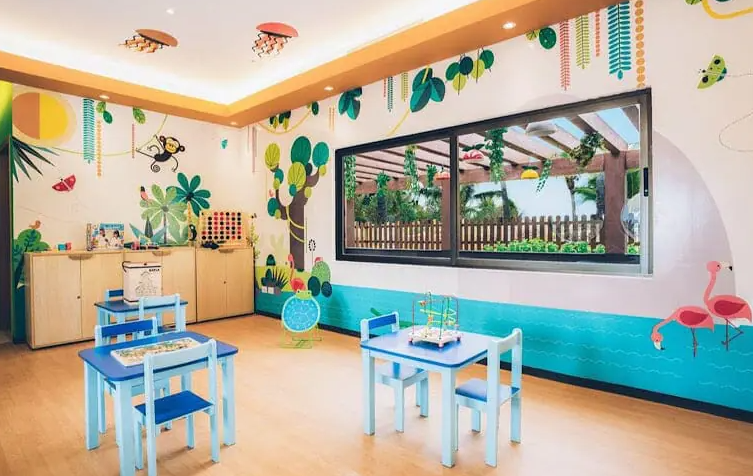 There are a lot of activities available for kids with staff organizing games and crafts daily.
The Star Camp program offers a range of activities, from cooking to treasure hunts, to simply playing in the club house, so there is something for everyone.
Cribs
Cribs are available on request.
Free Wi-Fi
If you were wondering: does Iberostar Cancun have WiFi? The answer is yes, Iberostar offers free WiFi throughout the resort.
Dive Center
Don't miss the natural beauty of Cancun just because it is underwater! Iberostar has a dive center on the beach with certified PADI instructors.
PADI courses are not included in the room rate but can be booked for an extra charge. Alternatively, ask about dive tours, which are open to new and experienced divers alike.
Family Activities
Sports Facilities
Beach
Entertainment
Sports Facilities
If you are a sporty family, this is a great resort. Iberostar offers basketball courts, volleyball courts, two tennis courts and a regulation FIFA soccer field.
A family-friendly 18-hole golf course is also just next door.
Beach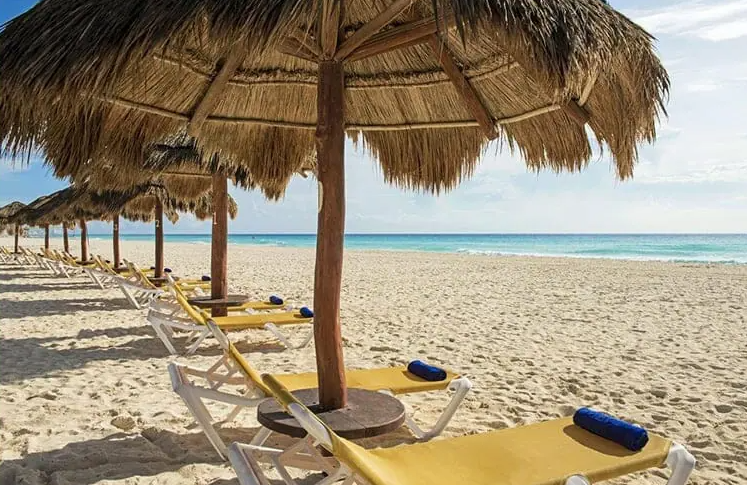 The extensive, beautiful beach is perfect for sandcastles and paddling, although the sea can sometimes be too rough for swimming.
Guests can walk directly from the pool to the beach and in some suites, directly from their room.
Umbrellas and loungers are available for guests.
Entertainment
The Iberostar Cancun hosts nightly live shows with music, dancing and even magic.
For Mom and Dad
Iberostar has a health and wellness program for adults called Aliveness.
Alongside its outstanding sports facilities available, the resort offers yoga classes, running circuits through the lush gardens, bicycles and paddle surfing.
Take an art or cooking class, try wine tasting or go for a nature walk.
Alternatively, check out the spa, which offers hydrotherapy areas and some relaxing treatments, including a popular hot-stone couples massage.
If you prefer Pina Coladas to yoga it's also fine to hang out at the may bars and peruse the extensive drinks menu.
Dining Options
The Iberostar has six restaurants, all open daily, and nine bars on site.
Antiguo Laguito Buffet
Antigua Laguito offers buffet breakfast, lunch and dinner. The food is international and dress code is smart casual.
American Bistró
Serving American fare from New Orleans to New York, this restaurant is open for dinner every night.
El Maguey Mexican Restaurant
Sit by the ocean and enjoy Mexican food buffet-style or a la carte. Both options are included in the room rate.
Naga Hibachi Japanese Restaurant
Teppanyaki, sushi and sashimi restaurant, open for dinner on an a la carte basis. The hotel recommends you make a reservation for this venue.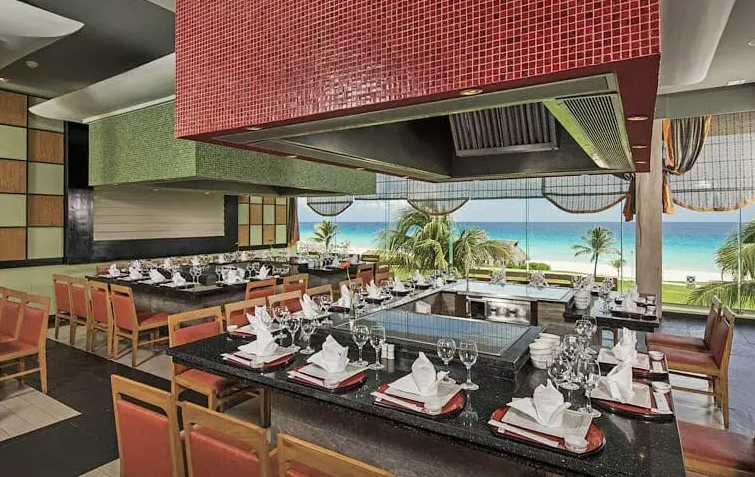 La Horma Gourmet Restaurant
La Horma is the resort's white-tablecothed romantic French restaurant. Book a babysitter for this one, as children under the age of 12 are not allowed.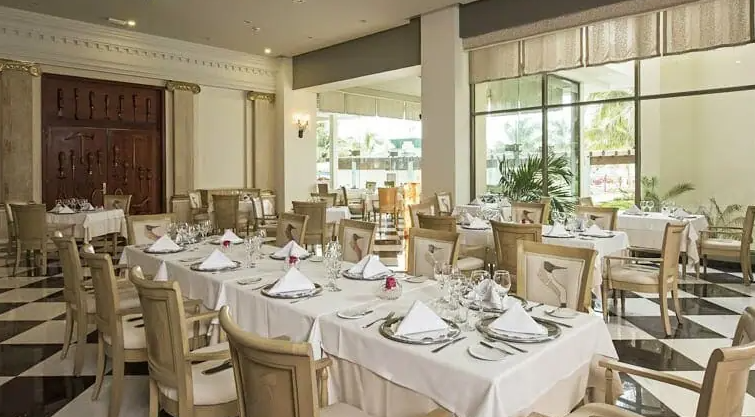 La Parrilla Rotisserie
Don't turn up if you are a vegetarian: this a la carte restaurant is all about steak and fish.
Room Information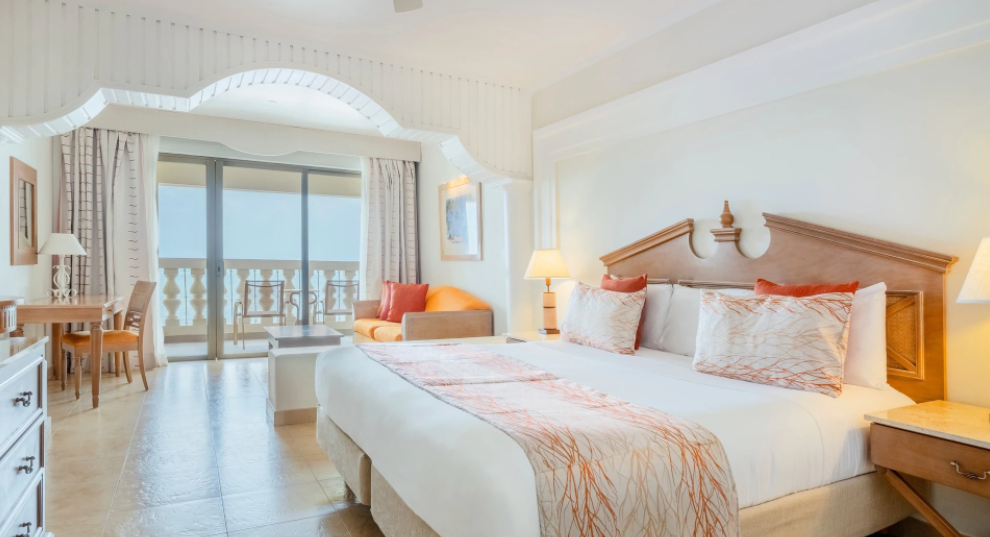 Iberostar offers doubles, villas and suites and all types of rooms accommodate up to four adults.
Rooms are well appointed, comfortable and stylish. You can expect a minibar, 24-hour room service, a flat screen TV with a DVD player, bathrobes, a coffee maker and free WiFi.
Doubles, which feature two queen beds or one king, are the least expensive. Some have ocean views and if you book the superior double, you will get a balcony to go with your view of the Caribbean Sea.
The villas have a bit more space and a few extras, such as a smart TV and a turndown service.
Select a garden view for privacy, or ocean view for a fabulous vista. Families looking for a bit more space can choose a superior ocean view villa, which has a separate living area and kitchen.
If you are really pushing the boat out, take a look at the swim out oceanfront villa, which has its own pool and is sited directly on the beach.
Wheelchair Accessibility
There are five handicap accessible rooms and the resort is wheelchair friendly.
Alternatives
Iberostar Cancun vs Iberostar Paraiso Maya
This Iberostar resort is in Playa del Carmen, which is on the coast halfway between Cancun and Tulum.
It is a family-friendly, all-inclusive resort, set back from the beach in the rainforest and mangroves.
Away from the nightlife of Cancun, families who want to explore the nearby eco-park of Xcaret or the marine park at Cozumel may prefer this resort.
Lazy river and wave pool
Surrounded by rainforest and wildlife
Nightly entertainment
Seadust Cancun Family Resort
Seadust is a lively, family-friendly resort in the heart of the Cancun hotel zone. With a kids' water park and plenty of upbeat activities, parents won't have to worry that their children will get bored.
The all-inclusive hotel has a huge pool complex and is right on the beach. This is not geared to romantic couples, but families will appreciate the entertainment, diverse food options and relaxed atmosphere.
Closer to the airport and away from the Cancun party scene
Waterpark
Music and games by the pool
Hard Rock Cancun
Families looking for plenty of entertainment and fun, music centric activities should take a look at Hard Rock Cancun.
The kids' clubs are a particular highlight with unique things to do and bright decor. Older children will also be thrilled with the Xbox 360 if you book the deluxe family room.
There is plenty for adults too, with nightlife nearby.
Fun, young vibe
Great kids' club
Modern, luxurious rooms
Conclusion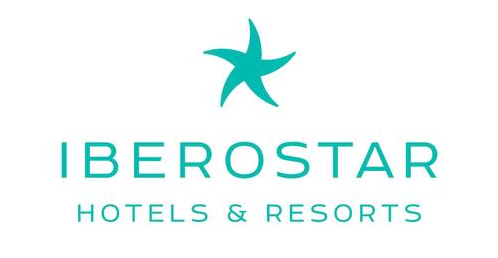 Iberostar Cancun is a good choice for families looking for plenty of on site activities. There are enough restaurants and things to do to not feel bored, even if you never leave the resort.
Rooms are modern and include a lot of thoughtful touches, whether you opt for a standard room or a beachfront villa.
Service is good, from the booking process where you can select the exact room you want right through the stay.
While the restaurants do not have the fine dining focus of some Cancun resorts, the food is good and the dining areas have a relaxed, friendly vibe. Overall, this is a great resort with impressive amenities.