Hotwire review
Hotwire is a good service for finding low-priced hotel rooms and bundling them with flights, but it's not as useful as other services.
The Hotwire is a hotel booking service that also offers flights and car rentals. It's a good way to find bargains because it sells rooms, seats and cars that have gone unsold by the companies. Unlike other booking services such as Orbitz and Expedia, it doesn't have a rewards program so it might not be a good option for frequent travelers.
We found searching for hotels through Hotwire to be somewhat more difficult than some of the other services. It doesn't have as many sorting or filtering options as other booking sites. Many of the basics are still there: You can sort by price, star rating and area.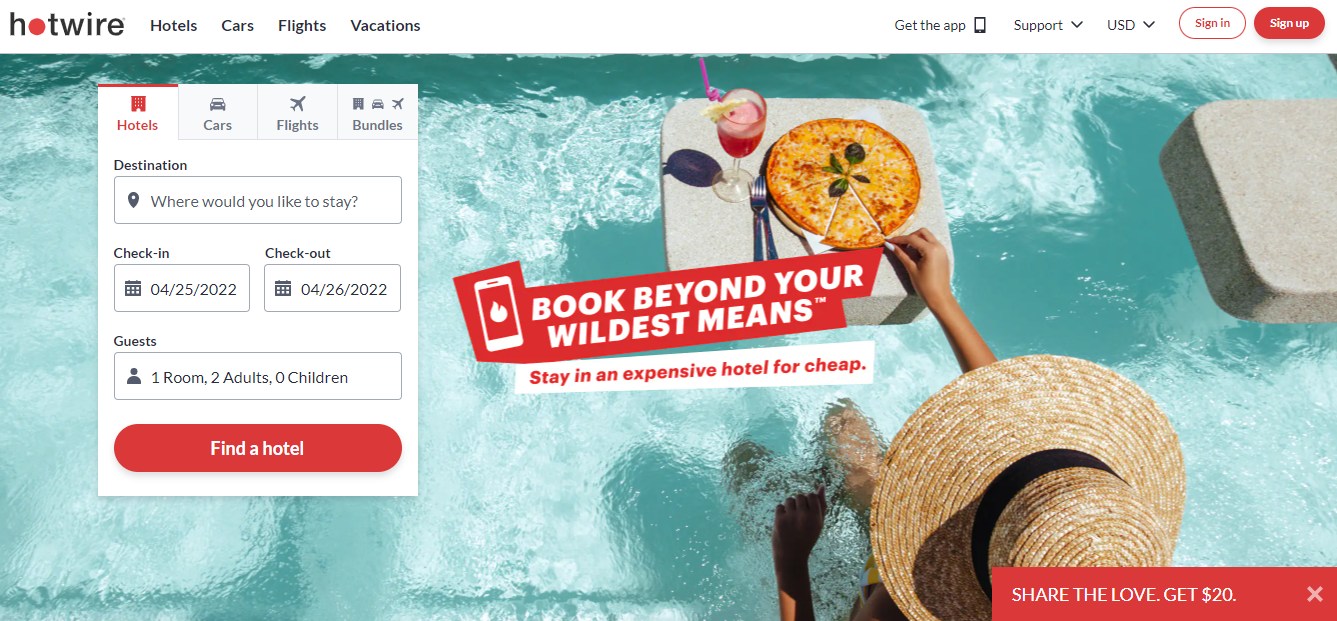 One thing we really liked was Hotwire's map view, which segments cities into areas. When you click on a city section, you are shown the available options in that area. You can't filter by accommodation type, and we weren't able to find hostels through Hotwire, so single, cost-conscious travelers may want to look elsewhere.
Hotwire lists its Hot Rates first. These are highly discounted rooms, with prices reduced by as much as 30 percent. The hotels themselves are anonymous; you'll be given a general location and list of amenities, but won't know the name of your hotel until you complete the purchase. So, if there's a hotel chain you prefer above others, this may not be your preferred shopping experience.
If you're planning a trip in the future, you can set up a price watch that will send you emails if the price for a specific date changes. Unlike other booking service, this doesn't track a specific listing, but rather a specific date range.
One of Hotwire's chief drawbacks is the absence of a rewards program. You can create an account and get access to members-only pricing, but there's no option to earn points from your purchases. The best rewards programs we saw give you points for each dollar you spend booking through a service. So while Hotwire is a good way to find bargains, it may not be the best for frequent travelers.
With its hot rate deals, Hotwire offers some significant discounts. You can book cars and flights, but there's no rewards program to join.
How Does Hotwire Work?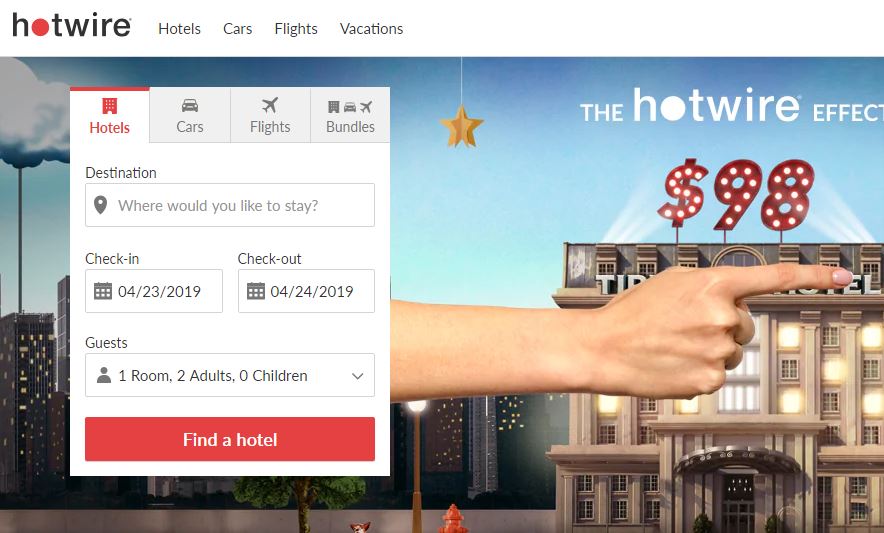 Instead of researching and comparing rooms between dozens of websites, looking stock photos that never look like the room you stay in or reading fake reviews online, you can bypass all of the hassles with simply selecting a list of things most important to your stay. With Hotwire, you are presented with a list of priorities and some basic information to fill out. Things like the area, amenities, star rating, and price. From there you pay for your room but you are not told the hotel name until after purchase…and it's non-refundable or changeable.
What Are The Benefits?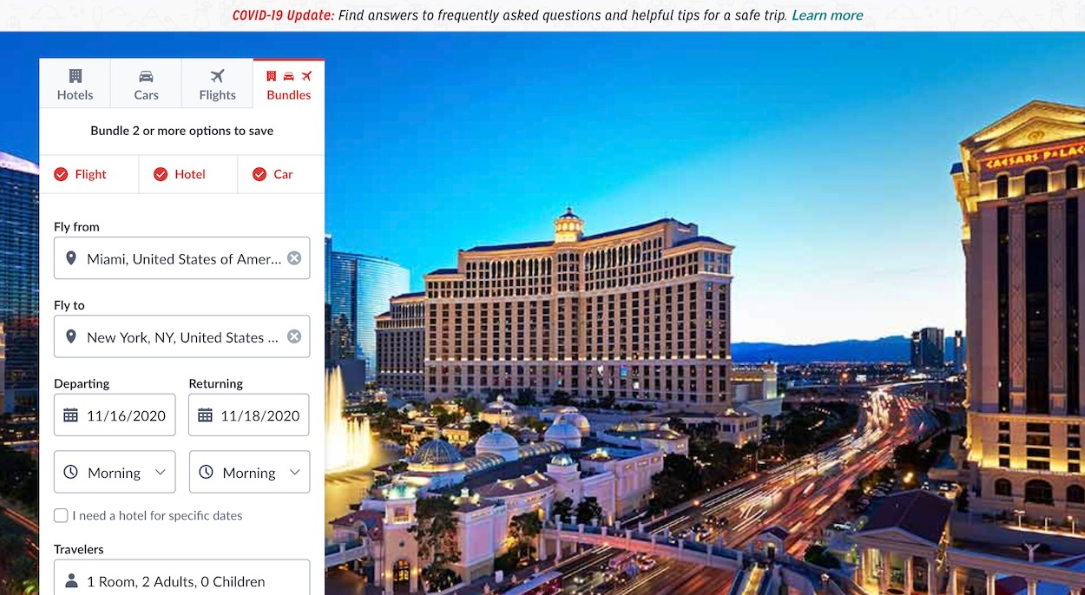 The benefits of booking with Hotwire are simple, you can stay in a beautiful room for a fraction of the price.
The way Hotwire works is all hotels in the area that are the of star rating you have selected or higher, submit empty rooms into a draw. Once you make your purchase you are randomly drawn a room from the available rooms from the hotels in the area that meet your criteria. You never know the name of the hotel as that would not make it fair to hotels. From their hotel's perspective, they want to fill an empty room and are willing to offer it at a fraction of the price but only if it's done in a secret ballot type format.
PROS
Good source of deals for booking car rentals and hotels.
Clean interface.
 For car rentals, when provider is not revealed, it's guaranteed to be with a major company.
No account needed.
CONS
What Specifics Can I Choose From?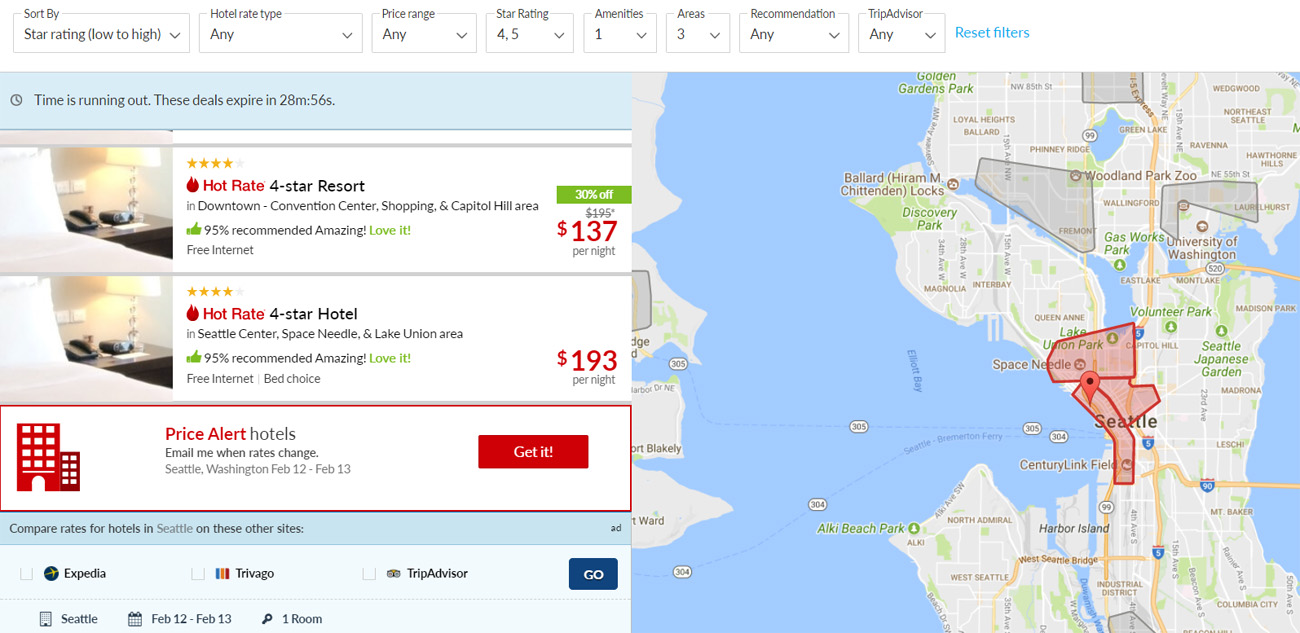 The following are the types of criteria you can enter to help get the perfect room for you:
Price
Star Rating (including half stars)
25 Different Amenities: Free Internet, Free Breakfast, Free Parking, etc
Area (Specific Location)
Recommended Rating
Trip Advisor Rating
My Experience
I have never had a problem with Hotwire. In live in Vancouver BC and have booked many trips using their website. I think 9 out of the 10 times we booked a room we saw huge savings and got to stay in few beautiful hotels well out of our price range (we're cheap). Just last year my wife and I planned a last minute trip to Seattle to see a Seahawks game (Week 8 Texans vs. Seahawks.) We almost didn't go as finding affordable tickets to the game was more difficult than I had expected. Finally, late Saturday night we found a deal on seats and after a couple late night beverages while preparing for the trip, we decided to book a room for Sunday night as a mini vacation away from the kids.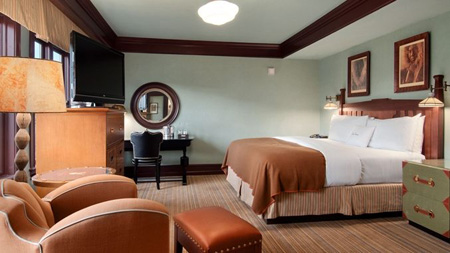 We ended up getting the Arctic Club in Seattle. I think we saved almost $80 off the regular room rate. I had stayed in the Arctic Club once before for business back in 2010 and was excited to go back.
While we've only ever used Hotwire for booking hotel rooms, they do offer a wide range of other options including cars rentals, flights even full on vacations.
I'll admit booking a trip using Hotwire isn't for everyone. It's luck of the draw. You'll never get a room less than the star rating. You checked off when entering the basic criteria and should always save on the cost.
Hotwire Booking Tips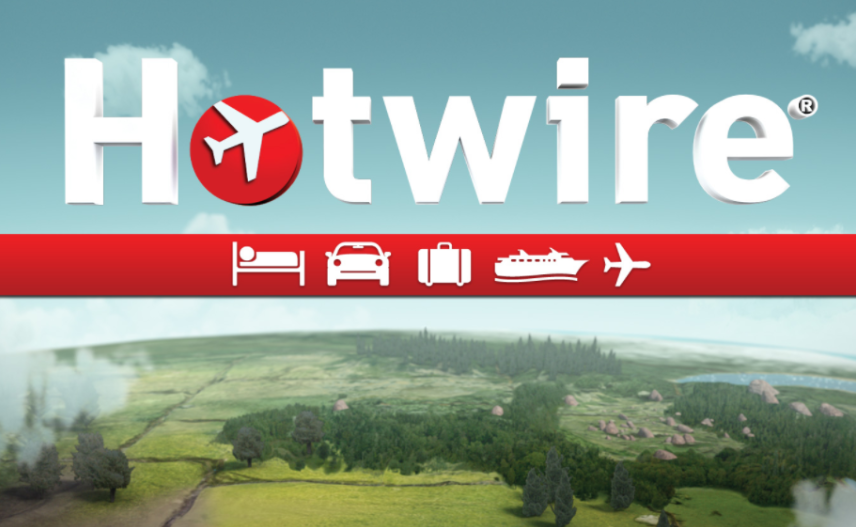 Be Easy Going: Hotwire is not for everyone, so try to have fun with the idea of staying somewhere you might not have normally picked. As long as the star rating is what you want. You should have a good time and save money in the process.
Be Specific With The Area: When entering the details at Hotwire, get specific with the location. With a little research, you can find where all the 4 and 5-star hotels are located in the city you want to stay. This gives you a slight advantage knowing what hotels will be in your Hotwire random draw after you buy your room. Remember to double check the dates, the number of rooms and the number of people. Hotwire bookings are non-refundable.
Don't Book Too Early: Hotels are willing to offer a great deal because they would rather make some money on an empty room than no money at all. However, a Hotel chain will wait it out as long as possible. My wife and I got an awesome deal on our trip as we booked our room literally 15 hours before you could check in. I know that's not possible for everyone, but I don't think you really need to rush with your booking.
Bump The Star Rating: If you're booking last minute, up the star rating slightly, even by half a star. You're going to get a discount so might as well get a great room. You never know, you could get a 5-star room for a 4-star price. Of course, if you're looking to save money, skip this step and enjoy the discount on a quality room.
How to Cheap: Select Amenities That Match Your Favorite: If you are using Hotwire because you want to save money and have done the research for the area, you may have found a favorite you hope you get. The easiest way to rig the contest is select all the features that your favorite hotel. The others don't. Something as simple as "Free Internet" could be the difference in getting the hotel you want.
Remember To Factor in Extra Costs Like Parking: Every hotel is a little different, some provide a discount where others include free parking. Parking can be expensive if you're staying for more than a few days. So remember to factor that into the cost of your trip.
Rely on the Recommendation Rating: If you're nervous about booking, the best thing you can do is click on the recommendation rating and check off 80% and 90% rooms as apart of your criteria. This guarantees you'll get a great place based off of previous reviews.
Compare The Rates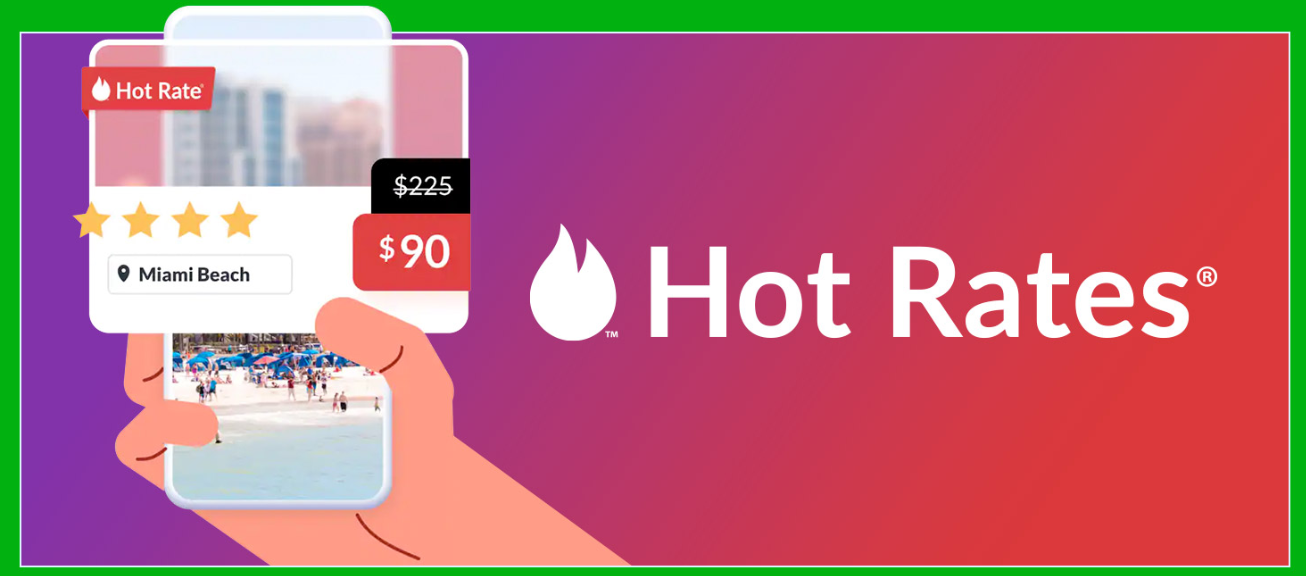 I booked a two-night stay at The Landmark London through Hotwire at:
£342 for two nights (£171 per night).
I checked the best rate available if I had booked on the hotel website and the same booking would have been:
£562 for two nights (£281 per night).
This means I paid 39% less with a saving of £220 – more than another night's stay!
As we all know there are many hotel booking sites that proclaim to offer the best rates so I continued comparing.
Booking could offer the same reservation for £575.
Lastminute could offer the same reservation at £515.
Expedia could offer the same reservation at £515.
Laterooms could offer the same reservation at £515.
Meaning most were able to make a bit of a mockery of The Landmark's 'Best Price Guarantee'.
Conclusion

I knew a bit about these secret hotel deals but had never had the confidence to try one. But now I have I can wholeheartedly recommend them as you still have control over. The key criteria of your stay and you can get some amazing bargains. While I got 39% off for a weekend stay it's not unheard of for Hotwire customers to pay 50% less so it's definitely worth checking for your next trip to London, Oxford, Edinburgh, Manchester, across Europe and worldwide.