About HOKA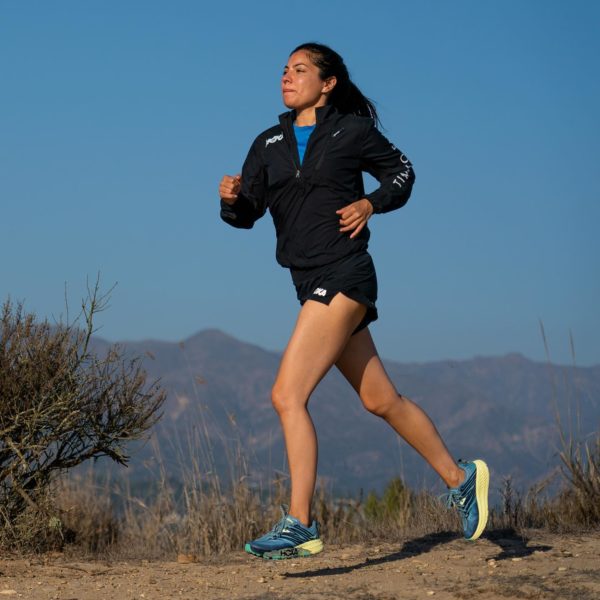 Nothing can ruin your feet faster than an ill-fitting, unsupportive pair of shoes. If you're on your feet a lot, a good quality set is even more important.
I've had my fair share of bad shoes. We rely on our feet to take us everywhere, so why do we settle for uncomfortable shoes?
HOKA One One (henceforth called 'HOKA') manufactures and distributes high-quality and high-performance footwear for anybody, from professional athletes to everyday people trying to get the most out of their footwear.
HOKA sponsors several athletes, including professional runners Stephanie Bruce, Thibaut Garrivier, and Scott Fauble.
The brand has a sizable 1.4M social community and has been covered by the likes of CNBC, PR Newswire, AP News, Outside Business Journal, Triathlete, and NBC News, among several other media outlets.
Before you get ready to buy, check out this HOKA shoes Review. Ahead, I'll take you through the latest on the brand's best-sellers, customer reviews, FAQs, and more to help you decide if they're worth your time and money.
Overview Of HOKA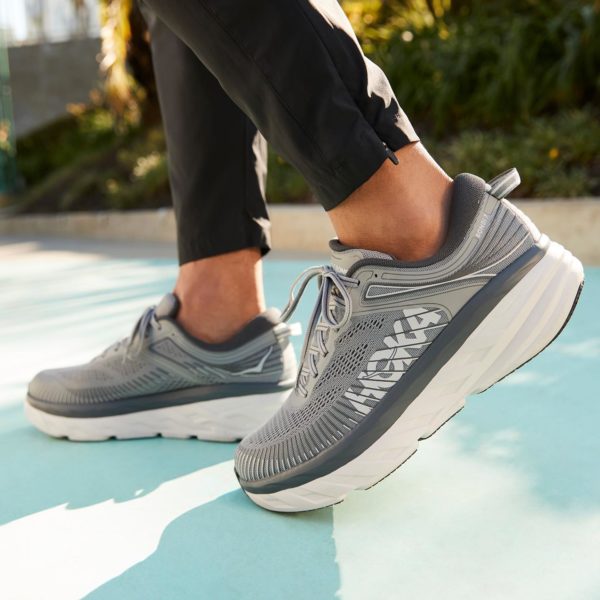 HOKA was founded in 2009 by Nicolas Mermoud and Jean-Luc Diard in Annecy, France. The two launched the brand in a bid to design shoes that would make it easier for them to navigate difficult terrain and run downhill.
HOKA running shoes quickly became beloved by all kinds of athletes for their enhanced cushioning and rigid stability.
Hiking and running on trails is fantastic, but I've learned it doesn't come without dangers. Having flimsy, unstable shoes means twisted ankles and falls may be more frequent, so I get why folks love this brand's designs for their stability.
HOKA's corporate office is located in Goleta, California. The company operates as a subsidiary of Deckers Brands, who purchased the company in early 2013.
Reading on, I discovered that HOKA manufactures their footwear in China, but I was happy to find that they ship internationally. The brand also sells their popular footwear in major retailers in several countries across the globe.
Before you lace up and start running through this HOKA shoes review, take a second to look over some highlights of the brand:
Highlights
Offers a carefully crafted line of performance shoes for men and women
Generous shipping and return policies
HOKA shoes are very good for your feet, joints, back, and other problem areas
Great reviews on their products
International shipping + partner retailers
Financing options available via Afterpay
HOKA Men's Shoes Review
Whether you're up and about all day for work or you need a pair of sneakers to help you power through your next sweat sesh, HOKA sneakers have you covered with these picks.
The Bondi 8s, the Mach 5s, and the Rincon 3's have been shouted out by several sources as some of the best of the best, but I've included a couple of the brand's other hits below that people may just be sleeping on.
HOKA Men's Clifton 8 Review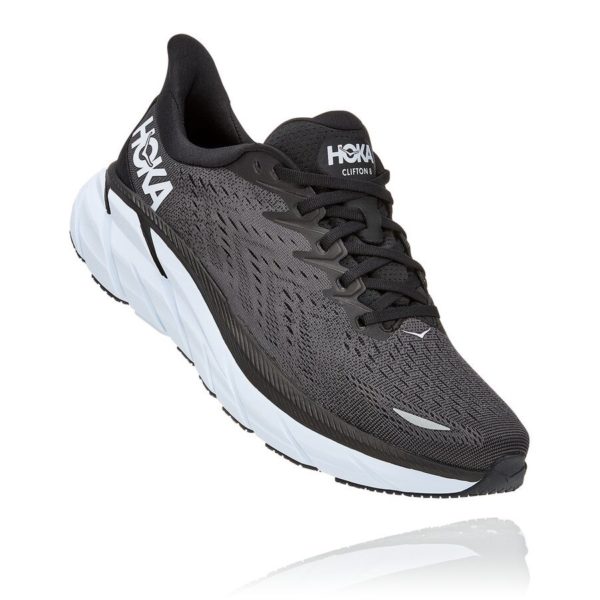 The HOKA Men's Clifton 8 runners are a lighter-weight take on the previous Clifton models thanks to a more airy and reactive make with its EVA foam. I'm not a big fan of bulky sneakers, so details like this make a big difference to me.
The shoes are designed with a breathable mesh upper, a  grippy and durable rubber sole, and a gusseted tongue.
The runners are offered in 8 different colors and 2 fits, including regular and wide. You can grab a pair of these beauties (a total improvement on the HOKA Clifton 7s) for $130.
What customers are saying: "The Clifton's have made a difference in my teenagers who run for sport. I wear them because they are literally the only shoe I can walk in without pain in my foot (2nd toe metatarsalgia & bunions). I recommend them as a health professional as well!!"
HOKA Men's Bondi 8 Review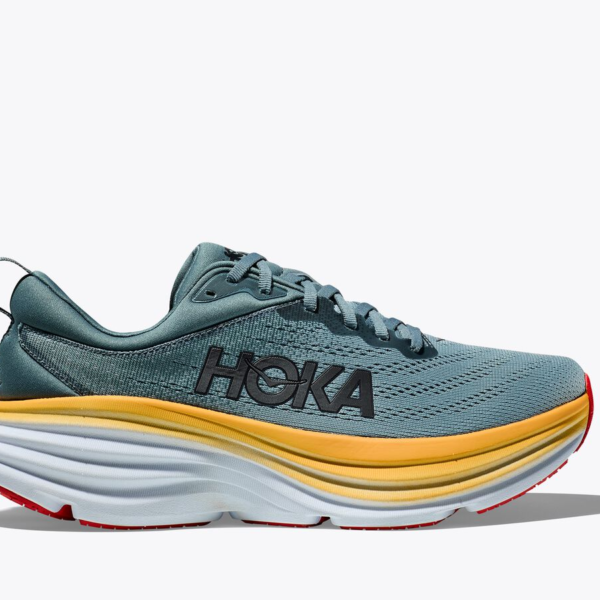 Make way for the HOKA Bondi 8, the latest in the brand's search for ultimate foot comfort. Personally, I'll take all the comfort I can get, so please Hoka, do go on.
Featuring generous helpings of cushioning technology and with added extended heel geometry, this shoe is all about softness from sole to upper.
The heel in particular is made to absorb to provide quality support and shock-absorption while keeping everything where it needs to be. Featuring a full-length, compression-molded EVA midsole and an internal heel counter, I think it's safe to say that this product has got the goods.
Get the 100% vegan HOKA Bondi 8 for $200.
What customers are saying: "I wear them as casual every day walking, working and general use. They are comfortable beyond what I expected. If I go for a walk I feel like I am reenergized and can go so much further."
HOKA Men's Bondi 7 Review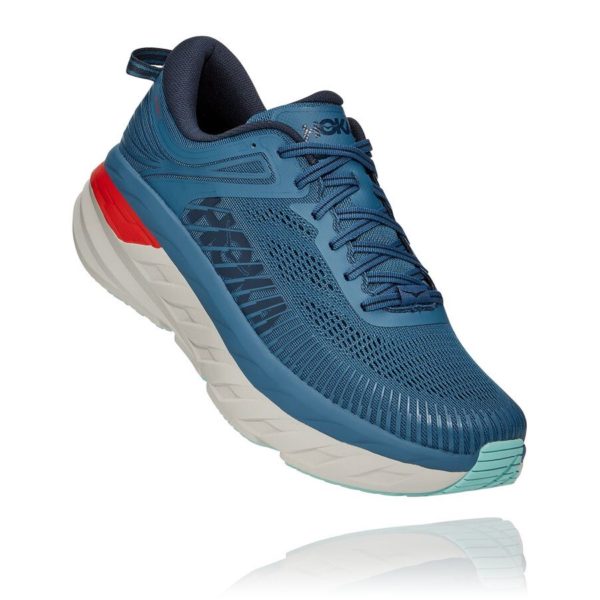 What elevates the HOKA Men's Bondi 7 from its previous model is the new memory foam collar that is designed to accommodate a narrower heel and provide the utmost support to your Achilles tendon.
I've had tendon and foot-related injuries before, so adequate support is also something I look for in a shoe.
The HOKA Bondi 7s feature TPU overlays for more midfoot structure and support. Otherwise, you're getting the same EVA midsole, mesh upper, frames, and supports that appear in previous models.
The runners come in 12 color combinations, ranging from neutral to vibrant and everything in between. These fan favorites are available in regular, wide, and extra-wide fits for $150.
If you're looking for something that can double as a walking shoe, check out a pair of the HOKA Arahi road shoes.
What customers are saying: "I started using Hoka Bondi 7 two years ago, and haven't looked back since. I'm a big guy and need the cushioning it affords. An all around great shoe. Would recommend it to anyone who runs daily."
HOKA Men's Rincon 3 Review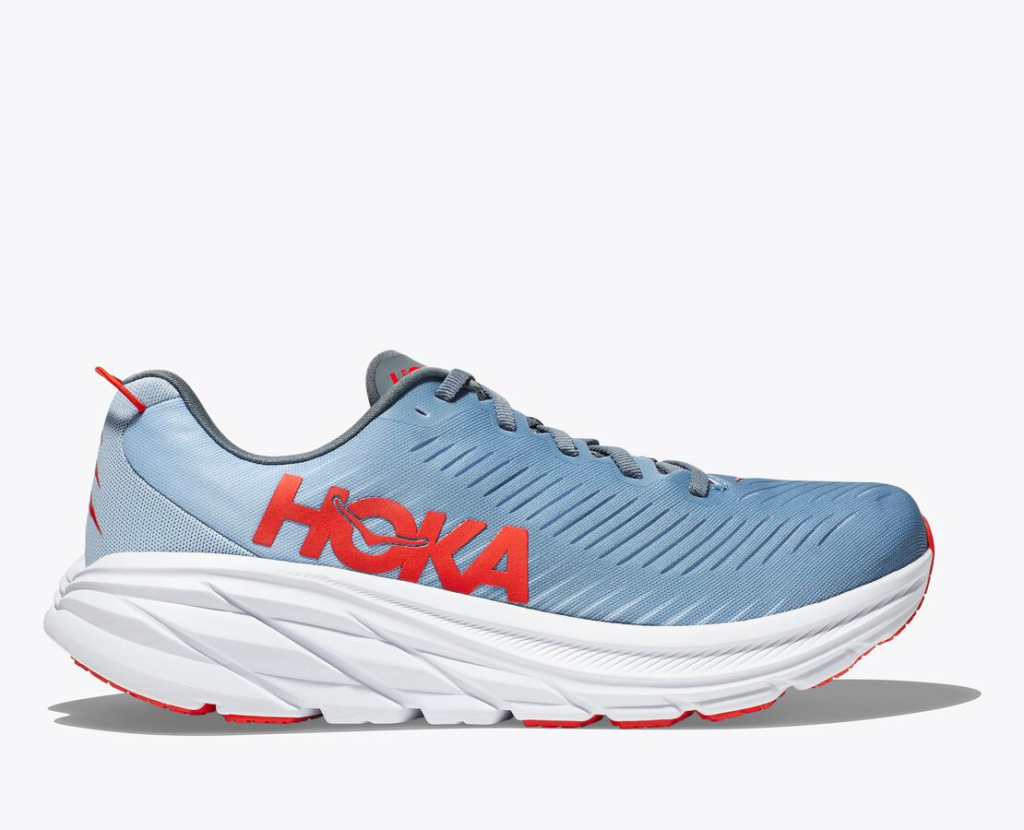 The lightweight HOKA Men's Rincon 3 sneakers popular among customers, offering an impressive cushion-to-weight ratio.
This update on the Rincon features a cloudlike silhoutte, thinner pull tab, vented upper mesh, enhanced rubber coverage, and an asymmetrical tongue package, among many other supportive and performance-enhancing technologies.
HOKA offers this model in 11 colors between sizes 7-16. Personally, I love the green ash/ plein air colorway.
Grab a pair of the HOKA Rincon 3 for $150.
What customers are saying: "Lightweight, comfy, and tons of cushion! I love the Bondi 7 and wanted something lighter and faster but still with plenty of cushion and this shoe fits the bill! Thanks, Hoka!"
HOKA Men's Mach 5 Review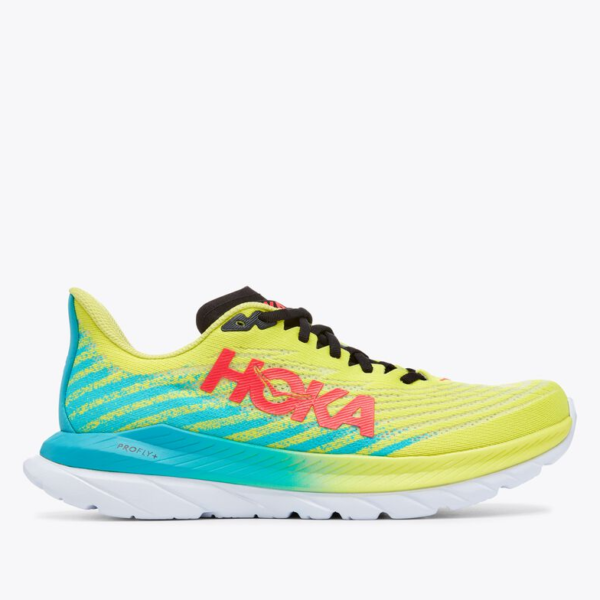 Heavy, unsupportive shoes have no place in running. Lightweight, these supportive runners are softer and more cushiony than their previous iterations.
The HOKA Men's Mach 5 runners feature a PROFLY midsole and a durable rubberized EVA outsole for ultimate cushion, along with a removable EVA sockliner and anatomical Achilles-embracing construction for support and comfort.
You can find the HOKA Mach 5 in 6 colors for $165.
What customers are saying: "The MACH 5 is an ideal combination of lightweight cushioning and speedy transitions; just what I hoped for."
HOKA Women's Shoes Review
Did you know that women typically tend to have more foot problems than men? I sure didn't. That is even more reason to invest in a pair of HOKA One One ultra-supportive sneakers to protect your feet from injury and pain.
Check out these top-sellers for women that look as stunning as they are functional.
HOKA Women's Bondi 8 Review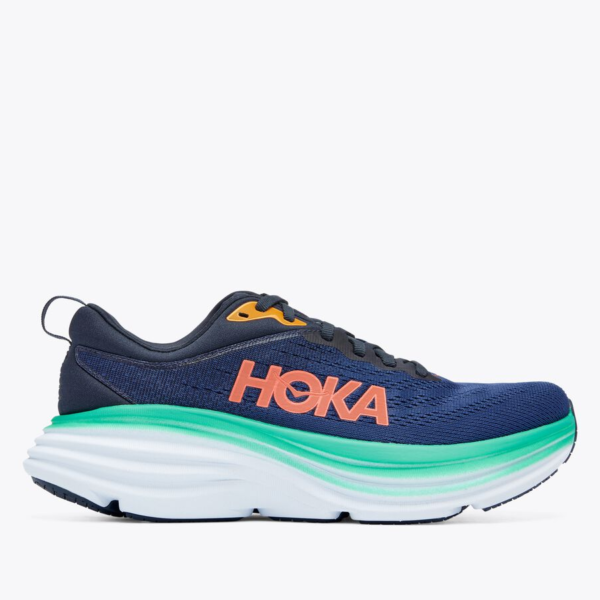 The fan-favorite HOKA Women's Bondi 8 shoes are the epitome of cushioned comfort all condensed into a cute pair of shoes. The bouncy foam bottoms make them super cute for running errands before or after hitting the pavement.
An open and breathable mesh upper is fitted with a supportive lycra heel frame, a cushiony EVA midsole, and a grippy rubber outsole.
The vegan running shoes are amplified with technologies such as a pillowed tongue, new extended heel geometry, a Meta-Rocker, and an internal heel counter. Currently, they cost $200.
What customers are saying: "Hoka's are the only sneakers I put my collapsing worn out feet into. Why? Because no other brand helps my feet with the pain as much as some select styles of Hoka do. Even my doctors recommend Hoka."
HOKA Women's Bondi 7 Review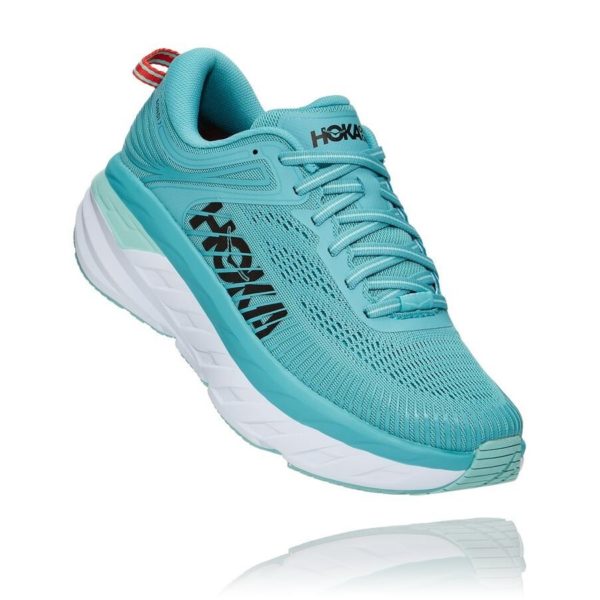 Feel like you're flying across the pavement with the lightweight and flexible HOKA Women's Bondi 7 runners, which I read are the most cushioned shoes in the Hoka road-shoe lineup.
The Bondi 7s feature the same full EVA midsole, breathable mesh upper, durable rubber outsole, and signature Meta-Rocker technology as its previous model, but are elevated with the addition of TPU overlays for midsole support and a memory foam collar for Achilles tendon comfort.
Get them in an array of color combinations for $150. For something with similar propelling capabilities, I recommend taking a look at the ever-graceful Hoka Carbon X.
What customers are saying: "These are great shoes. I can wear these 24/7. Really cushiony and lightweight and helped me heal from a stress fracture in my arch."
HOKA Women's Rincon 3 Review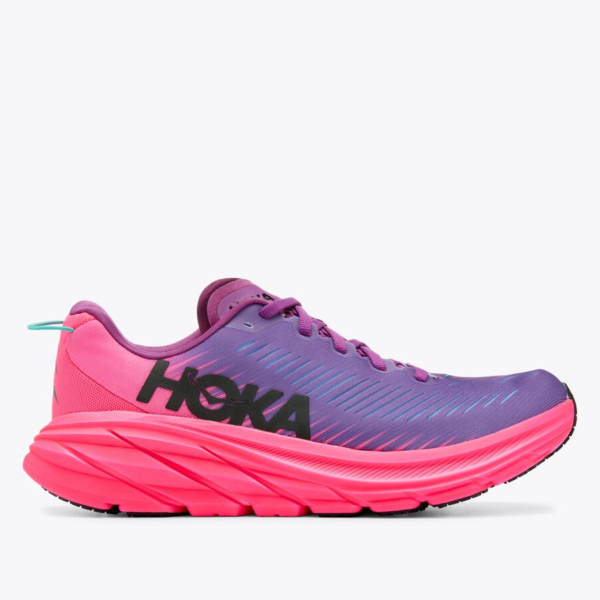 The sleek and stylish HOKA Women's Rincon 3 sneakers have all the same features as the Men's Rincon 3s I covered earlier in this HOKA shoes review.
The asymmetrical design, stripped-back profile, and pull tab give the shoe a sporty and futuristic appeal. The shoes feature supportive technologies such as a full compression EVA midsole, high abrasion rubber zones, and a Meta-Rocker, and so much more.
Another customer favorite, the Rincons cost $150.
What customers are saying: "I have feet issues. Metatarsal wearing out since I have been working on my feet over 40 years. I love HOKA shoes. I can run at my age and my feet don't hurt."
HOKA Women's Mach 5 Review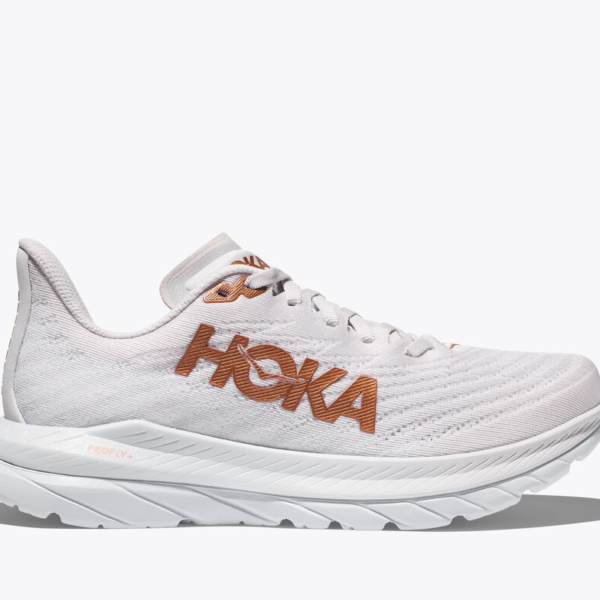 The HOKA Women's Mach 5 runners are perfect for running long distances and getting those miles in. A PROFLY midsole and a rubberized EVA outsole meet with a removable, molded EVA sockliner for unmatched cushioning and comfortability.
The engineered mesh upper also ensures that you will have an enjoyable, dry run. Nothing ruins a run like soggy feet, am I right? I'm partial to the pastel palette of these shoes, but Hoka offers these runners in a total of six colorways. Get yours for $165.
What customers are saying: "These might be my favorite runners ever. Super light, feel very supportive and I forget all about them while I'm running."
Do Doctors Recommend HOKA Shoes?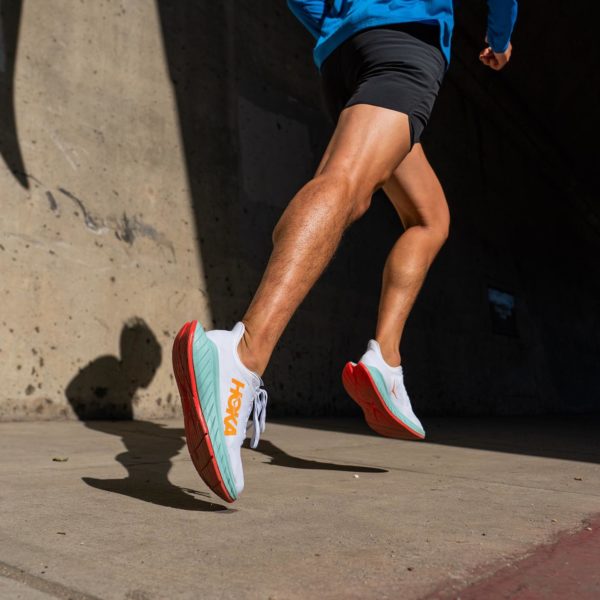 I love the fact that I can supplement this HOKA shoes review with expert advice. Select styles of Hoka shoes bear the American Podiatric Medical Association (APMA) Seal of Acceptance.
HOKA's website features an impressive number of testimonials from healthcare workers across various practices that praise the brand's shoes for their high-quality design and benefits.
Tim Dutra, DPM, MS, MHCA, and Assistant Professor/Clinical Investigator, claims that "HOKA offers a variety of shoes with a wide range of cushioning and support and width options, and HOKA shoes are a favorite of runners, walkers, and hikers."
Robert Fridman, DPM, FACFAS, is also a fan of the brand:
"I am always faced with the task of helping my patients get through their exercise goals and activities of daily living…  I feel very comfortable recommending their range of supportive and cushioned shoes for patients of a variety of activity levels and foot types…"
Some doctors even claim that the shoes have changed their own lives, such as Stephen Barnett, M.D., Fellow, American College of Surgeons:
"As a surgeon, I am constantly on my feet, standing and walking. I find that the HOKA Bondi provides excellent support and stability. Accordingly, I have happily recommended them to friends and colleagues."
Do HOKA Shoes Have Arch Support?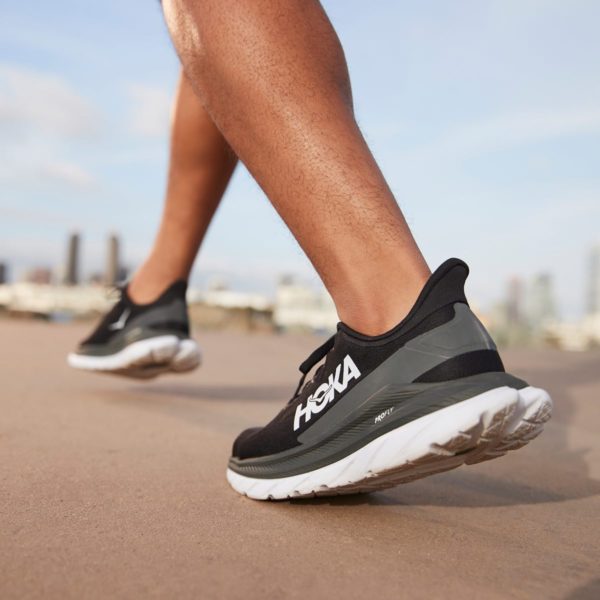 Arch supports are devices that are built into or placed into shoes to support the arch of the foot and eliminate or diminish pain and discomfort.
I value that HOKA shoes feature a ton of technologies that provide support and cushioning to the foot. Some of these include a cushioned midsole, a meta-rocker to promote proper heel-toe movement, an active foot frame to secure the foot in the proper position, and ProFly intelligent cushioning.
I was pleased to find that Hoka also has an entire collection of orthopedic shoes that have earned the American Podiatric Medical Association (APMA) Seal of Acceptance.
If you have foot troubles, shop the selection of supportive award-winning shoes in the collection.
Are HOKA Shoes Good For Seniors?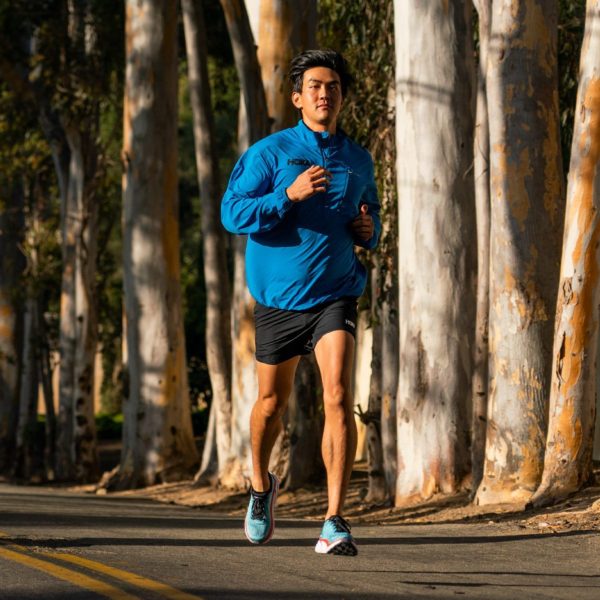 Based on findings in several studies, the best shoes for seniors are those with low and closed heels and rigid midsoles to promote better stability and security, grippy soles to prevent falls, and supreme fit for comfort.
Lightweight materials are also important to ensure that the senior isn't exerting too much energy by just navigating with the shoe on. HOKA shoes have all of these safety specifications and more.
I think seniors would especially benefit from the support mechanisms contained in HOKA One One shoes, given that they are more susceptible to instability and falls.
But really, anybody who needs a little extra support can be sure that their HOKA shoes will cover them.
Who Is HOKA For?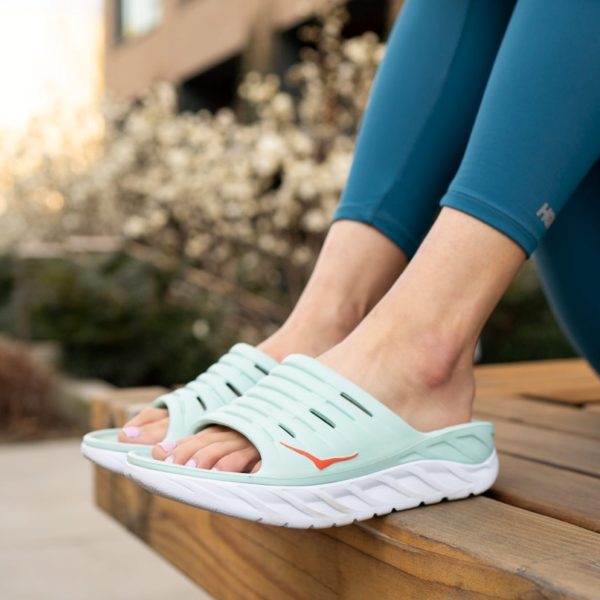 HOKA produces footwear for men and women of all ages with all kinds of lifestyles, as I detailed throughout the product list in this Hoka shoes review.
The brand is well-known for their affiliation with several athletes, but they also bear seals of approval from several podiatrists and podiatric associations, making them popular among those who require orthopedics to help them with various foot-related ailments.
Is HOKA Worth It?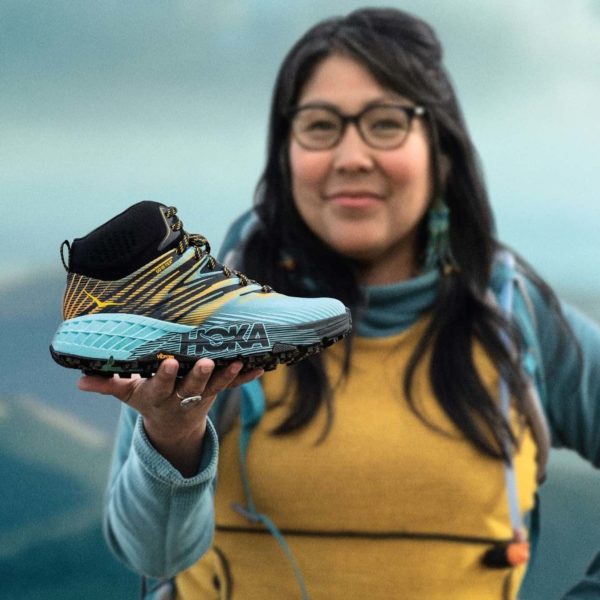 The brand has great reviews on their actual products, but poor reviews on customer service practices. With that in mind, I think it might be better to buy the shoes from an in-person retailer than through the site itself.
Fortunately, some customers say that they had no problem on-site and in-person, and that's something that I can get behind.
When it comes to the merits of the actual shoes. There are so many I discovered while writing this HOKA shoes review.
According to the breakdown of the technologies in each HOKA shoe. They provide a ton of support for individuals with any orthopedic history to enjoy any kind of activity.
At the end of the day, Hoka is an easy brand to recommend and I deem them to be absolutely worth the buy.
HOKA Promotions & Discounts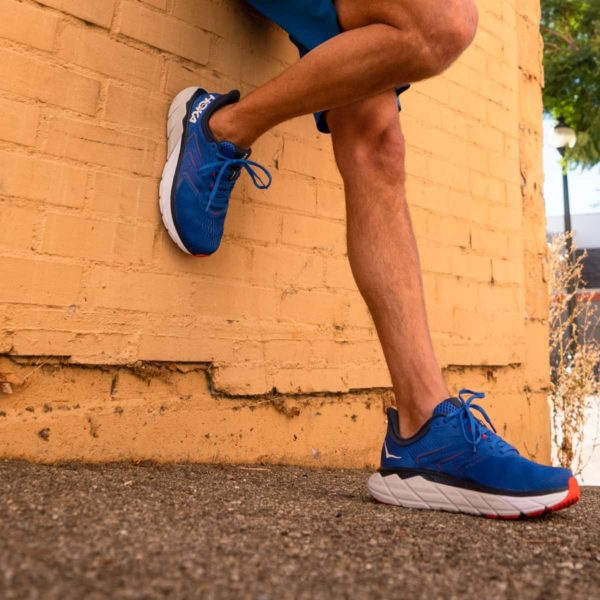 The promotions and discounts offered by the brand vary depending on where you are shopping from, but for US customers. HOKA offers free standard ground shipping and returns with no minimum amount required.
Also, if US customers spend $200+ on the site. They will get a free Rincon 3 Water Bottle with the order.
Canadian orders over $200 ship for free and entitled to free returns. Additionally, if Canadian customers spend $250+ on the HOKA site. They too will get a free Rincon 3 Water Bottle with their order.
The discounts are quite similar between the two countries, but with minor adjustments, since the brand ships from within the US.
Where To Buy HOKA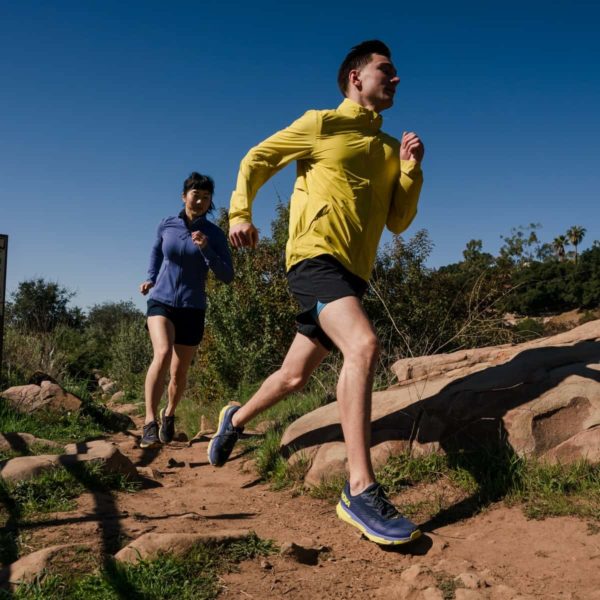 You can purchase Hoka shoes directly from the brand's website at hoka.com. You can also find the brand's products in major retailers in several countries across the globe and through partner retail platforms such as Amazon.
FAQ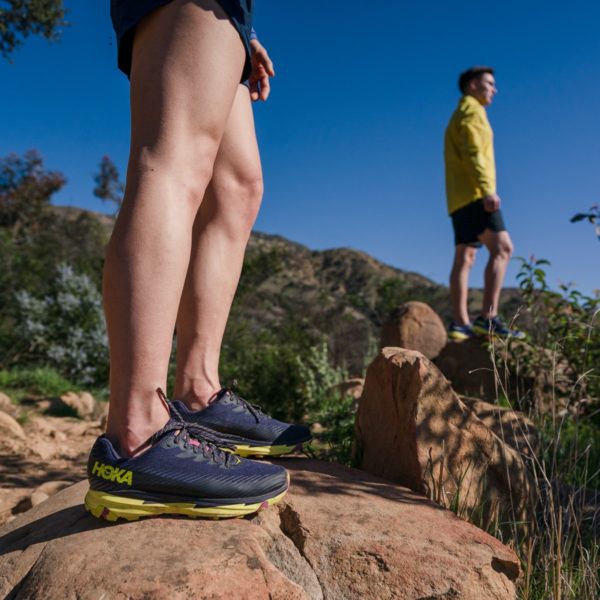 Who is HOKA owned by?
HOKA founded by Nicolas Mermoud and Jean-Luc Diard. The brand is currently a subsidiary of Decker's Brands, whose current president is Wendy Yang.
Where is HOKA made?
While checking things out for this HOKA shoes review, I found that the brand's corporate office is located in Goleta, California. The brand manufactures their footwear at a facility in China.
Are HOKA shoes good for arthritic feet?
Arthritis, whether from genetics or activity, can cause severe pain and discomfort to those that suffer from it.
Custom-fitted shoes, padding, and arch support three things that have proven to alleviate the symptoms of arthritic feet.
Fortunately, HOKA shoes are custom-fitted, and they feature technologies that provide support, cushioning, and alignment to the feet.
Do HOKAs help back pain?
When it comes to back pain resulting from your runs, the culprit is usually a shoe that doesn't have enough cushioning or support.
HOKA's running shoes specifically designed to provide runners with optimal cushioning, stability, and support in order to make them perform better and more painlessly.
Do Hoka shoes fit true to size?
HOKA has many tools in place on its site to help you find your true fit. It offers a men's, women's, and unisex size chart for footwear, apparel, and accessories.
I appreciate that it also offers a true fit size guide that helps you determine. Your size through a series of questions and instructions for measurement.
What is HOKA's Shipping Policy?
Eager for your pair of HOKA Clifton 6s?
While researching for this HOKA shoes review, I was happy to learn that the brand ships to countries all over the globe. You can tailor the site to your destination.
For a limited time, HOKA is offering free standard ground shipping to US orders within the continental US.
The brand consistently offers free shipping on Canadian orders totaling $200+. Shipping rates for the US and Canada are as follows:
US
Standard ground shipping (3-10 business days): $8
2-day shipping (2 business days): $16
Overnight shipping (1 business day): $26
CAN
Standard: (2-7 business days): under $200 is $10, $200+ is free
Expedited: under $200 is $20, $200+ is $20
Next Business Day: under $200 is $35, $200+ is $35
What is HOKA's Return Policy?
Not entirely happy with your pair HOKA Bondi 8s? You may request a refund or a product exchange within 30 days of the original purchase, no strings attached and no questions asked. All you have to do is visit their website to get started.