About Hello Bello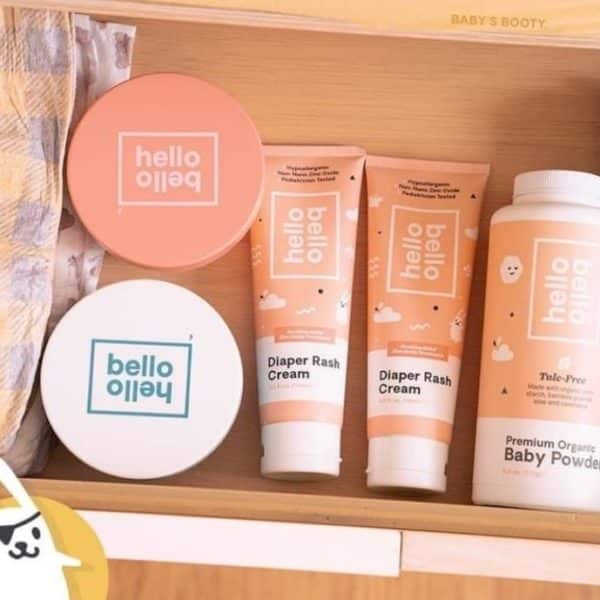 You don't have to be a parent to know that babies are super sensitive. So here's what I want to know: Why are so many baby products loaded with harmful ingredients?
As a protective, and an admittedly worrisome, person, scanning ingredients labels is second nature for me. No joke. Not only do conventional baby products have yucky toxins from synthetic fragrances, but they're also loaded with sulfates, phthalates, and other carcinogens.
But there's also good news. Hello Bello exists. It's brand that sells high-quality baby-care products and is famously run by celebrities Kristen Bell and Dax Shepard. Offering premium-made, organic items such as diapers, baby wipes, and shampoos at an affordable price, Hello Bello has gained notoriety for its company values.
With a following of over 345k on Instagram, the brand has also been spotlighted by several media outlets such as People Magazine, E! Online, Forbes, and Healthline.
What's coming up in this Hello Bello diapers review? I'll give you an in-depth look at the brand, its products, customer ratings, promotions, and more, to help you decide if their products are worth the buy.
Overview of Hello Bello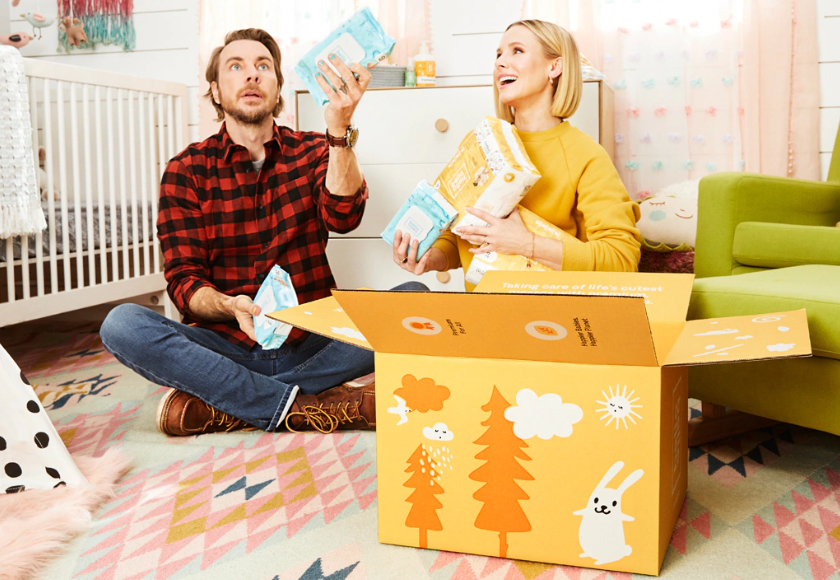 As newfound parents, famed actors Kristen Bell and Dax Shepard saw that there was a lack of affordable, high-standard baby-care products on the market. With the belief that there must be a better solution for parents and their children, Hello Diapers was born into the world in 2018 in the greater Los Angeles area.
Even better news: It's also in partnership with Walmart to ensure their products are widely accessible to the average consumer.
Ever since their launch, Hello Bello products are carefully crafted with eco-conscious ingredients to ensure that it's safe for baby-use and the planet. For instance, their diapers are made out of plant-derived core liner and sustainably harvested fluff pulp—ingredients that even I can't scoff at.
Additionally, Hello Bello makes it company policy to be completely transparent when it comes to important details that parents should know. Here's what they have to say:
"We created hello bello because parenting is hard. And near impossible to do alone. Our pledge is to join you, in our small way, for life's messiest, stinkiest, most unmissable joy – parenthood. We're here to be a part of your village," via a statement from the Hello Bello company website.
Before I get into this Hello Bello diapers review, let's go over some initial pros and cons: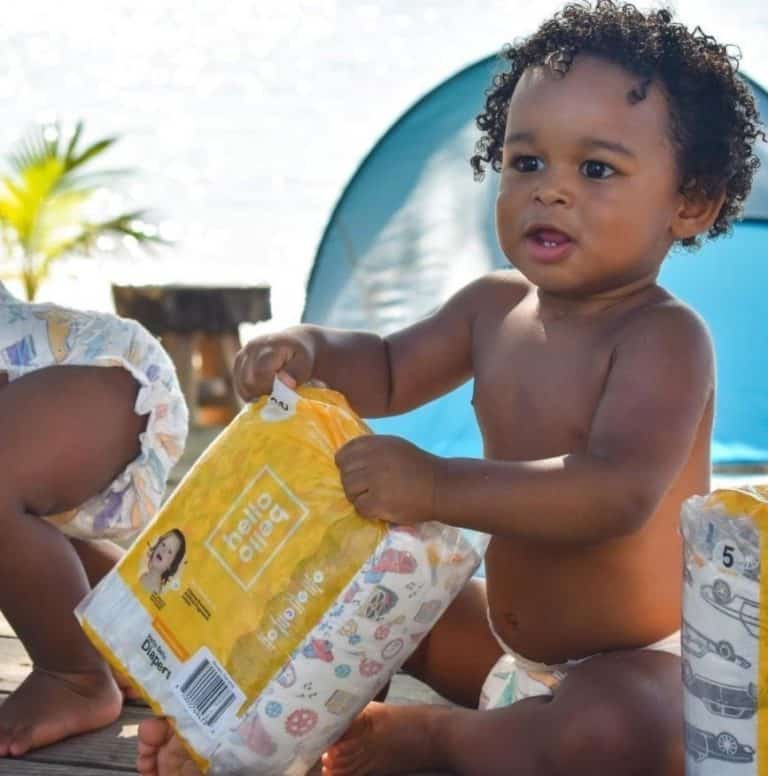 Pros
A wide variety of Hello Bello baby and kid-related products such as diapers, vitamins, wipes, and shampoos
All Hello Bello products are sustainably sourced and are environmentally friendly
Affordable prices
A portion of Hello Bello diaper sales are donated to a related charity
Positive customer reviews
Cons
They do not provide international shipping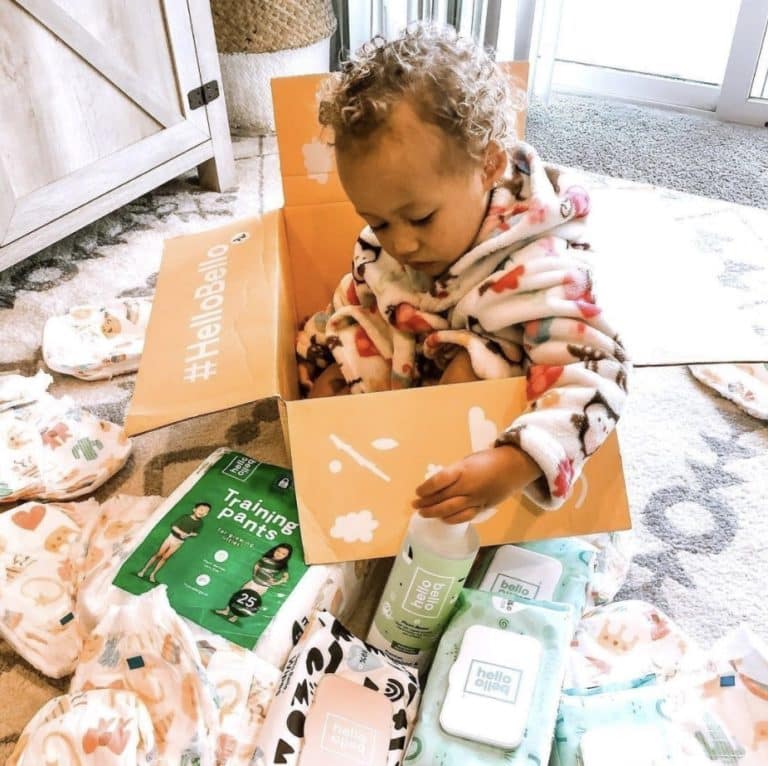 When it comes to parenthood, I've learned that it's all about patience, love, and responsibility. In terms of baby-care products, it's all about safety, cleanliness, and gentleness. Hello Bello meets the mark for these values across all of their products.
Ranging from diaper rash creams, diapers, conditioners, to bubble baths, I've discovered a variety of Hello Bello products that'll be sure to earn an approving 'goo' from your little one. Hello Bello also has a separate category for children as well, so you can continue shopping at their brand as your one-and-only starts to grow.
To help you get an idea of what they have to offer, up next in this Hello Bello diapers review, I'll feature a selection of their bestsellers.
Hello Bello Vitamins Review
Gummy vitamins are a great way to keep you and your family healthy. Personally, I've found them to make meeting daily RDIs that much easier.
Hello Bello has a wide collection of chewable vitamins, ranging from Hello Bello prenatal moms, candy-loving kids, and of course, the dads so they don't feel left out. Keep reading this Hello Bello diapers review for the details about their most popular items.
Hello Bello Women's Multivitamin Review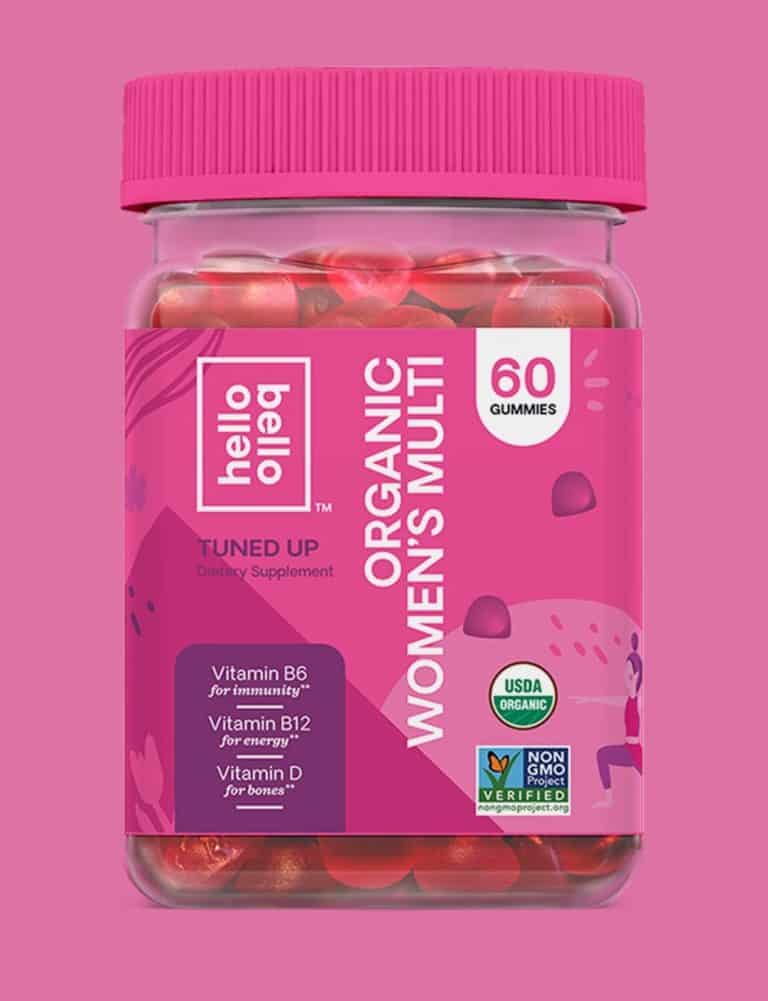 Dear moms, you've got it tough. From late-night breastfeeding sessions, rocking your crying baby to sleep, to ensuring that your kids don't color your walls with their favorite Crayola crayon, the rest of us can't thank you for your service enough.
To help you power through those early years of mom-ing, I think you might want to consider purchasing a bottle of Women's Multivitamin gummies to store in your bathroom cabinet. Containing 12 essential vitamins such as B6, D, and E, this multivitamin provides you with immunity, bone strength, and antioxidant power.
This Hello Bello multivitamin is vegan, USDA certified organic, and non-GMO. Flavored with natural raspberry, strawberry, and cherry, I love that it feels like enjoying a sweet treat. For a container of 60 chewable multivitamins, these gummies cost $11.
The coolest part? You can save 21% if you sign up for a subscription bundle. For three packs, the Women's Multivitamin costs $30. For five packs, it costs $45 and for seven packs, it costs $60. Deliveries are sent on a bi-monthly basis.
Hello Bello Organic Men's Multivitamin Review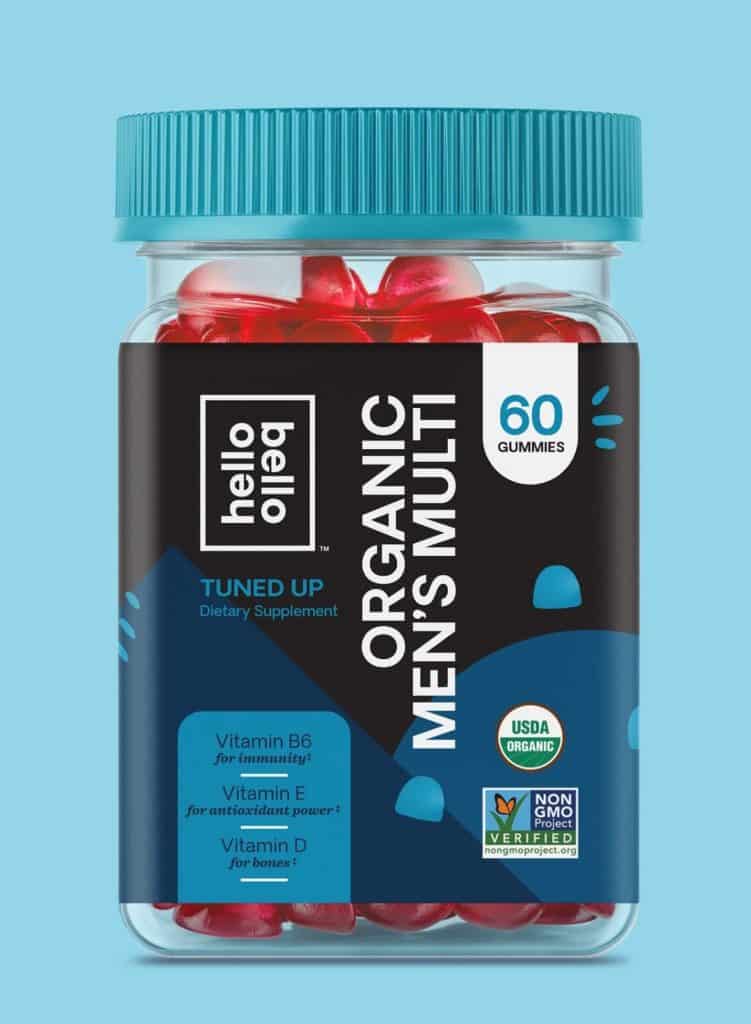 Dear dads, I won't forget about you. You've also got it tough. From changing the diaper on your fussy kid and deciding what flavor of baby food your picky little one will eat, to playing hide and seek for the 20th time, to put it short—I think you're awesome.
Formulated for those days when you can't seem to pick up the pace, perhaps it's time to pick up a bottle of Organic Men's Multivitamin. Including the same amount of healthy vitamins, B6, D, E, you also get an immunity boost, added bone strength, and antioxidant power.
Vegan, USDA certified organic, and contain no GMOs, you can also feed yourself to the good stuff that you're treating your kids to. Available in flavors of Natural Cherry, Strawberry, and Raspberry, you'll forget that you're taking Organic Men's Multivitamins, and not candy.
The Organic Men's Multivitamin chewable, for 60 gummies, cost $11. Signing up for the subscription bundle? Here's the pricing list:
3 packs: $30 every 60 days
5 packs: $45 every 60 days
7 packs: $60 every 60 days
Hello Bello Sleep Well Review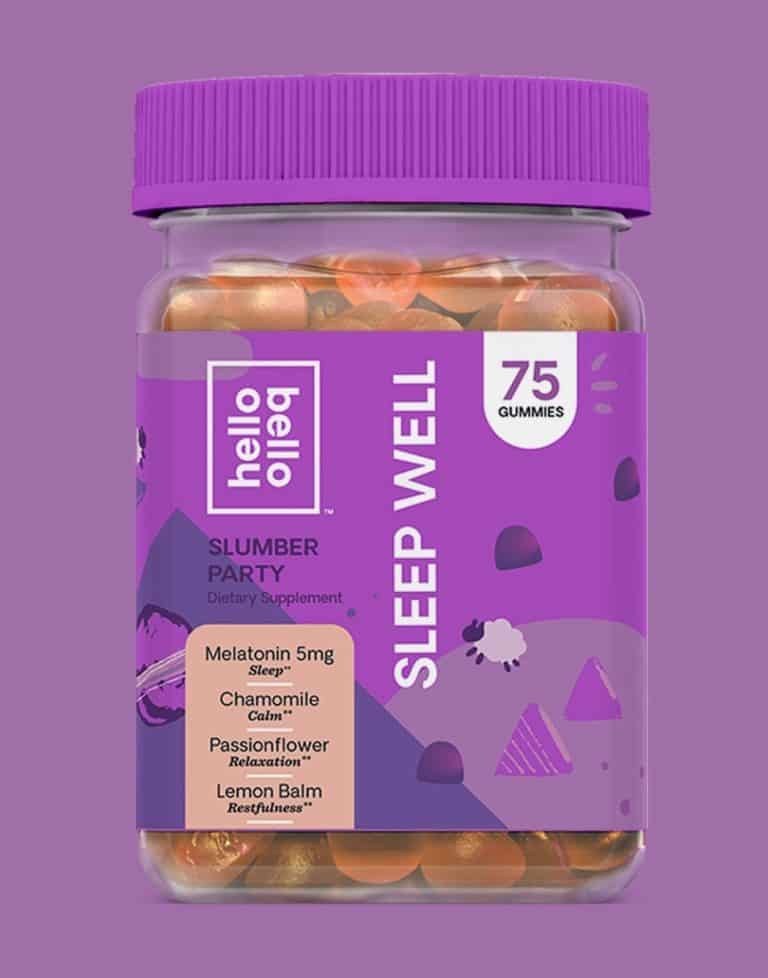 I've heard from friends that once you've reached parenthood, you can practically say goodbye to your normal sleep schedule. Don't worry, I've also heard it's worth it. For those moments you can finally get some quality shut-eye, make sure that it's a deep and restorative slumber by taking the Sleep Well gummy vitamins.
I love that these vegan chewables contain natural ingredients like melatonin, chamomile, passionflower, and lemon balm, and that they can help your achieve sleep, calmness, relaxation, and restfulness. That's something we all need more of.
Though I'll admit a nightly lullaby sounds like a trip, it's bordering on creepy once you're past childhood and have watched Nightmare on Elm Street too many times.
Instead, let the Sleep Well gummy vitamins be your soothing midnight song. Flavoured in natural tropical punch flavor, make sure you only take the recommended dose as the flavor can be quite addicting.
As a one-time purchase, the Sleep Well gummy vitamins cost $11. However, you can also sign up to get these every 60 days, in which the prices range from:
3 packs: $30 every 60 days
5 packs: $45 every 60 days
7 packs: $60 every 60 days
Hello Bello Hair, Skin + Nails Review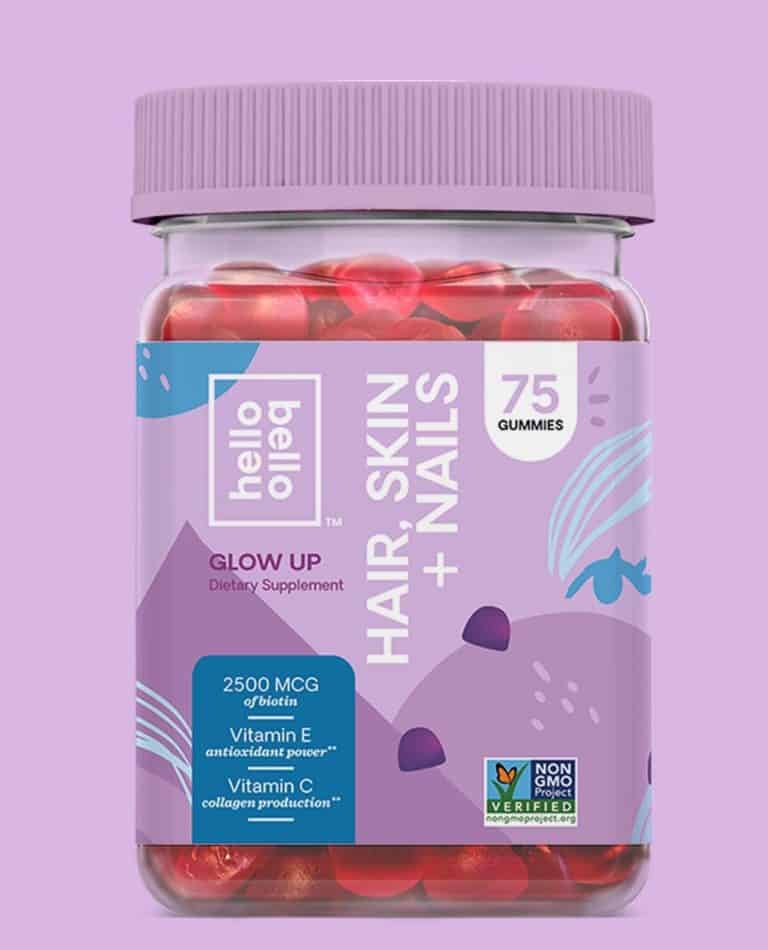 Sleeplessness and stress? Sounds like a regular Tuesday, though I can't imagine what it's like for parents. I'll take a chance and say that, if you're anything like me, that combo often leaves you feeling a little…disheveled.
That's why I love the Hair, Skin + Nails gummy vitamins. Used alongside a healthy eating and exercise plan, these tasty little guys are formulated with Biotin, Vitamin E, and Vitamin C with major antioxidant power and collagen-boosting effects.
Designed to strengthen and improve the appearance of your skin, hair, and nails, I spotted that these gummies were named one of the most popular items by Total Beauty.
Flavored with natural strawberry, 60 chewables of the Hair, Skin + Nails gummy vitamins cost $11 as a one-time purchase. You can also get these periodically if you sign up for a subscription:
3 packs: $30 every 60 days
5 packs: $45 every 60 days
7 packs: $60 every 60 days
Hello Bello Baby Review
Parents, I bet nothing is as fun as changing your baby's diaper (I'm kidding, of course). For something considered to be an obvious must in baby-care, it's important that the diaper in question is free of harsh additives and that it does its job. Hello Bello provides multiple options of diapers that are parent and baby-approved.
Hello Bello Diaper Bundle Review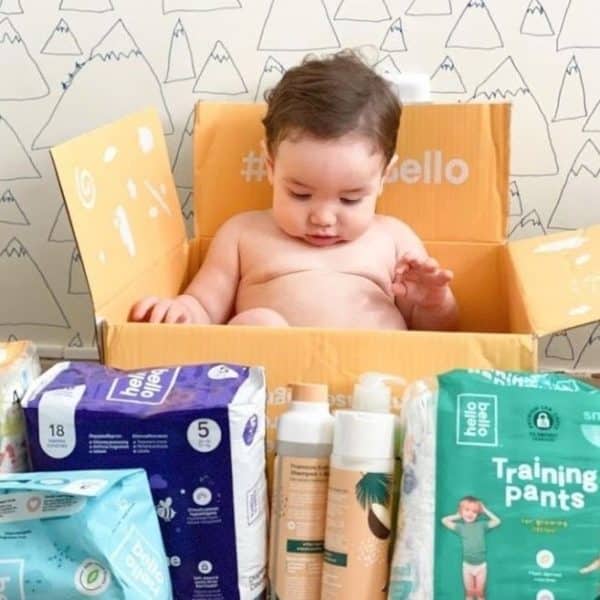 Parenthood means going through a lot of diapers. Like clockwork, your baby will start showing signs that it's time for a change. Instead of driving to your local store to pick up a new package, Hello Bello offers an auto-delivery Diaper Bundle program to make it easier for parents.
How does it work? You'll first need to choose what kind of bundle type suits your child (diapers, training pants, or a combo of both). Then, pick out what size you'd like your Diaper Bundle to be. I'd suggest referring to the Hello Bello size chart for more information.
Next, decide if the diapers are for nighttime, daytime, or both. In terms of quality and ingredients, Hello Bello newborn diapers are super soft and absorbent, hypoallergenic, and eco-friendly.
The fun (yes, I swear) part? You get to pick out the design. Ranging from cute lions and tigers to sweet little watermelons, I'm obsessed with these prints. There are 7 designs in total.
What I particularly love about this Diaper Bundle is that you can choose an added freebie to toss into your set. Options include Lip Balm, Glittery Bath Bombs, Baby Lotion, and many more.
Before checkout, you'll also have the option to add any others extras to your cart and save 15% off your order. As for the total cost, it usually runs up to $65 but that does not include any added extras. Anything added to the Diaper Bundle will vary in price.
Hello Baby Backpack Review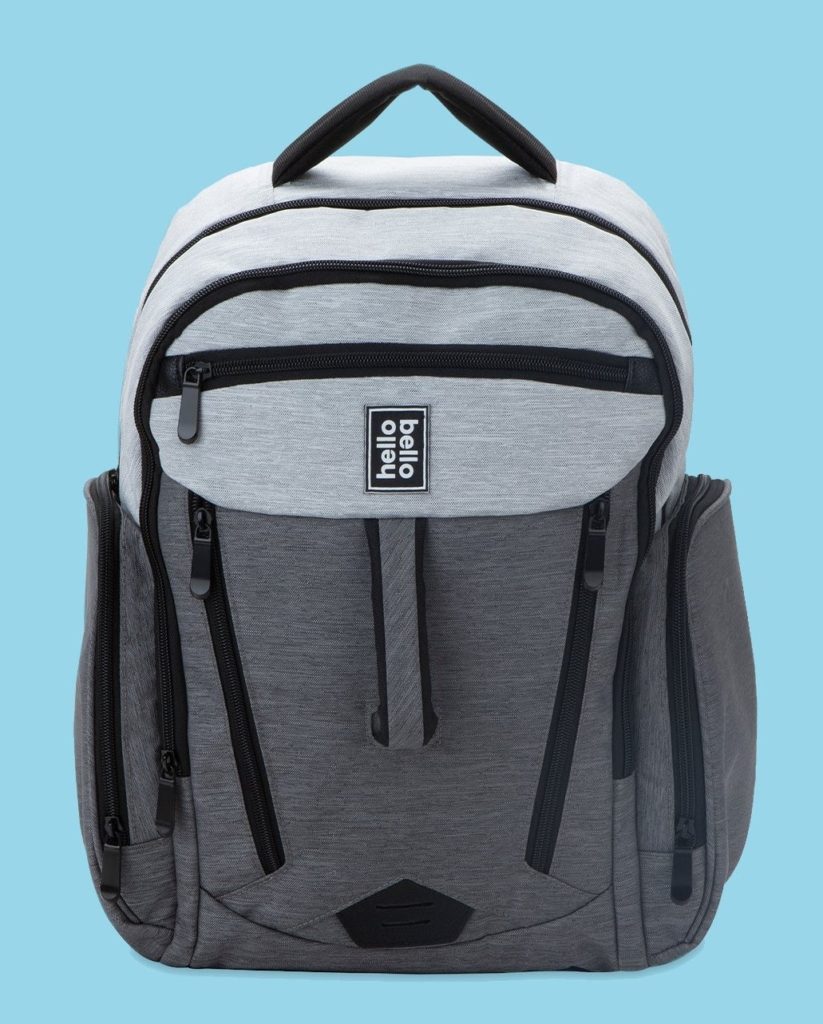 It takes a village to raise a child. For moms, it takes a full road-sized trip bag to help take care of their babies on the go. Personally, I'm a fan of understated diaper bags. Though I'm all for retro designs, brightly colored out-dated pieces just don't do it for me.
Solution? Bring your diaper bag up to speed with the Baby Backpack from Hello Bello. Plus, it looks great on mom or dad. It's styled in muted grey tones with black piping for an added bit of contrast.
This Baby Backpack has nine built-in pockets to store your Hello Bello diaper rash cream and other necessities. It also comes with a handy travel-sized changing pad so you can change your baby's diaper during your long road trip.
Other features include adjustable padded shoulder straps, an insulated exterior pocket to keep bottles cool, and a water-repellant top padded carry handle. For something so versatile, this Baby Backpack can be your go-to essential when you take your babes out of the house. It currently costs $40.
More Hello Bello
It's no secret that kids love to play. And if there's one thing I've learned from adventures with my nieces and nephews, it's that playtime usually comes with dirt, germs, and long days out in the sun.
Hello Bello has a selection of high-quality kid and baby-related products suited for every beach day, every game of tag, or when it's time to visit the local playground. Up next in this Hello Bello diapers review, I'll give you a peek at four of their fan favorites.
Hello Bello Hand Sanitizer Review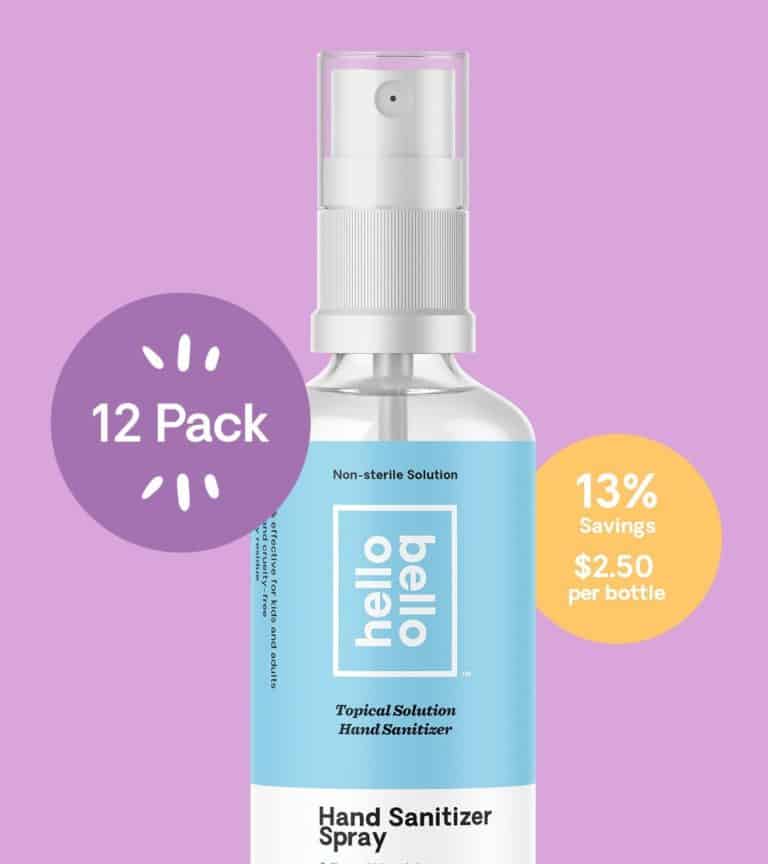 Now more than ever is there a need to be concerned about your hygiene. With cases of COVID19 still rampant to this day, it's equally important to take care of yourself and your family. For those important grocery store runs and errands, I'd suggest having the Hand Sanitizer by Hello Bello in tow.
This antibacterial formula has a 60% alcohol base (what the US CDC recommends). Safe and effective for all users, this Hand Sanitizer leaves behind no sticky residue, is vegan and cruelty-free, and comes in a perfect, travel-size bottle.
Choose from a Hello Bello hand sanitizer spray or gel model to find your perfect fit. Named the best products for traveling with a baby by Insider Magazine, I also spotted it named as one of the Top Ten Diaper Bag Essentials by Baby List.
Go unscented or opt for soothing apple blossom. If it's the 2.0 oz Hand Sanitizer bottle, I found that you'll need to buy it as part of a pack.
You'll have three different options for Unscented pack and one for the Apple Blossom, but I'll lay it all out for you below in this Hello Bellow diapers review.
Unscented 12 pack: $30
Unscented 24 pack: $55
Unscented 2 pack: $6
Apple Blossom 2 pack: $6
Hello Bello Natural Bug Spray Review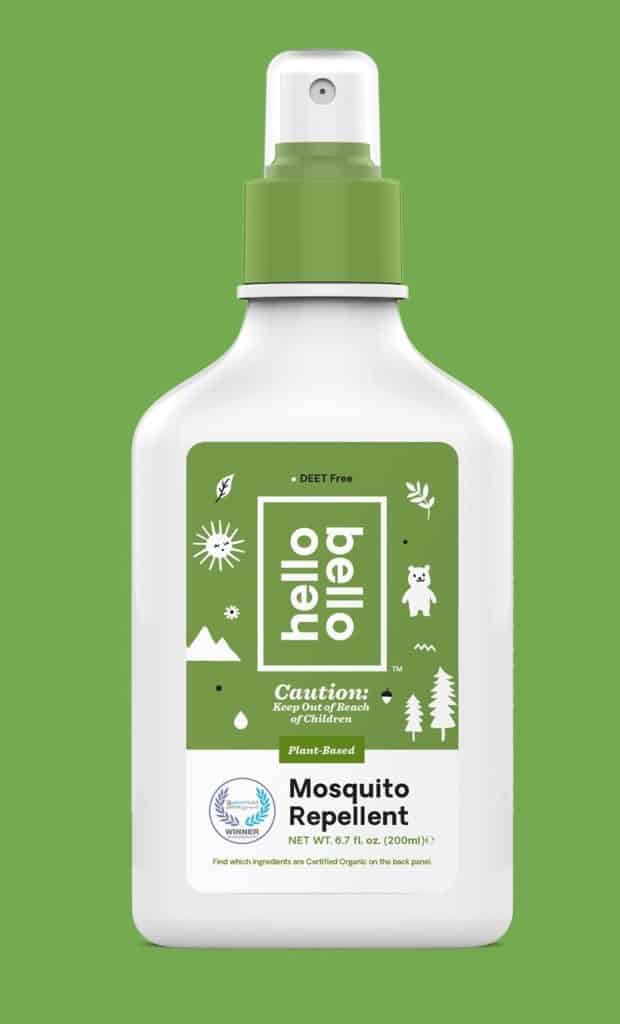 Kids love bugs but most bugs don't love kids back. Designed as an essential for every camping trip or family hike, the Natural Bug Spray by Hello Bello ensures that your little one protected from those biters, crawlers, and wrigglers.
This hypoallergenic, DEET- free bug spray lab tested, vegan, cruelty-free, and safe to use for adults, babies, and pets. Some key ingredients used in this formula include citronella oil, lemongrass oil, thyme oil, cedarwood, and more.
I've read that its smell isn't offensive compared to some other overwhelmingly stinky bug sprays. Named one of the nine Best Natural Bug Repellents for kids by the Family Vacation Critic, spray those pests away with the Natural Bug Spray for 6.7 fl oz for $10.
Hello Bello SPF 50 Sunscreen Mineral Lotion Review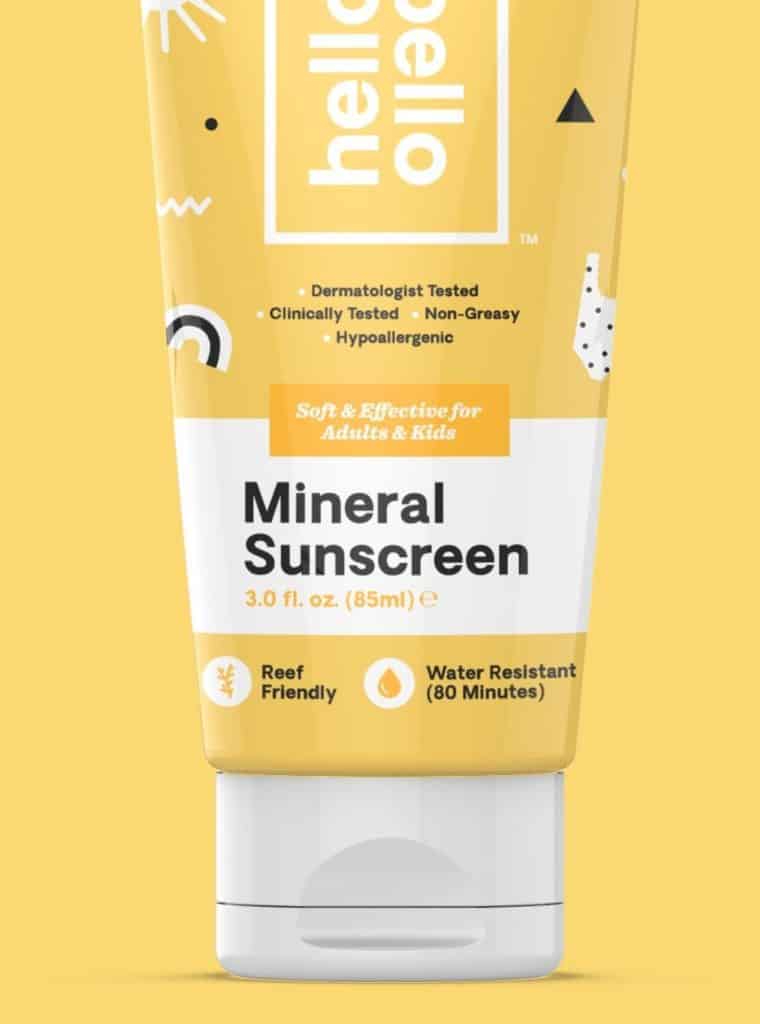 I love heading to the beach with kids. Building sandcastles and riding waves is fun at any age, yet, as an adult, it's something I don't do often.
With kids in tow, beach days often come with sunburns, so picking up a bottle of the SPF 50 Sunscreen Mineral Lotion is highly recommended. It protects your skin against broad-spectrum UVA + UVB rays using non-nano zinc oxide so you can play in sand to your heart's content.
It's dermatologist and clinically tested for effectiveness too, and is made from natural minerals and plant-derived ingredients to totally nourish skin as it shields. Don't worry, you won't find toxic ingredients here.
Hypoallergenic, vegan, and cruelty-free, it also contains soothing ingredients like cocoa seed butter, avocado, cucumber, chamomile, and more. And they won't wash away either since this sunscreen is completely water-resistant. Hooray!
Alongside your sun umbrella, a cooler full of soda, and beach blankets, make sure you have the SPF 50 Sunscreen Mineral Lotion tucked away. For a 3 fl oz container, this saving grace retails for $10.
Hello Bello Sunscreen Stick Review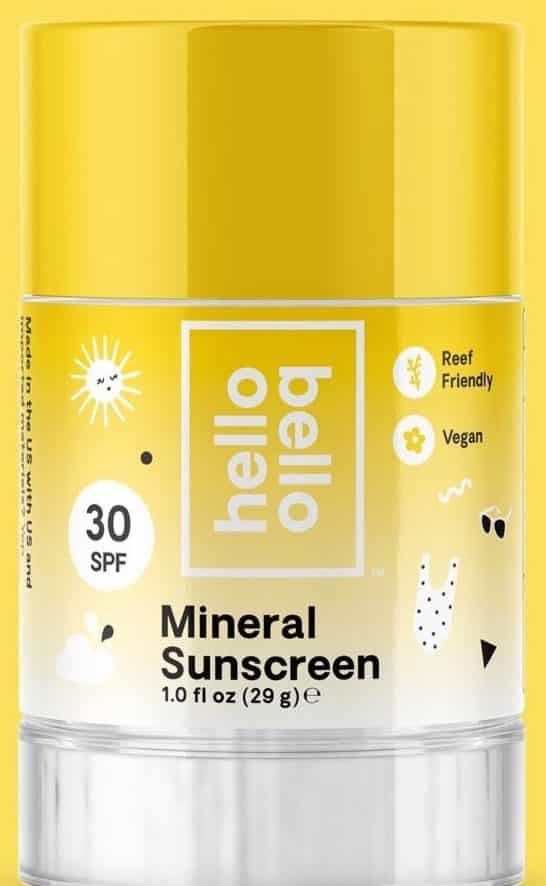 As a kid, my mom always had a stick of sunscreen on hand. It was sticky, waxy, and left my face feeling so yucky I would wipe it off. Guess what? I left the beach with a burn.
If lotions aren't your thing, but you're not a fan of traditional sticks either, I'd suggest checking out the Sunscreen Stick by Hello Bello. It's made with the same broad-spectrum UVA + UVB protection as its cream is, and you can easily send your kids off to their sandcastles by quickly coloring them in.
Along with non-nano zinc oxide, my favorite thing about this sunscreen is that it's made with nourishing coconut oil and cucumber. Water repellant, lightweight, reef-friendly, dermatologist-tested, hypoallergenic, and vegan, and cruelty-free—this is truly a stick you'll want in your bag.
Soak up the sunshine and some Vitamin D (without the burn)with the Sunscreen Stick for 1.0 fl oz.
Hello Bello Reviews: What Do Customers Think?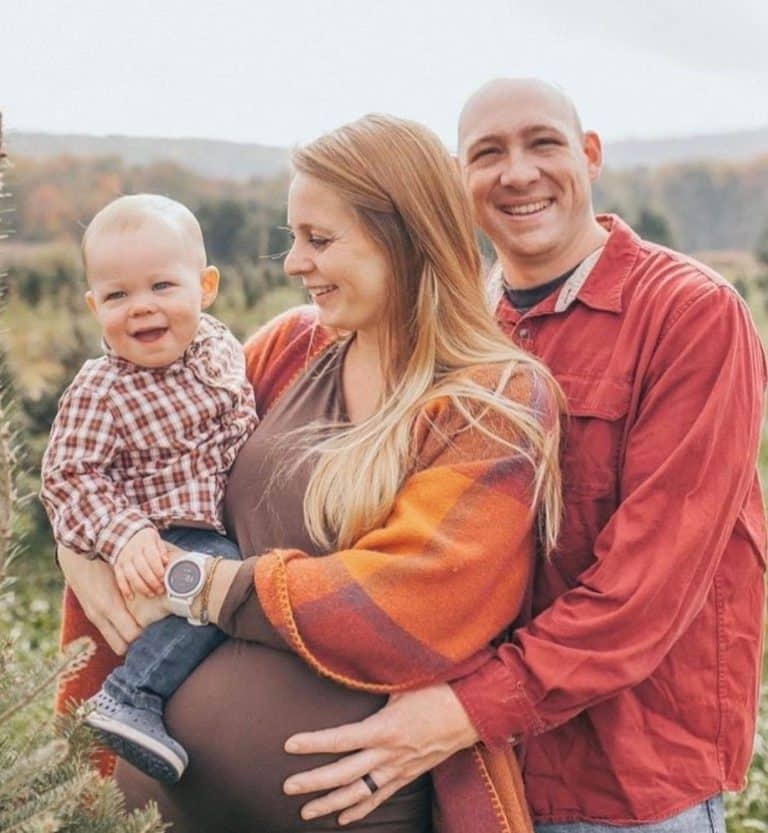 During my research for this Hello Bello diapers review, I found a generally positive customer response for the brand. On Trustpilot, there are over 2,228 reviews with an average rating of 4.3/5 stars.
Customers love that their diaper bundles are made out of high-quality materials and are pleased that they provided maximum protection with no leaks. Buyers also noted that their body washes and shampoos were gentle and effective enough for their children's hair and skin.
"These diapers have been absolutely amazing. We have 3 kids and having the ability to get them delivered right to your door along with wipes, is one less thing we have to worry about. The diapers are adorable, extremely soft, and durable–along with eco-friendly which is another plus," one reviewer wrote on Trustpilot.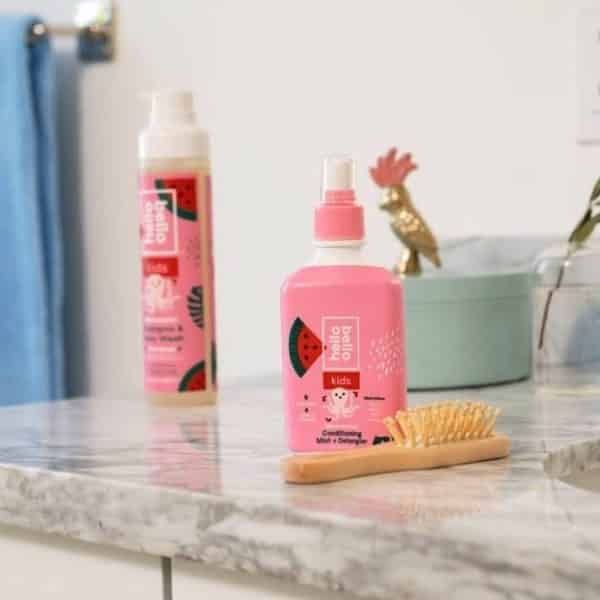 I headed over to Walmart to find out more. For the Hello Bello diapers, there are over 2,017 reviews with a general rating of 4.3/5 stars. Parents have commented that the material used for the diapers is very soft and most loved the variety of cute designs that they offered. There are also positive reviews for their baby wipes as well, as most reviewers reported that they were great to use for sensitive skin.
"Love hello bello wipes. They are plant based and not full of chemicals. Safe for sensitive skin. They don't have a strong smell. There are not thin feeling or see through. They have little soft bumps on them to help with "scrubbing" lol The design is super cute and perfect size for traveling," one Hello Bello wipes review detailed.
My Hello Bello Review
Hi, I'm Paige and I'm a product tester at Honest Brand Reviews.
I don't have a kid, but I can definitely attest to the power of Hello Bello's sustainable cleaning products.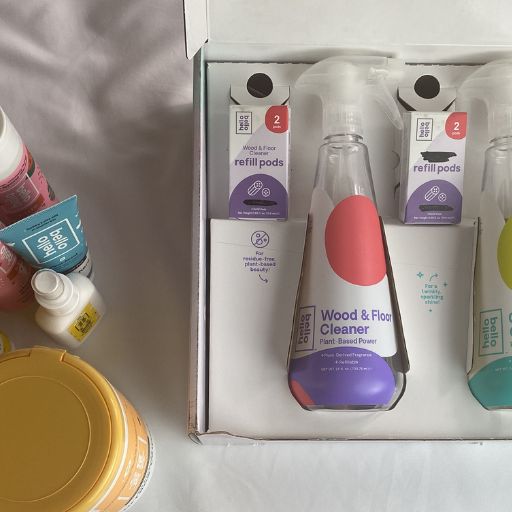 One of the first things I noticed about this brand was how affordable their prices are. I think that's awesome for parents who want clean baby products but don't have the money to throw away on expensive organic items.
Are Hello Bello Diapers Worth It?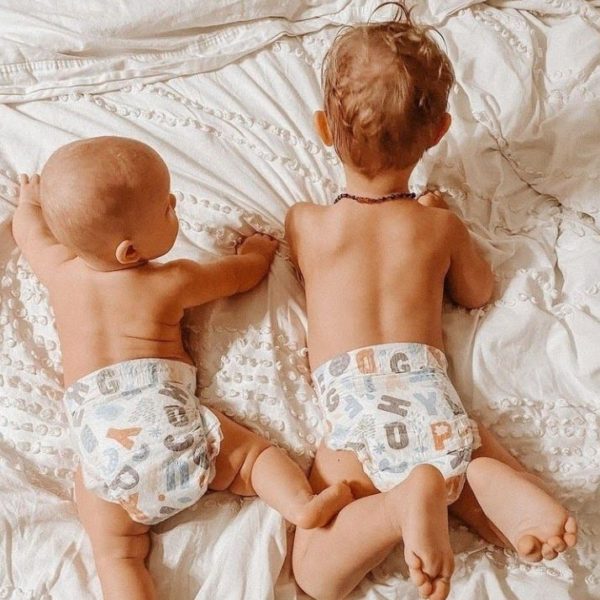 This is the part of my Hello Bello diapers review where I give it to you straight. Of course, after everything I've read and researched, I can't help but wholeheartedly recommend this brand. Why? Because not only is it convenient, but its products are also of great quality, and they're affordable. But what I think really makes Hello Bello stand out from the crowd is their transparency.
Since their product lineup is environmentally-friendly and packed with sustainable ingredients, Hello Bello doesn't have anything to hide. Creating parent-friendly sets like the Diaper Bundle, you'll easily get what you need when subscribing.
And parents agree. There are thousands of positive reviews about Hello Bello diapers, body washes, and shampoos. Loved for their softness and protection, if you're fed up with traditional toxic baby brands, I think this one is an awesome alternative.
Hello Bello Diapers Promotions & Discounts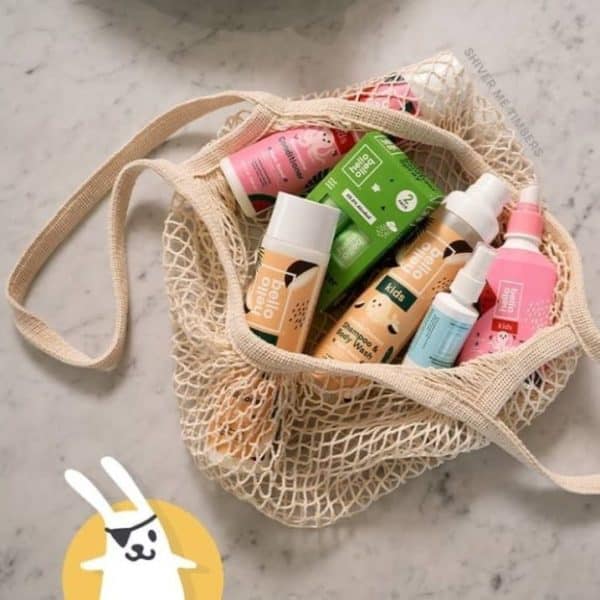 It just wouldn't be right of me to write a Hello Bello diapers review without a section on deals, and so I scoped out the site to find them all— kind of like an adult treasure hunt. Here's what I discovered:
You can save 15% on their orders if you sign up for a subscription bundle. Hello Bello also has a Rewards Program you can join to earn points and gain access to exclusive deals and perks.
Additionally, the brand has a Refer-a-Friend Program. Friends can get $15 as a reward, and in return, you also receive $15 in Hello Bello credit when they make a purchase.
Oh, and there's more. The company also has a Hello Bello discount code for those in the military or are first responders. Eligible customers can unlock this code for 20% off by visiting their website.
I found that there used to be a promotion called the 'New Mom Giveaway'' in which customers can sign up to get a pack of diapers for $1. Though this promo is no longer available, buyers can still get a 15% off Hello Bello coupon code if they sign up.
While I wrote this Hello Bello diapers review, I didn't come across a Hello Bello free sample or a Hello Bello free diaper bag code, but I have heard they existed at some point.
Where to Buy Hello Bello Diapers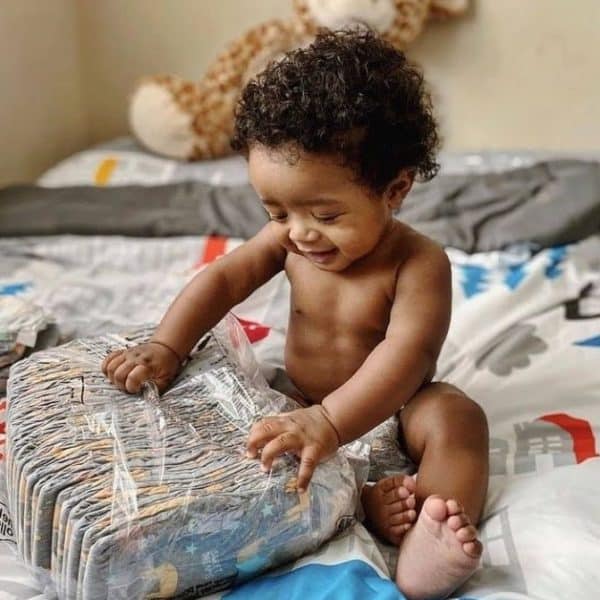 If you love everything about this brand like I do, you can purchase baby diapers and accessories through HelloBello.com or partner retailers like Walmart, CVS,  Kohl's, Albertsons, Meijer, Hyvee, Amazon, and Indigo.
FAQ
Does Kristen Bell own Hello Bello Diapers?
The company owned by Hello Bello Kristen Bell and her partner, Dax Shepard.
Are Hello Bello products safe?
For this Hello Bello diapers review, answering this question was kind of a big one. As I snooped around the site, I found that the brand's products are safe. They're hypoallergenic and do not contain any harmful substances.
Is Hello Bello Diapers organic?
Along with safety, it was my mission in this Hello Bello diapers review to check in on the brand's organic status. I discovered that some (not all) of their products are made from whole organic ingredients.
Do Hello Bello diapers have chemicals?
I was pleased to find that Hello Bello stays away from using harsh chemicals in diapers, as well as all other items they make.
Are Hello Bello Diapers biodegradable?
Though Hello Bello uses plant-based PLA and sustainably-harvested fluff pulp in their diapers, they're not biodegradable. The brand says that no fully biodegradable diaper exists, though the industry has made strides in the right direction.
Can you cancel Hello Bello?
If you've signed up for a subscription but wish to stop, during this Hello Bello diapers review, I learned that customers can cancel, pause, or skip their subscription bundles at any time. Members can do so by logging into their accounts.
How much is Hello Bello shipping?
According to their policy, the Hello Bello shipping costs is $6–a total steal. If you spend $25 or over, they'll waive that fee. They currently charge $25 for orders shipped to Alaska and Hawaii.
What is Hello Bello's Shipping Policy?
Hello Bello is only available to order online within the United States. This means that they do not offer international shipping and that Canadian customers cannot order Hello Bello training pants in Canada.
Orders will arrive 3 to 7 business days after it processed. Customers will receive a tracking number via the confirmation email to monitor their package.
Can you return Hello Bello diapers?
Customers can return any Hello Bello product as long as it's in new condition and not been used.
What is Hello Bello's Return Policy?
If you're not totally pumped about your order. They can return it within 60 days of the delivery date—this the Hello Bello satisfaction guarantee. Get in touch with their customer service team to start the process.