Our EaseUS review covers how the data recovery software looks and feels, how many file formats it can recover, which operating systems it runs on, how much it costs, and, most importantly, how well it performs. Use our findings to guide you when deciding whether it's the right choice for you.
Jump to:
Main Features
Data Recovery Process
Pricing Plans
Verdict
Have you ever had your computer suddenly crash or shut down causing you to lose all of your important files and media? This type of frustrating data loss can be caused by attacks on your computer from a virus or malware, corrupted or damaged files, power outages, or other unforeseen system shutdowns.
Data recovery software can be a real lifesaver in the event that your computer experiences a system crash or hard drive failure. Here are the facts about EaseUS Data Recovery Wizard including actual trial results and customer reviews.
TL:DR; As a result of our own trial of the EaseUS Data Recovery Wizard, we found it to be both efficient and effective for restoring lost data, both for Mac and PC users. A consideration, however, is that the monthly price for using this software is a bit high for those who don't want to commit to using it for a year or more. The company's website offers its customers a free trial for this software and has a convenient informational video on how the recovery wizard works. The is currently being used by more than 75,000,000 users worldwide and has received some strong reviews.
Nonetheless, we wanted to try this product out for ourselves and find out if it's worth the money. As a prospective client, you should be well informed before making a purchase that can impact the recovery of a sudden and total loss of your data. Here is a comprehensive summary of our conclusions.
Want to help make our content better? Please vote for the best alternative to EaseUS Recovery Wizard: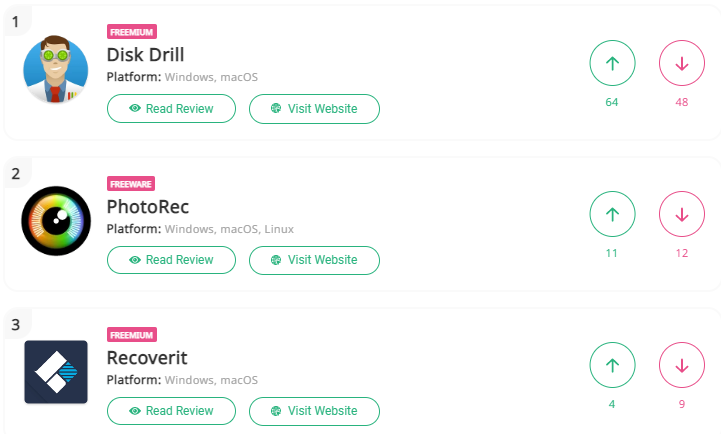 EaseUS Data Recovery Wizard Main Features
🚄 Fast and Easy to Use
You don't have to be very technical or computer savvy to use the EaseUS Data Recovery Wizard. The software takes just a few minutes to download and will start scanning your computer with just one click. It usually takes around 5 minutes for a quick scan of your C drive, depending on how many GB are being used, and most home computers can have all of their data thoroughly scanned in less than 10 hours. The number of files found and the estimated remaining time to complete the scan are displayed at the bottom of the Recovery Wizard. The software instructions are also available in several different languages.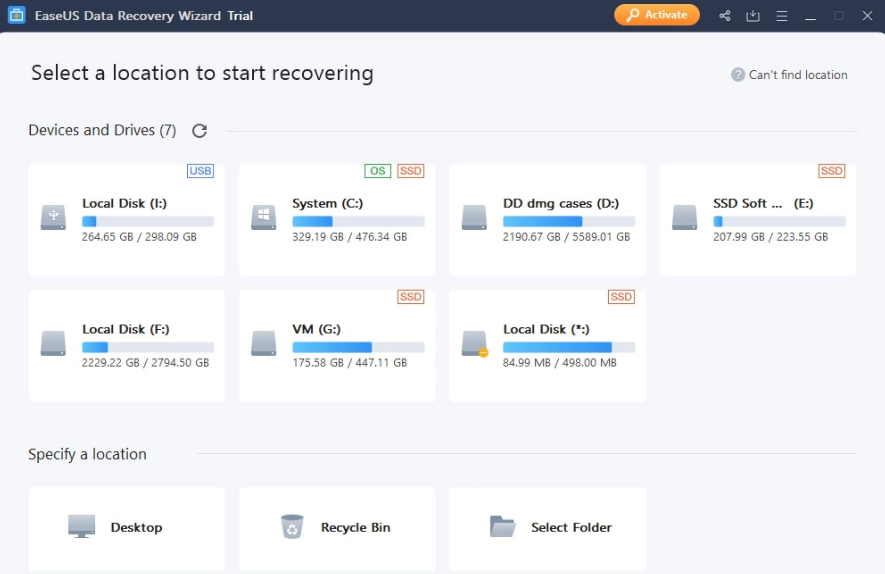 🗃️ Recovers many different file types
The EaseUS Data Recovery Wizard allows you to recover lots of different types of files including:
Аlmost all document types and formats (.txt, .doc, .xltm, .pdf, etc);
Images;
Audio;
Video;
Emails.
It can also recover files that were accidentally deleted, and recover RAW partitions (when your system does not recognize a file structure and you can't access stored data).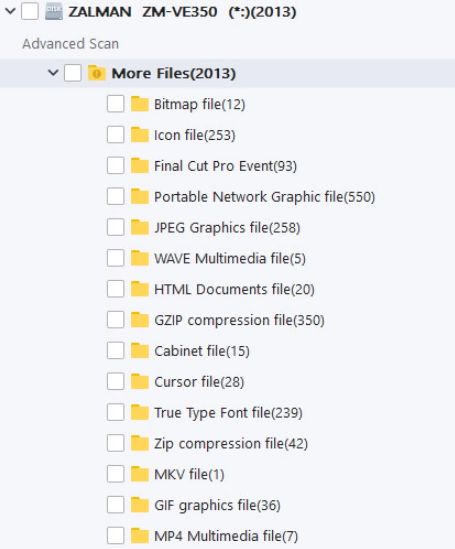 This software offers two modes for data recovery: a quick scan and an advanced scan. We ran the quick scan which allows you to find and restore any recently deleted files as well as identify if your file system has been corrupted by a virus. It finished in a couple of minutes. Then we tried the advanced scan, which can recover long-lost data. It finished in a couple of hours. The EaseUS Data Recovery Wizard can even recover files from a hard drive that was re-formatted. This includes data stored on an SD card (memory card), USB flash drive (pen drive), solid-state drive, and hard disk drive. With the free trial, you can get up to 2 GB of data recovery.
🖥️ Compatible with lots of different operating systems
The EaseUS software can recover data from your laptop, personal computer, or an external or internal storage device. It is fully compatible with all Microsoft Windows operating system versions, including:
Windows XP;
Windows Vista;
Windows 7;
Windows 8, Windows 8.1;
Windows 10;
Windows 11;
Windows Server 2000;
Windows Server 2003;
Windows Server 2008;
Windows Server 2012;
Windows Server 2016.
📂 Allows you to import an exported saved scan file
By allowing you to import previous scan results whenever you want to, you can prioritize which documents you want to retrieve first. There is an "Import Scan Status" button on the interface. All you need to do is import the desired results from a scan and save them to a folder on your computer. Then you can continue scanning the remaining files at a later time.

Ease US Software Data Recovery Process
During our free trial of this product, we were able to do an advanced scan of our computer's C drive, which had 124 GB of space being used, in just under 30 minutes. You can also search by name for any specific file that you want to recover. When saving a lost file to your original drive, there is a warning message that pops up saying "Your data might be overwritten or lost permanently if you save files to original drive".
To use the EaseUS Data Recovery Wizard, just download and open the software, select a device to scan, and wait for the results. Once the scan is completed, just hit the "Recover" button to restore your important files. As previously mentioned, there are two types of scans available: A quick scan that recovers deleted files, and an advanced scan that recovers lost files. After completing the advanced scan, we performed the quick scan and recovered 724 files in less than a minute. That was all of the file recovery available with the free trial of the product, but the process was quick and effective. The free version of the EaseUS Data Recovery Wizard allows you to recover up to 2GB of data.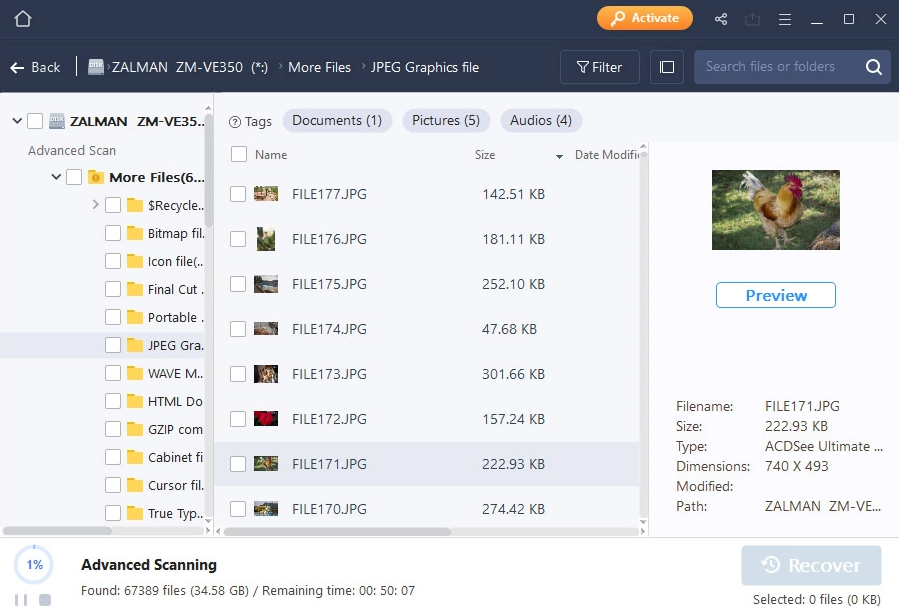 Scanned files can easily be found by their type. This means that to quickly find a certain file, just use the toggle buttons to view missing files, and the file type is displayed. You can also filter the scan results to view just one particular file type by clicking on it, i.e. .jpg.
EaseUS Data Recovery Software Plans and Pricing
If after trying out the free version of the EaseUS Software you want to upgrade to the paid "Pro" version, there are three plans available. All purchase plans are automatically re-new and allow you to cancel at any time.
Get Easeus Data Recovery Tool with 60% OFF using a Promo Code.

Pay monthly
By far the least cost-effective plan is paying monthly, which costs $69.95 for Windows users, and $89.95 for Mac users. This gives you one license for one computer, one month of free upgrades, and free remote assistance.
A much better deal is to purchase the yearly plan, which is only $99.95 for Windows users, and $119.95 for Mac users. This gives you one license for one computer, one year of free upgrades, and free remote assistance.
If you want to always have access to the recovery software, just pay a one-time fee of $149.95 for Windows users and $169.95 for Mac users. This gives you one license for one computer, lifetime free upgrades, and free remote assistance.
🪟 Windows software version

🍏 MacOS software version

Customer reviews of the EaseUS Data Recovery Wizard
As a potential buyer, reading reviews from customers who have purchased the EaseUS software is a critical part of your purchasing decision. Here are some of the most common pros and cons reported from people who have tried out the EaseUS software.
PROS:
Easy to recover long lost images and video files.
The EaseUS website has a lot of good documentation on how to use their software with answers on how to resolve specific problems.
Fast and efficient. Clients reported that EaseUS Software recovered all of their lost files from an external HDD in around 2 hours.
Mac users reported the software restored lost data time and time again without any harm being done to a corrupted system.
The interface is simple to follow. The icons are clear, colorful, and easy to understand. It is easy to recover files from many different places including a laptop, PC, digital camera, hard disks, and SSD.
Fully restored data after a laptop crash. The software was able to undelete hard drive files and restored over 250 MB of data including text files and images.
Has a flexible data recovery process with a search function to locate particular files, and the ability to pause or stop the data scanning.
Was able to restore a large number of lost files that were no longer in their original file folders.
CONS:
A bit expensive as compared to other data recovery software.
The monthly price plan is not at all economical which means that you probably have to commit to using the software for a year or more.
It can take a long period of time to recover large files.
The software easy to use but the user interface could improved.
The user interface can initially be challenging for beginners to understand.
Language options limited for non-English speaking users.
Even though it can recover most data, some files are corrupted and cannot scanned.
It is missing some added features which are only available through separate EaseUS software packages. These features include the ability to clone your hard drive and create a USB or bootable disc when your computer won't start.
FAQ's about EaseUS Data Recovery Wizard
How to Use EaseUS Data Recovery?
You can start by downloading the free version of the product for your Windows or Mac.
Then double click the downloaded file to launch the installation. You will see a "Welcome" prompt that asks you if you would like to continue. Click "Next".
A license agreement will pop up. Accept the agreement, click "Next", click the box next to "Create a desktop icon", and then click install.
Now the software downloaded to your computer. The company's website as an easy to follow step-by-step guide on how to use the software.
Where Does Easeus Store Recovered Files?
Double click on the icon to open the software. Then you need to select a location to scan, like your C drive, documents or downloads. You can choose one of two scanning options: a quick scan that recovers deleted files, or an advanced scan that can restore lost files. After the scan completed, you want to choose which files you need to recover. You can look for the files one at a time, or use the search bar to locate specific files. Double click on a file to preview its content. Once you have chosen the files to restore, click the "Recover" icon and choose a location to save the files on your computer. Now you will know which files saved in which location.
Is EaseUS Data Recovery Wizard safe?
The EaseUS Data Recovery Wizard should completely safe to run even on a device with a crashed hard drive, as long as the drive not damaged. The EaseUS products appear to be very reputable and worldwide consumer reviews report no issues on safety and security.
What is EaseUS?
EaseUS is a data recovery software tool that can help users recover lost or deleted data from a wide range of disk-based storage devices. Versions are available for both Windows and Mac computers, and you can test-drive the software for free.
Does EaseUS really work?
Yes, EaseUs does work. It can recover lost or deleted files from many different data loss scenarios. The product used by thousands of satisfied customers and successfully stood up to our testing methods.
How do I install EaseUS?
Installation of EaseUs is very simple and straightforward. Just download the appropriate version for your operating system to your computer. Open the downloaded file and follow the onscreen prompts to install the software. You will probably need to supply administrator-level credentials to give the tool the permissions it needs to perform data recovery tasks.
How do you launch EaseUS Data Recovery Wizard?
Once the software installed, launching it simply a matter of clicking on the app's icon. After the interface opens up, you select the target drive or device that contains the lost data and let EaseUS scan for recoverable files.
How much does EaseUS cost?
EaseUS Data Recovery Wizard costs $69.95 per month, $99.95 per year, and $149.95 for lifetime use. Unless you have a specific, short-term recovery project, the lifetime option offers the best value.
Is EaseUS really free?
You can download an evaluation of EaseUS for free. The free Windows version lets you recover up to two GB of data before upgrading to the Pro version. The Mac evaluation version allows you to scan your device and will report on the files that can recovered with a paid copy of the software.
How long does EaseUS take to recover data?
The amount of time required to recover data varies and will influenced by the size of the storage device to scanned. The amount of data recovered, and the type of scan performed. A Quick scan will finish faster than a Deep scan, but the Deep scan will usually find substantially more recoverable data.
What are the alternatives to EaseUS?
Some data recovery products that are alternatives to EaseUS include:
Disk Drill
Recoverit
R-Studio
PhotoRec
ProSoft Data Rescue
Recuva
Minitool Power Data Recovery
How do I activate EaseUS?
You can activate a full version of EaseUS from within the trial download of the software. Be prepared to choose from the monthly, yearly, or lifetime license.
Is there a coupon, promo code, or discount for EaseUS?
Yes, there are many coupons and discounts available on different websites for EaseUS including this one from their site. We suggest searching for EaseUS promo codes or discounts when making your purchase to take advantage of the most recent deals.
Conclusions and Verdict about the EaseUS Data Recovery Wizard
Based on our own experience using the EaseUS recovery software, we would say that this is a good product from a reputable company. There are informational videos and tutorials on their website that help new users understand the software, making it quite easy even for a first-time user.
The EaseUS Data Recovery Wizard is safe for your Windows or Mac computer, and it can scan and restore lost data in a reasonably short period of time. The Windows version of the software can retrieve corrupted files from a damaged drive or external storage unit.
The only knocks on this product are that the free trial offer provides for a very limited amount of data recovery, not every file type is recoverable, and the pricing plans can be somewhat expensive, especially if you don't want to commit to using the software for a year or more.