What is Coursera?

Coursera is an online learning platform that offers courses, certificates, and degrees from top universities and organizations worldwide. Users can take a wide range of classes in subjects such as business, computer science, and humanities. Some classes are free to audit, while others require payment for full access to course materials and assessments.
How Does Coursera Work?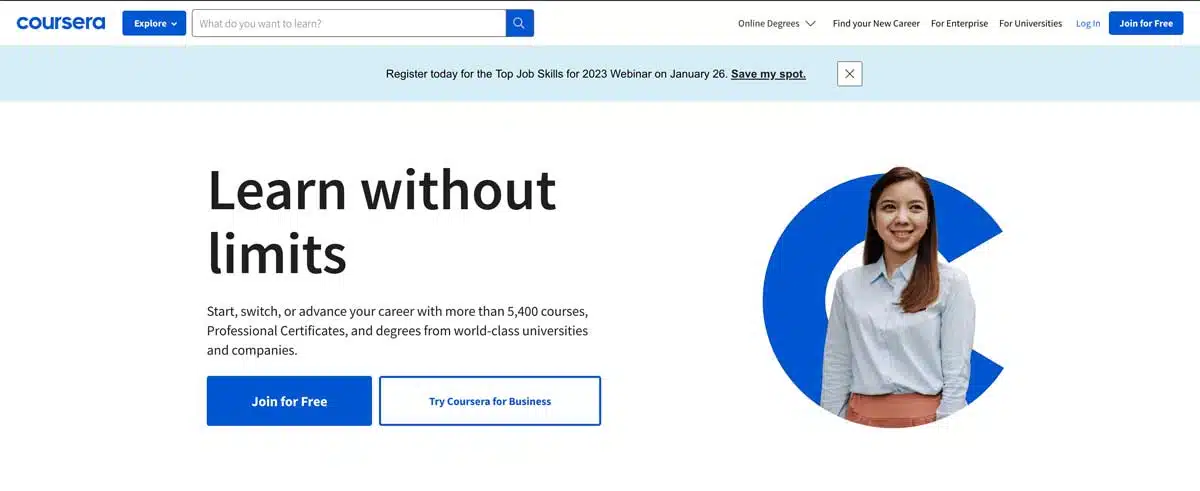 Coursera works by offering online courses, taught by instructors from top universities and organizations, to students around the world. To take a course on Coursera, users can browse the course catalog, select a course that interests them, and then enroll in the class.
Once enrolled, students have access to video lectures, readings, quizzes, and other course materials. They can also participate in discussions with other students and submit assignments for grading. Some courses on Coursera are self-paced, while others have set start and end dates.
Some courses are available for free, while others require payment for full access to course materials and assessments. Upon completion of a course, students may earn a certificate or a shareable electronic course completion certificate.
Coursera Pros and Cons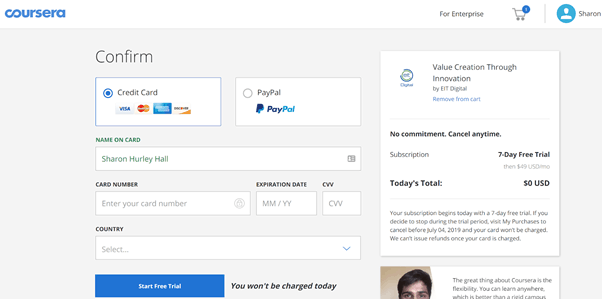 Pros of Coursera:
Wide range of course offerings: Coursera offers a wide variety of courses from top universities and organizations around the world.
Convenient and flexible: Coursera allows you to learn at your own pace and on your own schedule.
Cost-effective: Many of the courses on Coursera are free, and even the paid courses are often less expensive than traditional in-person classes.
Access to top instructors: Coursera offers courses taught by professors from top universities and industry experts.
Certificates of completion: Coursera offers verified certificates of completion for many of its courses, which can be useful for professional development or as proof of completion for a degree program.
Cons of Coursera:
Limited interaction with instructors and peers: While you can ask questions and participate in forums, the interaction with instructors and peers on Coursera is generally limited compared to in-person classes.
No credit towards a degree: While many universities accept Coursera courses as elective credit, they do not usually count towards a degree.
Limited course availability: Not all courses are available on Coursera and some are only offered at specific times.
Self-paced format: The self-paced format of Coursera may not be suitable for everyone and may require a lot of self-motivation to complete a course.
Limited hands-on experience: Some courses on Coursera may not have the same level of hands-on experience as in-person classes.
Coursera Features and Functionality

Coursera offers a variety of features and functionality to help students learn and engage with course materials:
What Type of Courses are Offered on Coursera?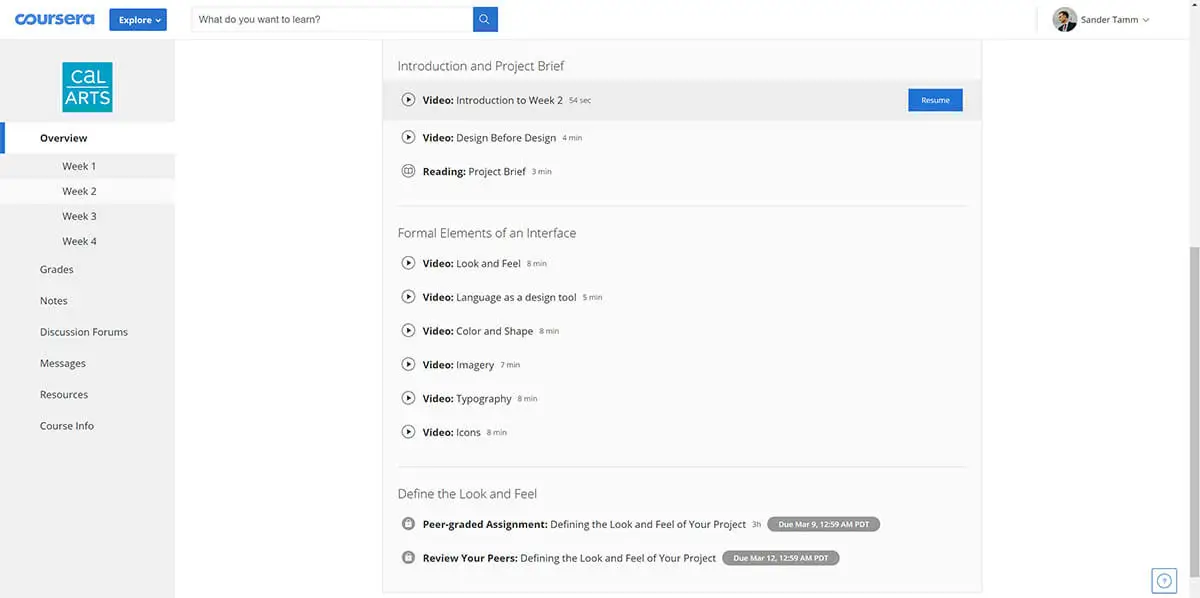 Coursera offers a wide variety of courses in many different subject areas, including:
In addition to the traditional courses, Coursera also offers many other types of learning opportunities such as:
Financial aid for those who cannot afford to pay for the courses.
How to Choose Coursera?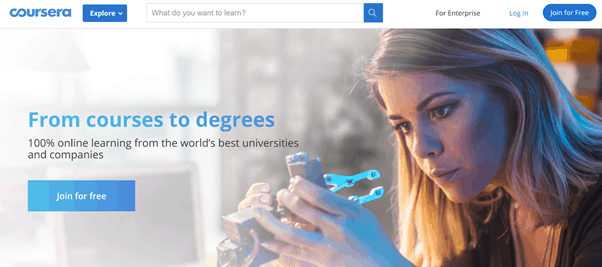 When choosing a course or program on Coursera, there are several things to consider:
By considering these factors, you can choose the right course or program on Coursera that matches your learning needs and goals.
How Does Coursera Pricing Work?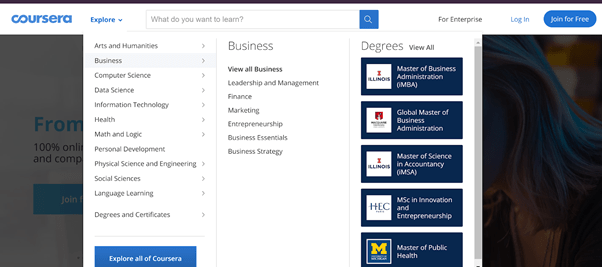 Free courses can accessed by anyone and include video lectures, quizzes, and assignments. However, free courses do not include access to course materials such as readings and assessments, and they do not offer a certificate of completion.
Paid courses, known as "Signature Track" courses, cost money. They are the same as free courses, but with added features such as a certificate of completion and access to course materials. Additionally, some courses and programs offer a verified certificate, which is a certificate that verifies that the learner completed the course and is awarded after the learner has completed the course and passed the assessments. Some degrees and professional certificate programs are also available which have a financial commitment and may have different pricing structure.
Coursera also offers financial aid to learners who are unable to afford the fees for the paid courses or programs. It's worth to check the specific course or program page for more detailed information about pricing and other details.
FAQ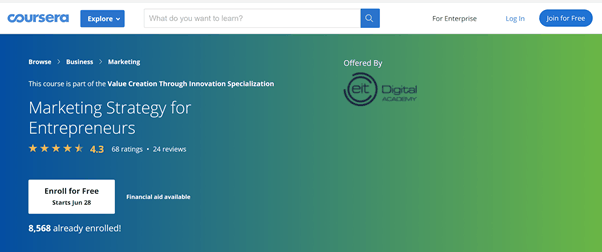 How much does Coursera cost?
Many Coursera courses are free to take, but some courses and certifications require payment. Prices for paid courses vary and can range from a few dollars to several hundred dollars.
Are Coursera courses recognized by employers?
Many employers recognize Coursera courses and certifications as a sign of professional development and learning. However, it's always best to check with your employer to see if they accept Coursera courses as proof of education or experience.
Can I earn a degree on Coursera?
Coursera offers a selection of online degree programs, such as MasterTrack and Master degrees, as well as a selection of online degrees from universities, such as the University of London and the University of Illinois.
Can I download course materials?
Most Coursera courses include downloadable materials, such as lecture slides and readings. Some courses may also include additional resources like workbooks, assignments and quizzes.
Can I get a refund for a paid course?
Refunds for paid courses generally not offered, but if there an issue with a course, you can contact Coursera's customer support for assistance.
How long does it take to complete a course on Coursera?
The time it takes to complete a course on Coursera varies depending on the course, but most courses designed to completed in 4-6 weeks, with a workload of 2-3 hours per week.
How does the certificate works on Coursera?
After completing a course on Coursera, you may be eligible to purchase a certificate of completion. These certificates are verified by Coursera and include your name, the course title, and the date of completion.