Constant Contact have been in the email marketing game since 1995. During that time they've managed to become one of the most used email tools in the world, boasting over 650,000 customers.
What makes them special is that they've added several features over the years that none of their competitors sport, such as surveys and social campaigns. These all add to the diverse list of email options available, in addition to automations and recurring newsletters. In the past, they offered users a built-in events management tool. However, this is no longer the case and new users will be prompted to integrate with Eventbrite.
Constant Contact boast a marketplace with over 400 apps and integrations that cater for even the most niche of products. Yet despite these flashy numbers and features, interest in Constant Contact seems to be on the decline, at least according to Google Trends. Enough reason for us to take a closer look at Constant Contact's ins & outs and check if it's still relevant in the 21st century. Find out below!
Constant Contact Summary
Constant Contact is directed towards small businesses, but their prices aren't the most affordable, especially when you consider that their features just aren't that advanced. Plans start from $20/month but this only allows for 500 subscribers. We were also quite disappointed when they removed the events management feature.
Constant Contact Pricing

Pros and Cons
Pros
Niche features: Constant Contact have some interesting niche features such as event management, which may come in handy for specific businesses.
High deliverability rates: They have consistently performed well in our deliverability tests , offering some of the highest rates of deliverability among our reviewed tools.
Cons
Very poor price-performance ratio: The prices for this newsletter tool are incredibly high compared to what they offer, and also compared against other tools.
Limited automation: They offer basic automations, but we're really missing the more sophisticated and flexible workflows offered by other providers here.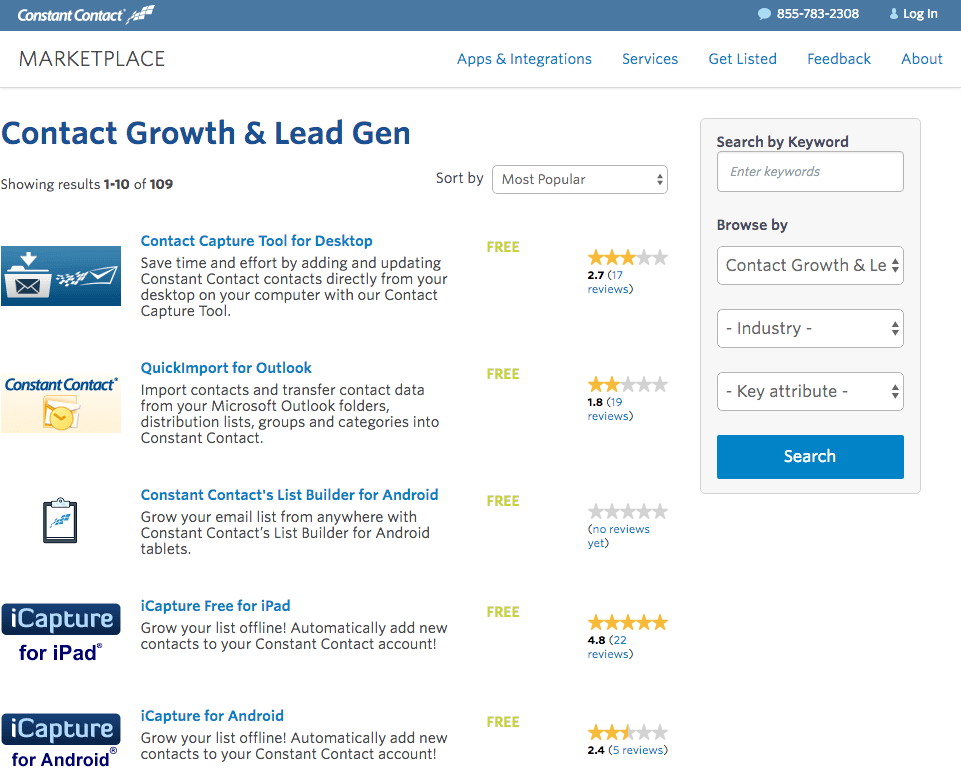 Is Constant Contact the right newsletter service for you?
Recommended if:
You run events: Constant Contact is quite unique in this regard, being one of the few email marketing tools that allows you to manage event invitations, registrations, and tickets (if you opt for the Email Plus plan). Bear in mind that new users wanting to manage their events through Constant Contact will be prompted to integrate with Eventbrite, which wasn't previously the case.
Not recommended if:
You need advanced automation: Surprisingly, for the premium it charges, Constant Contact doesn't offer the most advanced automations. While they do offer triggered campaigns, autoresponders and abandoned cart campaigns (for Shopify only), you'll find that other much cheaper tools offer similar levels of automation – MailerLite and Sendinblue, for example.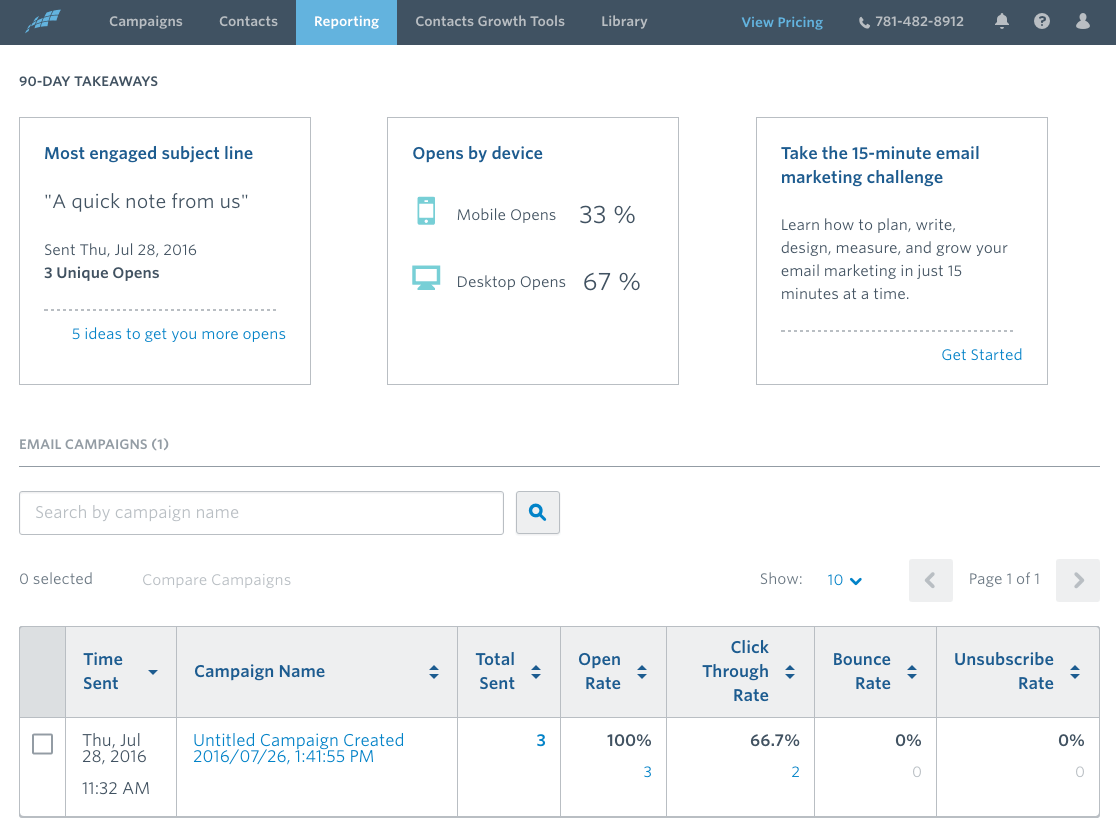 Conclusion
As Constant Contact themselves reiterate through their site, they are a tool for small businesses. And, as such, it's worth evaluating them on these terms. As mentioned above, they definitely have enough of the basics covered to satisfy most small businesses, and if it were as simple as that then we'd recommend them more highly.
The issue, these days, is that there are plenty of other email tools offering even more than Constant Contact, and for a lot less money. This includes not only features, but also user experience. In fact, for the amount you pay with Constant Contact, you could find yourself using much more powerful tools such as ActiveCampaign and GetResponse.
They do pick up points for their decent deliverability rates, integrations (particularly social media integrations), and for allowing different access levels for separate users. And with recent enhancements to automations and reporting, it does look like they're making an effort to improve the product. But their lack of advanced features makes it difficult to recommend over others at their price point.
Try Constant Contact now for free for 60 days.
Please note that we are using affiliate links in this review. Some of the companies mentioned in this text pay us a commission if you make a purchase. This doesn't influence our ratings and we will never shy away from pointing out weak spots in a product.
Constant Contact Alternatives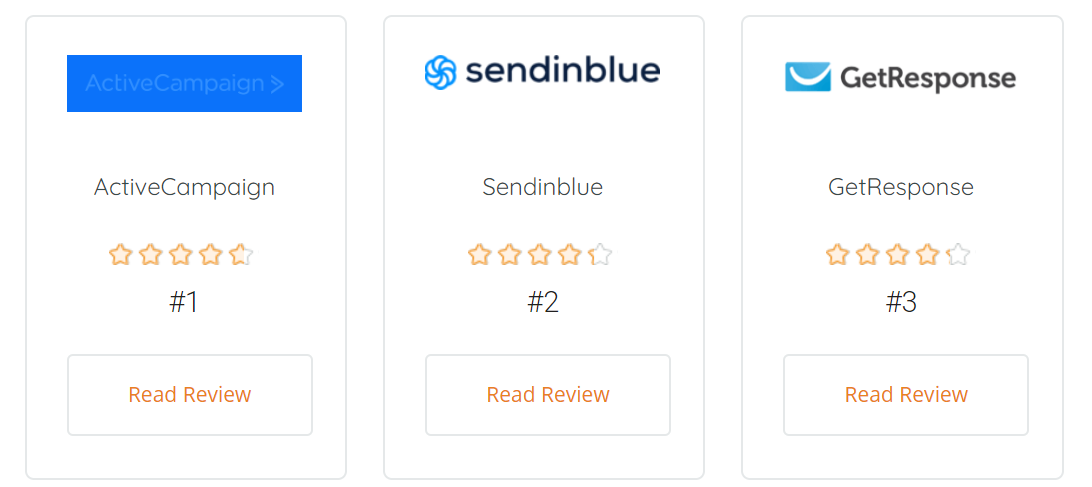 ActiveCampaign has one of the most advanced automation systems we've ever tried, and it can't be compared to Constant Contact's simplistic approach (it only features autoresponders). They also offer robust reports and analysis tools. On top of that, they are even cheaper than Constant Contact.
Sendinblue is one of the cheapest all-in-one email marketing tools on the market. It's available in 6 languages and comes with advanced automation options and a built-in CRM.
GetResponse is a solid alternative. It comes with many advanced features (e.g. a webinar tool), has excellent automations and offers one of the best spam and design testing tools we've ever used. That's why Constant Contact falls short when compared to GetResponse.
We have a detailed guide with the best alternatives to Constant Contact, check it out here. You can also try out our Smart Finder to see which newsletter service is best suited to you.