Overview of Condor

When flying with Condor, there are three types of tickets that you can purchase, with Economy Class being the most popular and offering services such as standard entertainment choices and snacks. For more comfort, select Premium Class, as it comes with free snacks, drinks, headsets, and one piece of checked baggage. Business Class is the most luxurious option, as it provides travelers with particularly comfortable seats. Priority boarding, and the option of choosing your own seat.
If you are flying with a small child, the airline can provide. You with several useful amenities for free, such as baby food, diapers, and bottles. Additionally, all bathrooms conveniently contain changing tables. Bassinets are available on long haul flights in order to provide both parents and the child with some rest. Items such as car seats and strollers can be checked at no additional cost along with your regular baggage.
Although Condor is primarily based in Frankfurt, Germany. The airline offers flights to many countries across the world and to six different continents. Italy, Spain, and Greece are just some popular options that are convenient choices for travelers hoping to visit Europe. While Kenya is another choice if you have always wanted to go to Africa.
To ensure that the airline can offer as many flights as possible. The company is known for partnering with several other businesses. Such as Air Tanker and Smartlynx. Thomas Cook Airlines also commonly services flights for Condor, with their planes generally offering Economy Class, Premium Class, and XL seats that provide passengers with additional legroom.
Condor Airlines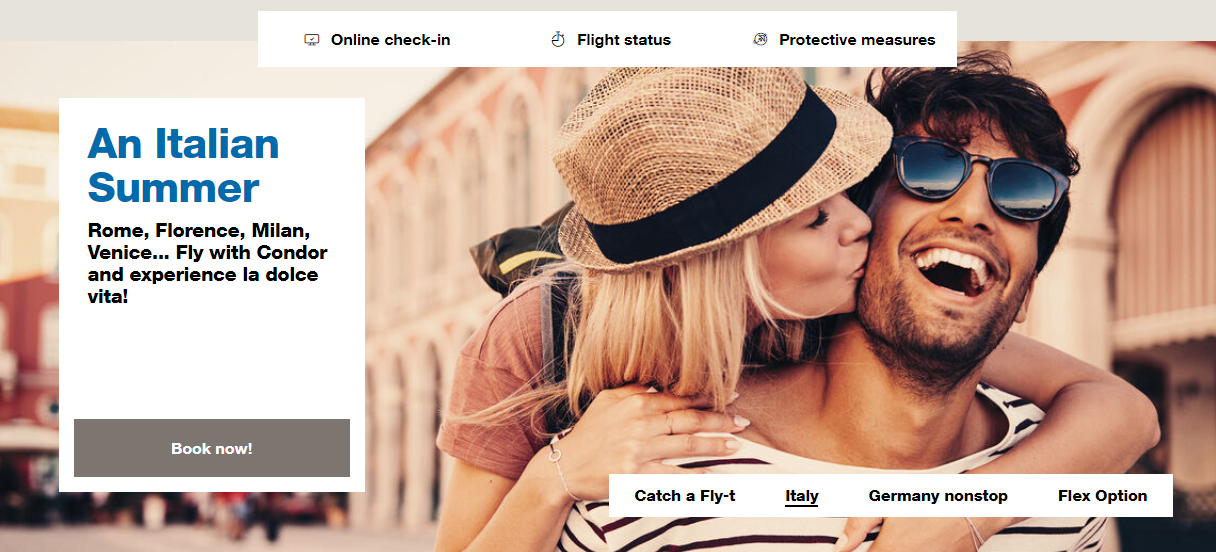 Condor Airlines is Certified as a 4-Star Leisure Airline for the quality of its airport and onboard product and staff service. Product rating includes seats, amenities, food & beverages, IFE, cleanliness etc. Service rating is for both cabin staff and ground staff.
"Long-haul Business Class is good, and older angled seats are superior to most leisure carriers. Premium Economy on B767 aircraft is comparable to other airlines. While long-haul Economy has a basic free product. There are elements of a la carte pricing for premium catering and IFE, and on short-haul flights all F&B items are chargeable. Staff standards are acceptable in Business but subject to inconsistency in Economy. Condor delivers a good 4-star experience."
Booking
The best way to book this would be with The Platinum Card from American Express so you can earn 5x points on airfare. Of course, you could also use another top travel card like the Chase Sapphire Reserve. Which gives you 3x points on all travel and dining expenses worldwide or the Chase Sapphire Preferred. Which lets you earn 2x points on travel purchases like airfare.
Check-In and Lounge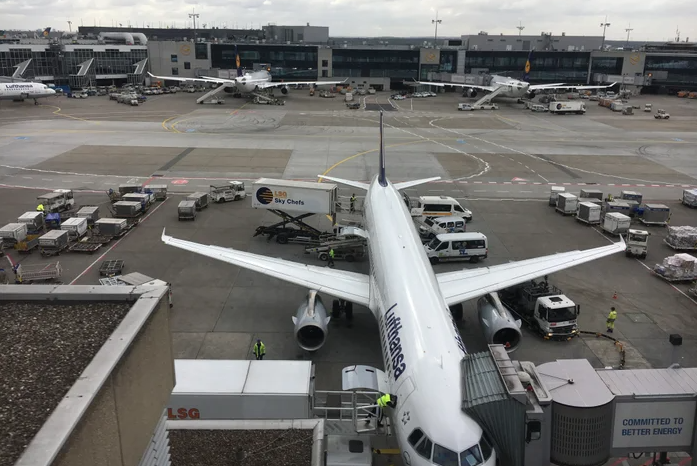 Upon leaving the Aircraft Interiors Expo, I checked in for my Condor flight at the Lufthansa counter in Terminal 2 of Hamburg Airport (HAM), where the desk agent gave me all three boarding passes I'd need that day: HAM-FRA, FRA-SEA and SEA-DEN. Upon landing in Frankfurt, I had barely an hour before my Condor flight to Seattle started boarding. In that brief time, I speed-walked from Concourse A to Concourse C.
This seemingly modest transfer involved about 20 minutes of fast walking, a train ride, a quick stop for some Haribo gummy bears at the duty free shop, the joys of passing through passport control and an additional full security check. I never, ever check luggage, especially when I know I'll be getting ample space in business class. My suitcase passed through just fine, but something about my Nikon DSLR made the security agents want to hand-check the contents of my backpack. After a quick swab for the explosive trace detection (ETD) machine, I was on my way.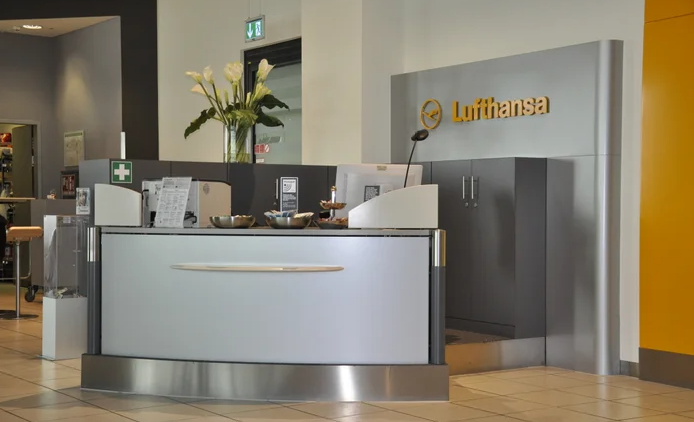 Being somewhat annoyed and winded as I by this point — because of the walking distance and security check. I determined to spend at least a few minutes in the Lufthansa Business Lounge in Concourse C.
Confession: I really just needed a beer.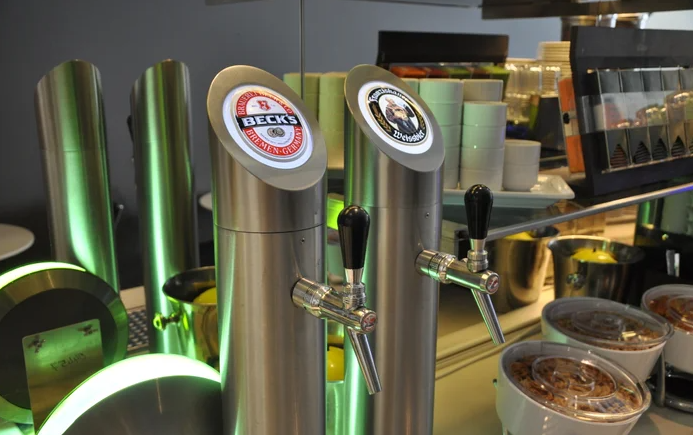 When I entered, there were only seven other passengers using the lounge. It was dimly-lit because the Lufthansa gate attached to the lounge (C-16) was not in use at the time and it was also mostly cloudy outside.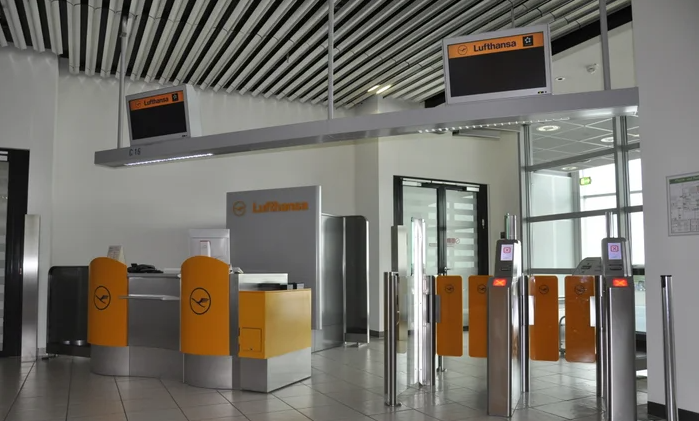 Near the center of the room, there was a modest buffet table that contained all the food and beverage offerings. This lounge was much smaller in terms of size and amenities than the Lufthansa Business Lounge in Frankfurt's Concourse Z, which I had visited only a few weeks earlier.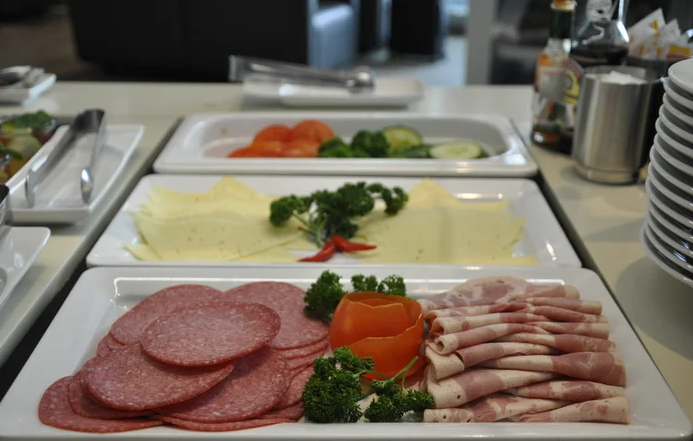 Knowing I was about to board a 10+ hour transatlantic flight with meals, I didn't partake of any of the food options, which included cold cuts, cereals, yogurts and various breads.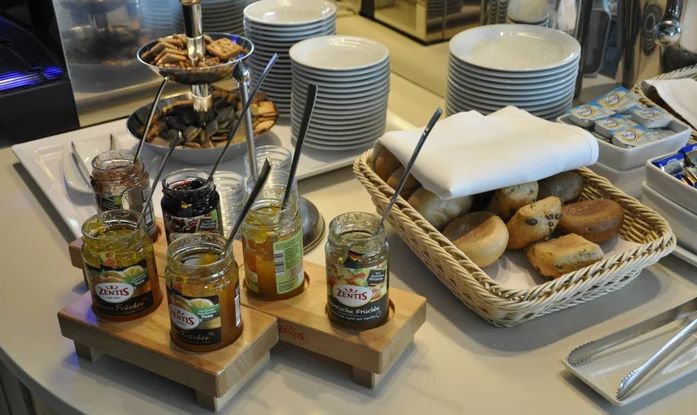 I did pour myself a Franziskaner Weissbier, a delicious German Hefeweizen, with only 5% alcohol by volume.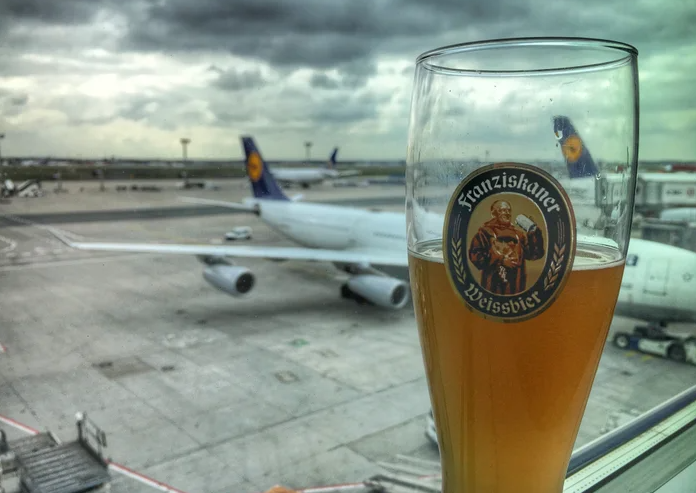 Disappointed to see that several seating areas near the windows facing the ramp were cluttered with dirty dishes.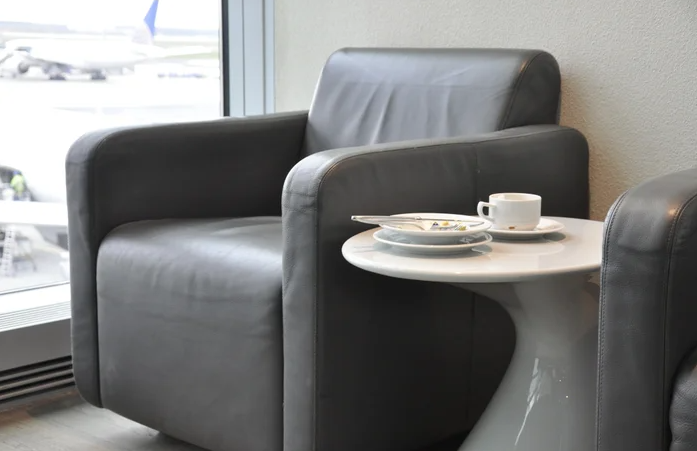 I spent just under 20 minutes in the lounge, but gave the Wi-Fi a quick test. I was pleasantly surprised to discover it was blazing fast, especially for an airport connection. I'm a T-Mobile customer, which grants me free data roaming in most countries — although it's free, the data speeds are 2G, so the lounge speed was a welcome change.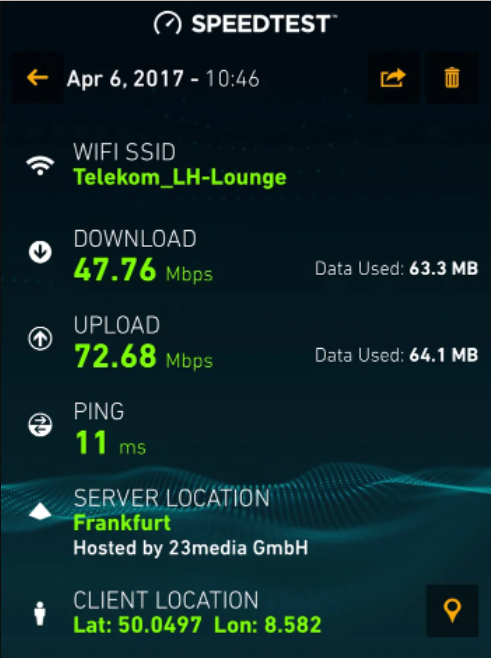 Boarding
This had to be one of the strangest boarding experiences I've ever had — and I fly a lot. We began boarding a full hour before our scheduled departure time, but I waited until about 15 minutes had passed before I lined up since I'd wanted to check out the lounge. Our official departure gate was C-17, but this was where things got weird. From the main level of the terminal, we had to go down to ground level, where there was a large waiting area with the typical airport seats, but I saw no signs for any sort of priority boarding for business-class passengers. We simply stood in corralled lines and funneled in as our documents were checked.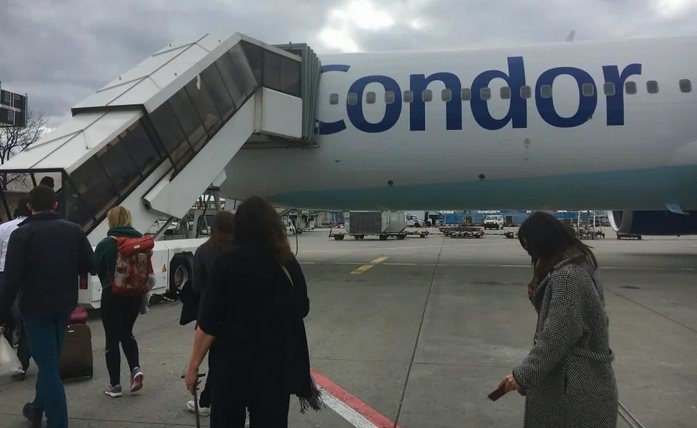 After that, we queued up in another line to wait for a bus, which would take us out to our plane — now it was beginning to make sense why boarding began an hour before departure. Once we got on the bus, we were driven to a remote parking spot where the plane located. This drive took about 10 minutes. We were then able to board the aircraft from both the front and back of the plane, depending on which section you seated in. I boarded from the most forward door (L1), meaning a lot of the other non-business class passengers passed through the cabin as well, which was different, but didn't bother me.
Cabin and Seat
Once I located my assigned seat, 5A, I was approached by a young man in Row 4. Who traveling with the woman who was to supposed be my seat-mate, in 5C. They asked if I would mind switching seats so they could sit together. While I normally take window seats whenever possible, I agreed to switch and took his seat on the aisle in 4C.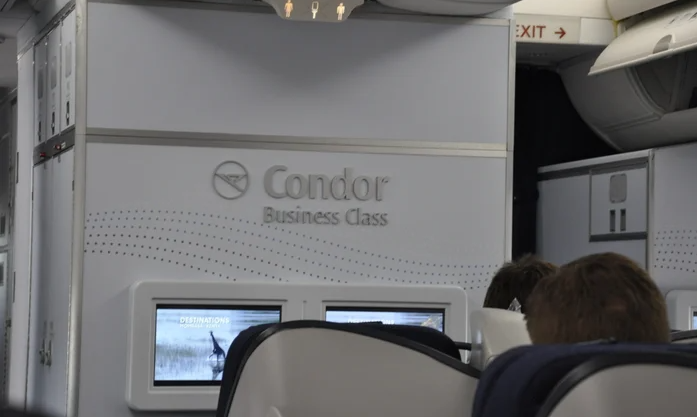 Condor flies two different cabin configurations of its Boeing 767-300ER. Mine had five rows of business-class seats, arranged in a 2-2-2 configuration, giving the plane 30 total business seats. Behind me were 35 premium economy seats, arranged in a 2-3-2 layout, along with 185 economy seats, also in rows of 2-3-2. (Note that other Condor 767s have only three rows of business-class seats in a 2-2-2 configuration).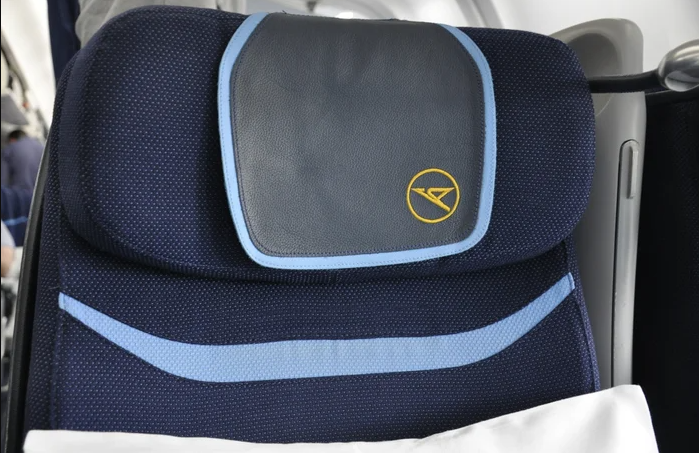 I found the Condor 767 business-class cabin to be pretty attractive, but the seat itself isn't one that I'd look forward to spending 10+ hours in. These days, long-haul international flights should have a fully lie-flat bed instead of one that is angle-flat. Shortly before departure, an announcement made that there three seats available in business class for the upgrade price of 695 euros (~$755). Nobody took the offer.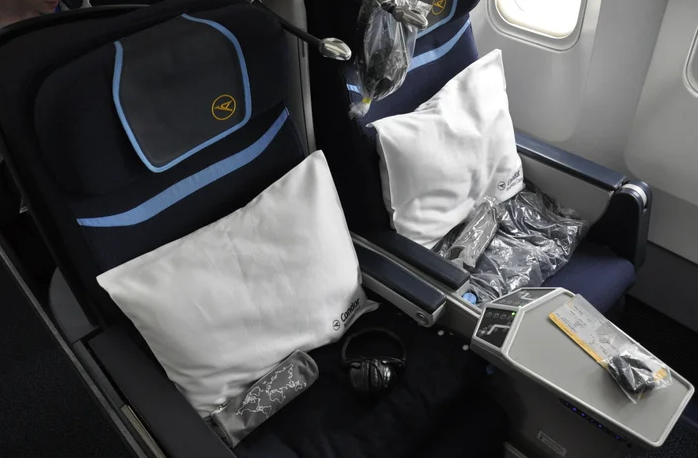 Amenities and In-Flight Entertainment
The in-flight entertainment (IFE) system offered only 30 movies to view, along with 62 TV shows. There were not any interesting movies being offered that I hadn't already seen, so I opted to watch a TV series called Suits, a somewhat trashy show about lawyers — oddly enough, only 10 episodes from Season 4 were available. The other TV shows offered only had one episode available to watch, except for 10 episodes of Law & Order. After watching all 10 episodes of Suits, I resorted to my back-up plan of watching episodes of No Tomorrow on my iPhone, which I had downloaded ahead of time from Netflix.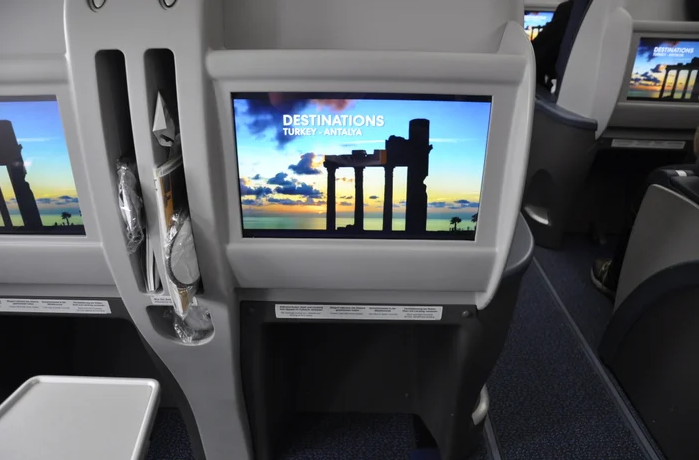 Condor actually tries to sell IFE shows to the audience in the back of the plane, so it would make more sense to me if there were more options available. The carrier's website says premium entertainment is available starting at $7. Note that headsets cost $5 if you didn't being your own.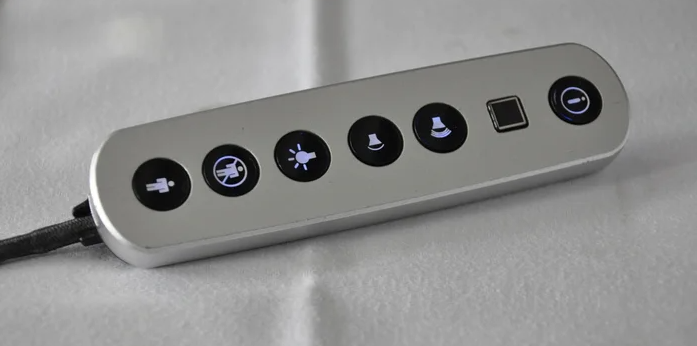 Business-class passengers did get to borrow headphones at no additional charge, but they were not noise-canceling. This was a daytime flight, so I wasn't too concerned with needing to sleep this time around, so it wasn't a big deal. The headphones padded with over-the-ear style cups that provided average sound quality.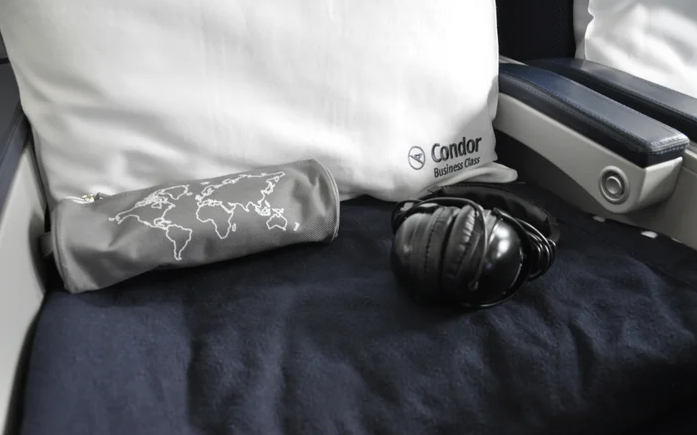 The amenity kit contained the usual offerings, including an eye mask, ear plugs, socks (not pictured) and a toothbrush with toothpaste.
There no Wi-Fi installed on this aircraft. Which did come as a bit of a disappointment, especially considering the sub-par IFE options.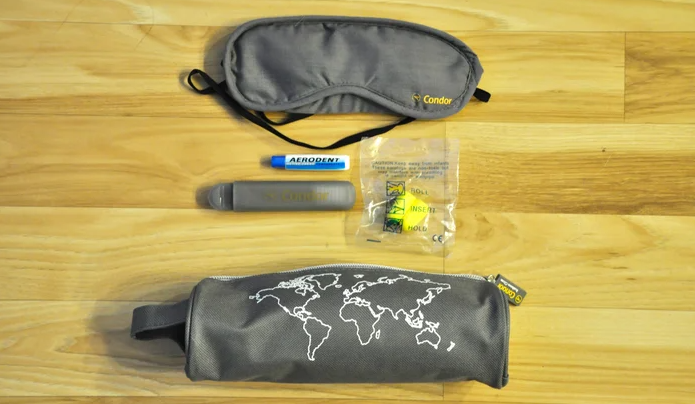 The business-class cabin had two dedicated lavatories. Which configured tightly and didn't have any special amenities. On some international airlines in business class. You'll find things such as a comb, mouthwash or a toothbrush and toothpaste set. But none of these things were to found in the Condor lavatories.
Food and Beverage
The food and beverage service on my flight was the highlight of my journey to Seattle. Beginning with a pre-departure offering of Champagne, orange juice or water. There seven beverage services during our flight — it's possible I also missed one during the two-hour nap I took.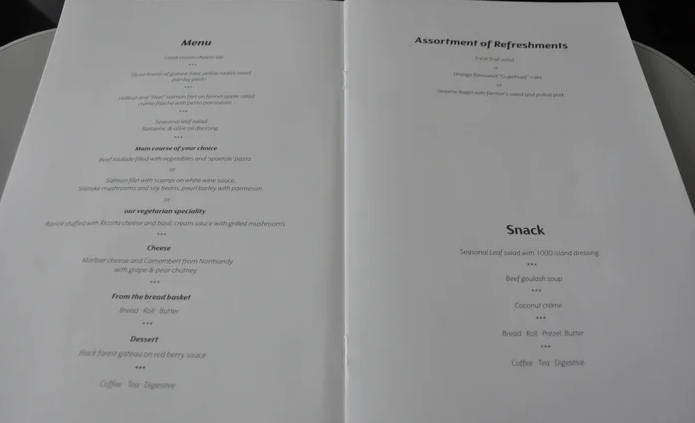 Prior to the appetizer service, a second beverage offered. This time, I opted for a Bombay Sapphire gin and tonic. The flight attendants on our cabin were particularly attentive. Food orders taken individually, while beverage service completed from carts in the aisle. Most upscale international airlines tend to perform beverage service individually by going back and forth to the galley for each passenger's drink. My seat neighbor in 4A — a blonde woman who looked a lot like Claire Danes — drank nothing but coffee throughout the flight. She must have had eight cups. I didn't try the coffee, but it had to have been pretty tasty.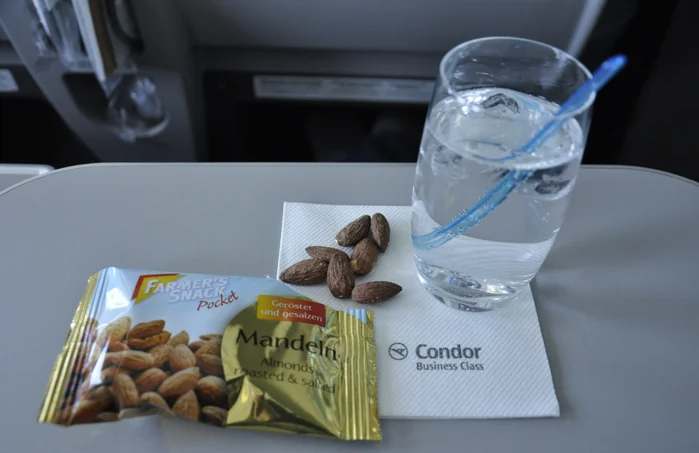 Appetizers consisted of several offerings presented at once on the same tray. There was a Greek cream cheese dip (pictured below, top and center), sliced breast of guinea fowl, yellow radish salad and parsley pesto (lower right), seasonal leaf salad with Balsamic olive oil and dressing (pictured below, top left), and a Halibut and "Nori" Salmon filet atop fennel apple salad crème fraîche with pesto pomodoro (pictured below, bottom and center).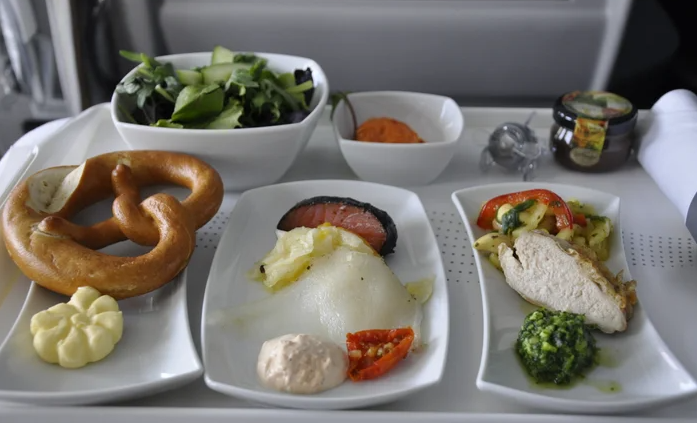 Of course, there were plenty of fresh bread options. I ate warm pretzels throughout the flight, with the same amount of enthusiasm as Forrest Gump consuming Dr. Peppers at the White House.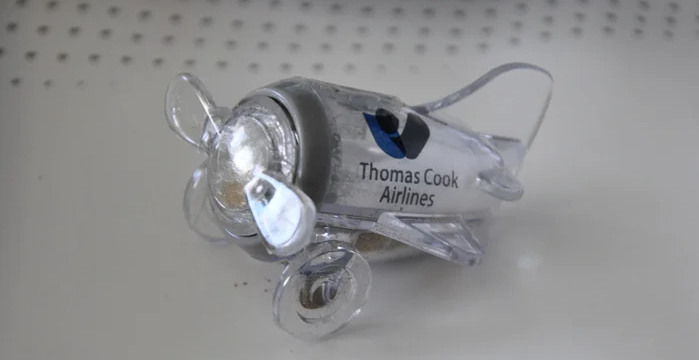 I enjoyed a few glasses of a tasty 2016 Kleine Zalze Sauvignon Blanc with my meal.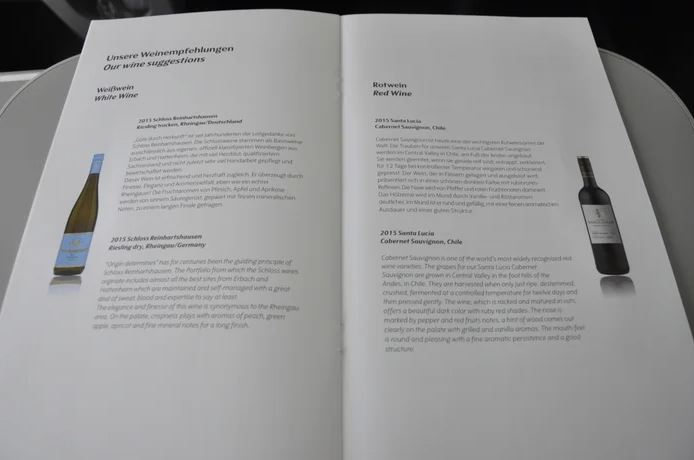 For my entree, I selected the salmon filet with scampi (note: one shrimp) with white wine sauce. Shiitake mushrooms with soy beans, and pearl barley with parmesan. The filet cooked beautifully — flaky on the fork and evenly heated. The pearl barley reminded me of risotto and the parmesan within made it an excellent addition. While the presentation of the dish wasn't the most attractive, in terms of flavor and satisfaction. It one of the best airline meals I've ever served.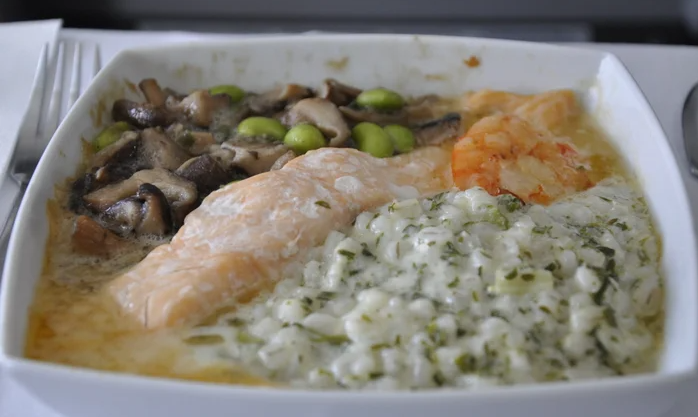 Dessert was a black forest gateau with red berry sauce, with which I enjoyed some Bailey's Irish Cream over ice. I didn't feel that the cart service for the food and beverages subtracted from the experience. It's more important to me to have a drink available to me when I want one than the matter in which it's served.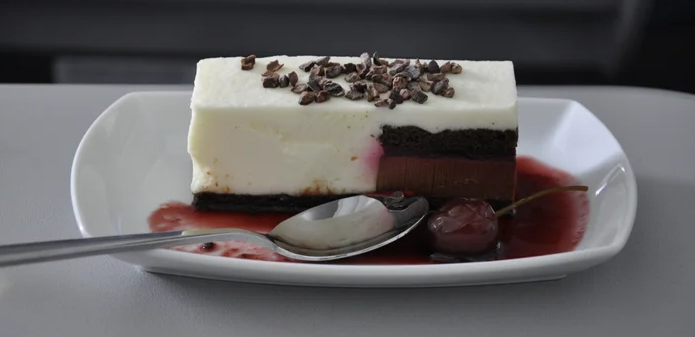 Impression
On a five-star rating scale, I've give my flight 3 out of 5. Again, the cabin service was really superb, right up there with what I've experienced in business class on Qatar Airways. My deductions come from the unfortunate lack of IFE options, lack of Wi-Fi and the somewhat outdated seat product.
Have you ever flown on Condor? Tell us about your experience, below.
Condor FAQs
Where does Condor fly to?
Condor offers direct flights to 88 cities in 31 different countries. Düsseldorf, Frankfurt am Main, and Palma de Mallorca the most popular cities covered by Condor.
What is Condor's primary hub?
Condor concentrates most of its flight operations in Frankfurt am Main.
How does KAYAK find such low prices on Condor flights?
KAYAK is a travel search engine, meaning that we continuously look across the web to find the best deals for our users. With over 2 billion flight queries processed yearly. We are able to display a variety of prices and options on flights from all airlines, including Condor.