After concluding our vacation in fabulous Las Vegas, A and I booked the business class of Condor for our way back to Frankfurt because we had to work the next day after arriving. The flight time was estimated with roughly 11 hours and we felt this is a good option to preserve some of the relaxation on our way back home. As A was pretty sick we did not take proper own photos on the flight, so I chose to use one from Condor. You (literally) get the picture anyways. Read on to discover what it's like to fly in Condor Business Class from LAS to FRA.
The Club at Las Vegas McCarran International Airport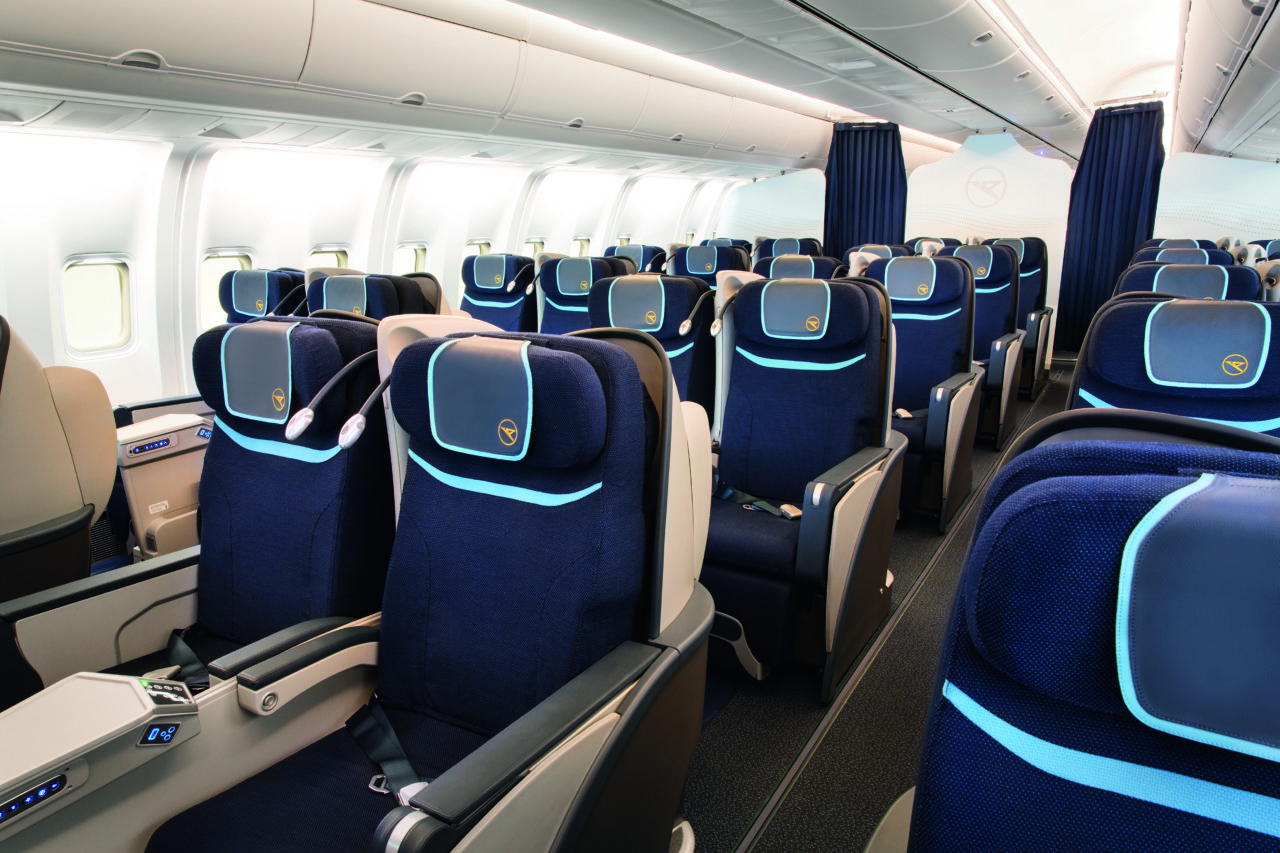 Apart from your dedicated check-in counter (which I always think is a great plus on DE Flights) you are also granted complimentary access to The Club at Las Vegas McCarr an International Airport. Although there also a proper Centurion Lounge at LAS airport we opted for The Club as it located much closer to our actual departure gate in Terminal 3. I believe the lounge is used by several carriers for their premium classes as it was quite crowded when we arrived.
Still it was nice to be away from the hustle of the Terminal. The lounge basically two big rooms connected with some low-rise and high rise seating, free WiFi (which you at LAS anyways) plus shower rooms. The food selection was OK but nothing to cheer about. You some sand whiches, salads and crackers plus a full bar. Fun fact: Thoroughly as you'd expect I asked for my ID by the attendant when ordering a beer, awww 🙂
Business Class Cabin and Seat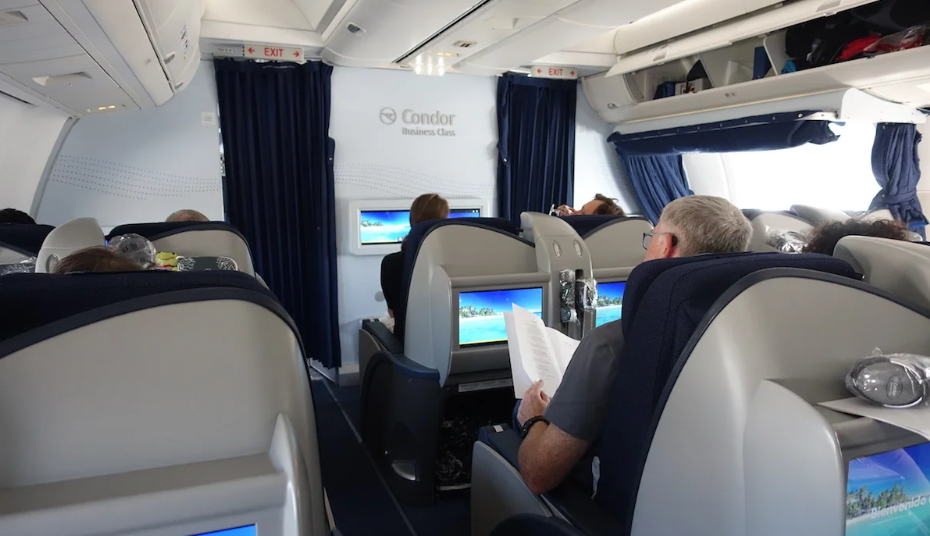 Although dubbed "Business Class", the Condor Business Class feels somewhere between Premium Economy (which we flew to Las Vegas) and a regular business class (like on Emirates). Then again you have to keep in mind that the routes operated by Condor are more on the vacation side. The cabin features a 2-2-2 seat configuration and is located in the front of the plane.
The most noteworthy fact (we knew about before) is that the seat is not reclining to a full-flat but an angle-lie-flat one. There remains some angle (20° to be precise) which makes it a bit uncomfortable to actually sleep on. Other than that it was very comfortable and you have plenty of storage space, a big entertainment screen, your own power outlet and more than enough legroom.
I always appreciate the small extra table between the seats which has extra-size on Condor. The in flight entertainment in business class had the same contents like the one in Condor Premium Economy but on the mentioned larger screen and again with noise cancelling headphones provided. You feel some privacy in your seat but I'd say the seats are ideal for honeymooners <3 as the window seat does not have direct isle access. At that time, Condor had no in-flight WiFi so we could use the flight to detach and disconnect. My tip: Avoid the seats in row 1 as the screen and seat pocket are quite distant there.
The business Class Service and Food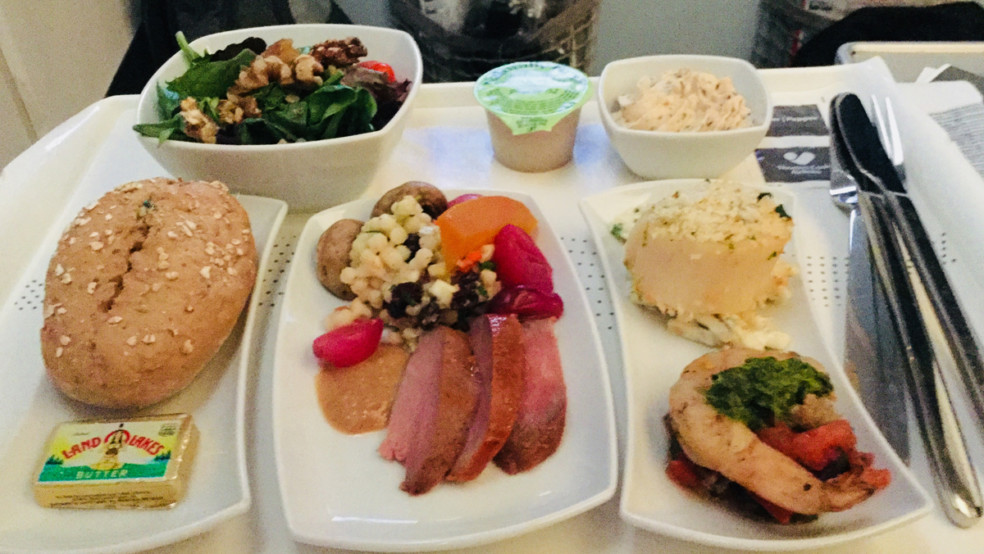 The service pre-flight an in-flight was solid but nothing to write home about. After your welcome drink (no towel service or bubbly here) you get a decent menu in-flight alongside a full drink selection. You have a choice out of three for your main course. The quality of food was good, but not great. Quality of drinks however was disappointing, as even though we left Las Vegas with a delay ice cubes weren't ready and all drinks were warm.
A and I both watched some movies before sleeping with the help of the provided pillows and blankets. Prior to landing we received a small breakfast with some juice, croissant, fruit and yogurt. A really nice touch is the amenity kit that you receive which comes in a re-usable pouch. We received socks, eye-shades, toothbrush and the like in a neoprene "bottle cooler" at our inbound Premium Economy flight and in an "iPad/tablet case" on our business class flight back to Frankfurt.
Passport & Palmtree Conclusion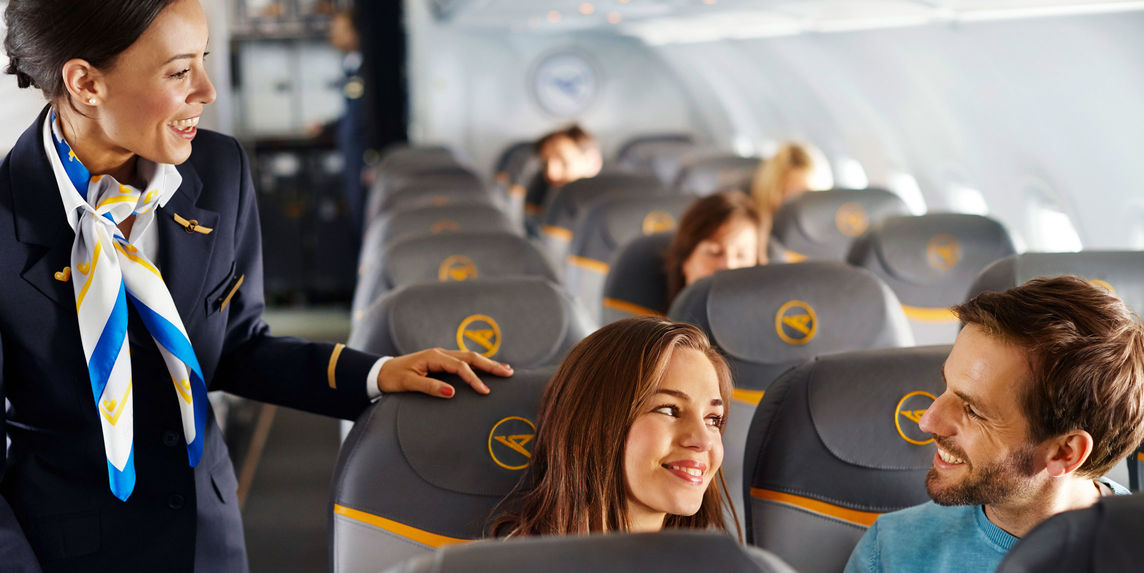 The Condor Business class is a comfort way of flying. Especially on routes that are not operated by other carriers, it's the best class to travel in, although it "lacks" some of the features you would see in a regular business class product. But then again with a price tag that's usually several hundred bucks below the regular business products too, it's a solid deal, especially on long haul.
We liked the Premium Econonmy ("Premium Class" in Condor lingo) too which has a better price/value ratio in my opinion.
You can find out more about my sleeping routine during long flights here.