Review of TAP Air Portugal Business Class
When flying TAP Air Portugal, one can expect Portuguese touches and a unique and growing network connecting Europe with Africa and the Americas. The airline's Business Class, branded as Executive Class, offers fully flatbed seats, delicious dining and an impressive wine list. The carrier offers a diverse route map throughout Europe and is a leader in connecting Europe with the Americas – it serves more cities in Brazil than any other European airline.
TAP Air Portugal, known to locals and frequent fliers as TAP, is a member of Star Alliance, which allows loyalty program members the opportunity to earn or redeem miles with partner airlines including United, Lufthansa, South African Airways and Thai Airways. It also allows seamless flights with member airlines on the same itinerary. Its Miles&Go frequent flier program is a great option for collecting miles if you are not already a member with another Star Alliance program.
TAP Air Portugal was the launch customer for the eco-friendly Airbus A330-900neo, which it now flies on many long-haul routes, primarily to North and South American destinations. It also is taking delivery of the A321-200LR aircraft, which gives it more flexibility to serve thinner, long-haul routes from Portugal that would otherwise not be viable with a widebody aircraft.
For passengers wishing to make a stopover in Lisbon or Porto on their way to another final destination, the airline provides a dedicated stopover program.
Airport Experience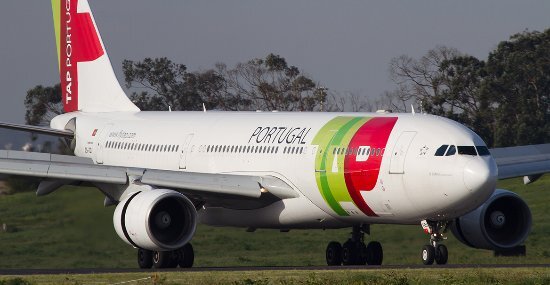 Premium check-in areas at its Lisbon and Porto hubs give travellers more space and shorter queues for checking luggage and acquiring boarding passes. Kiosks have the capability to print luggage tags for those that want to do it themselves. At all other airports, Business Class passengers have dedicated lanes for check-in. Fast-track security at most airports is another appreciated benefit to minimise waiting time.
TAP Air Portugal flies most of its long-haul flights via its Lisbon hub with a handful of longer flights leaving from Portugal's second largest city, Porto. Both operate as hubs for the airline bridging Europe and the Americas although Lisbon has most of the premium facilities when it comes to lounges and priority waiting areas.
Business Class passengers – and Star Alliance Gold members in all cabins – can access TAP's Premium Lounge in Lisbon. Thanks to a recent upgrade, it now features bold colours and impressive views of the apron. A manned bar prepares craft cocktails and also serves a wide variety of Portuguese wines. TAP is well-known for its wine program and regularly highlights national producers on its flights and in the lounge.
The Lounge offers a substantial buffet serving both hot and cold items throughout the day. Of course, you will find one of Portugal's national culinary delights – pastel de nata – in ample supply, which for many is a highlight of the visit. Free Wi-Fi, napping areas, shower rooms, a large selection of periodicals and plenty of power outlets make the time in the lounge fly by before a flight.
When departing from Lisbon on long-haul flights, the lounge is located before the immigration desks. You must allow time to pass through passport control to depart the European Union, and lines can be long so plan accordingly. Since the Lounge is on the Schengen side of the airport, passengers travelling from the United Kingdom, for example, and onward to the Americas would have to clear immigration to and from their visit.
When departing most other cities in its network, Business Class passengers can access premium lounges, and in many cities, these are often affiliated with its Star Alliance partners. Business Class passengers always enjoy priority boarding lanes to have more time to get settled.
Cabin & Seat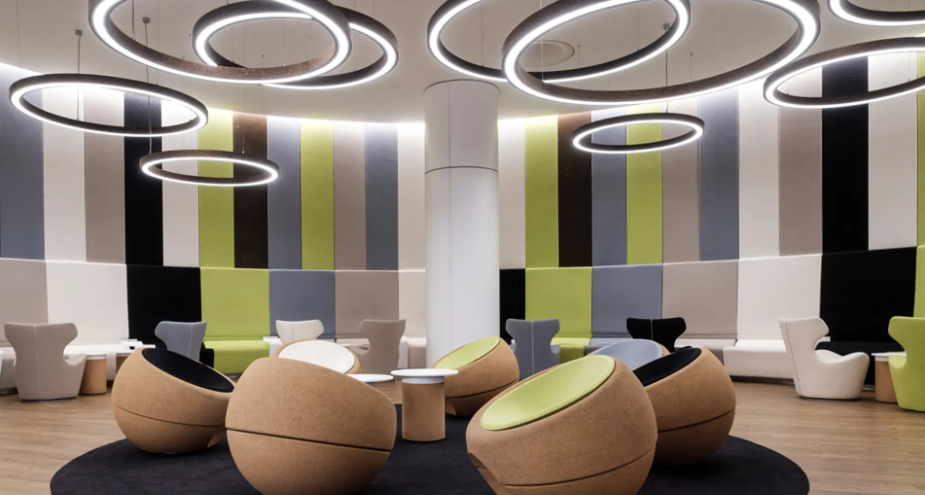 Within the last couple of years, TAP Air Portugal has completed a major renewal of its long-haul fleet, resulting in an onboard experience that is much more consistent than in the past. The long-haul fleet is now centred around the new A330-900neo, supported by a handful of retrofitted A330-200 and the narrowbody A321-200LR. The latter allows the carrier to serve long-haul routes with limited demand, but still offers cabin products similar to the widebody fleet.
Discover the TAP Air Portugal Fleet on flytap.com
Pops of colour punctuate the TAP Air Portugal Business Class cabin including the airline's signature lime green and dark red hues. Designers put a lot of thought into weaving TAP's symbolic features into every aspect of the experience. You will also find similar colours on the duvets, decorative seat tags, and inflight service items. There is a sense of spaciousness thanks to Airbus' new Airspace cabin design on most of the airline's newer aircraft. This means that overhead bins are recessed – allowing more headspace, and larger – giving extra storage space. Mood lighting adds to the chic design.
TAP Air Portugal Business Class now offers fully flat seating on all aircraft, in three different staggered, forward-facing configurations. On the flagship A330-900neo, the 1-2-1 seating is popular with many passengers and provides direct aisle access from every seat. It gives couples the opportunity to sit together in the centre section, where every other row has two seats very close to one another, lovingly referred to as honeymoon seats. Solo travellers apreciate the high number of single seats placed along the sides of the cabin. Seats alternate between being closer to the aisle with a side table that is closer to the window or closer to the window with a side table that is closer to the aisle. Seat maps show which seats have a small table closer to the aisle for those that prefer that more private option.
On the retrofitted A330-200, rows in the Business Class cabin alternate between 1-2-2 and 1-2-1 seating. The prized single "throne" seats – the solo seats with a table on either side and no seat neighbour – provide maximum privacy. Unlike many other airlines, TAP Air Portugal does not charge any extra fee to assign these seats. The only downside to the "throne" seats is that they have fairly small footwells.
Airbus A321-200LR planes flying long-haul routes feature similar seats as on the retrofitted A330-200, with rows alternating between 2-2 and 1-1 seats. The four solo "throne" seats are especially popular for single travellers. With only 16 seats in the Business Class cabin, these narrowbody long-haul jets provide an intimate and exclusive Business Class experience which some passengers prefer over larger aircraft.
On all aircraft, wide side tables and easy-access power outlets provide flexibility and utility, and these days, customers want to have everything they need for a long flight within easy reach. Passengers will find a water bottle, amenity kit, sealed pillow and blanket, and noise-cancelling headsets waiting at their seats. Business Class seats recline into a fully flat, two-metre-long (6.5 feet-long) bed with various positions for relaxing or lounging should you wish to catch up on the latest movies or work rather than sleep. On the airline's newest planes, the armrests on either side lower to give passengers a bit more stretching room when working or relaxing. An especially nice feature is the mesh net area for passengers to store shoes when sleeping so they do not get caught under the seat when you bring it to the upright position. More details about TAP Air Portugal Business Class seats.
The flight search on perfectideainfo.com includes images, and seat maps for most airlines and aircraft Search results also include details such as seat pitch, width and recline. This way you can see the seat and cabin configuration of the flight in which you are interested, before making your choice.
Cuisine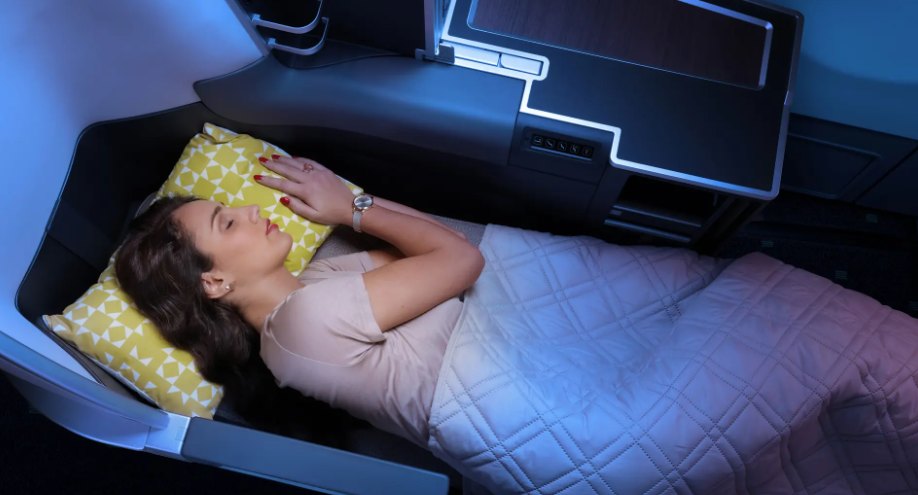 TAP Air Portugal partners with Portuguese, Michelin-starred chefs for its menus giving Business Class passengers the opportunity to sample local flavours even if they are just connecting between two other countries. Occasionally, there is a Portuguese main dish with more traditional international options always available.
Inflight service is delivered via carts with drinks stacked on top and meals served via trays on linen-lined tables. The first tray setting features an appetiser, salad and warm bread; this is served with the beverage of your choice (sometimes a round of drinks comes with a canapé before a tray of food arrives). On many flights, soup is poured at your seat from decanters and is a lovely touch that few other airlines offer or execute well. The airline uses Portuguese porcelain for its meal services.
The next course includes a choice of three main dishes. These usually consist of beef, poultry, seafood, or pasta dishes that are pre-heated and placed on the tray after the appetiser and salad dishes are collected. When the main meal is served, flight attendants refresh beverages. Dessert includes Portuguese cheeses (some of which can be quite strong), fresh fruit, or a sweet chocolate or cake.
Service is typically not drawn out, even on day flights, allowing for more time to work or rest. On late-night departures, the meal service is abbreviated with fewer main course options and the appetiser and dessert delivered on the same tray to expedite the meal in favor of more sleeping time.
On longer flights departing Lisbon, passengers can pre-select a meal option online between one and 30 days before they travel. If you have special dietary needs, there is a wide range of meals to pre-order including vegetarian, seafood, Kosher, or gluten-free.
Pre-arrival meals are light with continental breakfast served when the flight lands in the morning or a sandwich, cold cuts, or pastries for afternoon arrivals.
On late-night departures (common for Brazil-bound flights or those leaving North America bound for Portugal), meal service may be expedited with everything served on one tray to allow for more sleeping time. There is no formal midflight snack service although the crew is happy to bring an extra snack if available.
Beverages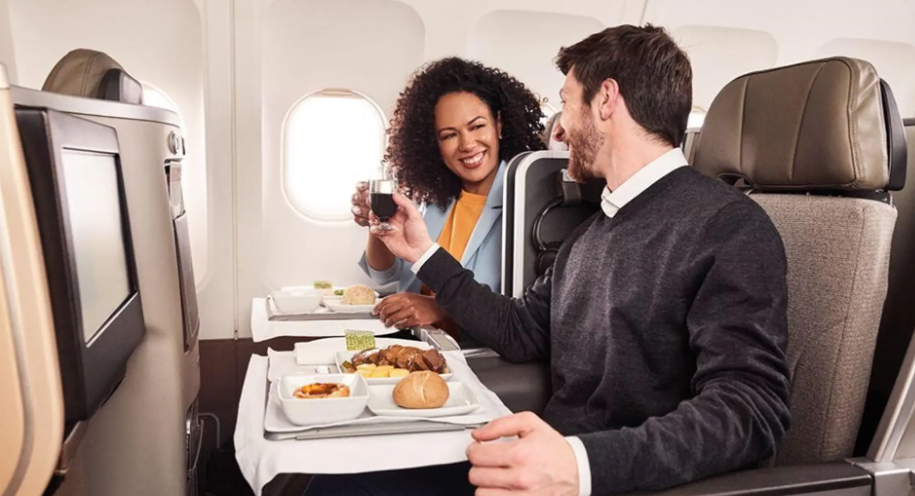 No long-haul flight takes off without a Portuguese welcome of local sparkling wine or glass of water to set the mood. This is served with a nut mix on the ground. Passengers expecting Champagne as a standard offering in Business Class may want to note that TAP Air Portugal has opted to focus exclusively on Portugese wines.
Printed menus showcase one of the airline's standout features: its Portuguese wine program. So involved and prestigious is TAP's wine that there is an annual awards dinner to honour the producers chosen for inflight service.
There are typically two white wines, two red wines, a Portuguese "vinho verde," sparkling wine and port wine on the menu. Wine choices rotate several times throughout the year so that frequent fliers can try them all. Flight attendants are well-briefed on the nuances of each so that they can provide suggestions on what to enjoy.
More information about the TAP Air Portugal wine experience and access to featured wines and the current wine list.
In addition, there are plenty of other drinks including Portuguese and international beers, spirits, soft drinks, digestifs, liqueurs and juices.
Following the main meal, coffee and tea is the grand finale along with a small box of chocolates.
The flight search on perfectideainfo.com includes information on which Champagne is served in Business Class and First Class on many airlines. We do our best to keep track of any changes, but feel free to let us know if there is something we missed. As mentioned above, TAP Air Portugal does not serve Champagne.
Service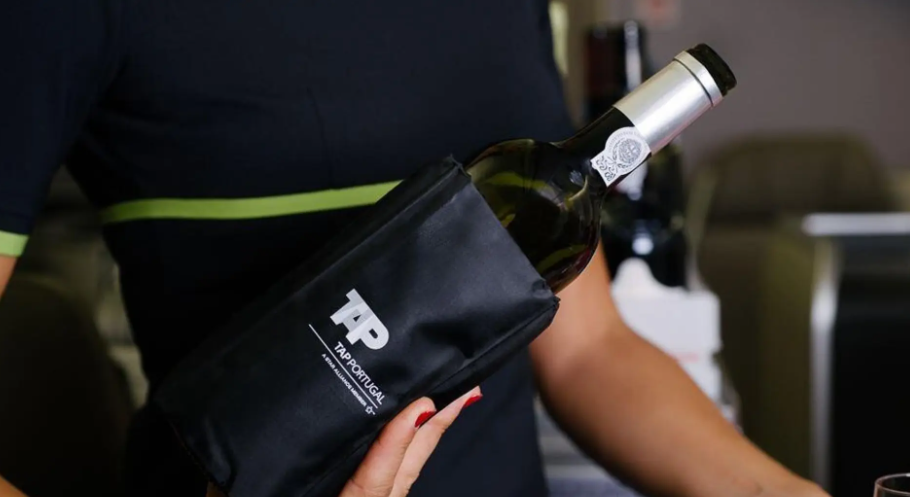 TAP crews are friendly and multilingual, and any flight's destination is always spoken by several crew members. While there are not midflight beverages offered proactively, the onboard staff is always happy to oblige.
Entertainment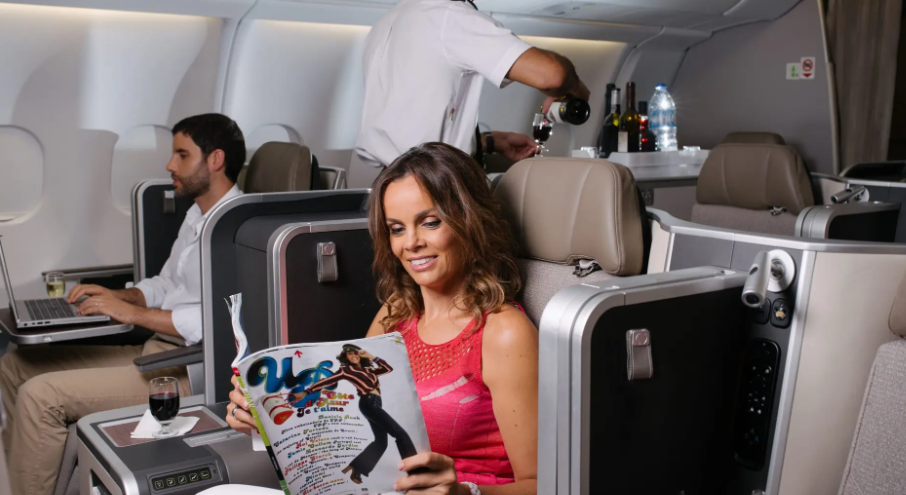 Excellent noise-cancelling headphones plug into easy-to-reach outlets at arm's level so that passengers can stay entertained via the wide, high resolution screens facing each seat. For TAP's long flights, there is no shortage of movies (including some of the latest films), television programs (including box sets to watch an entire season), a moving map with flight details, video games, and a selection of world music including programming in foreign languages. The touch screens are easy to use, but remote controls keep you cosy in your seat without having to lean forward if you prefer.
Detailed information about inflight entertainment and the current programme is available on flytap.com.
The airline's inflight magazine, UP, is available in the seat pocket. Wi-Fi is available aboard the airline's A330neo and A321LR aircraft including free messaging services. Paid options are available based on the type of data requirements you might have.
The flight search on perfectideainfo.com includes information on inflight entertainment and Wi-Fi.
Amenities & Facilities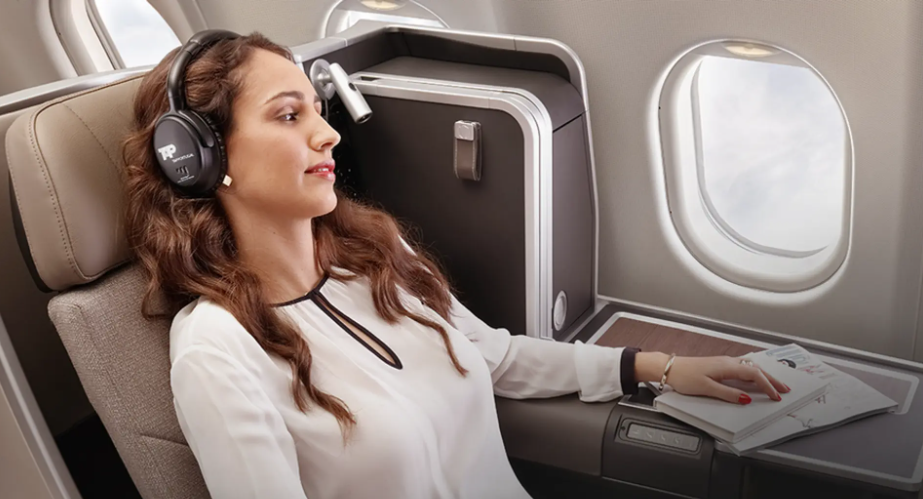 TAP does a great job with its amenity kits, which often feature collectible versions in different colours and styles. In the past, it has offered kits designed like sardine tins (a popular Portuguese snack) or colourful satchels with famous Portuguese landmarks on them. They include the standard items like socks, eyeshades, ear plugs and lip balm.
Hot towels provide refreshment before the main feast as well as again before landing.
Families can request a bassinet on widebody aircraft, but these must be reserved in advance of departure. Bassinets are only available for babies up to one year old and weighing less than 11 kg.
Short & Medium Haul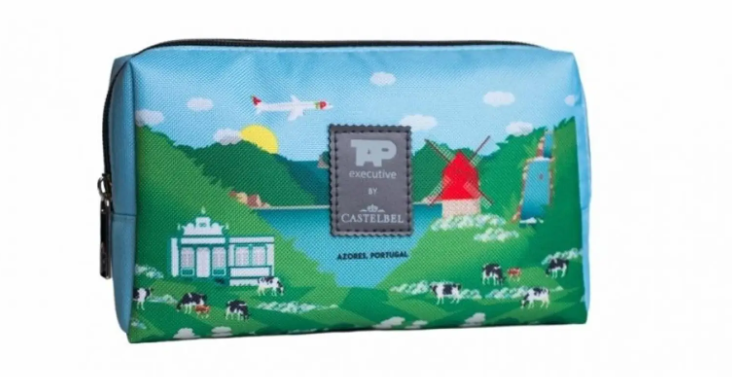 Depending on the length of flight, a beverage and meal service is offered. Seats on the carrier's narrow body planes are no different from economy class seats but have the centre seat blocked providing more space. Unfortunately, on Embraer 190/195 aircraft, short-haul Business Class is in a 2-2 configuration with no middle seat to block. So, you will jostle for elbow room even in the premium cabin.
TAP Air Portugal offers an open bar, including a noteworthy (albeit abbreviated) wine list, with snacks and meals depending on the flight length. Portuguese sparkling wine is a delightful addition although inflight entertainment, amenity kits and pre-departure beverages are not part of the short-haul product.
Sustainability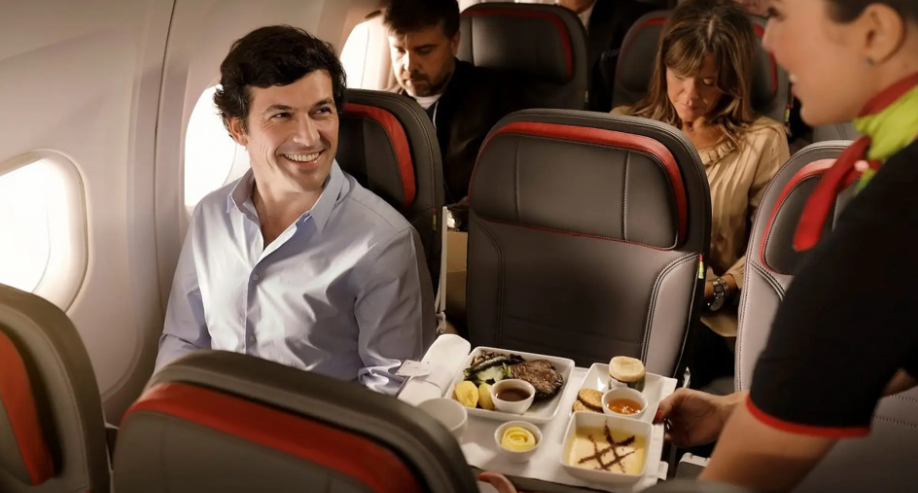 Part of the airline's effort to reduce waste includes inflight recycling and transitioning away from full reliance on newspapers and magazines in favour of access to an even larger digital library of publications. These are delivered via the airline's mobile or media apps and available to customers after they enter their flight reservation details.
The flight search on perfectideainfo.com includes information on CO2 emissions for each flight. Our quality algorithms also give a higher score to flights operated by the most modern and environmentally friendly aircraft.
What We Love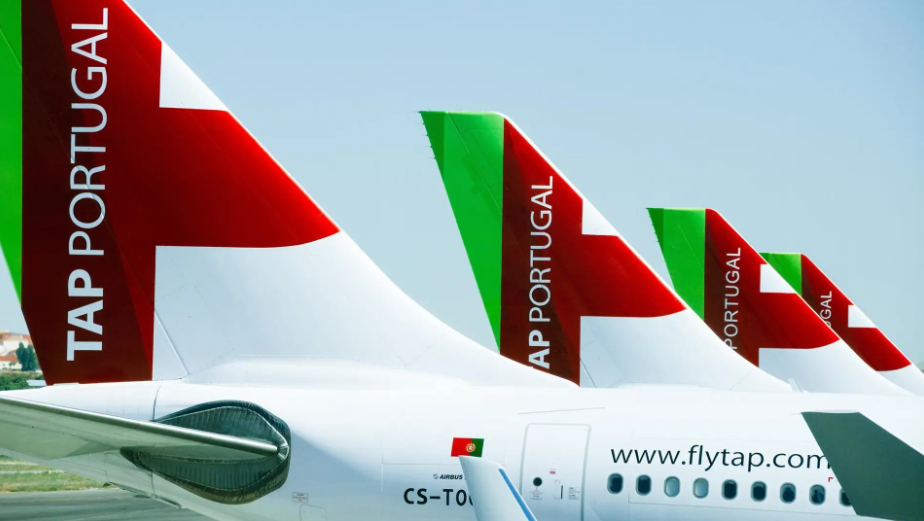 The TAP Air Portugal wine list is impressive and makes you want to visit Portugal, even if you are just transiting.
The airline offers a free stopover program for those interested in extending a layover between flights to stay in the country overnight without a higher airfare cost.
The airline's long-haul fleet is being modernised with the addition of more Airbus A330-900neos, which offer a better passenger experience and more eco-friendly operations. Its A321-200LR will also open up more transatlantic markets, which is a boon for travellers.
PerfectIdeaInfo.com searches hundreds of travel sites at once to help you find the best premium travel offers for both flights and the finest hotels. Find the best price for TAP Air Portugal Business Class by making a search on PerfectIdeaInfo.com.