Birkenstock Sandals Review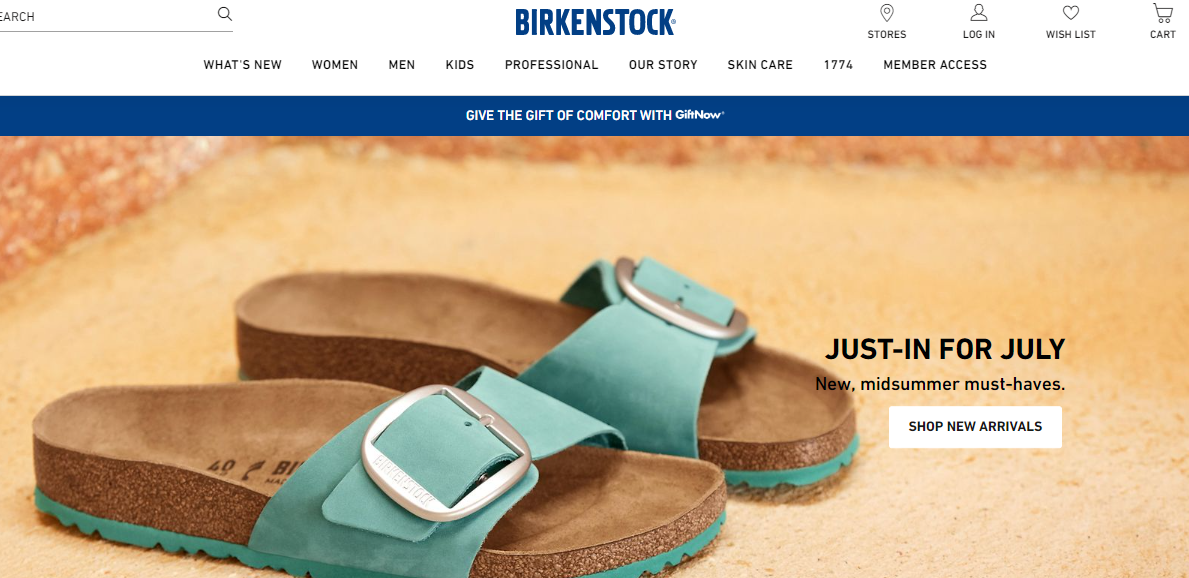 Are Birkenstocks worth the hype? In this hands-on review, we'll cover what you need to know about the iconic Birkenstock brand's sandals.
Birkenstock is an extremely popular brand, but you may be wondering if their products are actually worth the price.
In this review, we'll take a look at their Lugano sandal to help you decide if you should add a pair of Birkenstocks to your footwear collection.
Quick Take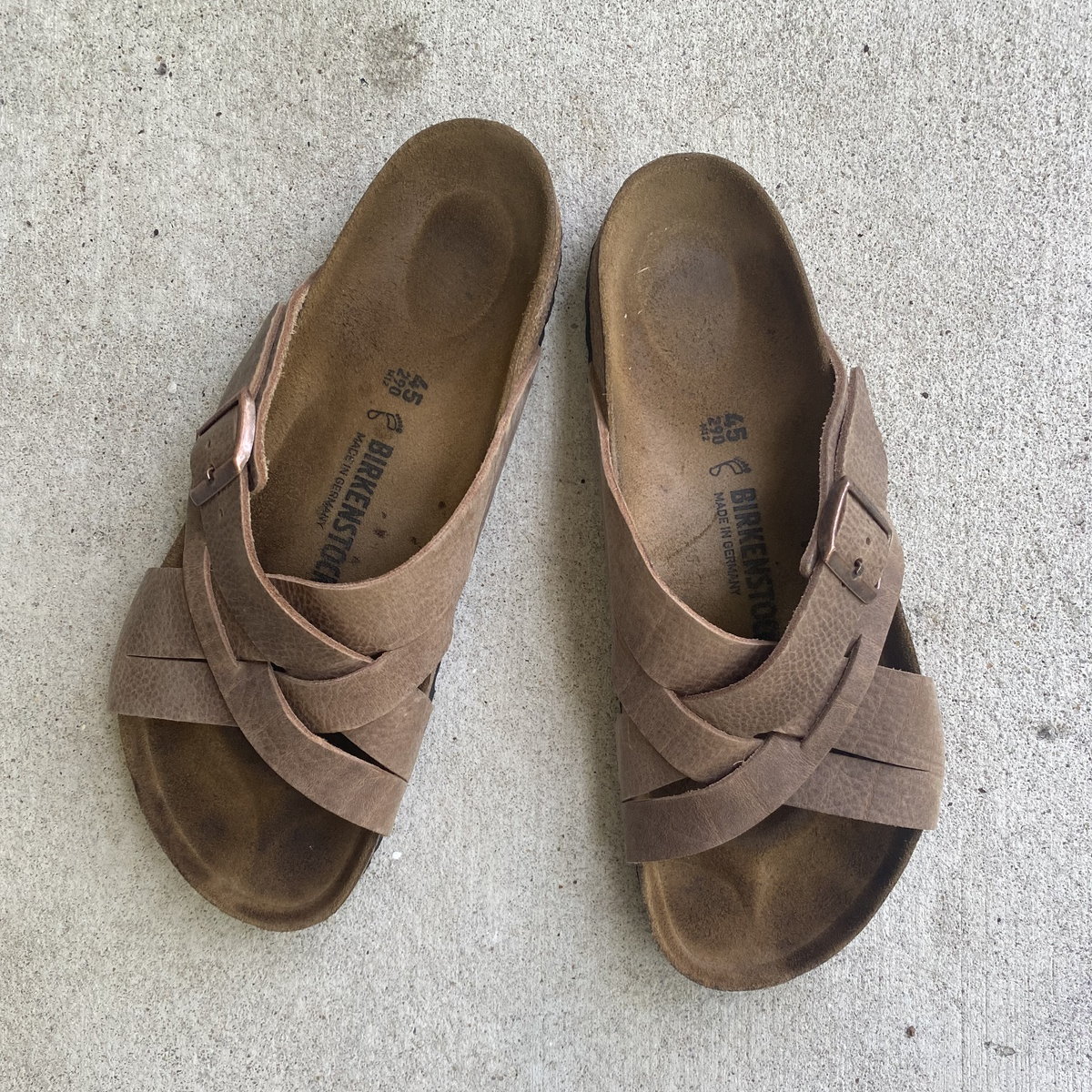 Birkenstock makes great sandals that are worth the money. The break-in process is unpleasant, but if you see it through, you'll have a stylish and comfortable pair of sandals that'll last you a long time.
Pros
They're stylish
They offer half sizes
The materials feel high-quality
Cons
Breaking them in is painful
For some people, the price is steep
About Birkenstock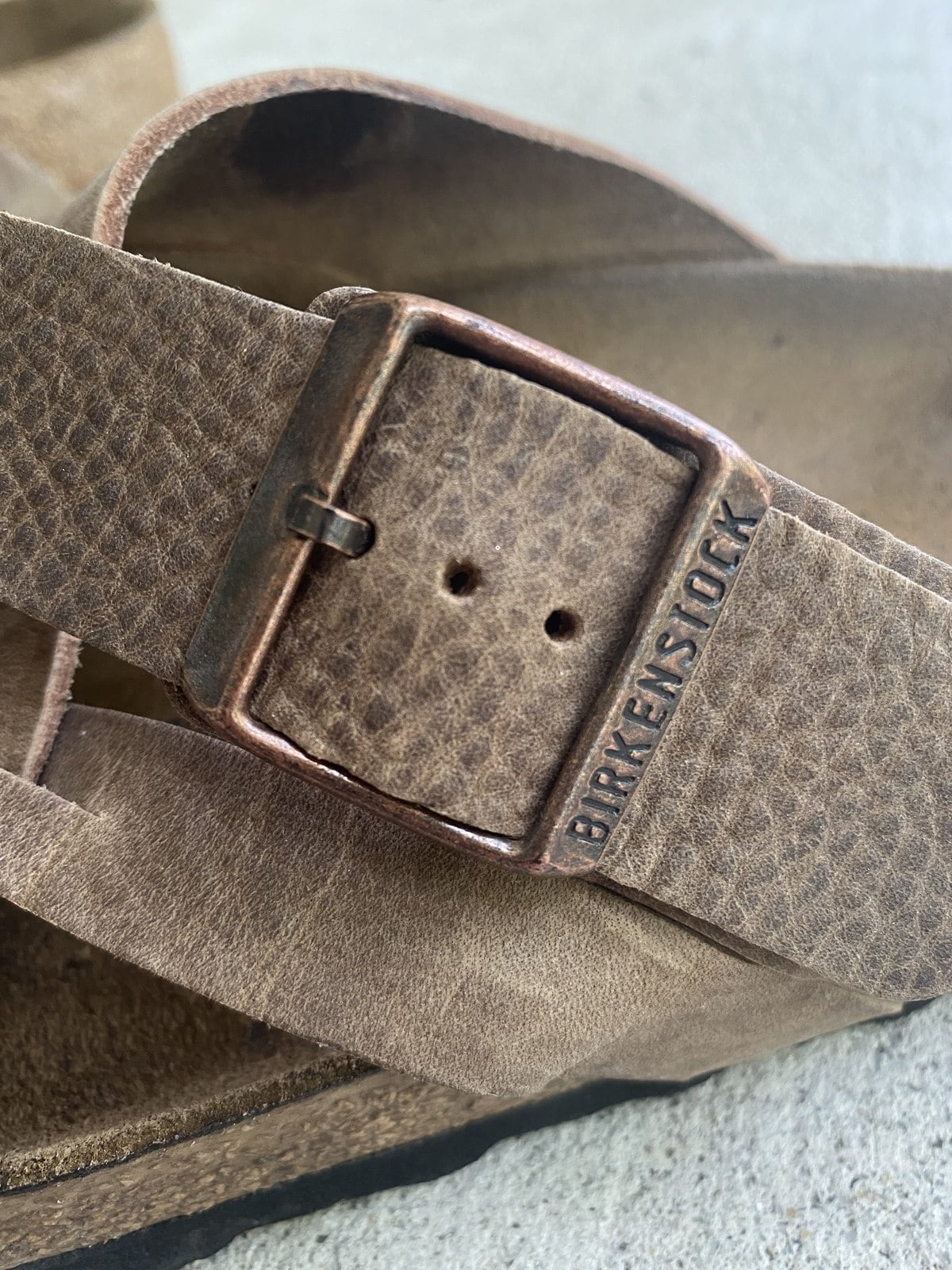 You've probably heard of Birkenstock (who hasn't?), but you may not know that they've been making high-quality footwear for a very long time.
Their origins actually go back to the year 1774 in Germany. Check out the Birkenstock website for their full story.
Why are Birkenstocks so popular? In my opinion, it's because they're stylish and extremely sturdy sandals that look cool and rugged and last a long time.
Birkenstock Men's Collection
Effortlessly comfortable. Find your favorites.
Boston Soft Footbed Suede Leather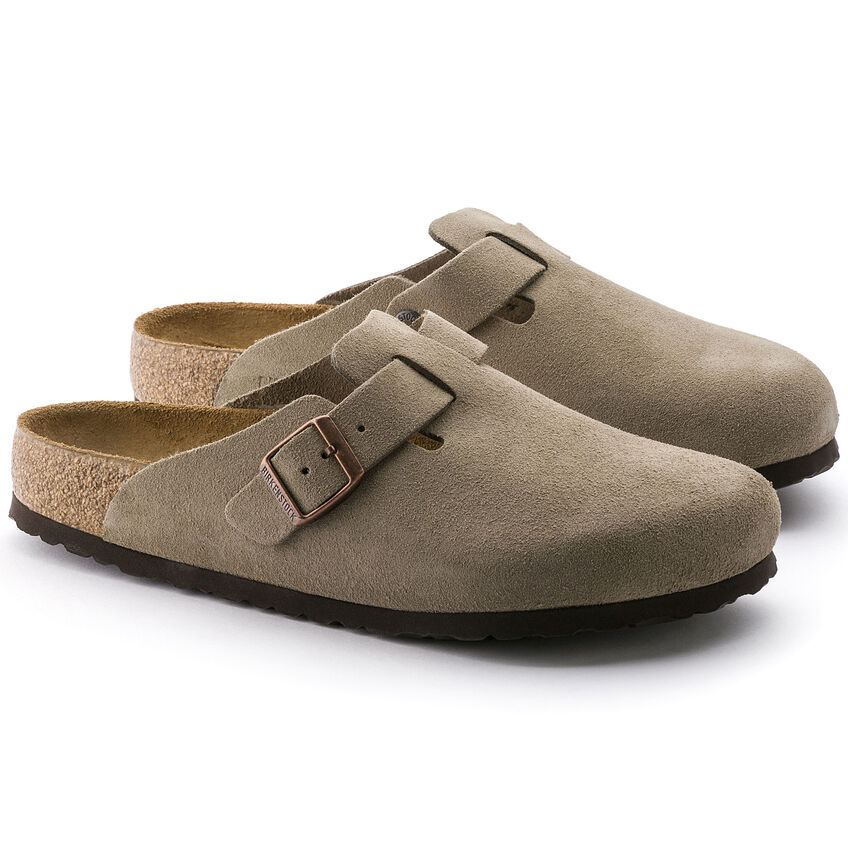 The BIRKENSTOCK Boston clog is a veritable classic that can easily be worn all year round. With its additional foam layer, the soft footbed offers extra comfort and pampers feet – all day long. The nature-inspired design is evident from the soft suede upper, which hugs the foot like second skin.
Original BIRKENSTOCK soft footbed; anatomically shaped
Upper: suede
Footbed lining: suede
Sole: EVA
Details: one strap with an individually adjustable metal pin buckle; soft footbed
"Made in Germany"
Arizona Big Buckle Oiled Leather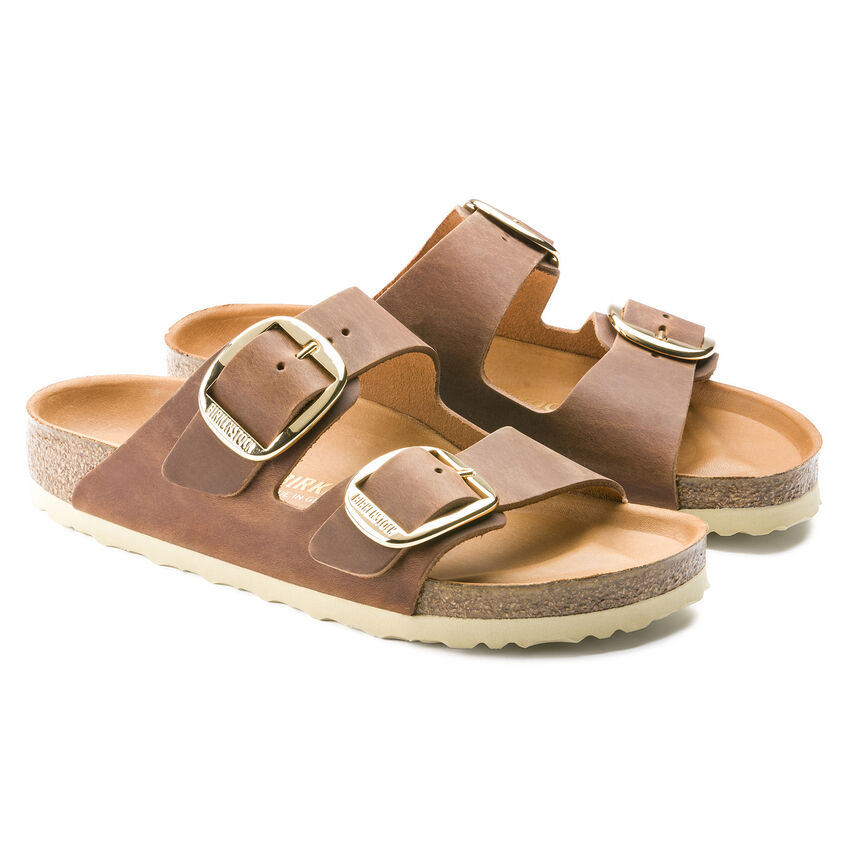 The legendary two-strap design from BIRKENSTOCK with amplified buckle accent – the Arizona Big Buckle. The Big Buckle version features a large, elegant buckle creating a bold yet minimalist design. Shown in oiled nubuck leather.
Anatomically formed cork and latex footbed
Upper: Oiled nubuck leather
Footbed lining: leather
Sole: EVA
Details: double wide straps with large adjustable pin buckles in metal
"Made in Germany"
Review of the Birkenstock Lugano
Here are my thoughts on the Birkenstock Lugano, a great-looking leather sandal that sports the classic Birkenstock cork footbed.
Breaking In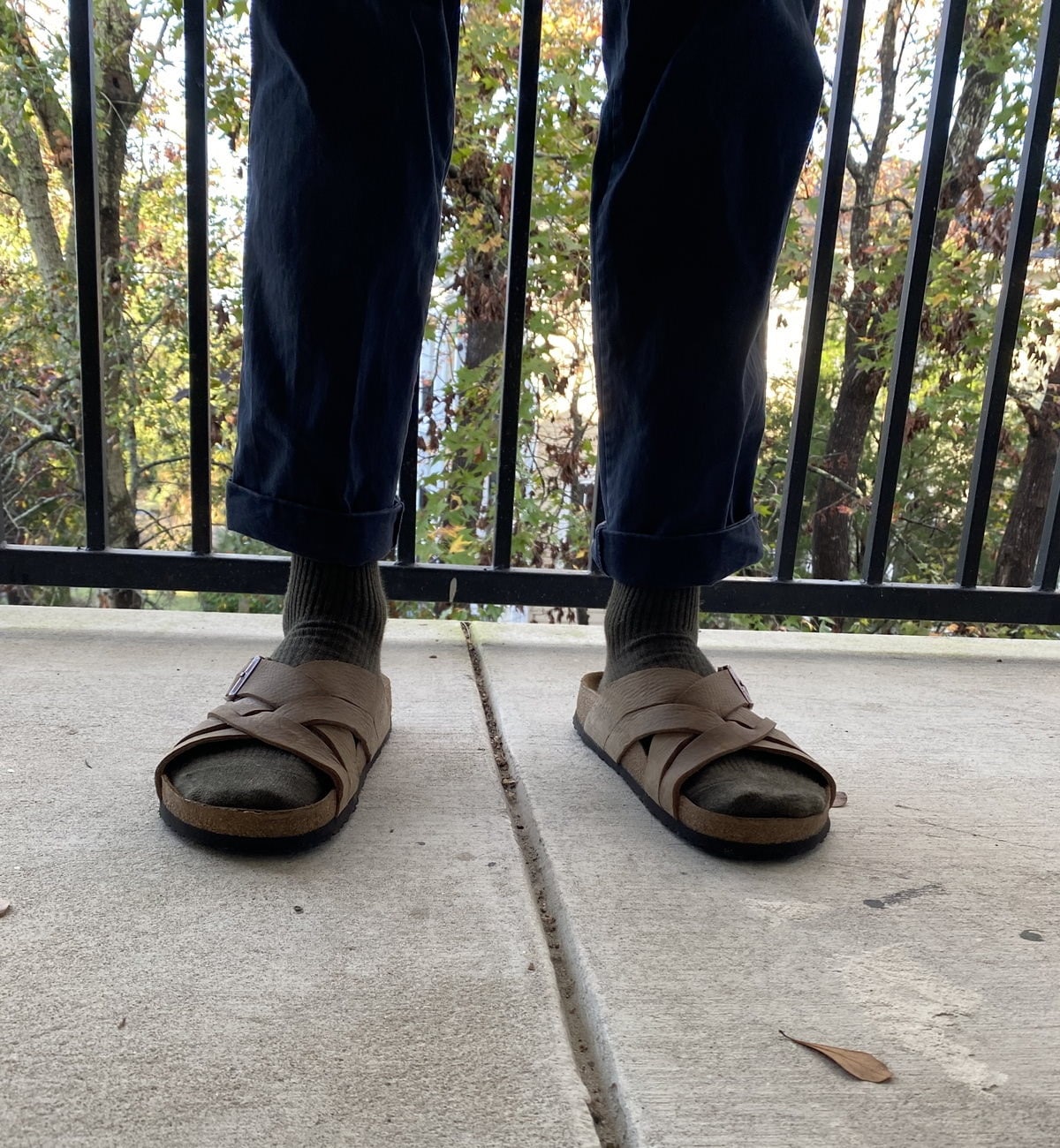 Birkenstocks are notorious for having a rough break-in process, and for good reason.
I've honestly never experienced so much discomfort from any other pair of footwear. But don't let that scare you away. After you break them in, you'll have a very comfortable sandal that conforms to your foot.
The break-in process is painful and will probably give you blisters, but it's kind of a "no pain, no gain" situation. It's worth the discomfort. Just wear them a little bit each day for a couple weeks and they'll be ready for comfortable, regular wear.
Also, a pro tip is to wear socks during the break-in process to ease to burden. As you'll read later in this article, Birkenstocks look surprisingly good with socks.
Fit and Comfort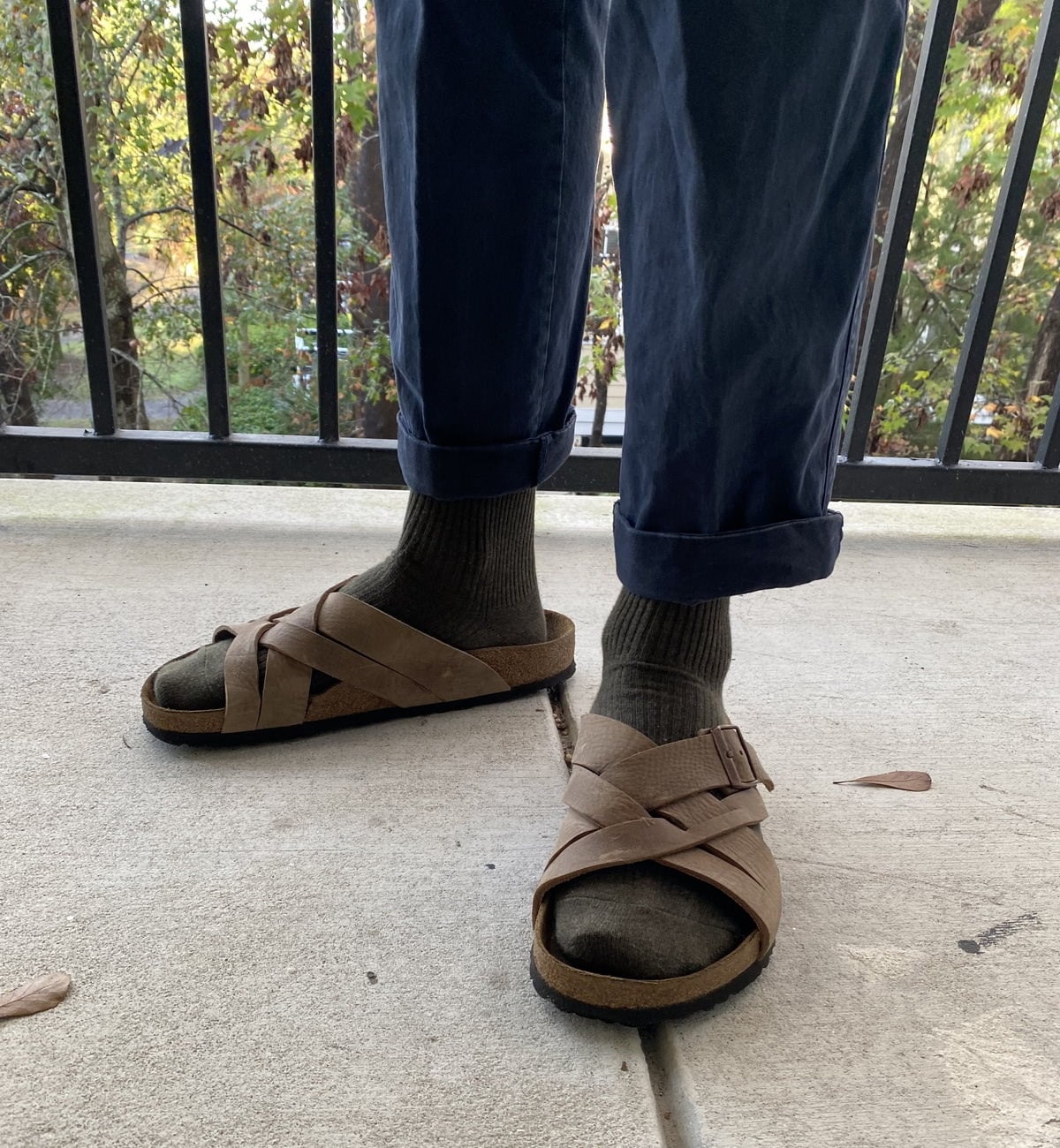 After you break in a pair of Birkenstocks, they're super comfortable and supportive. Not in a "fluffy, walking on a cloud" kind of way, but in a sturdy way. The cork footbed will conform to your unique foot shape and the outsole, made with EVA, make for a sandal that provides ample support.
The Lugano offers half sizes which is a big plus. I would complain that they're a little too long, but that's how they're supposed to be so your foot won't feel constricted.
Styling
Like a lot of leather sandals, Birkenstocks have a rugged vibe which I think looks great. They're high-quality sandals, but they don't look fancy.
They're perfect for spring or summer casual outfits. I usually slip them on before I go for a walk, and I love wearing them to the beach.
Birkenstock Women's Collection
Always comfortable. Always stylish. Find your perfect pair.
Women's Sandals
Form meets function. Comfortable, iconic design in a wide selection of colors, textures and patterns. Individual style, perfect for everyone.
Siena Suede Leather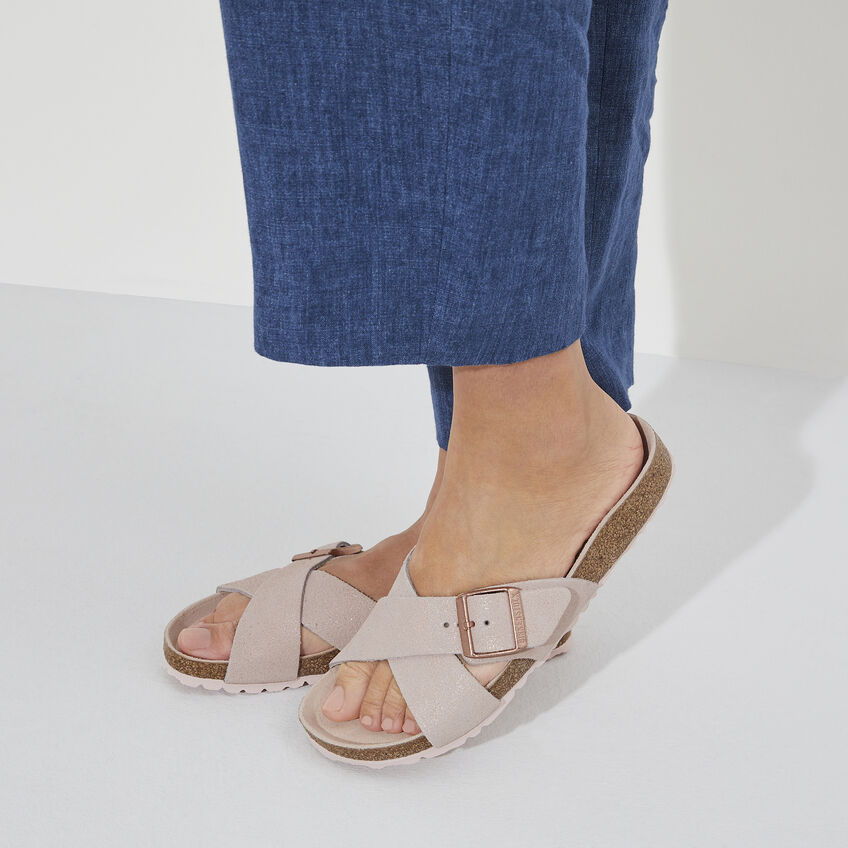 The BIRKENSTOCK Siena is a classic sandal, featuring crossed straps and a subtle shimmer finish. The upper is made from incredibly soft suede for added comfort.
Anatomically shaped cork-latex footbed
Upper: suede
Footbed lining: suede
Sole: EVA
Details: two straps, one with an individually adjustable metal pin buckle
WOMEN'S SHOES
The feel of our sandals, in a shoe. Our shoes and boots have the same iconic, contoured cork footbed as our classic sandals, tucked inside a cold weather upper. With features like hydrophobic suede and shearling liners on select styles, your feet stay cozy and comfortable all season long.
Bend Low Leather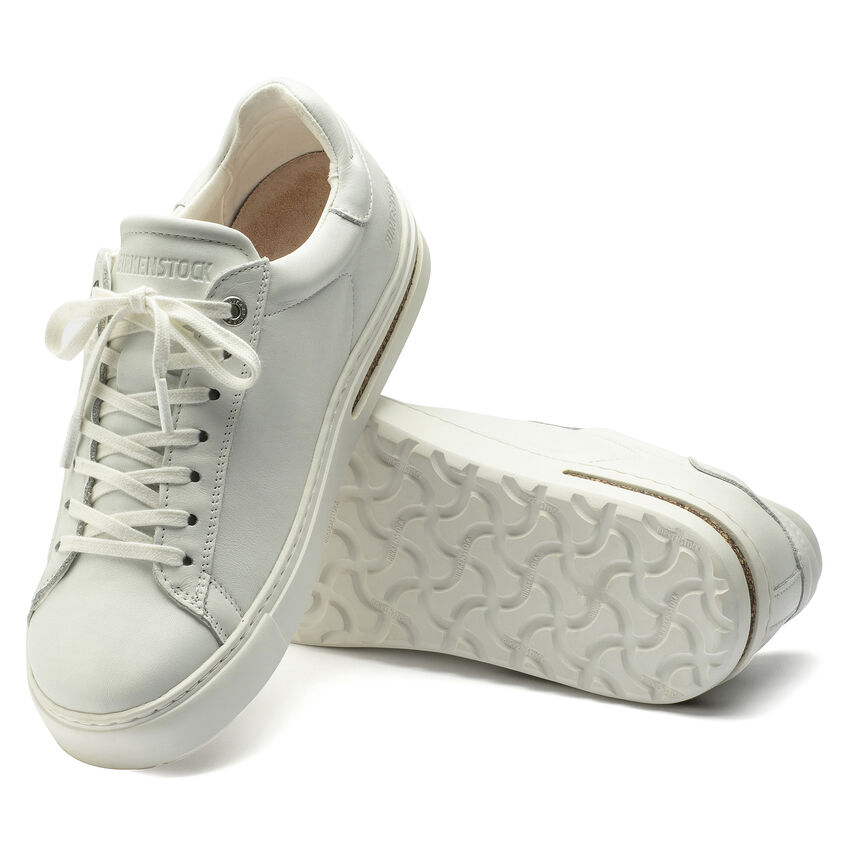 The BIRKENSTOCK Bend sneaker boasts a simple design which can be worn with almost anything. This casual sneaker has an additional mid sole made of PU and cork to ensure optimum shock absorption. It also features a breathable microfiber lining for a comfortable foot climate. The upper is made of high-quality, soft natural leather.
Removable, anatomically shaped cork-latex footbed
Upper: natural leather
Footbed lining: natural leather
Sole: rubber
Honnef Low Suede Leather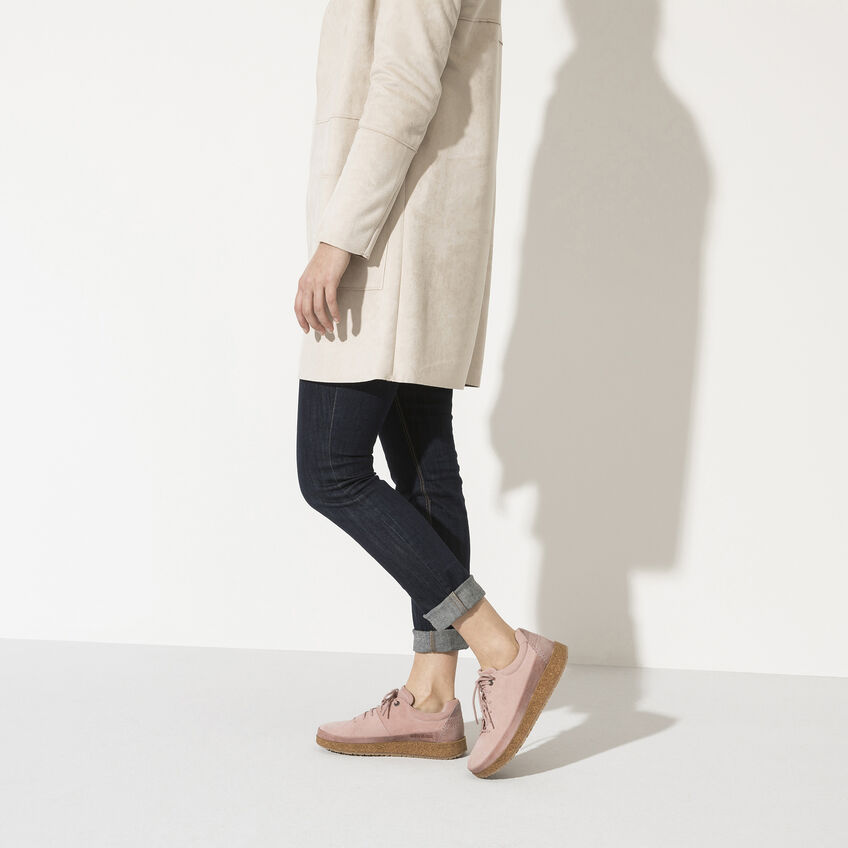 Introducing the BIRKENSTOCK Honnef – our newest street smart shoe engineered completely around our new Deep Blue footbed. The four part footbed includes a moisture wicking microfiber liner, cork and jute layers for optimum arch support and a PU base for added shock absorption and forefoot cushioning. The sporty lace up style is perfect for your most active days whether that's all day around town or on your next travel adventure. The soft suede upper is durable and easy to clean, fully adjustable lacing for optimum fit and injected rubber outsole for added grip and durability.
Original BIRKENSTOCK Deep Blue Footbed; anatomically shaped and removable
Upper: suede
Footbed lining: microfiber
Sole: EVA
Glenda Nubuck Leather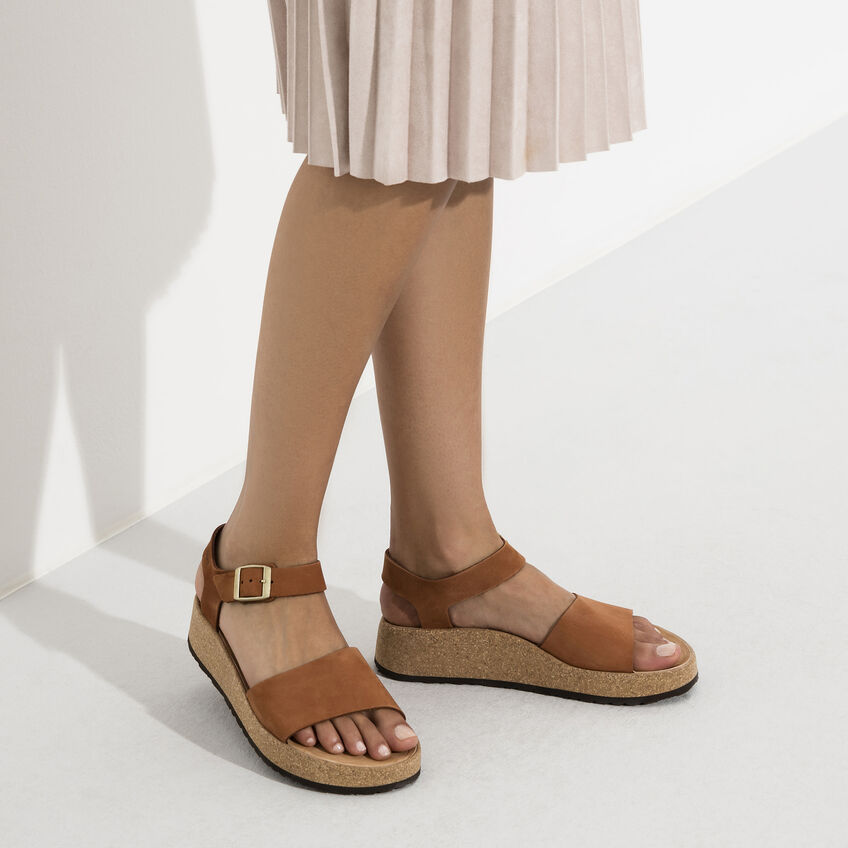 Introducing the Glenda from Papillio. A trendy new back-strap flatform sandal. Featuring the signature comfort you've come to know, with a lift. From sundresses to jeans – wear these sandals with everything. The upper is made of nubuck leather.
Anatomically shaped cork-PU footbed
Upper: nubuck leather
Footbed lining: suede
Sole: EVA
Heel type: platform wedge, heel height: 15 mm
Details: individually adjustable backstrap
Birkenstock With Socks?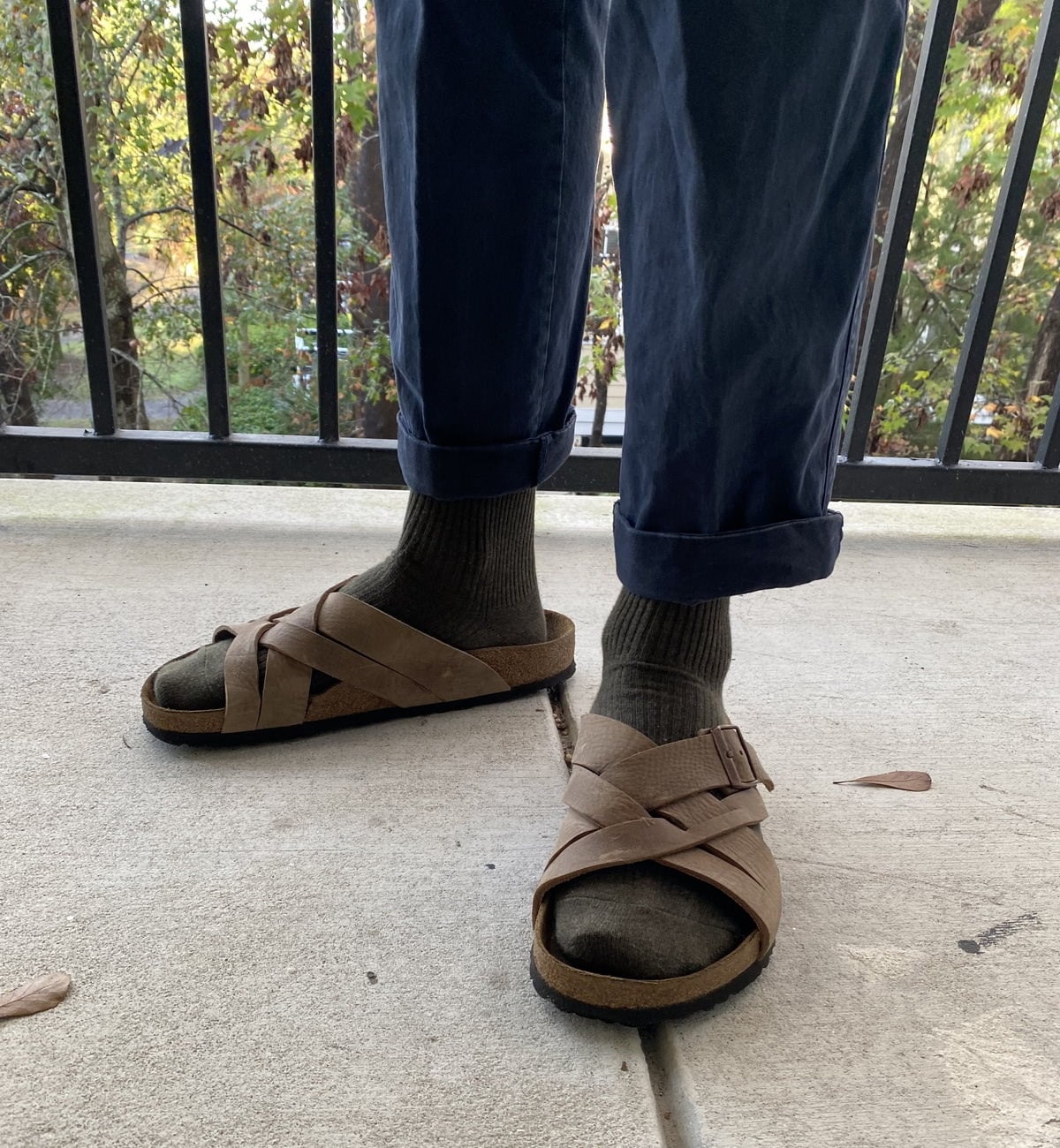 Bear with me here. I have to say, these sandals look great with socks. I never thought I would speak or write those words, but it's the truth. I've worn the Lugano's with socks on milder fall and winter days.
It's a super comfortable combination, and I love the way it looks. That being said, wearing socks with sandals is obviously super controversial and some people will hate it no matter what. Personally, I like the relaxed look and the comfort.
Wearing socks with sandals is one of those odd fashion choices that's either a lame faux pas or super cool, depending on how and where you do it. It definitely violates menswear canon, but it can certainly be done. If you are going to wear socks with sandals, Birkenstocks are probably your best choice.
FAQ About Birkenstock
Here are the answers to some questions you may have about Birkenstock.
How do you Break in Birkenstocks?
You just have to wear them for a couple of weeks, there's no way around it. The info card that came in the box said to bend the sandals, and for the first five or six times you wear them, limit wear to a few hours.
Are Birkenstocks Worth It?
Yes, they are worth the price. Their sandals are stylish and well-made.
Are Birkenstocks Comfortable?
After you get past the initial break-in period, Birkenstocks are super comfortable! Commit to wearing them for a couple of weeks, and you'll have yourself a comfortable pair of sandals that conforms to your foot shape.
Can You Wear Socks With Birkenstocks?
You can wear whatever you want! What's important is that you're comfortable and like the way you look.
Just like any other fashion choice, it's subjective and not everyone is going to like it, but in my opinion, Birkenstocks look great when worn with socks.
Recommendation
Birkenstock makes awesome sandals that are perfect for spring and summer. If you dig the Birkenstock with socks look, they're great for fall too!
If you're looking for a pair of high-quality leather sandals that won't break the bank, I definitely recommend trying a pair of Birkenstocks.