Avira Review: Quick Expert Summary
Avira provides a powerful cloud-based antivirus scanner and a wide range of really good additional security tools for Windows, macOS, Android, and iOS users, all for an excellent value.
Avira's anti-malware engine performed extremely well in all of my tests, blocking and removing 100% of my malware samples, including all viruses, spyware, and ransomware. In fact, Avira's anti-malware scanner is so good that it's even been licensed out to numerous antivirus competitors, like TotalAV.
Avira also includes the following features:
Firewall.
Web protections.
Performance optimization tools.
Virtual private network (VPN).
Password manager.
Game booster.
And a lot more…
Most of Avira's features are top-notch — the performance optimization tools are excellent at cleaning and speeding up a device. The password manager is comparable to the best standalone programs. The web protections are better than Chrome or Firefox's built-in web protections.
However, the VPN doesn't consistently work with popular streaming sites, and I would like to see Avira offer comprehensive parental controls like Norton and McAfee do. And speaking of families, I'd also like to see Avira offer a family plan for up to 10 devices (which McAfee also offers) — right now. Avira's top-tier plan only covers up to 5 users.
Avira also offers the best free plan on the market, with real-time protection. Web protection, a password manager, and other features that no other antivirus offers for free in 2022. And Avira's paid plans are among the cheapest on the market, plus they all come with a risk-free 60-day money-back guarantee.
Avira Full Review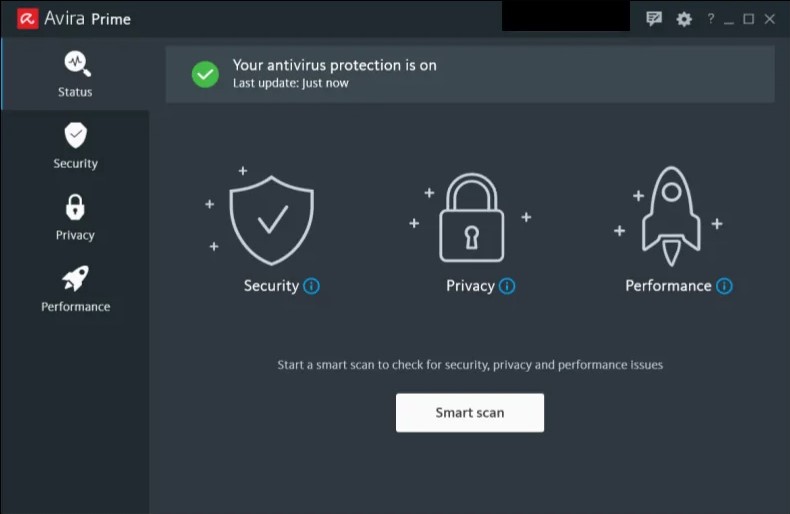 Avira offers excellent malware protection, a wide range of useful extras, and an intuitive dashboard, all for a really good price.
Avira's malware scanner has perfect 100% malware detection rates. Its web protections are excellent at detecting and blocking online threats. Its password manager is as good as most standalone password managers.
Avira also has the best free plan on the market, as well as competitively priced premium plans that offer more value than most other antiviruses.
Avira Security Features
Antivirus Scanner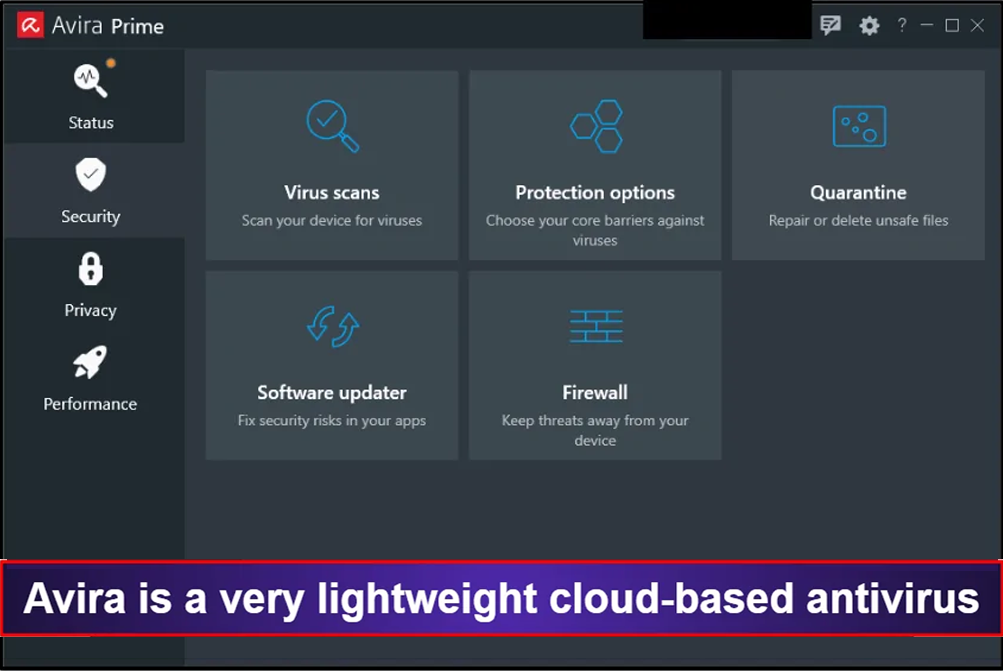 Avira has a powerful cloud-based antivirus scanner that compares files against a large malware directory and also uses heuristics to detect zero-day threats. The cloud-based scanner offloads the CPU-intensive process of analyzing your files to a server in the cloud, allowing. Avira to use the most advanced scanning tools without slowing down user devices. Because of its effectiveness against all types of malware, Avira's scanning technology has also been licensed out to numerous antivirus vendors, including TotalAV and Systweak.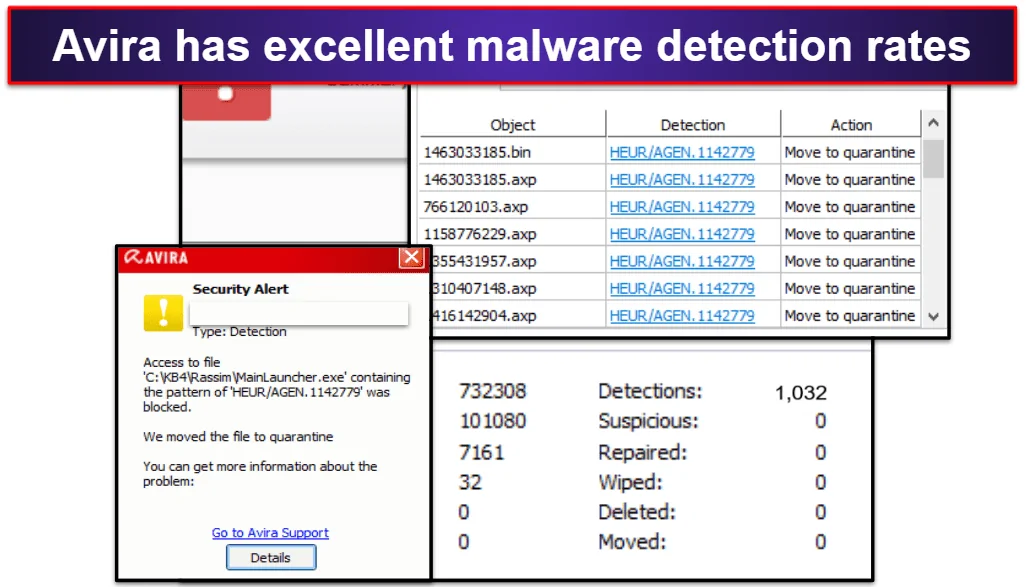 To test Avira's scanner, I downloaded and hid just over 1,000 test files all over my device, including ransomware, trojans, spyware, keylogging malware, and rootkits. Avira detected 100% of my test files, which is very impressive — only a few competitors, like Norton, Bitdefender, and McAfee, earned perfect scores in our malware testing. The full system scan took just over an hour and I didn't experience any noticeable slowdown on my device — even McAfee slowed down my device a bit during a full disk antivirus scan!
I really like the variety of scans Avira offers. Which allows users to schedule shorter scans for specific areas of interest. In addition to a full system scan and quick scan, Avira includes the following scans:
Smart Scan.
Rootkit.
Local drive.
External device.
Active process.
My documents.
Windows system.
Avira's Smart Scan is really useful, searching for malware, network security issues, out-of-date software, privacy vulnerabilities, and device performance concerns. It's basically an all-in-one malware scanner, system optimizer, and network security monitor.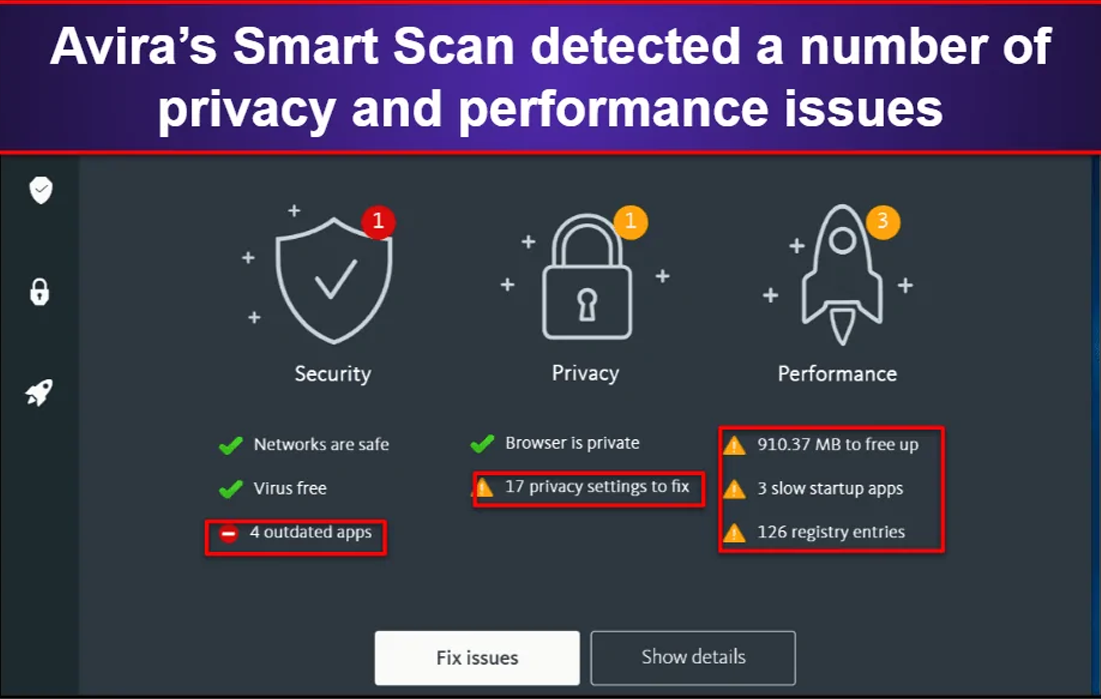 I was really impressed with Avira's Smart Scan. In under a few minutes, it found 17 privacy settings that could be compromising my data security. Including location sharing and app permissions that were giving apps unnecessary access to all of my data. The Smart Scan also found almost 1 GB of junk files to clean up, 4 outdated apps needing updates, and 3 apps that were slowing down my computer's startup.
Avira also makes it really easy to resolve any issues that the Smart Scan finds. By clicking on "Fix issues", Avira updates apps, clears junk files, and reconfigures settings to address privacy concerns.
Avira's other specialized scans could come in handy for a variety of issues — especially for tech-savvy users that think they know which part of their system is infected. Offering specialized scans like a rootkit scan, external device scan, or Windows system file scan can be a real time-saver for knowledgeable users.
However, most users will want to simply use the full disk scan or Smart Scan tools to scan all of these areas at once (especially because many advanced malware files can duplicate themselves and hide in different parts of a user's system).
Avira's anti-malware scanner is one of the best on the market — it's fast, it doesn't cause system slowdown, and it's excellent at detecting and blocking all types of malware. Avira also offers a number of system scans, including very specific options, like a rootkit scan. And there's also a Smart Scan that checks for system vulnerabilities and performance issues. Making sure everything on your device works as it should.
Web Protection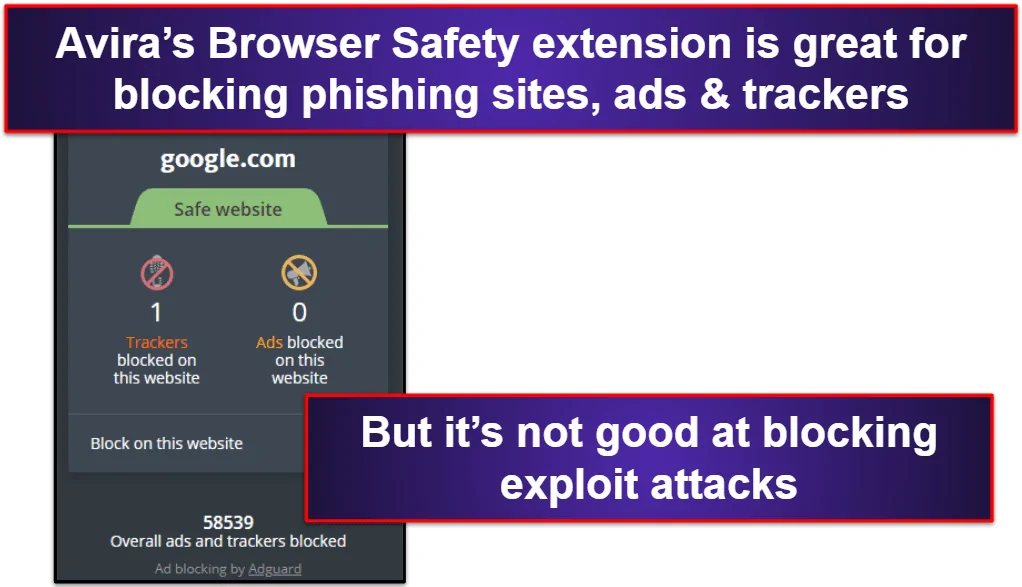 Avira's Browser Safety extension blocked the majority of phishing sites, ads, and trackers in my testing, but it wasn't an effective defense against exploit attacks. The extension is available on Google Chrome, Microsoft Edge, Firefox, and Opera. First, I tested Avira's Browser Safety extension against a dozen known phishing websites. It blocked almost all of them — yielding much better results than Chrome, Edge, or Firefox's built-in protections.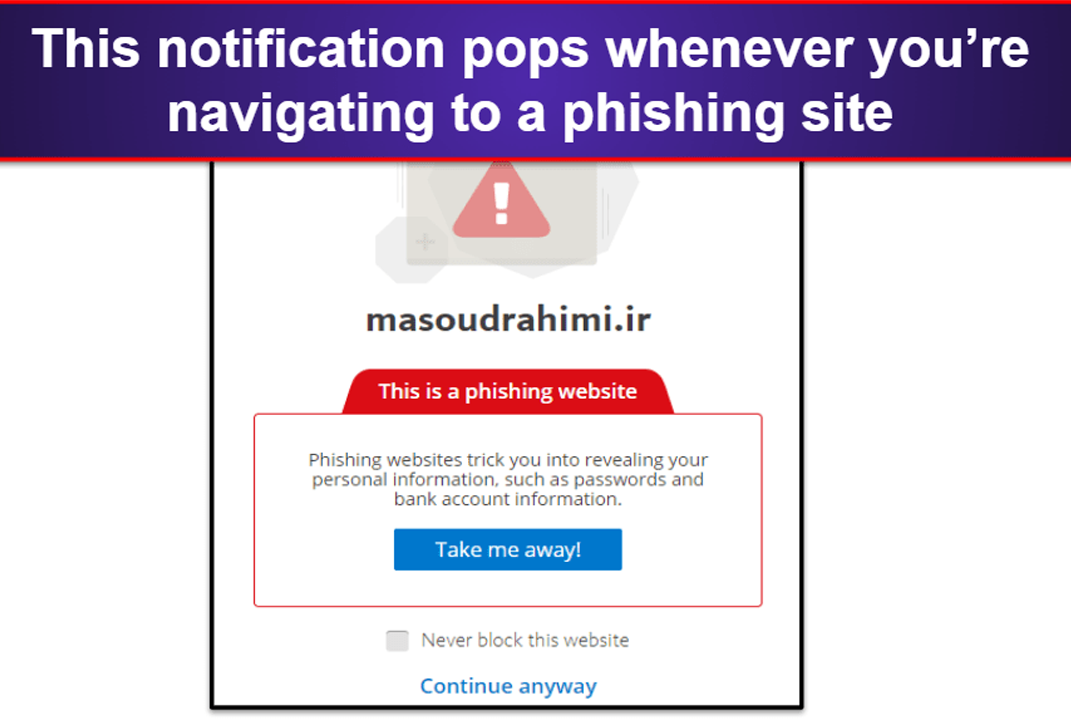 Browser Safety is great for blocking ads and online trackers, as well. I compared Browser Safety to uBlock Origin and visited 5 websites that are heavy on ads. As you can see, Browser Safety outperformed uBlock Origin on most sites:

However, I was really disappointed by Avira Browser Safety's exploit protection.
Exploits are web-based tools that take advantage of a software vulnerability to gain access to user devices and even install malware. Most of these exploit attacks are well known and many browsers and web shields can detect them and block websites that contain exploits. However, in my testing, Avira Browser Safety only detected around 10% of the exploit attacks. I tested it against (by comparison, Bitdefender's web protection feature detected 100% of the exploit attacks in my testing).
The web protection from Avira is pretty good, but its exploit attack protection is pretty bad. I would love to see Avira improve it's anti-exploit capabilities. Especially since Avira Browser Safety has an exceptional ad and tracker blocker. Also blocks phishing websites more accurately than Chrome or Firefox.
Device Optimization Tools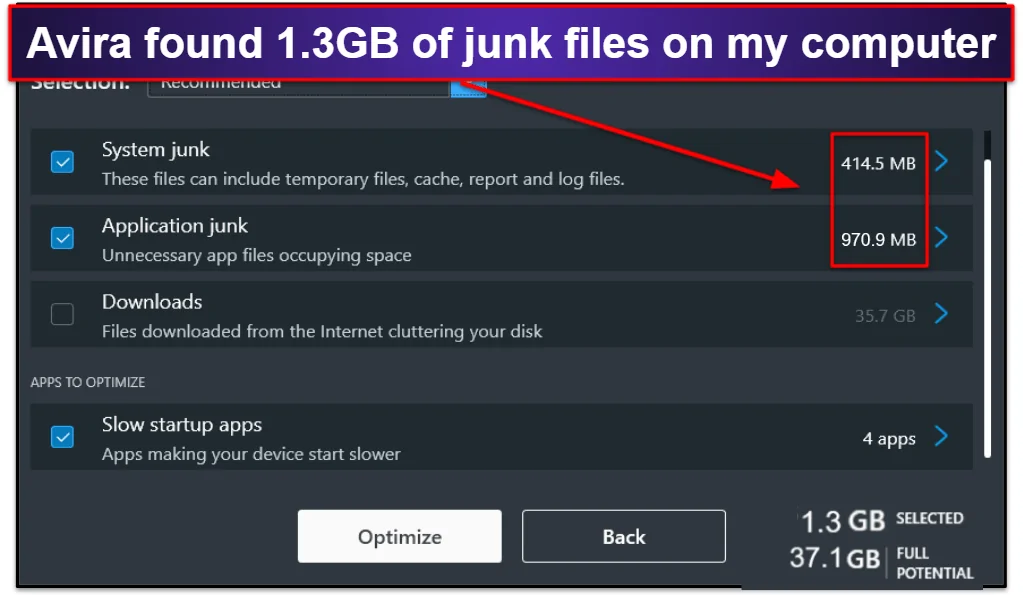 Avira's system optimization tools are really good — they're easy to use, they can clear up space on your system. They include useful metrics to help users chart their system's performance over time. Avira's main device optimization tools include:
PC junk file cleaner.
Startup optimizer.
Driver updater.
Battery usage manager.
Game booster.
The PC junk file cleaner detects junk and unused files and folders.
During my tests, Avira found over 1.3 GB of junk files clogging up my hard drive. Avira also flagged certain files and folders that I may have wanted to keep. Allowing me to choose whether or not I wanted to delete them. Avira's junk file cleaner is really good — only TotalAV is able to detect and remove junk files as well as Avira.
The startup optimizer shows which programs are slowing down your PC's boot time, allowing you to stop the programs from booting on startup or remove them completely. Users with significantly slower boot times can then opt for a Hyper Boost. Where Avira asks you to reboot your device 5 times in order to analyze and optimize your boot sequence. This Hyper Boost feature is a little time-consuming. But it could be a really useful tool for anybody struggling with a buggy boot sequence. Another thing I really like about the startup optimizer is that it keeps track of a PC's load time and displays the data on an easy-to-read graph.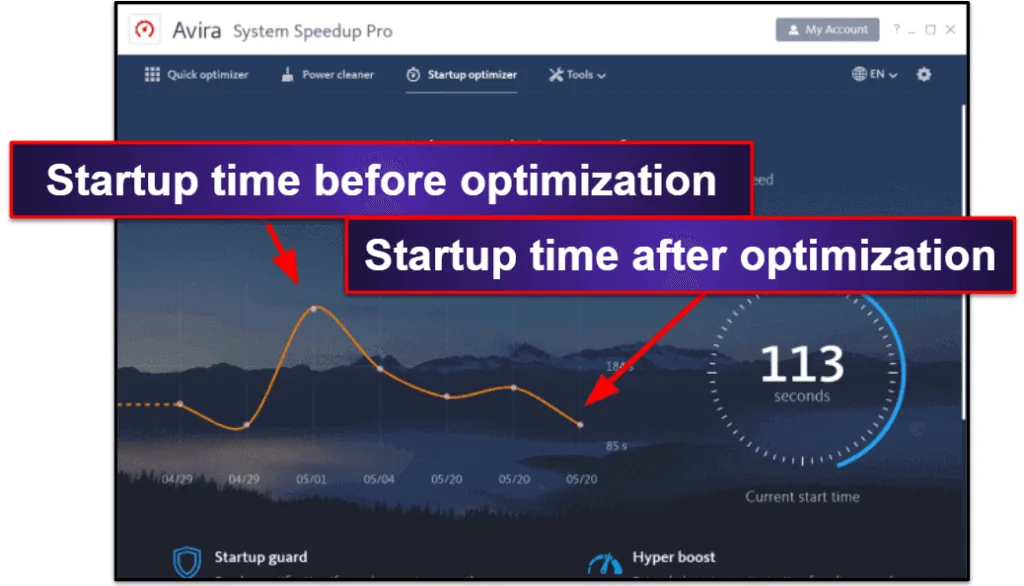 I was also pretty impressed with Avira's driver updater. Which scanned all of my software and notified me which programs were out-of-date. Keeping software updated isn't just a matter of performance or quality — software updates frequently contain security patches that close up security vulnerabilities. Avira's driver updater is a really useful security feature that can ensure that your device is protected from the majority of known exploit attacks.
The battery usage manager isn't very impressive, though — it can put your system into a low power mode. Which dims your screen and prevents automatic updates. But it doesn't track which apps or processes are taking up your battery life, like Android and iOS do for mobile users.
The game booster is a neat tool that closes background applications, stops unnecessary services, and optimizes network settings to improve CPU performance during high-performance gaming. In my testing, I experienced a noticeable difference in performance. When using Avira's game booster, especially with online games like Destiny 2 that can often experience slowdown due to network connectivity issues. I had less lag and none of the intermittent slowdown that I frequently see while playing games online.
However, I still think BullGuard's game booster is much better. Because of the way it actually reallocates system processes on multi-core PCs so that games can run more efficiently — BullGuard and McAfee's game boosters are the only tools on the market that have actually allowed me to increase my graphic settings and frame rates while gaming.
Virtual Private Network (VPN)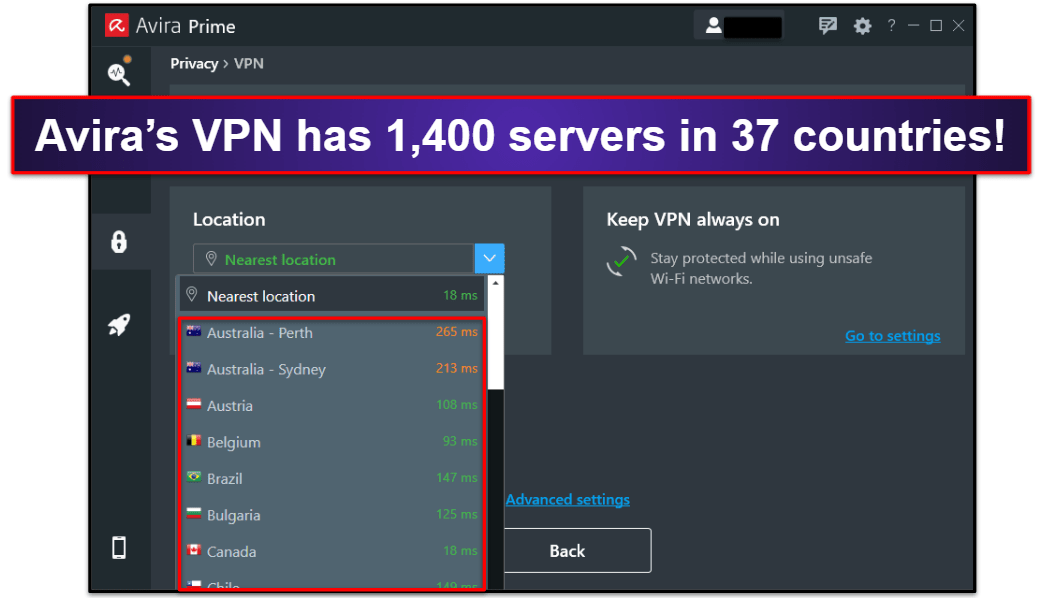 Avira's Phantom VPN provides good security, offers a decent server network, maintains fast speeds, and has a no-logs policy, but it's unable to consistently access streaming sites. Phantom VPN Pro with unlimited data is bundled with Avira's premium Prime package. Whereas lower-tier plans are limited to only 500 MB of browsing data per month (which is not very much at all).
Phantom VPN also has:
256-bit AES encryption. All user info is protected with unbreakable encryption.
A strict no-logging policy. Avira doesn't keep logs of the sites that you visit or the files that you download.
DNS leak protection. Phantom VPN supports IPv4 and IPv6 traffic.
Malware blocker. Prevents you from visiting malicious websites.
Multiple server locations. 1,400 server locations in 37 countries, including state-specific locations in the USA. Keep in mind that Pro users have access to all 1,400 servers, but the free version only allows access to one virtual server.
Kill switch. Automatically blocks internet connection when the VPN is disconnected (Windows only and only comes with the Pro version).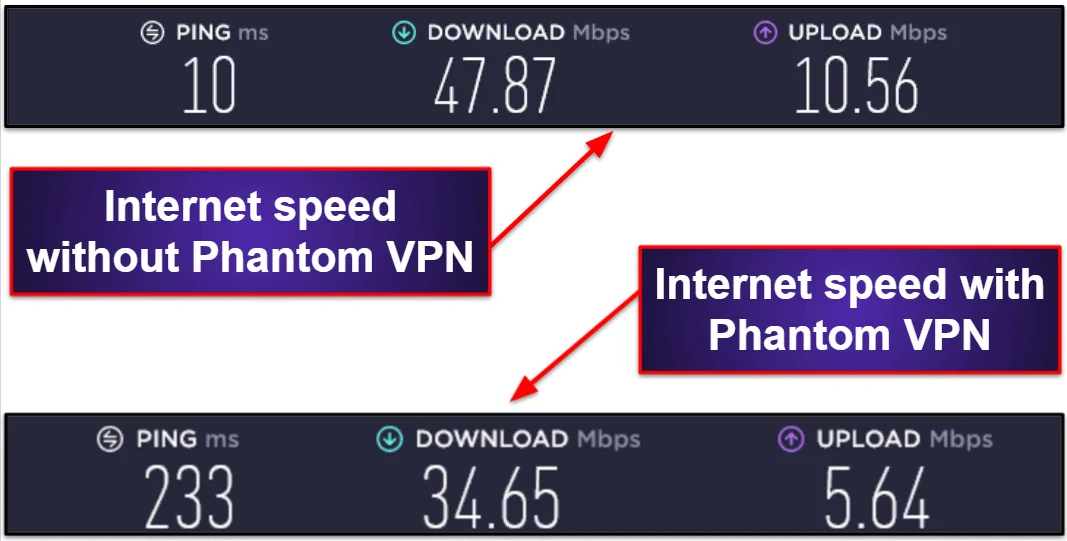 Avira's VPN is pretty fast — during my tests, my speeds decreased by 25-30% on average. Which is comparable to some of the best standalone VPNs on the market, like ProtonVPN. Using Avira's VPN, I was able to browse the web, watch videos, download files, and play games with minimal or no slowdown at all. I did experience some slowdown while connected to very distant servers, but all VPNs cause some decrease in speeds, especially on long-distance servers.
Phantom VPN supports 5 simultaneous connections, which isn't too bad (the industry average is 5-7 devices at once). However, Avira's VPN can't be installed on routers, game consoles, or smart TVs. Which can be a downside for people looking to protect all of the devices in their household. Standalone competitors like ExpressVPN can be installed on all devices — and there are some VPNs that provide unlimited simultaneous connections, like CactusVPN.
Unfortunately, Avira's VPN didn't work with popular streaming sites in my tests — I wasn't able to access Netflix, Amazon Prime, or Disney+. If you're looking for a fast VPN with good streaming capabilities, I recommend standalone VPNs like ExpressVPN or ProtonVPN.
However, Phantom VPN supports P2P traffic and works with top torrenting clients. Other VPNs included with antiviruses, like Norton Secure VPN and McAfee Safe Connect, don't allow torrenting.
Phantom VPN is a pretty decent VPN. It's a good value as part of the Avira Prime package, but there are better standalone options out there. That said, for users that are looking for a simple, secure, and fast VPN with a good number of international server locations, Avira's Phantom VPN is a great option.
Password Manager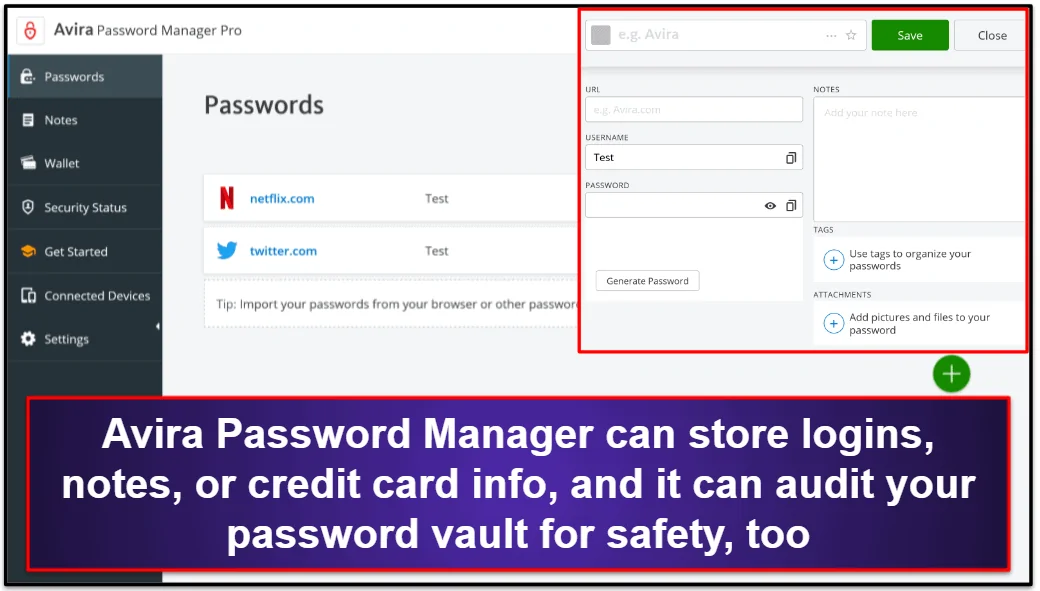 Avira's password manager provides secure password storage, an intuitive interface, and some excellent security features. It's probably my favorite antivirus-bundled password manager in 2022 (although Norton Password Manager is also surprisingly good). Avira is also one of the only password managers that offers unlimited password storage and syncing across mobile and desktop devices in its free version (Avira's free antivirus plan and super-cheap Antivirus Pro plans both include Avira's free password manager, while the more expensive Internet Security and Prime plans include Avira Password Manager Pro).
Some key features Avira includes in its password manager are:
256-bit encryption.
Biometric mobile login.
Two-factor authentication (2FA).
Password generator.
Auto-save and auto-fill.
Data breach monitoring (Pro version).
Password vault auditing (Pro version).
Avira's password manager dashboard is really clean and easy to navigate.
It also includes a browser extension that can auto-save and auto-fill login information. As well as generate strong passwords to use. The extension is available on Chrome, Firefox, Microsoft Edge, and Opera.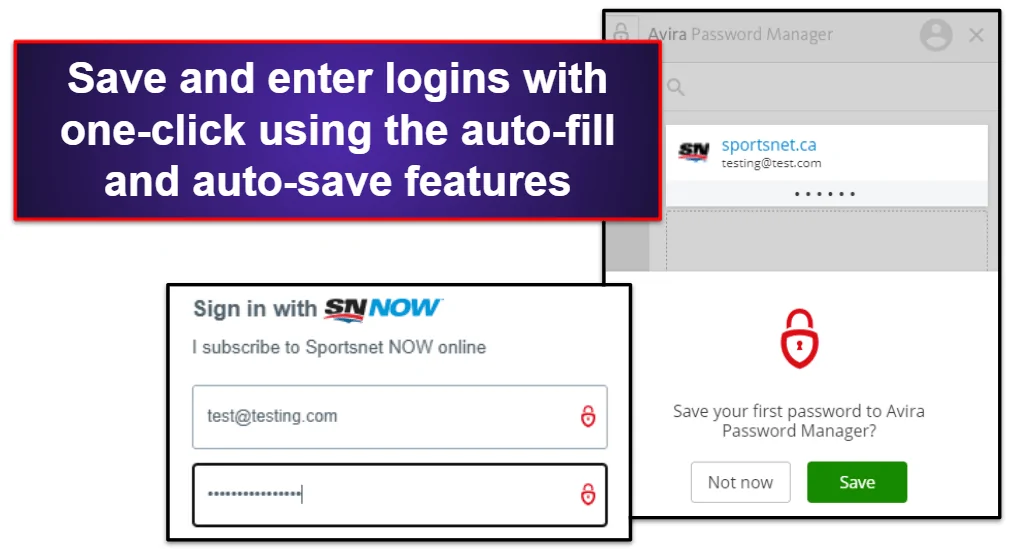 One glaring feature that's missing from the browser extension is a password generator. There is a password generator within the desktop application. But it'd be really helpful to have one in the browser extension to use when creating new accounts.
Avira's password manager also has a really good mobile app that's available on Android and iOS devices. It integrates well with Android and iOS's auto-fill and biometric login features. It automatically syncs logins that are saved in your vault on other devices.
Avira's vault auditing tool is pretty good — it organized all of my unsafe (weak, repeated, or old) logins so I could simply go down the list changing my passwords to improve vault health (although I would like to see Avira include a password auto-change feature like Norton and Dashlane provide). The data breach monitor also provides live updates if your logins are detected in any publicly available data breaches, which is pretty helpful.
Avira's password manager is lacking some additional features — it's not compatible with 2FA USB tokens like YubiKey, and it doesn't provide family password vault sharing like 1Password does, or live dark web monitoring like Dashlane does — but it's still a solid password manager.
If you're looking for an easy-to-use, secure password manager with some helpful additional features, then Avira Password Manager is a great option. Plus, most of its features are completely free!
Additional Features
Avira has a lot more features, including:
File encryption. Protects files and folders with passwords.
File shredding. Deletes files completely so they can't be recovered by hackers.
Network traffic manager. Shows which applications are connected to the internet and gives the option to stop certain connections if necessary.
Process manager. Monitors all running processes and stops unnecessary ones.
Disk defragmenter. Improves the organization and speed of hard drives.
File recovery. Restores accidentally deleted files.
Safe Shopping. Browser extension which recommends better deals when shopping online.
I really like the file shredder — I was able to completely erase files from my disk with just a few clicks. Features like the process manager and disk defragmenter are already available on Windows and Mac, but having them all together and easy to access in Avira is useful, particularly for people unaware of these tools.
I wasn't very impressed with the Safe Shopping browser extension though — it rarely notified me of better deals, and frequently offered hilarious alternatives. Such as notifying me of a low-price terrarium on Amazon when I was shopping for Animorphs books!
Avira Plans and Pricing
Avira has 4 plans available:
Free Security.
Antivirus Pro.
Internet Security.
Prime.
The two best Avira plans are Free Security, which offers the best free antivirus coverage on the market, and Prime, a feature-rich plan that covers up to 5 devices for a very reasonable price. I'm not a big fan of the Antivirus Pro and Internet Security plans, especially because they only cover a single device each. All of Avira's plans come with a 60-day money-back guarantee.
Avira Free Security — Excellent Free Antivirus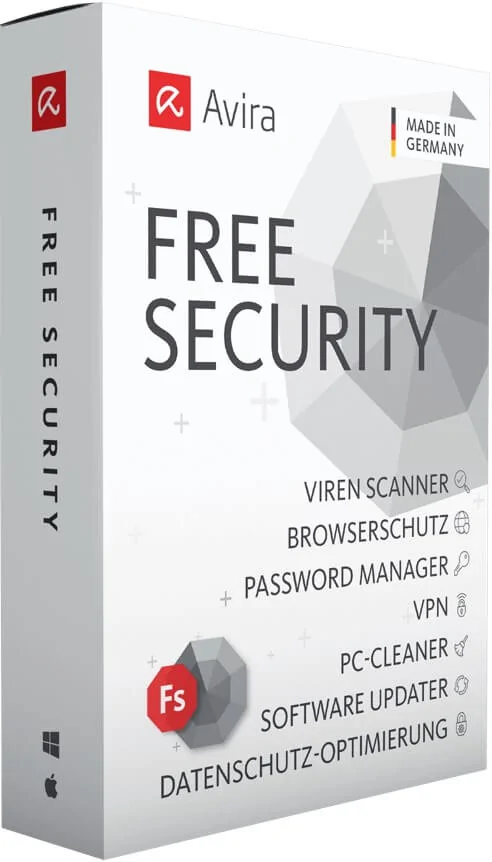 Avira's free plan includes:
Antivirus scanner.
Real-time protection.
Firewall.
Phantom VPN (with 500 MB of free data per month).
Password manager (separate download).
Browsing security.
Device optimization.
Safe Shopping and Browser Safety extensions.
File shredder.
Avira's free plan offers the same powerful antivirus engine as the premium version — including Avira's real-time anti-malware scanning. It protects against all malware, including ransomware — unlike other free antiviruses that make you pay for the premium version to get ransomware protection.
The VPN is very limited in terms of data — 500 MB of free data per month is barely enough to do a few Google searches every day. And it only allows access to the nearest server location, meaning you can't choose other server options — there are a lot of better low-cost standalone VPNs on the market (ProtonVPN provides unlimited data with its free plan).
While Avira Free Security is one of the best free antivirus offerings on the market, it lacks a lot of features that Avira's paid plans include, like unlimited VPN data and password manager data protection tools. The Avira Free users don't get access to email or phone customer support, either.
Avira Antivirus Pro — Decent, But Not Worth the Money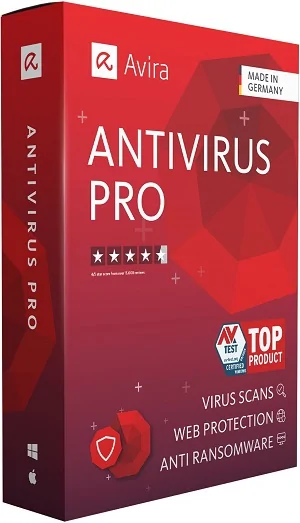 Avira Antivirus Pro doesn't really do anything that isn't offered by Avira's free plan. Antivirus Pro subscribers get access to Avira's email and mobile customer support, but that's the only difference between the two plans.
However, new users that think they're going to need a lot of technical assistance can give Avira Antivirus Pro a chance (but you'll probably end up wanting to upgrade to Avira Prime).
Avira Internet Security — More Features for a Good Price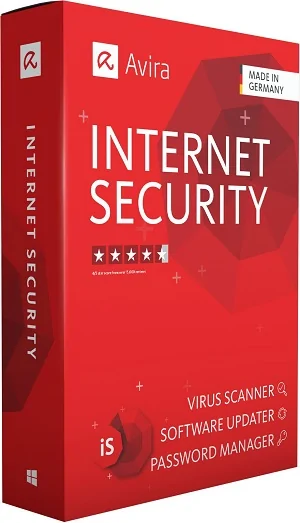 Avira's Internet Security package includes all the tools of the free version, but it also has:
Password Manager Pro.
Software and driver updater.
I like Avira's premium password manager, which includes data breach monitoring and password vault auditing features — but it's not as good as premium password managers like Dashlane and Keeper, though. I also think Avira's updater tool is a useful internet security feature, and this package includes customer support by phone and email as well.
But I don't think these two features make Avira Internet Security worth the cost of an annual subscription. You could easily just download Avira's free plan and get a good password manager for a better price.
But users that want to have an all-in-one antivirus and premium password manager with some good additional security features can give Avira Internet Security a look.
Avira Prime — The Best Avira Package Available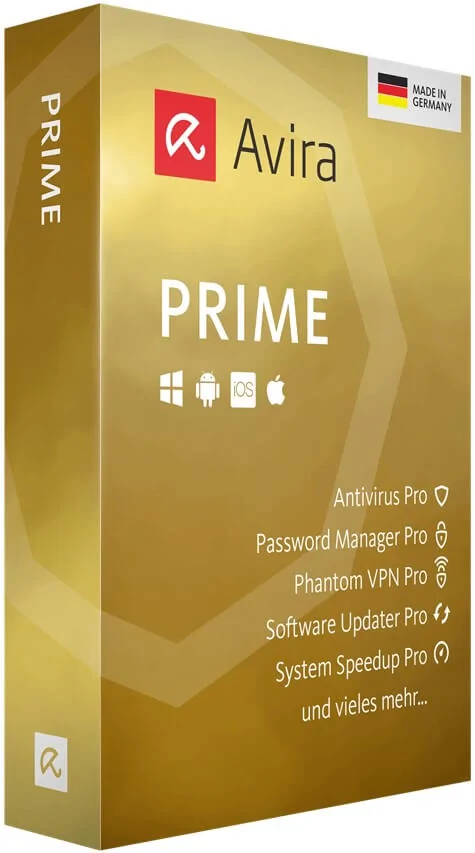 Avira's Prime package includes all of the previously mentioned features, but it also includes:
Phantom VPN Pro.
Junk file cleanup.
PC performance optimizer.
Coverage across 5 devices.
This package is a really good value — it covers 5 devices for a little bit less than Norton 360, although Norton's premium plans provide features like live dark web monitoring, comprehensive parental controls, and identity theft protections, which make it a more full-featured internet security program.
Avira Prime is Avira's best value plan —  you get a ton of great features for a very competitive price.
Avira Ease of Use and Setup
Out of all of the antiviruses I've tested, Avira is one of the easiest to set up and use.
The installation took less than 10 minutes. While other antiviruses I've tested installed slightly faster than Avira, like TotalAV, Avira's entire installation process was very easy — only requiring a couple of clicks to complete.
Avira's features are really intuitive and easy to use. Running an antivirus scan and using the device optimization features will be simple for most non-tech-savvy users.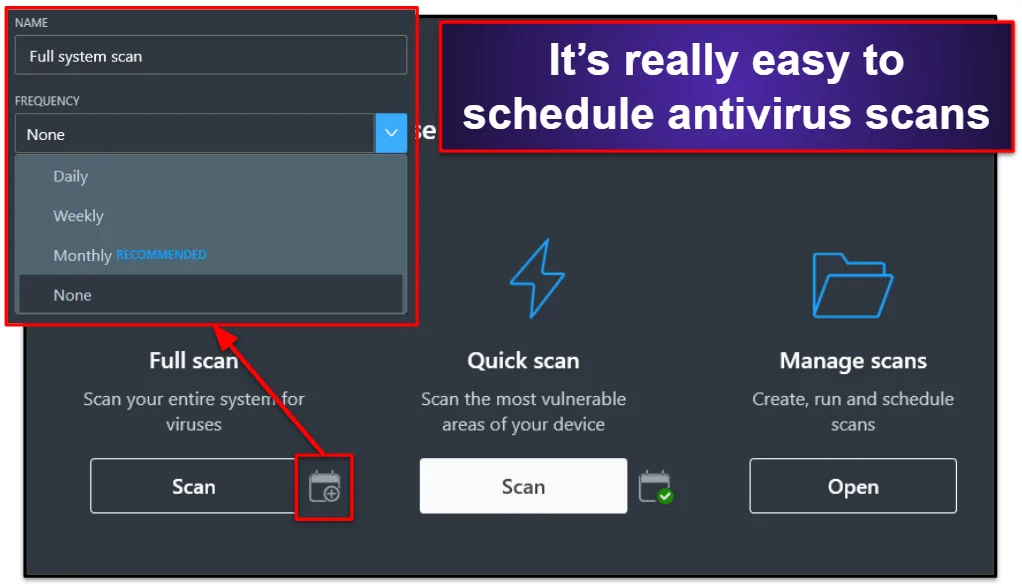 I was able to schedule scans in a few seconds by simply clicking on the calendar icon and setting the frequency of each scan.
One of the great perks of Avira is the many scan options it offers. This could potentially be overwhelming for people who don't have much technical knowledge, but Avira's interface makes it really easy to navigate scanning and scheduling.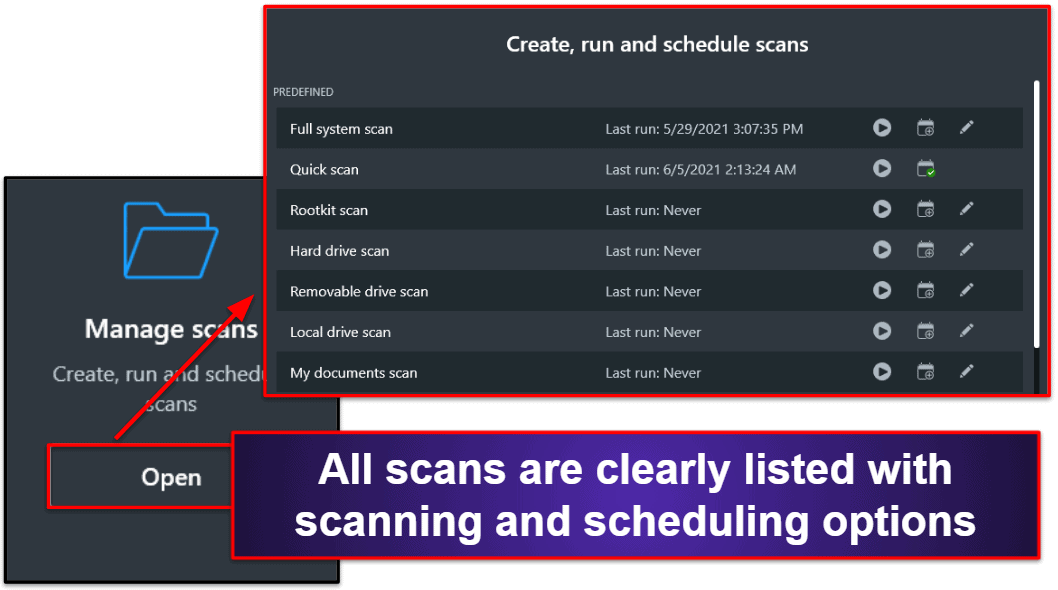 Avira's full scan barely affected my CPU compared to other antiviruses. It only took up around 20-25% of my CPU power, which is nothing compared to when I tested Panda and McAfee on my PC — which both took up over 50% of my CPU when running a virus scan. With Avira, I was able to use my PC as normal when the scan was running, so I could edit videos and browse YouTube without any system slow downs.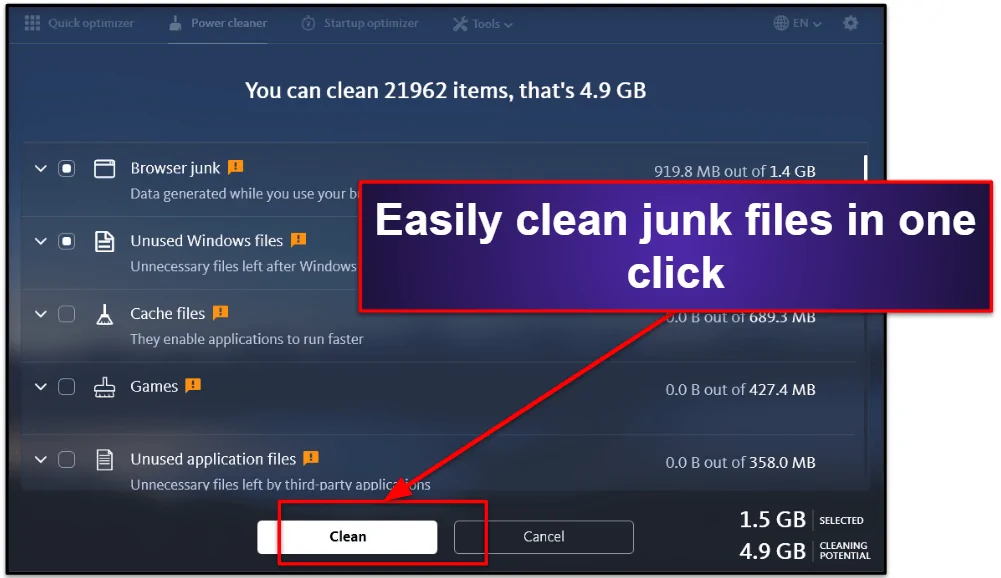 Avira is easy to install and simple to use. Even beginner users will find it easy to access all of the security and device optimization features. It's also extremely lightweight, and the scanning engine won't affect PC performance while using CPU-intensive programs.
Avira Mobile App
Avira's mobile app is compatible with Android and iOS, and it provides a ton of good features in an intuitive interface.
I tested the Android app out on my Nokia 6.1 smartphone and I also tested the iOS app on my iPad.
The antivirus scanner on Android was very quick — it took less than 5 minutes and I didn't experience any noticeable slowdown on my phone. I downloaded a huge Android-specific malware database to my device, and I was impressed to see that the mobile app returned the same result as the desktop app: 100% of my test files were either removed completely from my phone or placed in quarantine.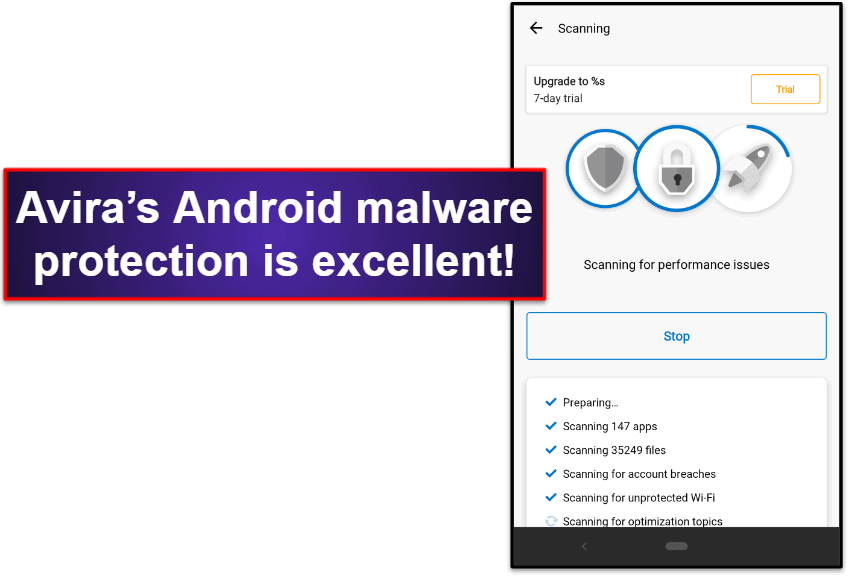 Avira's mobile apps include these features:
Web protection.
Anti-theft device finder.
Camera and microphone protection.
App locker.
Call blocker.
VPN.
Password manager.
Performance optimizer.
Identity breach alerts.
Wi-Fi network scanning.
Siri protection (iOS only).
iOS updater (iOS only).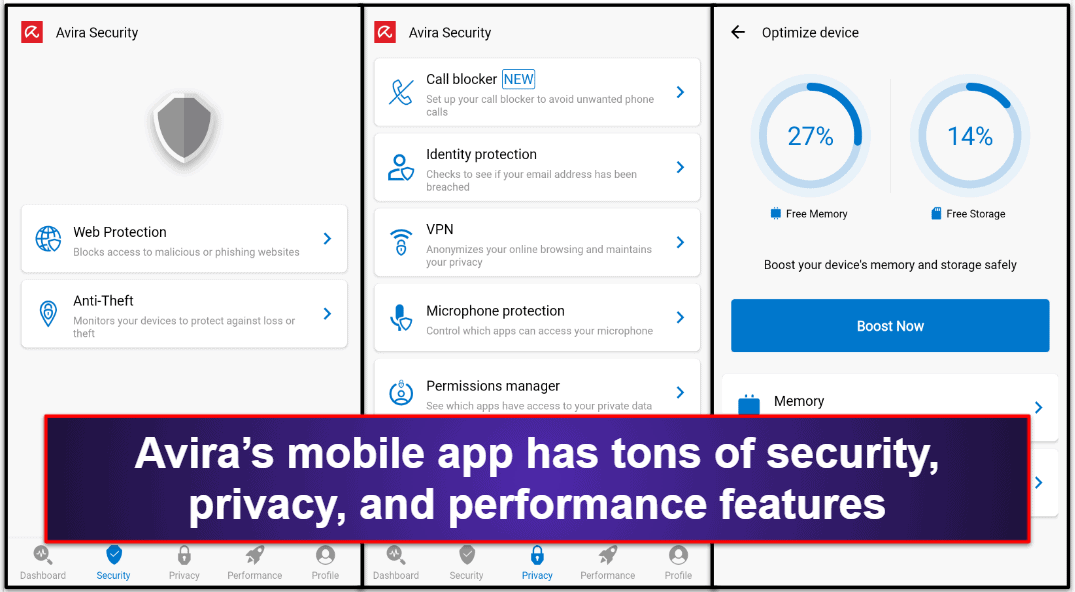 I particularly like the permissions manager and microphone protection — it can be difficult to keep track of which apps are granted which permissions and having some prompts on my phone to manage them is very helpful.
The performance optimizer is great, too. I have an external microSD card on my phone and Avira cleaned that storage up as well as my internal storage. My phone was working a lot smoother after I used the optimizer tool.
The anti-theft feature is probably the weakest feature, although it still works pretty well. The accuracy is okay — it located my device at my neighbour's place across the street — and it definitely works better than Google and Apple's device locator apps, which I've always found a bit cumbersome. However, when compared to Norton, which can locate a device within 65 feet, Avira's anti-theft feature isn't as great.
Avira's mobile apps are incredibly feature-rich. They provide advanced app and malware scanning for your device, monitor privacy violations. Optimize device performance, and offer a suite of good anti-theft tools.
Avira Customer Support
Avira's customer support is pretty good. Their telephone support and online knowledge base in particular are excellent.
Avira's customer support options include:
Email support.
Telephone support.
Online knowledge base.
Unfortunately, there isn't a live chat option, which is my preferred customer support option.
The only customer support option for free users is the knowledge base section on Avira's website. I used it to try and fix a few issues regarding the antivirus setup. I was actually really pleased with the knowledge base, as it offers detailed answers that can solve most issues.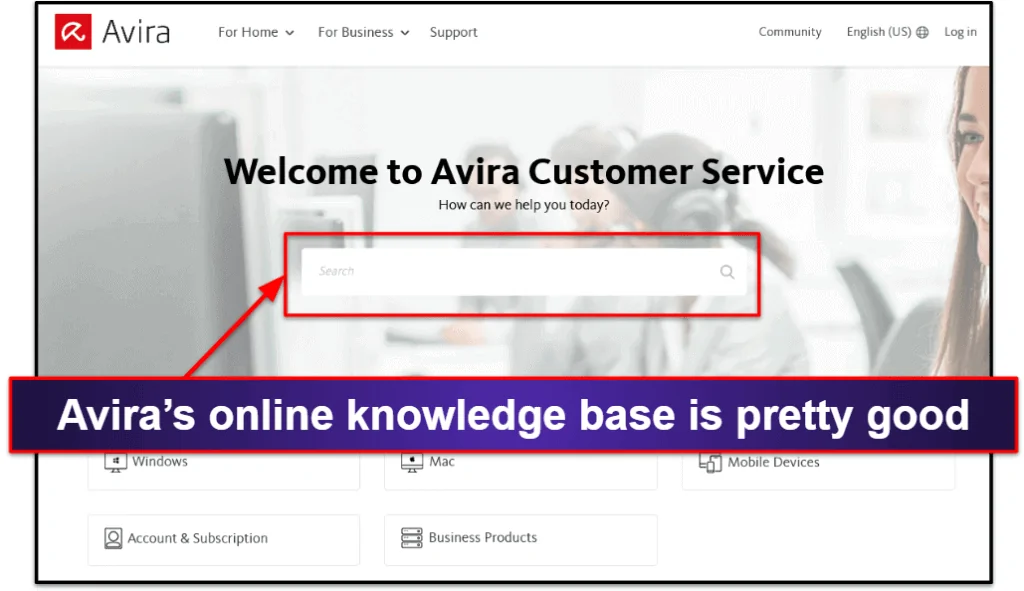 There is a toll-free number for premium users, which offers customer support between 9am–11pm Central European Time for 30+ countries, including the US and Canada as well as many European and Asian nations. Countries that cannot access the toll-free number have the option to call another number, but they will charged their local phone rates.
I gave Avira's telephone support a call to ask about installation and was only on hold for a few minutes. I really happy with the service I received — the person I spoke to really friendly and responded with clear troubleshooting solutions to my problem.
Premium users will also have the option to contact support via email. I sent Avira a message inquiring about billing and received a response within 24 hours. Personally I wish their response time was quicker — Norton's email support team will get back to you within a couple hours!
Avira's customer support is decent. The knowledge base very detailed, the telephone support great. While the email support could be a bit quicker, the support reps are very helpful.
Is Avira a Good Antivirus in 2022?
Avira definitely one of the best antiviruses on the market today — a claim supported by its high malware detection rates, wide range of excellent internet security features, and user-friendly interface.
Avira is really easy to use, making it a great choice for non-tech-savvy users. For such an advanced antivirus scanner. Avira is also really lightweight — taking up less CPU power than most other antiviruses that I've tested.
I also impressed by the range of additional features, including the comprehensive device optimization tools, secure password manager, and automatic software updater. The VPN is also pretty good, but there are better standalone VPN options out there.
I'd like to see Avira offer parental controls, identity theft protection. More robust mobile anti-theft features like Norton and McAfee do. But Avira is still a great value antivirus with some really good additional features.
Avira is an excellent, low-cost antivirus suite, and it comes with a 60-day money-back guarantee so you can try it out, risk-free.
Avira Antivirus — Frequently Asked Questions
Is Avira's antivirus protection good?
Avira scored a perfect 100% malware detection rate in my tests. Both its antivirus scanner and real-time scanning engine managed to detect and block viruses, ransomware, spyware, rootkits, and more.
Avira has combined its scanning engine with cloud-based technology to provide fast, lightweight, and thorough malware detection. It's just as good for anti-malware protection as premium competitors like McAfee and Norton.
Does Avira have a free version?
Yes. Avira does offer a free version of its antivirus, which uses the same powerful scanning engine as the premium version. Avira's free version even includes real-time protection, which is pretty rare for a free antivirus!
Avira Free Security is actually my favorite free internet security program in 2022. That said, the free version limited in terms of additional features.
The Avira Prime package includes all of Avira's premium features, including an excellent password manager, comprehensive system optimization tools, and a decent VPN for a pretty good price.
Will Avira slow down my computer?
Avira won't slow down most devices.
It's an extremely lightweight antivirus software, and as shown in my test results. It only took up a fraction of my computer's processing power when compared to other antivirus brands.
One of the reasons why Avira so lightweight because it uses cloud-based technology. As part of its scanning engine — meaning files are securely scanned using. Avira's servers (competitors like Bitdefender also use cloud-based scanning technology to deliver high-performance antivirus scanning without CPU drain).
Is Avira's VPN safe to use?
Yes, Avira's VPN is safe to use. It uses 256-bit AES encryption, has a strict no-logs policy, and offers a kill switch.
Avira's VPN is a pretty decent VPN, and it's great for general web browsing, torrenting, and gaming — but it's not a good option for streaming.
If you're looking for a reliable VPN with excellent streaming capabilities, take a look at ExpressVPN.