The Austrians are staunchly proud of all things Austrian, and the country's national airline continues in that vein. The carrier does not offer First Class – so the Austrian Airlines Business Class service is gloriously indulgent. While owned by Germany's Lufthansa Group, which includes Swiss International and Brussels Airlines, everything with this airline points to Austrian culture.
From the menus to the airline's colours, travelling with Austrian Airlines Business Class is a treat, where you will find notable surprises like onboard chefs and a coffee menu akin to a traditional Viennese café.
Austrian Airlines participates in the Miles & More loyalty program and is a member of Star Alliance, which includes the global airlines All Nippon Airways (ANA), Ethiopian, Lufthansa, Swiss International, Turkish Airlines, United and Thai Airways.
Members can earn and redeem frequent flier miles when flying Star Alliance partner airlines, and Austrian's codeshare agreements with a bevy of airlines opens up hundreds of destinations and lounges for its passengers around the globe.
Airport Experience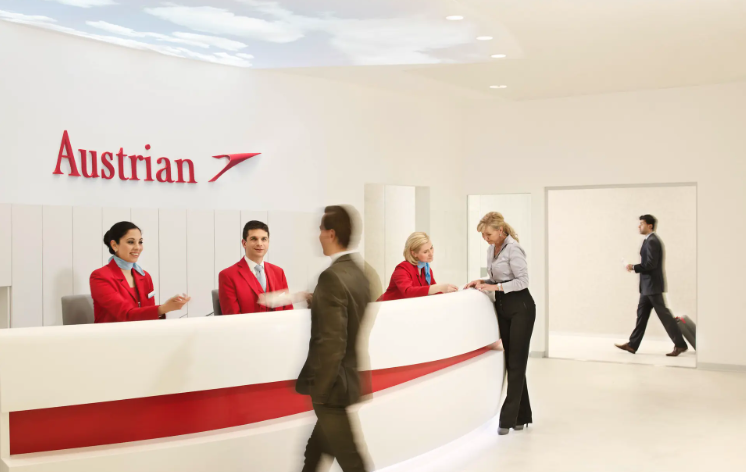 The main hub airport for Austrian is in Vienna, and starting your journey here is simple, with Austrian Airlines Business Class premium lane for check-in plus fast-track security lanes. Connecting passengers should pay attention to airport signage, which at times can be confusing as travellers traverse between terminals. The airport has grown so fast to meet popular demand for flying with Austrian that many terminals are interconnected via a series of hallways. Helpful staff are available all along the way and do not be shy to ask for help
Austrian Airlines Business Class has Schengen and non-Schengen lounges for use by passengers based on their destination from the airport. In addition, there are Senator Lounges, which are accessible to Star Alliance Gold members, Miles & More top elite members, as well as First Class passengers on other Star Alliance flights within the same itinerary.
The lounges offer hot and cold food, a wide range of complimentary beverages including wine, beer and liquor, and periodicals. Comfortable relaxation and work spaces make them popular places to enjoy pre-flight. Self-serve bars and buffets are well-kept and amply stocked.
Outside of Austria, there are no Austrian Airlines-branded lounges, but Business Class passengers are always treated to access to third-party lounges, often affiliated with the airline's Star Alliance partners.
Cabin & Seat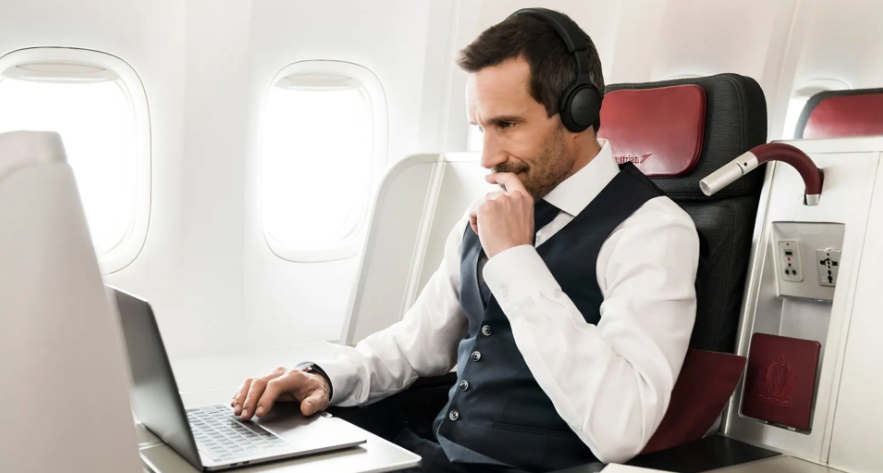 Red and blue accents appear throughout the cabin, which help make the grey and brown seat touches look even more appealing. Austrian operates a fleet of Boeing 767-300ER and 777-200ER aircraft with alternating seat configurations.
Seats recline to a flat bed and measure 2 metres (6.5 feet-long) on the B777 and 1.9 metres (6.2 feet-long) on the B767. Both are sufficient for tall travellers to have ample stretching room. On the B767, seats 1A and 1K have notably more legroom since they are at the bulkhead, and the footwell goes into a cutout of the wall in front rather than another seat. There is also a more spacious entryway to the seat.
Plenty of storage space is available including a pocket for magazines plus a power and USB outlet for charging devices. Each seat has a pillow and rolled-up duvet blanket to help passengers stay comfortable on long flights.
On the B767, the setup is 1-2-1 while on the B777, the setup alternates by row between 1-2-1 and 2-2-2. On either plane, solo travellers will prefer one of the single "A" or "K" seats for maximum privacy while those travelling together should opt for the pairs of seats. The pairs of seats in the centre section have two side tables, and on the B767, the solo seats have side tables alternating between being on the side of the window or the side of the aisle. Seat maps show which seats have a small table closer to the aisle for those that prefer to have a barrier between your seat and the aisle. Those with the table in the centre mean that the seat is more exposed to the aisle – this makes it easier to get in and out though.
On the B777, the single seats are considered "throne seats," which are the best options. The airline charges a fee for these prized seats (solo seats with a table on either side and no seat neighbor) although its most loyal elite status fliers can select them for free. In addition, these can be requested on the day of departure by any Business Class passenger without charge. Other seats in Business Class are free to reserve in advance.
The flight search on BusinessClass.com includes images, videos and seat maps for most airlines and aircraft. Search results also include details such as seat pitch, width and recline. This way you can see the seat and cabin configuration of the flight in which you are interested, before making your choice.
Cuisine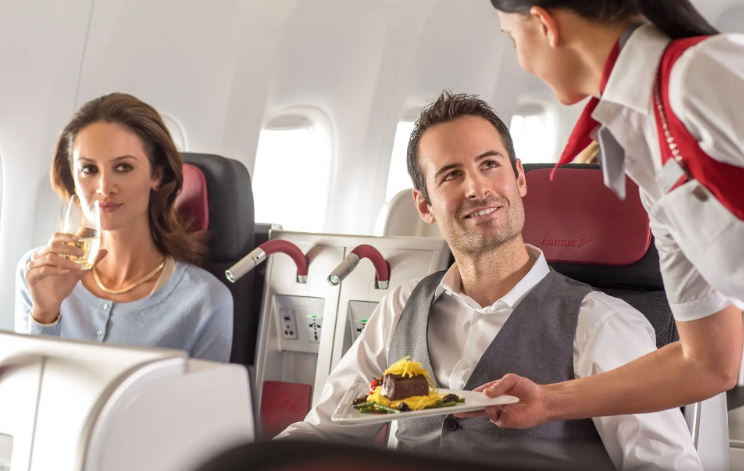 Famed Austrian caterer Do & Co handles the food and beverage for Austrian Airlines flights, and that brings experience – which is second to none. The marriage is so successful that other carriers – including Turkish Airlines – have introduced Do & Co catering to their own inflight service.
Post-takeoff, the Austrian chef concept comes into full force. Dressed in a traditional chef toque, a crew member takes meal orders from passengers from printed menus detailing the food, beverages, and elegant coffee service – that features the Julius Meinl brand. On overnight flights, passengers can fill out breakfast cards indicating what meals they would like to enjoy prior to landing. This saves time and allows everyone to have more rest time.
After takeoff, flight attendants roll down elegant multi-tiered carts with the appetiser selection. There many choices presented from family-style platters. Passengers can mix n' match while a flight attendant – or indeed the chef – delicately plates it, restaurant-style, at your seat. On many flights, tasty soups ladled from a large terrine and served with accoutrements. It is all extremely dramatic.
Warm bread options soon follow before linen-lined tables cleared for the hot main course. These individually plated in the galley on triangular plates and feature a choice of three entrees – including one vegetarian choice. Dessert soon follows with a similar presentation as the appetizer with sweet and savoury choices offered from a multi-tiered cart.
Prior to landing, there is a second meal service on long-haul flights. These include the option for a hot or continental breakfast prepared according to pre-completed menus or, on daytime flights, a second warm or chilled meal choice.
Beverages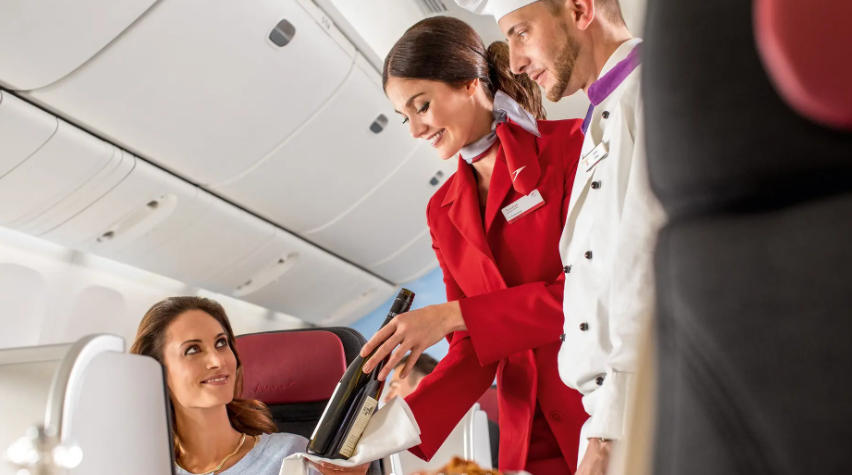 Before takeoff, passengers can choose between Prosecco, juice, or water – although in some cities, alcoholic drinks are not available as a pre-departure option. If you are interested in more details on the libations available inflight, the printed menus detail what on offer. Some members of the crew are also trained as sommeliers so do not shy if you have questions about the wines on offer.
After takeoff, galley carts come down the aisle with drink options that include three white wines, three red wines and a dessert wine. Passengers can also enjoy three sparkling wines including a Prosecco and the Duval-Leroy Brut Fleur de Champagne although choices can vary based upon the flight. Typically, there are four beers to choose from, all of which are Austrian in provenance. The crew is almost always proud to recommend their favourite.
The spirits list offers everything from Campari to Chivas Regal. While digestifs from the bar include Rémy Martin and Bailey's Irish Cream. The "Sidecar" cocktail is memorable. Its main spirit Cognac and designed as a pre-rest snifter. Of course, there are soft drinks, juices, and tea available in addition to the impressive coffee menu.
An iconic experience on Austrian flights is the post-meal Viennese coffee menu. It features close to a dozen choices of hot and cold Julius Meinl coffees, each prepared individually and served in extravagant glasses or cups and saucers with a chocolate. It is similar to what you might experience in a Viennese coffee house and delightful. A firm favourite is the Wiener Eiskaffee: a double espresso served with vanilla ice cream and freshly whipped cream, served in a tall glass.
The flight search on BusinessClass.com includes information on which Champagne served in Business Class and First Class on many airlines. We do our best to keep track of any changes, but feel free to let us know if there something we missed.
Service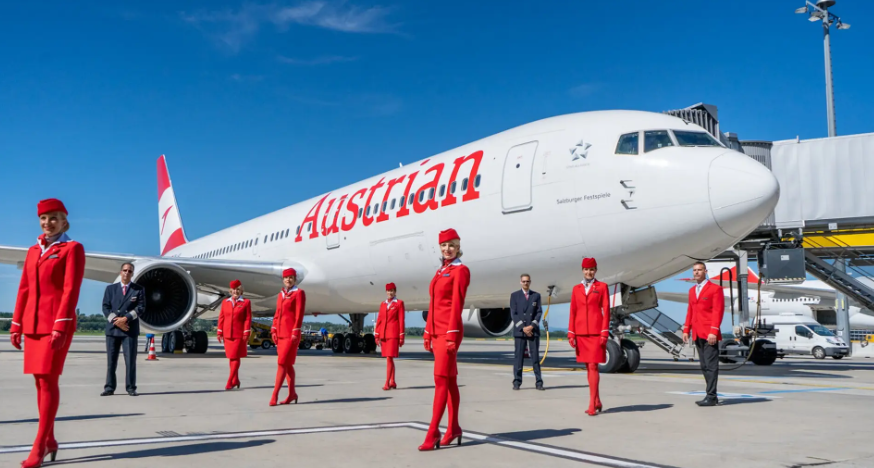 Austrian crews are multi-lingual speaking excellent English and the language of destination in addition to German. They are conversational and interested in explaining details of the menu or chatting about where you are flying. Expect a friendly and charming crew on board.
Entertainment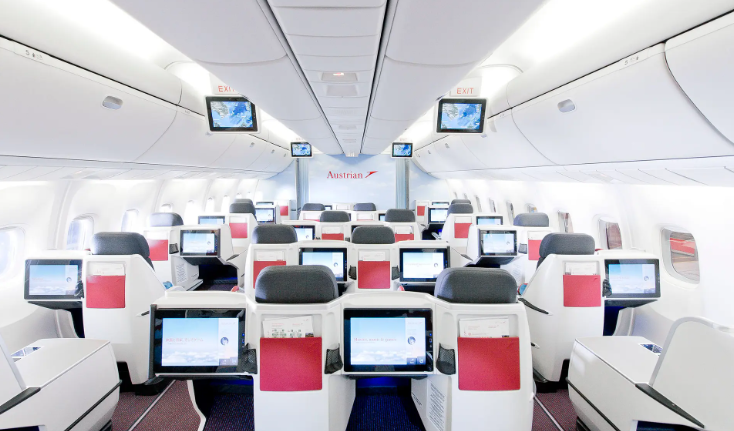 Wide entertainment screens on the B767 and B777 aircraft controlled via remote as well as touchscreen. They have dozens of movie and sitcom options plus cartoons for children. A global selection of music and all kinds of short programming like documentaries. Noise-reducing headphones are available at each seat and available prior to takeoff.
Detailed information about inflight entertainment and the current programme is available on austrian.com
Long-haul aircraft feature Wi-Fi with prices that vary by flight length and desired speed.
Updated pricing and more information about Wi-Fi on Austrian Airlines
International newspapers and magazines available from a cart rolled down the aisle and throughout. The flight, and the airline's Austrian magazine is in the seat pocket contains excellent articles. There are also route maps and details on the airline's fleet.
The flight search on BusinessClass.com includes information on inflight entertainment and Wi-Fi.
Amenities & Facilities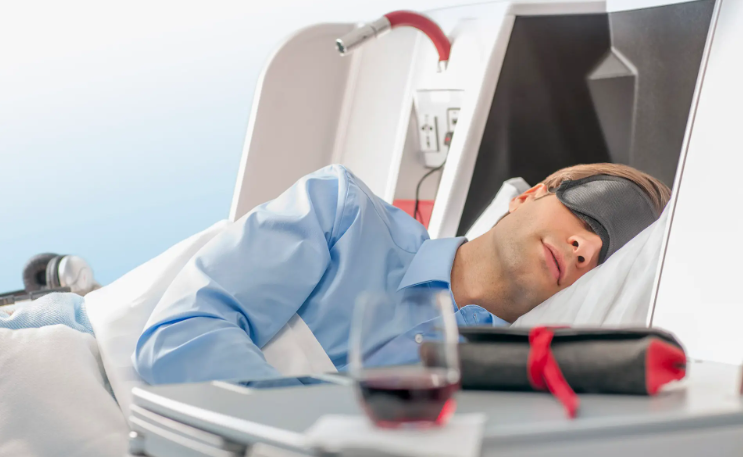 Amenity kits offer goodies including eyeshades, ear plugs, lotion, lip balm, socks, and dental kits. Before each meal service, there are also hot towels to refresh your face before dining. There are more amenities in the bathroom like combs and stain removal wipes.
Families traveling with infants can request seats suitable for a bassinet. Austrian calls it a "baby basket" – on long-haul flights; these should reserved in advance to guarantee availability.
Short & Medium Haul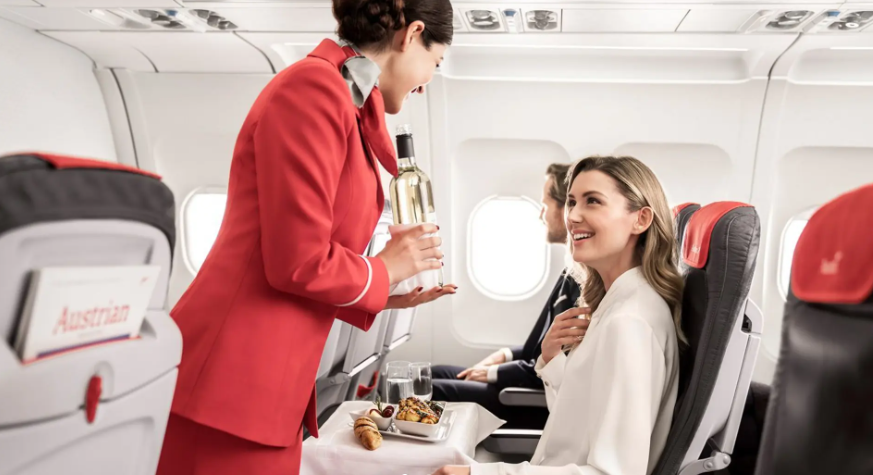 On European and regional flights to the Middle East, Austrian still offers a full bar service and hot meals. Even the shortest flights enjoy a full tray service regularly highlighting something uniquely Austrian – strudel or Wiener Schnitzel for instance. Austrian is recognised for its Do & Co catering that does not end the moment you step off a long-haul flight. It continues for the connecting flight, too, and the Austrian-friendly service is excellent no matter how long the flight. Seats on short-haul aircraft are unfortunately the same in Business Class as in Economy Class. But with the adjacent seat blocked to provide more space and comfort.
Sustainability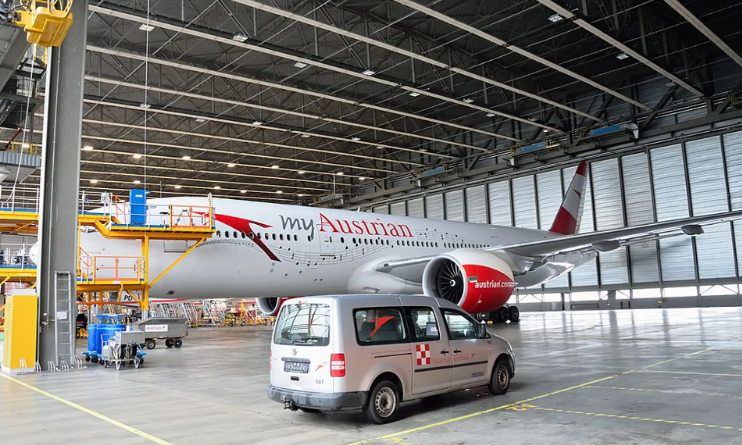 Austrian uses software to plan the shortest possible flight times to minimize fuel use. While its Boeing B777 aircraft now have a fuel scavenge pump designed to collect unusable fuel. Wheel faring modifications to its Embraer E195 aircraft also help reduce drag, and therefore, fuel usage. Electric vehicles around the Vienna hub in addition to recycling programs are additional areas of focus for the airline.
Information about carbon-neutral flying is available on austrian.com
The flight search on BusinessClass.com includes information on CO2 emissions for each flight. Our quality algorithms also give a higher score to flights operated by the most modern and environmentally friendly aircraft.
What We Love
The impeccable catering experience from Do & Co is unlike anything you will have on another Business Class flight
The Viennese coffee house-style service after the main meal is unique to Austrian Airlines
Even those unfamiliar with Austrian culture will come away learning about the country after a flight with Austrian Airlines