Deciding to buy a paddle board is only the beginning of your journey. Next, you have to select the board brand you'll use. One brand that may have come up in your research is Decathlon. Are their paddle boards any good or should you keep looking?
Decathlon paddle boards are indeed regarded as quite good by SUP owners who have used them. The brand's boards are renowned for their durability, handling, and quality. They carry a reasonable price tag for the construction quality compared to mid-range and expensive brands. The company has been in business for decades.
If you're on the fence about whether a Decathlon paddle board is the best option for you, we encourage you to keep reading. In this article, we'll talk more about the Decathlon brand, highlight specific boards, and even briefly cover some other SUP accessories Decathlon sells. You won't want to miss it.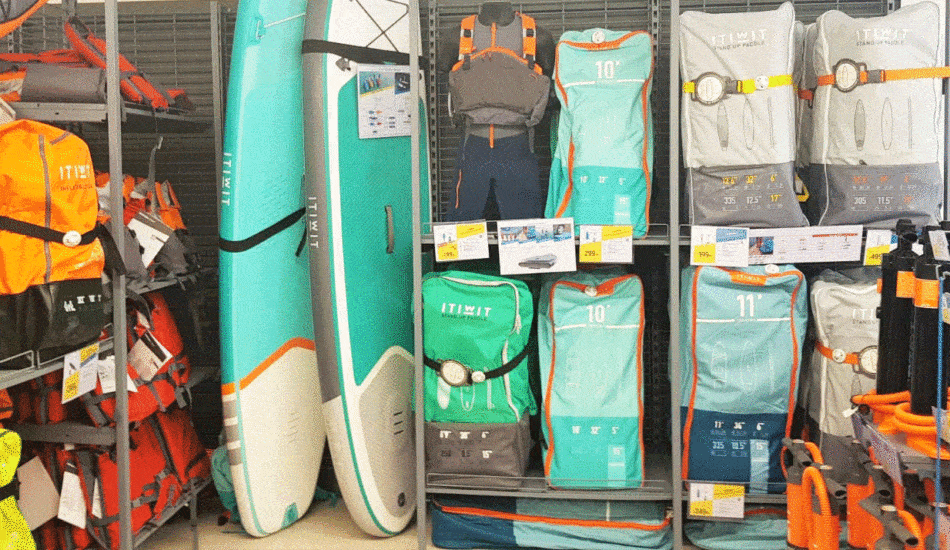 Be sure to check out "Are Cheaper Paddle Boards Worth It" for more on advantages and disadvantages of inexpensive paddle boards along with a few more options for buying.
What Is Decathlon?
Before we can discuss their paddle boards, let's take a closer at the Decathlon brand itself. Decathlon is a sports brand founded in 1976. Michel Leclercq, the founder, established the first Decathlon in France. By 1986, Decathlon had a presence in Germany, then Spain (by 1992), Italy (1998), the United Kingdom, Portugal (both by 1999), Brazil (2001), China (2003), India (2009), Taiwan (2012), Hong Kong (2013), Malaysia (2016), the Philippines (2017), and Australia (2018).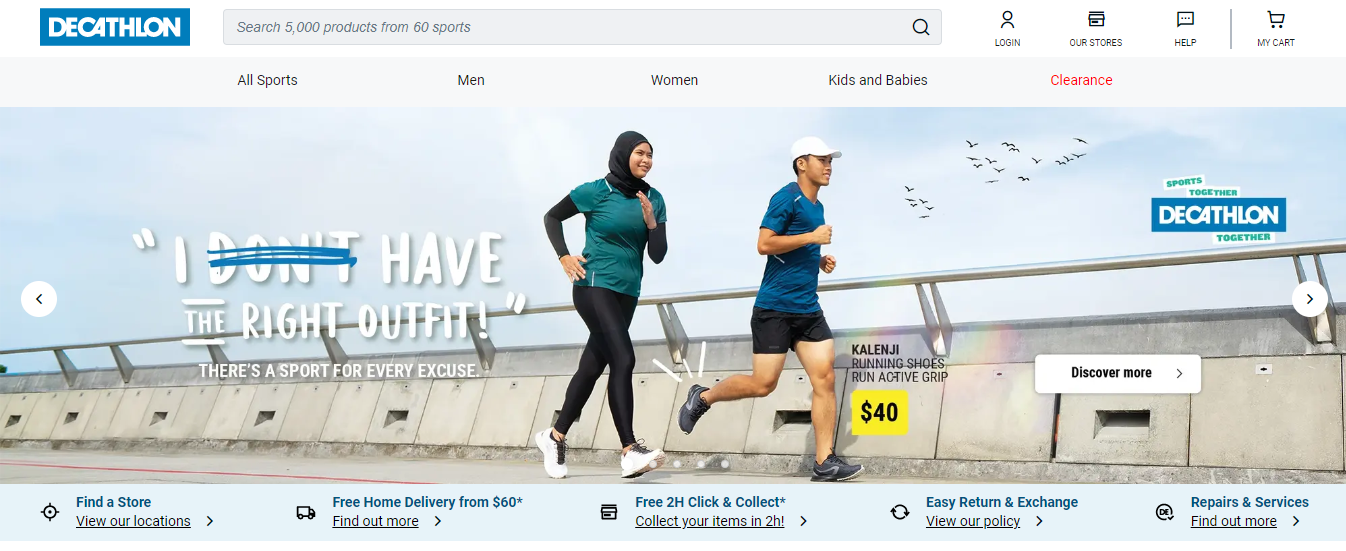 With stores scattered across nearly 50 countries, Decathlon has 1,500 locations and counting with over 87,000 employees that encompass nearly 100 nationalities. They sell sporting equipment for nearly any and every athletic activity, often named with Decathlon's own passion branding. For example, the company's line of fishing products is called Caperlan and their paddle sporting goods are branded as Itiwit.
For SUP boarding specifically, Decathlon retails accessories, apparel, paddles, and boards. Their line of accessories includes SUP fins, hand pumps, electric pumps, knee leashes, duffel bags, backpacks, phone pouches, and pressure gauges.
Best Swimwear and Beachwear Shop in Singapore
Get high quality swimwear and beachwear at unbeatable prices online only at Decathlon Singapore. With a wide ranging and comprehensive collection of products, you can easily find the right items that best suit your usage preferences and needs.
Why buy Swimwear and Beachwear products from Decathlon?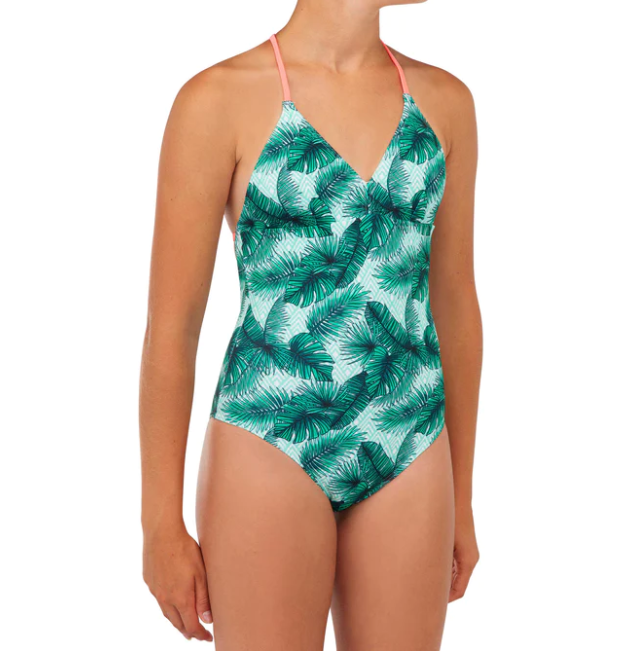 Quality at unmatched prices
At Decathlon, we are sports enthusiasts ourselves and know exactly what to look out for in a high quality sports gear, equipment, apparel or accessory. Our vast supply chain allows us to source and curate only products that pass our stringent quality controls for your optimal comfort and usage experience, at prices you couldn't get anywhere else.
Free Delivery for your purchase
When you buy $60 and above, enjoy islandwide delivery of your purchase right to your home absolutely free! And with just an additional $20, you can even have your order delivered within 2 hours! There's no better ease and convenience to buy Running and Walking products online from the comfort of your home than at Decathlon online sports store.
Awesome returns & exchange perks
As a Decathlon Member, you can get a refund or exchange of your purchase with no time limit, so you can shop and buy from our online store with absolute peace of mind. Membership is free so hesitate no more; sign up for a Decathlon Membership now and become part of the Decathlon family today!
Where to buy the best Swimwear and Beachwear in Singapore?
Buy swimwear and beachwear and related accessories right here online at Decathlon, the largest retailer in Singapore for all your sports equipment needs!
We've got a whole range of value for money and thoughtfully designed bikinis, swimsuits, swimming trunks and more to shop from.
Swimwear & Beachwear
Women's Long Sleeve UV-resistant Surfing T-Shirt black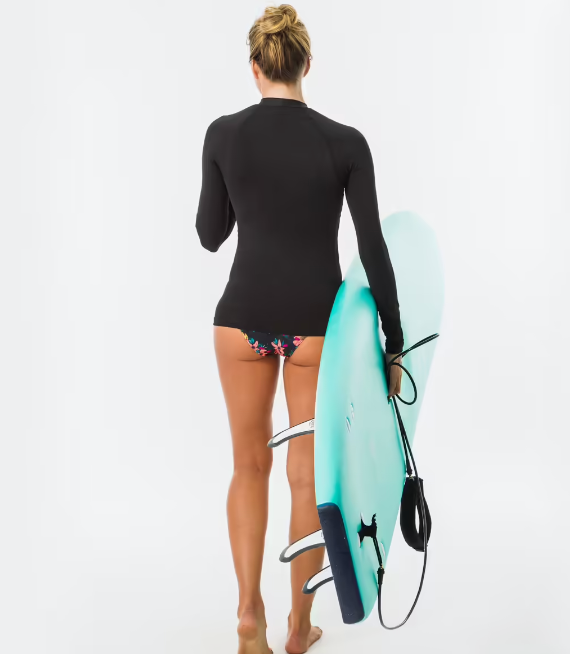 Women's UV-resistant long-sleeved T-shirt for protection from the sun, even in the water, and to limit chafing from contact with the board. Slim fit.
As female surfers of all levels, we have designed this UV-resistant t-shirt for beginner surfers surfing in the foam.
LEGGINGS UV SURF 100 WOMEN BLACK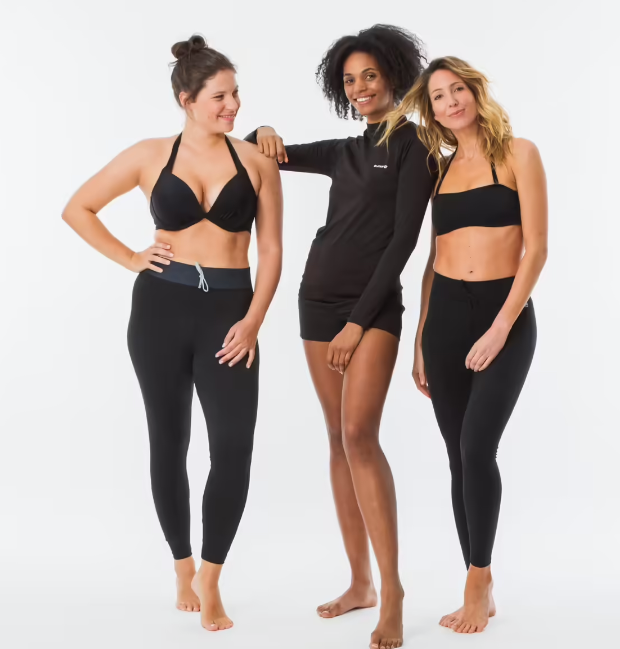 Women's UV-resistant Leggings for protection from the sun, even in the water, and to limit irritation when in contact with the board.
As female surfers of all levels, we have designed, these leggings for beginner surfers surfing in the foam.
CN TOPUV 500LS SELA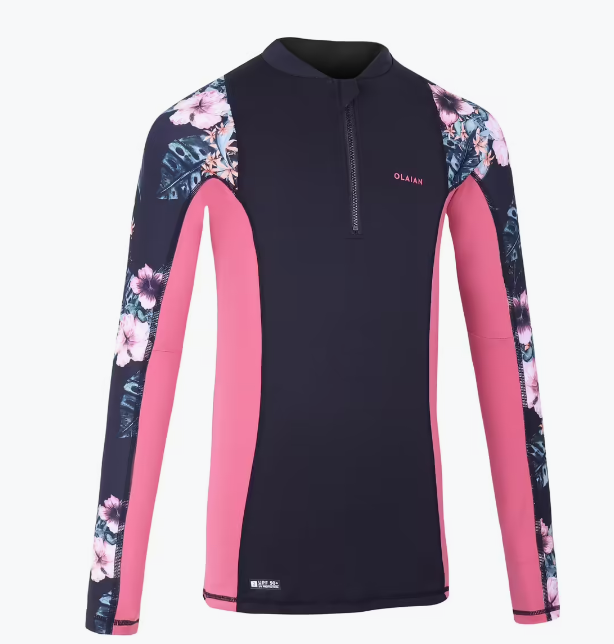 UV-resistant long-sleeved T-shirt for protection from the sun, even in the water, and to limit irritation when in contact with the board. Double attachment ties to the swimsuit for support in waves.
As female surfers of all levels, we designed this UV-resistant t-shirt for intermediate surfers surfing waves less than one meter.
Women's surfing anti UV short sleeve T-shirt 500 – black and koga Maldives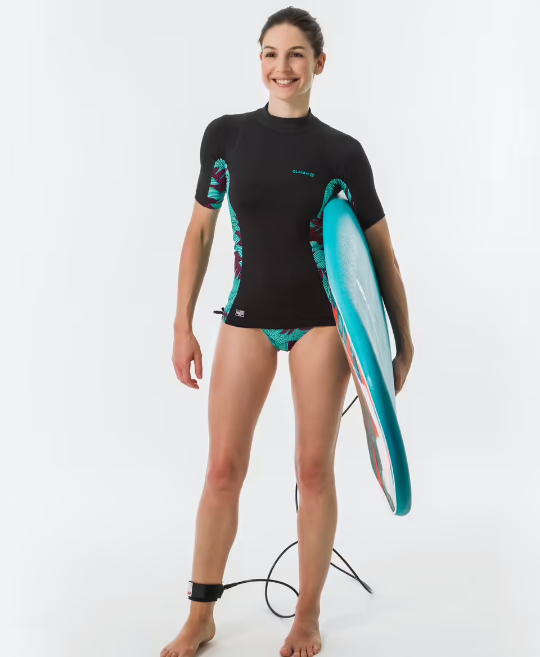 UV-resistant short-sleeved T-shirt for protection from the sun, even in the water, and to limit irritation when in contact with the board. Double attachment ties to the swimsuit for support in waves.
TANA WOMEN'S BOARDSHORTS – BLACK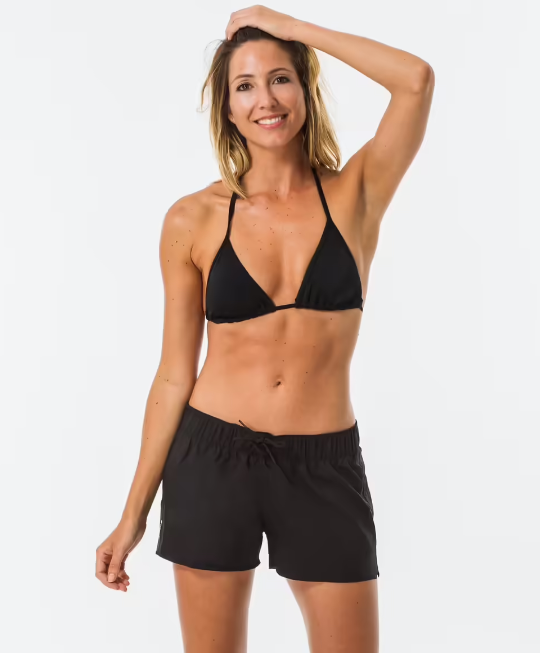 These women's short boardshorts with an elasticated waistband and decorative cord are designed to be worn over a swimsuit for all water sports activities.
Women's 1-piece Skirt Swimsuit Heva – Cola blue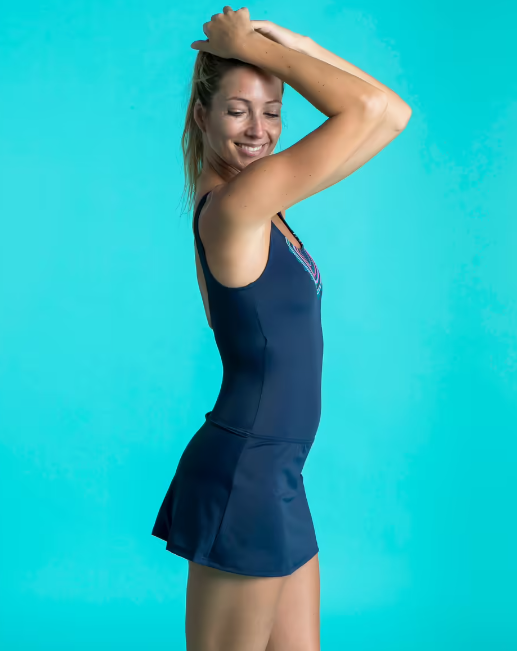 Want to swim in simple, feminine style? With its wide straps, U-shaped back and skirt covering the buttocks, this one-piece swimsuit is comfortable and easy to put on.
Our design team created this one-piece skirt swimsuit for female beginners who swim occasionally.
Women's Swimming Top Una – All Afi Black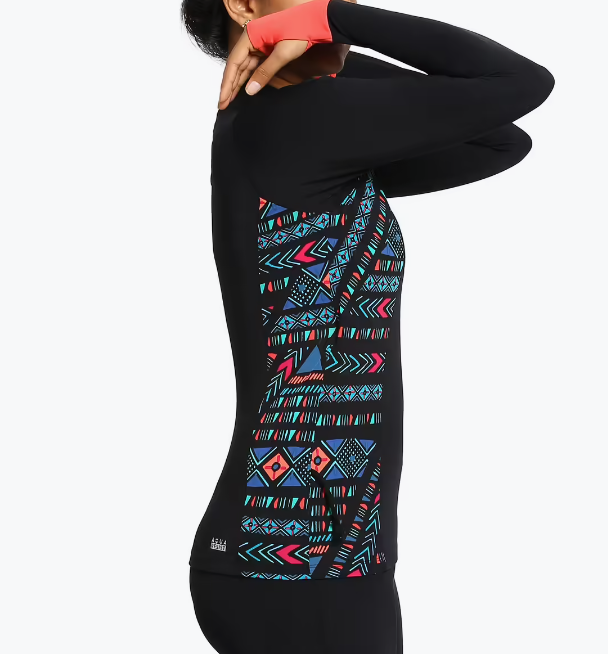 You can swim in comfort in this top, thanks to its ultra chlorine-resistant material, the wrists that prevent the sleeves from riding up and the inner bra.
Our design team created this swimming top for female beginners who swim regularly.
Women's Surfing Boardshorts with Elasticated Waistband & Drawstring TINI – KHAKI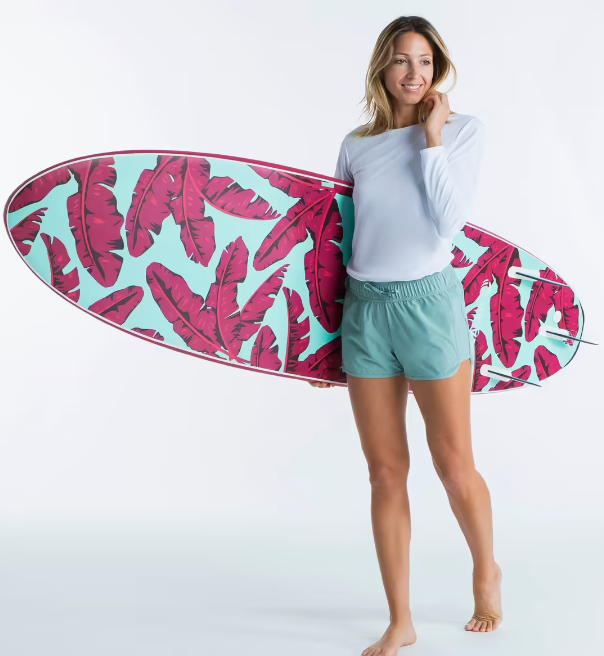 These short women's boardshorts are designed to be worn over your swimsuit for all water-based activities. They have an elastic waistband and drawstring.
Are Decathlon Paddle Boards Any Good?
In shopping for a SUP board, there are a few factors that will undoubtedly matter to you. These are things like pricing, the options you have (inflatable vs. non-inflatable boards), materials, and quality.
By reviewing these factors, we can begin to answer the question of whether Decathlon paddle boards are considered any good.
Price
The average SUP board may cost anywhere from $300 to $3,000. There's a lot of wiggle room between those two prices, that's for sure, but this gives you the freedom to choose the price range you're most comfortable with. Just don't expect to get a board for under $100, at least one that's seaworthy.
Where does Decathlon fit on the price scale? Their paddle boards trend towards the more expensive. They have a wide range of pricing at around £249-£749. This covers a broad enough range that almost all buyers can find a Decathlon board priced within their own budget.
Sometimes Decathlon does run deals on their boards. If you keep an eagle eye on their website then, it's possible you could get a new Decathlon board for much cheaper than their standard prices.
Options
As we've written about on this blog before, inflatable SUP boards have their benefits. You don't have to worry about lugging a big board in the back of your car (or in the trunk).You just bring the uninflated board with you and then use your car lighter for an electric pump or your own manual effort for a hand pump.
Well, we hope you like inflatable boards, because Decathlon's Itiwit line includes mostly inflatable options. If you wanted a non-inflatable board, there's the 500 Rigid Surfing Stand-up Paddle Board, but it was sold out as of this writing. That's the only non-inflatable board we could find while perusing Decathlon's website, and you can't even buy it.
Materials
Another hugely important factor when choosing a SUP board is which materials go into the making of the board. For Decathlon's rigid paddle board, they use EVA foam padding finished with gripping diamond grooves. Their more expensive inflatable boards feature a dropstitch with reinforcements, a slim thruster, and polyethylene stringers. All these features are incorporated for convenience, stability, and durability.
The Best Decathlon Paddle Boards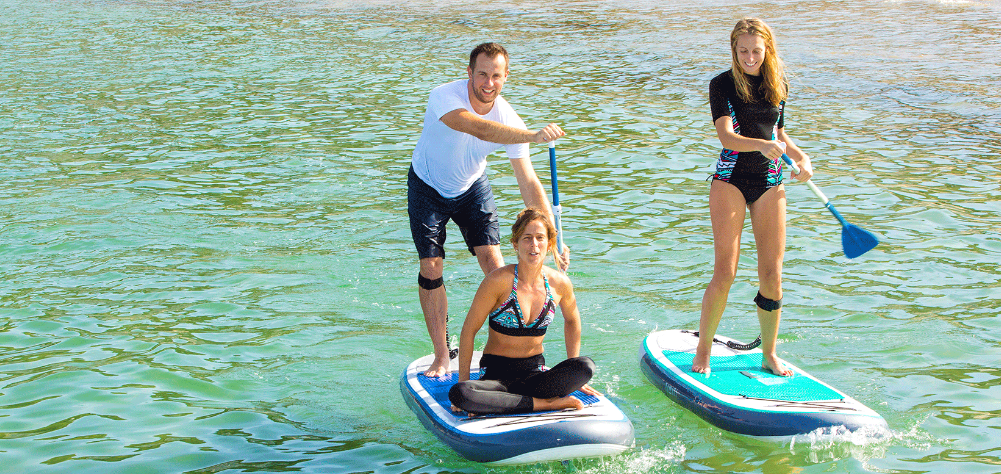 The above section proves that Decathlon paddle boards are a great option for some SUP riders. If you're looking for an inflatable board and you don't mind spending a bit more money on it, then Decathlon is great. You can surf (!) their entire paddle board catalog here or look at our specific recommendations below.
To help you in your decision-making, we'll cover in more detail several of Decathlon's top paddle boards. Keep in mind these are all inflatable and based on what's available on their site as of the time of publication.
500 Inflatable Touring Stand-up Paddle Board 12'6-32"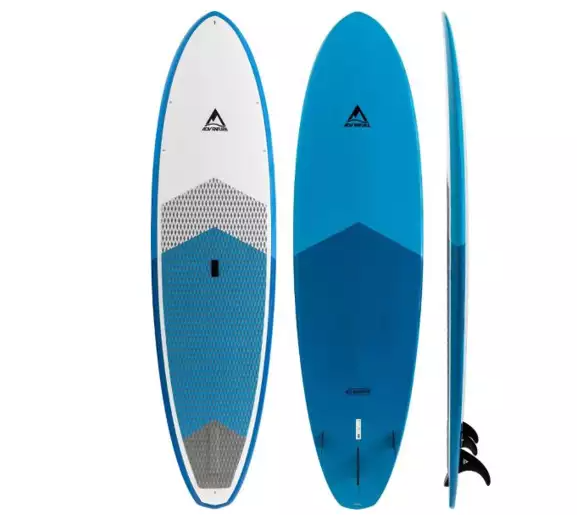 The first SUP board from Decathlon is one of their more expensive. It's the 500 Inflatable Touring Stand-up Paddle Board. It supports single riders heavier than 175 pounds and intermediate skill level. It has a maximum weight limit of 310 lbs. This SUP board is one to choose if you plan on touring for a day or longer.
Reduce the force of impact when you ride with a directional anti-shock rail tucked under the board's bow. For beginners just getting the hang of SUP riding, the board is lined with placement markers that will help you figure out exactly where to stand. The deck also includes foam lining with grooves for easier gripping, even when you're wet.
The PVC and dropstitching construction lends itself to the durability of this inflatable paddle board. That dropstitching comes glued together across the inflatable board so it won't rip. The board itself also has a thickness of six inches and a width of 29 inches for easy riding.
Included with your purchase is a backpack-style carry bag, loading areas at the front and rear of the paddle board, and five handles. You can easily compact this paddle board when you're done using it. Just deflate it and put it back in the bag. The board measures 35.43 inches by 17.33 inches by 9.45 inches when deflated.
It should take only nine minutes for this inflatable board to reach 17 pounds per square inch (PSI), says Decathlon. That's not bad for a board of its size!
Beginner Touring Inflatable Stand-up Paddle Board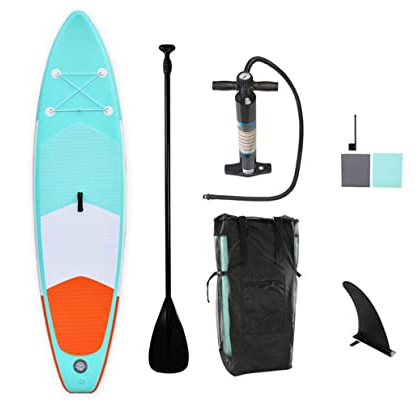 Next, we've got a far cheaper inflatable board in the X100 Inflatable Touring. This 11-foot board comes in an appealing blue color schemes. While you can't take it on multi-day trips like the 500 touring board, the X100 is accommodative to riders who weigh 175 pounds or more. It's also friendly for beginners or intermediate riders who still need more experience on their boards.
Bring a pal with you on this two-person paddle board, as it can support upwards of 286 pounds. Since the board itself weighs 4.2 pounds, toting it, inflating it, and launching it should pose no problems, even for beginners.
As part of Decathlon's Itiwit line, the X100 also features PVC and dropstitching that's been glued down. This paddle board can handle impacts without tearing or puncturing, which makes riding with an inflatable paddle board feel safer than ever. You also get a foam deck for greater handling as well as a handle made of EVA foam. This feels very soft on your palms so you don't have to end your day of riding with achy hands.
Decathlon designed this board to handle light ocean riding (no heavy waves, please) and general cruising in many other bodies of water. Its six-inch thickness and 34-inch width keep it stable in changing conditions.
The X100 comes with its own transport bag that boasts shoulders lined with foam. This allows you to flatten the bag as needed. When deflated and decompressed. The board measures 34 inches width by 5.9 inches thickness. It takes only six minutes to fill it up to 15 PSI.
500 Inflatable Touring/Racing Stand-up Paddle Board 9'2"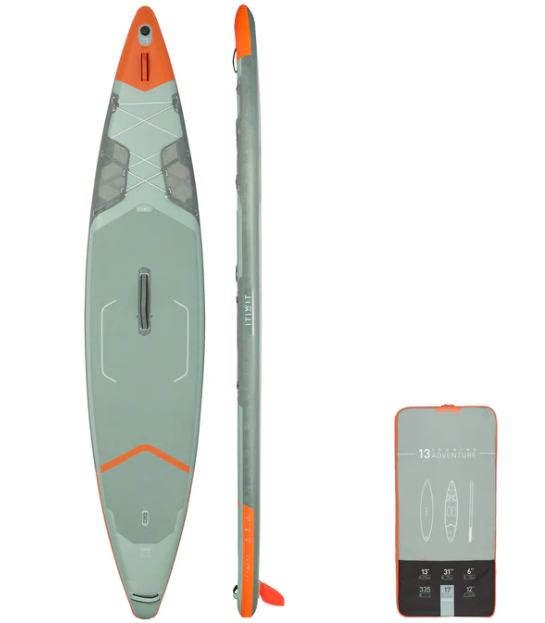 Going back to the more expensive options, we've got the 500 Inflatable Touring/Racing Board. This SUP board, which is nine feet, two inches tall, comes in a faded denim hue (light blue) with darker blue, yellow, and orange detailing.
Recommended for riders 198 pounds or under, this Decathlon SUP board can handle waves between 1.64 to almost five feet! The shape of the board is made specifically to improve your stability on the water.
Also lending to the stability of this paddle board is the dropstitching, which comes reinforced, and four stringers made of tough polyethylene. While riding, you'll have a better hold on your board thanks to the semi-rigid rail. This also helps your flow as you paddle along.
A slimmer thruster includes a roundpin tail for simpler and faster inflation of your paddle board. In fact, you'll only have to wait four minutes to reach 17 PSI with this baby. That's incredibly impressive.
In many ways, this Decathlon model isn't like your average inflatable paddle board. It's got multiple layers, among them the reinforced outer rail, the double-laminated fabric, a stiff-weave PEHT stringer, the multilayered dropstitching, and then the EVA top.
With an included bag from Decathlon, toting around your paddle board is super convenient. The board measures 36.22 inches by 15.75 inches by 11.02 inches when deflated, so it's quite compact. Oh, and its included transportation bag has shoulder straps for your comfort.
100 Inflatable 10'7" Touring Stand-up Paddle Board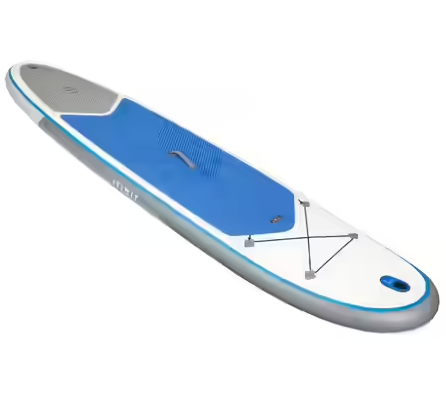 Next, we've got a lower-priced but still awesome option, the 100 Inflatable 10'7" Touring Stand-up Paddle Board. This great yellow board is almost 11 feet long and suited for riders weighing about 180 pounds. You can traverse small waves with ease and even do some cruising on this paddle board, but don't push it too much past that.
When fully inflated, this paddle board weighs about 22 pounds. It's a little heavy then, but it's not unwieldy by any means. The PVC and glued dropstitching that are Decathlon staples make an appearance here, as does the foam deck with grooving.
The rounded edges of this touring board lend it stability and give it a certain sweet charm. It doesn't sacrifice durability either, as the board is six inches thick and 32 inches wide. When you're done riding for the day, you can always deflate this board and tuck into the included bag.
Besides the bag, you also get a fin and a strap with your purchase, making this a truly comprehensive beginner's paddle board. Oh, and anytime you're up for a day in the water, you don't have to wait long. Within eight minutes, the board will be at 15 PSI and ready to ride!
100 Inflatable Touring Stand-up Paddle Board 8'9"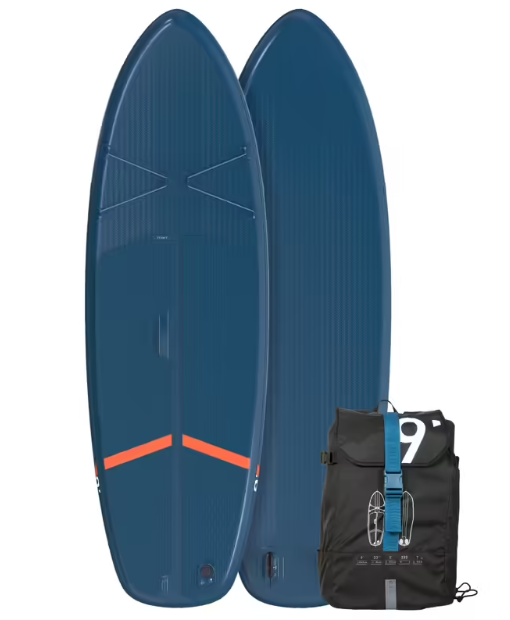 The last Decathlon Itiwit paddle board we want to review for you is the Inflatable Touring SUP board. It's one of the more compact boards from the brand, as it's just under nine feet tall. The SUP board also comes in an appealing and vivid emerald green and white color scheme.
This is a board intended for beginners through and through. Riders should be no more than 132 pounds, so single riders only. Decathlon also recommends using the paddle board in calm waters like river, lake, and sea touring on "occasional" rides. While this inflatable board can withstand tiny waves, we wouldn't recommend taking it out on the ocean during high tide.
Like most Decathlon SUP boards, you get the foam deck with grooving as well as the PVC and glued dropstitching construction. This board also has rounded edges that make it user-friendly in tame waters. It's a pretty thick board (six inches) with a decent width of 30 inches. The rigidity will almost make you forget you're riding on an inflatable paddle board!
You can roll this board up too when the sun sets on your water adventures. It compacts to 35.43 inches by 15.75 inches by 8.66 inches. This inflatable board doesn't take up too much room in the backseat of your car then. Since it's so small, you also won't be waiting too long for the board to inflate. It will get to 15 PSI in only six minutes! You also get a fin and a strap with your purchase.
What Kind of Paddles Does Decathlon Sell?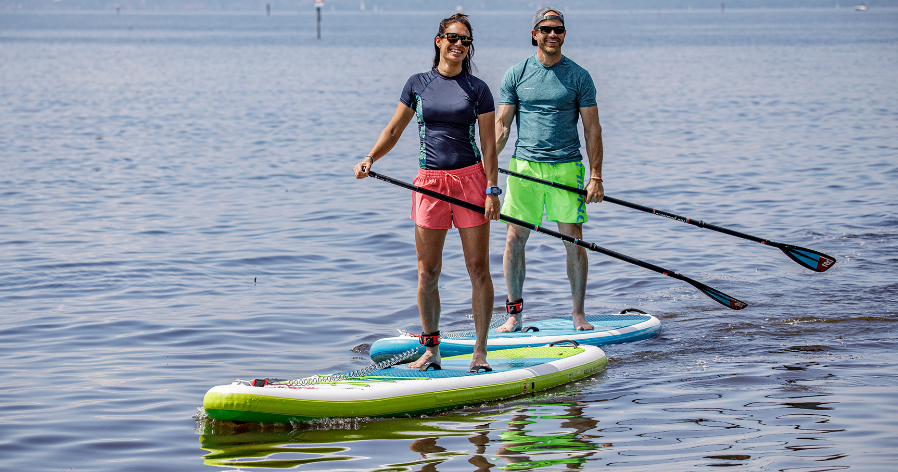 You decided to buy a Decathlon paddle board from one of the above picks we reviewed. Great! If you need a paddle as well, Decathlon also carries these as part of their cheaper Itiwit range. Their 500 carbon shaft paddle has two adjustable heights. The blade comes profiled to lend it more stability and ease of use. Should you drop your handle, Decathlon says it will float and bob along the water for at least five minutes. That gives you plenty of time to recover it.
For the most freedom in customization, there's the 900 three-piece split paddle made of ABS plastic. You can collapse this down so it takes up less room in your gear bag. The concave surface of the blade has a wider surface area and boosts your stroking power as well.
If you want something a little more uncomplicated, Decathlon also has a one-piece paddle. With its carbon shaft, ergonomic handle, and profiled blade, this is one easy, convenient paddle to use. You can even buy paddle travelling bags through Decathlon.
FAQ Decathlon
What is the biggest Decathlon store?
Per data from 2017, India has the largest Decathlon store. It's located at the Pacific Mall in New Delhi and is the 15th store from Decathlon in India.
Are there Decathlon stores in the United States?
If you want to buy Decathlon's paddle boards and other sporting good products on US soil, you have to be in California, you can see the US Decathalon website here. There's one Decathlon store in the state as well as the brand's Lab Store, which is like a tester store.
You can always shop for paddle boards or any other goods on Decathlon's website and have them shipped to you anywhere in the US. Decathlon does recognize the demand for its stores in the US and seeks to expand, according to a 2019 interview with GearJunkie.
Final Thoughts
Decathlon makes really good boards at a few different price levels. Popular in Australia and the U.K., they are becoming brand recognized worldwide. You should be able to use any of the above links to order from anywhere, or hit that big Decathlon banner to go straight to the U.K. store.
While you wait for your delivery, read our complete beginner's guide to paddle boarding. That way you'll be ready when your new toy arrives, so you can get out there and stay safe while having all that fun!